"Secrets to Saving Money in Australia" Free Newsletter - August 2009
This issue includes:-
Sad Sally, Happy Hanna: Say it with - Cauliflowers?
September is Free Food Month
Best of the Vault: Home Grown Goodness
Best of the Forum: Great Gardening Tips
Sophie Gray: The Good Life
Penny's Blog: Home Grown Christmas
Homeopathy Corner: More Kitchen Cupboard Cures
From Last Month: Redundancy Cost Cutting
This Month's Help Request: Chicken Mince Overload
Savings Story: Out of 'Noddyland' and Into a New Home
---
Hi,
Penny here! Fiona and Matt's new baby is due to be born any day now, how exciting! While Fiona's been busy growing baby number four, there has been a lot more growing of a different kind going on too. In the last six months, 20% of the population have started their own vegie garden. This is of course largely due to the change in economy but as far as we're concerned that is wonderful news! Money might be tight but at least something good is coming out of it. People are reducing their food miles, getting exercise and giving themselves some security. Vegetable gardening is no longer looked upon as a quaint little hobby or luxury; it's something positive we can all do to save heaps of money and stay well fed. It's cheap, it's easy and best of all fun, so get out in the fresh air and get growing this month!
While Fiona is having a well-earned rest, she wanted me to tell you that she really enjoys hearing how well everyone is doing. Letters like these really make her day!
"Here I have been struggling along with my own savings and debt reduction plans when all the while YOU were out there already doing the hard yards for me! I am very hopeful that you are going to redo the calendar for 2010. Right now, I can't wait for next pay day so I can INVEST $47 for a Vault membership. I am also going to recommend your website on my workplace intranet because it is so worthwhile. Thanks for your efforts." (Stephanie)
"From your site you have truly inspired me to spread the word. I work three days a week, have two children and do all the normal things that us mothers do to keep the house running smoothly. The girls at work were complaining that they still needed to go home to cook tea, make lunches, shop on the way home and so on. I told them about your site and that if they organised themselves they would have more quality time to spend with their family at night. When I returned this week two of them came running up to me saying how organised they were because they had read SS newsletters and followed what I had told them. They had made lunches at night, filled the crock pot and turned it on before going to work, made shopping lists and pre-cooked and froze dinners and snacks for lunch boxes. They also told me how much happier and relaxed they were because they didn't dread the stress and rush when they got home, not to mention the money that they had saved. Plus they were sitting around the table as a family having dinner and talking! Thanks for the inspiration and let's keep spreading the word." (Joanne Roberts)
"Thought this may be a good time to make mention of the fact that as long as I can, for as long as your site continues to run, I will always renew my membership, whether I am logging in often or not. Simple Savings changed my mindset and, in turn, my life for the better. I am enjoying my seventh straight year as a full time stay at home mum. Hubby and I continue to live on one wage - and Simple Savings has so very much to do with that. Thanks to Fiona, Matt and the rest of the SS staff." (Lisa R)
"I came across Simple Savings several months ago. I evaluated my lifestyle and wanted to learn how I could (1) save money, (2) help the environment, (3) declutter and (4) get healthy (boy, your website covers a whole lot of interlocking subjects)! I started by cleaning out the house, planning meals using your planner (thus saving money on food) and recycling even more than we were. The best part though is two months ago I quit smoking and I am so happy! I am saving $70 a week and can't believe how much money I wasted, not to mention what it was doing to my health. To all the smokers out there, if I can do it after 30 odd years, ANYBODY can! On my fridge calendar I've marked '$10' in each day I haven't had a cigarette, which is 59 days as I write this. $590 saved so far - what the heck was I thinking before? Over the next two to three years this money is going to be put towards a new kitchen; paid for with CASH. Plus I'm using some of the tricks and tips from SS to save even more - thank you for the motivation and impetus for creating my new life!" (Wendy Robertson)
"I just wanted to say that joining SS last year was one of the best things I have ever done. And the cost of renewal is brilliant! Thanks for a great site and especially for facilitating the Forum, which has provided me not only with huge amounts of useful info, but many hours of enjoyment and social interaction with like-minded people." (Rosalie Upton)
Have a great month!
All the best,
Penny
---
1. Sad Sally, Happy Hanna: Say it with - Cauliflowers?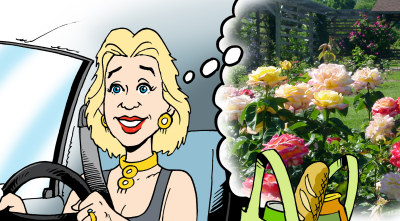 Sally smiled to herself as she drove home from work. Yesterday had actually been fun! She and Pete had done a great job on the garden - who would have thought gardening would be so enjoyable? The place looked so much tidier now; they really should make more of an effort to keep it looking nice. A couple of new flower beds would look lovely - they could even plant a rose garden! And - WHAT IN HEAVEN'S NAME WAS PETE DOING?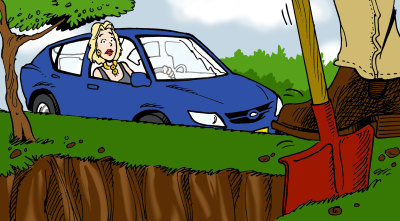 Sally drove in to find Pete had ripped up a huge section of their front lawn! He stopped when he saw her and mopped his brow. 'You know when to show up! I've just finished!' he grinned. 'Finished doing what? I know I said we should plant a few more flowers but that's one heck of a flower bed Pete!' Sally pointed in alarm. 'Well it started out as a flower bed,' Pete explained sheepishly, 'until John came along. Would you believe he and Hanna grow enough food for an entire family? He convinced me that vegies were the way to go!'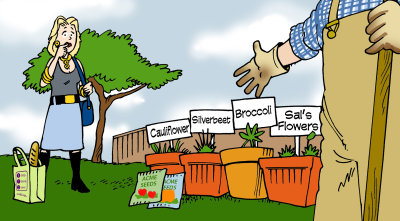 'Oh did he now?' Sally frowned. 'Don't worry love, you'll still get your flowers!' smiled Pete. 'But growing fruit and vegies as well will keep us fed for next to nothing. John reckons it's as easy as falling off a log so I decided to bite the bullet and give it a go. He even gave me some plants and seeds! I've got pumpkin, broccoli, cauliflower and silverbeet for starters but from now on we can grow whatever we like. This is the start of free food for us, Sal!'
---
2. September is Free Food Month
Growing our own food has to be one of my favourite ways to save money - not to mention one of the easiest. I used to think there was no such thing as free food. Then I discovered vegetable gardening and realised that with a small patch of land, a good supply of manure, a handy husband, seeds and water, pretty much all of your food can be free. Well, a good chunk of it anyway. Apart from a quiet spell in the winter, we can literally go for months without having to buy any vegies at all! Almost everything we need is already growing in our own backyard.
You don't have to dig up half the lawn like Pete to be able to grow a few vegies, however! A great example is my hubby Noel. I've never seen anyone get such prolific results from such a small space. He started out with a tiny triangular patch of scrub at the bottom of the drive. He cleared it (pulling out anything from plastic to piping to barbed wire along the way), raked it, put the chooks in it to work their magic with their scratching feet, sowed it and waited.
It took a while to get truly established but the wait was worth it. In the first three months of this year alone, that little patch yielded no less than 120kg of fresh, home grown food. Can you imagine how much it would have cost us to buy that much in the supermarket? Even based on a ballpark figure of $5.00 per kilo, that lot would have cost us $600 to buy elsewhere. As it was, it cost nothing more than a few dollars' worth of seeds and a few hours of spare time on Noel's part.
There are so many benefits to growing your own food. Noel spends his work days stuck behind the wheel of a car so he really enjoys the peaceful hours he spends in his garden. There is nothing more rewarding than being able to feed your whole family with food you have grown yourself. Everything tastes so much better too! No sprays, no preservatives, no plastic wrap. Our children eat more vegetables now than they ever did before, simply because they taste nicer. Nothing beats Dad's broccoli!
When you make the commitment to growing your own food you have to be prepared to invest quite a lot in the beginning. Time to learn, equipment, money for seeds; but rest assured the outlay and the effort will pay off. You only have to look in the Vault to see how much money growing your own food can save. There are over 350 tips to help you grow terrific fruit and vegetables. There's never been a better time to get started!
---
3. Best of the Vault: Home Grown Goodness
The best way to learn about growing your own food is through the advice and experiences of others who have 'been there and done it'. Learn the secrets of growing a successful crop from our experienced Vault members. Their ingenious tips will soon have you growing great vegies and saving a bundle!
$29 vegie patch
I'm growing cherry tomatoes, big tomatoes, cos lettuce, iceberg lettuce, baby carrots, cucumber, silverbeet, bok choy, spring onions, basil and coriander in my own backyard and the whole thing only cost me $29 to set up. Here is a photo.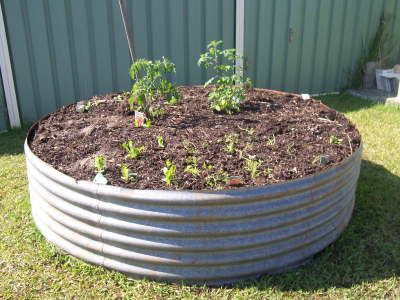 My budget garden was simple to put together and I am very proud of my effort! I used:
An old tin water tank, obtained through Freecycle. I cut it in half, ending up with a big pot, 1.5m diameter x 0.6m high: free
Cutting blades for the grinder to cut the tank up: $5.00
Mulch from the tip: free
Soil, from a landscape supplier. The machine drivers weren't there on the weekend so we shovelled a ton of it ourselves and got a discount. We split the soil with family: $10
Garden hose from yard sale to cover sharp edges (not in photo): $2.00
Plants, I grew some from seed and bought some seedlings: $12
Along with our chooks and making my own yoghurt, I'm on my way to running a self sufficient, healthy, budget conscious household.
Big savings on seeds
We have saved over $150 in seeds alone this past year. Instead of paying up to $5.00 for packets of seeds which may or may not sprout, we have started grabbing packets of seeds from the herb sections of Woolworths, Coles and IGA. Most mustard, coriander, fennel, cardamom or celery whole seeds that you get as a spice for cooking will sprout for you in your garden. These normally cost around $1.05 per packet and you will get a lot more seeds than if you bought them from a gardening shop. We also get the full dried peas (not freeze dried) from the soup section and have planted these successfully for three years now. They give us the sweetest sugar snap peas ever! A packet normally costs $1.53 and you get close to 100 seeds. In comparison, buying 'packet' seed would cost you over $12.
We also cut the ends off shallots and replant them, it takes about three weeks before they start to recover, but then you have an endless harvest of shallot leaves to use in salads. We do the same with old onions that have hidden themselves away in our cupboards and have sprouted. Plant them in your garden, let them go to seed and you will have a great seed stock for the next few years. No need to buy more!
Garlic can be done in the same way. Grab a clove and plant it flat end into the ground. After about four months you will get a great bulb of garlic from your original clove. Be aware that garlic from China or Mexico has been treated with Bromide (cancer causing agent) so only use Australian grown garlic.
Old potatoes and sweet potatoes that start sprouting can be replanted and will give a good yield. Just cut a 3cm piece around the sprouting part of the potato and plant it, from one potato alone you could get up to seven new plants.
Pumpkin, cucumber, capsicum and other vegetable seeds can be cleaned, dried and then planted out to give you more seed stock to play with. Try planting two different types of pumpkins near each other and you might get a hybrid created which tastes great. Our family had a butternut mix with a jap pumpkin and it was the sweetest tasting pumpkin we'd ever tried. We also let one or two of each vegetable go to seed so that next years planting will cost us even less. Our goal is to go totally self sufficient in the garden. So far we have an abundance of butter lettuce, silverbeet, rocket, mint, corn, tomatoes and sugar snap peas all from previously saved seeds.
Seed tape for straight sowing
Sowing broad beans, carrots, onions, radishes and spinach can be difficult and fiddly and the best way to solve the problem is to make home-made seed tape. It is an easy family activity.
1. Unroll a strip of toilet paper on a table (any ply, unbleached and non-scented), to the length you wish. While it might seem quicker to do one long, straight row it is easier with a few shorter strips when planting out.
2. Make a thick paste of flour and water. Dab the paste onto the toilet paper using a cotton bud, spaced apart as per the seed packet recommendation, for example 20cm. Place a seed on each paste blob.
3. When the paste is dry, the seed tape is ready to fold. Starting along the strip's long edge, fold a third of the paper over the seeds, then fold the other third over to cover the seeds completely. Lightly dampen the paper, misting it with a spray bottle of water to secure the seeds. Make as many of these strips as you need then carefully carry them to the garden.
4. Make shallow furrows in the prepared soil, lay the strips down, mist heavily with the spray bottle of water and cover with soil. Now, your seeds will grow in straight, spaced rows. Tip: Alternate carrot seeds with radish seeds because when the radishes sprout, they help to mark the row and break the ground.
Sweet potato all year round
Many people do not realise this, but it is possible to grow 'seasonal' vegetables all year round! For the price of a single sweet potato, our family enjoys its homegrown produce summer and winter. It takes very little time and effort. First you need some large, empty pots - old plant pots will do. Next, put some shredded paper in the bottom, followed by either compost or cheap potting mix. Then, purchase one small sweet potato and cut it into four. Let the cut quarters dry off for a week, then plant into your pots. In a small area, these will grow and trail and make a nice display of greenery; in a large area they will grow against a fence and cover the area.
Every six months we take out and use a sweet potato and always cut a little to dry. Then we simply put the newly dried pieces back into the pots and start again! I have six pots going and these keep us in sweet potatoes all year. You can do this with other vegetables too, using pots or whatever else you can find. I have converted an old plastic baby pool into a vegie garden and use it to grow lettuces, just picking the leaves as we need them. Even an old tyre in one corner of the yard has been filled with shredded paper and soil and grows beetroot, which are delicious served cold in summer, and hot in winter with a dollop of sour cream!
Want to learn how to save money on EVERYTHING? Become a Savings Vault member! Each month we try to cram as much information as we can on a single topic into our free newsletters. The Vault, however, is loaded with information on absolutely every money saving topic you can possibly think of. Becoming a member gives you access 24/7 to whatever information you want, whenever you want it. With our 365 day 'no questions asked' money back guarantee you have nothing to lose and everything to gain! Click here to join.
---
4. Best of the Forum: Great Gardening Tips
The Savings Vault is a fantastic source of steady tips but you can get even more hands on information from our Gardening Gurus in the Savings Forum. All your gardening questions are answered right here!
NOTE: The Forum is in our paid members area, the Vault. You have to be a Vault member to access it.
Like many people, Michelle wants to combat the rising costs of fruit and vegetables by growing some of her own. But where is she supposed to start? The members are quick to help with some ideas.
read more...
Growing your own potatoes is fun and so rewarding! You can grow them in all sorts of things - check out this thread for cheap and innovative ways to ensure a bumper crop!
read more...
Sara shares an extraordinary article which looks at the perilous state of food supply in the Western world. We have become so used to popping up to the shops for what we need; we have forgotten how to feed ourselves. For anyone questioning the need to grow your own food, here is your answer.
read more...
Regus wants to put a large area of ground to good use by planting fruit and vegetables in it. There's just one problem; it's always in the shade. Will she be able to grow anything - and if so, what? Our members have the answers!
read more...
Gardening never goes out of date! In this thread from last year's Grow Your Own Food Month, Claire M and the members challenge each other to get out in the garden.
read more...
Rob wants to build some raised garden beds. Unfortunately timber isn't an option, thanks to the termite nest in next door's yard! What can he use which isn't going to break the bank - or get eaten? The members help come up with some smart ideas.
read more...
Salli is the proud owner of a newly planted herb garden - but now what? When is she supposed to use her herbs and in what? How does she keep them growing and not dying off? Once again, SS members come to the rescue!
read more...
---
5. Sophie Gray: The Good Life
Do you remember a 70's TV show called 'The Good Life', about a couple trying to be totally self sufficient from their suburban garden in Surbiton, UK? The show was a comedy and we laughed like drains as Tom and Barbara struggled, and frequently failed in their attempts to produce everything from clothing and food to fuel in their modest backyard.
Nowadays it's not so laughable; in fact it's positively fashionable to grow your own vegetables, keep a few chooks, a goat and make your own cheese.
I have had both success and failures in my garden. Some foods are easy to grow in abundance, such as spinach, parsley and rhubarb. I also grow baby salad greens, fresh herbs and some fruits, a few heritage varieties, coloured beets, snow peas and beans. All of these can transform an otherwise ordinary meal into something special.
I love to fill my recipes with fresh, healthy vegies. The following dishes can all be adapted to use up whatever vegies you have on hand or in the garden.
Curried vegetable puff tarts
This curried vegetable mix is very simple to make and low in fat, despite the creamy texture. You could use filo pastry instead of puff pastry for an even healthier meal. I serve these with boiled rice, steamed vegetables and chutney but they are also good on their own or with a salad.
Serves 4 or more
1 tbsp oil
1 clove garlic, crushed
1 onion, chopped
1 cup cooked chickpeas
4 cups mixed vegetables, chopped (potato, pumpkin, carrot, broccoli, beans, kumara - whatever you have on hand)
2 tsp curry powder
1 ½ tsp garam masala
Pinch cayenne pepper
400g lite evaporated milk
1 can water
1 heaped tbsp cornflour
Frozen puff pastry sheets
Poppy seeds
In a large frying pan or saucepan heat the oil and saute the garlic and onion until soft. Add the chickpeas, prepared vegetables and spices and stir fry for 2 - 3 minutes, taking care that the spices do not burn. Pour in the evaporated milk and water and simmer until the vegetables are soft and the sauce is reduced. If the curry is very liquid when cooked turn up the heat to reduce the liquid further and thicken with cornflour. Leave to cool.
Divide pastry sheets into quarters. Brush around the edges with water and put a spoonful of mixture onto each quarter. Pull the corners into the middle and pinch along the joins to form raised 'seams'. Brush with milk and sprinkle with poppy seeds. Bake at 210C until golden and puffed.
Self crusting quiche
This can be served hot at home or cold on picnics. A salsa or chutney makes a good accompaniment. You can also add any leftovers such as sliced sausages, salami or bacon to this recipe.
1 large onion, chopped
2 cloves garlic, chopped
1 tbsp butter
3 eggs
1 cup milk
Seasoning (e.g. dried or fresh herbs, parmesan cheese, dash of sweet chilli sauce)
Salt and pepper
½ cup self raising flour
2 cooked potatoes, cubed
1 cup cooked vegetables
1 cup grated cheese
Preheat the oven to 220C. Cook the onion and garlic in butter until soft. Allow to cool. Combine the eggs, milk, seasonings and salt and pepper and beat with a fork. Pour this into a large bowl containing the flour and stir until just combined. Add the vegetables and cheese and pour into a well-greased pie or quiche dish (do not use one with a removable base). Cook for 30 minutes, then allow to cool for five minutes before cutting.
Pilau rice 'n' spice supper
This is a 'made from next to nothing' meal that is delicious, interesting and can be styled up or down as your budget allows.
Serves 4 as a light meal
350 - 500g beef, pork or chicken mince
1 tsp oil, if required
1 onion, chopped
½ tsp cinnamon
½ tsp ground allspice
1 ½ tsp salt
½ tsp black pepper
1 ½ cups long grain rice
2 ½ cups stock
2 - 3 cups frozen mixed vegetables, or finely diced fresh vegetables
Toasted almonds or pine nuts to garnish (optional)
Brown the meat in a frying pan, using the oil if necessary, breaking up lumps with the back of a wooden spoon. Add the onion and spices, cover and cook for 10 minutes. Stir in the rice, stock and vegetables. Bring to the boil then cover. Reduce the heat and cook for 20 minutes or until the rice is cooked and the liquid absorbed.
---
6. Penny's Blog: Home Grown Christmas
Aug 21, 2009
I hate to admit it but I seem to have married a pretty useful sort of a bloke. Years of farming have turned Noel into a bit of everything from vet, builder, fencer, lumberjack, plumber - and very definitely a gardener. Just as well one of us makes up for my having black thumbs, but where plants are concerned he seems to have the Midas touch. Whatever he plants, whether flowers, fruit or vegetables, it just grows. Who knows, maybe he goes and talks to them like Prince Charles when the rest of us aren't looking! Whatever the secret, I didn't realise until today just how much food we have growing around here - and it's all thanks to Noel. Well, Noel and Linda Cockburn actually. As soon as I picked up Linda's first book 'Living the Good Life' a couple of years back, I fell in love with the idea of self sufficiency. Fortunately Noel did too - the only one of my demands he refused to give in to was allowing me to get our own goat to milk; his argument being I have enough trouble getting myself and the kids organised in the morning without having to fit milking a goat into the bargain as well.
Still, that marked the start of making a serious commitment to growing our own food. We also invested in Linda Woodrow's 'The Permaculture Home Garden' on Fiona's recommendation. We both read through it and I learned heaps, but Noel is the one who has always put in the hard yakka. From talking to others it seems to me a lot of people are still scared to give growing fruit and vegies a go in case they somehow get it wrong. The thing is, there are no hard and fast rules. It's your garden and you can plant what you like in it, any way you like. Vegetable gardens don't all have to look like something out of a picture book, all immaculate with everything growing in nice, neat rows. Good heavens, you want to see Noel's vegie garden, it's so chocka I can never find anything! In fact, he forbids me to go in there in case I inadvertently tread on something. The important thing is that you've got your plants in the ground and they're growing. One of the great things about gardening is that you can learn as you go; you don't have to be an expert before you start. Although it does help if you can at least remember to water your plants, which I'm afraid, is not one of my strong points...
This is exactly why Noel is in charge of growing all our food and a sterling job he does too! Just yesterday he came home with three different varieties of seed potatoes - the idea being that they are all ready to harvest at different times, giving us a constant supply for a good portion of the year. If he plants them now the first lot will be ready in November, the second should be ready for Christmas and the last lot will be ready by the end of summer. He's also been busy planning and planting more fruit trees recently with the same idea, to keep us fed all year round. I took a quick walk round this morning and was amazed to count this little lot:
2 nectarine trees
3 apple trees
1 Nashi tree
3 plum trees
10 feijoa trees
1 grapefruit tree
1 avocado tree
1 pear tree
3 mandarin trees
3 peach trees
1 fruit salad tree
1 cherry guava
1 pomegranate tree
1 apricot tree
2 tangelo trees
3 orange trees
2 lemon trees
1 lime tree
1 passionfruit vine
1 raspberry bush
2 grape vines
Goodness knows how many strawberry plants!
As mentioned, where possible, Noel has planted different varieties of the same fruit so that we can enjoy them at different times of the year. Clever old thing isn't he?! He can't wait to get back into the vegie garden now the winter months are over. He always complains it's a boring time of year when he can only harvest broccoli, cauliflower, silverbeet and pak choy but I'm not complaining, it still saves us a heap. Like him though, I'm also looking forward to the summer when we have tomatoes, sweetcorn, zucchini, beans and salad greens coming out of our ears. Cooking dinner is so much more fun at that time of year; so much easier and cheaper too. Just throw some meat on the barbie and go and grab whatever's ready out of the garden to go with it. Brilliant!
I've been meaning to tell you for ages about our plans for Christmas - I know it's still months away but already we're planning for the best Christmas ever! We spend every second Christmas at home and this year is our turn to host it. I've always been a stickler for a traditional Christmas - roast turkey and all the trimmings, mulled wine, you name it but this year we're doing something different. We are going to have our very first home grown Christmas! This means everything at the dinner table will be either grown or caught ourselves. We will be feasting on anything from fresh fish, crayfish and scallops to lamb and venison. I'm even tempted to have a go at making our own wine! With regard to gifts, guests are allowed to buy something if they so wish but the rules are that everyone has to bring at least one thing which is home-made, whether it be mince pies, a festive wreath or tree decoration - whatever they like. We stopped sending cards a few years ago in favour of e-cards but all Christmas wrapping paper will also be home-made.
If anyone else has any ideas of what else we could do or make for our home grown Christmas we would love to hear them! We're really looking forward to it and I'm excited about showing the kids what a fabulous Christmas we can have on next to nothing. Every year for years now I have put money in a special account each week to help boost the coffers at Christmas but not this year - I cancelled it. I have a feeling we're going to be just fine without it!
6th - Running commentary
18th - Crunch time
24th - Peter and Paul
---
7. Homeopathy Corner: More Kitchen Cupboard Cures
You would be amazed at the huge range of common ailments you can treat using natural products found in your own home. This month Fran Sheffield shares yet more handy cures from the kitchen cupboard which could well save you a trip to the doctor or chemist. No nasty side effects and next to no cost!
homeopathyplus.com.au/hplus/quick-tips/kitchen-cupboard-cures.html
---
8. From Last Month: Redundancy Cost Cutting
Last month Kim S. asked:
"My husband has just been made redundant and we are moving from remote WA back to Sydney to live close to our family. The most daunting and overwhelming cost for our move is the general day to day expenses - for example; groceries, doing things with our children and the everyday costs of living back in the city. Have other members been in this situation? If so, what did they do to cut costs? We don't want to eat into what little savings we have until we can find more work."
It looks like Kim is not alone. We love your support and great advice!
The first steps after redundancy
On being made redundant three years ago, the first thing I did was to ensure I received all my entitlements, such as annual leave, unused RDOs and a lump sum payment. I then contacted Centrelink, and since my earnings were part of a redundancy package, I did not have to wait the standard 13 weeks to start receiving benefits. I also got an interim health care card which provided savings on public transport and utilities bills. This saved me around $200 per month.
I also received free career counselling and access to a Job Network provider so I was able to use their facilities for free including telephone, fax, Internet and photocopier. I estimated I saved at least $60-$70 per month, as I no longer needed my broadband account.
The next step was to invest my redundancy payment in a high interest savings account while I lived off my Centrelink fortnightly payments. I also learned to budget and received access to free financial counselling. The financial counsellor gave me a list of places in my area which served low cost or free meals; I saved at least $50 per week as I did not need to buy more than one meal a day.
Finally, as I needed to have my wisdom teeth taken out, I went to the dentist at my community health clinic. I was charged just $88, saving me at least $300. My advice is to look at what free or low cost services are available. If you look hard enough, and get onto it straight away, you'll be pleasantly surprised!
Eating better on a budget
After being made redundant, most people take a closer look at their food budget. I have found that we eat better, and for less cost, by having two courses for dinner.
Our first course is soup; it's up to you whether you make a super filling soup or a clear broth. Soups are super cheap, quick and taste great for days.
After the soup, your next course can be something lighter such as a chicken salad or toasted sandwiches. By doing this you're still enjoying a great dinner and you're also saving money as you're not cooking as much food, and you're using cheaper ingredients to do so.
Entertainment shouldn't be expensive
Don't stop having fun when redundancy rears its ugly head! Doing things with the children doesn't have to be expensive. There are plenty of things to do in every city that cost nothing, or just a few dollars in petrol.
For free activities in your area, go to the Council, the local library or use Google on the Internet. You'll find lots of suggestions, such as exploring local gardens or enjoying a picnic on the beach. Children of all ages love these activities, and they bring the family together.
It's important to have fun!
During stressful times, it's important to blow off steam and have some family fun. Here are a few affordable ways for you to enjoy some quality time with your kids.
Pick up some cheap sports gear from the op shop or the local dump recycle shop. For example, I recently spent $6.00 at a dump recycle shop and picked up two cricket bats, wickets and a few balls. Take the kids to the park so they can have fun with their sports gear, or if they're still too young to participate in general sports, go to parks with lots of play equipment.
Take a picnic lunch with you. For just a few dollars, you can buy some bread, sandwich meats, cheese and salads from the supermarket. Much cheaper than buying take away! For drinks, take some bottles of water from home.
If the park is close to your home, leave the car at home and walk. This saves money on fuel, builds your energy levels and keeps you healthy.
It will cost just a few dollars to spend a day at the park with lots of sports gear and a picnic lunch. It's a cheap way for everyone to have fun and relieve some stress at the same time!
Keep it simple
Back to basics is my advice to you! Here are some simple ideas on coping on a reduced income.
Bake and cook your own meals and snacks, and freeze home cooked meals for quick and easy dinners during the week. One of our favourite meals when the cupboard is bare is 'slop on toast'! It's mince or sausage meat, cooked with any vegetables I have left over, plus gravy or tomato/BBQ sauce. We cook all ingredients together in a fry pan and have it on buttered toast. Despite the name, it's really nice. Stick to basic meals like this, as they taste just as good and have the same nutritional value as an expensive pre-packaged meal.
Buy from butchers and fruit and vegetable markets instead of supermarkets. Always much cheaper and the quality is usually higher.
Find free activities for the kids such as Council fun days, park openings and so on. Pack a picnic lunch and take it with you. Just remember that kids have just as much fun in a park as they do at an expensive play centre.
If you can, take holidays out of school holiday or peak periods. Or pick a holiday destination that isn't considered a tourist hot spot, as less popular places are so much cheaper. For example, we rented a house at Hat Head near Kempsey and it cost us just $190 for the whole week in spring! Ask around at your kids' school, or speak with family and friends - they might know of someone with a holiday house who will rent it to you at a cheap rate. Another idea is to go on holiday with two or three families and split the cost of accommodation rental.
My last piece of advice is pay something onto each bill every week, for example, electricity, gas, phone and so on. Our family normally pays $10 each time; this has helped us get ahead and takes the sting out of each bill we receive.
Lower the cost of living
When redundancy hit our family, I bought an exercise book in which I listed all income, plus all bills that had to be paid. The most urgent bills were paid first, while I found that some could be held over for a short while.
I also sold everything that we didn't really need, and I told my three young kids that they were to be reasonable with their requests. I was very proud of how they helped me by not asking for things all the time.
To further lower the cost of living, I costed each meal and made up a menu for the week, using leftovers wherever possible.
At the end of the year, our accountant wanted to know if I had another account I hadn't told him about - he had never seen such a low cost of living!
Big city survival tips
It was a real eye opener when my husband and I moved to Sydney for work. With no family support for child care, my entire wage was spent on fees so we basically became a one income family. This experience has taught me a few saving tricks for the big city that I'd like to share with you.
Shop at major shopping centres for fresh food. The supermarkets in these centres have to compete with butchers, delicatessens, fruit and vegetable shops, so their prices are much cheaper than you'll find at a suburban outlet. There are often bulk buys at chicken and butcher outlets that supermarkets cannot match. However, non-food items can be dearer as the supermarkets recoup their losses on meat and produce.
Shop at farmers markets. For example, we go to Flemington markets every Sunday where 10kg of potatoes are just $5.00.
Lay-by, lay-by, lay-by! As things start to wear out, for example, sports shoes, or if there is a birthday coming up, get in early and lay-by. A few dollars a week over several weeks is easier to find than a hundred dollars in one week.
Budget your money to the very last cent and stick to it. Buy petrol on Wednesday mornings. Buy Home Brand bread or milk and use eBay or the local Trading Post. I love typing in the keyword 'free' just to see what comes up.
Kids and redundancy
When it comes to redundancy, I think it's important to tell your kids what has happened. Don't dumb it down, as they need to learn what life can be like.
My mum always told me we had to save money, and our happiest shopping moments were spent looking around our local St Vinnie's or Salvos stores for toys and clothes. I now do this with my four-year-old, and she loves it - in fact, she refers to it as treasure hunting! You'd be surprised at what you can get for just a few dollars, such as board games and even new items that retail stores donate.
Back to basics
We are currently trying to cope with redundancy - not easy when we require two incomes to rent our beautiful five-bedroom home!
At this time, we have had to ask ourselves how serious we are about getting through this situation. The answer is to take some bold steps; in just three weeks we have done the following:
Given notice on our current rental home and found a smaller home in a less fashionable area. This will save us a whopping $880 per month in rent.
Sold all our non-essential furniture. We've even sold some essential furniture, which will be replaced with cheaper items.
Sold all items we don't need or use. This saves on space and will reduce removal costs. What we couldn't sell by online auction was sold at a garage sale or given away.
We were shocked when we sat down and looked at our monthly expenditure, so we have given up digital TV, expensive Internet plans and so on.
We will stick to this simpler lifestyle, even when we are a two income family again. This will allow us to save money, something we were never able to do before due to our purchasing decisions and chosen lifestyle. We used to live a very selfish existence, where material possessions were the most important things. Not anymore - in fact, our pared back lifestyle is really quite liberating!
12 budget-friendly suggestions
Due to a redundancy, we have been surviving on one income for several months. Here are some suggestions based on what we have learned during this experience:
We budget according to the single person's income. This ensures we stick pretty close to living on the steady income each month.
We bulk buy meat once a month from wholesale meat sellers. The average spend is just under $200 for a family of four - we used to spend over $400 a month when we bought meat from the supermarket.
We buy fruit and vegetables from the markets. We spend approximately $50 on produce, which lasts for three weeks or so. Again, like meat, this is much cheaper than a supermarket.
ALDI is an inexpensive place to shop for household items, such as cleaning products, tinned food and so on.
I have cut down on the number of visits I make to the supermarket, and I stick to my shopping list as much as I can. My four-year-old enjoys our rare trips to the supermarket, so consider it an outing!
I buy the single concentrated Fab Softener packets. They are an inexpensive substitute and I use my old Fab container to mix it in.
I cook all our meals. There are always leftovers at dinner time which are eaten the next day for lunch or dinner. We all agree that home cooked meals taste better than heat and eat meals.
My four-year-old is no longer in childcare five days a week; he goes once a week to socialise with other kids. He loves staying at home and has got used to going to childcare just one day a week. As he is very active and inquisitive, he has not fallen behind with his pre-school learning.
We search out local parks where the kids can run around or ride their bikes. Healthy, free fun.
We watch DVDs rather than go out to the movies.
I no longer have a gym membership. I now walk for at least 30 minutes every day.
I use the Internet to research budget advice. Of course, the Simple Savings site is a great source of money saving ideas.
Remember, once you have disciplined yourselves to living within a budget, you begin to appreciate what you usually take for granted i.e. your family and your health. They are the most important things in life!
---
9. This Month's Help Request: Chicken Mince Overload
This month Kirrily Hartnell asks:
"I have a lot of chicken mince in my freezer after a recent sale. I thought I could use it to make tacos but it just goes all gluggy and sticky in the fry pan. Can anyone tell me what else I can do with chicken mince, please?"
Buying meat or groceries in bulk for a good price is fantastic - if you know what to do with it! Can you help Kirrily come up with some super solutions to use up her chicken mince? Send your tips here.
---
10. Savings Story: Out of 'Noddyland' and Into a New Home
We are just 12 - 18 months from a new house, thanks to 'not spending'! Simple Savings has encouraged my husband and I to take a good, hard look at ourselves. Our goal is to buy a nice, big house with land. Just an extra $200 a week in our pockets would help us get there. We realised we needed to take charge and spend wisely instead of living in Noddyland every day.
So we got the whole family on board and explained to the kids their dreams of ponies and tree houses would only come true if we could save enough money to get a bigger place. These days the temptation to buy McDonald's at $35 a pop when we go out is quickly curbed and spending on lollies has halved. We have also cut down our smoking from $70 per week to $55 (getting there!).
Bought lunches just don't happen anymore for my husband and me and the kids are only allowed it as a treat once a fortnight, saving another $18 a week. We don't buy so much rubbish at the supermarket like chips and pizzas and processed foods, which works out to an easy average saving of $29 per week. The kids' behaviour, their teeth and our waistlines are much better for it too!
By the end of each week, we usually find we have managed to 'not spend' around $178 a week on unnecessary things. We still have a long way to go, but we are getting closer to our goal and see hope in our future, not the breadline anymore!