"Secrets to Saving Money in Australia" Free Newsletter - July 2009
This issue includes:-
Sad Sally, Happy Hanna: Fighting fit
August is Free Exercise Month
Best of the Vault: Get fit for free!
Best of the Forum: Ultra budget exercise
Sophie Gray: Energy food
Penny's Blog: The snowball effect
Homeopathy Corner: Quieten that cough!
From Last Month: Romantic meals away
This Month's Help Request: Redundancy cost cutting
Savings Story: Number crunching doesn't hurt
---
Hi ,
Penny here! I'm excited because this month is free exercise month - and that's the best form of exercise I know! Like many people I have spent a small fortune trying to get fit over the years. I spent $400 on a gym membership when the kids were tiny because I wanted to lose my baby weight. There was just one problem - I never found the time to go! Using my gym membership meant paying to put my children in daycare so I could go, driving 40 minutes to the gym and 40 minutes back again. I ended up using my gym membership just once - it just wasn't the right option for me at the time. Then there was the time I borrowed a friend's treadmill. It had cost her $1500 and just sat in her garage doing nothing. So I picked it up - and it sat in my lounge for six months doing nothing instead!
It took me a few more daft purchases but eventually I realised that the cheapest and most effective way to exercise was to simply step outside and walk or run as far as I liked. It's exhilarating, it's good for you and it doesn't cost a cent. Go by yourself (I love my 'me time') or find a buddy or two. The time soon flies!
Whether it's working towards a healthier lifestyle or a healthier bank balance, we love helping people turn their lives around. Best of all, we love to hear of your success!
"Just wanted to let you know how inspired I was by the $21 Challenge. It makes perfect sense to save on groceries by planning meals with ingredients already purchased. I used several recipes and made several 'gourmet' meals (from the magazine) and although the cupboard was nearly bare, all I needed was maybe one ingredient (for example, a lemon) to make the recipe complete. I also used substitutes where necessary, such as tarragon instead of fennel. There was no panic, just awareness. I've always planned my meals in the car and then shopped. Now I plan from my home pantry and then go. I haven't figured out the exact amount (yet) but I know I am saving many dollars and trips to the store - and my husband is eating like a King!" (Athena Creamer, USA)
"Thank you soooooo much for your SS website! It has really changed my life! I am really inspired. I have money in the bank now and feel I can manage. Life is so much easier, financially. Plus I am having fun making the laundry liquids, jams and all sorts of other things that are helping me save money. Thank you, thank you, thank you! I cannot express my appreciation enough! I will always be a member here. It is so worth the money to join!" (Dayamitra Saraswati)
"I want to thank you for making me aware of all my spending. I have never had a budget and even when making little attempts at it, never kept to it. This time, however, I had to think about the fact that next year, my husband and I will be going on the age pension. So, I got out an exercise book and wrote down everything I could think of that we spend money on and allocated a weekly payment to each specific one. This included things like clothes, groceries, gifts, petrol, vet, subscriptions and so on. I found that it would all be more than the pension by far. So now I am really searching for how we can cut down. Having been married for 38 years, some of our habits are well entrenched but I'm grateful for all your tips that mean we will get it to a manageable budget. We're hoping that by the time we actually do go on the pension, there will be extra savings in the bank because we are already saving about $400 each week! Again, many thanks." (Judi Thorne)
"Thank you for all your good work. It took a while to get through to me but thanks to your influence I called in at the bank last week and changed my everyday account to a Streamline account, saving myself $240 per year on fees! Great!" (Judi J)
Have a great month!
All the best,
Penny
P.S. Check out this month's Get Fit competition in this newsletter! You could win a cash prize while getting fit and dropping kilos at the same time! Read on for more details - you've gotta be in it to win!
---
1. Sad Sally, Happy Hanna: Fighting fit
"Ooh look, Pete, that's just what I need!" Sally pointed excitedly at the television. Pete looked up from his paper briefly. "Hmph, looks the same as all the other exercise contraptions to me!" "Oh, but this one's supposed to be marvellous!" Sally told him earnestly. "And if you order in the next 10 minutes, you can get it for just 27 easy payments of $40!"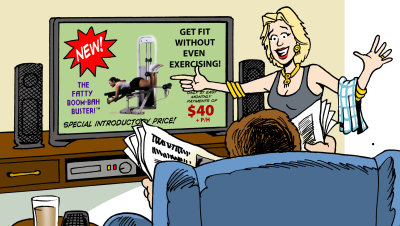 "What a fabulous deal, we should get two!" Pete laughed. "Sorry love, it still adds up to over a thousand dollars we don't have. And besides, it would only end up going the same way as that exercise bike you nagged me for. We must have moved it to every room in the house over the years but I never saw you on it more than twice!" Sally pouted in defeat. "I just want to start looking after myself a bit better, that's all. I'm not getting any younger you know!"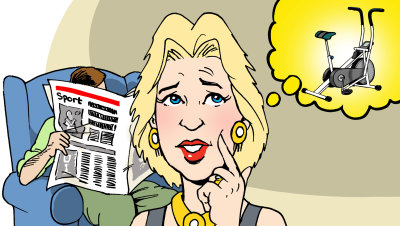 Pete got up and gave her a hug. "Well I love you just as you are, you know that!" he said. "But if you're really serious about wanting to get fit, I think I can help you find some exercise equipment. Go and put some shorts on!" he grinned. Sally didn't need telling twice. She dashed off excitedly to get changed and returned to find Pete in his shorts too. "Right! Where's this exercise equipment then?" she asked, jogging up and down on the spot. "Right here!" he chuckled, handing her a garden spade. "It's about time we got rid of all those weeds in the garden. Let's get to it!"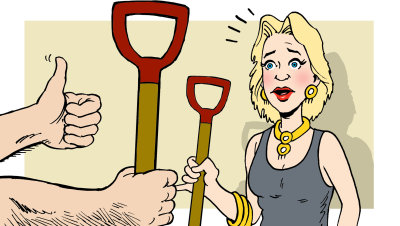 ---
2. August is Free Exercise Month
Sally may not be too impressed at Pete's answer but he's absolutely right; the cheapest form of exercise is to simply get moving. You don't need to pay hundreds of dollars on a gym membership or an Ab Blaster to get in shape. This month, we challenge you to see how many ways you can have fun getting fit for free. Add movement and activity into your life in as many ways as possible.
Get Fit competition - win cash prizes!
At this time of year we often feel a little sluggish. We tend to go into hibernation in the winter and find it hard to get going in spring! We eat more comfort food and less salads and would rather curl up somewhere warm with a good book than pound the pavements. We know, we've been there! So to get everyone upright and active again we are daring you to get fit with our brand new 'half a kilo' challenge!
Can you lose half a kilo every week of this month? Fiona is exempt, being 36 weeks pregnant, but for the rest of us, no excuses! To be in to win, all you need to do is send in a photo and story of yourself or your family getting fit for free. The funniest/most inspiring story each week for the month of August will win $50, with two runner up prizes of $20. Email your entries to us here.
It is important to keep our circulation, muscles, bones and minds healthy. It is important to find physical activities that are fun or acceptable to make exercise a habit. If you have forgotten how to play, have fun and do simple exercises, we have some ideas that can help you FEEL like moving.
To get you started, here are some ideas for getting creative with free exercise.
Sit down
You don't have to even get out of your chair! Use some hand weights or tins of food while you are watching TV or a movie. During the commercials try tensing your butt muscles or flexing your abs. Remember, any exercise is better than none at all!
Calf raises
Exercise as you're washing the dishes! While you are standing at the sink, gently rise up on your toes and hold for a few counts before lowering. Continue up and down while you wash your dishes and tone your calves.
Walk the dog
If you have a pet, such as a dog then this is a super easy way to add some exercise in your life. If going around the block is just too much for you, just chase your dog around the house or back yard. It's fun, exhausting and no one has to see you do it!
Push it
You may not be able to do 100 push ups just yet but every day, aim to add just one more. Start with three and that's fine. Tomorrow push yourself to do four. One more each day will really get you going.
Jumping jacks
How many jumping jacks can you do during one or two commercials? Challenge the rest of your family to see who can do more.
Now it's your turn! See how many ways you and your family can enjoy exercising for free - and don't forget to send in those photos! Should you get stuck for inspiration or motivation, just head to the Forum! Our members are always coming up with fun fitness challenges to do together. It really helps having a virtual exercise buddy to keep you on track and our members all do a fantastic job of supporting one another.
Once you get going, it doesn't take long before you start feeling and seeing a difference. But don't just take our word for it! Dust off that bike or those sneakers and get going! When you take the time to exercise you get maximum benefits for minimum effort. It's not just good for your physical health; it's also good for your emotional health. It's good for your wallet as you will get sick less, saving on doctor and chemist bills. Most importantly of all, it's good for your loved ones - you get more energy to have fun with the people you love. Now that's priceless!
---
3. Best of the Vault: Get fit for free!
If you would love to get fit but don't have spare funds to waste on expensive gym fees or equipment then you are in for a treat. Our members are brilliant at finding low cost ways to keep the weight off.
Family fun pretending to pedal the highways
Our family is well on the way to pedalling our way around the country, and we haven't even left home yet! We have two boys, (11 and 12) and my husband and I need to get fit and lose some weight. I bought an exercise bike on special at WA salvage for $139 (I actually got it for $99 as it was wrongly ticketed) and am all set to get fit. We are planning a trip later in the year to northern WA and need to research the trip. So, we have put up a map and are going to 'pedal' our way there over the next few months. Weeks of family fun, motivation and educational experience before our holiday even begins!
Drop kilos with Dorothy the Dinosaur
I have found a great way to get fit while having fun with my kids for no cost! I've just had my third child and have been struggling to find time to exercise without them. I don't want to pay gym fees or to pay to have them looked after while I exercise. Then it occurred to me that I spend a lot of time during the day trying to wear them out, so why not incorporate that with my exercise routine? Now I get out their Wiggles DVD and exercise and dance along with the kids to get fit! It's an activity we can share, can be done any time and is a huge saving compared to hundreds of dollars in gym fees!
Easy walking saved on gym fees
Instead of spending hundreds of dollars at the gym to try and trim my waistline, I decided to walk home from work, instead of catching the bus.
Now I get my exercise, am home just 40 minutes later than normal (I would have been away at the gym at least one hour - plus travelling time and money) and I save $10 a week on my bus fare - not to mention the gym membership that I avoided!
Volunteer at YMCA and get free facilities
My husband gets free membership at the gym, plus two hours of free playtime and socialising with other children for our son. It's easy! He simply volunteers at the YMCA for two hours a week with creche.
Exercise with other mums
I have saved over $1000 on my gym membership fees this year, by coming up with a simple FREE solution that is much more fun!
As a busy mum with teenagers, a toddler and a home business, my exercise always meant a lot to me, but the costs of my gym membership were becoming a real issue. At $25 per fortnight, it was costing $650 per year, plus almost the same per year in childcare while I went to the gym five times a week!
I decided to start a walking group by putting up brochures at my local kindy for parents with prams. This way I started meeting lots of new mums and dads, and we all spend time outdoors, which is much nicer than inside a sweaty gym! We usually all meet at a park following our walks or runs (as people are at different levels of fitness), and this has also become like a free play group with all the toddlers and bubs.
This has saved me loads of time as well as money, as instead of driving to the gym, putting my child in care and then home again, we leave from nearby so no car, no fuel, just strap my son in the pram and off we go! This has been a great move as I have not only met heaps of great people, I have also picked up lots of wonderful ideas on saving, as we all talk and share hints along the way!
Get paid to lose weight
Imagine getting paid to do exercise and lose weight! I recently turned my gym membership cash outflow of $50 per month into a $150 per month cash inflow!
I replied to an ad on a community notice board for a dog walker, offering $10 per hour for a dog to be walked every second day. I get a really energetic workout (or on a bad day I can relax at the park and just throw the ball to the dog) and get paid to burn calories.
I have now cancelled my gym membership, which has resulted in my having $200 per month more in cash than I would have had a few months back ($150 inflow plus $50 outflow saved)! Now I have all the pocket money I need to buy new clothes as the kilos fall off.
You could put some leaflets in people's letterboxes, offering dog walking or put a notice on the community news board at the local library or shopping centre. It's also a great way to earn some extra holiday cash for responsible children or teens.
Tone up for free at home
Getting fit is costing me nothing! I have lost a lot of weight from my butt and thighs by jogging on the spot! With my pale skin, the sun made exercising outside difficult, so I chose to exercise in the comfort of my own home instead. For at least 20 minutes a day (but no more then 30 minutes), I exercise away while watching TV. I copy some basic stretches from a book borrowed from the library and then just jog or walk on the spot. I can't believe how effective this has been - I used to be a 10 with a size 12 bum; now I'm a 10 with a size 10 bum! I look great, I feel great and I can fit my exercise into my schedule any time of the day. Fast, easy, cheap and effective!
---
4. Best of the Forum: Ultra budget exercise
If you are still looking for extra ways to exercise on your budget check out our clever Savings Forum members and their threads.
NOTE: The Forum is in our paid members area, the Vault. You have to be a Vault member to access it.
Having trouble finding the time to exercise? You are not alone! In this thread, members share their tips on when and how to find time for yourself.
read more...
There is nothing more important to your health and your bank balance than giving up smoking! Join Shelly and the gang and kick the habit.
read more...
From the hilarious to the ingenious, the members of the Savings Forum always know how to come up with new ways to save on exercise! Check out some of their suggestions here.
read more...
MJ is thinking of buying a second hand cross trainer to exercise with at home. There's just one thing stopping her - once she gets it, will she actually use it, or will it end up gathering dust in the corner like Sad Sally's exercise bike? Other members share their varied experiences to help her decide.
read more...
It's hard for a busy mum of four to get into a regular exercise routine but Amanda hasn't given up! She wants to make the most of her children's playtime by doing some exercise herself in the backyard. Never short on ideas, our clever members come up with heaps of ways to make exercise fun for free.
read more...
---
5. Sophie Gray: Energy food
Age is a tricky thing, sneaking up on you when you least expect it. A twinge here, a spider vein there, a crease around the eyes or dimpling of the skin... I've learned to keep vigilant and wage a constant battle against my own advancing decrepitude. Having done little other than walk to and from the car for years, I truly wish I'd started my fitness journey earlier. But at least I started, first as a walker, then a runner (not a pretty sight I can assure you).
Running revealed all sorts of anatomical issues relating to gravity that needed attention, so I invested in the gym. And even though I work out a lot, I still seem to sag a little more every day.
So thank heavens for the exercise! If I hadn't got off my butt and got active when I did, I'd now be hauling it behind me in a trailer. I've accepted that I'm not going to be frolicking in a bikini any time soon (unless they do one with leggings). But I am fit, fitter than average actually. And I like the knowledge that if I had to run for my life I could.
In fact running for your life is a great way to look at the journey to fitness. It may be a gentle jog under the cover of darkness, or a walk with a friend, the pram or a group. However you do it don't make price an excuse. Walking and running are free, the benefits are priceless.
Muscle matters - One of the things I noticed as I became one of those people who gripe and moan if they miss their workout is the amount of 'special foods' pitched at the fitness market. Unless you are training to be an ironman your nutritional needs are not likely to change significantly simply because you are exercising. You don't need loads of protein in the form of bars and protein drinks, nor do you need energising nutrient waters, and muscle building serums.
Protein plays a role in controlling appetite, so you feel full - helpful if you are trying to release weight, and it enables the growth and repair of muscles, tissue and many other things. But healthy, inexpensive real foods can provide you with everything your body needs to build and repair muscle and release fat. The more muscle mass you have, the more energy (calories, kilojoules, flab... ) you use up just breathing in and out. Muscles hold their shape better than fat too, so you look trimmer even though you may weigh the same as someone without much muscle. The process of building muscle through resistance training (weights or weight bearing activity - even walking) also strengthens bones, helping protect against osteoporosis.
My after-exercise hunger-busting smoothie
I'm always starving after a workout; this is what I have so I don't undo all my good work with an unhealthy snack. This smoothie provides antioxidants from the berries, sugar in the form of fructose and lactose, which satisfies my sweet cravings. It provides a good serving of calcium and some soluble fibre to keep me feeling full. Way better than an expensive energy drink!
1 cup frozen berries
¼ cup yoghurt
1 banana
1 cup low fat milk
Process or blend with a blender and drink immediately.
Spring chicken
The fresh flavours of this marinade make it a winner with all ages; it's light, lean and healthy. Use to flavour chicken to serve over rice, with a salad or in a wrap. You need:
2 large boneless chicken breasts sliced in half horizontally to make 4 fillets
For the marinade:
2 fat stalks of lemongrass, finely chopped
3 cloves of garlic, crushed
1 tbsp kecap manis - sweet soy sauce
2 tsp sugar
½ tsp ground pepper
Mix the marinade ingredients together to form a paste. Coat the chicken pieces in the marinade and refrigerate for ½ an hour up to 2 hours.
Grill or bake the marinated chicken and serve with rice and steamed vegetables or with a crisp salad and brown rice. Spring chicken is an excellent addition to a stir-fry or noodle dish and tastes great in a sandwich or wrap.
Guacamole toasts
This simple fresh guacamole style spread is great on wholegrain toast. It is relatively low in fat and will provide some protein as well as great taste.
½ an avocado
Spoonful of natural yoghurt
Splash of sweet chilli sauce
2 slices wholegrain bread, toasted
Slices of cheese - optional
Mash avocado and yoghurt together and season to taste with sweet chilli sauce. Spread over warm toasted wholegrain bread.
Optional, melt a slice of cheese onto toast before adding guacamole.
---
6. Penny's Blog: The snowball effect
Jul 23, 2009
I've been having trouble sleeping lately. I keep waking up in the middle of the night and can't get back to sleep. Instead I lie awake for hours writing a mental 'to do' list. It's driving me mad but I can't help it, there are so many things I'm trying to achieve at the moment that everything is just preying on my mind. Most of them are savings oriented. The main one is our upcoming trip to Australia. We're coming over in September for two and a half weeks to celebrate the launch of the book. Yippee! We can't wait! There's just one teensy problem. We can't really afford it. Seriously! We've been concentrating more on paying off debts this year than putting any spare money into savings and like many people, things have been a lot quieter on the work front for Noel. But it's booked and we're coming so the pressure's really on now! Fortunately I'm a person who thrives on deadlines and at least it's making me get off my bum and start listing all my Sad Sally stuff on Trade Me. Yes, I'm determined my Trade Me money is going to pay for our trip! Well, maybe not our accommodation but at least our food and spending money. I have exactly two months to achieve my goal!
The good thing about saving money is that it's so darn easy when you really put your mind to it. You just don't spend! Admittedly some things aren't very helpful, such as when the dishwasher is finally pronounced dead or when you need to fork out for two pairs of glasses at once (don't ask!). We've been doing dishes for months and I have to admit what started out as a novelty has us all heartily sick of it now. However, I refuse to give in and buy a new one, it's not worth it at the moment, it would put us too far back financially. Putting it on credit is not an option! But even when big expenses crop up at least it's reassuring to know you can still save on the little things. My $21 Challenge is going well. I still haven't bought anything! Keeping your food bill low is SO easy when you cook with basic food. I mean, take last night's dinner - Greek crockpot lamb with Greek potatoes. All I needed for the whole meal was the meat, potatoes, olive oil, garlic, lemon, oregano, nutmeg, salt and pepper, plus broccoli and carrots to go with it. Nothing flash, nothing pre-processed, just the most basic of ingredients and the result? A restaurant quality meal which smells divine and just melts in the mouth. I'm really finding this $21 Challenge a joy, which is just as well as I'm sure there'll be a few more in the coming weeks to add to our Australia fund!
I also still have Liam and Noel's birthdays coming up over the next few weeks. I'm trying to be as organised as I can so I can buy sensibly and avoid last minute blowouts. At least Noel is easy to buy for these days; all he wants is cycling gear. Get this - he's been smoke free for almost a year now! That's not his only achievement either. At the same time he took up exercise. It began as his way of taking his mind off smoking and coping with the nicotine cravings. Now he's hooked on exercise! Funnily enough he gives me credit for inspiring him. He saw how good I was looking and feeling when I took up running and decided to do the same. Unfortunately he developed problems with his achilles tendons and had to stop. In frustration he jumped on my $50 Trade Me bike and found cycling was his thing! In turn he has gone on to inspire his best mate. For years Ross' knee was so bad he was hobbling about like someone twice his age. He saw Noel out and about on his bike and decided to do the same. Now they go cycling together and Ross' knee is as good as new! They cycle for miles and a group of them are even talking about doing the 160km Lake Taupo Cycle Challenge in November. Isn't it amazing how things snowball! All it took was little old me to get the others going too. Mind you, I think Noel is a bit TOO hooked - these days he's the one who kicks me out the door to go for a run!
Although, I'm grateful to him for nagging me really. I'm a person who needs goals, particularly when it comes to exercise. Noel doesn't, he just keeps going, but not me. Many people lose weight and then find it hard to keep off. I did Taupo Half Iron Man back in December and felt fantastic. Then I stopped and never did quite get going again. Without something to aim for, all of a sudden it didn't matter as much any more. I had beaten my Half Iron Man challenge, lost 15kg and got down to my goal weight and beyond. I thought it would be easy to keep off and it was for a few months - but it catches up with you in the end. You can't do all that exercise and then do nothing and expect to stay stick thin! The key is, a little and often.
The thing is, many people, particularly women, feel selfish for taking the time out to exercise. I know I do. It's my uninterrupted time and I relish it. But for many of us it's hard to put yourself first. The days are so full, you soon start coming up with reasons why you can't exercise. The dishes need doing. The washing won't get hung out. It never ends. The reality is, it's only 30 minutes out of a whole 24 hour day - is that really so bad? And when you think about it, it's not really selfish, it benefits my whole family. When I exercise, I'm happier. I look and feel better about myself and I'm nicer to be around. I find I come up with all sorts of wonderful ideas and solutions while I'm exercising too - it's good problem solving time and I don't need to lie awake half the night thinking about things instead! When I've finished exercise I feel more focussed and ready to carry out the more mundane tasks. Best of all, I have more energy to keep up with my family. We love playing cricket outside together, or bouncing a squash ball around. And think about the long run. If taking 30 minutes out of each day to stay fit and healthy gives me years more with my family, isn't that worth it?
I honestly think anyone who says they hate exercise just hasn't found the right one. I never thought I would see Noel setting off on a 90km bike ride just because he feels like it! And If anyone said years ago I was going to be a long distance runner I would have collapsed on the floor laughing. But I love it. It makes me feel strong. I love watching the world go by while I'm running and best of all it doesn't cost me a cent. I do have a gym membership but I haven't used it in months. It seems too hard to get in the car, drive there to exercise and drive home again when all I have to do is step out the door. A friend also runs and she and I have started a bit of a game. She lives in Australia and I'm in NZ but that doesn't matter! Whenever we go for a run, we take our mobile phones and take potshots of some of the things we see. Then we email them to each other when we get home! It's so much fun and really makes the time fly. Instead of lumbering up the next hill I'm thinking 'ooh, there's a cow, I must take a photo of it for Naomi! If anyone else would like to join us you're welcome, just email me, the more running buddies the better!
I haven't told her yet but she's going to be receiving a LOT of photos in the coming months. I told you I needed a goal and I decided to set a big one. I've entered the Auckland Marathon on November 1st! Not the half one, the full one - 42.2km. It's one of those 'things I want to do before I'm 40' things. Of course, you don't have to run a marathon to be fit! I remember the first time I ran 5km, I was over the moon - and it still is a really good achievement, I don't know anyone else who goes out there and does it. I can run 5km in 24 minutes, which really isn't very long is it? That's all the time you need, and it's often all the time I have. A teacher at Liam's school has run 3km every day for years, as long as he can remember. He refuses to run a centimetre more than that and he's one of the fittest, leanest people I know. I'm not saying everyone should start running! I just think it's such an awesome form of free exercise - just like walking!
I suppose I'm doing the marathon because I want to see what I can REALLY do. The human body is an amazing thing and you won't believe what you can do until you try. Just like saving money. I'm guilty of getting complacent at times - I know how to save money when I want to (and don't get me wrong, I do, many times every day!) but sometimes you get stuck in the usual rut and need to step up. I realised this when I read the Savings Story 'Our WOW moment' in the May newsletter. I was so inspired! In fact I'm going to stick it on my fridge, where all the most important things go in our house! It's a fantastic example of what you can do when you try and made me want to do my absolute best. So I'm confident that I will reach my goals, both my financial ones and my physical ones. I will keep my 'WOW' story in sight to help me save the pennies and as for a reminder to go and exercise; all I have to do is watch this video of myself on YouTube. Eek, talk about a memory trigger - think I'll go for a run right now!
8th - Stop the world, I wanna get off!
21st - Purging Sad Sally
27th - The Credit Controller from Hell
---
7. Homeopathy Corner: Quieten that cough!
There are many different types of cough and you can hear them all at this time of year - tickly coughs, chesty coughs, croupy coughs, but they all have one thing in common; they cause distress and discomfort to the sufferer (not to mention the listener!). In this fascinating article our favourite homeopath, Fran Sheffield, discusses ways to bring relief from coughing to people of all ages - without the harmful side effects of some of the many over-the-counter cough medicines.
To read Fran's article go to:- homeopathyplus.com.au/hplus/treatment-room/coughs---and-how-to-treat-them.html
---
8. From Last Month: Romantic meals away
Last month Theresa asked:
"We are about to embark on a much needed weekend away for two, something we have been saving for. The apartment has a kitchen and because we don't have extra funds to splash out on fancy meals I would love to take some nice food to make that would really make it special but doesn't require a lot of cooking or cash."
What a lovely bunch of romantics you all are! We were blown away by your responses. Here are some of the best we received:
A list for lovers
Grab a chiller bag and some ice bricks, and then fill the bag with these staple items for a romantic break:
A precooked chicken (smoked chicken is a nice alternative for a special occasion)
Salad items
Fresh bread
Margarine
A bottle of wine
A frozen dessert - cheesecake travels well and you can make it a week or more before you go. Just thaw it out well before you need it and it doesn't go soggy.
This could be your romantic dinner the night you arrive.
If you choose to have cereal for breakfast the next morning, buy the milk and yoghurt from the local supermarket on arrival. If you're lucky, your apartment or motel will give you a bottle of milk when you get there.
Cold meats, such as ham or lamb, travel well; I always pack everything in snap lock bags as they are easy to fit into the chiller bag and are not bulky. You can have this as a cold salad or in sandwiches for your lunches. If you want something hot, soup is lovely and can be easily reheated in the microwave at your accommodation.
The very last meal of your stay can be leftovers, for example, lunch on the way home. That way you don't have to take anything back with you. Enjoy yourself, and I do hope this has helped.
Cosy casserole for couples
One of my tastiest recipes, which my husband is addicted to, is also one of the cheapest and can easily be 'dressed up' for that special occasion. Depending on the price of the chicken, this should not cost you more than $3.00 per serve.
Mango chicken casserole
Ingredients:
6 chicken pieces
1 onion
1 tin mango pieces
½ cup boiling water
1 tbsp powdered vegetable stock
Method:
Place the chicken pieces in a casserole dish so that they all fit on the bottom with no layering. Chop the onion and sprinkle over the chicken. Drain the mango pieces and blend - not too much, you want the mango to be a little lumpy. Mix the water and stock and add the mango puree. Pour this tasty mixture over the chicken. Cook for 1½ hours at 180C. That's all there is to it! Serve with crusty bread and roast vegetables, or lightly steamed green beans and asparagus.
Eat what the locals eat
My husband and I enjoy the odd weekend away and we've discovered it's a great opportunity to taste the local produce, for example, cheese, eggs, fruit and vegetables. We often cook our own meals as it's much cheaper than a restaurant and it's usually nicer. For example, you can't beat scrambled farm fresh eggs with smoked salmon on sourdough bread for breakfast!
For dinner, there is nothing like freshly cooked steak, mashed potatoes and some good greens; if the weather is too hot for greens go for some lettuce with feta cheese and olives. Pancakes with berry sauce are lovely for dessert - even better with ice cream or cream to go with it.
Nothing needs to be too expensive while you're away; just check the specials in the supermarket and pick up a bargain while shopping for local produce.
Grown up salad
My husband and I had this salad last week when our kids weren't home and it filled us up nicely. It would be perfect for that romantic break too, as there's minimal cooking involved.
To a large bowl, add these ingredients:
Cos lettuce, washed and sliced
Salad onion, sliced
Bacon, diced and fried
Tinned potatoes (fried with bacon)
Walnuts or pine nuts
Apple, cubed
Shallots, sliced
Your favourite cheese, grated
Toss these ingredients together, serve with dressing or mayonnaise. Perfect on its own or with steak and chicken kiev!
Easy chicken for lovebirds
For a simple but romantic meal, take a cold roast chicken from home. You could make a herb breadcrumb stuffing before you roast the chicken, then whip up a batch of microwave fried rice and a mixed leaf salad to accompany the chicken.
The rice can be reheated in the microwave or quickly made at the apartment. Leftover chicken and salad can be used to make fresh bread rolls for lunch the following day.
Dessert can be just as simple. Slice some strawberries, sprinkle with caster sugar and a spoon of port or liqueur such as Grand Marnier. Cover in a bowl and leave in the fridge until required. Serve with cream, and enjoy!
Going gourmet
My husband and I went away recently and discovered it's easy to enjoy a gourmet experience while you're taking a break.
Before we left home, I baked a salmon quiche that we could easily reheat at our accommodation. Then I went to our local deli and assembled some antipasto platters that were perfect with fresh bread. For a treat to have with our coffee, I made some apricot and coconut truffles and some cookies. Very gourmet, lovely and cheap.
Lovely lunches to perfect platters
When my hubby and I enjoyed a romantic break, we took all our own food - so from personal experience, I know the following items will be ideal for your romantic weekend.
Make your own hommus, char grill some capsicums, buy some nice olives and a good cheese. Don't forget to take some cold meats and/or fish, such as smoked salmon. A loaf of Turkish bread and some cream cheese won't go astray either.
Enjoy smoked salmon and salad on Turkish bread for lunches and pasta with smoked salmon for dinner. Or make up a platter with a little of everything to nibble on with a glass of wine. Ah...perfect!
Get prepared before you get going
Why not prepare a casserole before you leave for your break! Pack some meat and vegetables into airtight containers, with some stock, herbs and spices. When you arrive, put it all in an ovenproof casserole dish, pop it in the oven for two to three hours and enjoy the aromas while it cooks.
Serve with crusty bread and if there's any casserole left, remember that leftovers are just as tasty!
Nice and Nibbly
As any romantic will tell you, it's the little things that count. So on your getaway, wrap a small strip of prosciutto around a piece of haloumi cheese, with some sweet chilli sauce drizzled on top. Secure with a toothpick and make a plateful. Serve with a nice glass of wine or champagne with strawberries.
This is a classy and beautiful entree, just the thing while you're relaxing on the deck or taking in the view.
---
9. This Month's Help Request: Redundancy cost cutting
This month Kim S. asks:
"My husband has just been made redundant and we are moving from remote WA back to Sydney to live close to our family. The most daunting and overwhelming cost for our move is the general day to day expenses - for example; groceries, doing things with our children and the everyday costs of living back in the city. Have other members been in this situation? If so, what did they do to cut costs? We don't want to eat into what little savings we have until we can find more work."
If you have had a similar experience or extreme changes in income we would love to hear how you managed to cut your expenses and keep your savings going. Send your tips here.
---
10. Savings Story: Number crunching doesn't hurt
My boyfriend and I have decided that my car will need upgrading in about three years. Normally, we would take out a car loan and pay it off, but this time I crunched the numbers and came up with the following:
If I put $100 into our house loan each week for the next three and a half years, we will save $1800 in interest, based on the current interest rate of 5.22%. The savings of $18,200 plus interest saved equals $20,000.
If I borrow the same $18,200 on a personal loan at 13.80%, then it will take five years to pay back at approximately $100 per week, plus an additional $7000 in interest. Total cost of $25,200.
Compare the two choices. With option one, I am $1800 ahead. With option two, I am $7000 behind. That's a difference of $8800, nearly half the cost of the car! I know which option I'll be choosing.