"Secrets to Saving Money in Australia" Free Newsletter - February 2009
This issue includes:-
Sad Sally, Happy Hanna: Tough Tactics
March is No Spend Month!
Best of the Vault: Simply Stop Spending!
Best of the Forum: Stop Spending Spree
Sophie Gray: Billionaires Bleed as Russia's Rich Shrink
Penny's Blog: Words of Wisdom
Homeopathy Corner: Reducing PMS
From Last Month: Debt Free Plan for Variable Income
This Month's Help Request: Successful Birthday Planning
Savings Story: From Lows Come Great Highs
---
Hi,
How are you going? Are you ready for a No Spend Month? LOL My son, Sam, hates them - "Mum, if you invented No Spend Month - can you make it stop?" I found it is easiest if I don't take him to the shops at all during a No Spend Month.
This month we are going to try our darndest to only buy things we truly cannot live without. No takeaways, no unnecessary car trips - and in our house, no Lego! (poor Sam *wink*) It's amazing how much you can save when you really put your mind to it. One of the things I love most about No Spend Month is hearing your saving stories. We Simple Savers are such an amazing group of people. We all deserve a big giant pat on the back. Well done, team Simple Savings.
"Well, I must admit at first I was skeptical! Not convinced that our situation could improve so rapidly in such a short space of time. In one week of short sessions daily, I have made yearly savings now that total $2065 and I'm not finished yet! I can't believe what was being wasted!
"Our health insurance was being paid monthly from a credit card; just by moving that to our savings account we immediately saved 4%, something I didn't know! Then I revised our cover, increased our excess slightly and made a saving of $200 annually.
"Flicking through the Sunday papers, I found a bank that was offering 0% for balance transfers, which should be a big saving on our existing card which is at 19.74%, still to look into this one.
"I have begun to shop at ALDI, visited pet food wholesalers and have been busy on eBay. I've decided that all proceeds from eBay will sit in my PayPal account until they reach $100, then this money will be transferred into my bank account and put straight into the mortgage, without my hands touching any of the money. I remain amazed and the year has only just begun! Thank you." (Jennifer White)
"Thank you Simple Savings. I have never regretted joining. If I have a problem, whether looking for cheap but healthy recipes, a cleaning problem, gift ideas, craft ideas or whatever, I refer to the Forum. I've lost count of the times it has helped me and saved me money!" (Betty Arnold)
"I absolutely adore Simple Savings! I am so glad I have joined. It's raining here so this afternoon I had some 'me' time - a rare occurrence. I came home and got straight onto Simple Savings' beauty section! Oh boy I had some fun! I have now refilled my liquid handwash bottles (which were nearly empty) with a cheaper alternative (that was just lying about in the cupboard doing nothing), I have made home-made bubble bath - (another little treat for later), made an egg facial mask and exfoliated! I can't remember when I have had so much fun at home by myself! Simple ideas, easy website to use and fantastic savings (not to mention loads of free fun)! Thanks Fiona, I am having a ball and I look forward to getting much deeper into the website as I find the time." (Stacee)
"I just wanted to thank you for having such a great site. I've just joined up again and had forgotten how great it is. I am trying very hard to follow a budget this year as I'm a single mum on a part disability pension and things get pretty tough at times. With the help of this site, I feel a lot more positive and have someone to help guide me to the best prices. It all gets very daunting at times but I've got someone on my side at last! Thank you for having the fortitude to start this site up and share your clever budget knowledge with us all." (Amanda Samek)
"I have just realised that since changing my home page to Simple Savings I have saved myself at least $100 per week! I love a bargain, online auctions in particular. I used to have my home page set to eBay and would turn my computer on and sit there checking out bargains and bidding on things I just did not need. That was until I mistakenly changed my home page to SS. Best mistake I ever made! I have not bought anything for the past month! As a result I also spend at least an hour a day more with my girls. That's priceless!" (Bev Ashton)
All the best,
Fiona Lippey
---
1. Sad Sally, Happy Hanna: Tough Tactics
'Pete's been such a grump lately,' moaned Sally as Hanna handed her a cuppa. 'I can't believe he got in such a state about dinner the other night. I mean, it was just a pizza!' Hanna did her best to keep a straight face as her friend went on. 'I just don't know what to do with him,' she grumbled. 'Are you sure it's just about the pizza, Sal?' Hanna asked politely, still suppressing a grin.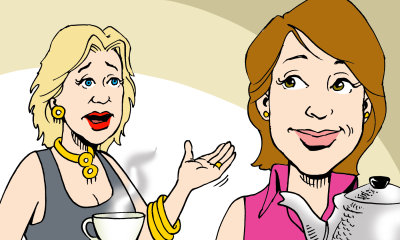 'Oh, goodness knows,' Sally threw up her arms in exasperation. 'He says that I spend too much money. He says I am sabotaging our lives.' 'Wow, he does sound pretty grumpy!' Hanna agreed sympathetically. 'Can you think of a way to prove him wrong then? Maybe there's something you can do to show him you really care about him and your finances.'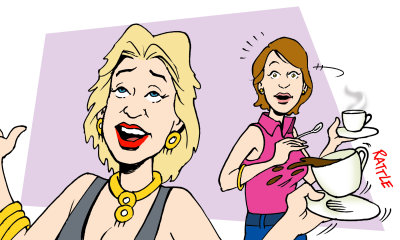 'Oh Hanna, I'm sure I don't know how. I told him I care but he won't listen to me,' sighed Sally. 'That's what I mean!' Hanna smiled. 'Maybe saying you care isn't enough, Sal. You need to SHOW him you care. Hey - I know just the thing!' 'What?' Sally asked in excited anticipation. 'A No Spend Month! That will do the trick!' beamed Hanna. Sally emitted a strangled groan, 'Oh no, here we go again!'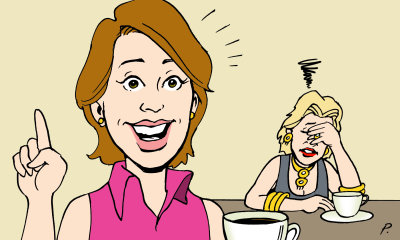 ---
2. March is No Spend Month!
Your goal, should you choose to accept it, is to avoid spending money on ANYTHING in March other than the absolute essentials for your work, education or survival. Let's see how little you can spend. Obviously there will be some things you cannot avoid, such as basic food and prior bills but apart from that your mission is to make sure you don't buy anything that is not essential.
Just for clarification, this month you should NOT be buying:-
Takeaway food of any sort
Lollies or chips
Dips
Soft drinks
Magazines
Books
Frozen dinners
Movies or videos
Fancy brands
Bought cakes
Pre-made food
Ice cream
Clothing
Beauty products
Alcohol
Yes, we know it's harsh, but look at that list. How many of those things do you currently buy each month? Imagine how much you would save by not buying them for a month. Imagine how much headway you could make. Imagine all the things you could do to get ahead financially if you managed to keep all that money in your bank instead of automatically handing it over to shopkeepers for things you don't need. You could use it to pay off a credit card. You could pay some extra off the mortgage and save yourself some interest. You could use it to create an emergency fund to bring a little extra peace of mind. You could use it for a reward or holiday for your family. Put like that, isn't it worth the effort for a few short weeks?
Things you CAN spend money on:-
Rent or mortgage
Basic food
Utilities
Insurance
Petrol
Car
Health care
School essentials (meaning uniform, camps or stationery requirements, NOT money for the canteen!)
Other prior bills (we don't want you incurring late fees!)
To make your No Spend Month as easy and successful as possible, all it takes is a few minutes planning each day. Keep a savings diary and fill it in at the end of each day with the following:
Write down every item you purchased for the day.
Write next to each item if it was essential - or not.
Write down a brief plan for the following day. What do you HAVE to do? Where do you HAVE to go? Can any of these be avoided or at least put off until another day? Thinking about what you need to do the night before will leave you clear headed and organised for a No Spend day the next day.
Write the following mantras in your Savings Diary and remind yourself of them each night, or during those times when things seems really tough:
STOP, THINK and SAVE.
Is it essential for survival?
If in doubt, go without!
So let's get to it and see how little we can spend this March.
---
3. Best of the Vault: Simply Stop Spending!
If your spending habits are out of control, this is the month to put yourself back in check! Follow some of our members' wonderful tips to turn your spending around and put more cash in your savings.
The key to simple saving is a spend-free weekend
Celebrate being a Simple Saver, with a Simple Savings spend-free weekend!
A spend-free weekend saves money in so many ways. Petrol, takeaway, groceries, admission fees and more. With at least one spend-free weekend a month, you will save hundreds of dollars over the course of a year. At the end of each spend-free weekend, use the money you've saved to reduce debt or increase your savings account.
'Zero spend days' make savings out of nothing
My New Year resolution was to take a close look at the family budget, and we have come up with a great way to motivate us to spend less - we call it 'zero dollar days'. We challenge each other to see how many days a week, then a month, we can spend nothing. We pay all our bills on the same day and try to spend money only on one day of the weekend. It means you have to be more creative about how to entertain yourself, and you sometimes have to go without things until the next shopping day, but it was very satisfying to see that five of the first six days of this year were marked with a big $0 on the calendar. The visual confirmation is important for spurring us on.
No spend days help seek out free pastimes
I have cut back on unnecessary spending by allocating two days a week as 'no spend days'. I recently retired but found I still wanted to go out every day for the social interaction. The problem was that going out would always lead to me spending money on coffee or the odd purchase I didn't really need. I now have two days a week when I do not allow myself to spend money. This makes me seek out free activities like going to the library to read the papers, and saves me heaps on my monthly expenses.
Ask your housemates to join in 'no spend month'
Completing a 'no spend month' with your housemates will show them just how much money can be saved on your electricity bill when you all really try. Hopefully the savings will be significant enough to convince your housemates to continue to use less electricity. If you continue to be careful with your usage but your housemates revert back to their old habits, suggest they pay the extra amount each month thereafter. If you keep coming up against negativity, maybe you are not compatible housemates?
Here are some extra tips from the vault:
Essential v non-essential Contributed by: Rose D
Live by 'no spend commandments' to curb needless spending Contributed by: Leanne Baxter
Simple 13-step plan to curb spending Contributed by: rosyjo
---
4. Best of the Forum: Stop Spending Spree
Of course, you don't have to limit your 'no spend' time to just one month. You can use it to save money and get ahead any time! Our motivated Forum members show how they manage it year-round. Together, they make NOT spending fun!
This is a terrific ongoing thread of members that continually strive each month to spend as little as possible. You can really benefit from being part of a community drive to 'no spend' your month away!
read more...
You don't have to limit your 'no spend' challenge to the home environment. Try it at work as well!
read more...
One of the best ways you can stop overspending on groceries is to get involved in the $21 Challenge threads.
read more...
If you have trouble reducing your grocery spend or credit card debt then you are not the only one! Find out how other members are coping during No Spend month.
read more...
---
5. Sophie Gray: Billionaires Bleed as Russia's Rich Shrink
This headline simply screamed at me from the financial section of today's paper. Please understand, the business section was unavoidable, coming as it does before fashion, lifestyle and entertainment. Normally I skip straight past the boring bit, succumbing to the gravitational pull of the 'pretty pages' - shoes, handbags, restaurant reviews and recipes. But today I couldn't resist having a gloat.
Never having been a Russian playboy billionaire I can only imagine how painful it must be to lose 85% of my wealth. To lose wealth, when that is all you have known, must be darn frightening. The prospect of tightening my belt doesn't terrify me and those who have risen to the challenge of No Spend Month before will know what I mean. But then I've never had vast wealth at my disposal either.
Knowing how to get by without buying your way through every day takes skill, determination and a bit of native cunning. I suspect the billionaires are in for some tough times and will have to make the most of what they already have and avoid buying anything they don't actually need. It will be a challenge for them! But if we can do it, so can they.
Cooking from the cupboard
No Spend Month provides the perfect opportunity to dust off some of those cans and packets from the back of the pantry. The following recipes can be adapted to accommodate alternate ingredients and use little or no meat so they're cheap to make. Almost any vegetables can be added to any of these dishes to stretch them and improve the nutritional profile - carrots, frozen vegetables, corn and so on. Both curries could be made into pies or samosas if you have pastry; they'll go further and also be good in lunchboxes. Tortillas are very filling, with much more carbohydrate than a slice of bread. Use the remaining tortillas for burritos (rolled and stuffed with spicy filling and salad) or for Huevos Rancheros - spicy scrambled eggs, wrapped in a tortilla and topped with a fresh or cooked salsa.
Lentil and sweet potato curry
This is a super easy store cupboard curry - like a thick chunky Dahl, it's real comfort food. Like many comfort foods, it doesn't look pretty but it tastes good and can be easily dressed up with some fresh herbs or a handful of cashews.
1 onion, peeled and chopped
3 fat cloves garlic, crushed
2 tsp oil
2 cups green or brown lentil
2 cups kumara or sweet potato, peeled and diced
2 tbsp curry powder
½ tbsp cumin
1 ½ litres chicken or vegetable stock
Salt and pepper to season
Fresh herbs to garnish
Heat the oil in a large pan and add the onions and garlic, cooking gently till soft. While the onions are cooking pick over the lentils removing any shrivelled or otherwise yucky bits.
Add the spices to the pan and stir then mix in the stock and the lentils. Bring to a simmer and add the prepared sweet potatoes. Simmer until the liquid is absorbed and the vegetables are tender 25-35 minutes. Adjust the seasoning adding salt and pepper as needed.
Serve with rice and chopped herbs such as mint, parsley or coriander.
Potato and chickpea curry
This easy curry is good on its own, as a side dish or as a base to which you add other things, - chicken, other vegetables, nuts and so on.
Serves 4-6
4 medium potatoes, peeled and cubed
1 large onion, chopped
2 fat cloves garlic, crushed
1 tbsp oil
1 tsp fresh ginger
½ tsp yellow mustard seeds
1 tsp cumin seeds
½ tsp chilli
½ tsp turmeric
1 tsp coriander
1 tsp cumin
1 tbsp brown sugar
1 400g can chopped tomatoes or equivalent quantity fresh tomatoes, peeled and chopped
1 can or 1 ½ cups chick peas
250ml water
Fresh coriander to garnish
Place potatoes in a pan of salted water and simmer for 5 minutes. While the potatoes are cooking, heat the oil and add the mustard seeds and cumin seeds, cover the pan and cook until the seeds are popping, reduce the heat and add the onions and garlic, cooking gently until soft.
Stir in the drained potatoes, all the spices and ginger and dry fry for a minute or two. Add the tinned tomatoes and the cup of water and simmer until the sauce begins to thicken. Stir in the chick peas and cook until heated through.
If the curry becomes too dry add more water, if too wet turn up the heat a little to reduce the liquid. Taste and adjust the seasoning adding more chilli if you prefer a hotter curry. Serve with rice.
Tortilla vegetable stack
This dish turns four tortillas and some odds and ends into a great meal for the family. Add or subtract vegetables, beans or meat according to what you have to hand and if you don't have any store bought tortillas, make some of your own.
Serves 6
20cm loose bottom cake tin
4 large flour tortillas at least 20cm in diameter
1 tbsp oil
1 large onion, chopped
2 cloves garlic, chopped
2 capsicums, chopped
200g pumpkin - use more if you like or other vegies
1 can (approx 425g) spicy chilli beans in sauce
1 tbsp tomato paste
Non stick cooking spray
2 cups (500ml) cheese sauce - I make mine using:
1 generous tbsp reduced fat spread, butter or oil
1 generous tbsp plain flour
500ml trim milk
Grated cheese according to taste and budget (if we haven't got much I leave the sauce as a plain béchamel (white sauce) and just sprinkle grated cheese on the top of the dish.
Preheat the oven to 250°. Slice the pumpkin into thin slices, brush lightly with oil and roast, turning once, until just tender - this will take around 20 minutes. While the pumpkin is cooking heat the oil in a medium sized pan and gently fry the onions, garlic and capsicum until tender. Stir in the tomato paste and chilli beans and set aside.
To make the sauce, melt the fat and whisk in the flour over a gentle heat to form a thick paste. Add the milk a little at a time whisking continuously until all the milk is combined. Change to a wooden spoon and stir in a figure 8 pattern until the sauce begins to thicken. Make sure the wooden spoon moves over the base of the pan or the sauce may stick and burn. Don't allow the sauce to boil, as soon as it has thickened remove from the heat and add the cheese.
To assemble the dish, line the tin with one of the tortillas. Spread 1/3 of the vegetable mixture over the base, add 1/3 of the roasted pumpkin and 1/3 of the sauce, add another tortilla and repeat the process finishing with a tortilla on top. Reduce the oven temperature to 190° and bake for 25 minutes or until bubbling hot and golden on top.
Allow to cool a little before serving.
If made ahead and completely cooled, the stack can be removed from the tin and served in wedges - much like lasagne. It is quite soft when hot but firm when cold.
---
6. Penny's Blog: Words of Wisdom
Feb 21, 2009
I'm still here! Heck, I'm sorry it's been so long, I didn't realise! Following my last confession I promptly went down with a nasty virus, talk about rotten timing. Instead of making an enthusiastic start on my debt busting I could barely lift my head off the pillow for a week. I was a bit fed up about this small setback but gave myself a good talking to, took a look around and made a mental list of everything my life currently has to offer. On the positive side I have:
A wonderful husband who loves me unconditionally for some strange reason (even if he has started calling me Dollar Dumb as he says I haven't been very Penny Wise lately)
Two of the most gorgeous, brilliant, funny kids anyone could ever ask for
A home I adore with a lake view which gets the best sunsets ever
A thriving vegie patch and orchard so we always have fresh, yummy food to eat
A menagerie of animals which make me laugh every day almost as often as they trip me up
A fantastic mum all to myself (I don't have any brothers and sisters)
A job I absolutely love and look forward to every single day (how many people can say that?)
A website called Simple Savings which I know I can count on to get me out of my current fix and make the life I love even better than it is already!
On the negative side I have:
About $3,500 worth of credit card and store debt, racked up single-handedly by moi.
Er - that's it. I can't think of anything else at all that's bad enough to add to my list! I can't even complain about the leaky shower and grotty bathroom as we can't afford to do it up now, thanks to me, so I'll just have to put up with it. Yes, I've got $3,500 of debt to pay off and I would really rather not have it at all but it's small bikkies compared to the worries some people have right now. As the old saying goes, there's always someone worse off than yourself and it only takes a few minutes' reading in the Savings Forum to count your lucky stars, whether reading tales of financial triumph over hardship or reading of entire neighbourhoods being burned to the ground. So yep, I'm feeling pretty stupid but I have no right to complain. At least my problem is a relatively easy fix compared to many. Just today Noel picked a load of golden peaches and Ali an armful of passionfruit. Alex couldn't believe we had picked all this glorious food just like that in our own backyard as he and Ali sat and scoffed half a dozen each. Sometimes it's the smallest things which remind you how very lucky you are.
I already posted my thanks in the Forum but I just wanted to say a HUGE thank you to everyone for all your lovely posts, emails and kind thoughts and feedback. Sometimes the exact words or acts of wisdom you need are found in the most unexpected places and it's been a real humdinger of a week for that. I can always count on my SS friends for support, advice and common sense but I would also like to thank the following this week for changing the way I think:
My mum, who reminded me that honesty is the best policy and that even if Noel doesn't like all my purchasing decisions it is far better to own up about them than let them mount up and weave oneself a more tangled web.
Alex, whose words about trust I will never forget. At 16 he has been more grown up than me lately.
My newly-separated mate Warren, who urged me to do whatever it takes to fix my marriage now, rather than end up like him.
And finally my son Liam, who is proving himself to be a fantastic Simple Saver all on his own.
Yes, I am so proud of Liam lately! He was getting frustrated as he wanted more money in his pocket to enable him to be a bit more independent and afford some of the things he wanted. What he really wanted was a proper job but unfortunately those are a bit few and far between for a 12-year-old in our area. So he had a huge decluttering session and spent half a weekend on Trade Me, selling some of his unwanted goods. In less than two weeks, he had made a whopping $600! True, one of them was his guitar, which he sold for $200 but the rest was anything from old CD's with $1.00 reserve to Harry Potter books. Better still, he still has two more boxes full of stuff yet to sell! Bearing in mind that this is the boy who has been saving for a car since he was about nine, I don't think I have much to worry about his money skills. As it happened, to top it all off, both boys were offered a modelling contract last week (don't tell them I told you!). At first they turned it down flat - until they learned how much they could get paid. They snapped it up in an instant and Liam was delighted to be able to land himself a proper grown-up job without even leaving the house. Watch this space, who knows where they might turn up in your catalogues or something!
Nasty viruses hopefully banished for good, all that remains is for me to start making a dent in my pesky debts. I haven't been completely useless and have managed to save a bit already. I rang up Sky TV (Pay TV for non-Kiwis) the other day and asked to cancel a channel which they had offered us but we had never used. On further discussion with the lady, it transpired that we had been paying for no less than THREE channels we didn't even know we had, had never watched and didn't want! Just like that I saved us $360 a year! Now tell me, how did they manage that in the first place?
Time for me to go back to the drawing board again. If my savvy pre-teen can raise $600 in a couple of weeks, I reckon I can give him a run for his money (pardon the pun!)
28th - What really counts
5th - SS time
9th - I have no money...
25th - Sort yer life out!
---
7. Homeopathy Corner: Reducing PMS
I always thought PMS was something women just had to put up with - that it was one of those things not worth complaining about because there is nothing you can do to change it. Then, I found Fran. This month, Fran is looking at:
PMS and its symptoms
Simple things to do to reduce its impact on your life, and
Homeopathic remedies to restore your sanity and bring back the balance
To read Fran's article go to:-
homeopathyplus.com.au/hplus/treatment-room/help-i-have-pre-menstrual-syndrome-pms.html
---
8. From Last Month: Debt Free Plan for Variable Income
Last month Shelley asks:
"I have shown my husband your War On Debt Calendar and while he wants to be debt free, he says it is impossible to work out a commitment plan because he is only paid by commission and never knows from month to month what he will earn. This is so frustrating. Could you possibly give me some idea of how we can plan to be debt free under these circumstances?"
A big thank you to everyone who sent in their suggestions. Wow, we received some fantastic ideas! These will be a great help to Shelley and others trying to save on a variable income.
Spreadsheet helps shuffle income where needed
I came up with an easy way to keep up with all our expenses on an unpredictable income. We struggled in the first few years of married life because my husband is a subcontractor with no retainer, holiday or sick pay. Trying to budget was a nightmare, especially with a week's annual unpaid holiday to consider and a lengthy break over Christmas when all the builders shut down for up to a month. Then I created an Excel spreadsheet which has all of our expenses including chemist, hair cuts, loan payments, food, hobbies and so on. Absolutely everything! I then worked out the annual cost for each and divided the annual bills by 22 instead of 26 (fortnightly pays). In addition to this we have prioritised a few things for when there may be a little extra. Once the standard fortnightly requirements are paid any 'left over' money is distributed accordingly. We do it by percentage. 25% goes to the bills account to help when things are a bit lean, 25% extra goes on the mortgage - you get the idea. I also use the Bill Payment System from SS so I have an idea what is coming.
The first few months are hard building up the bank balance but it gets easier. Sometimes we have had to 'shuffle' money for something unexpected but we have managed like this for several years now and it's the only way that has worked for us. If we do shuffle funds it then becomes a priority to repay that with any surplus instead of the usual 25%. It takes a little time to set up initially but the results are well worth the effort.
Use minimum wage to budget
I make sure I always have enough money to get by on a variable income by working out my minimum wage and using that only to budget with. The money from the weeks I earn more stays in my account to cover the weeks I earn less. I have a separate account just for bills, and another for savings. I worked out all my bills on a yearly basis, and divided them by 26 as I get paid fortnightly. That money goes into my bills account on the day I get paid, so even when large bills come in, the money is there. Then I work out how much I need fortnightly for food, pets and so on. Whatever is left goes into a high interest savings account. Some months I'm able to add even more to that account, because I only work on my minimum wage!
Save a percentage of your pay each time
If your earnings vary from pay to pay, instead of committing to a $ amount to save, commit to a percentage of your pay instead! Work out what percentage is achievable in your situation and put that money into your savings account or pay it off your debts. This way, you can work towards a savings goal without leaving yourself short.
More savings with variable income
We have found we have been able to save a lot more money since my husband started working with a variable income. We figured out what his base earnings were - with no overtime or anything else, so the minimum we would receive each pay. We then budgeted that amount pretty tightly, assigning some money to rent, food and petrol, bills, and a little left over to spend each week. This way we covered all our essentials every pay, regardless of how much he earned. Whenever he earns more than that minimum amount, we put the extra into savings - we've got a few accounts set up (for example, home deposit, car expenses, even holidays) and split it between them. We found we soon adjusted to the smaller spending and food budgets we had assigned to ourselves, and the weeks where he earns extra money we save LOTS - so we're out of debt and always have money available for unexpected expenses.
Pay yourself first with variable wage
We have found a successful way to balance out the highs and lows of working on a variable income. My husband works as a real estate photographer, and the work is unpredictable and varies each week. To work around this, we sat down and looked at our budget, took off my wage which is regular, and worked out exactly how much he needed to contribute to the household income to make budget, which in our case was $500 a week.
We set up a separate account, which he puts all of his income into, then set up an automatic transfer each week to move $500 from this account to our everyday accounts. Therefore making it like a weekly wage.
We ensure that we have four weeks' worth of 'wage' in the account, or have enough in until we know he is next receiving payment for work done. Any extra money is transferred out onto our loans. We've been doing this for two years now, and have found it works extremely well.
---
9. This Month's Help Request: Successful Birthday Planning
This month Nicole Anderson asks:
"I am the mother of four girls and all their birthdays fall between 29th October and 31st December. Then of course amidst all that there is Christmas! I know - very poor planning on our part! But do you have any suggestions as to how to make this time of year a little more manageable? The girls range in age from 15 months to 9 years. At present we are using a piggy bank (known as Krissy Pig) and putting away $20 a week to save for the gift giving at the end of the year. It sort of worked last year but I still ended up with a blowout as I only started part way through the year (I am hoping for more success this year). I would be really interested in any suggestions you may have. Can you help?"
If you have some ideas that may work for Nicole we would love to hear from you. Please send your tips here.
---
10. Savings Story: From Lows Come Great Highs
Our story is a great example of how thinking outside the square has enabled us to get ahead, even through the toughest of trials. My husband is on a disability pension receiving $450 per fortnight and I work 20 hours per fortnight earning $397. I have chosen not to apply for Centrelink benefits due to the numerous requirements. Our uninsured home burnt down 10 years ago leaving us homeless (I went into premature labour and spent six weeks in hospital with complications so I had somewhere to stay but my partner lived in our car with our two dogs for this time). We were at the lowest point ever and could not imagine how we were going to survive. We were advised to go bankrupt, which we did but we were now unable to get finance (in hindsight an absolute blessing) to get another house.
We did what most people do and rented a house in the suburbs thinking this was it for us. After three years of this we decided to look elsewhere and found a house in 'woop woop' which was $6000 (pre-real estate boom). Using my first home owner grant we purchased our house and although it was two hours from anywhere good, it was ours outright. This in itself is a handy hint to look outside of the box - our 'woop woop' town had a doctor, a supermarket and a school so it was fine and we lived there happily for another three years. At this point the real estate boom happened and we sold our house for $48,000 and decided to look outside the box once again. We ended up 2000km away from home in a place two hours from Adelaide. We still live here happily and after four years the value of our property has gone from $35,000 to $95,000 (I swear getting our first home owner grant was like winning the lottery).
But we still couldn't save any money so two years ago I cancelled my fortnightly family tax benefit from Centrelink (approx $200 per fortnight). It was hard - very, very hard for the first eight months but then it was tax time and I was very surprised when I received a tax return of more than $7000 with my lump sum FTB part A and B. We paid our bills and bought a second hand car. This year I paid a little extra tax each week ($10) and was pleasantly surprised by an $8000 tax return. With this we bought a block of land 30 minutes down the road (in a bigger town closer to Adelaide). The value of this block is double what we actually paid! Some people say we were lucky but luck had nothing to do with it - we were just prepared to live in very yucky houses in areas no one wants to live. Three months ago a house in our town sold for $21,000 which is around the same as the first home owner grant now and there are still others which would be around the same price. We don't have sewerage or town water but we have a school and a pub so it was certainly a change in lifestyle.
Other people have asked how come we are doing so well now and I just laugh! We are earning $845 per fortnight and I have chosen not to work extra hours so I can still be a stay at home mum to our diabetic 10 year old. We have private health cover, internet, insurance, power, phone, petrol expenses ($100 fortnight), rates, medical expenses and even private school fees to pay but we still have enough to go around and often support other people with food, even though they are making much more than us. This year we plan on buying a second hand relocatable house for our block with our tax return. It may be a form of forced savings by not getting a fortnightly benefit but when it comes in it is amazing. Thanks to careful budgeting and Simple Savings we easily survive!