"Secrets to Saving Money in Australia" Free Newsletter - October 2009
This issue includes:-
Sad Sally, Happy Hanna: Going Spare
November is Decluttering Month
Best of the Vault: Conquering the Clutter
Best of the Forum: Organised Bliss
Sophie Gray: Tom and Jerry
Penny's Blog: Doing it Tough
Homeopathy Corner: Snail Repellent
From Last Month: Breakfast Club Cooking
This Month's Help Request: Kids Christmas Gifts
Savings Stories: Lesley Barber - Four Years On
and Feeling Fabulous for Free!
---
Hi,
How are you going? Good, I hope! Life around here has been pretty busy. Matt and I are still in shock since Elora's birth made us a family of six. We keep wandering around saying, "Can you believe it? There are six of us now. Six!" Elora is growing so fast. She is seven weeks old now and she has just started smiling. I love watching her smile, move her mouth and try to figure out how her body works. Most of all I love it when she pulls her own hair and can't figure out what happened! It is one of the perils of being born with lots of hair.
The book is going great as well. It hasn't learnt to smile or pull it is own hair yet, but maybe in time the book will master these skills. Who knows; it may even get married some day and breed nice books of its own. They grow so quickly.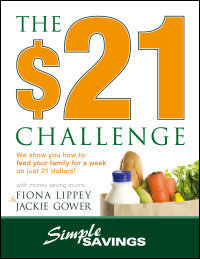 You can find the book in QBD, Angus and Robertson, Dymocks, Target, Big W, Myer and book stores. If you would like to read the first chapter, download it here (1.4Mb PDF):
If you would like to order a signed copy of the book you can do so here.
The feedback we have been receiving so far is amazing! It makes all the hard effort worth it.
Here are some of the brilliant comments this month:
"I would like to share with everyone how fantastic the $21 Challenge book is. It holds an incredible amount of information on how to cut back on your grocery shopping and has opened my eyes to how I was 'ingredient blind' - buy the book and you'll know what I mean! I have just used some of the recipe ideas and have done a pantry stocktake to create my menu for the week. I cannot believe how little I have to purchase this week and we will be eating delicious healthy food. You'll be surprised at how much food you already have in your pantry and fridge. Thank you so much for writing this book. It has already paid for itself by how much I am saving on groceries this week."

(Eva Hallet)
"My two boys really wanted to play tennis this term - at $10 per week each for 10 weeks that was $200. We are in the middle of preparing to move house and I felt we couldn't really afford the extra expense at this time. Then I came across the $21 Challenge! Our normal grocery bill is $200 per week for two adults and five young children. After doing the Challenge I now have $180 to put toward their sport! The boys are thrilled and I can't believe how well we have eaten this past week! (Yummy roast in the slow cooker for dinner tonight!) I've succeeded in decluttering my freezer and pantry too! I am confident I can squeeze out another Challenge next week and hope to save another $180 towards our big move!"

(Sarah)
"My $21 Challenge book arrived yesterday - I sat down last night and read it from cover to cover! Great job to you all! The 'how to' section will be fantastic for any new $21 Challenger (and a good refresher for us veterans!). The recipes, bonus box ideas and substitutions sections will be a handy reference for any of us. It now has pride of place on my kitchen shelf. I hope you guys sell a gazillion copies!" (Kerrie)
"Thank you very much for my signed copy of the book, I really appreciate it. It is absolutely fantastic; I am already implementing lots of the recipes and adjusting my menu planner as well as adding some new ingredients to the next shopping list. I know lots of families who will really benefit from this book (have told everyone I know about it)! Congratulations on releasing this fabulous book, packed with heaps info for new Simple Savers and old ones alike." (Melinda)
"I'm sure you hear it all the time but I just want to tell you that Simple Savings has changed my life. Things are better now than they ever could have been pre-SS. So thank you to you and your family. Me and mine are forever indebted to you all." (Trine)
"I just wanted to give you an update and once again thank the team at Simple Savings. We decided something positive about our debt and contacted an agency called Credit Counsellors Australasia. If we had not taken these steps we would still be in debt in 10 years time! Our new motto is 'if we can't pay cash, we can't afford it and don't need it.' Using all the tips from the Simple Savings website, I have been able to cut our shopping bill from $90 a week to $100 a fortnight! I now plan all our meals and nothing is wasted; leftovers are used in another creative dish, on lunches and so on. Money is still very tight and we have to be very diligent with our spending, however once again I can smile and enjoy my life. There is an end to our tunnel, we are now in control and no longer spiralling downwards into further debt. A big thank you for all your help." (D & G)
Have a great month!
All the best,
Fiona
---
1. Sad Sally, Happy Hanna: Going Spare
"Great news!" Sally smiled at the kids. "That was your Great Aunt Edna on the phone. She's coming to stay for Christmas!" "Woohoo!" yelled the kids excitedly. "She always brings heaps of yummy treats!" "She sure does!" beamed Sally. "Nobody makes Russian Fudge like Auntie Edna!" "Or Egg Nog!" grinned Pete.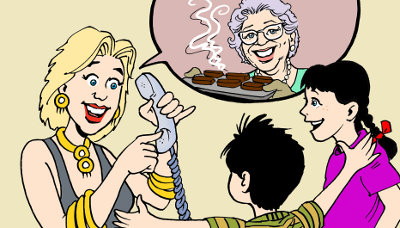 "It will be lovely to have her with us for Christmas. I'll have to make up the spare room... Pete! The spare room!" Sally remembered in horror. "It's full of - goodness knows what! Where on earth are we going to put her?"
"You worry too much, love" Pete laughed as he went to open the door to the spare room. "It can't be that bad - oh heck!"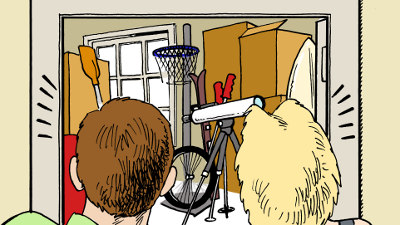 "How on earth did we accumulate so much stuff?" Sally gasped, as they peered gingerly into the room. "Your exercise bike, your sewing machine" accused Pete. "Your telescope, your ski gear!" retorted Sally. "There's only one thing for it," said Pete. "Time for a sort out!"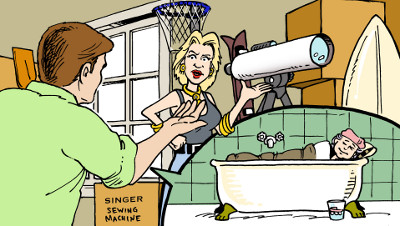 "We'd better try our luck at selling some of this stuff. The extra money for Christmas will certainly be handy - we might even be able to pay off the credit card! We'd better get cracking right away though, or poor old Edna's going to have to sleep in the bath!"
---
2. November is Decluttering Month!
I never thought I would ever say this, but this week I wanted a bigger house. You see, I have always loved living in my small house. It brings our family closer together and teaches my kids to share. But now there are six of us sleeping in two bedrooms and I'm going to have to do some serious decluttering to make some more space.
So my goal this month is to declutter *100 things* from our home. Would you like to join me in this challenge? Think how wonderful it will be! It will give us more space. It will make it easier to find things. And - my husband's favourite - it will make our house easier to keep clean.
Take the linen cupboard for starters. There are several ways you can make your linen cupboard larger. You could knock a hole in the room next door, buy heaps of materials and spend stacks of time building a new one - or you could simply create more space in your existing cupboard. Sit down with an empty box, fill it full of the manchester you never use and send it to the Salvation Army to benefit someone who really needs it. Much faster and easier, not to mention a lot cheaper!
The wonderful thing about having more space is it immediately becomes easier to find things. We have so much stuff in our linen cupboard I have been getting lost. Which sheets are which? Is it a single, queen or king? ARGH! No more! If it's taking up valuable space and you just don't use it, find a new home for it with someone who will.
Not only will it be easier to find things in the cupboard; it will be easier to keep the cupboard clean. I used to think Matt was being mean, saying the cupboard was messy because it has too much stuff in it. But, (grumble) time has taught me that he is right. The less things you have, the easier it is to look after them.
So that's my challenge for the month - to declutter 100 items from our home. Are you going to join me? Give it a go! I know you can do it. Decluttering can be a daunting mission for many of us, so to provide a little extra support and encouragement, we are holding a '100 item' competition! This competition is open to everyone - we want to see photos of the 100 items you have decluttered from your home. We are giving away five prizes of $50 for the most impressive efforts. So what are we waiting for? Let's get started!
Competition '100 Items'
Be rewarded for getting rid of your junk! As you declutter and organize your home this month remember that we are willing to reward you for your effort.
To enter email your decluttering story here. It can be as funny or as serious as you like. The more inspirational the better!
IMPORTANT! Include a list of what you have decluttered with a clear photo of the items (preferably all in one photo please!). Photos should be in files no larger than 2Mb.
Entries will be judged by how much it has improved your life, the effort you have taken to declutter and what you have learned from the experience.
You can do it!
Click here to read the Terms & Conditions
---
3. Best of the Vault: Conquering the Clutter
If you are a clutter monster, don't despair! The Savings Vault is full of fantastic tips from members to show you how it's done:
100% effective 'No More Clutter' deterrent!
I have come up with a simple yet super effective way of making sure I never waste any more money on clutter! I'm a sucker for buying toys for my children. Consequently I am now drowning in broken toys, clutter and debt. But now when I'm in the department stores and see something on special or think, 'my girls would love that', I open up my bag and get out my deterrent! I look at the photos I have taken of my lounge covered in toys and clutter and remember that not am I only saving money by not buying more, I am also saving the planet - and my sanity! Works every time!
A not so essential item
We made a huge saving recently as a result of some decluttering. As we were doing this, I was amazed how many seemingly essential items are not so essential after all!
Our youngest son recently moved into his new bed, which was handed down from his older brother. His cot was stored under his new bed and his dresser/change table was still used to store all his clothes. As he had outgrown the dresser, we started our search for a tall boy dresser, which we thought was an essential item. Most quotes were around $500! At the same time we decided it would be a good idea to have a garage sale to sell the baby furniture and convert other unwanted items to cash. The money we received would fund the new dresser.
We helped the boys declutter their toy collections; they were motivated to do so by the promise that any money from toy sales would go straight into their piggy banks. Our garage sale was very successful, raising $780 in total. It seemed a shame to spend more than half that money on one item of furniture. However, thanks to the recent declutter, we discovered a lot of new space had been freed up in our youngest son's built in robe. I was able to hang his clothes in there and had a whole shelf to arrange his folded clothes. All clothing and boxes of toys were easily stored in the one robe, so no need for that new 'essential' dresser.
I happily banked the garage sale money knowing that the full amount would be staying in the bank and that we had saved $500.
Get decluttering help from a 'friend'
I have found the cheapest and easiest way to declutter is to enlist the help of a friend - an imaginary one, that is! Sometimes when cleaning out your wardrobe, it's easier to let a friend help - particularly if that friend is very honest and harsh at culling old clothes. While clothes aren't a problem for me, I have a huge collection of CD's, books and DVD's and was finding it really hard to part with them! Books especially were a problem - I couldn't bring myself to let them go, even though I knew I would probably never read them again.
So I decided to pretend I was someone other than myself! Sounds silly? Maybe - but it allowed me to detach myself enough from the emotional side of me that wanted to keep all the books. In doing that, I was very fast (not giving myself time to think) and went a lot on intuition. I threw out over 200 books! I then closed the door, rang my friends, told them there were a heap of books on the floor in my office and they would be there till 5pm if anyone wanted any. Any that remained I then took up to the Salvation Army at 5pm, so I was not tempted to go through the pile later in the evening. It's definitely been the most successful decluttering method I have ever tried!
Clutter-free and organised
I have found a way to reduce clutter, which allows me to find exactly what I'm looking for in a moment.
I have assigned an A4 ring binder to each of my four children, and myself. The binder has about 20 plastic sleeves; in these I place paper work associated with the corresponding person. It could be things like bank accounts, medical or dental history and important school information. The older children and I also keep car registration details and insurance documents in the binder, as well as employment and taxation details.
The binders are filed away in a safe but accessible location, so everyone knows where to find their personal information. For tidy filing, I recommend cardboard cabinets which are sold at major retailers like Kmart.
Stop and think before bringing in clutter
After downsizing and getting rid of a lot of my things, I really have to stop and think before I am succumbed to impulse buys. Whenever I feel the urge to purchase something I remind myself:
How good it feels to be rid of clutter
How my savings are growing
How much lighter I feel once I put down an item that I've considered buying
How much stress has disappeared with the conglomeration of 'stuff'
How I won't let advertisers tell me that I need to update my furnishings and so on
How our parents managed to get by without the latest and greatest products
How I'm helping the environment by having less plastic in my home; and lastly
If more people stopped buying cheap (and usually disposable) goods, then perhaps we could force manufacturers to cease production of all these useless items.
Oh, and to help me continue with this pledge, I've put the Simple Savings stickers on all of my credit cards. It really works!
Declutter to save time
I have so much more time and space in my life after a very strict declutter of our home.
Anything not used or well loved was donated or dumped depending on quality. I finally got rid of mementos which were never used or looked at; I wrote down the memories I had of them and put these notes in photo albums for better storage. Now that there is more space, everything in our home has a place and it is very quick and easy to tidy up the house. I even decluttered my work storage using the same principles and have streamlined my work environment for more efficiency.
I now have more time to spend with my family and on myself, because I am not constantly reminded by the clutter that I still have work to do.
More tips from the Vault
Here are some links to more decluttering tips in the Vault. You have to be a member to read this hints.
House for sale mentality keeps house clean Contributed by: Lew Harpelle
Online help for new declutterers Contributed by: Clair Niven
---
Psst! Want to learn how to save money on EVERYTHING? Become a Savings Vault member! Each month we try to cram as much information as we can on a single topic into our free newsletter. The Vault, however, is loaded with information on absolutely every money saving topic you can possibly think of. Becoming a member gives you access 24/7 to whatever information you want, whenever you want it. With our 365 day 'no questions asked' money back guarantee you have nothing to lose and everything to gain! Click here to join.
---
4. Best of the Forum: Organised Bliss
If you are spending your time imagining how much money you would save if you were more organized and less cluttered, then ponder no longer! Find out what other members are doing to keep themselves happy and free of clutter.
NOTE: The Forum is in our paid members area, the Vault. You have to be a Vault member to access it.
Teak has set herself a goal to sell 1000 items to help her save some spending money for her trip to America in 2010. The Simple Savings members have come to her aid with loads of great suggestions and encouragement.
read more...
If you are a classic hoarder and need to declutter then this is the group for you! By being realistic, members are making decluttering easier and simpler so anyone can do it!
read more...
Our members are not shy of a challenge and 'ClutterCath' leads the way this month with her great list of things that you may or may not have thought of doing to organize your life.
read more...
Setting weekly goals is a great start and you will be feeling relaxed, rejuvenated and less stressed in no time!
read more...
If you are really lacking the motivation to declutter and still hanging on to strange and weird items that you are never going to use then try this! The challenge of telling other members what you are up to will keep you motivated and on track.
read more...
Don't forget to organize and declutter your paperwork! Being more organized with your paper bills and receipts will make it so much easier to work to a budget and save.
read more...
---
5. Sophie Gray: Tom and Jerry
We have a mouse living with us. I feel like I spent the last month living in an episode of Tom and Jerry and it's not very funny. The mouse is so much smarter than our cat, and we have the uneasy sense that the mouse is smirking at us smugly from its hidey hole behind the freezer. We've got to know the mouse quite well over recent weeks; it pops out a couple of times a day to indulge in a bit of freaking us all out, then it disappears again. We even got rid of it twice, but the darn cat keeps finding it and bringing it back in through the cat flap!
You will appreciate it's not a good look, having a rodent sprinting through the dining room in the middle of a photo shoot, or skittering in and out from under the freezer while you entertain guests.
I considered moving house but Rich thought that was an overreaction. We discussed 'losing' the cat but the kids got wind of the plan and staged a protest.
So far the mouse is winning every round. Now it's the freezer in the firing line. We've got no choice but to move it and lay bait, which means emptying its capacious shelves of a year's accumulation of icy clutter, emancipating all the loose peas and bags of mystery meat that have resided in the bottom safe in the knowledge that they would never be eaten.
There is plenty in there that will be eaten though - I've earmarked the pesto for tonight's dinner, Dreamy Creamy Pasta with Pesto, and the broken pastry sheets I plan to jigsaw together with the rolling pin for a simple Any Berry Tart using the remainder of the frozen berries and the ground almonds that have been in cold storage since our big moth problem of 2007. Berry muffins are also on the menu - I can freeze them of course. Once done, we are ready for re-stocking - but not until we've deposed Moussellini from his position of power - oh, and reinstated the one way lock on the cat flap!
Rules for decluttering the freezer:
Dispose of anything more than a year old
Dispose of any bread products more than 3-4 months old
Plan to use up any mince, bacon or cured meats that have been frozen more than a few months as they'll begin to deteriorate
Wipe the interior of the freezer with warm water with a dash of white vinegar, this will clean and deodorise the freezer
Throw away any containers not designed for use in the freezer, not all plastics are suitable for freezing and re-heating
Dreamy Creamy Pasta with Pesto
This is the ideal supper for a quiet night in. It serves six as a side dish, in which case you could use penne instead of spaghetti, or 3 - 4 people as a light meal.
400g dried pasta (I use spaghetti or spaghettini - really skinny spaghetti)
Approximately half a can of lite evaporated milk
2 tablespoons of good well flavoured pesto
Salt and pepper to taste
A grating of Parmesan cheese to serve
Bring a large pot of water to boil, add a little salt and cook the pasta according to the packet directions.
When cooked, drain the pasta and return it to the pan. Add the lite evaporated milk then place the pan over a gentle heat while you fold through the pesto. Toss gently until the pasta is well mixed and the milk has become creamy. Season with salt and pepper as required and pile into bowls to eat immediately.
Any Berry Tart
This technique is simple and makes a little bit of fruit go a long way. The dish looks gorgeous and can be eaten warm or cold.
Pastry:
1 ½ sheets of frozen pastry - enough to line a Swiss roll tin (or you can make your own pastry)
Filling:
60 g butter
60 g sugar
60 g ground almonds
1 tbsp plain flour
½ tsp vanilla essence
1 egg
1 apple peeled and sliced
Berries - a handful or two
Icing sugar to dust
Preheat the oven to 190°
To make the filling beat the butter and sugar until pale, stir in the ground almonds, eggs, vanilla and flour and mix well.
To assemble line a greased Swiss roll tin with the pastry sheets, it doesn't matter if it doesn't go up the sides, as long as the base is covered. Prick all over with a fork.
Spoon the almond filling onto the prepared pastry and spread with a spatula or palette knife so it covers the pastry. Scatter on the slices of apple and the berries. Bake for 25-35 minutes until golden and set. Dust thickly with icing sugar and serve warm or cold.
Berry and White Chocolate Muffins
This is my son Jack's recipe. He loves white chocolate and these light cakey muffins are good whatever your age. The berries and white chocolate go into the middle of the muffins creating a delicious centre, soft and sweet when served warm, deliciously scrunchy when cold.
Makes 12
2 ½ cups plain flour
3 ½ tsp baking powder
1 cup sugar
100 g butter or margarine
1 ¼ cups milk
Zest of a lemon
1 tbsp lemon juice
1 egg
1 cup frozen raspberries or whatever berries you have
1 cup white chocolate bits
Castor sugar for sprinkling
Preheat the oven to 220°
Grease the muffin pans. Sift the dry ingredients into a large bowl with the sugar. Melt the butter, add the milk and egg, zest and juice and then mix the liquids into the dry ingredients until just combined. Do not beat the mixture.
Half fill greased muffin pans with mixture, poke in several berries and some white chocolate chunks then top off with more mixture. When all the pans are filled, sprinkle the top of each muffin with a little castor sugar.
Bake for 10-15 minutes or until risen, golden and springy.
---
6. Penny's Blog: Doing It Tough
I have to admit, after all those hours stuck in the car last week it's lovely to be home, sweet home again. No rest for the wicked, however! There are tough times ahead and we are really going to have to knuckle down and get back to the business of saving. Every dollar we have at the moment is allocated and there's not a cent spare for Christmas, or anything else for that matter. It's just one of those things really - well, several of those things! My medical bills for the last couple of months have run into the thousands - it couldn't be helped but it wasn't exactly convenient! It used up just about all the money I made from my Trade Me selling frenzy. Still, shouldn't complain, I'm eternally grateful that I had that money put by in the first place. It was definitely worth all those laborious hours spent listing, wrapping and posting!
As I sit here I am also waiting in anticipation for two new 'babies' to be delivered. The first is a new oven. When we moved here six years ago the oven didn't work. Goodness knows how the previous family managed but we needed to be able to cook, so had to go and buy one! The mortgage was daunting enough so we bought the cheapest model we could possibly find - and have been paying for it ever since. Noel likens cooking with our oven to ballroom dancing; you just have to keep waltzing past it constantly, you can't possibly go away and leave it. It doesn't matter what clever trick we've tried over the years, things just end up burnt. If we try and stop them burning on the top, they just get burnt on the bottom! It's pretty soul destroying when you're trying to save money and half of what you bake ends up going to the chooks. I've put up with it for years but since I've been unwell and Noel has been doing so much of the cooking, lo and behold! He's sick of burning his creations too and announced enough was enough, we were getting a new oven. I really don't want to spend money at the moment but I know that doing this is going to save us a lot in the long run. Just yesterday I managed to burn 24 biscuits, 12 muffins and a fruit loaf!
The second new acquisition is *blush* - a dishwasher. After goodness knows how long of making do without one, we have reluctantly given in. Correction, Noel and I have reluctantly given in, the kids are celebrating. Again this is basically down to my rubbish health over the past few months. Noel works at night so it's down to the kids to do the dishes. With our daily schedule we don't usually sit down to dinner until 7pm or 7.30pm. By the time dinner has gone down, the kids have had showers and done their homework, they were still standing doing dishes at 9pm or even 9.30. Apart from making me feel horribly guilty (often guilty enough to would get up and help, then Noel would come out of his office and catch me and growl at me!), we found our family time together in the evening was just gone. We did it for as long as we could; we proved that we could live without a dishwasher and we can rest assured that the kids can now go out into the big world one day and do the dishes like a pro - but for now, they deserve time to be kids. Saving money on a dishwasher is not so important to me that my childrens' schooling could suffer because they were up too late doing dishes to get enough sleep at night!
So that's another large expense we would really rather not fork out for - but wait, there's more! I almost fainted the other day when Noel came home and announced he had been to the sale and bought 16 beautiful Jersey cows! 'With what?' I wanted to ask, 'Did you pay with beans, like Jack and the Beanstalk?' I guess he knew he'd be safe buying Jerseys; he knows I think they're adorable, with their eyes like melting pools of chocolate and their dear little Bambi-like calves. They were indeed a bargain, as far as cows go, and yes dear, they are a wonderful investment, especially this time next year when they will have tripled their value and all have calves skipping around - but it's NOW I'm concerned with! You see Noel's reasoning is that if he puts every last cent into buying something sensible like livestock, we can't waste money on anything else. Ain't that the truth!
So Christmas is weighing heavy on my mind this year, I have to admit. As mentioned, it's our turn to host and there could be anything up to 10 of us. Food isn't a problem, Noel has got our 'homegrown' Christmas well and truly covered. It's the present side of things which is concerning me. In that respect, this Christmas is going to be our most frugal one ever, it has to be. We're just going to have to sit the kids down and explain that Christmas doesn't always come at a convenient time of year for many households! I know it'll be OK and the kids will be fine with it. They are already decluttering their stuff and selling it on Trade Me to boost the Christmas coffers and we're just going to have to do the same. We've got a perfectly good trampoline sitting out in the paddock for starters that the boys outgrew several years ago, I'm sure a little one somewhere would love that for Christmas! I'm going to take a photo of it and advertise it on the notice board outside our local Post Office. Since decluttering the house a few months ago it has been so much easier to keep clean and tidy but there is still much more than can do if I look harder. I've never had much luck selling clothes on Trade Me and I have some smart ones I'm never going to wear so I'm going to donate them to Dress for Success. While they won't make any money for me, hopefully plenty of other women will prosper from them!
Apologies if I'm sounding a bit 'woe is me' about Christmas. The thing is, I'm actually quite looking forward to seeing what a magical Christmas I can make with next to nothing. Some of my most favourite tips and stories have been from SS members who have made the best of what little they have at Christmas, with wondrous results. They're so inspiring! So I'm going to scour the Vault and Forum and see what ideas I can glean. I've never been much of a 'crafty' type but I'm willing to give it a go this year and am going to get the kids to help me. It should be fun! I remember making Christmas bell decorations out of egg cartons with my mum in England when I was little. They were made of polystyrene back then and came in all sorts of colours. We had those bells for years! That was back when Christmas trees were an eclectic jumble of colour; before the marketers came along and said everyone's Christmas trees had to be stylish and colour co-ordinated. Well I don't care, I'm going to rebel against them this year! Our Christmas tree is going to be decorated with whatever we can find that will look festive and fantastic, I don't care if I have to cut stars from the shiny silver strip on the side of the toothpaste packet!
I do confess to cheating a little - well, not exactly cheating. I've just been looking at other people's ideas and working out how we can create the same for a fraction of the price. I've been looking through the Ezibuy Christmas catalogue and wondering how to replicate for cheap what they sell for megabucks. It's a great way to get ideas - I've already saved $54 on an ornamental Christmas tree, just by spraypainting a branch silver! Festive red glasses I will be able to pick up for a fraction of the price at The Warehouse. One thing I'm determined to have a go at is making my own crackers, or bon-bons. My mother in law and I were admiring some beautiful ones in the catalogue and toyed with the idea of getting them, until we saw the price. $40 for six - and we would need two boxes! And let's face it, they all contain the same old rubbish as always. I'm sure the kids would much rather have a 10c lollipop in their crackers than a bottle stopper or lipstick case!
6th - Hard wired
12th - The 100 Mile Challenge
19th - Getting your priorities right
21st - Wellington here we come!
26th - The Big Road Trip!
---
7. Homeopathy Corner: Snail Repellent
Homeopathy can be used with all living things. While many people know it treats human health problems, and some know that it treats animals, only a few know it is a really cheap way to rid plants of their pests and diseases.
As an introduction to this topic, Fran is going to show you how to make a simple homeopathic remedy to help you get rid of the snails from your garden. To find out more, go to:
homeopathyplus.com.au/hplus/agrohomeopathy/snails-pack-their-bags-and-go-with-homeopathy.html
---
8. From Last Month: Breakfast Club Cooking
Last month Kerry asked:
"I am part of a group of four parents who run a breakfast club at our school. We provide a nutritious start to the day for between 40 and 50 kids who do not always have breakfast at home. We offer toast with butter, jam or Vegemite and also have tinned fruit, as well as honey or cheese spread occasionally. Sometimes we even have a pancake day. However, I would love some new recipes and ideas for low cost, nutritious things we can feed the kids. We have little or no cooking facilities for a change and are always running out of ingredients. With only four of us catering for up to 50 kids, we really need to keep things simple and cost effective. Does anyone have any suggestions?"
A top breakfast idea
We all know that fresh fruit salad is a great idea for breakfast, but it's what you put on top of it that makes it stand out!
A really healthy topping is creamed sunflower seed. Blend sunflower seeds with water; sweeten with a tiny bit of honey until the blend is creamy and dollop onto each serve of fruit salad. Nuts can also be used but sunflower seed is healthy and inexpensive.
Weetbix as toast
Instead of toast and jam for breakfast, try jam on cereal wheat biscuits, like Weetbix. Instead of using expensive name brands, buy the Coles brand - they're much cheaper and, if you check out the ingredients, they have fewer additives.
So, for the same price as a loaf of bread, you could buy a box of wheat biscuits and get more bikkies for your buck!
Here's one I made earlier
This cheap and healthy breakfast is pre-prepared the night before, so there's less work to do in the morning. It's easily transportable too!
Fruit Bread Fingers
Ingredients:
60g vegetable oil, margarine or butter
125g honey
1 egg, beaten
125g apple or pear, grated
2 small bananas, mashed
90g self raising flour
60g sultanas or small chopped dried fruit
1tsp lemon, mandarin or orange (citrus) zest, finely chopped
Method:
Preheat your oven to 180C. Then mix your oil and honey. Then stir your egg into the mix. Now, add your apple, bananas and flour. When all the ingredients are stirred together add your sultanas and citrus zest. Your spoon should be able to stand up in the mix. If it is still too moist, add a little extra flour.
Grease a shallow baking dish and put the mixture on it. Then smooth it out with the back of a spoon. Pop it in your oven for about 45 minutes or till it is golden brown. Let it cool for a couple of minutes, then mark out the fingers by lightly cutting the surface. When it is completely cooled, cut the slice into snack sized breakfast fingers.
These yummy fruit fingers can be served in a bowl with yoghurt, muesli or tinned/fresh fruit. Of course, they can also be eaten on their own with a glass of milk.
Scrummy Scrolls
Breakfast scrolls are cheap to make and, if you have a bread maker, they're easy too.
Make your bread dough - add some extra sugar for sweetness if you like - then roll out flat, about an inch thick. Top the scrolls with whatever tickles your fancy, such as Nutella; finely chopped apple and sultanas; dates and mashed banana; cheese and vegemite; or bacon and tomato sauce.
Roll up and cut into one inch wide pieces. Lay flat on a baking tray; allow to rise in a warm place then bake at 180C until just firm to the touch.
These scrolls are really cheap, about the same cost as two slices of toast with spreads. They also make a nice change from traditional breakfast dishes.
Short and Sweet
Fruit kebabs taste great, look appealing and are very healthy. Take three different fruits, such as bananas, apples and strawberries. Cut the fruit up into bite size pieces, thread onto pre-soaked wooden skewers and enjoy. Simple as that!
Too many ideas are never enough!
Here's not one but LOTS of great breakfast ideas!
Cinnamon and sugar fingers. Toast with cinnamon and sugar, cut into fingers.
Creamed rice. Can be made the night before and heated up in the morning.
Muffins. Apple, banana, corn and cheese, sweet or savoury.
Yoghurt. Made the Simple Savings way, served with tinned fruit.
Fruit kebabs. Cheap seasonal fruit dipped into yoghurt.
Toad in a hole: Tear the centre out of a slice of bread, place on a hot plate/bbq, crack an egg in the middle of the bread and cook. To make them go further, whisk several eggs and pour into the middle of a few slices of bread.
French toast.
Fruit smoothies. All you need is milk, fruit and yoghurt.
Sausages in bread.
A thick soup, like cauliflower, pumpkin or potato and leek.
As you've seen, when it comes to breakfast, anything goes! A lot of these ideas can also be made, or prepared, ahead of time.
Feast on Fritters
Potato fritters are cheap, go a long way, and most kids love them. I make my fritters without flour and use Parmesan instead; if you do add flour to bind then, they go even further.
Ingredients:
5 large potatoes
1 egg, beaten
4tbsp Parmesan cheese - or you can use plain flour to bind mixture.
Method:
Grate the potatoes and then add egg. Add Parmesan or plain flour to bind mixture - just throw in a pinch of salt if not using Parmesan. Mix the ingredients well - the potato already contains a lot of liquid, so you don't need to add more.
Cover the bottom of a fry pan with a thin layer of oil, or use non stick spray, and wait until the pan is very hot. Put tablespoons of potato mixture into the pan and spread into 1cm high patties.
The secret to good potato fritters is to not move them or flip them over until they are firmly cooked on one side. Electric frypans make it easier to turn the fritters and cook in bulk.
Serve with tomato or barbeque sauce. If you use plain flour in your fritters, you can add some grated cheese or Parmesan for protein.
Damper is dandy for breakfast
Damper is a lovely breakfast that will save you lots of money on bread. Warm buttered damper with any topping is a winner! My microwave recipe takes about six minutes from go to whoa.
Toss two cups of self raising flour into a microwave safe bowl, and make a well in the flour. Mix in a cup of water with a dash of cider vinegar. Don't overmix!
Put the bowl into the microwave, cook for 3 1/2 minutes on high, and then test with a skewer. If there is no batter on skewer, turn the damper out of the bowl upside down onto the turntable and cook for a further 30 seconds on medium. At this point, the bottom of damper should be fully cooked. You might need to adjust this slightly for your type of microwave.
Any leftovers should be well wrapped and are best eaten within the next few hours - which they usually are!
Cook up some microwave magic
Do you have a microwave? There are a number of really easy microwave muffin recipes which could be made very quickly. The batter keeps in the fridge for a long time too. My kids love microwave muffins, including this recipe.
Perpetual Muffins:
2 cups boiling water
4 cups All Bran cereal
2 cups 100% bran flakes
1 litre buttermilk (substitute 2 cups of milk, add 2tbs white vinegar or lemon juice, stand for five minutes)
3 cups sugar
4 eggs, beaten
1 cup oil
5 cups flour
5tsp baking soda
1tsp salt
Method:
Pour boiling water over the cereals in a large mixing bowl. Stir in remaining ingredients and mix until just combined. Spoon batter into a plastic muffin tray lined with paper liners. Bake in the microwave for 90 seconds on full power. These delicious muffins can also be baked in a regular oven.
---
9. This Month's Help Request: Kids Christmas Gifts
This month Heather asks:
"Does anyone have any easy ideas that would be suitable to make for kids for Christmas gifts? My 'kids' are 20, 12, 12, 9 and 8. The younger four have special needs and I am a single parent. I'm really broke at the moment and have warned my kids that they won't be getting Christmas gifts this year as we can't afford it and they have too many toys already. I have read some great ideas that people have for making inexpensive gifts for their friends/family and I'm willing to have a go but wonder what I can make for kids? I am a non-crafty, creatively challenged person, so they would have to be very cheap and very easy."
Heather sounds like an amazing mum caring for all her kids. Can you help her think of ways she can make inexpensive gifts? Submit your ideas here.
---
10. Saving Stories: 'Lesley Barber - Four Years On'
and 'Feeling Fabulous for Free'
In 2005, Simple Savings members Lesley Barber and her husband Stan decided they had had enough of their stressful jobs and endless train travel. After much thought they quit their jobs, took early retirement and bought their dream home on ten acres in Tasmania. Since then Lesley has kept us up to date on how the Simple Savings lifestyle is working for them. Here's the latest, four years on!
"Hi all,
We have now been living our dream in Tasmania for four years. We have made lots of mistakes, but hopefully learned by them, although I know we will continue to make lots more!
Our orchard now has 3 apple trees, 3 cherries, 4 plums, 3 pear, 1 nectarine, 1 apricot, 1 lemon, 2 chestnut and 3 hazelnut trees. Plus a huge strawberry bed, huge raspberry bed, gooseberry, blackcurrant, blueberry, youngberry and sylvanberry bushes as well as rhubarb. If you have not eaten ripe berries fresh from the bush in the early morning you haven't lived!
We have planted a huge potato patch and grow Nicolas and Dutch creams. Our beetroot, turnips, swedes, silverbeet and salad greens have been a huge success. The late frost wiped out our zucchinis, pumpkins, capsicums, tomatoes and corn, drat! However the herb garden has done very well, except for basil that does not like frost at all.
We only shop once a fortnight and buy lots in bulk, same as the farmers. We budget carefully and only buy what is on the shopping list, which also includes treats. We buy fruit and vegetables to supplement our own produce, either from the Farmer's Barn, farms or farmers' markets, or barter with friends. We buy meat and chicken, organic eggs, plus Tasmanian salmon and rainbow trout, from our local butcher who sources from local farms, as organic as he can get.
We bake ALL our own bread, bread rolls (by hand, the old fashioned way) biscuits, cakes and slices. I make all our desserts and sweet and savorury pies - there's nothing like a lemon meringue pie made from fresh lemons and eggs! Stan makes all our jams (strawberry and raspberry from our own fruit and blackberry from the hedgerows) lemon curd and marmalade. I make all our soups, casseroles, ice cream and Greek yoghurt and I have also learned how to make my own pasta. We don't buy ANY packet foods as we can make it better and with fresh produce ourselves. Supermarkets would go broke if they relied on me!
This year we purchased a new, better, Vacola preserving system. We now bottle our own pickled onions, piccalilli, red cabbage, beetroot and so on, as well as fruits in season. I even print out my own labels. It is so easy and satisfying to look at the bottled goods and know they are healthier than the varieties in the supermarket. It is so easy and much cheaper. Our ancestors could have taught us a thing or two. This year we also started brewing our own beer, cider, ginger beer and wine. That is good fun and is heaps cheaper. We have tasting nights with friends, trying each other's brewing. That is a fun night!
We have NO mortgage or personal loans, which we certainly had four years ago! We earn a fraction of what we did on the mainland, but are healthier and MUCH happier. We have no debt and feel years younger than 61 for me and 65 for Stan. He LOVES the trout fishing here, especially when he can sit by our own river on a summer evening. Bliss! Do I miss my high-flying science job? Not one bit, I am no longer stressed and love my part-time job.
Keep up the good work. Continue to show others how to get out of debt and live the life THEY want."
Thanks for keeping us updated on your fantastic journey, Lesley! If you would like to read Lesley's earlier updates you can catch up on them here:
/newsletter/2005/october/ - October 2005
/newsletter/2006/april/ - April 2006
/newsletter/2008/november/ - November 2008
---
Feeling Fabulous for Free
My 25 year school reunion was approaching, and I wanted to turn up looking fabulous! I was well overdue for a new hairdo, and I was ready to make myself over, and I thought the reunion would be the perfect excuse to do all this. But then I thought - what does looking fabulous cost?
1) New hairdo, plus colour and foils - up to $200.
2) Manicure - $25
3) New outfit - up to $300
Total cost of approximately $525!
Then I asked myself; I have not seen some of these people for 25 years. If I wear one of my existing outfits, are they going to know I've worn it before? The answer, of course, was no! So, here's what I did:
1) Hair. I intended to wear it in a French roll. All I needed was to get rid of my straggly split ends. A friend who is good with scissors trimmed it for me. Cost - nil.
2) Manicure. I did it myself with nail supplies I already had at home. Cost - nil
3) Outfit. I have a range of good clothes to choose from, so I overcame the urge to buy something new and wore what I already had. Cost - nil.
Result? I had a great evening! My friends said how fabulous I looked, and I hadn't spent a cent!
Modern society dictates that everything must be new; this new consumerism is a sign of the times. I think back to my grandmother's era, where people experienced poverty and the Depression. They 'made do' with what they had. Think how much money we would save if we 'made do' more often.