"Secrets to Saving Money in Australia" Free Newsletter - January 2009
This issue includes:-
Sad Sally, Happy Hanna: No Time?
February: Exposing the Time Thief!
Best of the Vault: Stop Time Leaks
Best of the Forum: Spending Time to Save
Sophie Gray: Rushed off Your Feet Recipes
Penny's Blog: Goddess of Domestic Chaos
Homeopathy Corner: Insomnia
From Last Month: Lactose-Free and Expecting Twins
This Month's Help Request: Debt Free Plan for Variable Income
Savings Story: Vision Board Achieves Dreams
---
Hi,
How is 2009 shaping up for you? Great, I hope! This month we are concentrating on 'Finding the Time'.
Time has such a terrible habit of disappearing. It hides in all sorts of places; in the kids' lunch boxes, under the couch. Well, not this month! This month I solemnly swear that I will not let any time slip under the couch. I'm going to track down and capture any spare time and lock it in a glass jar for later so I can be super dooper organised.
Would you like to join me? It is going to be so much fun. Together we can capture the time thief, truss him up and tickle him mercilessly. It will pay you back tenfold. And if you haven't found the time to download your FREE 'War on Debt' calendar yet, do take a few minutes to check it out. Come join in the fun!
"If you haven't downloaded the 2009 planner, please do. I thought there was no way it could help us - I did it for my kids but January inspired me to ring regarding Naked DSL for the phone. When talking to our current broadband provider they upgraded our speed and download quota by about five times for NOTHING!" (Ang Tay)
"Wow, I found your site today by accident. The best accident I've had so far! I now feel 2009 will be the year I'm in control of my money and it won't be controlling me. Thank you." (Darleen Clark)
"I am a single mum who works full time - I have a 33 year old daughter with a disability and only took out a mortgage to build a house two years ago. The house is beautiful and I pour as much as possible into the mortgage and watch the savings. I never dreamed that I would be able to build a house - my goal is to own it in ten years. My colleagues marvel at the ideas of Simple Savings - word goes around the office re: hints and ideas. I just love this site! It has saved me thousands of dollars and has enabled me to view my wasteful habits as lost money. Fantastic." (Kathryn Ludbey)
"I just wanted to thank you for having such a great site. I've just joined up again and had forgotten how great this site is. I am trying very hard to follow a budget this year as I'm a single mum on a part disability pension and things get pretty tough at times. With the help of this site, I feel a lot more positive and have someone to help guide me to the best prices. It all gets very daunting at times but I've got someone on my side at last! Thank you for having the fortitude to start this business up and sharing your clever budget knowledge with us all. Have a great 2009." (Amanda Samek)
"I just wanted to say thank you for the easy chicken drumstick recipe in this month's newsletter. My boyfriend came over last night and after feasting on the drumsticks he said that my cooking was better than Macca's. I know some people don't think that's much of a compliment but I think it's great! So, thanks for the recipe and keep them coming." (Ruth Miller)
"I have been reading your emails for about a year now. I always thought how good the material was, but never felt I had the time to really sort out how I could apply the strategies - 'always so busy' is the name of the trough I have been wallowing in. Well, you have just solved that for me by sending this great planner. I have just finished printing it and will be implementing it from today. I am so impressed by it because it spells out everything I need to do in regular speak language. Thank you so much and I am now officially enlisted in the Simple Savings Army (SSA) in the 2009 'War on Debt'" (Judith Ford)
"I want to let you know that I have thought about becoming a member for about three years, but never could justify the expense. However, I took the 'leap of faith' just a couple of weeks ago. I have been reading the Vault and the Forum vigorously. I love them! With the advice from the Vault I waited for the Boxing Day sales and got the saucepan set I wanted for Christmas at 40% off - a savings of $56. Simple Savings has already paid for itself! Thank you so much." (Therese Green)
All the best, Fiona Lippey
P.S. Find time with Penny! - One member who is really looking forward to Find Time Month is our very own Penny Wise. Honest as ever, she admits to driving her family crazy with her poor time management - but no longer! She and the rest of the family are throwing themselves into this month's challenge and demonstrate some of their most common time wasters in this brand new YouTube video. How do you waste your time? Food for thought!
---
1. Sad Sally, Happy Hanna: No Time?
'Phew, what a day!' puffed Sally, struggling through the door with her bags of groceries. 'Honestly, the supermarket was a nightmare.' 'Oh, why didn't you say you were going to be late, Love? I could have made a start on dinner for you,' said Pete, taking the bags from her. 'Not to worry, I stopped in at Pizza Hub and got pizzas for everyone!' grinned Sally. 'At least now that's one less thing to do!'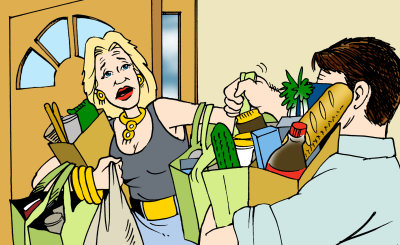 'Yay! Pizza Hub!' the kids chorused excitedly - but Pete's face froze. 'Sal - did nothing Hanna said sink in the other day? Now you're working less, we need to use less and BUY less. I don't recall her including take aways in the new budget. How much worse off are we now? $40? $50? Was it worth the step backwards for one meal? And you've just come from the supermarket for heaven's sake! Could you not have found a cheaper option there?'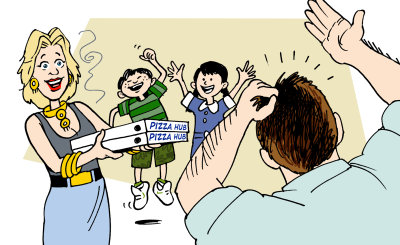 'But Pete, today was so busy I just didn't get time to cook! By the time I put all the shopping away AND cooked dinner it would have been past the kids' bedtime,' Sally folded her arms defensively. 'But today was your day off! Couldn't you have gone to the supermarket this morning instead?' quizzed Pete. Then the kids dobbed her in, 'No - because she was on the computer all morning. And then she was on the phone to Auntie Maggie for AGES!' 'No time, eh?' glared Pete. 'Well you had better start finding some and stop wasting it Sally, or you're going to have to go out and look for a second job!'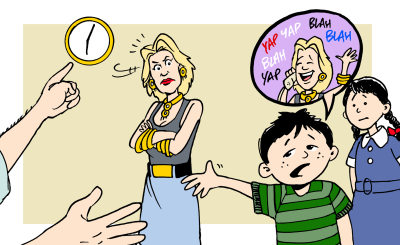 ---
2. February: Exposing the Time Thief!
With today's hectic lifestyles many people think they don't have time to save money - but what is it we are all actually doing? Where is our time being spent? Are you rushing around, spending money unwisely because you don't have time? What is stealing all your time? We're all about to find out! This month we want you to keep a time diary for two whole weeks. Write down everything you do each day in a diary or notebook or log it on your computer. Working out where you spend your time is really worthwhile.
To catch your time thief you are going to need to write everything you do down in great detail from the moment you wake up in the morning, to when you go to sleep at night.
For example, here's the start of a typical day for me:-
6.00am: Woke up with Tristan, got him a bottle and lay half comatose until 7.00am while Tristan climbed on top of me. Too tired to get up, but had to stay awake for him. (Hmm... maybe if I had gone to bed earlier I would have been able to use that hour more productively!)
7.00am: Start waking up everyone else.
7.15am: Start making breakfast.
7.20am: Second attempt at waking the rest of the household.
7.30am: Third attempt at waking the rest of the household. (Hmm... I wonder how much time I would save every morning by throwing cold water on the kids instead of gently cuddling them awake.)
*Gasp* you see what I mean? By writing your whole day down in GREAT detail the time thieves are already glaring at me in black and white!
Now it's your turn. Once you have reached the end of your two weeks, go through your entire time log and evaluate it all. Break your two weeks into two categories so you can assess what you have done and where you are losing time:
Category 1 - How many hours have been spent wisely?
Category 2 - How many hours have been wasted?
Add up both categories and see how they measure up. Could you have saved yourself more time, money or stress during those two weeks? How many hours did you spend watching TV? Sleeping? Cooking? Shopping? What has been stealing your time and more importantly, how can you claim it back?
We would love to hear your results! Members, take a few minutes to report your findings back to the Forum. Let's compare notes so we can work together and see how we can reorganise our lives so we all have more time.
---
3. Best of the Vault: Stop Time Leaks
If you can't find the time in your busy life to save then money is leaking out your wallet! Try some of these fantastic time saving tips that will keep you on the road toward a debt free, stress free life!
How I saved money and precious time
Simple Savings believes in saving time as well as money. This hint is the perfect example:
When I go to a farmer's market or discount store, I buy as many vegetables as my freezer can hold. When I get home, I spend the rest of the afternoon peeling and chopping the vegetables. I mix them up, put them into bags and freeze them until required. When I do need them, I take them out of the freezer and in ten minutes they're steamed and ready to eat.
This method allows me to not only take advantage of specials but saves lots of time on peeling and deciding what to eat on a daily basis. By my calculations, I save 61 hours a year, precious time I can spend with my family. Plus, the money I've saved can be used during those extra leisure hours.
Single mums know how to get double the value
My three girlfriends and I, all single mothers, were always short on time and money. So, we've come up with a way to save on both. Once a month, we get together with our cookbooks and pick out four or five recipes we all like. We then throw in $50 each and head to the supermarket. We buy everything we need, spend the whole day cooking and divide the meals into portions for freezing. We end up with so many frozen meals that we only have to cook a few nights a week for the rest of the month.
Not only do we spend a fun day together but we also save a lot of money and time. Plus, if we have any money left over, we buy bulk items on special and divide that up as well.
Freeze meals in smaller portions and save time
If you find you often need meals in a hurry, try freezing your meals in smaller portions. This will cut down on the time it takes to defrost and ensures it has more nutrients. This works for both singles and families and can help avoid the takeaway temptation in the nick of time!
Buy time with children by spending less time shopping
Since the return of school this term and a new schedule for the year with a four-year-old kindergarten child, I have found myself with little time to shop for my groceries. I want to spend as much time as possible with my youngest son, so I try to get my groceries done before kindergarten. By the time I get the kids ready and we get down to the supermarket, I've got between 20 and 35 minutes to do my shopping. I go with my list of 'must haves' and any good specials I'm going to require over the next few weeks.
Having little time to buy my groceries, I find that I buy only what is on my list as I don't have time to browse down the aisles and often miss out on some all together. I never realised how much I bought that I didn't really need. I'm now using heaps from my cupboard and for the first time I'm starting to see it emptying out. I'm also throwing out much less than I used to because I haven't over-bought!
I used to spend between $100 and $140 a week at the supermarket (without meat) and I now spend between $60 and $100. I'm saving $40 a week and about 30 minutes, which I get to spend with my son. I do find though, that once a month I take longer and do a big shop to replenish the stocks but I am still only spending my old amount of $100-$140. That's a saving of $120 a month or $1440 a year, which is far better off in my pocket.
---
4. Best of the Forum: Spending Time to Save
You can stop wasting both time and your money with a pinch of organisation, a sprinkle of planning and a good dollop of member's contributions from the Savings Forum!
Think you don't have the time to live the Simple Savings life? Read on!
read more...
Serial procrastinators unite! By being more organised you will have more time on your hands and more money in your pocket.
read more...
These quick-bake recipe ideas are perfect for when those unexpected visitors turn up on the doorstep. No need to reach for your wallet and run to the shop any more!
read more...
Look no further for some brilliant, time saving and yummy ideas for dinner.
read more...
---
5. Sophie Gray: Rushed off Your Feet Recipes
The other day I was roaring through my local shops, thinking about the long list of urgent jobs I had to get through when a sign outside the supermarket caught my eye - 'LEAN PONY MINCE'.
Pony mince? Actually I had just misread it and it turned out to be pork mince but I was rushing and my brain was in another gear. By the time I realised I had already started wondering if pony mince was legal and if it was going to be any cheaper than beef.
My quirky nephew El also had a similar experience before Christmas. He was driving past a butcher store and told me he read a sign advertising LION chops on special. 'Wow, how cool,' he thought, 'not only are lions off the endangered list but we can eat them now!' It eventually dawned on him that they were in fact advertising LOIN chops. (This is the same the boy who once ate his toast into the shape of a lion, roared at himself with it, then was so frightened of the toast he couldn't eat it!) But it's not just El and I who find our minds playing tricks on us when we're rushed. We get so busy thinking about the next thing and the next thing that our brain skips ahead and we misread or misinterpret everyday stuff. These are the times when getting a meal on the table seems nigh on impossible, and an emergency dash to the takeaway is most likely. Next time you feel like your brain is going into melt down mode 'cos you've too much to do between now and dinner, try one of these easy, quick 'rushed off your feet' recipes and give your brain a break.
Easy Café Style Omelettes
Omelettes are a delicious way of making a little bit of something go a long way. Follow these three easy steps to master a basic omelette, then try adding a little grated cheese, some ham or tomato or a few sliced mushrooms for a café quality meal in minutes.
For each person:
2 eggs
2 tablespoons of water
1 tablespoon of butter or oil
Salt and pepper to taste
Method:
Break the eggs into a bowl and whisk together with the salt and pepper and water. In a frying pan, heat the butter or oil until bubbling hot, but not smoking.
Pour in the egg mixture and use a spatula to push the mixture towards the centre of the pan. Tilt the pan to allow runny egg to fill the spaces you have made. Continue pushing the set egg to the middle and filling the space with runny egg until the mixture is no longer runny. This takes less than a minute.
Fold one side of the omelette over the other and flip or slide the omelette onto the plate.
Cook's tip: Once you've mastered the basic omelette, add your desired fillings or flavourings before folding the omelette. If you are right handed, add the fillings to the left side and if you are left handed add them to the right side before folding. This makes it easier to turn the omelette out onto the plate looking perfect.
EXTRA: If you would like to see this technique demonstrated, Here is a link to Rita Heikenfeld demonstrating how to cook an omelette.
Spicy Minute Burgers
Thin, flat burgers cook really quickly, I like a spicy burger seasoning like the following one but you can use any burger seasoning you like.
450g lean beef mince
2 slices of fresh bread made into breadcrumbs
1 onion, chopped
1 clove garlic
1 tbsp oil
1 tsp ground cardamom
½ tsp chilli
1 tsp fresh grated ginger
4 whole cloves (the spice not the bulb)
½ tbsp curry powder - I use a mild one so the whole family will eat it
½ tsp cumin
½ tsp salt
Sauté the onion and garlic and add the spices. Throw the bread in a processor to make crumbs, add the mince and seasonings and process to mix.
Divide into 6 or more portions and using wet hands form into thin oblong patties. Slap onto a hot grill plate or frying pan and cook 3 minutes each side. Serve in flat bread with some mixed salad leaves.
Tomato Chutney Tarts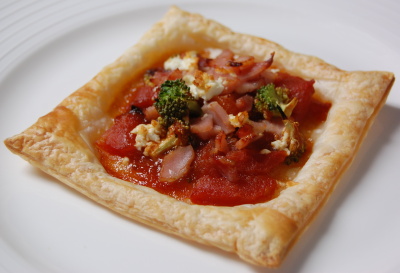 These savoury tarts are the ultimate 'in a rush recipe', they are really easy, tasty proper food for nights when you just can't be bothered.
Serves 1
Preheat oven to 210°C
½ sheet of frozen ready rolled puff pastry cut in 2 squares
1 400g can chopped tomatoes, thoroughly drained of liquid
2 tsp chutney
2 cooked broccoli flowerets (steamed, microwaved or leftover from yesterday)
1 rasher streaky bacon, chopped into small pieces
1 tbsp crumbled feta cheese or other cheese such as Parmesan or mozzarella
Prick the pastry squares over the middle with a fork and place them on a greased or non-stick baking sheet.
In a small bowl combine the drained tomatoes and the chutney, break up the cooked broccoli flowerets and fold them into the mixture. Spoon it onto the pastry squares, leaving a small border of pastry around the edge.
Sprinkle on the bacon and crumbled feta and bake for 15 - 20 minutes until pastry is crisp and golden and bacon is cooked. Eat hot or cold with salad or vegetables.
Chilli Bean Quesadilla's
I'm not known for using a lot of ready-made ingredients but with teenagers in the house I've found a can of chilli beans and a pack of tortillas in the pantry invaluable. No one thinks the bought tortillas are as nice as home-made but they are filling and Quesadilla's are quick to make.
1 can chilli beans - mashed or processed
2 tortillas per person
1 cup grated cheese
Cooking spray
Heat a frying pan and spray one side of tortilla with cooking spray. Spread a tortilla with chilli bean puree, add grated cheese and place the second tortilla on top. Spray the top of the tortilla. Pop into the pan and place a plate on top or press down with a spatula. Heat until the bottom is golden brown then flip over and cook on the other side.
Keep the Quesadilla warm in the oven while you cook extras. Slice them into wedges and eat while warm.
Pasta with Pesto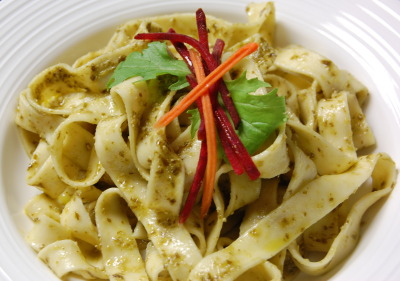 Even my kids will throw this together as a quickie meal - a tub of store-bought pesto will suffice if you have no home-made on offer.
Spaghetti - fresh or dried
Pesto - a tablespoon or two
Cook the pasta and stir through a good dollop of pesto - that's it!
---
6. Penny's Blog: Goddess of Domestic Chaos
Jan 14, 2009
*Sigh*, it's been two steps forward and three back so far this year! OK, well maybe a few more steps forward but I just wish I could get the balance right - or better still, move forward ALL the time. With me it's lack of organisation as usual. The kids have been brilliant at taking their water bottles everywhere so we don't need to buy drinks. Even though I didn't have one of my own, their dedication really strengthened my own resolve and I'm proud to say I haven't bought a SINGLE one! Until today, that is. Much as I love school holidays, in some ways they are a right pain to a disorganised soul like me. The routine goes right out the window, inadvertently dragging most of my common sense along with it. This happens most of all when other people's children come to visit. I have the unfortunate and rather expensive habit of being an over-indulgent mother when the boys' friends come over. Nothing is too much trouble and I always feel obliged to dash to Mr Patel's to stock up on 'kid food' - you know the thing, special fizzy drinks, bags of expensive chippies and bikkies with sprinkles. While I'm perfectly capable of coming up with something just as acceptable myself, this would take prior organisation - something as yet I don't seem to have been blessed with.
This week started off well enough. In fact Monday was a No Spend Day, couldn't have asked for better! Tuesday Alex came over and discovered to his delight that I had a whole stash of flavoured rice noodles in the pantry - a new, healthy gluten free snack I had found for Liam (available now from Bin Inn, yay!) While these are a real lifesaver for hungry gluten free boys, they're not cheap at $2.50 each. Alex of course was blissfully unaware of the price tag and managed to scoff as many in one day as I had hoped to keep for a fortnight! The boys both had friends over yesterday and instead of the usual 'splurging out for guests' I refused to buy anything more than a bottle of juice on special. Great progress Penny! I was feeling really happy about having such a frugal week and when this morning looked like it was going to be another scorcher I offered to take the boys for a swim at the pool. They jumped at it immediately and we were off out the door in the space of a few seconds. I amazed myself by remembering to pack my new water bottle! Unfortunately I forgot to bring one for anyone else and even worse, I forgot the sunblock. By the time the boys were ready to go home, their poor faces resembled tomatoes. I felt like one guilty, terrible mother - and immediately got my purse out. Well, the poor things were so hot and bothered and it was all my fault! The least I could do was get them a drink and an ice cream to cool down. Seventeen dollars later I was the one feeling red-faced! Noel burst out laughing at my logic when I got home and now I felt doubly guilty for forgetting the sunblock and the water bottles AND wasting so much money as a result. Still, on the positive side, it was a harsh lesson learned and I like to think that I won't allow myself to forget them again!
As you can see, I've never been an organised soul but I'm hoping to get around to it. Another thing I'm definitely going to get around to is getting a better deal for January! No rush Penny, I mean, we're only half way through the month already. It will be really interesting to see how much we can save. Off the top of my head I can already think of an easy $130 we'll be able to save on satellite TV - who knows, maybe much more. Definitely time we got around to it then! One thing's for sure, I won't let myself start February's 'Find Time' month until I have got my better deals for January first. I am SO looking forward to finding more time! It's one of the things I'm worst at and I've been excited about the prospect ever since I first laid eyes on the calendar. There definitely have to be better ways of finding time than given in a magazine article I read recently. I was really keen to get a head start on February but the examples that were given were definitely more Sad Sally than Happy Hanna. They may have been good at saving time, but definitely not money, or even the planet, which to me is just as important. Examples included 'put an end to pesky ironing by simply throwing all your wrinkled clothes in the tumble dryer' or 'skip the errands, stay home and use the Internet as your personal errand boy.' By all means you can save time and petrol but what about the fact that many online prices are more expensive than in-store ones, not to mention extra fees and delivery charges? Nope, there have to be better ways of clawing back my time and I'm looking forward to finding them.
I want to be like Nigella Lawson you see - correction, I want to have TIME to be like Nigella Lawson. I got her book 'How to be a Domestic Goddess' for my birthday and for the first time in my life I actually want to chain myself to the kitchen. Only two things have stopped me so far - the fact that I can't seem to find cherry jam anywhere in NZ and the fact that the chocolate mousse cake I wanted to make the other day needed a whopping 12 eggs whereas Christo's delicious gooey chocolate torte from Sophie Gray's new book 'Delicious' looks exactly the same and only uses four eggs. Noel is the undisputed Greenfingered God of our domain but my only role seems to be Goddess of Domestic Chaos at the moment. At least I'm not the only one, so it seems. We were all excited to find a cherry plum tree hanging with fruit hiding between us and the neighbours. The boys went and picked the fruit and while I have fond memories of my dad making cherry plum wine as a child I had absolutely no idea what else to do with them. I wanted to turn them into something wonderful and Googled for ages but nobody else seemed to know either. The only one who came close was this recipe for cherry plum jam found on an Aussie gardening forum. Well, I THINK that's what it's supposed to be!
Get a 75% full 4L ice cream container full of cherry plums.
Rinse them in the sink.
Drip water on the floor as you throw them into a big old pot.
Put some water in the pot. Take care not to put too much in or it's sloppy. Too late. You've put too much in, haven't you? And you did not realise it at the time. Silly billy.
Put it on the stove to simmer and wander into the next room.
Come racing back in when you hear it boiling over and making a mess. Growl at the cherry plums.
Let them simmer a bit more.
Amuse yourself by dragging out the skins which are bobbing on the surface.
Amuse yourself more by getting a steam burn despite using the long BBQ tongs.
Try to decide if it's soft enough by spooning out a sample and blowing on it until it seems cool.
Blow eardrums and burn mouth on deceptively boiling hot plum which only cooled on the outside.
Dance like you want rain to fall from the sky immediately.
Wash out mouth with cold water. Take census of taste buds to see how many were not seared off.
Decide that the mixture is soft but tart.
Put in half a cup of sugar.
Put in another half cup of sugar.
Nibble on sugar whilst you're waiting to see if the mix is sweet enough.
Try again, giving plenty of time to cool.
Screw up face, put in another cup of sugar.
End up with a sloppy mess that tastes good but still has too many skins in it.
We had to give up in the end and eat the fruit as it was before it went off but if anyone knows what to do with them in future I would love to hear from you! Another thing I'm really keen to master in February which will hopefully give me lots of time in the long run is Once A Month Cooking or OAMC. The very thought of doing that much cooking at once has always put the fear of God into me but I think I have geared myself up enough now to give it a go. I'm going to use my 10 minutes of daily SS time to prepare and scour the Vault and Forum for OAMC tips and recipes. Hey - I wonder if Nigella has ever done OAMC? I bet she hasn't!
January 2009
6th - I am a yellow rubber duck
28th - What really counts
---
7. Homeopathy Corner: Insomnia
This month Fran has some useful tips and remedies which can really help restore good sleeping habits. You will be amazed how a good night's sleep can improve not only your physical well-being but also your outlook on the world!
www.homeopathyplus.com.au/hplus/treatment-room/getting-a-good-nights-sleep.html
---
8. From Last Month: Lactose-Free and Expecting Twins
Last month Michael Foley asked:
"I would like to ask yourself and all your subscribers if they are aware of any businesses and or outlets where we can purchase 'lactose-free milk' other than supermarkets. Our daughter has developed a huge appetite for this product because of her lactose intolerance and we now find ourselves purchasing at least five litres (bricks) a week. At supermarket prices you can appreciate the cost!"
It's a huge challenge trying to find the best and cheapest products to suit when a family member has a food intolerance. Thank you all for your helpful advice and tips, these will be a huge help!
Small goat, big savings
An idea to consider if you have a large backyard is to buy a small Saanen goat and learn to milk her. She will give you free milk, pure, fresh and unpasteurised, so it is still full of the health-giving enzymes that are killed by heating. Goats' milk is the easiest for humans to digest, because goat milk proteins are most similar to the protein found in human milk. She will also keep your grass and weeds under control, give you free fertiliser for the garden and be a gentle pet for the kids.
Ask your local bulk buyer
If allergy-safe products such as lactose-free milk are putting a big hole in your budget, try approaching a cafe or similar outlet that buys these things in bulk. You may find you can order as part of their orders and save heaps.
Start an allergy-free food co-op
You can save a fortune on allergy-safe food products by getting a few people together and registering a co-op. Wholesale organic markets not only have fruit and vegies but also stock rice, oat and lactose-free type of milks. I know of a great one on Parramatta Road in Sydney, just across the road from Flemington markets. Only businesses can buy from here and the savings are big, as the retailers shop there! Even if you are not into organic produce you could probably do the same thing at a normal wholesaler as well. It's well worth checking the rules for co-ops and seeing if you can form one yourself.
Cheaper lactose-free milk with GP's help
If you have been diagnosed as lactose intolerant, you can save on expensive milk alternatives by getting a prescription from your GP. You can then buy it at a discounted price, pre-ordered, from certain chemists. My grand daughter is lactose intolerant and my daughter gets her milk from Amcal Chemist.
Huge rice milk savings straight from manufacturer
I discovered how I could make terrific savings on rice milk for my daughter. She developed multiple food allergies, including dairy, soy and goat's milk. I weaned her on to rice milk and was purchasing approx four to five one-litre cartons per week at about $2.60 per carton.
I decided there had to be a better way so I contacted the manufacturer/distributor listed on the side of the carton. I explained my problem and they set up an account for me and I was able to purchase direct from them. I had to purchase a minimum amount of $100 (approximately 72 cartons) but being UHT type they had at least a 12 month use by date, giving me plenty of time to use them. The cost of the carton went down by around a dollar and they were delivered to my door - free of charge. If you can buy in bulk, do it. Give the company a call, hopefully they will be able to help.
Make your own lactose-free milk
You can pay as little as $0.70c per litre of lactose-free milk if you purchase a product called 'Lacteeze' online (http://lacteeze.com.au/). It's an enzyme used in the lactose-free milks you find in the supermarket . Just 15.5 ml will convert 75 litres of milk! Buy two litres of full cream milk and sterilise a plastic two-litre container of milk. Apply 10 or more drops to the two-litres of full cream and leave in the fridge for 24 hours. This will convert 70-80% of the lactose, then halve the milk between the two containers and fill with cold water. You now have Lite lactose free milk. Freeze one and use the other. Much more economical than buying ready-made!
Bulk lactose-free milk in Greater Sydney area
If you're in Sydney, you can make great savings on lactose-free milk by ordering it in bulk from www.abundantorganics.com.au They will deliver anywhere within the Greater Sydney area.
And Etleva Burgija also asked:
"I just discovered this site and am expecting twins. Help! I would love some handy tips for saving money starting out with my babies."
Twins! How wonderful! We always love receiving new saving ideas for babies and as always our members have come up trumps with fantastic tips like these. We're sure they will be a big help to Etleva and many others too!
Get all your baby needs from Freecycle
My daughter-in-law has clothed and equipped her babies for no cost through the brilliant Freecycle website. Many of the clothes are new or have had very little use and the same goes for the equipment. Everything is free - you just have to join your local area (also free) so nothing is too far away to pick up. Freecycle is a global community, simply Google 'Freecycle' to find the nearest one to you!
Say it with nappies!
As a mother of four (including triplets), one of the best money saving things we did was open an account with a bulk nappy supplier. Instead of flowers and the usual 'new baby' gifts, we asked friends and family for donations to our nappy account. They were happy to do so and it really helped see us through the early months with multiple babies.
Help for multiple birth families
For families with multiple births, help is at hand from your nearest Multiple Birth Association or club. They often have a clothing store and lend out baby clothes to new parents. They also lend out feeding pillows and prams and have a wealth of knowledge and information. There are always parents trying to sell off things they no longer have a use for, such as high chairs, prams, strollers, swings, clothes and much more at reduced prices in the bi-monthly newsletter. Just search online and find a branch near you.
Only buy the bare essentials before the birth. Then after all the gifts have arrived, sort out what you don't have and buy it then. You will also find that many will give you what baby clothes they have left. You will also find that when you have the bubs, you will get loads of new stuff from friends and family.
Breastfeeding help for mums of twins
You can save an absolute fortune on feeding twin babies by planning to breastfeed. This means you will not have to spend any money on food for them for the first six months. Plenty of help is available if needed. The Australian Breastfeeding Association has a 24 hour phone helpline that you can ring with any questions or if you are having trouble - you can even ring before the babies are born to get some ideas. They also have a booklet on breastfeeding twins for $5.00 - and you can subscribe for $65 and get a comprehensive book on breastfeeding and lots of other benefits - this would be a great thing to ask for as a gift. You could also attend a Breastfeeding Education Class before the birth which gets you in touch with local support - you could also ask for this as a gift (and it includes subscription to ABA as well).
Stress-free tips for multiple birth parents
If you are expecting more than one baby, you can make some terrific savings even before the birth. Not only will they save you money, but also your sanity! Here's what I've learned so far:
Before the birth:
Every time someone offers 'if you need anything...' don't just mumble a vague 'thanks' and leave it at that! They won't know what you need help with and won't press the issue. If you politely say 'could you provide a frozen meal (for after the birth)' most people will be delighted to be able to do something for you that is easy and can be done in their own time and home. You will need to clear your freezer to stockpile, or buy a second hand one if you are able. We did and continue to find that the $100 we paid for it was a good investment as we still buy and store frozen food in bulk. You will save money on not buying take away when you are completely exhausted in those crazy months after the birth (and after all the visitors go home) when you are trying to get your new life sorted out. Plus you'll feel healthier too.
Try and make as many frozen dinners as you can before the birth. One of the best tips I ever read on Simple Savings was from someone who said (words to the effect) 'I save money by not being tired'. When you are tired, you buy take away, because you don't have the energy to cook. You eat junk food because you need a quick energy boost. You take the car instead of walk or bike because you don't have the energy. And all of these things cost money. With twins, there are going to be times when you are tired. Probably very, very tired. But if you have a meal in the freezer, you won't have to spend the money on take away, or eat junk food and feel unhealthy. Don't be too hard on yourself- it won't always be possible, but in those times when you're less tired, you can prepare for the times when you really don't have a scrap of energy left.
Double the babies, half the cost
Having more than one baby doesn't have to mean doubling the cost of everything! Check your junk mail and write down the normal prices of nappies, then when the catalogues come and they have sales, you will know how much you are saving. If there is a great special, buy a few more and pop them under a bed - you can never have too many nappies. Also check online, you may be able to purchase bulk nappies that way. Don't always go for the more expensive nappies; the cheaper ones are good as well. The same goes for nappy wipes and any other baby products (sometimes the generic brands can be up to half the price of the 'named' brand).
Don't bother with an expensive baby bath, my mum bought us two large round wash basins with handles. They were only $6.00 from the supermarket but you might also want to check the cheap $2 stores in your area. The babies can have a bath in these and you can carry the water out after their baths and water the plants!
Cheap lingerie bags are great for washing little socks and mittens. Just pop them in the bag, zip it up and voila - no more lost baby socks.
Second hand baby clothes are great; generally they have only been worn once or twice and then the kids have grown out of them. The same goes for baby toys, most of the baby toys these days can be thrown in the wash and then given to bubs to play with. Also sheet sets and any other baby items (online auction sites such as eBay are a great place to pick up baby items on sale and usually in bulk, also try second hand stores in your area).
Babies dribble and drool a lot, so it would be wise to invest in either a mattress protector or a shower curtain or small plastic tarp to put under the sheets. This will help protect the mattress from getting ruined and you can just wash or wipe down and dry the protector quickly and then put fresh sheets on the bed.
For a cheap and cheerful mobile above the change table, cut out colourful bits of cardboard in different shapes and hang those up on an old coat hanger. Or, if like me, you have little toys hanging around, tie/sew a piece of ribbon to them and hang those up on a coat hanger and hang above the change table or cot. Looks great and hardly costs a thing!
---
9. This Month's Help Request: Debt Free Plan for Variable Income
This month Shelley asks:
"I have shown my husband your War On Debt Calendar and while he wants to be debt free, he says it is impossible to work out a commitment plan because he is only paid by commission and never knows from month to month what he will earn. This is so frustrating. Could you possibly give me some idea of how we can plan to be debt free under these circumstances?"
If you have a budget plan or system that is working for you to get out of debt on a variable income Shelley would love to hear from you. So would we! Please send your ideas here.
---
10. Savings Story: Vision Board Achieves Dream
My husband was dumbstruck when I asked Santa for two whiteboards for Christmas! I explained to him how I hoped this unusual gift would help us all achieve our dreams.
The first board is for the panty - it hangs inside the door and every time we finish something or take something out of the pantry/fridge that needs replacing we write it on the board and that is what goes on the shopping list. (Hence I now have a shopping list - not just going to the supermarket without one and winging it which winds up costing a fortune and I come home without half the stuff I needed).
The second is my 'vision' board - I have listed a few items that are my goals or rewards. This could also be a picture of something I'd like. The vision board can change as required but I believe we all need our dreams to keep us motivated and this is my way of being motivated. Things I have on my board are obviously - pay the mortgage off, a newer car, a holiday for my family and so on. To add to this I have diligently been filling out my Savings Diary daily so can see exactly where my money is going. I'm quite surprised how quickly everything totals up even when you are conscious of spending. Any extra overtime or additional pay my husband and I have been earning, we are putting into our progress saver account. We have provided ourselves with a nice little buffer now in case of tough times ahead.
Santa did bring me my whiteboards, he even hung them for me and the whole family is using them as they were intended!