"Secrets to Saving Money in Australia" Free Newsletter - September 2008
This issue includes:-
Sad Sally, Happy Hanna: Spic and Span
October is Cheaper Cleaning Month!
Tips from the Vault: Smart Ways to Clean
Best of the Forum: All About the House
Sophie Gray: The Clean Break
Penny's Blog: Nothing is Impossible
Homeopathy Corner: A Dog's Life
From Last Month: Eating Well for Seniors
This Month's Help Request: Grubby Deck Cleaning Tips
Savings Story: Kids' Home Cafe
---
Hi,
How are you going? It's Naomi here. Fiona thinks I should be in charge this month because it's cleaning month and I am the cleaning queen!
One of my earliest memories is of my mum cleaning with what looked to me like cooking ingredients. She would pour baking soda, lemon, and vinegar combinations on the surfaces of our home. Magically, these natural cleaning products kept our home clean and smelling fresh, without spending a lot of money.
Mum's tricks saved us money; the same way they can save you money. It is astounding how much we Simple Savers are accomplishing by working together. You are not just saving money in your own home; you are also helping others lift themselves to a better life. Well done! You are fantastic. Here are some of the emails we received this month. Please read them and let your chest swell with pride of a job well done.
"I appreciate all you do to help us make it through these difficult financial times. This is the first 'recession' here in the US that I have lived through as an adult (30 + years, yikes!) that I am not worried about our financial situation, jobs, food or the roof over our heads. This is because after the last one in 2000, I decided that enough was enough and spent some time researching frugality and simpler living. Your website was one of the ones that was recommended and I have learned so much. Thanks for all you do." (Sylvia McAdam)
Remember Belinda Gardon who was the overall winner of our Savings Diary competition? She did such an amazing job. We were thrilled to hear her update:
"I just thought I would give you an update. I have now paid off all of my credit card debt! Yay! We now owe no money at all (except for the mortgage but we are working on that)! My husband and I have both vowed to never, ever get another credit card (or personal/car loan) - and are LOVING not having that feeling of constant weight on our shoulders! Just wanted to say thank you so very much for your site and for showing so many others that there is another way!" (Belinda Gardon)
"We still have a few years yet with the mortgage but it feels so good to know that we are now in control of our finances and know that all is well. We have surely proven in this last year that we can do it! We live more simply and are very happy and content doing so." (L. Martin)
"I have been a member of Simple Savings for several years now and have benefited greatly from it. We have a debt free credit card, savings and have brought our mortgage down significantly over that period. Also while I was acting in a more senior job I placed the balance in a savings account and paid for an evaporative air conditioner for the house, a studio for my son (converted garage), supported six adults in the house and cancelled the debt on our credit cards - all thanks to the various tips and hints from this website. Thanks Fiona and associates. I recommend this to lots of people." (Lisa Teasdale)
"I love your Simple Savings site and really look forward to receiving the newsletters each week. I have saved heaps in cleaning products and found great tips on meals and so on. This is especially important with the costs of everyday living going up every day. Thank you again." (Carol Johnson)
Have a great month!
Naomi Bruvels
P.S. To find out more about cleaning month check out our free calendar here.
---
1. Sad Sally, Happy Hanna: Spic and Span
In the last episode, Pete, Sally and the kids had to flee to Hanna's house after Pete flooded the house trying to fix the kitchen sink. Now they are back at home cleaning up the mess.
'Look on the bright side, Sal - you have been wanting new carpet for years!' joked Pete as he mopped the kitchen floor. Sally was not amused. 'Hmph! It's not just the carpet that's had it. Look at the mould on these cupboards, Pete. It must have been leaking for weeks. It's awful!' She looked around in despair at the mess the burst water pipe had created.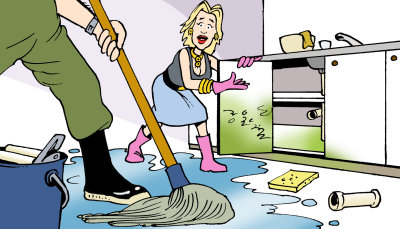 'Honestly, I don't know how I'm ever going to get them clean,' Sally continued. Then she had a brainwave. 'I know what will do the trick! GERMIFLU! I've still got that can I bought somewhere! That will kill anything!'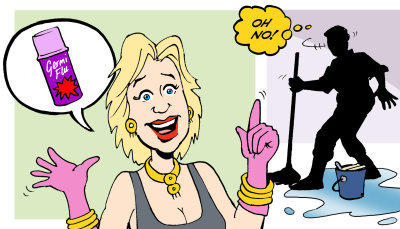 'Including me!' Pete thought to himself in horror. There was no way he was letting Sally loose in the house with that evil smelling stuff again! 'Don't worry, Love, I'll do the cupboards,' he said quickly. 'They need plenty of elbow grease - give me the Germiflu stuff if you like!'
Sally was a little surprised but pleased at Pete's kind offer. 'OK! I'll just give these chairs a quick spray with it first then,' she smiled, heading towards them. Pete groaned inwardly. Was there no stopping this woman? How was he going to stop Sally from stinking out the kitchen with her awful spray? He wished she would just stick to using plain old bi-carb, vinegar and tea tree oil like he did. There was only one solution he could think of. 'Er - actually Sal, it's been a heck of a long day. You must be shattered! Tell you what, I'll take care of ALL the cleaning, while you go and have a nice rest. Now, can I please have that Germiflu?'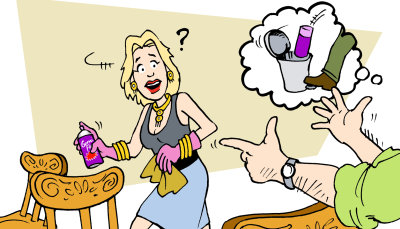 ---
2. October is Cheaper Cleaning Month!
There's no getting away from it, cleaning is a fact of life. We all have to do it sometimes - the big question is, which cleaners are you going to use to do the job? Cleaning products are big business. There is a staggering array to choose from; each professing to be better and more effective than the rest, thanks to elaborate and persuasive marketing campaigns. Huge mark-ups mean enormous profits for the companies and less cash for you. In comparison, making your own cleaning formulas will cost you less than one-tenth of the price of its commercial equivalent!
Making your own cleaning products is super quick and easy. Before you reach for your next harsh chemical spray, stop and think about what you are doing to your wallet, the environment and your family. Not only are a lot of cleaning supplies downright expensive, they also contain nasty toxins that get close to us and those we love.
Let's compare how much money it would cost you if you bought commercial cleaners against ones you can make yourself.
Unblocking a drain
Commercial product 500ml $10.49
Bi-carb soda and vinegar. One tablespoon of bi-carb in the drain followed by half a cup of vinegar. Equivalent 500ml $0.35c
Air freshener/room deodoriser
Commercial air freshener/deodoriser 500g $6.37
Bi-carb soda. Small container of bi-carb left with lid off to absorb smells. 500g $1.78
Cleaning windows
Commercial window cleaner 500ml $3.46
Vinegar and water. Wash windows and mirrors with a solution of vinegar and water (50/50) for a streak-free, clean surface. 500ml $0.27c
Disinfectant
Commercial disinfectant 1 litre $5.39
Vinegar. Vinegar is a natural disinfectant. Buy the cheapest white vinegar you can find and store it amongst your cleaning products. 1 litre $0.54c
All purpose spray and wipe
Commercial spray and wipe 750ml $3.65
Vinegar, ammonia and water. Pour half a cup of vinegar into a spray bottle, fill up with cold water, then add about one teaspoon of ammonia. Use this to clean kitchen bench tops, stoves, windows and bathrooms. 750ml $0.20c
Mould/mildew removal
Commercial mould remover 500ml $5.86
Tea tree oil. It can kill mould and mildew in a flash. For a general all-purpose spray, combine two teaspoons of tea tree oil with two cups of water in a spray bottle. Shake to blend. Use to spray on mould and don't rinse. 500ml $0.58c
Now let's add up that tally.
Commercial Cleaners: $35.22
Homemade Cleaners: $ 3.72
Wow! That's a huge difference.
Now you have the magic formulas you can try these and more home-made cleaning tips too! There is a massive collection of members' cleaning hints and recipes in the Vault, as well as a Bumper Cleaning Clues collection you can download and print here: /downloads/vault/cleaningbooklet_au.pdf
---
3. Tips from the Vault: Smart Ways to Clean
Having a sparkling clean, germ-free house always feels nice. Our members are using simple home products for every room and item in the house, that you can use too! Here are some tips from our Vault.
Clean your iron without chemicals
Try this cheap and effective way to clean an iron without using expensive chemicals. Heat your iron until hot. Rub the bottom of an old white candle over the iron and wait for the wax to melt. This will collect all of the 'gunk' on the iron. Then iron over an old piece of rag to make sure all of the wax is off. This has worked really well for me; my cheap $25 iron has lasted over six years of being used every day!
Dust with your socks on
I never have to buy dusters since I came up with a simple alternative - recycling odd socks! We all have them - I got sick of having so many 'single', but they work brilliantly as dusters. You don't have to watch for the cloth to 'catch' on anything and you can have full control on whatever you need to dust!
Clean bathrooms (and people!) with lime juice
I know some terrific handy uses for fresh lime juice! You can use limes to make an effective copper cleaner, simply mix the lime juice with a little salt. Lime also breaks down the film that appears in sinks, toilet bowls and showers. Squeeze the limes, spray on the affected area, soak for about 20 minutes and the scum should come off much easier. The best one however, is for people who have overdone it with the fake tan! Applying turmeric powder along with lime juice will remove the stains. Lime juice is a natural bleach and will fix the problem in no time!
Remove crayon from walls with bread
This is a must for parents with kids who draw on the walls with crayon. Use a slice of bread, the fresher the better, and rub at the crayon. It will rub clean, even from white walls, and you wouldn't notice it was ever there. My niece drew on the wall while I was visiting, and her mum, Michelle, cleaned it off easily. She said it works every time, and as a mother of four including twin girls she has had a lot of practice!
Clean up your spending with home-made solutions
Save on expensive cleaning products by using ingredients from around the house to make your own cleaning solutions. You can save even more by using pantyhose as cleaning cloths, which I can sometimes find for as little as $0.50c a pair.
Oven cleaning: Make a paste with equal parts of salt, baking soda and water. Paste it onto the oven walls and leave overnight. Dampen the pantyhose and wipe the oven clean.
Furniture cleaning: Make a polish out of 1/2 cup lemon juice and 1 tsp olive oil, then apply with pantyhose.
Sink, bath and shower cleaning: Mix 1/4 cup of baking powder and 1/2 cup of white vinegar. Apply to scrunched up pantyhose then clean the surface and rinse.
Toilet cleaning: Pour two cups of white vinegar into the bowl before bed and leave overnight. In the morning, scrub with a toilet brush then flush.
Extra tips for Vault Members
We always strive to give our Vault members something extra. Some extra tips and extra information to say thank you for joining and helping us make Simple Savings a fantastic site. This month we have included some links to great tips to help you save money by growing your own food. When you click the links below you will be taken to the Vault login page and then straight to the hint.
Cheap chemical-free bath cleaner Contributed by: Natasha Hughes
Chemical-free toilet bowl freshener Contributed by: Spud
Detergent-free shower cleaner Contributed by: Buggys
Eucalyptus oil for cleaning Contributed by: Ailsa Cameron
Greener household cleaners Contributed by: Elizabeth Carpenter
Make your shower sparkle every day Contributed by: Kate Cawthorn
Shaving off the scum Contributed by: Isabella Dunwill
Chemical-free hand cleaner Contributed by: Sylvie Unknown
---
4. Best of the Forum: All About the House
For more valuable tips from members with plenty of experience and 'know how' about what works best, check out our Savings Forum!
Keep your glass shower screen clean and clear for up to three months with this ever so simple tip - brilliant!
read more...
Even if it isn't spring time in your part of the world there is never a better time to get in and roll up the sleeves. Join this friendly bunch as they clean their way easily around the home.
read more...
Are your kids' toys becoming a little stinky? You can clean them easily and cheaply with these tips.
read more...
Sunlight soap and Velvet soap have been used as a cleaner in homes since the 50's! You will be amazed at how gently and easily this soap can work.
read more...
Yucky, greasy barbecue plates and utensils can be a real challenge to clean. Learn from our members what works best for them.
read more...
Eucalyptus oil is great. There are so many different ways you can use it to clean and bring things up like new.
read more...
If your internal walls are looking a bit grubby maybe it's time to not only mop the floors but the walls as well!
read more...
---
5. Sophie Gray: The Clean Break
My strategy for spending less on cleaning products is simply to avoid all cleaning unless absolutely necessary. I pay my offspring to skitter around the floors with a mop once in a while and when it gets scary behind the fridge, it's time to move.
The last time Richard cleaned the oven for me, it took three days and he had to use a paint scraper. Of course it was marvelous afterwards! The kids were fascinated to discover that the square glass bit in the middle was actually a window and kept dashing back into the kitchen to watch the pastry rising. However, after a week or two the glass got murky and the prospect of doing it all again made us lose the will to live. I figure that if I keep smiling no one will notice the mess. I learned this from my nephew Elliot, who smiles his way through everything. Like last year, when he was involved in organising a very serious conference and booked some friends from jazz school to provide music in the breaks.
The delightful harp player arrived late, flustered and dressed in a sparkly party frock. Nervously she asked him, 'is this outfit okay? It is a birthday party right?' Elliot just smiled widely and said 'sweet'. She only knew three songs and played them over and over. When she took her break, Ell filled in for her playing the harp and smiling his dazzling smile. Everyone thought it was lovely. Elliot doesn't even play the harp!
My harp playing isn't up to much either but I can smile and I make a mean dessert, so if eyes start drifting towards the dust bunnies in the corner I intend to flash one of Ell's dazzling smiles and deploy gorgeous desserts as a diversion, all cooked in my very effective, (if a little grubby) oven.
These decadent desserts use a meringue base. Meringue is very versatile, super cheap and has the benefit of being gluten free for those who can't have gluten.
When making meringue:
The eggs should be at room temperature.
Use caster sugar (regular granulated sugar results in a gritty meringue), you can use a processor to chop granulated sugar into a fine 'almost caster' sugar.
Ensure that all utensils are scrupulously clean and free from grease. A drop of egg yolk in the egg whites or a smear of butter on the beaters is enough to prevent the whites from foaming.
Coconut Meringue Roulade with Berry Creme
This is the sweet taste of summer. Perfect as a celebration dessert and easy enough for anytime, frozen berries can be substituted for all year round indulgence.
Serves 8
4 egg whites
1 cup caster sugar
½ tsp vanilla essence
75g coconut - see cook's tips
1 tsp white vinegar
1 tbsp corn flour
½ cup whipped cream
½ cup 'lite' berry yoghurt
1 cup chopped berries - strawberries, raspberries or a mixture
Pre heat the oven to 180°C
Line a sponge roll tin with non stick baking paper.
In a large, clean bowl beat egg whites till stiff. Gradually add the sugar, beating continuously, then fold in the vanilla, vinegar, corn flour and coconut. Bake in the prepared tin for 15-20 minutes.
When cooked the meringue should be golden brown but soft to the touch.
Lay a sheet of greaseproof paper onto the bench and sprinkle it with coconut. Turn the sheet of meringue onto the paper. Gently peel off the non stick baking paper, and using the greaseproof paper, roll the meringue up like a swiss roll, rolling from the short side and leave to cool.
While the roulade is cooling make the filling. Whip the cream to firm peaks then fold in the yoghurt and berries. Refrigerate till needed.
To assemble the roulade gently unfold the roll on a flat surface (it may crack a little) spread the berry creme filling on to the meringue, leaving a border around the sides as the filling will spread as you roll it up. Gently re roll the roulade finishing with the join underneath. Place on a serving platter and garnish with additional berries. Serve in slices.
Cook's tip: I like to use a combination of desiccated coconut and shredded coconut for the pretty appearance and texture but either one on its own will be fine.
If using frozen berries defrost completely and drain off as much liquid as possible before folding into the creme.
Hazelnut Meringue Roulade
I'm not sure where this recipe originated as it was given to me by a friend. The flavours are sophisticated but the recipe itself is easy and inexpensive for a really impressive dessert.
Serves 6
Pre heat oven to 180°C
4 egg whites
1 cup caster sugar
1 tsp vanilla
1 tsp white vinegar
1 tbsp corn flour
75g toasted hazelnuts, skinned and finely chopped
300 ml whipped cream
Line a sponge roll tin with non stick baking paper.
In a large, clean bowl beat egg whites till stiff. Gradually add the sugar then fold in vanilla, vinegar corn flour and chopped nuts. Bake in sponge roll tin lined with silicone paper. Bake 10-15 min. Roulade should be golden brown but soft to the touch. Lay a sheet of greaseproof paper onto the bench and sprinkle it with sugar, turn the roulade onto the paper. Gently peel off the silicone paper and using the greaseproof paper roll the roulade. Leave to cool. To assemble the roulade gently unfold the roll on a flat surface (it may crack a little) spread the whipped cream on to the meringue, leaving a border around the sides as the cream will spread as you roll it up. Gently re roll the roulade finishing with the join underneath. Place on a serving platter and dust with icing sugar. Serve in slices.
Apricot Meringue Gateaux
Made with discs of meringue and apricot flavoured cream this dessert is best eaten several hours after assembly as the cream and fruit softens the meringue making it much easier to serve. It can be made as individual serves using the following method or as two large discs forming one large gateau.
Serves 6
Pre heat oven to 150°C
2 egg whites
100g caster sugar (caster makes a less gritty meringue but ordinary sugar is ok if that's all you have)
For the apricot puree
1 400g can or equivalent quantity of home preserved apricots, pureed
Toasted sliced almonds to garnish
Place egg whites in a large clean bowl. It is essential that all utensils are totally free of grease when whisking egg white or it won't fluff up. Whisk the egg whites till they form soft peaks, then whisk in the sugar one spoonful at a time. Whisk thoroughly after each addition till all sugar is added.
Cover a baking sheet with non-stick baking paper and draw approximately 12 equal cookie sized circles - around 7cm diameter (I trace around the rim of a glass). Spoon the meringue into the circles to make 12 meringue discs.
Place baking sheet in the oven, immediately reduce the temperature to 120° and cook for 50 minutes (if the discs begin to brown, reduce the heat further), turn the heat off and let them cool down in the oven. Ideally they should dry out completely. When cool fill with one of the following fillings.
Spoon pureed apricots over half the discs, then add some whipped cream, place another disc on top, add a little puree and some more cream. Leave in the fridge for several hours before serving, top with toasted sliced almonds.
---
6. Penny's Blog: Nothing is Impossible
Sep 12, 2008
Oops, I'm in the doghouse again. I fed Noel's dinner to the chooks last night! Not ALL of it admittedly and I didn't mean to - I was just being Ms Efficient. Well, all I can say is it serves him right for taking a work call in the middle of family dinner time! He went out to his office and was gone for ages, by which time the rest of us had finished and I cleaned up, completely forgetting that he hadn't finished his in the first place! Didn't go down well I can tell you but fortunately he did have to see the funny side, although he's been ribbing me ever since about being a rubbish Simple Saver and throwing perfectly good food away!
I mentioned in my last blog that we have eggs coming out of our ears but I neglected to mention the sheep! I forgot to tell you that our three ewes, Mimi, Poppet and Edwina are all the proud mothers of twins. They were all born on the night of a dreadful storm bless 'em - we went to bed leaving three sheep in the paddock and woke up to nine! I'm amazed they survived that first week with constant storms and flooding but they're all thriving now. Spring has sprung, the blossoms are out on the trees and the place is really looking quite respectable at the moment, especially as Noel has finished building the new deck. He did a wonderful job and it's made such a huge difference. It just goes to show how much money you save by doing things yourself - I was gobsmacked when a visitor was admiring the deck yesterday and said he had just received a quote for $36,000 to build a deck about the same area as ours. $15,000 of that was labour alone. I was amazed - ours cost less than $2,000 all up! By the time my friend went away, he'd decided to ditch the builders and do it himself!
I keep feeling lately that we're just plodding along at the moment and I need to be doing more savings-wise - but what? It's not like I've been doing a bad job or anything but I guess you get to a point where everything becomes so automatic. Everything from the things you do to the things you buy is just naturally the smartest, cheapest way. Not that I'm complaining! I'm just thinking maybe I've got too complacent lately and should be striving for more. $21 Challenge Month was fantastic and I threw myself into Decluttering Month too but September is Grow Your Own Food Month and that's always been Noel's domain. Of course it could be mine too, but he just does it so much better and HATES anyone messing with his veggie garden. I need a project! I think this weekend I'll have a good look at the Hottest 100 and see what inspires me. Watch this space!
This month's edition of Consumer magazine was very timely, with some handy information on growing herbs. I never used to use herbs much, and still don't anywhere near enough but Sophie Gray's recipes have taught me what a huge difference they can make to your food. Fiona's home-made soup when we visited her in Australia was also a real clincher. So yummy, and as she said, almost free! I know I've said it countless times but I don't know where I would be without Simple Savings. I'd still be eating out of jars and packets for starters but seriously, if it wasn't for Simple Savings I would never have heard of Sophie Gray. I would never have heard of Annette Sym either.
There are just so many things our family would never have done or achieved without this website. Books I would never have read, things I would never have seen. There must be thousands of different ways Simple Savings has affected our lives, I couldn't even begin to count. Once you have the knowledge, you really feel as though nothing is impossible. You can achieve anything you want - you just have to find the smartest way to achieve it. I'm waiting for the day when I can write to Fiona like other members do and say 'thanks to your site, I'm debt free!' It's still a way away yet but you know, without Simple Savings I would never even have thought of paying my mortgage off faster - now it's a real goal. It took us more than 10 years to dig the big hole of debt we found ourselves in but so far it's only taken three years of membership to fill a lot of it in. The mortgage doesn't bother me. It's small compared to many people's and it's not like it was a bad purchase - everyone needs a place to live. Unless it's a mortgage bigger than you can handle of course. I consider us very fortunate that at least that was one trap we didn't fall into!
School holidays are just around the corner and they're going to be two weeks of hectic fun on a shoestring. The boys are booked into a cricket coaching workshop for the first week - they've been before and absolutely loved it. We take our own food with us and the only other cost is the petrol. The second week we're all heading to the local gym for a whole week of trying out all kinds of new sports for just $5.00 and joy of joys, the pool will be opening soon! I wouldn't be without our family gym membership. I know for many people it's not viable and I've made expensive mistakes in the past by paying a fortune to join a gym and then only going three times. Let's face it, for a gym membership to be worth it, you have to actually USE it. I don't have to pay the whole whack in full, I pay it every three months. I use my gym membership every day and save a bundle, especially in summer. When other families are paying up to $12 a day for two adults and two children to swim, our membership works out to a cost of around $0.30c per day to swim as long as we like. Pretty cheap entertainment in the long run I reckon. Fiona was right, buying in bulk can save you a lot of money!
Penny's Blog is another bonus for Vault members. Login to see what Penny has been up to.
8th - No Veggie Zone
23rd - Keeping the wolf from the door
---
7. Homeopathy Corner: A Dog's Life
Following on from last month's amazing story of Actium, the budgie, this month we have another pet story that allowed a grateful owner to save a small fortune in veterinary bills.
The successful treatment of Molly's severe eczema and lack of confidence simply could not have been done via the conventional methods. Read more here.
---
8. From Last Month: Eating Well for Seniors
Last month Ruth Hesford asked:
"Being in my seventies and living alone means that bulk buying is not really suitable for me. Also, you tend to get a bit more picky about food as you get older and I find leftovers often get given to my dog or thrown away. I think we 'oldies' need to keep a stash of small tins of food and some baby food in jars or tins! I was ill recently and could not be bothered with cooking and had no reserves, so lived on tea and biscuits for about ten days. I believe in eating well and having good healthy food and an old person's health runs down very quickly when they don't eat well, so I'm trying to get a list together of suitable things to create a stash. I would love some advice from other old people on what I could include."
It just goes to show whatever your age or lifestyle you can still keep a healthy stash of foods that are easy to whip up when you aren't feeling well. Thanks for your wonderful tips!
Cook main meals in the morning
I have found the best way for me to ensure I eat properly is to cook my main meal in the morning and eat it at lunchtime. I am too tired/lazy to cook dinner for one - so I now prepare my food in the morning - enough for two - then eat one meal for lunch and freeze the other for another time. I then feel happy and healthy about having a small meal such as a Cup-a-Soup with a slice of toast for dinner. I always have a stash of soups, tinned fruit, dry biscuits, dried fruit and nuts on hand.
Slow cook your way to a balanced diet
I live on my own and lead a very busy life. Although I enjoy cooking, I want to enjoy a nice, easy meal after a long day so I have two slow cookers. One I picked up from a garage sale for $5.00; the other was a birthday gift from family. At least once a week I check out the fruit and vegie shop for their specials, often paying as little as half price. I get a good selection of all kinds of vegetables for a total of $10. I look out for mince or chicken on special, then divide along with the vegetables into the two slow cookers. To one of them I add soup mixes, a little rice and a stock cube. The other I make into a curry, or black bean dish, even a savoury mince, whatever I have in the pantry! At the end of a day of slow cooking, I have enough meals for at least a week. I buy reusable containers and freeze them in single portions. I get at least 15 meals out of my two five-litre slow cookers, working out to an average of $2.00 a meal!
Chicken, vegetable and noodle soup
I have a recipe for chicken, vegetable and noodle soup which I make for my 75 year old aunty. It can be eaten as soup, blended for ease of swallowing (always blend when cold), or thickened to make stew.
Ingredients
3 chicken legs (fresh)
1 potato
1 carrot
½ an onion
1 sweed, parsnip or turnip
1 stick of celery
1 teaspoon chicken stock or 1 stock cube (optional)
1 pkt 2 Minute Noodles (chicken)
Boil chicken legs in water, add chicken stock and simmer approximately 1 hour. Let cool, then pull chicken off bones with tongs, discarding bones. Chop up vegetables, add to chicken broth and simmer 10 minutes till vegetables are soft, add 2 Minute Noodles and seasoning from packet. You may choose to add some frozen peas, cook for another 5 minutes.
When cool put in single serve containers and freeze.
Vitamin boost in a can
Whatever our age, we all need to make sure our vitamin needs are catered for. Tinned vegetables, fruit, juice, beans and so on are a quick and easy way to ensure we get our recommended five daily serves of fruit and vegetables. For example:
Tinned carrots and apricots contain Vitamin A
Tinned tomato soup is healthy, contains the antioxidant Lycopene and is a good source of vitamins A and C. Tinned soups also help keep the body hydrated.
Tinned peaches also supply Vitamins A and C.
Tinned potatoes contain Vitamin C.
Tinned green beans contain Vitamin A, C and K.
Tinned rice pudding gives you calcium and Vitamin B2.
Tinned mackerel and salmon is a great way to get your Vitamin D.
Tinned baked beans are good for fibre, protein and iron. Eat on wholemeal toast and you have a complete and filling meal.
Sardines are a good source of iron.
Tins of fruit juice would be useful as would a tin of powdered milk and evaporated milk.
It's still a good idea to check the ingredient list when buying tinned food however, as the salt content in some brands can be high.
Simple foods which pack a punch
If you're feeling tired or ill, you need simple, tasty foods, that pack a healthy punch in small quantities, and appeal to a reduced appetite.
Make a batch of vegetable soup (add meat if liked) and freeze in ziplock bags in 'one meal' batches for instant healthy meals whenever you feel like something easy. Try to avoid milky, heavy soups as these are harder to digest.
Other simple long storage items to keep in mind are:
Cheese dippers (crackers with cheese)
Tins of tuna with easy open tops
Baked beans (very good proteins)
Sultanas (other dried fruits may be too hard to chew)
Fresh is best
As we mature, our digestive system changes to compensate for our aging process.
Fuelling our body for healthy living includes giving our body nutritious 'living' foods, rather than stored tinned or processed foods. What we eat drastically affects our moods. A lack of energy tells us that our brain is under supplied with fuel, which leads to impaired thinking abilities and profoundly affects our physical well-being too.
Fruit/vegetable juice is a great source of nutrients. It's high in fibre and packed with antioxidants (nutrients that are proven to slow the aging process). But be careful about the juice you buy. Many so-called 'fruit-juice drinks' contain less than 20% real fruit juice, the rest usually being water and sugar. Fresh is best!
Fresh fruit juice is jam-packed with glucose. It's the prime fuel that the brain burns for energy. When we take in a lot of glucose, our brain is bursting with get-up-and-go, making us feel fantastic instantly, because fresh juices pass through the body very quickly. My juicer was bought at an op shop for $12.
In comparison, most sugary foods will eventually increase our energy but often they will take a lot more time to do so. Many sugary foods are absolutely terrible for us. Some are just a bunch of chemicals in a brightly coloured wrapper. There are foods that fill us with energy and others that use up energy. Some are good for the mind, and some are good for the heart. Many are good for nothing at all.
However pure fruit or vegetable juice is an excellent tonic for our overall health and well being. For the aged in particular, fresh juice is easy to make, easy to digest and can be a meal on its own, especially when we are sick. Much healthier than tea and bikkies!
Singles don't have to eat alone
Singletons, just because you live alone, doesn't mean you have to eat alone! Why not do a letterbox drop or door knock inviting all 'single' people to get together and form a dinner/lunch group and take turns dining at each other's place or local park? You all get to take turns cooking and are sure to make new friends along the way. Maybe there are lonely mums or unemployed people living in your area that don't have enough mouths to feed to warrant buying in bulk either (or even cooking sometimes). The group could also act as a 'safety net' for anyone who was ill.
Meals on wheels from the family
My father-in-law lives on his own, and is on a pension. Cooking for one is not fun so to help combat his kitchen nightmare, I bake for him every couple of weeks. Some examples from the list are:
Quiche
Lasagne
Spaghetti Bolognaise
Meat/chicken pies
Garlic bread
Chicken curry
Curried sausages
Beef/lamb casserole
Fruit muffins
Banana cake
I package them into meal size portions for him and pop them into the freezer. When he doesn't want to cook, all he has to do is heat something up in the microwave or oven and add a few vegies or some salad. Cooking up big meals in bulk is a lot easier than just making one small portion!
Quick and easy meals for seniors
Some handy suggestions of what you can keep on hand in the pantry include:
Long life custard.
Tinned rice pudding.
Tinned fruit, put into small containers and refrigerated.
Pre-made frozen meals. You can pick these up on special for $4.00 or $5.00 each. Place a few in the freezer as a back-up and pull out and microwave in emergencies.
Jelly, always have some made up in the fridge.
Tubs of yoghurt.
Tinned beans/spaghetti.
Tinned fruit and vegetables.
Casserole-type soups and tinned soups like pumpkin and pasta, minestrone, vegetable, chicken and corn.
If you really can't face cooking, even cereal such as muesli, porridge and Sultana Bran is easy to make.
---
9. This Month's Help Request: Grubby Deck Cleaning Tips
This month Erica Berkovich asks:
"I have an outdoor deck which has become grubby and oily since we bought our house two and a half years ago. It is 2m x 3m and is particularly greasy from oil spatter from the barbecue on one side, plus it gets dusty and grubby from general foot traffic and the weather, even though it is undercover.
"I'd like to know if there is something home-made I can use on the decking wood to clean it that won't damage it. I've already seen a hint in the Vault about oiling the deck (50/50 mineral turps and linseed oil which I plan to borrow from my dad's stock, so it will be free) but I need to get it clean first. Thanks in advance!"
Do you have some ideas? We would love to hear them. Please send them to us here.
---
10. Savings Story: Kids' Home Cafe
I'm saving at least $520 a year, plus the stress and hassle of negotiating a cafe with toddlers! My girls love me to take them out for 'coffee' at a cafe once a week, but by the time we order a milkshake, babycinos, cakes or biscuits and a coffee for me, we never get out of there for less than $10 a time.
Then I remembered my old cappuccino machine which I had stopped using and was sitting in the back of my cupboard. I got that out, dusted it off and it was as good as new. I found some espresso cups in a box in the garage which had never been used and just the right size for babycinos.
Now, once a week, I make some easy choc chip biscuits with my three year old from generic ingredients for next to nothing and then we all sit down and have a fabulous afternoon tea together. The girls think it is as good as going to a cafe and they usually have two babycinos (instead of one from the cafe) and more biscuits than they were allowed to at the cafe.
Choc chip biscuits:
125g butter, 2/3 cup sugar, 1 tsp vanilla, 1 ¼ cups SR flour, 1 tbs milk, 1 cup choc bits.
Preheat oven to 180°C. Cream butter, sugar and vanilla, add flour and mix. Add milk and mix. Stir in choc bits. Dollop on tray, bake for 14-16 minutes. Stand for 5 minutes on tray then transfer to wire rack.