"Secrets to Saving Money in Australia" Free Newsletter - August 2008
This issue includes:-
Sad Sally, Happy Hanna: Home Grown Dining
September is Grow Your Own Food Month!
Tips from the Vault: Grow it Yourself and Save
Best of the Forum: Green Thumb Tips
Sophie Gray: Home Groan
Penny's Blog: I Am What I Am
Homeopathy Corner: Saving Pets
From Last Month: Keeping Concrete Safe for Littlies
This Month's Help Request: Eating Well for Seniors
Savings Story: Secret Success of Saving
---
Hello!
How are you doing? Guess what! Miss Jacqueline and I have made our very first YouTube video. I'm so proud of her. You have got to see it - she is so unbelievably CUTE!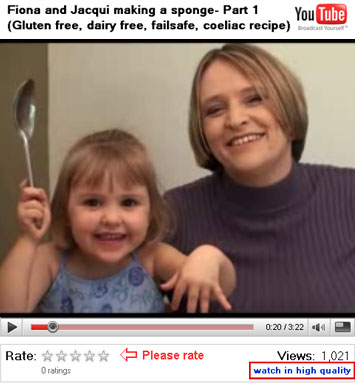 I just can't believe how well she did. Jacqueline joined in because she was home and loves to cook with me. Who would have thought she would steal the whole show. Wow!
It is great being part of such a fantastic team. It blows me away how much we can achieve together. You are doing a wonderful job. We are helping people improve their lives together. Thank you. These emails blow me away! You deserve a big pat on the back! :-)
"I know you get this a lot but THANK YOU! I've only been a Vault member for a few days but already have started saving and have plans for lots more. My sister-in-law is having her first baby soon and as a uni student, she doesn't have a lot of money to spend. As a baby shower present, I've made her a book out of the great tips from the Vault instead of getting her the Baby Buds bouquet I was planning (saving me $70 already!) - and honestly, those tips will help her for a lot longer than a few baby clothes could have!
"My husband and I have just built our dream home - however we haven't managed to sell our current house yet which means two mortgages. Like many others, I've been a Sad Sally for years so hubby is a bit sceptical about my new found enthusiasm for saving (can't say I blame him!). However, thanks to your site I'm looking forward to being a Happy Hanna and getting years off our mortgage (which will make things easier when we decide to start a family in the next year or so).
"Thank goodness I found you!" (Sarah M)
"Becoming a member of Simple Savings has been GREAT. Since joining I have gained knowledge and also gained some confidence with handling our money. I used to see something and if I wanted it I bought it without considering whether I really needed the item. Now I have cut down my grocery bill by $50 a week and have saved thousands on impulse buying; instead these days I shop around for the best price and then still fight with myself as to whether I really need the item. Surprisingly I have talked myself out of purchasing quite a few items because I really didn't need them, just thought they were a good idea at the time. Thank you Simple Savings, you are a life saver. Keep up the good work." (Karen Kin)
"Thank you SS, I have learned so many tips from the Forum. From August I will be having a three-day weekend. In just four months I have cut spending and learnt to meal plan and budget and can afford to 'give-up' a day of work to spend more time with my beautiful daughter - yet still pay more on my mortgage than before I joined SS! Not only do I find savings tips in the Forum but a community where I can contribute in debates on hot topics, or get advice from other mums going through, or who have gone through the problems I am encountering.
"Best money I have spent (and I got my membership on sale!)." (Fiona Butterworth)
It sounds like we need another SPECIAL! So this month, Vault memberships will be available for just $33 until 16th September - my mum's birthday! Click here to go to the order form.
"I am so glad I found your website when I did. I credit the Simple Savings website and community for helping to save our house last year. We were in financial difficulty with my husband off work, waiting for three and a half months of no pay for his employer's insurer to make a decision on accepting liability (or not) for his workers compensation claim. We have two children, and a new-ish mortgage and prior to the incident we'd both been working full time and only just surviving financially.
"Suddenly finding ourselves on only one wage with the same commitments - something had to change. With tips and hints from the Vault and the Forum, we changed our spending and eating habits sufficiently to get through until my husband finally got paid (and back paid - yay!). We had a couple of professional people around us providing moral support and attempting to put pressure on the insurer to make a decision, and in one of our conversations, one of them said we 'were getting very proficient at surviving on the smell of an empty baked bean can'!
"We got through that time and learnt so much from that experience and were doing so well with what we'd learnt, we decided that with our oldest child starting kindy this year I could even cut down and work part time - oh what bliss! Something I couldn't previously have seen happen until the children were old and grown up and moved away!
"So this email is to say 'thank you'. Thank you for sharing your experiences and providing the means for others to do the same on your website. Thank you for nurturing and allowing a community to grow and become what is today a wonderful site: one I have to visit every day; one I bought a subscription to for a family member, as they were having financial problems; one that I have recommended to so many people I have lost count; one that is very special!
"Thank you, just thank you." (Kerry WA)
Have a great month!
Fiona Lippey
P.S. In case you missed it, from now until 8pm on 16th September you can buy a Savings Vault membership for just $33, instead of the usual $47. That is a saving of $14. The Savings Vault is a fantastic place. The Forum is friendly, Penny's Blog is funny and tips in the main Vault will save you a fortune! (The average member saving is $4000 per year.) And we have a no questions asked, money back 365 day guarantee. So what are you waiting for? It is an investment in your future. The sooner you learn how to be a smarter shopper the sooner you will build up a cash reserve. So give it a go. You have everything to gain and all the risk is on us. Click here to go to the order form.
---
1. Sad Sally, Happy Hanna: Home Grown Dining
This month's instalment continues from the previous newsletter 'Surviving with a Stash', where Pete flooded the house and Sally's whole family ended up at Hanna's house for dinner.
Sally was fuming. How dare Pete make fun of her shopping skills in front of Hanna? She wanted to wipe that smug smile off his face. 'No it is NOT funny Peter - it isn't the slightest bit amusing. You think you're so clever don't you? Well nobody's perfect, not even you. First you break our sink, then you have a dig at me in front of everyone. Thanks a lot!' She stormed outside, quickly followed by an embarrassed Pete.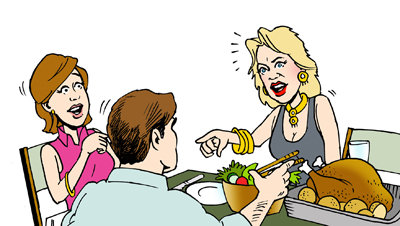 'Hey, calm down Love!' Pete went after her... 'I didn't mean to upset you, I just thought it was kind of funny,' he smiled brightly. 'Well I don't see how I can buy in bulk Pete! Salad doesn't last two months. Carrots and greens don't last two months. I like fresh vegetables. I do a top-up shop every three days so your food is FRESH!' Sally glared at him. 'There, that's shut him up!' she thought to herself.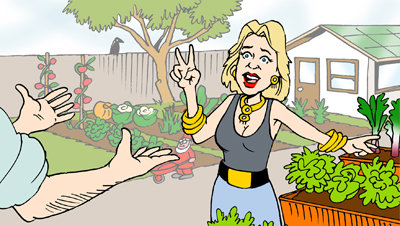 Pete said nothing but cast an eye around Hanna's garden. He took in the thick green silverbeet, the fat lettuces, and the crop of carrots, then looked back at Sally. Sally growled, 'Will you be quiet!'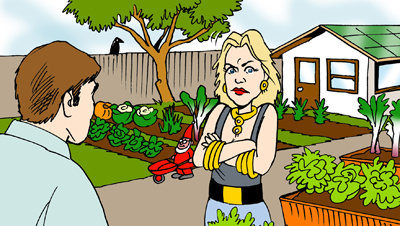 ---
2. September is Grow Your Own Food Month!
I love growing our own food. I'm not quite at the Hanna stage yet, but we are getting there. My dream is one day to produce all our fruit, vegies and eggs in our little slice of heaven. Slowly each month we improve; each month we get a bit better. My time is limited so I always focus on food that is going to give us the biggest return on our investment. Easy food that is cheap to grow, requires very little time, saves me money and tastes fantastic! My brown thumbs and I have tried to grow all sorts of fruit and vegies over the last couple of years and the ones that have given us the greatest return on our investment are: our mulberry tree, silverbeet, 'Lazy Housewife' beans and fresh herbs.
Mulberry trees are brilliant! They are sweet and oh-so-tasty. They are gooey, sticky and so much fun. All you need to do is pick a spot where the tree can grow! When our mulberry fruited last year, we ate a kilo of delicious berries every day for two weeks. YUMMO! I love it when the kids wander out to the yard and feed themselves.
Silverbeet is a super cheap filler. I love it! Sam hates it however, so we have found a compromise. I serve up his and Jacqui's dinner first and put them aside to cool, then throw finely chopped silverbeet in the mix for Matt and I. This works really well for bolognaise. I get folic acid and Sam gets food he will eat without too much whinging. *cheeky grin* Now, that's a bonus for the whole family!
One of our all-time best discoveries are 'Lazy Housewife' beans from Diggers.com.au. They were the first beans we attempted to grow and we were stunned; we had beans spurting out of our ears! Beans, beans and more beans. We thought all bean plants would grow as easily as these but we were wrong. If you want heaps of green beans for very little effort, Lazy Housewife beans are a must!
The other thing that saves me bucket loads of money for very little effort is our herb garden. Fresh mint, coriander, rosemary, dill, thyme, oregano and parsley. Once your herbs are established, they are pretty much free. You can create really nice food for next to nothing and still be lazy! I absolutely love being able to wander into our little vegie patch and come back out with the ingredients for a tasty meal. Fresh herbs can turn a bland meal into a mouth-watering masterpiece. A little dill thrown into the soup, and some fresh parsley will turn your visitors comments from 'thanks for the soup' to 'wow - how did you make this?'
So why don't you give it a go? Delicious meals are virtually free. This is our favourite lunch when the kiddies are out and it is just Matt and I at home:
Almost Free Lunch!!
Rice pasta (Vermicelli noodles) or left over rice
Six leaves of fresh silverbeet
A handful of dill and parsley
Some chives
Juice of 1/4 of a lemon (from the tree)
1 clove of garlic, sliced (from the shop)
1 tablespoon tomato paste
1 tablespoon macadamia oil (sunflower or olive will do)
1/3 cup boiled water
First raid the fridge for any left over rice or noodles. If there are none then grab some pasta from the cupboard and cook according to the ingredients on the pack.
Wash all the leafy vegetables (unless you are making Caterpillar Surprise*) and take the stem out of the silverbeet. Chop up the silverbeet and herbs nice and fine, then throw everything except the pasta in a saucepan on a medium heat and stir for a minute or two till the silverbeet starts to wilt. Stir pasta through the dish, the serve. YUMMY!
You see how simple it is? There is no need to drive to the shop or spend money. The food is sitting there just waiting to be eaten. What could be easier?
* Caterpillar Surprise is a charming delicacy with a slightly bitter after taste.
---
3. Tips from the Vault: Grow it Yourself and Save
Growing veggies in your own yard is as close to free food as any of us can get. Wouldn't it be brilliant if you could reduce your weekly food bill to zero or have so much food coming out of your yard that every week is a $21 Challenge week without even trying! Some of our member's are great gardeners. Here are some of their ideas from the Vault to help you on your way.
Just throw it in and let it grow!
I grow wonderful fruit and vegetables without any work whatsoever and for no cost! I throw all my scraps in the garden and just leave them. Before I know it, I get tomatoes, rockmelons, watermelons and pumpkins coming up all by themselves. I just train them to stay in the garden and having the vines growing actually keeps my weeds down! When I have had enough or they start to die, I just pull the vines onto the grass, run the lawn mower over them and recycle the mulch back in to the garden.
Watch your savings grow by planting vegies
We are watching our vegetables grow and at the same time watching our grocery budget decrease by planting one crop of seedlings each week. It takes minimal time and even if you only plant four crops in the next month, that is four vegetables you no longer need to purchase at the supermarket. As the year goes on you can save and dry your seeds, pop them in an envelope and write down the name, when to plant, when to harvest and any tricks you learnt when growing the last crop. To make it fun for the children, we allocate one crop each that they are responsible to water, weed and harvest.
Our first crop was silverbeet which reaches maturity from seedlings in just 8-10 weeks and will give us a year round supply of green vegetable. We have also grown cabbage, leeks, parsnips, beetroot, broad beans, cauliflower and swedes/turnips. It takes minimal space for a few crops and the savings are now ongoing - the savings you make can be used to purchase a fruit tree, thus saving you even more money in the future.
Vegetables all year round
I like to grow my own vegetables to save on groceries, so I try and grow a lot of vegetables that can be frozen such as pumpkin (cut into chunks and in plastic bags ready to use), beans, leeks, shallots, peas, corn, swede, parsnips, and so on. Every winter I have enough vegetables for soups and stews until the next season. I also save by allowing some to go to seed, and they come up the following year. All peelings are placed directly in beds not in use, and my pumpkins all come up this way, they are then encouraged to spread around the edges of beds until finished fruiting. What I can't keep for present use, I freeze. Even cucumbers can be cut up and used for stir-fry, they taste just like zucchinis or freeze and use in soups. Excess fruit, such as mangoes, strawberries, peach and so on are either made into jam, frozen for later use or made into crumbles or pies.
Big savings on seeds
We have saved over $150 in seeds alone this past year. Instead of paying up to $5.00 for packets of seeds which may or may not sprout, we have started grabbing packets of seeds from the herb sections of Woolworths, Coles and IGA. Most mustard, coriander, fennel, cardamom or celery whole seeds that you get as a spice for cooking will sprout for you in your garden. These normally cost around $1.05 per packet and you will get a lot more seeds than if you bought them from a gardening shop. We also get the full dried peas (not freeze dried) from the soup section and have planted these successfully for three years now. They give us the sweetest sugar snap peas ever! A packet normally costs $1.53 and you get close to 100 seeds. In comparison to buying 'packet' seeds it would cost you over $12.
We also cut the ends off shallots and replant them, it takes about three weeks before they start to recover, but then you have an endless harvest of shallot leaves to use in salads. We do the same with old onions that have hidden themselves away in our cupboards and have sprouted. Plant them in your garden, let them go to seed and you will have a great seed stock for the next few years. No need to buy more!
Garlic can be done in the same way. Grab a clove and plant it flat end into the ground. After about four months you will get a great bulb of garlic from your original clove. Be aware that garlic from China or Mexico has been treated with Bromide (cancer causing agent) so only use Australian grown garlic.
Old potatoes and sweet potatoes that start sprouting can be replanted and will give a good yield. Just cut a 3cm piece around the sprouting part of the potato and plant it, from one potato alone you could get up to seven new plants.
Pumpkin, cucumber, capsicum and other vegetable seeds can be cleaned, dried and then planted out to give you more seed stock to play with. Try planting two different types of pumpkins near each other and you might get a hybrid created which tastes great. Our family had a butternut mix with a jap pumpkin and it was the sweetest tasting pumpkin we'd ever tried. We also let one or two of each vegetable go to seed so that next years planting will cost us even less. Our goal is to go totally self sufficient in the garden. So far we have an abundance of butter lettuce, silverbeet, rocket, mint, corn, tomatoes and sugar snap peas all from previously saved seeds.
Seed tape for straight sowing
Sowing broad beans, carrots, onions, radishes and spinach can be difficult and fiddly and the best way to solve the problem is to make home-made seed tape. It is an easy family activity.
1. Unroll a strip of toilet paper on a table (any ply, unbleached and non-scented), to the length you wish. While it might seem quicker to do one long, straight row it is easier with a few shorter strips when planting out.
2. Make a thick paste of flour and water. Dab the paste onto the toilet paper using a cotton bud, spaced apart as per the seed packet recommendation, for example 20cm.
3. Place a seed on each paste blob.
4. When the paste is dry, the seed tape is ready to fold. Starting along the strip's long edge, fold a third of the paper over the seeds, then fold the other third over to cover the seeds completely. Lightly dampen the paper, misting it with a spray bottle of water to secure the seeds. Make as many of these strips as you need then carefully carry them to the garden.
5. Make shallow furrows in the prepared soil, lay the strips down, mist heavily with the spray bottle of water and cover with soil. Now, your seeds will grow in straight, spaced rows. Tip: Alternate carrot seeds with radish seeds because when the radishes sprout, they help to mark the row and break the ground.
Extra tips for Vault Members
We always strive to give our Vault members something extra. Some extra tips and extra information to say thank you for joining and helping us make Simple Savings a fantastic site. This month we have included some links to great tips to help you save money by growing your own food. When you click the links below they will take you to the Vault login page and then straight to the hint.
Small garden success tips Contributed by: Sandy Gunder
Grow two tonnes of food for $16.50! Contributed by: Karen Fairbairn
Grow potatoes in old tyres Contributed by: Robbyn
Plant tomato seeds and sprouting potatoes Contributed by: Teresa Bloomfield
Grow your garlic Contributed by: Catherine H
Mini greenhouse from recycled plastic bottles Contributed by: Tim Clark
Free online magazine for green thumbs Contributed by: Clare
The benefits of growing sprouts Contributed by: Yumin Liang
Free shallots Contributed by: Pamela Burke
---
4. Best of the Forum: Green Thumb Tips
Our gardening community is alive and thriving in the Savings Forum too! Check out these tried and true tips from our green-thumbed members. There's something for everyone, no matter how new you are to gardening! When you click the links below they will take you to the Vault login page and then to the Forum thread.
Sara from Tasmania shares her self-sufficiency journey in the garden. Read along and learn what works best!
read more...
If you are a bit wary of what to plant out in your garden and how long it takes to harvest you can join our members thread here and share some knowledge along the way.
read more...
Economical vegetable gardening at its best! Find out how many of each plant you need to grow to feed your family plus extras.
read more...
Who said you had to only grow your vegies in the back yard? You can convert your front lawn and gardens into a wonderful edible delight.
read more...
If you are just starting out with your first garden and don't want to spend a lot of money, read along and enjoy the brilliant tips from experienced members.
read more...
A very entertaining thread about every type of herb you can grow for cooking/eating and medicinal uses.
read more...
If you don't think you have a green thumb, try following these easy step-by-step how to tips here! You'll be amazed how clever you really are.
read more...
---
5. Sophie Gray: Home Groan
Sometimes I'm amazed at my own cleverness. For example, last summer I discovered the best ever bird-scarer for the strawberry patch - a $2.00 pack of mini disco glitter balls! I suspended the little glitter balls on wires in the garden and created a twinkly mobile art installation that the birds (and cats) simply can't fathom. I'm sure there should be some international award heading my way for this piece of horticulinary genius (I also think I've invented a new word, maybe I'll get a prize for that too!).
Not all my horticulinary efforts have been so outstandingly successful, however. I'm pretty good at growing the kind of stuff that makes a good impression on dinner guests. Cherry tomatoes, herbs and greens, beans and peas for example.
I grow a bit of fruit (OK, the trees produce fruit each year which I pick and eat) such as plums, lemons, feijoas, tamarillos and lemons. I thought I had a lime tree too, but then I saw Matt and Fiona's and realised that what I have is an embarrassment. I grow great beetroot though! The family are not particularly keen on beetroot, but boy can I grow it and silverbeet too.
I have an inkling that actually most people can grow those, and in quantities greater than they expected, because I get many requests for recipes that use up surplus home produce, particularly silverbeet, beetroot and lemons. So here are a few suggestions for storing or serving your 'horticulinary' surplus!
Fresh herbs - Dry herbs by hanging upside down in bunches in a warm, dry place until completely dried. Store in an airtight container. Parsley, basil, coriander and mint can be used to make chopped sauces such as pesto and Salsa Verde, which can be frozen.
Tomatoes - Can be oven dried and packed in sterile jars filled with oil. Surplus tomatoes can also be made into bulk batches of pasta sauce or home made tomato sauce. Tomatoes are an important source of Lycopene, an antioxidant important in the prevention of prostate cancer - cooked tomatoes in particular, so turn your surplus into tomato soup, juice, anything you like and make sure your men eat plenty.
Courgettes and Aubergines - These can be cooked in butter or oil and frozen for adding to recipes as needed.
Spinach and Silverbeet - These can usually be used interchangeably. I have recently used silverbeet to wrap dolmade-type parcels of spiced vegies, rice and chick peas, yum! My friend wanted green icing for a toddler's party cake without using colouring. I suggested adding pureed silverbeet and the result was green icing, you couldn't taste the silverbeet at all. If there's anything left after that, cook and freeze to use in Spanokopita, soups and stews.
Fruit - Can be bottled, frozen or juiced. Citrus can be sliced and frozen, juiced or made into marmalade or curd which is sublime as a layer between cakes, folded through whipped cream or just eaten off the spoon.
Or, you can try the recipes below:
Ruby Roasted Vegetable Medley
I love to roast vegetables this way. The beetroot 'bleeds' its vivid colour into the pan and all the other vegies take on varying degrees of rosy hue. Roasted beets are sweet, so this is a great way to get the important purple antioxidants into reluctant beetroot eaters.
Serves 8
500g potatoes
1 kumara, peeled
450g peeled pumpkin
1 big parsnip
2 large carrots
2 beetroot (see Cook's Tip)
¼ cup olive oil
1 tbsp Balsamic vinegar
2 fat cloves garlic, chopped
1 tbsp brown sugar
Salt
Pre heat the oven to 220°
Prepare the beetroot by cooking them whole with the skins on in boiling water for 7-8 minutes. Drain and cool, then peel and cut into chunks or wedges.
Clean the potatoes but leave the skins on and cut into 2- 2 ½ cm cubes. Cut the kumara and pumpkin to approximately the same size chunks as the potatoes. Peel the parsnips and carrots, cut in half long wise then into quarters long wise then cut each strip in half forming long chunky wedges. Place the prepared vegetables in a large roasting pan, sprinkle on the garlic then drizzle over the oil and balsamic vinegar, garlic and sugar, toss well before adding a sprinkle of salt.
Roast the vegetables, turning them frequently until tender.
Serve piping hot with roast meats or use in salads, open sandwiches or with couscous as a side dish.
Cook's Tip: If you are using baby beetroot there is no need to pre-cook them or even peel them. Just ensure that they are clean, trim off the stalks and roast them whole.
Gumbo with Vegetables, Coconut and Ginger
You can use all manner of vegies in this dish. Most of the spices are fragrant rather than hot, the ginger and coconut cream give it a lovely exotic flavour so your silverbeet or spinach will not offend anyone and it's really easy to make.
Serves around 8 people
1 onion, chopped
2 cloves of garlic, chopped
1 cup of pumpkin or kumara, diced small
2 cups green vegetables - use peas, courgettes, spinach, silverbeet, whatever you have
2 cups cauliflower
2 400g tins chopped tomatoes
2 cups vegetable or chicken stock
2 400g cans of chickpeas or equivalent quantity of home soaked and cooked beans
2 tsp garam masala
2 tsp cumin
2 tsp coriander
2 tsp yellow mustard seeds
2 tsp fresh ginger
2 tbsp oil
Approx 330 ml coconut cream - 1 can
Heat oil in a large pan and sauté onion and garlic, add the mustard seeds and cook until they are popping then add all the other spices.
Mix well and add the tomatoes, stock, prepared vegetables and chick peas and simmer until all the vegetables are tender, around 50 minutes.
Stir in the coconut cream and serve.
Coconut and Lemon Puddings with Lemon Syrup
I love anything lemony and this pudding really does it for a lemonophile like me. The recipe can be cooked and served individually in little coffee cups or turned out and trimmed so they can be stood upside down on a plate to serve with sauce drizzled over. You can of course just make one big pudding too, it's up to you.
175g self raising flour
75g soft butter
50g sugar
25g desiccated coconut
Zest of a lemon
A squeeze of lemon juice
1 egg
Approx ½ cup milk
Preheat the oven to 180°
Grease a 1 litre oven proof dish or four individual dessert cups or ramekins. Rub the butter into the flour then mix in the coconut and sugar. Make a well in the centre and add the egg, lemon zest and juice and enough milk to give a soft dropping consistency. Pour into the prepared dish. Bake 180° for 40 - 50 minutes until well risen, lightly golden and springy. Individual serves will cook in around ½ an hour. Serve drizzled with warm lemon syrup.
Lemon Syrup
You can make lemon syrup in a matter of minutes to pour over pancakes, puddings, waffles or ice cream.
Juice of 2-3 lemons
1 cup water
2 cups sugar
Zest of 1 lemon
Place sugar and water into a medium saucepan and heat till sugar is dissolved, then turn up the heat and boil the syrup for around 5 minutes or until liquid is reduced by 1/3 and starting to thicken. Add the lemon juice and zest. Serve warm or cold on pancakes, puddings and anything else you fancy. Store in the fridge and serve warm or cold.
---
6. Penny's Blog: I Am What I Am
Aug 6, 2008
I've decided to take a leaf out of my youngest son's book. He may only be 10 years old but sometimes he blows me away with his maturity. Ali is Ali and that's the end of it. He knows what he likes and what he doesn't like. He stands up for what he believes in and doesn't give a stuff what anyone else thinks. He doesn't care about fashion or what's trendy, yet is still interested in pretty much everything. If I had the same attitude as Ali, I would have saved myself thousands of dollars over the years!
Last weekend he really proved his strength of character and individuality. There we were at Eden Park watching the All Blacks take on the Wallabies in the rugby Tri Nations. This was a birthday treat for both the boys as it fell in the middle of both their birthdays and we felt it would be the perfect gift, with Liam being such an All Blacks fanatic and Ali being such a die-hard Wallabies supporter. I packed both Ali's All Black jersey and his Wallabies one, just in case he didn't have the courage to front up in yellow. I should have known though - on this occasion wearing black wasn't an option!
We arrived at Eden Park and the first thing Ali did was buy a Wallabies flag to wave at the game. There were the four of us, three of us dressed from head to toe in black, the other resplendent in gold! As soon as we entered the stadium the comments started 'You're in the wrong jersey!' 'How did you end up with a Wallabies supporter in the family?' and many more, but Ali didn't care. He took his seat in the stadium and proudly waved his flag amidst a sea of black. To be honest, I was a bit worried! What if some of the more staunch supporters gave him a hard time? I needn't have worried; Ali had an absolute ball and grinned proudly through all the harmless ribbing. By half time he had made friends all over the place, grown men who insisted on shaking his hand for standing up for what he believed in, even though he was the minority. Unfortunately for poor Ali, it wasn't the Wallabies' night. By the time the final whistle went with the score at 39-10, he was reduced to a little ball, sunk down low in his seat, sad tears slowly rolling down his face. Don't you dare let on I told you that!
Even so, he proudly took his Wallabies flag to school on Monday and copped even more flack from his classmates for 'supporting the wrong team'. It didn't matter what they said, Ali didn't care. It might sound a small thing to some people but it sums up Ali's attitude to life in general! I'm really proud of him for sticking to his guns and not being swayed by peer pressure.
I'm not sure where he gets it from but I don't think it's me! I've come to the conclusion lately that I have still been a bit of a plonker over the last 12 months. Decluttering Month proved that in July. I've decided to make August my Decluttering Month as I was away for most of July but before I left for Australia I did get as far as having a bit of a look to at least SEE what needed decluttering - and I didn't like what I saw. I'm one of these people who, while completely happy with my life, constantly feels I have to improve myself. I'm always telling myself I'm going to be thinner, get fitter, dress better, drink less wine - you know the sort of thing, and always on a Monday!
It's one of those things you have a giggle about but I never realised until Decluttering Month how much all this 'self improvement' had cost me. For example, I went through my wardrobe before I went away and counted all the items of clothing I haven't worn since I bought them. Are you sitting down? I counted 25. 25!!! Three pairs of trousers, two skirts and the rest all tops. Admittedly, they were almost all purchased in sales but why on earth have I bought them if I haven't even worn them yet? Trying to improve myself I suppose; trying to look better. I used to go everywhere in my sports gear as I was always coming to or from the gym. Usually I'd been for a run but I didn't care if anyone saw me covered in sweat and with a bright red face, even if I did look as though someone had shoved a carrot up my bottom in Mr Patel's.
Then I started getting recognised out and about - in The Warehouse, the supermarket, I never knew where it would be. I loved meeting new people but all of a sudden I became conscious of having to tidy myself up a bit - I didn't want to run into people looking all daggy and horrible! The last straw was when I went out with Liam a few months back and we got approached six times. Liam thought it was brilliant! I was just glad I had my make-up on!
I decided I had better start making more of an effort and when the sales came along I went shopping. I must stress I didn't buy all 25 things all at once! It's been a gradual progression and although I bought things in the sales, I still went shopping on the wrong days. You know how it goes. When you go shopping and you HAVE money, you can't find a single thing you like or that fits properly. When you go shopping and you really shouldn't, those are the days when EVERYTHING fits! My clothes have stayed the same size since I bought them - it's just me that hasn't. I love chunky knits! Unfortunately I look the size of a house in them which is why they never make it out of my wardrobe.
I kept up the 'new me' for a while and it was duly noted by my friends. I bought a hair straightener and used it at least twice and never went out without being smartly dressed and with full make-up on. You know what though? I couldn't keep it up - it's just not me. Maintaining it didn't even fit into my Simple Savings lifestyle. I drop the kids off at school in town every morning and go to the gym before work. If I need anything at the shops, I always get it then to save me another trip later - hence everyone still sees me in my gym gear. By the time I get home and start work there's no point getting poshed up as nobody's going to see me anyway! I soon discovered there's no point wearing anything decent to go and feed the chickens in the rain. If the dogs jump up on me with muddy feet when I get home in my gym gear it doesn't matter but if they were to do the same if I was wearing my flash gear, I'd be constantly putting them in the laundry. I'm also the messiest cook in the entire universe as Noel will vouch and anything decent I cooked in would soon end up with stains on it. Just ask my mum - half the clothes I wore on holiday were hers. She insisted on lending them to me so I wouldn't be wandering around Queensland with dirty great stains all over my front!
I don't know what I'm going to do with them all - I mean, some of them are really lovely! Do I try and sell them, or give them to charity? Some of them I'm always going to look horrible in - you know, the ones you spot as you're walking out of the shop and grab it off the hanger thinking 'I haven't got time to try it on but I KNOW it will fit' only to try it on some time later and find it looks absolutely revolting - and that's if you can squeeze into it at all! I've decided to wait for now before deciding what to do with them. I'm not going to keep them indefinitely but I have given myself a time limit. I'm helping the local gym organise a 12 week 'Biggest Loser' challenge and at the end of that 12 weeks, that's when the decluttering will really begin!
It's not just clothing which has caused me to make some dreadful and expensive mistakes either. Do you remember several months ago I asked for help on the Forum for my 'pizza face?' The members were all so helpful and gave me some brilliant advice. I was spoilt for choice but ended up going for a bottle of witch hazel for toning and I picked up a bottle of Bio Oil on special for moisturising. For the first month it was absolutely brilliant, my skin had never been better! But then all of a sudden it totally packed up. I broke out in pimples, eczema, you name it I had it. With my Aussie trip coming up I didn't want to meet everyone looking so terrible so I went to a local pharmacy and asked their advice.
What a mistake! On the positive side I scored a free makeover. The beautician was very helpful and explained what was going on with my skin very well - apparently the Bio Oil I had been using was doing a great job of feeding my skin but it wasn't getting anything to drink - the eczema had come about as a result of my face drying out. She used some Shiseido products to cleanse, tone and moisturise my face, and also used an eye cream which I have never used before in my life. Apparently these were extremely gentle and would soothe my poor angry skin. They certainly felt good and were highly recommended so I bought one of each. I figured sometimes it was better to pay a bit more for skincare in the long run if it brought the desired results. The beautician then had a field day with make-up - oh dear, one of my long-buried Sad Sally vices was about to rear its ugly head. By the time she had finished I felt fabulous - and had also parted with a small fortune.
Still, it was decluttering month I figured, and now I was all set. I could get rid of all my old grungy make-up and skincare and simply learn to survive off these few bits and pieces. I couldn't wait to try out my new skincare and applied them religiously to begin with, much to Noel's amusement who actually went to the trouble of timing me in order to prove that it now took 20 minutes longer for me to get ready in the mornings. I didn't care - I looked on it as grabbing some precious 'me time' and enjoyed every minute of it.
Until day three, when my skin began screaming in protest. My face was stinging so much I could no longer bear to put anything on it and the eye cream had created a huge eczema break-out around both my eyes. I was going to Australia in just a couple of days so had no time to take it back and complain. This happened over a month ago, it still stings and I haven't been able to wear make-up since, with the exception of the SS picnic, where I had to plaster it on with a trowel to cover up all the eczema! What an absolute plonker - and what an expensive mistake. Noel sighed and shook his head. 'I don't know why you even bothered in the first place - your skin was much better when you didn't put anything on it at all!' So at present I am still stuck with four nearly-full bottles of Shiseido gunk. I am going to try and get the chemist to take it back - after all, the beautician did say to come back and see her if I had any problems with it - but I don't like my chances.
Ah yes, it's been a hard and expensive lesson and the moral of the story is - Penny, just bloody forget about wasting time, money and angst and stick to being yourself. I would like to think, hand on heart that this is a mistake I won't be daft enough to make again. In fact, I've a good mind to take a photo of my wardrobe and keep a copy in my purse to prevent such a thing from happening. Sporty, casual clothes and a make-up free face suit my lifestyle and that's the way I like it. Next time someone sees me out and about looking like I've been dragged through a hedge backwards I'll probably still be mortified, but I'll endeavour to remind myself that I'd much rather keep fit than sit around looking posh all day. I am what I am!
Penny's blog is another bonus for Vault members. Login in to see what Penny has been up to.
8th - Taking off!
25th - Secret stash
1st - Holidaying the SS way
18th - What not to spend
25th - For love or money
28th - When things come back to bite you
---
7. Homeopathy Corner: Saving Pets
It is not just humans who can benefit from Homeopathy. If our vets learnt homeopathy they would be able to extend the life of our pets without expensive and risky surgery. Imagine that!
This may seem like a big claim, but Fran's budgie, Actium, is living proof. When Actium had a tumour covering half his chest and the vet declared him a goner, Fran saved the bird's life with a few well chosen remedies. This is a story you have just got to read!
---
8. From Last Month: Keeping Concrete Safe for Littlies
Last month Michelle Stewart asked:
"I have an eight-month-old baby girl. We have been lucky enough to move into a family home which belonged to my grandparents. The house is very small and at the back there is a concrete veranda area. I would like to make this into an outdoor play area for my little girl for summer. I have looked into getting the rubber flooring, but at over $100 per square metre, it's way out of my price range. Do any other members have any ideas for how I could line this concrete area to make it safe and spongy for learning to walk?"
We received masses of terrific ideas for Michelle! Check out some of the suggestions below for making concrete a safe (and soft!) place to play:
Protective 'crash helmet' for toddlers
Instead of spending money on an expensive outdoor play area, it's cheaper and easier to protect the kids instead. When our 10-month-old started getting huge bruises on his head from falling on indoor tiles, we purchased a 'head bumpa', from Kidsafe at the Women's and Children's Hospital in Adelaide. They are about $25, and consist of a rugby style helmet, shaped from foam and covered in towelling. It does look a bit funny, but it saved so many bruises - I highly recommend this product.
Cheap toddler protection from bumps and bruises
One of the cheapest and easiest ways to prevent toddlers from hurting themselves when learning to walk is to get some gloves and knee protectors - you can even make these by cutting the toes off some socks and rolling them into several layers for the knees. Children learn quite quickly to walk without falling so this saves quite a bit of expense.
Used carpet for safe outdoor play
Our family has found used wool carpet is great for making a safe outdoor play area. Contact your local carpet shop and ask about their used carpets. Some people replace carpet when it still has plenty of wear left in it and some of these shops will deliver it to you for free instead of paying the tip fees. You can also look in your local classifieds for free or cheap carpet. The best thing about this is when it gets old you can use it for mulch in your garden. I use carpet under my kids' pool every summer then when it is wet and mouldy it gets recycled into 'weedmat'. Just remember to ask for wool varieties, as the acrylic ones aren't great for your garden!
Non-slip matting for kids (and cows!)
When creating a safe, non-slip play area for children, contact your rural supply store and enquire about non-slip matting such as is used in dairy cowsheds. You may well find it's a good deal cheaper than buying through a specialist flooring supplier!
We don't have room for all your fantastic tips in the newsletter so here are links to some more suggestions stored in the Vault.
Safe flooring from camping stores Contributed by: Heather Bensley
Bring the beach home to play Contributed by: Teresa Randall
Alphabet puzzles make safe play mats Contributed by: Beverley Leeson
Portable floor padding for toddlers Contributed by: Janet Bellinger
---
9. This Month's Help Request: Eating Well for Seniors
This month Ruth Hesford asks:
"Being in my seventies and living alone means that bulk buying is not really suitable for me. Also, you tend to get a bit more picky about food as you get older and I find leftovers often get given to my dog or thrown away. I think we 'oldies' need to keep a stash of small tins of food and some baby food in jars or tins! I was ill recently and could not be bothered with cooking and had no reserves so lived on tea and biscuits for about ten days. I believe in eating well and having good healthy food and an old person's health runs down very quickly when they don't eat well so I'm trying to get a list together of suitable things to create a stash. I would love some advice from other old people on what I could include."
Got some great ideas? We would love to hear them. Please send them to us here.
---
10. Savings Story: Secret Success of Saving
I implement my Simple Savings ways as much as the next person, but have never really done the calculations in my everyday routine until today. I decided to add up my 'pre-SS' and 'post-SS' habits and this is what I got:
Walk around the block as opposed to a fitness class: free vs $15 plus $3.00 creche fees,
Trimming, washing and blow drying my own hair: free vs $45 at a salon
Home leg wax: $7.00 vs $25
Eyebrow pluck: free vs $15
Dinner after footy practice: home cooked meal $7.00 vs Thursday night special $30
Boys catching the school bus: $2.00 bus fare vs $5.00 petrol.
In total for just another ordinary day, I spent $16 and saved $122 just going about my day the Simple Savings way. Granted not every day is this amount, some are more and some are much less. My point is, Simple Savings after a time just becomes a way of life and THAT'S the secret to it being successful. The fact that it's habit now and that I certainly don't feel like I'm missing out or compromising my life in any way. Thanks to all of my darling fellow Simple Savings members, as every hint and tip is from you and your personal experiences.