"Secrets to Saving Money in Australia" Free Newsletter - July 2008
This issue includes:-
Sad Sally, Happy Hanna: Surviving With a Stash
August is 'Buy in Bulk' Month
Tips From the Vault: Buying in Bulk
Best of the Forum: The Secrets of Bulk Buys
Penny's Blog: Secret Stash
Sophie Gray: Meatball Mania
Homeopathy Corner: Treating Autism Part 2
From Last Month: Keeping it Spicy
This Month's Help Request: Keeping Concrete Safe for Littlies
Saving Story: Positive Thinking Lifts Financial Pressure
---
Hi!
Wow! Guess what; Tristan turns one in August. Can you believe it! He is walking. The sleepy baby has gone and he is now a mischievous toddler.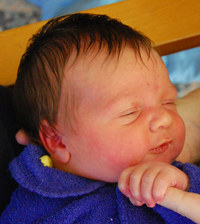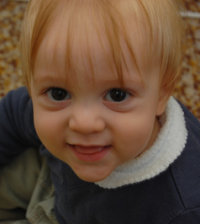 Can you believe how much he has grown in eleven months! It makes me look back at the past year and marvel at the brilliant job everyone has done. With your help and support Simple Savings has grown into a brilliant place where people can learn how to lower their expenses. The following emails of thanks are a tribute to you. Please read these emails and give yourself a pat on the back.
"I love Simple Savings! After receiving the free newsletters for 12 months, I took the plunge and signed up two weeks ago. Boy, am I pleased with my decision! The first day I became a member I made my money back three-fold! My first mission was to find a hint for fixing fridge seals, as ours had been terrible for ages. I contacted the supplier recommended by another Simple Savings member in the Vault and he was about to post me new fridge seals for $90, which I was delighted with, when he said 'wait a minute, try this trick first and if it doesn't work then I'll process your order'. He explained a trick of the trade that cost me nothing and worked perfectly! After two years of fridge seal problems, it was fixed. And all thanks to Simple Savings! I've since worked out endless ways to save on power, gas and Internet just to name a few, that will help with the new home and many frugal suggestions for when we go to one income with the pending arrival of our first baby. My husband now jokes that although I won't be 'working' at an office anymore, my new job as a stay at home mum will include finding ways to save us money (which I love doing!). Thank you!" (Maya Eats)
"Things were starting to get way out of control in our household; we were living far beyond our means. Something had to change. I was watching TV one night, flicking through the channels and saw part of a story on Simple Savings. That's all I could remember, so I hopped onto the Internet and Googled it. Wow! The things I found! I found heaps from the newsletters alone to get me started. I did a menu planner, I changed my thinking and knew that I would now have to start cooking everything from scratch rather than from a packet or jar. I made myself a supermarket shopping list and only wrote what I really needed, not what I wanted. The first time I did this I saved $30! I know I can save even more next shop. I have recommended this site to so many people in just two weeks. I can't wait to become a Vault member. It is so worth it. Thank you." (Kylie Rowntree)
"I just wanted to thank you from the bottom of my heart. I've always loved a bargain or good deal - my husband calls me the 'Bargain Queen' - but Simple Savings has been an absolute delight. In the first week I saved the membership fee plus enough for snacks and drinks at hubby's work function. In the second week I saved enough to take my eldest daughter to a special event at the Workshops Rail Museum in Ipswich - including petrol, entry, and lunch at the venue.
"My husband's monthly pay goes in next week and already I have put Simple Savings to work and have saved a minimum of $300 off our monthly grocery bill. I called our credit card companies and negotiated a lower interest rate on both our cards (both reduced by at least 6 %!). And the reason for my email to you, the icing on the cake - I just saved us $122 on our insurance bill, just by asking for a slightly higher excess on contents insurance, and taking an 'over 25 years of age' driver policy on our car!
"I'm planning my mother in law's 60th birthday party on a budget for later this year, thanks to tips from Simple Savings. My husband and brother-in-law are very grateful as the burden is now not on their shoulders, either planning or cost wise.
"I'm putting this month's savings straight off our debts, and am looking forward to being debt free. I set myself a five-year goal to pay off around $65,000 and with Simple Savings I think I'll not only make it, but beat it!" (Julie Baker)
"Since knowing of this site I have read the hints and found out some very surprising things. One was the $21 Challenge. By putting this into practise a few times I have found that some weeks I don't need to shop at all! In fact I went shopping on Monday for the first time in three weeks. The extra money has gone towards reducing debt as my partner had managed to get himself in debt quite badly. We have now cleared nearly $30,000 dollars in debt well ahead of our schedule. Some debts were not due to be paid off until late 2009 and they are now gone! Thank you for your tips, advice and ideas. We still have about $25,000 to go but this will be gone within 18 months once I factor in all our new savings from the payment of past debts. Being debt free is way more fun. What's more is we are saving much more money each month." (Kim Balaam)
"Your website has truly changed my attitude towards spending, saving, goal-setting and future financial aims; this filters through to the daily choices we make in our lives. I singularly have your lovely website to thank for being such a wonderful inspiration. Over the past year, your website has provided me with the tools to better utilise my finances. Looking forward to becoming a Vault member - bravo to the team at Simple Savings! My favourite tool is the Bill Payment System. As soon as the bills arrive, I dutifully write them in. I love it! I know exactly where my finances are being projected and seeing a table of expenses also means I make a greater effort to discipline my spending and saving habits. I've become quite goal-oriented - so once again, thank you." (Jen Hughes)
"Just wanted to say that after dilly-dallying for ages about joining your website I am soooo glad I did! We have made only a few changes in our lives so far and I can't believe what a difference they have made! We have already cleared our Visa bill of nearly $500 which, although not huge, has been dragging on and on for ages! We are now only using about a quarter of the amount of washing powder we were using a few weeks ago and our grocery bill has more than halved despite the increasing food prices, due to the fact that I now shop with cash weekly instead of fortnightly. This means that I am more strict as I am using cash and don't want to be embarrassed at the checkout by not having enough money. By shopping weekly I can wait to buy some things the following week instead of thinking that I have to buy enough food for a fortnight! This is such an empowering thing to be a part of! Next goal is to clear the Farmers store card then build up the savings account! I can't wait. Thanks to everyone involved!" (Leah Wayland)
"My first twelve months with Simple Savings is nearly over and I have just renewed my membership as I've been so impressed with the information I can get my hands on so easily and quickly. I really enjoy reading the variety of great ideas on saving money. Simple Savings has taught me to think differently and I have modified my behaviour when it comes to spending - I thought I was a fairly frugal person, until I started looking through your site. I can't tell you just how much I've saved or how much extra I've paid off the home loan but I do have extra money in my bank account and I don't have a credit card bill anymore! I really do think about every purchase I make and I am very aware of whether I 'need' or 'want' an item. So thank you very much for changing my mindset, as I feel more in control of my money than I ever have. I can't believe I can actually do without a lot of the stuff that I would have impulsively purchased in the past. Keep up the fantastic work and keep those hints coming." (Anna Stewart)
Well done everyone! We are doing a great job.
All the best,
Fiona Lippey
P.S. A few people have written in asking who draws the Sally and Hanna cartoons. It is Steve Panozzo from www.noz.com.au. He is brilliant!
---
1. Sad Sally, Happy Hanna: Surviving With a Stash
"Help!" wailed Sally down the phone to Hanna. "A water pipe has burst and we're flooded! Can we stay at your house?" "You poor things, of course!" Hanna replied. "Come on over. Dinner's on the table at 5.30." "Oh goodness no, don't worry about feeding us, we'll just grab some takeaway," said Sally. "Absolutely not - we have everything you need," insisted Hanna. "Just hop in the car and come on over."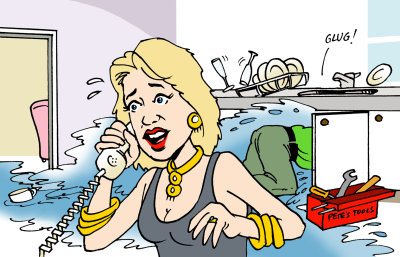 Hanna was already dishing up dinner as Sally and her bedraggled clan arrived. Sally was overcome. "Hanna, I feel dreadful, you must have gone to so much trouble! Did you send poor John out for emergency supplies?" "No chance!" John chuckled. "Have you not seen Hanna's stash? She's got enough food in there to last us three months!" Hanna blushed, "Oh it's not that bad - I just loathe grocery shopping!" Sally looked puzzled. "I only go to the supermarket every two months," Hanna explained.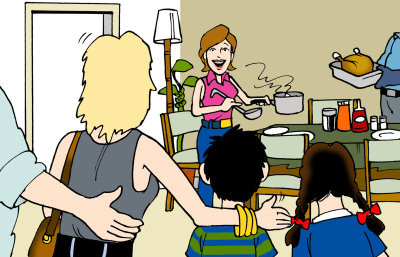 "You're actually serious? That's impossible! You only go to the supermarket every two months? I have to go there every week," Sally stated in disbelief. Pete had been listening intently and started to laugh. "What are you laughing at?" Sally scowled at him. "Sorry Dear, I couldn't help it," he chuckled apologetically. "You claim to loathe supermarket shopping too, yet you're still going there 52 times a year - while Hanna only has to brave it SIX times a year! You've got to admit, that's pretty funny!"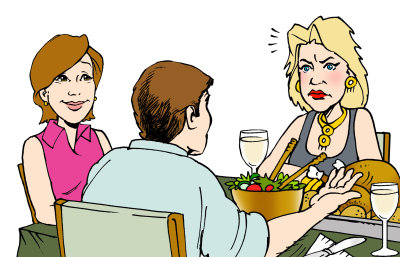 ---
2. August is 'Buy in Bulk' Month
Buying things in bulk saves me money, but that's not the only reason why I choose to shop this way. Bulk buying also saves me time, gives me peace of mind, protects me from the takeaway trap and helps the planet. Buying in bulk is the smartest way to shop!
As a working mum with three small kids - I have to fit 10 days worth of tasks into every seven so I still have heaps of time to spend with my kiddies and gorgeous hubby. Buying in bulk gives me extra time. You see, I used to shop weekly. It took about two hours, this means I used to spend 104 hours a year grocery shopping!
Now I buy in bulk, I do my main shop once every two months and it takes me three hours from start to finish. I only spend 18 hours a year grocery shopping. Buying in bulk literally saves me 86 hours a year and I cherish every one of those 86 hours. Buying in bulk is a huge time saver. So even though it takes a little bit of effort when you first start out, the rewards are HUGE!
Buying in bulk means my pantry is always well stocked and this gives me peace of mind. Some days our household is calm, other times it is hectic. In truth, I never know what each day will bring. We could have five for dinner, we could have ten. Sam could slam his finger in the screen door - anything could happen (and often does!) but the one thing I am certain of is we will have enough food for tea. It gives me security and peace of mind. Buying in bulk makes my life EASIER!
It is great knowing we always have food. It protects me from my biggest vice, takeaway! It's hard some days not to fall into the takeaway trap. You know how it goes; it's close to tea time, everyone's hungry, you look in the fridge and find ... a couple of limp carrots and an orange. At this point my mind starts thinking takeaway is a good idea. Which of course it never is - it takes ages, costs a fortune and usually tastes like - well, pretty average! But whenever I suggest takeaway these days Matt groans at me 'We have plenty of food downstairs. It would be faster to just cook dinner.' This is a much better option because we save money, eat more healthily and we all eat sooner. My bulk stash of food protects me and my family from getting expensive, unhealthy, not so fast food. Buying in bulk SAVES ME MONEY!
Buying in bulk is not only great for us but also great for the planet. Everyone knows that buying in larger quantities means less packaging but it also means less trips in the car and less petrol. Overall, buying in bulk simply makes sense. Buying in bulk really is THE SMARTEST WAY TO SHOP!
---
3. Tips from the Vault: Buying in Bulk
Buying in bulk is absolutely brilliant, but it can take you a bit to get started. Initially I was held back by funds, my tiny 30 year old kitchen and nonexistent pantry, but they are only minor hurdles. The only thing truly stopping me was 'me', so we bought a metal tool cupboard and put it in the garage as our bulk larder. It works a treat and it means pretty much anyone can buy in bulk - if they really want to. So here are some great tips from the Vault to get you started.
How to plan meals for a family of six
I only need to shop for food once a month and am saving $3000 per year on feeding our family of six.
With four children, I was spending at least $800 per month on groceries, so I came up with a plan to cut costs. I went through recipe books and chose meals that I was going to cook for dinner. I wrote out the whole month's menu on one piece of paper, and on another page I wrote all the food items that I would need for the recipes I had chosen. That became my shopping list for the month.
The best thing was I knew what I was cooking every day, without walking to the fridge and thinking 'what am I cooking?' I also put the meal list on the fridge so the family knew what we were having each day without asking me!
To start with I went shopping every fortnight for food, but now I do it once a month and only spend $550. Before I began this routine, I was spending $9600 per year on food for four children and two adults - now I am spending $6600 per year! The extra $3000 we save goes into our children's bank account, which they just love!
Only cook once a month
My husband and I have become '30 Day Gourmets' and enjoy both the savings and the extra time we spend together as a result! We recently looked into 'Once a Month Cooking', which we were interested in because neither of us enjoys cooking tea when all we really feel like doing is relaxing after being at work.
After gathering ideas of how the scheme works (literally - you cook once a month!), we thought we would try it by cooking for a fortnight first. We gathered recipes from the Internet and raided the recipe books (the recipe must be able to be frozen) and came up with such things as marinated chicken, curried sausages, spaghetti sauce, apricot chicken and all kinds of things.
We then picked a Sunday, turned up the stereo and did nothing but cook! It turned out to be a really enjoyable day. Once cooked and cooled, the food is put into freezer bags or takeaway containers (which cost almost nothing) and frozen. What we thought would last two weeks actually lasted three!
Each night, I would take out a meal for the next night and leave to defrost in the fridge. We then grabbed the steamer, threw in all the vegetables and once a week cooked up a big pot of rice. We would then have a small portion of meat (which also lowers fat-intake levels), have a pile of yummy steamed vegies and a little rice - the result being full bellies, smiling faces and very minimal washing up!
This not only saved us money but also time. Usually groceries cost us $150 for two weeks. With the cost of buying meat and grocery items needed for the cook-up ($100) and in-between buyings of vegetables once a week ($10), we spent a total of $130 when we would have spent well over $150. (This is because on each shop we would grab things we liked, but didn't really need.) Having a selection of meals already cooked for the weeks ahead feels great!
At first a big cook-up seems difficult if you aren't motivated, but you can start small and next time you are cooking something that would freeze well, cook double or triple the recipe and freeze excess. I also went to the local library and got out some books on freezer cooking which also had suitable recipes in them.
My husband and I honestly can't believe how we survived before our cook-ups and love the idea of actually doing things we want to each night, rather than being a slave to the kitchen!
NB - A book from the library which was a big help in planning recipes was 'The Freezer Cooking Manual from 30 Day Gourmet'. The '30 Day Gourmet' book is available on eBay and from most bookstores.
Fill freezer with cheap bulk food
Fruit and vegetables deteriorate in the fridge whatever you do, but a lot of them freeze very well even without blanching.
When I buy or my husband grows cauliflower, broccoli, brussel sprouts, peas or beans, I put them in a freezer bag and throw them in the freezer. I buy carrots in kilo bags for around $0.99c and julienne or dice them and put them in bags in the freezer as well. Corn and sliced capsicums freeze well too.
My husband grew heaps of tomatoes last year and they all arrived late, so we put them in freezer bags and used them for soups, spaghetti sauce, chilli and so on. When we were broke and ran out of food, we put some in a skillet with herbs and a little sugar, rendered them down and had them on toast. Very nice!
Anything you can mash (such as silverbeet, spinach, bok choy) you can keep in the freezer. You can even melt some margarine in the microwave and store it in the freezer. It keeps much fresher that way and you have it on hand. We have even thought of doing it with fruit. You can make jams, pies and cobblers as it mushes up anyway.
I even buy sandwich meats and bag them in sandwich bags for two and freeze them.
I bought a big freezer and I fill it with cheap bulk food. You can really save this way!
Extra tips for Vault Members
We are always trying to give Vault members something extra. Some extra tips and extra information to say thank you for joining and helping us make Simple Savings a fantastic site. So this month we included some links to great tips to help you save money by buying in bulk. When you click the links below they will take you to the Vault login page and then straight to the hint.
Bulk meat from the country Contributed by: Kerrie Mansfield
Buy bulk amounts together with friends Contributed by: Michelle Wilson
Bachelors combine efforts and save in bulk Contributed by: Carlos Gonzalez
Bulk buying not always cheap Contributed by: Kerri Northey
Ask for discount for bulk produce Contributed by: Leonie Edge
Freeze your way to saving on cheap groceries Contributed by: Louise Barry
Buy coffee in bulk and freeze until you need it Contributed by: Brad GARY
Bulk seafood bargains from wholesalers Contributed by: Jacqueline Lei
Bulk buy and freeze dried beans Contributed by: Evelyn Morrisson
---
4. Best of the Forum: The Secrets of Bulk Buys
The Simple Savings Forum members are old hands at bulk buying. If you need some extra help here are some great threads to visit where our savvy members show how it's done.
When you click the links below they will take you to the Vault login page and then to the Forum thread.
Read on and learn what our members are buying in bulk and where. A great way to buy if you are living in rural or isolated areas too!
read more...
Where do you buy your bulk meat from, supermarket or butcher? Find out what to ask for when buying your meat products.
read more...
Don't just think about food when stocking up your bulk items. Handsoap, washing liquids and other items around the house are easy to find.
read more...
Calling all pantry hoarders! Help our members learn from each other what the basic staples that we should stock are or to look for bulk bargains.
read more...
---
5. Penny's Blog: Secret Stash
Penny Wise has been enjoying a lovely holiday in Australia and was recently able to meet some of our wonderful members on the Sunshine Coast. Vault members will be updated with all the news from her travels very soon!
Jul 25, 2008
We're baaaaack! Here I am, back in my little spot by the fire having just polished off a bowl of soup. Just three days ago I was floating about in a saltwater pool surrounded by palm trees! What a wonderful, hectic trip we've had. One of those holidays where you need to come home for a rest! Not that we're complaining, mind. We all absolutely loved it and fear not, I shall tell you all about our trip as soon as I get my brain back! First however, I must tell you about the other, somewhat smaller trip I made this morning - to the supermarket!
Usually I really don't enjoy going to the supermarket at all, but today was different. Not only did I have to replenish our empty fridge and pantry following our two-week absence, I was planning to STOCK UP. I've been dying to do this ever since we had the pleasure of hanging out with Fiona and her family in the Sunshine Coast last week. We were determined to have a great holiday, while still remaining as SS as possible and I think we achieved this really well. We made sure our accommodation had a fully equipped kitchen, as we refused to spend a fortune on food and wanted to do as much of the cooking as we could ourselves. A main concern was catering for the boys' wheat/corn/gluten intolerances too, so as soon as we could, we went grocery shopping.
Normally, dragging my three grumbling males around the shops is a truly dreadful experience but this time we actually found it heaps of fun! Everyone loved checking out all the different products and couldn't believe the huge range in variety compared to little old NZ. Although, as Liam pointed out, this may not be necessarily a bonus. 'You can see why Simple Savings is so big in Australia,' he said as we left Maroochydore's Sunshine Plaza. 'There's so much stuff here to buy, everyone would be broke if Fiona hadn't started it!'
We couldn't believe how fresh and delicious all the food was on the Sunshine Coast. Everything just tasted better and far from being hard to cater for, Liam absolutely thrived on all the glorious 'nude food'. In fact, he never stopped eating the entire holiday! One thing I do admit to being envious of is the larger quantities available in Australia. Even in the supermarkets, things are much easier to buy in bulk. Learning how to bulk buy has been on my 'to do' list for some time. There are some things I routinely buy in large quantities, such as bread and milk for freezing and all our meat comes in bulk. Then of course there's toilet paper! But until now, that's been about my limit, although I did pick up 15 kilos of rice the other day. Thank goodness the Savings Forum made me aware of the global rice shortage! On my last trip to the supermarket before our holiday, I was stunned to see there was no rice whatsoever, just bare shelves and an apologetic sign. So I went to Bin Inn and picked up three 5kg bags quick smart!
Anyway, it wasn't long before we caught up with Fiona and Matt and their beautiful kids. I loved wandering around the garden together and couldn't believe all the different fruit, vegetables and herbs all happily growing in their lush environment. Some of them I had never even heard of! Fiona very kindly offered us some meat and pantry supplies, which I was very grateful for but I was somewhat bemused when she led me to the garage to get them. She opened the doors to a large metal cupboard and - WOAH! So that's what a bulk pantry looks like!
I don't know why but I had always put bulk shopping in the 'too hard' basket. Daft really isn't it? I mean, we grow our own food, enjoy a wonderful 'nude' diet and have taken pretty much all our SS changes in our stride apart from that one. I've also become so accustomed to the $21 Challenge way of using up everything first, I hadn't even really thought about building stocks up. For starters, what was I supposed to buy? Looking at Fiona's cupboard, it all made sense. I could well believe it when she told me she only has to go to the supermarket every two months. Instead of taking her little ones off food shopping every week, she and Matt get to spend time with them at home instead. That thought really appealed to me, I had never thought of the effect that the physical act of going shopping has on your family life before. As Matt said, so many of us are just 'too busy being busy!' The bulk clincher for me came a couple of days later, when after an unbelievably hectic day, Matt almost singlehandedly served up the most delicious dinner for SEVENTEEN people, with barely an hour's notice! Egads, if that was me I would have been running around like a headless chook. I want a bulk pantry of my own! It just goes to show how much my mindset has changed since becoming a Simple Saver. I used to covet things like shoes and handbags - now I covet pantry storage!
Fiona uses a lockable metal cupboard from Bunnings to store her bulk goodies in. I've been dreaming about getting one ever since. The only problem is - I've got nowhere to store it, although I'm still nagging Noel to help me find somewhere. We don't have a garage and there's no room in the laundry or even in the back porch. Still, undeterred I picked up a few extra things at the supermarket today - nothing too major and only if they were on special but at least it's a start and will add up to a valuable saving in the long run. Even the fact I now have six packets of rice crackers instead of the usual one or two means I won't have to run off to Mr Patel's so often when Liam runs out of snacks. I even bought my wine in bulk! I figured it made more sense to stock up when it was cheaper and got six bottles for $30, rather than three for the same amount had I waited until we ran out. I finally 'get' bulk buying - and I learned it from the Miser Extraordinaire herself!
The only thing is, like I said I don't have anywhere to put it really. So while the boys were at school and I was putting the shopping away, I gleefully created a 'secret stash'. Don't laugh, but it's in the office filing cabinet at the moment, plonked on top of all the paperwork! It's a start and I guess it will do until I get my dream bulk pantry. If Noel sees I'm serious and notices how much less frequently we need to shop, hopefully he will come around to the idea quicker and help me create some room for it. Failing that, he could always build me a garage, we do need one!
Noel and I were surprised to find that overall, Australia is more expensive than NZ - apart from cheese and fuel, that is. Seems like it's not just us who thinks so, according to new reports about the world's most expensive cities. In that case, Aussie $21 Challengers should be extra proud of themselves for their efforts to stay within budget! Talking of the $21 Challenge, get this! The National Budgeting Federation of NZ have printed an article in their Budgetline magazine this month. Even the Federation national office has given the $21 Challenge a go! While the information they had been given/taken on board regarding the rules of the Challenge was not 100% accurate, overall they did find it a positive and empowering experience and encouraged budgeters to get their clients to give it a go. Wow!
Apparently the weather at home was absolutely dreadful the entire time we were away but the sun has been shining non-stop since we arrived home. However, not for long! Apparently a particularly nasty storm is due to hit our shores tomorrow, so I am going to sign off for now and get our huge pile of holiday washing dry while I can. I promise to update with more details of our Aussie adventure very soon!
Penny's blog is another bonus for Vault members. Login in to see what Penny has been up to.
8th - Taking off!
25th - Secret stash
Note: June was our fabulous National $21 Challenge month. Catch up on all the details with Penny's Blogs for members here:
2nd - National $21 Challenge - Day One
3rd - National $21 Challenge - Day Two
4th - National $21 Challenge - Day Three
5th - National $21 Challenge - Day Four
6th - National $21 Challenge - Day Five
7th - National $21 Challenge - Day Six
8th - National $21 Challenge - Day Seven
19th - Warm beer and camping stoves
22nd - In the dark
30th - Blood out of a stone
---
6. Sophie Gray: Meatball Mania
One thing that is always great to buy and cook in bulk are meatballs. Almost every store does discounts for buying mince in bulk. So I have put together some divine dinners you can make to take advantage of their discount meat.

If your supermarket isn't offering discounts on meat it's worth asking at your local butcher, produce specialist or farmers market how much you need to purchase in order to get a bulk price. In the butcher it may be as little as three or four kilograms. You don't buy so much of one thing you simply can't look at it anymore, let alone eat it.
It's not often that a Simple Savings newsletter will tell you to buy more! But when it comes to some of the following, more will probably cost you less.
Meat - consider buying half a beef or lamb; the butcher will also make you sausages and mince, you could go halves with another household or family member.
Staples - flour, rice, dried beans such as lentils and chickpeas, sugar and so on - you must have suitable storage as they won't stay fresh forever.
Canned foods - do you have access to a catering supplier? Those large cans of tinned tomatoes can be used for bulk pasta sauce, soup for the freezer and bulk batches of casserole.
Oil - buying good olive oil by the can from a catering outlet or grower and decanting it into a bottle for cooking can work out cheaper and uses a lot less bottles.
Fruit - home bottling has to be the best way to make the most of a bulk buy of fruit. Buy by the case.
Bulk Meatball Mix
I find meatballs time consuming to make for a single meal, but keeping a load ready-prepared in the freezer makes a meatball meal quick and easy and the kids help out with the rolling. This mixture can also be used to make burger patties. Serve with one of the sauces below or with your own favourite.
1.5 kg lean beef mince
6 slices bread made into crumbs
2 large onions, finely chopped
2 ½ tsp mixed herbs
2 tsp salt
1 egg
1/3 cup milk
Mix all the ingredients together in a large bowl and using wet hands, roll into balls. I get around 90 meatballs from this quantity.
Space the meatballs out on trays lined with baking paper and freeze.
When frozen the balls can be bagged in meal sized quantities.
If you want you can precook the meat balls too, by baking them for 30 minutes at 180°. I prefer to cook them in, or with, the sauce but it's up to you.
Devilled Sauce
I love this sauce! I usually make extra 'cos its sooo good with meatballs and rice.
2 tbsp oil
½ cup onion, chopped finely
1/3 cup grated apple
½ cup chutney
1½ cups hot water
2 beef stock cubes
1 tbsp brown sugar
1 tbsp soy sauce
1 tbsp corn flour
3 tbsp water
Heat the oil in a large shallow pan and fry the meatballs until lightly browned. Remove from the pan.
Add the chopped onions to the pan and fry gently till soft. Add apple, chutney, hot water and stock cubes, brown sugar and soy sauce. Combine the water and corn flour and add to the sauce to thicken it, return the meatballs to the sauce and simmer for 15 min. Serve with rice.
American Meatballs in BBQ Sauce
My kids call this 'American meatballs' because it seems a little, well, artificial I guess. They LOVE it. Sweet, tangy and savoury, it goes well with rice and green beans.
1 batch of meatballs
500g can cheap tomato sauce
2 tbsp white vinegar
1/2 cup brown sugar
2 tbsp Worcestershire sauce
A small pinch of mixed spice
Cook the meatballs in a small amount of oil in a frying pan. When browned pour in all the sauce ingredients and simmer for 20 minutes.
Meatball Stroganoff
There are loads of variations of this classic Russian dish, including chicken and even vegan versions. I like this mushroom and sour cream sauce with meatballs because it's quick enough to make on a week night. I like to freshen it up with a handful of chopped parsley and using lite sour cream reduces the fat.
2 tbsp oil

1 heaped cup mushrooms, sliced

2 tbsp plain flour
1 tbsp Worcestershire sauce
¼ cup wine, whatever you have
½ cup beef stock
1/3 cup sour cream
Salt and pepper to taste
Chopped parsley
Heat 1 tbsp of the oil in a frying pan and brown a batch of meatballs. Remove from the pan and set aside. Add the remaining oil to the pan and cook the onions and mushrooms until soft. Stir in the flour, and then add the wine, then gradually add the stock and seasoning including Worcestershire sauce.
Return the meatballs to the pan and stir in the sour cream.
Serve with rice or noodles and top with chopped parsley.
Other meatball uses:
Use as appetisers with a dip such as Tzatziki or salsa.
Make meatball subs with loads of salad and sauce for a casual kid pleasing meal.
Use on pizza or in a calzone.
Toss through your favourite pasta sauce.
Tuck into a flat bread with salad leaves and some satay sauce or honey mustard dressing.
---
7. Homeopathy Corner: Treating Autism Part 2
Last month we were very lucky. Fran shared Part One of the paper she wrote for the the peer-reviewed Australian Homeopathic Association Journal reporting her findings on treating Autism. The response was enormous and homeopaths all over the world are now trialling Fran's method with great results.
This month we are even luckier. Fran has now written the second half of the paper where she compares homeopathic treatment of autism with other therapies - especially bio-medical treatment. This article is a little heavy as it was written for other homeopaths. It may help to first read Fran's tutorial; What to Expect: Part A and Part B
Here is a link to Fran's article as it was published in the Australian Homeopathic Association journal:
http://homeopathy4autism.com/reversingautism2.pdf
---
8. From Last Month: Keeping it Spicy
Last month Michelle Zappulla asks:
"I love cooking with spices and recently found a market stall selling spice mixes. However I was wondering if anyone had any recipes for pre-mixed spices that I could make up myself and keep on hand, rather than buying expensive ready-made packet mixes from supermarkets and so on?"
Talk about spicing up the flavour! Our mouths were drooling reading all your wonderful spice mix tips.
Grandfather's salt and pepper
We love to use our Grandfather's special salt and pepper mix on everything. Fill a spice container about halfway with salt, then add a little pepper, some powdered ginger and top up the rest with garlic powder. Shake it all around and voila!
Purchase whole seeds
Instead of buying pre-packaged spice mixes I carefully look at the list of ingredients and then buy my own. I choose whole seeds wherever possible and grind them myself with a mortar and pestle. Some seeds and pods become more flavoursome if you roast them first (either in the pan or the oven) before grinding.
Baharat Middle Eastern spice mix
1/2 cup black peppercorns
1/3 cup cumin seeds
1/4 cup coriander seeds
1/4 cup cinnamon bark
1/4 cup cloves
2 tsp cardamom seeds
4 whole nutmegs
½ cup ground paprika
Grind all seeds except nutmeg and paprika to a powder.
Grate four whole nutmegs and blend into spices with half a cup of ground paprika.
If using ready ground spices combine the above quantities with quarter of a cup of ground nutmeg.
Use Baharat in any recipe that includes tomatoes and you can't go wrong!
Easy Italian and poultry seasonings
For Italian herb seasoning:
1 tsp oregano
1 tsp marjoram
1 tsp thyme
1 tsp basil
1 tsp rosemary
1 tsp sage
For poultry seasoning:
1 tbsp salt
1 tbsp paprika
1 1/2 tsp garlic powder
1 tsp onion powder
1 tsp ground white pepper
1 tsp dry mustard
1/2 tsp ground cumin
1/2 tsp ground turmeric
1/4 tsp ground nutmeg
Be sure to keep these in airtight jars, preferably away from the light, and they will keep for months!
Curry lover spice mix
I love curry so I always have a mix of spices on hand. For one of my favourite curries I use one teaspoon of each the following spices:
I sometimes add coriander as well but I find the first three are the best (don't forget onion and garlic). Be sure to fry the spices before adding the food as it enhances the flavour. Happy eating!
Savoury rub mixes
Try rubbing these savoury mixes on meat before grilling or barbecuing. I also use them for a variety of things such as putting in casseroles and sprinkling over roast vegies. My vegetarian daughter uses them to flavour tofu, sweet potato and eggplant before frying or grilling.
Hot and spicy BBQ rub:
2 tbsp chilli powder
2 tbsp sea salt flakes
2 tbsp brown sugar
1 tbsp smoky paprika
1 tbsp thyme
1 tsp ground cumin
1/2 tsp black pepper
Combine all ingredients in a bowl. Spoon into a jar.
Indian spice rub:
2 tbsp ground cumin seeds
1 tbsp ground coriander
1 tbsp turmeric
2 tsp ground cardamom
1/2 tsp garam masala
3 tbsp sea salt flakes
2 tbsp brown sugar
1 tsp ground cinnamon
Combine cumin, coriander, turmeric, cardamom and garam masala in a non stick frypan over medium heat. Cook shaking pan often for five to eight minutes or until aromatic. Transfer to a bowl to cool.
Mediterranean lemon rub:
1/2 cup lemon pepper
1 tbsp dried oregano
1 tbsp dried thyme
1 tbsp dried marjoram
1 tbsp sea salt flakes
Combine all ingredients into a bowl. Spoon into a jar.
---
9. This Month's Help Request: Keeping Concrete Safe for Littlies
This month Michelle Stewart asks:
"I have an eight-month-old baby girl. We have been lucky enough to move into a family home which belonged to my grandparents. The house is very small and at the back there is a concrete veranda area. I would like to make this into an outdoor play area for my little girl for summer. I have looked into getting the rubber flooring, but at over $100 per square metre, it's way out of my price range. Do any other members have any ideas for how I could line this concrete area to make it safe and spongy for learning to walk?"
Got some great ideas? We would love to hear them. Please send them to us here.
---
10. Savings Story: Positive Thinking Lifts Financial Pressure
My husband and I are soon to become parents and our income has been cut in half. Now that we're on a tighter budget, I have realised how much we were caving in to outside financial influence from friends and family. From innocent dinner invitations to suggestions on 'must-have' products for the new baby, the dollars were being seduced right out of our pockets. At the same time, it quickly became uncomfortable saying 'We'd love to, but it's not in our budget' in almost every conversation. It made me feel constantly deprived and I would actually end up spending money to make myself feel better. My husband stopped wanting to talk about our finances at all because he felt stressed out.
After thinking long and hard about our spending habits, I decided there were three main ways that outside influences were sabotaging our budget: social invitations, gift giving, and pressure to buy. Once I specifically identified these influences, it became so much easier to combat them.
Instead of declining every dinner invitation, and feeling bad about constantly telling our friends we didn't have the money, we organised a monthly dinner party for the entire group. We rotate hosting duties, and guests just bring a bottle of wine. Instead of eating out once a week with one or two friends, we now have a festive gathering once a month with everyone all at once - but only pay for a home-cooked dinner a couple times a year! It puts us back in control of how much we spend. I've also realised that people essentially just want to spend time with you, so you can feel free to counter suggest a cheaper and more creative option than going out to dinner. Instead of 'it's not in our budget', I now say 'Would you be up for a picnic on the beach instead? The weather is supposed to be beautiful'. If the plans are set in stone, I say 'We already have a commitment for dinner, but can we meet up with you all for a drink afterwards?'
I also noticed that giving gifts was really adding up. It was so simple to start making my own gifts instead. My favourite is to make chocolate covered strawberries and wrap them up in a beautiful gift box.
To stop caving in to pressure to buy, I've had to change the way I go shopping. It used to be a leisure activity to go with friends on the weekends, but I know I am too easy to influence. It's just inevitable that they will say 'You look great in that, you should buy it', or 'I had this with my first baby, you definitely need it'. Now I shop alone, with a list! I've also stopped taking the bait in conversations. If someone is recommending a $700 mountain buggy stroller, I ask if they know of a more economical brand of similar quality.
The most important way I've stopped outside influence from wrecking our budget is to talk openly about things with friends and family. Through this I've learned that most people are in the same situation. A friend confided that she was deeply in credit card debt and didn't know what she was going to do. Now instead of meeting her for a weekly manicure and lunch date that costs at least $60, we have opened up and become a real support system to each other for reaching our financial goals. It's often perceived as taboo to talk about money with people, but I think our friends have been just as relieved as we are!