"Secrets to Saving Money in Australia" Free Newsletter - June 2008
This issue includes:-
Sad Sally, Happy Hanna: Excess Baggage
July is 'Decluttering Month'
Sophie Gray: Declutter Your Home and Primp Your Pantry
Special Guest: Anita Bell
Best of the Forum: Clutter Warriors
Penny's Blog: You Either 'Get it' or You Don't
Homeopathy Corner: Treating Autism
From Last Month: Double Trouble Twin Gifts
This Month's Help Request: Keeping it Spicy
Saving Story: Debt Free and Never Happier
---
Hi,
Naomi here! July is 'Decluttering Month', which I'm very excited about as it's a favourite pastime of mine! I prefer to say I like the 'minimalist' look, but truly nothing feels better than knowing you are either passing on goods you don't use to someone who needs them or making back some extra cash from selling what you once thought were 'handy' things - like novelty flying alarm clocks. What was I thinking! It also makes you realise how daft you were to buy all this clutter in the first place!
This month we have a special task for you which will turn your decluttering month into a fun and profitable one. No more messy rooms or too much stuff you don't need. I'm looking forward to hearing how well everyone has done next month already! Here are some of your recent emails - they're fantastic!
"Thank you, thank you, many times over. I read about your site in the Saturday Herald which my hubby brought home on Monday, second hand. I have purchased my ring binder and downloaded all the information about the Bill Payment System. I am really looking forward to following this through and absolutely love this site. Once again, thank you." (Carol Brunger)
"I just wanted to say thank you so much for such a great site and newsletter. It has been so helpful for helping us take control of my family finances. After our daughter was born 12 months ago, we continued living as if we still had two full time incomes. Nine months later we were struggling with too much credit card debt and it was looking like I might have to go back to work. Since finding your website three months ago we have found ways to cut down our spending to pay off the credit card. I have not had to go back to work so I can spend time with my beautiful baby girl. That is worth more than anything. THANK YOU SIMPLE SAVINGS!" (Kristy Cooper)
"I just wanted to drop you a line to say a HUGE thanks to the Simple Savings team! I am a hardworking mum of two and despite financial woes; I was able to have a glorious day off with my kids, due to a change in thinking, thanks to you. I no longer look at the cupboard and think 'there's nothing to feed the kids', I now think, 'what can I surprise the kids with?' and they are no longer hanging at the fridge door!
"Despite cutting our grocery bill in half due to budget cuts, I have learnt that I no longer need most of what I was buying - indeed the house is just as clean and the food just as plentiful. I now live by asking myself 'what would Grandma do?' I was very close to my grandma, who had five kids in the Depression years, yet was always a stylish and impressive woman. I find this an easy inspiration to live by.
"Our family no longer sees the penny pinching as a 'poor week', rather we are looking at it as an opportunity to pay our mortgage off and move to a rural property in the next year. Living more environmentally friendly is good for the kids as well! Although I do wonder if I may have gone too far? I offered my seven year old a canteen lunch as a treat last week and she said 'but we don't have any money'. I told her I had a sneaky stash for her, to which she replied, 'No Mum, I think I will use it to buy bread for my sandwiches!' She is well on the way to being money savvy and is now also our designated light monitor." (Kelly Ryan)
"I was introduced to Simple Savings by my father when he forwarded me a free newsletter he thought I might be interested in. Hubby and I were expecting our little one at the time, and were daunted by the prospect of me not working for six months to take care of her, given I didn't have access to paid maternity leave. In an instant I saw Simple Savings as a way of learning how to get us through these six months and beyond, so I joined up. I have now been a member for two and a half years.
"So far I have paid $81 to be a member of this site - so what is my return on investment? Not only have I got access to great ideas, lovely people to chat with and fantastic recipes but we save $586.69 a week and have $24,637 in one-off savings (including $20,000 we saved by re-financing our mortgage). That's $100,906.70 in savings, or 1246 times the price of my Vault membership!
"Thank you Fiona and all who work for and participate in Simple Savings!" (Donna)
Have fun!
Naomi B.
---
1. Sad Sally, Happy Hanna: Excess Baggage
It had been raining all afternoon and Sally had decided it was the perfect day to sort out her winter wardrobe. However it soon became obvious to her that something was lacking. "It's no good," Sally sighed. "I need another handbag." "What Dear?" called Pete, "Did you say something?" "Yes - I said I need another handbag," Sally replied. Pete gazed in disbelief - first at Sally, then at the bulging boxes of handbags on the top shelf. "Er - but what are all those up there? They look like handbags to me!"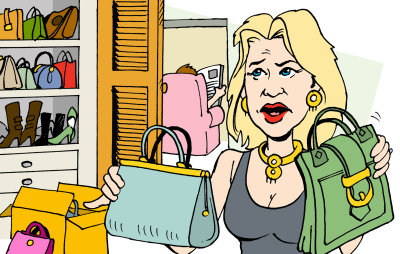 "Yes, they are handbags." Sally huffed impatiently. 'But, I don't have a purple one. I need a purple one." "Oh you do, do you? Well there's probably one in here - you must have them in every colour of the rainbow," suggested Pete as he pulled the boxes down in an attempt to be helpful. Sally immediately set about sorting through the mountain of bags and holding them up to prove her point. "See for yourself - green, orange, yellow, black. No purple! Do you see purple?" Pete looked around briefly and spotted one on the ground. "Yes I do! That one right there is purple." He grinned triumphantly. "See, you already have a purple handbag! Now you don't need to buy a new one." Sally threw her husband a withering look, "That is not purple Peter, it is MAGENTA. There is a difference." She rolled her eyes and shook her head. "MEN..."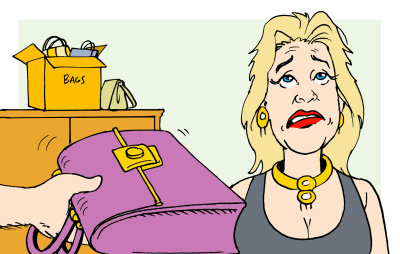 Pete could see there was no point arguing with her. For once, he was going to have to give in and let Sally have her own way. Or was he? "I'm sorry Love, you're right - how could I ever have mistaken it? In that case, you certainly must go and buy yourself a proper purple one," he smiled generously. "Great!" Sally jumped up in excitement. "It's such a horrible, wet afternoon, I may as well go shopping now!" "There's just one condition," Pete stopped her in her tracks, eyes twinkling mischievously. "You can have your new handbag - as soon as you've sold off all these ones first!"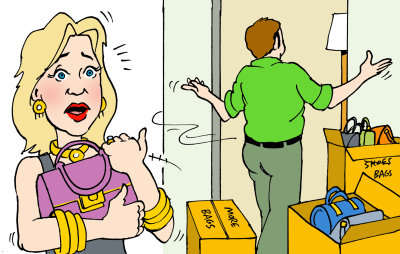 ---
2. July is 'Decluttering Month'
Pete may not have much of an idea about handbags but his suggestion that Sally should get rid of her existing bags before buying more was brilliant. Doing this will enable Sally to see that her precious bags have been reduced from desirable objects of beauty, to meaningless clutter - or even worse, 'landfill'. By insisting she declutter first, Pete has broken the marketer's spell and lessened the chance of Sally wanting to buy yet another new bag. This is a trick everyone can use; it is simply a matter of changing the words you use to describe goods.
You see, marketers use words to take advantage of your hopes, desires and vulnerabilities. When shopping for something such as handbags, they take advantage of your evolutionary need and desire to look good. But, if you can train yourself to stop thinking of handbags as beautiful items that will make you look great and start referring to them as useless lumps of decaying cow clutter instead, they actually stop being desirable. Changing positive words to negative ones to describe an item pretty much strips a marketer of their power to manipulate you. The marketer's tricks stop working and you get to keep your cash.
Changing the words this way saves you money. The more things you label as useless clutter, the more money you will save. So let's get started! Grab a notebook and pen and go for a wander around your house. Write down everything you haven't used this month and kiss the clutter goodbye!
Examples of clutter include clothes that haven't been worn for years, toys that everyone has forgotten exist, the set of golf clubs that you have to navigate around every time you walk to the car, exercise equipment covered in three inches of dust and the weird electrical appliances hidden in the kitchen cupboards. All these things are clutter. If you don't need them, or rarely use them, then they are officially defined as clutter. Please note this Decluttering Olympics does not involve family heirlooms or antiques! Be quick and thorough. Scan, list and turf.
Now decide what you want to do with it:
Dust it off and use it yourself
Have a garage sale
Sell it online or through the classifieds
Donate to charity
List on Freecycle
The choice is yours, but once you stop thinking of consumer goods as toys, furniture and clothing and look at it as plain old clutter, it changes everything when you are shopping. Rather than thinking 'Oh wow! Look at all these amazing toys!' next time you go for a walk through Toys R Us, you'll soon be thinking 'Wow, look at all these aisles and aisles of really expensive clutter!' instead.
Decluttering month is the perfect time to sort out and use all your excess stuff. Get it active or at least do something. Make your clutter work for you!
---
3. Sophie Gray: Declutter Your Home and Primp Your Pantry
I've no time for complicated handshakes, elaborate flower arrangements or any other non essential knick knackery. I've teenagers, foster kids, a job and a very high maintenance hairstyle, so I'm for anything that makes life easier. Last year I had the great good fortune to install a new kitchen, a dream come true! Little did I know that before ascending to the glories of new kitchen status one must first endure the purgatory of 'between kitchens'. Six weeks with no running water, no oven and no storage. Talk about stressful!
I cook a lot, I mean A LOT. The hunting for equipment and ingredients that I knew were SOMEWHERE nearly drove me to the brink of madness. (I believe that on occasion bad words may have been uttered but I can't confirm that.)
Eventually the cabinet maker condescended to install the kitchen. Imagine the bliss, I had a lovely time turfing out things that were dated, damaged or just plain useless (gourmet gift hampers - who eats that stuff?). Having biffed out all the old and rearranging the remainder on my pristine new shelves I experienced an epiphany. I hate foraging in the pantry and rummaging for things, if we instituted an annual pantry purge it would make life easier.
To put it bluntly if it's been in the pantry for more than a year and you didn't eat it during the $21 Challenge, you are never going to eat it. Either you don't know how to use it or you just don't fancy it, so chuck it out and move on.
Throw out any spices more than a year old - make a note to replace only if you plan to use- spices are best purchased in small quantities and replaced regularly or they go stale. Whole spices stay fresh much longer than ground. A spice mill or mortar and pestle is a useful investment for grinding cloves, cardamom, cinnamon, peppercorns, coriander and cumin seeds, allspice and nutmeg, star anise and dried chillies...
Oils and foods with higher oil content such as nuts and brown rice will go rancid in the presence of oxygen. Heat and light accelerate this process. Do they smell fresh? If not throw them out, not only do they taste bad, they may be bad for you. Good quality oils should be sold in dark bottles to protect them from light. If you buy oil in bulk go for a can and decant into dark bottles for everyday use. Store nuts in the freezer to protect them from infestations of pantry moth and to keep them fresh - no need to defrost, just use straight from the freezer.
White rice, white flour and most dried beans can be safely stored for up to a year. Legumes will keep longer but will require longer cooking time the older they are. Store in airtight containers to prevent infestations. Most pantry invaders are not harmful if consumed, but are very off putting. Prevention is better than cure.
Canned foods will last for years, check for rust and discard if dented but why have you still got it after years? Take a long hard look at the old stuff, why hasn't it been used yet? Did you buy it for a particular recipe then never get around to it? Do you know how to use it? Did your partner buy it!
There is a general similarity operating around old ingredients - the things that routinely end up in the too hard basket. The following can be found languishing in the back of many of our pantries, forlorn and neglected, begging to be used. Cans of 4 bean mix, chick peas, lentils, couscous and creamed corn, so I've looked up a couple of recipes to use them up rather than just throwing them out. Isn't that neat, we can declutter and make dinner at the same time.
Couscous and mixed bean salad
I love recipes that can be adapted to whatever ingredients are to hand. This couscous salad is a real store cupboard standby; add other ingredients such as red capsicum, olives or tuna if you have them, otherwise enjoy it as is.
1 cup instant couscous
1 cup boiling water
1 tsp instant stock powder
1 can mixed bean salad
1 celery stalk, finely chopped
1 glove garlic, crushed
1 tsp ground cumin
1 handful fresh coriander, finely chopped (parsley is an acceptable alternative)
A squeeze of lime juice
Place the couscous into a bowl, add the stock powder and cumin to the boiling water, pour the liquid over the couscous and cover with a tea towel. Set aside for a few minutes to absorb the liquid.
While the couscous is soaking, finely chop the celery, coriander and garlic and drain the beans (do not rinse). When the couscous has absorbed all the liquid, fluff it with a fork and mix in all the other ingredients. Squeeze in the lime juice and serve.
Easy cornmeal muffins
These muffins are like individual cornbreads, and are dead easy to make. The mixture is fine on its own or as an excellent foundation for other flavours. You could add feta cheese, bacon or sausage, herbs or chilli.
They are great with soup and go well in the lunchbox too.
1/3 cup finely ground cornmeal (yellow)
1 2/3 cups self raising flour
100g melted butter
1 approx 410g can creamed corn
¾ cup grated cheese
1 tsp salt
2 spring onions, sliced
1 egg, lightly beaten
2/3 cup milk
Preheat the oven to 210°
Grease a 12 cup muffin pan.
In a bowl combine the flours, grated cheese and salt and make a well in the middle. Pour the creamed corn into the well and add the melted butter, milk, spring onions and egg. Gradually mix together incorporating the dry ingredients into the wet. Do not over mix.
Spoon the mixture into the prepared pan and bake for 15- 20 minutes or until muffins are well risen, golden and springy. Serve warm or cold.
Cook's tip: I like to add a slosh of sweet chilli sauce to the mixture for a hint of heat.
Gumbo with Vegetables, Coconut and Ginger
Most of the spices in this dish are fragrant rather than hot. The ginger and coconut cream give it a lovely exotic flavour and it's really easy to make.
Serves around 8 people
1 onion, chopped
2 cloves of garlic, chopped
1 cup of pumpkin or kumara, diced small
2 cups green veg- use peas, courgettes, spinach - whatever you have
2 cups cauliflower
2 400g tins chopped tomatoes
2 cups vegetable or chicken stock
2 400g cans of chickpeas or equivalent quantity of home soaked and cooked beans
2 tsp garum masala
2 tsp cumin
2 tsp coriander
2 tsp yellow mustard seeds
2 tsp fresh ginger
2 tbsp oil
Approx 330ml coconut cream - 1 can
Heat oil in a large pan and sauté onion and garlic, add the mustard seeds and cook until they are popping then add all the other spices.
Mix well and add the tomatoes, stock, prepared vegetables and chick peas and simmer until all the vegetables are tender, around 50 minutes.
Stir in the coconut cream and serve.
---
4. Special Guest: Anita Bell
Our guest debt-buster Anita Bell has been really busy this month nearing the end of financial year but she has still had time to answer a very interesting email. Because of its length Anita is answering the first part of his question about interest rates this month and the second half in regards to the share market next month.
Michael asked:
"Dear Simple Savings:
I work in an education savings plan and have 10 years of banking experience, including six years in business banking. I enjoy most of what you put out. I am however concerned about the advice being given by Anita Bell. In particular, her comments in the second situation of a person looking at buying a house in 12-18 months... I am concerned at Anita's economic analysis that states 'At the same time, we know that the pressure from ridiculous fuel prices and increasing food prices/shortages will force a reduction in interest rates (usually not long after an announcement about a rise in unemployment).' Most commentators I hear and read are actually saying that the rising fuel and food costs are contributing to inflation which the Reserve Bank spends its time fighting against. These price rises actually increase pressure for interest rates to increase, not decrease as Anita claims as a foregone conclusion."
Hi Michael!
Thanks for your really good question. Of course you are right that rising fuel and food costs contribute to inflation and cause pressure for interest rates to increase AT FIRST - everyone hears this virtually every day in the media - but we are speculating for the next 12 to 18 months. The reason why I said interest rates are likely to fall is because of the current stage of the economic cycle, and what normally happens from here, which is something that commentators never seem to mention enough.
That is, the most usual Aussie economic cycle (averaged over the last 150 years, encompassing many peaks and falls, but simplified to its 16 bare bones), goes roughly like this:
Bond prices improve - check.. then usually...
Share prices improve - check, check... then usually...
Commodity prices rise - oh gosh, haven't they! (fuel is up 50% in some places!) check... then usually...
Overseas reserves topped up - check... then usually...
Money lending gets easier - double check... then usually...
Property values rise - check, check and oh my gosh check again!... then usually...
Low employment figures announced - check... then usually...
Bond prices back off - check ... then usually...
Share prices back off - oh my gosh yeah! Check (and not just because of the US housing market)... then usually...
Commodity prices drop - tick tock tick tock... we're all looking forward to that, aren't we! (especially on fuel and groceries)... and yes, I know fuel prices have special pressures on them because of world shortages, the whole China thing and so on, but that's even more reason for the next stage which is usually...
Overseas reserves drained - (half-check; still in draining)... soon usually followed by announcements about...
Money lending getting tighter - (in progress)... i.e. has anyone else noticed the rising number of mortgagee sales? Properties passed in at auction? And, the number of people who can't afford loans? (And please don't believe everything you read about house prices being the only cause! It's only half the story.)...
Real estate values fall - (in progress)... in many suburbs and cities this is currently appearing (on the surface) to be a plateau in prices, rather than a slump, but this 'plateau' effect has many reasons behind it, the length of loans and the time between purchase and resale being only two of the major contributing factors that act as 'equalisers', but for anyone who can work out the 'core' value of a property, negotiating lower prices shouldn't be a problem (and I'm talking tens and twenties of thousands here, not just a few grand)... then usually...
High unemployment figures are announced... (often advertised as a slump/minor recession)... which is already starting to be bad news for those who are already losing their jobs or finding new jobs hard to come by, but if high unemployment figures have an upside, it's this: that it usually puts enough pressure on governments and the reserve bank to trigger a down cycle in interest rates, which is part of the reason why the next trend on the list is:
Interest rates start to fall... soon followed by announcements that...
Bond prices have started to improve...
...and round and round the merry-go-round we go... ever cycling upwards of course due to inflation, or fluctuating a little along the way due to outside forces... and, of course there's always more than one thing happening at once, as the last few items on the 'list' show.
This is very simplified. I didn't include major international forces, and additional unforeseeable factors may drive our market a little higher still and ultimately deepen the slump that is coming (especially if it drags on to coincide with our natural slump from November to January, as happened at the beginning of this year)... but in relation to the question I was answering in regards to the couple with a sizeable deposit to invest, I stand by my original comments.
Also, please note that my response to the young couple clearly stated that we can expect interest rates to fall AFTER the next announcement of low unemployment figures.
Also, we all know that the economical cycle can grind to a halt or stagnate for a while at any stage. Sometimes the cycle moves swiftly, sometimes slowly, sometimes it stalls, and sometimes it rockets so fast it seems to skip a stage and cause a few things to happen at once (or so it seems from an outside perspective, when all you're listening to are the news headlines).
For people who learn more easily from pictures though - there's a light-hearted cartoon diagram in the last chapter of 'Your Money: Starting Out and Starting Over' called the 'bones of the economy cycle', which is designed so you can photocopy it for your fridge/tv so you can compare it to the reports you hear on the news over a week or month and start to get an idea and make your own informed predictions.
If you still have questions or doubts though, please read the last chapter of 'Your Money: Starting Out and Starting Over', not that I'm trying to convince you to buy it. It's already available to borrow free at virtually any school or public library.
Hope this helps other readers and clarifies any misunderstandings.
... And HAPPY NEW FINANCIAL YEAR EVERYONE!
It's time to make your new financial year resolutions!
Anita Bell
Note: Anita Bell is a bestselling Australian author who writes from personal experience. She is not associated with any particular bank, real estate agent, stockbroker or other investment advisor and she uses the profits from her books to help others, so she mentions specific books in her replies for reference purposes only, to help point readers in the direction of more thorough responses where necessary, and she encourages budget-battlers to borrow her books from friends or local libraries wherever possible. (When borrowing from libraries, remember to ask your librarian to check that you're borrowing the most current editions.)
---
5. Best of the Forum: Clutter Warriors
Most of us have a clutter problem. As usual our members are up for the challenge and always have fascinating tips we can learn from. We've included a 'Just for Fun' thread as well that really tickled our funny bones!
If you've ever wondered how to spot a Simple Saver, well wonder no more! Here are some classic and hilarious contributions from our members that will make you laugh and nod your head in agreement.
read more...
Kristybelle is hit from all angles with affirmations of her good work for spending the day cleaning out her clutter. You can do it too!
read more...
Start small, think big! Naomi D's clutter is driving her crazy and she is taking on the challenge.
read more...
Badjo has been having loads of fun decluttering her pantry and is now wondering what to do with ten tins of tomatoes and other interesting items. This is a great discussion of what to do with stored and sometimes forgotten items in your pantry.
read more...
---
6. Penny's Blog: You Either 'Get it' or You Don't
Jun 13, 2008
Thank goodness for last week's $21 Challenge! It's certainly proved helpful for a couple of unexpected expenses this week and most of them have been caused by Minnie, the cocker spaniel. She started off the week by eating the Sky TV remote. I don't know what was so appealing about it that particular day as it's been in the same place every day since we've had her but she decided that Monday was the day to chew it into a zillion pieces. While I wasn't exactly impressed, I refused in the first instance to buy a new one. I figured it would be good exercise for our family to have to physically get up and down and walk across the room to change channels. Until later that day when I had been watching the news on Channel 1 and the kids asked if I could please change the channel to Animal Planet on Channel 75. Standing in front of the TV like a plonker pressing the button one channel at a time, I decided I didn't have the time or the inclination to keep this up day after day and called Sky in defeat. Once the woman on the other end of the phone had stopped laughing she told me it was going to cost $25 for a new remote.
The following morning I got up and saw in delight that we had successfully captured Supermouse, our evil pantry thief from last week. As suspected he was indeed one heck of a mouse - and there was no way I was going to dispose of him. I ran upstairs excitedly to tell Noel and returned to find both Supermouse and the trap had disappeared. I didn't see who took it but judging by the way Minnie came bounding in from outside and ran straight to the pantry to see if there was anything else worth looting, I had a pretty good idea. I eventually found the brand new trap plonked in the middle of the front garden and chewed to pieces but Supermouse was nowhere to be seen. I am hoping to goodness that the trap did its job and that Minnie deposited him outside having already gone to mouse heaven, NOT inadvertently released inside alive and kicking to darken my pantry once again. Eek!
Wednesday arrived and everyone was on the lookout. Minnie was due to go to the vet to get speyed and under no circumstances was she to eat ANYTHING before her operation. The kids and I had been super vigilant, making sure all food sources were out of the way, not letting her outside unaccompanied or off a lead and so on. With just 10 minutes to go until we were due to get in the car we were all feeling very proud of ourselves for not letting her consume anything - until Ali found her sitting in the middle of my bed eating a cardboard toilet roll tube. She had also helped herself out of the bin to one of the cotton wool pads I had used to cleanse my face the night before and as Ali tried desperately to wrench it out of her jaws she steadfastly refused to open her mouth and swallowed it instead. You can imagine how daft I felt having to ring the vet and asking them to postpone. Fortunately they weren't in the least surprised, being a spaniel and all. We booked her in for the next day instead but decided this time that the only way we could keep her safe and be 100% sure that she hadn't eaten anything was to keep her in at the vets overnight before her operation. Unfortunately this was going to cost an extra $15, bringing Minnie's bill for the week to $47 - not to mention the $180 it was going to cost for her operation!
Even though she is such a ratbag, we all love her dearly and missed her terribly while she was away. We even slept in yesterday morning and missed the school bus because she didn't wake us all up as usual. I'm happy to report she is now back home but deeply traumatised and absolutely scared stiff of me, the horrible lady who she trusted and took her to that dreadful place where they did nasty things to her. Every time she sees me she shrieks and I've lost count of the number of times I've had to go and look for her only to find her whimpering and shaking uncontrollably under a bush! Poor Minnie - I don't think she'll be getting into any more trouble for a little while at least.
Apart from those odd little quirks though, it's been a pretty good week. I realised as I walked into Mr Patel's on Wednesday that it was the first time I'd spent anything all week! To date, I have spent $80 this week and quite a lot of that was because I used my trip to the supermarket to pick up several items in bulk on special to put in the freezer. Yesterday I was asked to go and give a talk to a group of women on a low income, who wanted to learn how to manage their money better. They were all really motivated and I was chuffed to find one of them was already a Simple Savings member. Others were solo mums, trying to feed as many as six kids. They all had my admiration, particularly one young mum who had a baby daughter. She told me that she put $10 away every week for her baby's education and she couldn't touch it until she was 21. The condition was - her daughter would only be entitled to the full sum if she didn't repeat her mum's mistake and get pregnant before she turned 21. If she did, she had to give her mum back half the money! We all had a giggle and I thought here was a young woman who obviously was doing her best with the little she had.
Until we started talking about food. As always, the subject of the $21 Challenge came up and I was explaining that to be able to do that, you needed to have a basic range of staples in your pantry. This girl told me that she never cooked and didn't know how - she lived on takeaway every night of the week. It transpired that she was spending a whopping $200 a week on takeaway food, just for her! The rest of us were gobsmacked, envisaging the trolley load of real food she could be buying with that money - not to mention the savings she could be making. It soon became obvious that it really wasn't the poor girl's fault - she had never been taught any different. The first job she ever had was at McDonald's and she had learned to survive on it. At first she was a little defensive about her eating habits but soon I could see her brain ticking over as she started writing notes. I wrote down all the names of Sophie Gray's books and told her to go to the library and see if she could find them. By the time she left, she vowed and declared that she wasn't going to buy a single takeaway between now and when the group met again the following week. I was so proud of her! I can't wait to see how she goes.
One thing which became apparent from talking to the group was that I never realised how many people have a 'thing' about eating leftovers. They can't bring themselves to do it, thinking it's yucky and worrying what other people might say - even when times are really tough. Is it any wonder we waste up to 100kg of food a year per person! So I told them to do what I do - have tiffin instead of leftovers! I explained how Sophie Gray wrote about 'tiffin' in a recent newsletter and how for me it suddenly made my warmed-up leftovers sound a whole lot more appealing. As I left, the ladies asked me what I was going to have for lunch and I proudly told them of the leftover beef casserole and vegies I was looking forward to for my tiffin. I honestly don't think it had ever occurred to any of them to do that before but then I used to be like that too. I could see them thinking 'Well if she thinks it's OK to do it, it must be OK for the rest of us to do it!' That's the whole thing about Simple Savings isn't it? Sharing ideas and trying things you've never thought of before.
Last evening I had the pleasure of being interviewed by Bill Ralston for Radio Live. Bill has been around for years and has a reputation as a real hard-hitting TV and radio interviewer. After the whole Alison Mau experience, I was terrified - this guy was going to eat me alive! However I couldn't have been more wrong. He was helpful, positive and completely got the whole $21 Challenge concept. Who would have thought I would be discussing the wonders of Lonely Sausage Risotto with one of the country's longest serving media personalities! Don't you just love it when people 'get' Simple Savings?
Note: June was our fabulous National $21 Challenge month. Catch up on all the details with Penny's Blogs for members here:
2nd - National $21 Challenge - Day One
3rd - National $21 Challenge - Day Two
4th - National $21 Challenge - Day Three
5th - National $21 Challenge - Day Four
6th - National $21 Challenge - Day Five
7th - National $21 Challenge - Day Six
8th - National $21 Challenge - Day Seven
19th - Warm beer and camping stoves
22nd - In the dark
---
7. Homeopathy Corner: Treating Autism
Fran does some amazing things as a homeopath and you all know she has done a great job saving my family money and cutting our health bills. But, few know Fran has a secret. Over the last two years in her clinic she has been getting outstanding results helping children with autism (98% of these children have had a significant health improvement); children others had written off as 'not fixable'. Fran is so busy she has had to close her books to new patients for a period but she has written an article on autism that was published in the peer-reviewed Australian Homeopathic Association journal. Some of the article is heavy reading as it wasn't really meant for non-medical people but it has some fantastic stories and parent reports on what happened to these children as they were treated. This article has attracted world-wide attention so it is fantastic Fran has agreed to share it with us. You can read it at this link:
---
8. From Last Month: Double Trouble Twin Gifts
Last month Maureen Martin asked:
"My friends are having twins and are on a very limited income. I would really love some ideas as to what to give them for a baby shower for first time parents that also won't blow my own budget but help them. The babies are due in July! Thank you."
You've done it again! Thank you so much for all your wonderful gift suggestions for twins. Even if you are buying for one baby some of these ideas are so handy.
Gifts to grow into
For a baby gift, choose things that can be used at around 3 to 6 months of age (most people tend to buy gifts for newborns). Any new mum would appreciate larger sized nappies and grow suits, nappy wipes, a pram rain cover or a baby rocker (I could not have done without my rockers, I fed the twins in them and rocked them to sleep).
Make a breastfeeding pillow
A breastfeeding pillow was one of the best gifts given to me when I had my twins. The pillow allows me to feed both babies at the same time. My friend had a rubber company cut one out of thick foam and she then sewed a washable cover. It was much cheaper than buying from the baby shop.
Housekeeping gift for new mums
Save a new mum time and money by giving them a housekeeper or nappy service. One of the best presents given to me when I had my twin boys was a housekeeper fund. This paid for someone to clean my home for two hours per week and lasted for two months, allowing me to get into a routine and got the jobs done that I was too busy or too tired to do. Another was a nappy service which saved me time and money because I didn't need to buy disposables or soak and wash nappies all day. All I had to do was rinse and place in a bucket awaiting collection. Either of these gifts could be combined between a few friends.
Bibs and burp cloths for $1
With a sewing machine and some time, you can make fabulous looking bibs and burp cloths for around $1.00 a piece. A new mum can never have too many bibs and a hand-made gift is much more appreciated than store bought. I used a burp cloth pattern from (www.sewterific.com/BurpCloth.htm), one metre of nappy cloth and small, bright pieces of cotton and flannel from Spotlight. I cut one piece of nappy cloth and one cotton as per the pattern, plus two strips of coordinating fabric cotton or ribbon. The two strips or ribbons are sewn on the nappy side for decoration (you could use ric rac, applique or stitch - whatever you like). Wrong sides together, sew the nappy and cotton together leaving a small gap. Turn right side out and stitch the gap closed.
Bibs are easy - simply make your own pattern from a bib you have now (alternatively, Google 'baby bib pattern' and you will find quite a few). The bibs can be simple fabric bibs or you can decorate with ribbons, ric rac, appliques, patchwork or paint. I used Velcro for my fastening and my friends have told me that nappy material is more absorbent than flannel, although flannel does look neater.
Here are some other websites with patterns or designs, and check out the online shops for colour and design inspiration.
www.trishscrafts.com/receiving_blanket.html
www.sewing.craftgossip.com/burp-cloth-pattern/2007/10/12/
I also get a lot of inspiration from this forum - http://www.craftster.org/forum/index.php.
Easy sheet sets for twins
Twin sheets for twin babies! If you sew, purchase two single bed flat sheets, cut them in half and make them into two sets of flat and fitted cot sheets. Decorate the flat sheets with a strip of baby themed fabric.
Multiple birth discounts
For new parents of twins buy them a membership for the Australian Multiple Birth Association. You can find out the details of their local group at (www.amba.org.au). Being an AMBA member can get you discounts at local and national stores. My local club has clothing swaps where you can pick up some great clothing for your children and you can hire items such as breast pumps and twin breastfeeding pillows. As well, you get the much needed support from people who have been through the joy of twins. Membership is around $30-$40 a year.
Help with babysitting vouchers
Babysit for new parents while they go out and save them hundreds of dollars and their sanity. We have several friends who babysit for us on a regular basis as presents and this has been more precious to us than any material gift. Babysitters usually charge $20 per hour!
Time is the best gift
Give new parents the gift of time. As a mum of twins, the best gift anyone gave us was their time. Cooking easy to reheat meals for them, cleaning the bathroom, ironing, baby sitting - all very helpful. If you want to give something material, give nappies and wet wipes. Twins will go through around 100 nappies in a week!
Breastfeeding is best
Give a gift that will save a new mum hundreds of dollars - buy an Australian Breastfeeding Association membership. With all the fantastic advice available it is likely that both babies can thrive on breast milk alone. What an amazing saving on formula, bottles, teats and sterilising, not to mention the boost to their immune systems and the potential to save on future doctor's bills and medication. The Association has booklets full of advice for breastfeeding twins - it can be done.
Cloth nappies last for years
Cloth nappies make a terrific gift for new parents and will last for years. They come in bright colours as well as white and organic and have many other uses. For example, I used mine as:
baby wraps
nappy change sheets
spit up cloths
mattress protectors
towels
When they began to look a bit worn I would use them as:
polish cloths for my furniture, shoes and car
art smocks (bib)
dog towels
garden ties - torn into strips
I have even seen them sewn together and used as a blanket, pillows and draft stoppers. Their usefulness is only limited by your imagination.
---
9. This Month's Help Request: Keeping it Spicy
This month Michelle Zappulla asks:
"I love cooking with spices and recently found a market stall selling spice mixes. However, I was wondering if anyone had any recipes for pre-mixed spices that I could make up myself and keep on hand, rather than buying expensive ready-made packet mixes from supermarkets and so on?"
We would love to hear your suggestions! If you have any recipes or ideas for Michelle, please send them to us here.
---
10. Savings Story: Debt Free and Never Happier
Over the past four years I have been fighting my way out of debt. I was left with a large amount of debt when my marriage ended and it seemed I would never find a way out, working nights to support myself and five children and trying to reduce the debt in some way. Then, instead of just reading Simple Savings I began implementing as much of it as I could. Along the way I found that things I previously thought were impossible are just every day now!
Two of my children have now left home and are independent and I have three daughters still living with me. I have found new ways to feed them and where once they would have baulked if I offered them home-made soup after school, they now eat it with relish. A home-made frappe was dessert last night and they were happy and satisfied with that. Fruit jellies, home-made scrolls and calzone along with the batch of cake and muffins or bikkies I make are average snacks and lunches. School lunch today was home-made soup with home-made pizza scrolls. It certainly took a while to change their views from believing that everything had to be store bought and chips were the afternoon snack.
I am now debt free and have savings - something I never thought I would have! Bulk toilet paper, bulk washing powder, skim milk powder, and bulk meat buys at a discount butcher and fruit from the growers has saved me a small fortune.
I recently moved in with my partner to his home with the girls and together we have been able to make more and more changes which once would have not been thought possible but with small steps we have cut out television unless it is a special documentary or one of the two shows per week we deem suitable. The girls now play outside or garden, or read and do homework after school instead of being glued to the 'box' and they haven't asked to play Nintendo for weeks now. Water or weak cordial is the staple drink, with the occasional juice for a treat.
I am now a stay at home mum and as long as I can feed this family, pay for petrol in my car and keep the girls clothed for under $500 per fortnight it will stay that way. I am working hard to make sure these dreams come true.
In reality there is no sacrifice - you just need to know what you want and aim for it every day.