"Secrets to Saving Money in Australia" Free Newsletter - February 2008
This issue includes:-
Sad Sally, Happy Hanna: Too Good to be True
March is Retrain Your Brain Month!
Introducing our NEW Special Guest - Anita Bell!
Sophie Gray: Kick the Habit
Best of the Forum: Motivate You AND Your Partner
Penny's Blog: Be Sure Your Sins Will Find You Out
Homeopathy Corner: When Confusion is a State of Mind
From Last Month: Truckie Lunches and House Cladding
This Month's Help Request: Jam and Chutney Preserving
Saving Story: Skint But Stylish
---
Hi!
How are you doing? Wow, what a month! My son is really glad 'No Spend' month is almost over - he has been a bit confused! "Mum, is 'No Spend' month ever going to end?" It has been fun. We even managed to go into a department store, spend half an hour in the toy aisle AND leave with our wallet intact! Success. Mission accomplished! ;-)
Thank you for your fantastic letters of support this month. They mean the world to me!
"I wanted to send you an email to say I love your Bill Payment System. My husband pays all of our bills, and this is a great way to keep track of them. I have shown this to several of my friends and they think it is the neatest thing; they've never seen anything like it before. One tip I have for the Bill Payment System is to use a plastic sheet protector for the Bill Summary, Pay Day Planner, and Monthly Bill Planner. You can write on the plastic with a dry erase marker, so they are basically reusable, thus saving the trees that are used to make paper.&quot (Jessica Henshaw)
"I have been a Simple Savings member for nearly a year and have enjoyed many tips, especially the budget planning and No Spend tips. I have used the food shopping tips and have saved a lot of money using what I already have. After sorting out my food shelves, I then sorted out the laundry/kitchen/bathroom/garage and found that I had accumulated multiple cleaning products which I used to buy every shopping trip. I have now set myself a $0 limit and avoid that aisle whilst shopping until all my cleaning products are used. So far I have not bought any cleaning products for four months and saved approximately $30 per fortnight! That's a saving of $120 already and I still have a cupboard full of products. As a particular product runs out, I then use the Savings Vault to find inexpensive cleaning tips and alternatives. The advertisers can keep their "wonder products" and I will keep my money.&quot (Janet Vairy)
"For the first time in 20 years of being together my husband and I have made a budget. What a revelation! I never knew I spent so much money on so much stuff! At the end of each week we sit down together in front of the PC and go through our diary, where we have written everything down that we have spent. This certainly made me very aware of what I am spending my money on and it has finally made me answerable! So far in the first three weeks of our experiment, we have saved almost $800 - simply by actually watching what we buy! The food bill alone has pretty much been halved, as has the wastage. Our diets have also improved as we have cut out all the junk food we have been eating and we have been spending more time together as a family as opposed to being in front of the TV with the latest DVD. I find $800 in three weeks pretty amazing and I have yet to try out all the hints on the website! Who knows, perhaps I'll be a millionaire by the end of the year! Good luck everyone - enjoy your hard earned cash, don't just throw it away like we've been doing.&quot (Becky Peartree)
"Since I found Simple Savings, it has encouraged my husband and I to really take a good hard look at ourselves. It has taught us to take charge and spend wisely instead of living in Noddyland every day. Our goal is to buy a nice big house with land. We regularly look at how many extra payments on our mortgage will higher our equity and get us there faster. By committing ourselves to spending $200 less a week, we will be able to afford our new place in 12 - 18 months! When we go out as a family now, the temptation to buy McDonald's at $35 a time is quickly curbed. We have cut down our smoking from $70 a week to $55 (getting there)! The kids are also committed, as they have dreams of ponies and motorbikes and space for tree houses! Their lolly money has been halved and bought lunches are a thing of the past. We no longer buy so much rubbish at the supermarket like chips and pizzas and processed school foods. An easy average saving of $29. The kids' behaviour, their teeth and our waistlines are much better for it too. These habit changes are currently saving us almost $180 a week. We can't live on fresh air, but we certainly are evaluating the amount of 'wastage' of our time and lives. We still have a long way to go, but we see hope in our future, and not the breadline any more. So thank you for all your inspiring stories every week. Remember, when looking at your mortgage calculator, lots of smalls make MUCH EQUITY!&quot (Susan Winters)
"I have been a member for about two years now and before now, trying to get the family to even consider trying some of the great ideas from your readers and members came to no avail. Apart from taking a few gardening tips they were just not interested, but I recently downloaded the $21 Challenge Survival Guide and some of the recipes that came with it. Fantastic - we now have the whole family hooked, plus a few friends and now they are brainstorming with ideas coming thick and fast!&quot (Keith Phillips)
"I must say I think I am really getting the SS hang of things as I would never have thought of doing half of what I have done since joining. SS RULES! I thank all the SS out there for their valuable insights into ALL areas. I am only sorry that I did not know about SS much sooner. I find that I have so, so much to look at, but it is always being added to. Thanks for everything SS!&quot (Natalie M)
"I'd just like to say that your website is fantastic. I have recently become a single mother with two young kids, and I'm finding it extremely difficult to get by each week. I have downloaded your calendar and canteen list also. I would also like to say thank you to you and your husband for sharing your knowledge of thriftiness with everyone out there who is struggling.&quot (Mary-Anne Hemming)
Wow! Wonderful work everyone. Onwards and upwards!
Have a great month!!
Fiona Lippey
P.S. The Savings Diary competition runs till the end of March. You still have time to give it a go. To start your Savings Diary go to:- www.simplesavings.com.au/savingsdiary
---
1. Sad Sally, Happy Hanna: Too Good to be True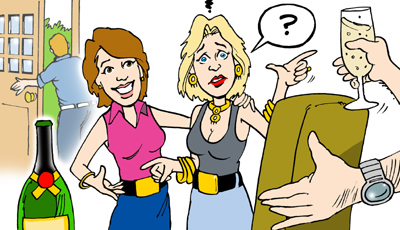 'OK, you can open your eyes now,' Pete chuckled, as he guided Sally up the front steps. 'What's all this about?' giggled Sally. 'Hey - what are you guys doing here?' she asked bemused, as John and Hanna opened the front door. 'The whole group is here!' smiled Hanna. 'It's our little celebration.' Sally still looked confused. 'Am I missing something? What are we celebrating?' 'You, My Dear!' beamed Pete, pulling out her chair in a gentlemanly manner. 'Thanks to all your hard work, we have saved $1400 in one month! Can you believe it? That's got to be worth celebrating, don't you think?'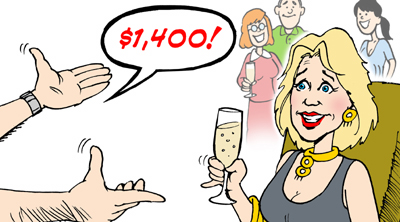 Sally gulped and sat down obediently. 'Really? We saved $1400? I had no idea. That's great, Love,' she did her best to look excited but Pete wasn't fooled. 'Come on Sal, it's not just great, it's fantastic! You should be over the moon. Not only have we caught up on last month, we're ahead - thanks to all our efforts. Now I hope you're not feeling bad about this little celebration, you've well and truly earned it!' John poured Sally a glass of bubbly. 'Cheers!'
Sally man aged a half-hearted smile as she clinked her glass with Pete. He had gone to so much trouble and she did her best to smile, but the truth was, she was racked with guilt. If only they were doing half as well as everyone thought they were! Over and over she kept thinking about the $3000 she had actually spent buying camping equipment. Poor Pete didn't know the half of it. There was no way she could tell him the truth now, he thought she was some kind of miracle worker! How on earth was she going to dig herself out of this one?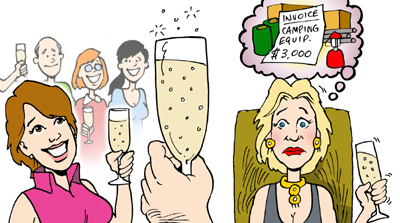 She stared at Pete in silent horror as he raised his glass with pride. 'I propose a toast. To my wife - Sally the Super Saver!'
---
2. March is Retrain Your Brain Month!
Why did Sally tell Pete she had only spent $1000 on camping equipment, instead of her real total of $3000? Because she wanted to please him and protect him from the truth - but her lie snowballed. When you lie, it hurts your family. We tell all kinds of lies to ourselves - sometime they are big, nasty, deliberate lies; or sometimes simply half-truths such as swapping the word 'need' for 'want'. Have you ever heard a child say "But, Mum - I need a bag of lollies"?
The reason people swap the word need for want is the word 'need' has more purchasing power. It is much harder to say 'no' to buying an item you need thanan item you want. A want is a luxury. A need is a necessity.
To protect your wallet and help you stay in control when you are shopping, we are going to do some exercises this month to help retrain your brain, so you will no longer misuse the word 'need' for a 'want'. This will save you masses of money and make you less vulnerable to small children wanting lollies and suchlike!
Right, let's get started. We are going to play the Want or Need Game!
All you 'need' to play this game is a packet of Gummi Bears (they don't have to be Gummi Bears, anything small and yummy will do). Put this packet in your handbag. From now on, every time someone says the word 'need' or 'want' you have to stop what you are doing and eat a Gummi Bear. Then while you are chewing your gummy bear think to yourself did the person use the right word. Was the item they were talking about a 'want' or a 'need'?
The point of the game is to get you thinking and understanding that these are two very separate words and to make sure you are using them in the right place. Make sure your kids use them in the right place too!
Remember - a NEED is something essential, such as basic food, shelter, clothing and health care. Everything else is a WANT. Learning how to differentiate between the two will have a long lasting effect and make a huge difference to your life.
---
3. Introducing our NEW Special Guest - Anita Bell!
Fantastic news! From this month Australia's favourite debt-busting mum, Anita Bell, will be joining us to answer three reader questions each month! Many Simple Savings members will already be familiar with Anita as the bestselling author of 'Your Mortgage And How To Pay It Off In Five Years' and others; however if you would like to find out more about Anita, you can visit her website at www.anitabell.com
Note: Anita Bell is a bestselling Australian author who writes from personal experience. She is not associated with any particular bank, real estate agent, stockbroker or other investment advisor and she uses the profits from her books to help others, so she mentions specific books in her replies below for reference purposes only, to help point readers in the direction of more thorough responses where necessary, and she encourages budget-battlers to borrow her books from friends or local libraries wherever possible. (When borrowing from libraries, remember to ask your librarian to check that you're borrowing the most current editions.)
Here are this month's questions and answers.
Liz D asks:
"Should a low income family with a stay-at-home-mum be regularly contributing to super for either husband or wife? Not looking at the situation as short term, but rather long term. My Super hasn't been contributed to for eight years, since I became a SAHM and decreases every year due to account and membership fees. What happens when there is no money left in the super, will it incur a debt that I will be liable for? Is contributing a luxury, not an essential?"
Anita says:
Hi Liz! Firstly, if the value of your super fund is decreasing every year just because of fees, then your balance is either very low, (if it's under $200, you may be able to close it and withdraw the money for investment or use elsewhere), or else your super fund sucks. Either way, it's time to do something.
I'd suggest that you check out ASIC's website, and in particular their archives of 'FIDO' (government watchdog) newsletters in regards to choosing super funds. At the time of writing, this link had most of what you needed: http://www.fido.gov.au/fido/fido.nsf/byHeadline/Super%20decisions%3A%20step%20by%20step%20guide%20through%20super%20maze
Note: This page also details something else that I only had a split second to mention on 'A Current Affair' this month: How to access your super (while you're still young) to help pay mortgage and other bills if/when you hit desperate times.
Secondly, when you asked: "Should a low income family with a stay-at-home-mum be regularly contributing to super for either husband or wife?" I'd be debating the word 'regularly' because regularity doesn't matter when it comes to super. One big lump sum on the last day of the financial year is fine - money that could be 'invested' in your home loan's mortgage offset account in the mean time to help save interest on your daily balance.
But if you delete the word 'regularly', then you still have an excellent question. And of course if you can manage to scrape together a $1000 contribution to super somehow - be it as a lump sum from selling something or getting a tax refund or perhaps even scraping it together regularly from your regular Centrelink or family tax benefit payments, then (provided you're earning less than $58,980 in the 97/98 financial year and if you're under 71, an Aussie resident AND you can deposit the money to your super fund before the 30th of June 2008) then you'll get an extra $1500 from the tax office called a 'co-contribution' which will be paid into your super fund automatically. (Your fund may also get a bonus $1500 payment, depending on the next Federal budget or whether or not the bonus payment from the last budget continues to be honoured by the new government.)
If you can't afford the whole thousand dollars, then the tax office will still pay $1.50 for every one of your dollars. (Or a total of $3.00 if the bonus is approved for this year too.) So now you have to ask yourself if this whopping 150% to 300% return on your investment is worth the sacrifice of scraping that $1000 together and living without it until your retirement age. And if not, is it worth trying to contribute as much as you can afford?
For more details about the co-contribution, see the tax office website at: http://www.ato.gov.au/super/content.asp?doc=/content/00102025.htm&pc=001/007/131/003/001&mnu=&mfp=&st=&cy=1
Note: If your partner is a high income earner, then it might also be worth having him 'officially' pay super into a fund for you instead or as well. For details see the tax office website: http://www.ato.gov.au/super/content.asp?doc=/content/19553.htm
Victoria W asks:
"Anita, I always wondered whether a person should just cut their losses and sell up if they find they are overwhelmed with debt. All the advice seems to be ways to hang on to what you owe! When is that not the best option for someone?"
Anita says:
Hi Victoria! I soooo agree! So long as you won't be going into voluntary bankruptcy and/or leaving any debts unpaid then of course there are certainly times when stress relief and/or debt relief have to be major considerations during the management and sale of any property. (I often assert that it should be considered before you enter the purchase phase too!)
Even though I've overcome whopping debt on low wages during high interest rates, I've also experienced the stress of owning a 'lemon' property, and enduring toxic tenants. I also very vividly remember a pair of criminally insane neighbours who I would have gladly sold at a loss to escape. So I've written quite a bit about various exit strategies in each of my first three books to help you make the best of bad situations. (Your Mortgage for personal home buyers, Your Money for tenants and deposit savers, and Your Investment Property for landlords). Perhaps one of these can help?'
Candy Sweet asks:
"Being a few years out from retirement, most of the people around us at our age are selling their investment properties, and loading up their super fund, to draw down an income. In this economic environment of high interest rates, would you recommend that we sell the properties and put into super, or is it best to keep them if we can afford the cash flow? Under what circumstances would your strategy change?"
Anita says:
Hi Candy Sweet! Gosh, without any specific details, this becomes a very big question indeed. It took me a few pages in my book to explain it properly to cover all eventualities (Your Retirement.), because being two years out from retirement is different from being three to five years out. How much debt you have compared to maintenance costs, income and the toxicity rating of your current tenants have a lot to do with it too. And are you male or female? (I assume female with a nickname like yours, but many other female readers and all male readers would need a few different facts about dates because different rules still apply for many women according to the year they were born - a situation left over from many decades of rule changes to super.)
However, speaking very generally, there's certainly big pluses to be had if you time - very carefully and in close co-ordination with your tax accountant - when you sell a property from your portfolio, and which ones you sell (if at all), for maximum capital gain and maximum avoidance of capital gains tax. You also need to consider how long you've owned each property, whether it's been used or partially used for private use during any of this period and whether you can physically cope with managing a property as you progress into your 'frailer' years.
It's also worth considering how much your super fund has been returning earning each year for the last five years, compared to how well each of your investments have returned - not just the increase in valuation, but also the monthly return from tenants after maintenance and running costs have been deducted. On a debt free or low-debt property, the property is likely to outperform the super fund for a good portion of the time and rival it in others, bringing the choice down to personal preference and lifestyle.
Also note: You don't have to roll all of the money from a property sale into super either, but depending on your tax obligations you may need to keep some aside, so you really do need to have your accountant play a big part in this stage of decision planning.
That said, you also need to know the rules and possibilities before you speak to them, because you could soon find yourself in a 'yes minister' kind of situation, where you don't know what questions you need to ask to make the best of your situation so your accountant doesn't know what answers he/she needs to give to improve your situation, which often results in very bland and limited advice.
If you would like to send a question to Anita Bell, email us. Each month we will choose three questions which Anita will answer in detail.
---
4. Sophie Gray: Kick the Habit
Have you ever given yourself a mental 'head slap' for picking up extra items when shopping? We've all done it. So much of our behaviour is conditioned by habit. What time we wake, when we feel hunger, what we crave, even what we put on the table or in the supermarket trolley. The Simple Savings goal this month is to kick the habit of buying stuff you don't actually need.
The grocery shop is one of the most significant areas you can regularly save. It's also the area most likely to see you crash and burn. Because retraining your grocery shopping habits isn't just one single decision, it's hundreds of individual decisions in quick succession, as you glide through the aisles.
Each item represents hours of market research, product and packaging design, tasting panels and focus groups. Everything in your trolley has its own marketing team and advertising budget determined to make you want it.
I know that if you eliminate all treats from your life, it's going to be grim, like going on a diet that never ends - heaven forbid. Sooner or later you'll fall off big time.
I also know that you can't have everything you want, however much you earn - just look at Britney Spears. So, to use the words of another high profile train wreck, the Spice Girls, "Tell me what you want, what you really, really want?"
Chances are you and your habits are the only things stopping you. We all have different goals and desires but the solution is the same. Make serious choices about what you put in the trolley. Essentials vs. luxuries, needs vs. wants and all those little decisions will add up over a week, month and year to big savings. What do you really, really want?
Think about your indulgences and what it is about them that you value; is a gorgeous lemon soufflé any less luxurious because you made it at home for $2.00 instead of paying $12 in a café? Is it the soufflé itself that is the treat, or not having to make it? I choose to make inexpensive divine food at home 99% of the time, so that once or twice a year we can go to my favourite (eye wateringly expensive) restaurant to eat something that I don't even know how to make.
What has tripped you up in the past? Do you buy ingredients intending to cook then buy ready-made stuff out of habit? Are you on 'bargain hunter overdrive' buying stuff that isn't essential, at the expense of something you really want, simply because it's cheap?
Food is a pleasure and comfort, as well as a necessity. If you've determined to retrain your brain to buy only what you need, then factor in a little home-made gorgeousness to keep you going. The following ideas won't cost much and will make the household feel far more spoiled than a packet of Tim Tams or a takeaway.
Individual Lemon Soufflés
Makes 4 modest serves or two greedy-girl serves
Pre heat oven to 160°
30g butter
1/2 cup castor sugar
2 eggs, separated
2 tbsp self raising flour
2-3 tbsp lemon curd (see recipe below)
1 tbsp icing sugar
Spray 4 half cup or 2 one cup ovenproof dishes or ramekins with cooking spray.
Place the egg yolks, butter and sugar in a bowl and beat till light and creamy then mix in the sifted flour and lemon curd.
Wash the beaters thoroughly using detergent to remove any trace of grease. Then beat the egg whites till they form soft peaks. Gently fold the egg whites through the lemon mixture. Spoon into the prepared dishes and bake for 25 -30 minutes or till well risen and golden. Dust with icing sugar and serve immediately.
Lemon Curd
2 large juicy lemons
50g butter, chopped
1 cup sugar
2 eggs, beaten
Finely grate the lemon rind and squeeze the juice. Put the zest (rind) and juice in a bowl on top of a pan of simmering water. Add the butter and sugar. When the butter is melted add the sugar dissolved, stir in the beaten eggs. Keep stirring until the egg is incorporated and the mixture thickens (10-15 minutes). Do not let the mixture boil or the egg white will set in strings. Cool and store in the fridge or in a screw-top jar.
Ganache
Ganache (pronounced gan-ash) is the ultimate chocolate sauce and it takes only seconds to make.
Use equal quantities of dark chocolate and cream. Heat the cream to boiling point, remove from the heat and allow to cool slightly then stir in the chocolate. Continue stirring till completely smooth.
Cook's tips: Flavour ganache with a drop of alcohol if desired.
Use it as a warm sauce over ice cream or profiteroles
Use as a chocolate fondue or dipping sauce for fresh fruits
When cooled it becomes the most luxurious icing
Refrigerate until set and roll into truffles then dust with cocoa
Fruit Coulis
Coulis is the brilliantly coloured fruit sauce often served in restaurants. Coulis' are simple to make and allow a small quantity of fruit to go a long way with maximum flavour and colour impact.
250g fruit - strawberries, raspberries, boysenberries, peach, nectarine...
50g icing sugar
Puree fruit and push the puree through a sieve to remove any fine seeds (berries only). If the sauce is too thin for your purposes then place the strained puree into a small saucepan with the sugar and simmer gently for two minutes and thicken with a little corn flour or arrowroot.
Serve beside, under or on top of virtually any dessert from ice cream to brownie. Use it to style up the simplest dishes or as a refreshing contrast to something decadent.
---
5. Best of the Forum: Motivate You AND Your Partner
Wow! Simple Savings member Claire has done it again and already organised the 'March Retrain Your Brain Month' thread in the Forum to help keep you motivated and on track. Thanks Claire and well done everyone!
read more...
And, if your spouse or partner is struggling to comprehend your newly found saving habits, never fear. You are not alone! Read on to enjoy some inspiring and funny tips on how other members are coping and winning.
Sarah is a converted 'Happy Hanna', but the love of her life is still stuck in 'Sad Sally' land. Discuss better ways to curb his habits other than hiding the wallet!
read more...
It appears that some members think they are married to the same man *grin* with the same spending habits. If you are at the end of your tether, you are not alone. There are some helpful links and suggestions here...
Success! There is light at the end of the tunnel and partners are joining in the frugal fun and saving.
read more...
---
6. Penny's Blog: Be Sure Your Sins Will Find You Out
Feb 24, 2008
'Nobody's perfect, I gotta work it', sings Liam at the top of his voice. How appropriate. I don't usually have much in common with teen pop singer Hannah Montana but it's a song I seem to be singing a lot too at the moment. Yes, I've decided to stop beating myself up about my No Spend month mishaps. OK, so it hasn't gone as well as I planned but at least I know we can recover from it and get back on track. Some things were unavoidable - for example yesterday, when we noticed a rather worrying water leak was running down the inside of our kitchen window, as well as numerous drips coming from the ceiling. 'Oh no, here we go again!' we thought. Last time this happened was shortly after we moved into the house. The same thing happened and by the time the leak became obvious half the kitchen ceiling was about to give way, it ended up being an insurance job and we had to wait 18 months for a local builder to come and fix the giant hole in the ceiling. Fortunately it didn't reach that stage this time and Noel would have been able to fix it himself this time. Had the plumber not given him the wrong part. Twice. In the end it was easier just to call him out and fix the leak himself before the kitchen floor became completely submerged. Hope to goodness he doesn't charge us as it was his stuff-up after all, but either way it's still going to cost several hundred dollars to fix the ceiling again.
Unavoidable, as I said. But then there was the odd thing which definitely WAS avoidable. Like the other day when I had to go to The Warehouse on an errand for someone else and ended up walking out with no less than FOUR CD's for myself. I know, I know. It's supposed to be No Spend month Penny, what the heck were you thinking? Jings, even when it's NOT No Spend month I don't usually make daft splurges like that. Before I joined Simple Savings, buying CD's was among some of my worst spending habits but over the last few years I have done SO well and have hardly bought any, borrowing those I like from the library instead. So what was different this day? I was on my way back from visiting Mum in the hospital, I was feeling low and should only have set foot in that shop to buy what I was sent for. But I was vulnerable, the marketer's worked their magic and those CD's just jumped out at me with their 'HAPPY SONGS', 'TAKE IT EASY', 'ANTHEMS OF SUMMER' and so on. Worse still, they were almost all double CD's at $28.95 each but I didn't even notice. I just grabbed them, thinking 'this is just what I need, these will make me feel better.' And they do - sort of. I've been bopping around the house and singing along joyfully in my car ever since, but it's not the same when they also bring a constant reminder of 'the time I spent $120 on crap'. Egads, it's been almost three years since I did anything quite so blatantly stupid! And then there's the fact that I haven't exactly got round to telling Noel yet.
It's not like I've hidden them from him or anything, I just haven't brought them to his attention yet! Well, one did quietly materialise in the kitchen last night when I was cooking dinner and I did own up to it and say I had treated myself to a nice new CD. One's a bit different than four though, isn't it. To be honest, I don't really think he's going to think it's a huge deal. It might have been a bit different a few years ago when I used to do this all the time, but as Hannah Montana also keeps singing 'Everybody makes mistakes, everybody has those days' and I just had one. And I will own up to the other three - eventually! I guess some people might think I'm making a mountain out of a molehill and I probably am. It's not like I've spent thousands of dollars on something huge but it's a long time since I allowed myself to be such a shopping victim. My splurge was daft, it left me feeling embarrassed and too silly to tell Noel, which has progressed further to feeling guilty for not being honest. In the 'bad old days' before Simple Savings, I used to hide my spending all the time but since I turned things around I've been happily living guilt-free. I've been proud of how little we can live on and how we share all our savings ups and downs together. In almost three years I can honestly say I have had nothing to be embarrassed or guilty about, so I just can't help being hard on myself about this now. I will tell him of course - eventually - but it's not like I'm scared that he'll be angry. On the contrary, he is going to LOVE this. He's already been relishing how I've let things slide this month and has been ribbing me heaps. 'Simple Savings eh?' he tuts and shakes his head when he finds something has expired at the back of the fridge, or a bottle of fizzy drink in my car. Yeah, well 'nobody's perfect, you live and you learn it - and if I mess it up sometimes...'
If there's one good thing about writing a blog, it makes you accountable to someone else. There's no point not being honest. It would be lovely if I could be Penny the Perfect all the time but why pretend to be something I'm not? Apart from lying to everyone else, I'd be lying to myself and that would be even worse. Besides, too many people I know read my blog now, they would soon know if I wasn't telling the truth! Ah yes, your sins will always find you out, so I might as well confess them myself. Besides, I'm still determined to give No Spend month a proper go. Any month can be No Spend month! And I am going to get my revenge on the gleeful finger-pointing Noel. I am going to blow him away with my frugal skills! I've already started, ridding the fruit bowl of all the overripe fruit and baking up a storm. The only problem is, the freezer is so full I can't fit any of it in so we'll all be stuffing our faces with it over the next few days. Talking of stuffing, my diet seems to have gone out the window. Burger Kings aside, being unwell has done nothing to help my waistline - you know the saying 'feed a cold, starve a fever?' Well I've had a cold and I've been well and truly feeding it!
Mind you, I suppose I should enjoy it while it lasts, what with the scary hike in food prices. The media are full of it - all the papers this weekend predict doom and gloom for the humble grocery shopper. 'Wallets are developing allergies to dairy foods', screams one headline. They're not wrong there; it's nothing short of painful trying to find the best price of butter and cheese in Mr Patel's. I mean let's face it, even the most budget conscious brands have rocketed through the roof. Over the past year, cheese has gone up 63.1%, fresh milk by 16.9% and butter by a whopping 85.2% in NZ. It's obscene! It's even got a proper name now - 'agflation'. How ironic that we are all forced to pay through the nose for something locally produced in such massive quantities. As one article stated, 'absolutely no sensible argument can, or should be made for the fact that in NZ a bottle of Coke now costs far less than a bottle of milk.' It's not just dairy of course; all food prices have increased in general - except avocados, which dropped 52% last month so the media is encouraging everyone to use avocados instead of butter to make the most of the financial benefits, not to mention the health benefits too. Nice idea but only a short-term one. They'd be better off to visit Sophie Gray's website and sign up for her newsletter, which this month includes some brilliant ideas and smart substitutes for cutting the cost of dairy. If only more people would take a leaf out of her book. One comment from an Otago university nutrition researcher had me cracking up yesterday. 'Perhaps everyone should be home baking and organic gardening, but that is not a realistic expectation', he was quoted in the newspaper. Why on earth not? If the media taught more people to learn how, rather than predicting bad diets of junk food for everyone because the cost of fresh food has got too expensive... well, it beats me. They might have got a few people worried with their scaremongering but not me. I'm a Simple Saver for goodness sake! I can bake and grow my own food for as long as I need to and if 'agflation' gets too much, I'll milk a blooming cow and make my own butter and cheese, no problem! Put like that, I guess I'm not quite such a Sad Sally after all - but a Happy Hannah Montana!'
Next time you feel like
It's just one of those days
When you just can't seem to win
If things don't turn out the way you plan
FIGURE SOMETHING ELSE OUT!
Don't stay down! Try again! YEAH!
*Grin* - you said it girl!
27th - Naughty Noel and Penniless Penny
28th - Wake-up call
5th - What it's all about
14th - Wants vs needs, Coffee, anyone? and The Mighty Ali
18th - The Too Hard Basket
24th - Be sure your sins will find you out
---
7. Homeopathy Corner: When Confusion is a State of Mind
March is "Retrain Your Brain" month. This is easy to do if you have your wits about you but what if you struggle with confusion or constantly forget things? When your brain is mush, it can be hard to tell the difference between a need and a want but fortunately, homeopathy can help.
Before we find out how, let's check that all the basics are in place. The old saying that an ounce of prevention is worth a pound of cure still holds true today. It is pointless trying to fix a problem without first removing the cause. The bottom line is that a healthy body and nimble mind depend on good nutrition and exercise.
First, get all the artificial flavourings, colourings and preservatives out of your diet. Many of them are irritants to the brain and belong in the bottom of a test tube rather than in our bodies. By taking this one step alone, you can make a huge difference to the way you and your children think and feel.
Second, reduce or eliminate store-bought, processed foods. They are usually made from the cheapest and lowest quality ingredients and should not even be fed to animals let alone us. Your brain cannot think or remember clearly on this sort of food.
Third, eat a balanced diet - plenty of vegetables and fruit (aim for at least 4 vegetables and 3 fruit a day), good quality protein and whole grains. Contrary to common belief, fats and oils are important for health just so long as they are the right kind. Our brains are mostly made of fat and function best when supplied with oils such as peanut, olive, coconut and fish oil. Reduce your intake of animal fats and avoid hydrogenated oils like the plague - these are frequently found in processed and store-bought food.
Finally, get out there and move it - exercise! Exercise increases the blood flow and oxygen to your brain, flushing away toxins that dull the memory and cloud your thinking.
If you are already doing these things and are still muddled, then it is time to look at what homeopathy can do. Sometimes the source of our confusion is not a faulty diet but an energetic imbalance that has to be corrected before confusion can improve - and homeopathy has the ability to do this. It picks up where diet leaves off.
While there are dozens of homeopathic remedies to treat poor memory and confusion, each one has to be prescribed according to the unique symptoms of the sufferer for it to be effective - one will not take the place of another. With this in mind, let's look at three of my favourite remedies for forgetfulness and confusion. They are: Cocculus indica, Alumina and, Silicea.
Cocculus treats slow and stupefied thinking, especially when triggered by loss of sleep through worrying about and caring for another (think of mothers with unwell children or those with sick partners). This type of person may also suffer from dizziness, nausea, or shaking of the hands. Their chronic complaints usually involve the nerves and may be as severe as multiple sclerosis (MS), Alzheimer's disease, or amyotrophic lateral sclerosis (ALS).
The symptoms that respond to Alumina include mental dullness, confusion, reduced understanding, poor memory, and the slow, vague answering of questions. With symptoms like this it should come as no surprise that Alumina is one of our main remedies for treating Alzheimer's disease and various types of dementia. Other symptoms that respond to Alumina are: a fear of knives; indigestion from potatoes; thickening of the eyelids; constipation; and dryness of the skin, mouth, and bowels.
My third favourite remedy, Silicea, treats the symptoms of brain fog and mental exhaustion caused by physical or mental exertion. It is a remedy for reduced stamina and anticipation anxiety. Symptoms such as lack of confidence, chilliness, splinter-like pains, weakness, sweaty feet, and chronic infections such as boils, fistulas, and otitis media (middle ear infections), also respond to Silicea
These remedies are just three of the many that homeopaths use in the treatment of mental confusion and forgetfulness. They can also be used for several other acute or chronic complaints - just click on their names above to see a detailed list of symptoms. Cocculus, for example, is a fantastic remedy for motion sickness - I would not want to go on a car trip without it. And there is nothing better than Silicea for helping your body expel splinters, slivers of glass, and other foreign substances embedded in your skin. While these remedies are great to have in your home-use kit for 'not so serious' acutes, you should not attempt to treat more chronic or serious problems with them. These involve complicated case management and are best left to a skilled practitioner - do make an appointment.
So, if you have trouble telling the difference between a need and a want during the month of March, think of homeopathy. Your bank balance could be healthier for it.
---
8. From Last Month: Truckie Lunches and House Cladding
Last month Melony Brown asked:
"My husband is a truck driver and living on the road is expensive. He has a fridge and a small oven and I make food for him to take, but I am wondering if anyone has any ideas what to take food-wise, as he is getting sick of what I am making. It's hard though, when he is gone all week and doesn't have much room or a freezer! What do other wives pack for their hubbies?"
Thanks everyone for your terrific ideas. With suggestions like these, 'blokey' lunches need never be boring again!
Man sized pastry parcels
When my husband is going to be away 'on the road' for days I make man sized pastry parcels with all sorts of fillings folded into pastry sheets. Variety is paramount - chicken and vegetable, spaghetti bolognaise, stew, bacon, hard boiled egg and cheese are all great fillings. Just freeze them for his trip and he can heat them in his portable oven in the truck. I also pack heaps of fresh fruit and sandwiches for the first day or two.
Chilli tuna salad mix
As a busy bus driver I've found eating on the job a lot easier with my fantastic chilli tuna salad. It can be pre-mixed and lasts for three days in the fridge and is great in a cold pack lunch bag.
Ingredients:
450g pre mixed Safeway coleslaw
Small tub Safeway tabouleh salad
400g tin of 4 bean mix (drained)
185g tin of Serena chilli tuna
95g tin of the same (don't drain oil - mix in)
20 or so chunks of Danish fetta (a small slab lasts two weeks)
Splash of coleslaw mayonnaise
Preparation:
Mix the mayonnaise and coleslaw so it is just dampened, not wet or sloshy.
Tip in the tabouleh and beans.
Slice the chilli in the tuna tins into little pieces so it goes right through then mash the tuna into the salad mix along with everything else.
Top off with a few sliced black olives (Home Brand does well).
Put into three plastic containers and store in the fridge until needed. I eat it every day because it is so good.
Cryovac meat for road trips
If your partner travels on the road for work and needs to cook as they go, ask your butcher to cryovac some fresh meat like steak or rissoles. The meat will last a week in a fridge.
Home-made spring rolls for truckies on the run
For easy to eat meals, make up large batches of home-made spring rolls. I like to make up batches of twenty at a time and freeze them in groups of five. The fillings inside are cooked and packed full of vegies while the wrappers remain uncooked. That way I can give them a quick spray with cooking oil before freezing so when he is cooking on the road there are no oil spills to worry about. Just add a bottle of sweet chilli sauce and he's good to go!
Convenient meals for truckers
If your trucker husband likes quick, easy and nutritious meals on the road, pack a quiche. It can be eaten warm or cold and could be matched with a flavoursome rice salad. Just mix brown rice, beans and vegetables which also could be eaten cold or warm. For more variety a tossed green salad would see him through the first couple of days, together with some assorted cold meats and cheeses. Don't forget the tasty things that keep for ages in jars like olives and sun dried tomatoes. Team them up with some cheese, crackers, dried fruit and nuts for a wholesome snack. For desserts and sweet treats pack long life custards, yoghurts, apple pie (again eaten warm or cold), small containers of fruit, and muesli stored in a container that can be sprinkled on top of fruit or yoghurt. Bircher muesli keeps for days in the fridge and just gets better and better.
Use a food saver machine for meals that last days
If you invest in a food saver machine you can pack nutritious meals that would last for many days in a fridge. Try making curries, pasta and roast dinners; all the normal food you would eat at home. The food stays fresh, there is no need for unhealthy pre-packaged food and your husband will not be missing out on your lovely cooking while he is on the road.
And Emma Hall asked:
"After perusing the Forum I've discovered there is no information on how to save money when rendering or cladding your house, or even replacing a roof. I know it's a really specific topic area, but for me it allows me to buy a fibro house at a much lower price (by around $20,000) and cheaply clad it - possibly with the help of information from the brilliant members of Simple Savings!"
Brilliant members indeed! We knew you would come up with some great answers to help Emma and others. Check out these savvy suggestions!
Embrace the charm of fibro
Instead of spending money cladding your fibro house, embrace its 1950/60s charm. We bought an 'ugly duckling' fibro cottage with the intention of cladding it. After having the fibro roof and old gutters replaced at a cost of $13,000, giving it a good exterior paint and putting in a new fence and some DIY landscaping it looks fabulous - quite cute and stylish. In fact I now feel if we had it clad it would actually detract from its current charm.
Display signage for discount cladding
If your house needs re-cladding many companies offer big discounts if you agree to display company signs on your house or garden fence. The longer you agree to display the sign, the bigger the discount. Just ring around the bigger cladding companies and ask if they have discount systems, or if they offer discounts in exchange for advertising. Don't give up after the first couple of knock backs. If they say no, you can ask if they would be willing to consider it, even ask to speak with a manager. The same with roofing. Even smaller builders and roofers will give you a discount if they can put a sign in your front yard with their business details.
Precautions for fibro cladding
If you are taking on a fibro clad house beware of the associated risks and take all precautions. Whether you wish to remove the sheeting, or clad over it you should gently spray the fibro with slightly watered water base paint. It penetrates and locks the fibres, reducing the dangers. And wear a mask, because even a gentle spray will move loose fibres. Once they have been soaked and then dried, working will be so much safer.
Cladding over it will also insulate your house a bit more.
Reclad your home with Colorbond
A friend recently reclad their home in a cheaper version of fine Colorbond that was already coated. It was put on vertically so it was easy to hose down. There is no painting, it is UV guaranteed and looks amazing! A great alternative to traditional cladding if you live in an area that gets lots of rain. The Colorbond won't go mouldy or look old and tatty quickly.
Cheap cladding with 'Koolwall'
My husband and I saved approximately $15,000 by recladding our home ourselves. For under $4000 we clad our 140 sqm home with a product called 'Koolwall'. It is a polystyrene product that gets screwed onto your home and is so light and easy to work with. If you are handy, do it yourself or get someone to help. Once you have it screwed on, render it yourself - we found it quite easy! Then just paint. You can get 'Koolwall' in 40mm or 75mm depths so it acts as an insulator as well, which in turn will save money. The product is manufactured in Queensland but available Australia wide.
http://www.koolwall.com.au/koolwall/index.cfm
Long term savings on cladding solution
We shopped around for some suitable options for cladding when we wanted to extend our 1950s fibro house. The builder initially recommended Hardieplank or something similar but we wanted to match the appearance of the older building so he eventually tracked down an identical product and we are very pleased with the result.
A few points to consider with the vinyl cladding:
1. While a bit dearer than the raw Hardieplank or other weatherboard, because it is already coloured, you save the cost of painting - and repainting. As the size of the job increases, the savings in paint can equal or exceed the cost difference. It is usually cheaper than raw timber weatherboard, however. Most suppliers have websites where you can check colours and profiles and so on.
2. Most products now come with foam insulation attached to the back, so it adds to the thermal insulation of the house. Some of the cheaper jobs use the vinyl without the foam backing, but this is less rigid and doesn't look as good.
3. If you are in a bushfire area, the PVC is flame-retardant and will not sustain a flame, so helps with your bushfire rating.
4. It is very easy to maintain. Just sweep the dust off or wash it down like a car! If it gets mouldy (on a south facing wall for example) a spray with bathroom mould remover and a hose down gets rid of it without marking the surface.
5. There are plenty of cladding firms around - some are good, some are not and it needs to be done professionally for the best result. If there are local cladding firms in your area, ask for references and, if possible, talk to their customers and inspect the work. If it's done properly, you can tell. A bad job will look wavy and uneven; a good job will be straight.
6. An alternative, which is what we did with our extensions, is to find a reputable local builder who can source the product and install it for you. It may be a bit dearer than the other way, but if the builder is a good one, you end up with a professional result.
7. Another benefit of cladding over the fibro is that you do not disturb the asbestos. Removing fibro is very hazardous and regulations in some areas make removing even small quantities increasingly expensive. The cladding fixes to the original wall framing.
8. A good cladding job can rejuvenate an old fibro house and, as we found, look really good on a new one, too. Factor in the ongoing cost savings for painting and other maintenance and it's a good option to consider.
As for roofing, if the house has the old terracotta tiles, a good clean and re-pointing should not be too expensive. If you need to replace some tiles, original styles and colours are available. We were able to match the original roof tiles (over 50 years old) for our extension.
---
9. This Month's Help Request: Jam and Chutney Preserving
This month Melissa Daniels asks:
"I would love some advice and tips on preserving and jam/chutney making. This has always appealed to me and I currently have a surplus of wonderful fruit and garden vegies but I have had a couple of failures in the past, (mould getting in or things not 'setting') and I'm too scared to give it a proper go now! Do I have to go out and buy all the proper 'gear' or are there cheaper ways I can get set up? The preserving jars and accessories all seem quite pricey in the shops and I'm wondering how cost effective a method of storing my excess produce this really is? Thanks!"
If you have any helpful suggestions for Melissa we would love to hear them! Send them in to us here
---
10. Savings Story: Skint But Stylish
Skint But Stylish. That's how I like to think of my lifestyle, because it is such fun to live on the smell of an oily rag without anyone else knowing! Eighteen months ago, although in recovery from depression, I found myself many thousands of dollars in debt and with several accounts having been sent to collection agencies. I was also 31kg overweight and at risk of cardiovascular disease and Type 2 diabetes. The excess weight (not to mention the stress!) was also making my arthritis worse. I was no longer able to work in my former profession, and as I was in my early sixties, I wasn't able to find other work, and was on Centrelink (Social Security) benefits. I have since been transferred to the Age Pension. I knew I had to make some drastic changes, and pretty darn quickly too! I had just a few things going for me:
My Visa card was a debit, not credit, card.
My account was with a credit union, rather than a bank, and fees are much less.
I was knowledgeable about nutrition.
I was willing to face unpalatable facts about myself, and make lifestyle changes.
With this small armoury, I prepared to do battle! The first thing I did was to sit down with all the paperwork, and list all the accounts, personal loans and the total. I nearly had a heart attack right there and then, but with the information, I was able to draw up a projected payments schedule. I contacted all the collection agencies and told them how much I proposed to pay each fortnight until all were paid. I did the same with private lenders. Nobody turned my proposal down; it really is true that, if you get in contact and show you are willing, most lenders will give you time to pay. They would rather have their money than you in jail!
Step 2 was to organise payment of my electricity account by direct debit from my pension - what you never have, you never miss. Once the phone bill was paid off and reconnected, I did the same with that too. In all, my debt reduction programme was going to be about $200 per fortnight, or roughly 34% of my pension and Centrelink allowances. Since my rent costs another 34%, the remaining 32% had to stretch to cover food, cleaning materials, clothing, pharmacy costs over the pharmacy allowance, fares for trips outside walking distance, presents, postage, life insurance and credit union fees (direct debit from my credit union account), occasional small charitable donations and the occasional small treat.
Step 3 was to go on to a sensible eating programme (not a fad diet) that would help me to lose weight, bring my blood glucose and serum cholesterol levels into the normal range. A low GI, high carbohydrate, moderate protein, low fat pattern fitted the bill in all respects. The challenge was: could I do it on $50 - $75 per fortnight? The answer is Yes! I make my own wholemeal bread, soups, skim milk yoghurt, and lots of interesting dishes from many countries, based on grains and vegetable proteins, and stock up on tinned oily fish for essential fatty acids when on special. I have red meat and poultry only once or twice a fortnight and the rest of the time my proteins are derived from legumes, eggs and low fat cheeses. It's just as well that I like oats! I drink two litres of water a day and make my own herbal teas from homegrown herbs. I don't buy soft drinks and buy leaf tea rather than tea-bags, as it's better value per unit serving. I find whole fruit better all round than juice as a rule.
Step 4 was to get mobile! I walk, because I can't afford gym membership, and walking can be done by those who can't jog. Being out in the open air blows away the blues too. Having won a free pedometer, I wear it, and try to reach 10,000 paces a day. I also started a vegetable garden and this saves me money where it counts, on vegetables, as well as being another source of fresh air and exercise.
Is it working? Is it what! In the 2006 - 2007 financial year I paid off $5,000 in debts on the pension alone, and am on track to achieve the same amount this financial year. I lost 13kg in the same period - a nice, sustainable rate. My blood glucose level is normal, my serum cholesterol almost so, although because of familial hypercholesterolemia, I need some medication to help with that. I am continuing to lose weight slowly but surely and have much more endurance and less pain. My GP is nearly as stoked as I am. I take care of my clothes, believing that "well-pressed is well-dressed", so my appearance doesn't give me away either. Occasionally I earn a little money from magazine contributions and this usually goes towards seeds or something else for the garden, but occasionally I restock the pantry with staples. I make my own cleaning products with such simple substances as vinegar, bi-carb of soda, washing soda crystals, soap scraps, eucalyptus oil and - wait for it! Worcestershire sauce. (Cleans brass and copper a treat, and one nearly always has it handy) I turn my appliances (apart from the fridge) off at the wall when not in use, and have noticed a difference in my power usage. All my incandescent light bulbs have been replaced with long-life fluorescent ones, and by crafty use of acrylic-lined curtains I keep my house cooler in summer and warmer in winter. I pile on the clothing layers in winter and wear cool clothing in summer. If I'm watching TV in the winter, I cover my legs with a woollen rug and put on another cardigan if necessary, rather than turn up the heater.
Because I can't afford much for presents, I give of myself. A nice present is a 'book of vouchers', made attractively and containing such redeemable coupons as: 'This voucher is good for 2 hours' ironing... or an evening's baby-sitting... or whatever!' Very few people say no to home-made goodies either. It makes me feel truly wealthy to give someone a loaf of bread still warm and fragrant from the oven, or a jar of chutney. That's what I call being skint with style, and every day I find new ways to augment the process. By this time next year I should be a dead-broke millionaire!