"Secrets to Saving Money in Australia" Free Newsletter - October 2008
This issue includes:-
Sad Sally, Happy Hanna: Happy Times!
Invest in Your Life
Power Saving Tips
Best of the Forum: Knowledge is Power
Sophie Gray: Some Like it Hot
Penny's Blog: Slow Food
Homeopathy Corner: Immunisation for Animals
From Last Month: Grubby Deck Cleaning Tips
This Month's Help Request: First Time Shopping
Savings Story: Golden 'Three Things' Rule and Help for the Elderly
---
Hi,
How are you going? It's been quite a month. The financial news is pretty bleak; the world seems to be entering a depression. If we are lucky in Australia we may escape with just a recession. This means 200,000 jobs lost and a million families in mortgage stress in the next two years. The good news is that the fallout is still six to twelve months away. So you still have a little time up your sleeve to get smart and get yourself in a good position.
This month you must get your act together. The Vault has frugal recipes, downloads, support, shopping tips, tricks and lots more and over the next 12 months we are going to do everything we can to help you and others get themselves out of debt. To try and get your head around this financial crisis and what is coming, check out these threads in the Forum (you will need to be logged into the Vault to read them).
Are we heading into a depression? - Mk 26
Updating and replacing before the depression hits $$$$
Hints from the depression era - Mk 2
We have also made this great video which shows you how to cook delicious pumpkin and vegie soup in bulk for only $0.50c per meal. This is free for everyone! Click here to watch the video.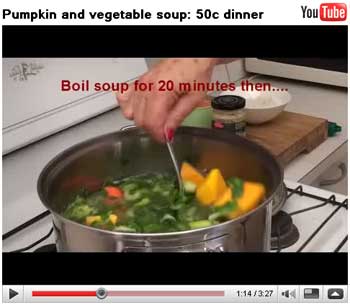 The good news for those who are prepared for the times ahead is that all will go well. So keep up the good work and we can get through it all together. Look at what we have accomplished so far!
"I just wanted to thank everyone for their wonderful information sharing and help. I cannot believe that at 45 years of age and many decades of self-sufficiency and frugality, it had never occurred to me to freeze pumpkins! I now have cut up and cubed my homegrown pumpkin, celery and onions into zip-lock bags and put into the freezer. I now have 'free' meals on hand! A very big thank you." (Belinda)
"I have been a member of this site for just over six months. I have saved a lot of money with menu planning and home cooking and find it's easier and easier as I go along. This month I have paid all my bills and I still have money left from my budget. The extra can go into my savings account!" (Fiona Lam)
Glowcave Convention Update
The 'Glowcave' is one of the longest standing groups in the Savings Forum. It was started almost two years ago by member Meg Millemaggi and has gone from strength to strength ever since. For the many people who have joined along the way, the Glowcave has become an important part of their lives; a place where laughter and friendship is guaranteed. They started out as a group of strangers but decided the time had come to finally meet in person! The very first Glowcave Convention was recently held in Melbourne and was attended by Simple Savers from all around Australia and even NZ. Three days of fun and laughter was had by all and the inaugural gathering was pronounced such a huge success that another is already being planned for 2009 in Tasmania.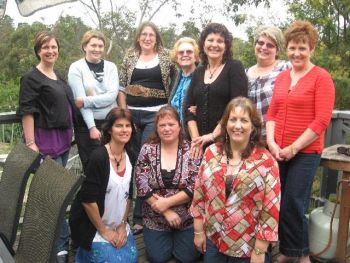 From back left: Dianne, Jade C, Megan, Mistup, Charley, Aliya, Zanna. From front left: Mrs Bug, Muirin, Sunshine. Absentees who attended Convention on Saturday: Catbee, Mishy, Kim
Wow - isn't it amazing what us Simple Savers can achieve together? Vault members can pay a visit to the Glowcave too! Find out what it's all about by catching up on the Forum
Good luck and all the best,
Fiona Lippey
P.S. Great news, we are working on the 2009 calendar! It will be ready in late November. The calendar will be 100% FREE. It is our Christmas gift to you to say thanks for all your help and keep up the good work!
---
1. Sad Sally, Happy Hanna: Happy Times!
Sally entered the Savings Group meeting full of beans. The water leak was fixed at last! Better still, the Government was about to give her $2000 for doing nothing! To top it off, Pete had been wonderful lately. She couldn't believe all the cleaning he had been doing!* This month's task was to lower their power bill. It would be easy - after all she had done it before. All it would take was a few memory triggers around the house and a bit of yelling at the kids to turn off lights. This month would be a push over. Super easy! Unfortunately nobody else at the Savings Group seemed to share her happy mood.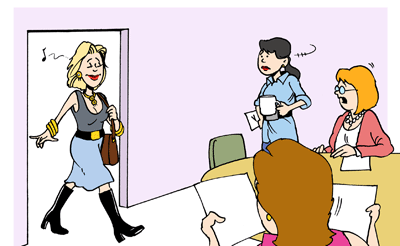 "What a lot of sour pusses you are! Why the glum faces?" she asked. "Have you seen the newspapers lately? The Government is handing out free money to everyone. Woohoo! Goodness knows why but who cares? It's free money!"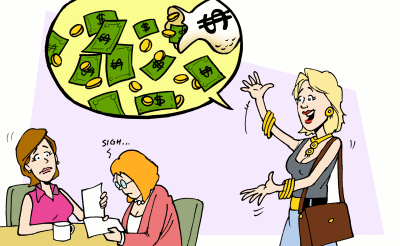 Hanna shook her head in disbelief. "Sally - haven't you heard? Management are talking about cutting back on jobs. Do you really think $2000 extra in our pocket is going to last long? We have to put it to good use." Sally smiled to herself - she already had a few ideas of how to put her money to good use, she couldn't wait! Hanna explained, "Today we are going to plan out how to invest this money in our lives so we can eat and keep our houses if we lose our jobs. Great idea, don't you think?" Sally sighed and mumbled under her breath. "I guess a new flat screen TV's out of the question then?"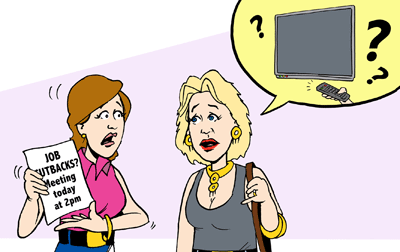 * Pete is busy cleaning so Sally doesn't fumigate the house with Germiflu.
---
2. Invest in Your Life
From now on, you are going to have to make your money work for you in a way you have never had to before. There are tough times coming; a lot of people are going to be losing their jobs - it may even be you. Right now, things are still good. So you need to make sure that you make the most out of every cent while you still can.
If you are getting a money bonus from the Government in December, it is important you are very wise about how you spend the money. Make sure you invest it in your life. Start by:-
Getting rid of dumb debts. Dumb debts are consumer debts. If you have any debts that are costing more than 10% interest, you need to get rid of them ASAP. These are dumb debts. For example, if you have $2000 on your credit card at 18% it is costing you $360 per year. It is an extra $360 you would have to earn just to tread water. Now that is stupid! That card is causing you to slip backward $360 each year. Get rid of your dumb debts and do it fast! If you have dumb debts, use most of your money to get rid of them but also put a chunk aside to invest in your life.
Invest in a vegie patch. When we first set up our garden we had to buy planks, good soil and seeds. It was a few hundred dollars outlay but that will get you through. Learn to grow your own food and save.
Invest in a chest freezer. My chest freezer saves us $30 a week on meat, $27 a week on milk, $40 avoiding take away and $20 in impulse buys ($117 total per week). It costs less than $0.90c per week to run - less than $50 per year. I get my milk delivered in bulk every two weeks and my meat every two months. That works out to a whopping $6037 a year ($117 x 52- 47)!
Invest in new skills. If you can't cook already, invest money teaching yourself how to cook. Cooking food from scratch knocks masses of money off our food bill. For example, this pumpkin and vegie soup recipe cost us $8.00 to make and produced the equivalent of 16 tins of soup at $3.10 ($50). That simple recipe alone will knock $42 off your grocery bill! Not to mention that home made soup tastes a thousand times better than anything you will ever get from a tin. If you can't cook, then you need to learn. Do whatever it takes; buy yourself a cookbook, video or go to a basic learn to cook class. This is an area where you will get a very high return on your investment.
Invest in knowledge. Knowledge is power. So get yourself a Vault membership. Devour every hint, consume the information, pick the brains of the forum members, download the planners, learn how to menu plan. All these skills will help you in the changing times ahead.
---
3. Power Saving Tips
This month we are saving on power. With over 160 tips in the Savings Vault, free tips from our archived newsletters and the Power Expense Calculator download, it's the perfect place to get started on slashing that power bill. Check them out - with savings like these, you're guaranteed to feel emPOWERed!
Shrink your power bills with some savings ideas
www.simplesavings.com.au/newsletter/2006/july
Find out how Claire shrunk her electricity bill by $600!
www.simplesavings.com.au/newsletter/2006/may
Power Expense Calculator
A great way to lower your power bill is to keep track of how much power you are using each week. This way you will be able to see your progress and find out which minor changes in your habits gave you the biggest power savings. Vault members can go here to download it.
12 minute timers means no power wasted
Our family no longer wastes power, since we installed 12-minute timer lights in our home! We were sick of the kids leaving lights on, so we went to Bunnings to purchase these new lights and put them in all the children's bedrooms. Now they get just 12 minutes of light when they turn the switch on and if they leave it on, it turns itself off. We have found them great for the bathroom too, as with only 12 minutes of light, they are now far more conscious of how long it takes them to get ready!
$400 saving on power bill
I am saving over $400 a year on electricity. After receiving my power bill of $206 for two months, something had to change. This may not seem a lot to some people but being on one income and having a house payment to make, it was too much for us.
I made a simple rule in my house. As myself and my children get up between 6.30am and 7.00am, the sun is already in the sky, so we are not allowed to use lights. I make a game of it to see who can open the most blinds and race my little girl! There is sufficient light in the house so that we don't need the lights on. Again at night the lights can not be turned on until 6pm at the very earliest, obviously depending on the night as some are quite dull. Another rule is that when the lights need turning on, all the blinds must be closed.
The next electricity bill I received was $15 less, as it took a bit for the family to get used to, but the following one was $40 less! My last bill was $134 - a saving of $72 on the previous one! Over a year this equals $432 - almost half a house repayment for us!
Switch on savings by colour-coding lights
We have put coloured stickers on all the light switches in our house to remind us to turn things off and help make the children aware of what uses the most power. The stickers are coloured (red for the highest cost to run, orange for the next highest and yellow). We decide which colour to use on each switch by calculating the cost of running that particular light. To do this we multiply the globe wattage by the number of hours the light is turned on. For example, for the bathroom it would be a 60W light bulb run for four hours a day, using 240Wh in total per day, or 0.24kWh. 0.24 x 20c (the average cost of electricity) makes 4.8c a day, or $17 a year. It reminds us to be more conscious of our electricity usage and the kids walk around making sure all the coloured switches are off, so it's become a bit of a game.
Boiling your kettle is expensive
Save money by not filling up the kettle. Let me demonstrate the costs of boiling a kettle compared to running other items and you will see!
Running a 150W floodlight for one hour every day costs $0.61c per month.
Running a 610L frost free fridge for one hour every day costs $1.01 per month
Running an electric kettle for one hour every day costs $9.73 per month!
I used to fill my kettle up to the two litre mark so I would get a few boils out of it before needing to refill. I didn't take into account that the longer it takes to boil, the more I would pay, as I didn't realise how expensive an electric kettle was to run. Now I fill it to just past the minimum line each time! Even though an average user may not use their kettle for a full hour each day, it gives an idea of how expensive they are to run in comparison to a light bulb.
The same applies to toasters. Don't use a four slice toaster for two or less pieces. If you still have a two slice toaster as well, use it for when you only need one or two pieces of toast, as a four slice toaster at one hour every day costs $7.30 to run, whereas a two slice toaster at one hour every day costs $4.46. On the other hand, if you regularly make lots of toast in the morning, using a four slice toaster to cook four slices at a time will be cheaper to run than a two slice toaster!
Cutting electricity costs with solar lights
Thanks to Simple Savings suggestions on using emergency solar lights to save power, we have made awesome savings to our power bill by using these lights inside.
We enjoy funky solar lighting in our home every night! I designed some beautifully decorative solar lighting potters. Long black high sheen pots, filled with sand and topped with lovely decorative river pebbles. The solar garden lights are of course inserted into these pots.
I take them out to a sunny spot each day, and bring them in each night. No lights are allowed on, and they provide a beautifully ambient glow in the house; a nicer feel than normal lighting. Gone is the problem of children leaving lights on all hours and wasting power!
To avoid unnecessary electric light usage, you can actually flick the 'lights' switch off in your fuse box, as this is usually a separate circuit from the rest of the power supply.
We all love our new lights, which provide great lighting on family camping trips as well. No more expensive batteries for the camping lantern!
Go 'back in time' for weekly power savings
Every week, our family goes 'back in time' to save electricity. We have been doing this since the children were small. On this day, when we get home from school/work we don't use any power. We only use a small amount of hot water to wash in. We have cold meat and salad for dinner, or a BBQ at a local park, followed by a walk home. At home, we only light one candle which we have to share. We change into our PJ's and all climb into the big bed (to keep warm) and tell stories; the favourites being about when Mum or Grandma was a little girl. At bedtime each child is escorted to his/her bed and tucked in. This day is treasured and brings us all closer together as a family. It also gives the children an insight into what life was like before TV!
Save with cold washing Contributed by: Lisa Beckwith
Turn off simple items and make huge savings Contributed by: David Cook
Adjust temperature thermostat on hot water service Contributed by: Dirk Egan
Get to bed early and save $10 a month Contributed by: Angela Gillooly
---
4. Best of the Forum: Knowledge is Power
Working together is so much fun. In the forum we have been sharing knowledge, know how and a few great laughs. Here is how we have been helping each other to slash our power bills.
What could be more romantic than a candlelit dinner every week? Sounds great to us - but are candles really more energy efficient than light bulbs? The discussion in this thread may surprise you!
read more...
Whether it's winter or summer it is always a challenge to keep the power meter ticking at its lowest. Join our group of friendly members for some inspiration!
read more...
Save dollars on costly mistakes - learn to read your own utility meters.
read more...
Thinking of going solar? So are some of our members. Find out if buying 'green energy' is for you or if solar panels are more cost effective.
read more...
By paying a little more attention to her power consumption, Sara managed to reduce her bill by a whopping 60%! Find out how she did it and be inspired.
read more...
---
5. Sophie Gray: Some Like it Hot
If I had a dollar for every diet I've been on I'd be as rich as Kate Moss. I was starving hungry for the best part of 20 years before it dawned on me that if I didn't want a fat bum I shouldn't sit around on mine all day moaning. I started to walk, then run, then joined a gym. I don't diet at all anymore, but I do exercise a lot.
During my misguided quest to look good in Lycra* I tried every diet invented. At the very worst end of the spectrum was 'the soup diet' - (heaven help you if you have to share a room with someone doing the soup diet!) as well as the 'biogenic diet' - basically a raw food only approach to eating. Those who have been on the weight loss merry-go-round (up and down, rounder and rounder) are likely to have stumbled across the biogenic diet. 'Raw energy' was the catch phrase but cold and crunchy was the reality. Virtually everything on the biogenic diet was eaten raw in depressing, comfortless combinations. Yes I lost some weight, but only because the prospect of sitting down to a cold meal on a chilly night was so unappealing that I simply skipped dinner in favour of a warm bed and a good book.
These days my menu is dictated by the seasons, not some quack diet guru. During warm weather it's lovely to eat raw food. Crisp, fresh, healthy, fruit and vegies, that are easy to prepare and require little or no cooking. Less time slaving over a hot stove means less power consumed, (and probably less kilojoules too). But raw isn't always an option so if you want to spend less on power and enjoy healthy, figure friendly food try these 'next to no cooking' recipes and techniques.
*Lycra is a fabric substance invented in hell to make women feel bad about themselves while trying to exercise - the very thing that should make us look and feel good!
Power saving tips:
One day a week choose recipes that require little or no cooking - think salads, sushi, sandwiches or stir fry.
Choose ingredients that cook quickly - noodles cook more quickly than rice, rice cooks more quickly than potatoes.
Cut vegetables into small pieces and they'll cook more quickly
If the oven is going to be on for several hours, cook more than one dish! Roast some vegetables for a couscous salad tomorrow, cook a pudding or throw in a batch of muffins for the lunch boxes.
Use only one pot when steaming vegetables - you can use stacking steamer baskets instead of multiple pots. Check out Asian food stores for cheap bamboo ones.
When boiling vegies, use only a quarter of a pan of water and put the lid on. The vegies will still steam/boil using a quarter of the usual amount of water.
Use a microwave if you have one.
Cook extra meals whenever possible so you only have to re heat rather than cook from scratch every night.
Use the residual heat in the oven to cook meringues, dry baking tins to prevent rusting or raise some bread dough.
Don't stand in front of the fridge gazing at the contents with the door wide open for any longer than absolutely necessary.
Barbecue on sunny evenings or take the kids for a picnic supper in the park.
Use a slow cooker for big casseroles and stews as they draw less power.
Pack empty space in the freezer with empty milk containers filled with water. When frozen they'll help the freezer to stay cold without drawing additional power, as well as providing you with a supply of fresh water should you need it in an emergency.
Cranberry Pecan Bircher Muesli
Bircher muesli is tender and delicious, made the night before it can be eaten directly from the fridge or warmed in the microwave. This one is rich with the tang of dried cranberries and the delicious nuttiness of pecans.
Serves 2
½ cup rolled oats
½ cup natural unsweetened reduced fat yoghurt - home-made is fine
½ cup reduced fat milk
1 tbsp honey
1 apple grated with the skin on
¼ cup dried cranberries (Craisins)
1 tbsp chopped pecans
Place all the ingredients in a bowl, mix well and stand in the fridge overnight.
In the morning the oats will be soft, sweet and fruity.
Warm Green Bean and Bacon Salad
This salad is super easy to make and the little bit of scrunch makes it really more-ish.
Per person:
A rasher of bacon, grilled or microwaved and chopped
1 tsp olive oil
1 tbsp nuts - cashews, pine nuts or sliced almonds
1/2 cup green beans
1 cup mixed salad greens
Juice of half an orange
Black pepper
In a small pan melt the butter and gently toast the nuts. Remove the nuts and toss the beans in the hot pan until cooked.
Pile the salad greens on a large plate add the warm beans, toasted nuts and cooked bacon and squeeze over the orange juice and a grind of black pepper.
Carrot and Apple Salad
This is a great 'lite' meal or accompaniment when greens are in short supply. It's sweet, juicy and delicious and one of my favourite healthy snacks.
1 carrot, grated
1 apple, grated
Splash of balsamic vinegar
Handful of sultanas
Handful of chopped walnuts
Sprinkle of sesame seeds
Salad with Asian Style Dressing
This tangy dressing is great with a crisp salad - top with barbecue duck, smoked chicken, beef or just enjoy the dressing over a salad of mixed greens.
For the salad
A selection of salad leaves
A handful of chopped coriander
A handful of chopped mint
Sliced meat - optional
For the dressing
1 tbsp sweet chilli sauce
1 stalk lemongrass, finely chopped
2 cloves garlic
2 tbsp fish sauce
Juice of 1 lime
2 tbsp brown sugar
Pile the salad onto plates or a large platter. Top with sliced or shredded meat if using. Mix all the dressing ingredients together and drizzle over the top.
---
6. Penny's Blog: Slow Food
Oct 28, 2008
Crikey, I haven't seen so much of my husband in ages! It's the economy affecting his line of work you see - everyone's too scared to buy or sell anything at the moment. For someone who works such horrendous hours, he's loving the peace and quiet but of course there's the downside being the less you work, the less you get paid. Like many people we are going to have to be prepared for a drop in income over the coming months and do our best to cope with it accordingly. I know I should be nervous at the prospect but in truth I'm actually quite excited at this enforced opportunity to pull together as a family and see how well we can get through these tough times. I'm so grateful for our cattle, sheep, chickens, vegie gardens and orchard; thanks to these we should never go hungry. Hmm, maybe we're already better prepared than I thought!
Noel's job may not be in demand at the moment but he certainly is - he's had three different job offers in the last month! One in Gippsland, Victoria, one in the Bay of Islands and another not far from where we are now. Nice to be in demand yes, but the thing is, we just love living in our little patch of paradise by the lake, growing and eating 'slow food'. Slow food, not surprisingly is the opposite to fast food and I've loved the expression ever since I read about it in this month's issue of Women's Health magazine here in NZ. When you're a slow food fan you think about your food in a different way. How is it produced? How fresh and nutritious is it? Does it harm the environment or animal welfare? What does it taste like? Basically slow food is the same as the 'nude food' celebrated at Simple Savings but call it what you like, with 83% of Kiwis visiting a fast-food restaurant at least once a month, I'm glad the word is getting out. The journalist in question spent a week transforming her lifestyle from fast food to slow food. In seven days she went shopping for fresh ingredients, learned how to cook them from scratch and enjoyed the physical, mental and emotional benefits of her change in diet. Not only that however, but by the end of the week she noticed not only a difference in her food bill but also in her credit card bill. Apparently you don't feel the need to splurge on that new top, another glass of wine or bad take away when you already feel nourished. Interesting logic - and I bet she's right. Like Fiona always says, don't shop on an empty stomach. I guess that theory works even better with a tummy full of slow food!
Maybe we should start encouraging Slow Drink as well and encourage people to drink the cheapest, most natural beverages they can. In a classic case of the world gone mad Noel was telling a colleague about a great supermarket special on beer the other day. 'I just picked up 24 bottles of Waikato for $24!' he said proudly. 'Jeez,' his mate replied, shaking his head. 'That actually makes beer cheaper than water!' We all had a good chuckle about it but it's a bit sad really. You can buy good quality beer in a nice glass bottle for $1.00 each, yet it will cost you three times as much for water in a plastic bottle. I was already opposed to buying bottled water in the first place, but am even more so now!
I forgot to share the results of my Biggest Loser challenge outside of the SS Weightwatchers Forum too! I am proud - and somewhat gobsmacked to announce that I have reached my goal weight of 60kg! At the time of writing I have lost 11kg in 11 weeks. I actually lost the most weight kilo-wise but was pipped at the post by a lady who managed to lose a whopping 16cm from her waist! She has been struggling with her weight for years so it was lovely to see her do so well. We got tested for all kinds of things at the start and finish of our challenge as well as the weight loss on the scales I have also lost 5% body fat, along with 11cm from my waist and 8cm from my hips. No wonder all my trousers have been falling down!
I still can't believe that I fit into a size 10 for the first time in 15 years, I have to keep checking the labels to make sure it's not a dream! My mission now is to make the most out of all the clothes I can no longer wear. Noel helped me declutter my wardrobe at the weekend and gave me an honest opinion on everything that was now genuinely too big. I ended up filling three black rubbish sacks full of clothes! Some of them I'm embarrassed to admit I've never even worn and still have the tags hanging off. I'll do my best to sell some of them on Trade Me but I've never had much success with selling clothes that way. I guess the op shops will do very nicely out of me! What I'd really like to do is hold a clothes swap party - they sound like so much fun but I'm too shy to ask anyone!
October 2008
2nd - Desperate Housewife
7th - If you can't beat 'em, join 'em
13th - No booze, no car, no chicken!
20th - Ch-ch-changes
---
7. Homeopathy Corner: Immunisation for Animals
Imagine being able to change people's lives the way Fran does in her work with homeopathy. To be able to give them their health back - it must be amazing. Here is one of the emails Fran receives regularly. Just brilliant!
"I'm not sure how long ago it was when I first visited your clinic, but having lived 60 of my 70 years suffering from sinus and related problems, I am now clear thanks to your homeopathic treatment. For as many years as I can remember, every winter started with a simple cold that developed into infected sinus which, in my advancing years developed into bronchial and even pneumonia. Conventional medical treatments never dealt with the cause (sinus) any more than it dealt with the effect (bronchitis). However since your treatment to address my sinus, I haven't had an infection. I haven't even had a cold, let alone flu! Bless you and your associates for developing this treatment."
This month Fran has included some great links to brilliant research done on immunising pets homeopathically. They have been successful in stopping kennel cough, avoiding mastitis and preventing stillbirths in pigs. Read more here.
---
8. From Last Month: Grubby Deck Cleaning Tips
Last month Erica Berkovich asked:
"I have an outdoor deck which has become grubby and oily since we bought our house two and a half years ago. It is 2m x 3m and is particularly greasy from oil spatter from the barbecue on one side, plus it gets dusty and grubby from general foot traffic and the weather, even though it is undercover."
We can tell from the amount of replies we received that this is a common problem! Thanks to everyone who sent in their helpful solutions. With tips like these, Erica's deck will be sparkling in no time!
Sand and water for a clean deck
The cheapest way I know to clean a grubby deck is to simply use fine sand and cold water. I learned this from working on farms 60 years ago, when all wood (including clogs) was cleaned this way. For an oily deck, try scrubbing with kerosene - it can improve the appearance without being as harsh as turps.
Caustic soda deck scrub
To clean dirty, greasy decking, try a hot water and caustic soda scrub. Take note of the manufacturer's warnings and instructions when handling and rinse well. Once dry, apply several coats of linseed and turps, allowing each coat to dry/soak in before applying the next. To avoid future grease stains, always put down a large tarp when using the barbecue. Much easier to clean than timber or concrete!
Sweep your way to a clean deck
For a cheap deck cleaning solution that is kind to your back, attach some sandpaper to a broom or mop. Then sand away lightly! Make sure you carry out the sanding before applying any coatings such as linseed or turps, to ensure your deck is all one colour.
Treat stained decking with Sunlight soap
For a cheap and gentle deck cleaner, all you need are a scrubbing brush, plenty of elbow grease and Sunlight or Sard soap in a bucket of warm water. Leave the soap in the water for 10 minutes, then stir around to create suds. Remove the soap, then give your deck a good scrub. I used this to remove fat from the BBQ with great results!
Hire a water blaster to clean deck
We made our grubby old deck look like new for $100. We had a huge deck - 4m x 12m, which we oiled regularly but after being out in the weather and having numerous coats of oil over the years, not to mention ground-in dirt and the muck from the BBQ, it went extremely dull and grey. So we hired a commercial quality high pressure cleaner for the day and got to work. The results were fantastic, it looks brand new again!
---
9. This Month's Help Request: First Time Shopping
This month Belinda Welseman asks:
"Do you have any specific tips for those just moving out of home and needing to do a big first grocery shop? We will soon be setting up house for two people and are feeling a little confused about what we should buy and how much."
Do you have some ideas? We would love to hear them. Please send them to us here.
---
10. Savings Stories: Golden 'Three Things' Rule and Help for the Elderly
Mum's golden 'three things' rule saves $5000
I saved thousands on the cost of clearing my garden of weeds and rubbish. The garden was a mess due to a bad renovation job by the previous owners and the clean-up job started to overwhelm me. However, the quotes I received to clear it ranged from $2000 to $5000! Fortunately I remembered an old trick my mother used to use called the 'three things rule'. I decided to implement it too! Every time I went into the garden I did three things minimum. I started by putting three branches into the garden waste bin, then started moving three pots and eventually I started shovelling dirt no more than three shovel loads at a time. It took a couple of months, but I ended up doing the whole job without outside help and saved myself a fortune. It goes to show that by breaking things down, they become cheaper and more manageable. Thank you Mum!
Help available for the elderly and carers
My elderly and frail father-in-law recently moved in with us, which brought not only a lifestyle change but added expenses too. I spent a lot of time researching what help was available to us, and found many services that alleviate the pressure of looking after an elderly person and save money. For example:
1. He gets prescription medications for $5.00. This alone saves him $24 a month. As a senior, he frequently gets 10% off other everyday items at the pharmacy too.
2. He gets respite care on Saturday mornings at no cost to us. This gives us a break and he enjoys the undivided attention of his rather charming carer!
3. He is eligible for residential respite care (under the Aged Care Assessment Team scheme) for short breaks, either at home or in a facility. Again, this is free.
4. Local government agencies offer social mornings for $2.00 including tea and coffee, as well as day trips for $10.
5. Being a WWII veteran also makes him eligible for many free services. We used to have to take long trips to his specialist appointments and struggled to pay for parking. Last month I discovered that the DVA offers a return door to door taxi service for free.
If you find yourself in our situation, it pays financially and gives everyone a better quality of life if you are vigilant in finding out what's available to you. When he moved in with us he was told he owed a particular government department $3000 due to overpayments. This was devastating so I rang the department, and took the time to find out exactly how they calculated that figure only to find they had made a mistake. In fact he only owed $800. It's unlikely he would have found this out if I had not acted as an advocate for him. When he first moved in with us his finances were in a bad way, but with careful management of his pension and using all the services above we are now caring for him with the least possible difficulty for us, while getting the best quality of life for everyone.