"Secrets to Saving Money in Australia" Free Newsletter - January 2008
This issue includes:-
Sad Sally, Happy Hanna: Playing Catch Up
February is No Spend Month!
$1000 Cash Prize Up for Grabs!
Sophie Gray: The Dinner Dilemma
Best of the Forum: No Spend Experts
Forum Bonus: Funniest Threads in the Forum
Penny's Blog: Holier Than Thou
Homeopathy Corner: Making Your Own
From Last Month: Home Brew Secrets
This Month's Help Request: Truckie Lunches and House Cladding
Saving Story: A Family Investment
---
Hi!
This is Penny! I'm so excited! From February 1st our family is going to take part in a money saving blitz called 'No Spend Month' - you can do it too! Simple Savings is encouraging every single household in the country to see how much they can save in this fun, month-long challenge. And to get you motivated Fiona and Matt are giving away $1000 to the person who saves the most money. How would you like an extra $1000 in your bank account? Sounds impossible? There's only one way to find out - join us too and see what a huge difference it can make to your bank balance! We will track our savings together with this simple Savings Diary and see how well everyone does. I can't wait to get started! I'm looking forward to your fantastic emails next month hearing how you have done. Here are some of last month's emails.
"Thank you so much...LOTS of great ideas. I really feel, for the first time since my husband passed away a number of years ago, that with the support of your wonderful organisation, I can live a good life in this community, on this planet. Too often in the past I have felt alienated and SO disillusioned by our money grabbing way of life, I never felt I fitted into such a shallow framework of a better car and a better this and that; I longed for another way to live. Well, you have certainly lifted my spirits these past weeks and I feel ready to face the challenge of living frugally materially so I may live a RICH spiritual life on our wondrous earth, having the time to connect with people, not simply rush past them to pay the bills on time!!" (Edweena Walker)
"I'm laughing myself silly because before joining Simple Savings I wrote you an email asking if you thought it warranted spending $47 to join, since I was an aged pensioner and already working really hard to save money! I had to shop last Friday (shops are 60km from my home) and didn't have too many things written down, other than my usual shopping list. When I came home and started accessing Simple Savings I could have kicked myself. I could have saved a hypothetical $50 (more than the joining fee, of course), had I taken tips with me and dared to go to ALDI (had reports it's a bit daunting). I mostly see the funny side of things and can assure you that I shan't make the same mistake again, though I can laugh at the first one. Thanks to you all, and to all the members - who are going to help me beyond belief! WONDERFUL!" (Leah Jones)
"SS has changed my life dramatically in the last six months; my family can now eat and do all the basics of life, stress free. Massive changes have occurred in our home, all for the better, and all thanks to SS." (Liz Kavanagh)
"I was so excited when I received your email, I jumped onto your site straight away, into the Vault and I read and read until I was seeing double (ha ha ha). I'm soooooooooooooo excited, already I've printed off the Pay Day Planner, Simple Savings Bill Payment System and a biscuit and muffin recipe for the hubby and kids. I'm also going to start meal planning as soon as possible. I will let you know how I go (soooooooooo excited - I feel that I now have an interest/hobby by going to your site). Once again thank you, nobody has ever given me anything where I can help my family before." (Melinda)
Fantastic effort everyone! So - are you ready for 'No Spend Month'? All you need to know is right here in this newsletter but if you want to really get the message across to the rest of the family, sit them down in front of your computer and I'll explain it in person at http://www.moneytv.co.nz/blog/savings-videos/no-spend-month/
Good luck!
Penny Wise
P.S. Check this out! In case you missed it, Fiona and Matt have announced they will award a $1000 CASH PRIZE to the person who manages to save the most during No Spend Month! Read on!
---
1. Sad Sally, Happy Hanna: Playing Catch Up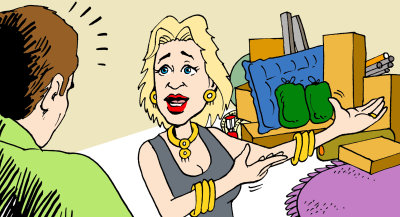 'One. Thousand. Dollars.' Pete shook his head in total disbelief. 'Please someone pinch me and tell me I'm dreaming! Sally, look at all this stuff! Surely you didn't seriously think you could hide all this from me?' 'I wasn't trying to hide it from you, I wanted to show it to you,' Sally pouted. 'I bought the whole lot on special! I thought you'd be proud...'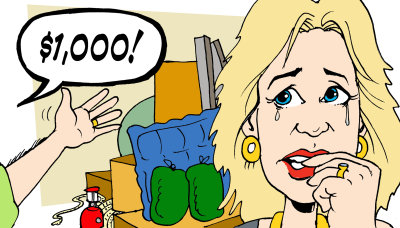 'Proud? That you've just gone and blown $1000 on camping equipment we don't need?' Pete couldn't believe his ears. 'I didn't mean to...,' Sally's lip trembled, what if Pete ever found out how much she'd really spent. She couldn't blame Pete for being angry though - all that money gone, just like that! 'Oh Pete, I'm sorry...' Sally dissolved into floods of tears. 'It was on sale!' she wailed.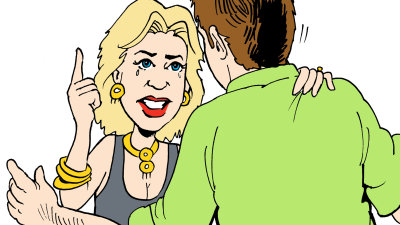 Poor Sally was in such a state, Pete couldn't help but feel a little sorry for her. 'It's alright Love, we all make mistakes. We'll find a way to make up for it.' Sally launched herself at him and buried her head in his shoulder, 'Oh Pete, from now on there'll be no more mistakes I swear,' she sobbed. 'I'll do whatever it takes to catch up - in fact,' she declared dramatically, 'I promise not to spend another cent!'
---
2. February is No Spend Month!
Sally is not the only one vowing not to spend any money this month. There are heaps of people getting ready for a mammoth saving session, because February is No Spend Month! As the title suggests, your mission for the month is not to spend a single cent unless absolutely necessary. Obviously this does not mean that you are not allowed to buy anything at all, we all have to live! You CAN spend money on items you really need - but only if it is truly essential, such as:
Food
Rent or mortgage payments
Prior monthly bills
Transport to and from school and work.
That's it. Sounds tough? Maybe, but the results are worth it. As consumers, we routinely throw away thousands of dollars a year on thoughtless, needless purchases. By committing to only buying essentials, Simple Savings predicts we should all be able to save ourselves $1000 in just one month instead of wasting it. Anyone still struggling with post-Christmas credit card debt or mortgage stress should give this challenge a go. Get the family involved and see how much you can save!
All the information and resources are available at www.simplesavings.com.au/savingsdiary/ but here are a few recommended guidelines which will make your No Spend Month easier:
STOP. Before buying anything, stop and think 'do I really need this?' If not, put it back!
AVOID. Do whatever you can to avoid spending without coming across as a 'stingy so-and-so'. If there is any way you can avoid buying something until tomorrow, next week, or next month, do it.
RECORD. Keeping track of your spending at the end of each day is important, so that you can see at the end of the month how little you can truly live on. You'll be surprised!
PLAN. Planning is the key to avoiding overspending. Planning your day ahead the night before will enable you to see what possible spending situations may arise, such as birthday parties, after-school activities, even what to have for dinner. Once you know what's around the corner, you can come up with any emergency strategies or 'no spend' alternatives before you need them.
Good luck with your No Spend Month - do let us know how you go!
---
3. $1000 Cash Prize Up for Grabs!
Yes, you read right! Simple Savings is actually giving money away! We really want everyone to succeed during No Spend Month, so we are dangling a nice big carrot to get you motivated. We are awarding a grand prize of $1000 to the person who manages to save the most money this month!
That's right - as well as your own fantastic savings, $1000 grand prize will be awarded to the person who has had the biggest change in spending patterns. The winner will be required to show proof with receipts and bank statements. For a full overview of the competitions rules click here.
To join in the No Spend Month challenge, all you need to do is click here and fill in the form. From then on, we will send you an email every night to encourage you along and keep you going. Keeping track of your spending is vital if you want to be in with a good chance of winning. It only takes 10 minutes each day - a total of 5 hours over the whole month. If you manage to save $1000 during that time, that's the equivalent of being paid $200 per hour, just for recording your spending. Depending on your personal spending you could save even more than that! Let's see how much you can do.
Don't be discouraged if you think you will struggle. Simple Savings will also be awarding FIVE Outstanding Effort Awards of $100 each, for those we believe have done a fantastic job.
This competition is open to everyone. All you need to do is follow this link where it will ask you for your name and email address.
---
4. Sophie Gray: The Dinner Dilemma
If you have already discounted the idea of a 'No Spend Month' or are having palpitations about how you could possibly do it, relax a little! No Spend Month doesn't mean you can't buy needed groceries. It's about identifying wasteful habits, so you spend less and reduce your carbon footprint at the same time. If you have done a $21 Challenge before, you are probably already pushing up your sleeves, staring into the freezer or pantry and making a plan. However if you are a novice and feeling worried, I suggest you ease yourself in.
Spend less by postponing your weekly shop by three days, or see if you can skip a week altogether - you'll have to rely on what you already have in stock.
Have the family make the grocery list, then identify the imported, processed and overly packaged items and remove them. Little adjustments can make a big difference.
Simply substituting packaged or processed food items, with locally produced, non-packaged food items and taking bags with you when you shop significantly reduces your carbon footprint. It's also a good way to give the pantry an overhaul, as you have to use up what you already have in stock.
Only buying needed items will mean less choice at mealtimes, and it may be necessary to adjust expectations. While dinner might not be exciting during this time, it will be adequate so don't give in to complaints.
Truly hungry people will eat anything- sailors lost at sea chew their own shoe leather before turning their attention to their delicious looking cabin mates! People will eat grass or insects before they'll let themselves starve. Picky equates to spoiled, as only those who have choices can afford to be picky.
I've never needed to eat grass (or insects or my roommate) but I am prepared to serve basic, nourishing - not necessarily exciting meals to save money and achieve our goals. The following suggestions are actually really tasty and may become part of your regular repertoire as they are versatile, cheap and can be varied to suit the ingredients you have in stock. Less prescriptive than a formal recipe, they will also make a little bit of something go a long way.
Thunder and Lightning - this is the nickname for all the left over bits of dried pasta in the pantry, the half cup of macaroni, few broken sticks of spaghetti and the bag of orzo you forgot you had. Cook it and mix together. Dress with a regular pasta sauce or a generous dollop of pesto or make a dressing by stirring into the hot pasta a knob of butter, some crushed garlic and lots of lemon juice and zest. Toss in chopped parsley then add tuna, salmon, left over shredded chicken, or just eat as is.
Bean and Potato Bake - peel four or five potatoes and cut into slices. Sauté an onion, add one tin of tomatoes, one tin of baked beans and one teaspoon of Worcestershire sauce, salt and pepper. Grease a casserole dish and spoon some of the sauce into the bottom then add a layer of potato, continue layering finishing with a layer of sauce. Cover with foil and bake for 1 ½ hrs then remove foil and add a handful of grated cheese, continue cooking till melted. If you have any meat such as tinned fish, or mince, left over sausages or meatballs add them to the sauce before layering it into the dish.
Fried Rice- take two cups of long grain white rice, cook and leave for eight hours or overnight. Heat a drop of oil in a in a wok or frying pan. Whisk two eggs lightly and pour into the pan to make a thin omelette. When set, roll up and remove from the pan. Add to the pan three rashers of chopped bacon, or a finely sliced ham steak, or a cup of shrimps, or some beef schnitzel, pork mince - whatever meat you have to hand. When cooked, add a drop more oil and stir in the cooked rice. Stir frequently, being sure to scrape the base of the pan to prevent sticking. When some of the rice is starting to crisp a little mix in two tablespoons of soy sauce, half a teaspoon of salt and half a cup of stock. Add any vegetables you might have, such as frozen mixed veg or finely chopped fresh vegies. Add the vegetables and continue to stir fry until they are piping hot. Slice up the omelette and scatter it into the pan. Serve hot.
Pilau Rice - In a frying pan sauté some minced meat until browned, (lamb, beef, chicken) add a chopped onion and cook till tender then stir in half a teaspoon each of cinnamon, allspice and black pepper, along with 1 ½ tsp salt, a cup and a half of long grain white rice and 2 ½ cups of stock. Cover and simmer gently for 20 minutes. Add several cups of chopped vegetables if you have them. Garnish with toasted nuts if available.
Fritters - Use one cup self raising flour, one egg and one cup of milk to make a thick batter, season with salt and pepper and mix in one or two cups of grated vegetables such as sweet corn or zucchini, or add in tuna, tinned salmon, bacon or sausage. Cook spoonfuls in a hot frying pan sprayed with cooking spray or in a drop of oil. Turn fritters over when small bubbles appear on the surface.
---
5. Best of the Forum: No Spend Experts
(Vault members only)
Just in case you need any further proof that it really is possible not to spend ANYTHING, these Forum members have already proved that it is possible, for not just one, but THREE months! Check out the following threads:
Jo has realised with horror how much of her daily life is money driven and wants to change. For three months she has vowed to spend as little and save as much as possible, along with plenty of fellow members to spur her on!
read more...
Inspired by Judith Levine's book 'Not Buying It', Amanda decided she was no longer going to buy anything non-essential either. No books, no DVD's - can she hold out? Check out this thread to see how she and others got on!
read more...
Do you find yourself spending almost as much money on coffees, morning teas and lunches at work than you're actually earning? FayRay did but not anymore! See how much she and the 'No Work Spend' crew have been able to save since they reformed their habits.
read more...
Worried about what other people will say? Look no further than these helpful thoughts and phrases which will teach you how to cope should the need arise when you explain why you are not spending anything for a month.
read more...
---
6. Forum Bonus: Funniest Threads in the Forum
(Vault members only)
If you haven't visited the Forum in a while, boy are you in for a treat! We have all been in fits of laughter at some of the hilarious topics of discussion and couldn't resist sharing some of our favourites with Vault members. Be warned, some of these will have you in tears - of laughter!
What do you do during a slow afternoon at work? In Pam's case, she made up this bizarre game which has had everyone in hysterics since. The best way to explain the game is to simply read the thread!
read more...
Sara's promiscuous pumpkins have been causing quite a stir in her garden - and who else's?
read more...
Urgent or not, you'll learn all you ever wanted to know about the infamous 'Brazilian' - and quite a lot you didn't! - in this enlightening thread.
read more...
Out of the mouths of babes, as they say! Lisa's three year old may not have been impressed with his mum's dancing but her tale of embarrassment went on to start an avalanche of hilarious 'kid speak' stories.
read more...
Ever wanted to know the REAL definition of 'coffee', 'abdicate' and 'negligent', along with many other commonly used words? Find out here and have a chuckle!
read more...
---
7. Penny's Blog: Holier Than Thou
Jan 24, 2008
It's weigh-in day and I'm another kilo down, yah! 70.6kg and (hopefully) shrinking. I am also on my sixth alcohol free day and am amazed to find that it's all rather easy! Like I said, I think I'm finally in the right headspace. Although I can see myself being a prize pain in the bum towards everyone else during No Spend Month. Already I am feeling very 'holier than thou' about my new vice-free, saintly persona and I hate to say it but I've been guilty of looking at Noel with what can only be described as disdain every time he cracks open a beer, sips a gin and tonic or lights a cigarette. 'Look at all that money you're wasting!' I think to myself. 'It's not good for you, you know - it will all catch up with you in the end!' Dreadful I know, I mean who am I to criticise? It's not as though I've never done the same. It's just now I have finally stopped, I can see how much money I spent. Since I gave up the wine, I've only had to set foot in Mr Patel's once (for bay leaves, how exciting). Consequently because I don't go in there for wine, I don't buy anything else either. Today is Thursday and I've spent a grand total of $27 of my housekeeping money this week - $20 of that was for a haircut! It's great practice for No Spend Month I must say. Noel thinks I can't really be serious about our family doing No Spend Month. Campbell Live (national current affairs show) are looking for a Kiwi family to track throughout No Spend Month - I wish they would choose us, then he would HAVE to give up all those expensive luxuries. With a bit of luck he would feel so much healthier and be so amazed at how much we had saved, maybe he would decide never to go back to it! Yeah, and pigs might fly Penny.
I can't believe how hard it's been to try and find a willing family of guinea pigs to go on Campbell Live when I'm chomping at the bit to take part! It's like they're all terrified of being exposed as being rubbish with money but that's not the point at all. We simply want to show how much can be saved by not throwing away money on all the little things so many of us do without thinking. We want people to sit at home and identify with it and say 'Wow - I do that too! Is that how much I'm also wasting?' So far, in almost everyone we've asked, we've found the same - one partner would love to take part, the other - the spender of the two - says no and I reckon I know why. Like I used to be, they are scared of their partners finding out how much they REALLY spend on non-essentials. Either that, or they truly believe they can't go without them for a month - or both!
At least the boys are getting into the 'No Spend' frame of mind - well, Liam is anyway. He's still selling up a storm on Trade Me and has made an impressive $184 so far, just by selling his WWE wrestling figures. He hasn't spent a cent of it so far. Ali on the other hand has made a grand total of $15 so far and spent $8.50 of it yesterday on an Australian cricket heroes magazine (just as in rugby he supports the Aussies over the Black Caps, tut!). I'm quite excited about a new kind of bank account Credit Union is offering to 11-18 year olds called Bfree, which unlike other youth accounts I've investigated, offers ATM and Eftpos. While Liam already has a savings account, he is getting to the age where he would like a little more financial independence with his pocket money and extra bits that he earns. I trust him not to waste his money and I think it would be good for him to keep track of his own money and see using an Eftpos card does indeed cause your bank balance to go down, rather than provide access to an unlimited supply. The Bfree account sounds like just what he needs and offers free transactions too, so am going to find out more. Much cooler than having to come to Mum for a handout on pocket money day!
Am so enjoying my new meal planning regime as described in the last blog! Although saying that, I don't actually know what's for dinner tonight yet, I just know that it's Furs Day. It's lovely to get up in the morning and know that the main choice is already made for you. Yesterday was Hens Day but we ended up having the stew from the night before as it didn't cook in time on Tuesday (which we renamed Stews Day, seeing as I'm off the booze!) It's making me a lot more adventurous with my cook books - the stew we had was 'Melt in your mouth shin stew' from Jamie Oliver's 'Cook' but to be honest I preferred Sophie Gray's version from 'Everyday Smart Food for the Family' called 'Wine braised beef with herby dumplings', which Liam calls 'that stew I love'. Still, was good to try something new. I am a big Gordon Ramsay fan and was sorely tempted to buy his 'The F Word' book, especially with a $10 discount voucher from Fishpond burning a hole in my pocket. Fortunately I was given a wake up call just in time by a foodie friend who has the book. He and his wife entertained another couple last week using recipes from the book and it cost them $80 to feed the four of them, but wait for it - that was for the dessert and a bottle of wine alone! So I guess I'll hang on to my voucher for now - I just wish he hadn't told me about some of those desserts, it makes me want to rush out and buy fresh berries and mascarpone right now. However, I should have known that there's a cheaper way to do just about everything and while I was checking the spelling of 'mascarpone' I found these handy tips for cheaper substitutes! You can either 1) Use the freshest, best quality cream cheese you can find, 2) Mix equal amounts of cream cheese and sour cream together, or 3) Mix half a pound of ricotta cheese with a cup of thickened cream in a food processor until it forms a homogenous cream, whatever that's supposed to mean. That was a very productive spellcheck, I might have to try that dessert out after all!
Haven't seen the painter for a few days, what with the gale force winds and rain but I'll let him off for that as the rain was desperately needed. The last month has been a bit of a challenge and I've had a bit of a peek into how it must feel to be in Australia and constantly have to conserve every drop of water. I don't know how you do it and hugely admire everyone who has to live this way every day. We have tank water for the house and that was getting low with no rain for so long but that wasn't such a huge issue - if things got too horrendous we could just pay $100 for a tanker from the local fire station to come and fill it up for us - of course I didn't want to give in and do that anyway unless absolutely necessary. The main problem though was the garden and livestock. While our drinking and washing water comes from the tank, all our outside water, the hoses and so on, comes from the neighbouring farm - and they had no water. It was almost three weeks before it got fixed and the situation with the animals was getting pretty urgent but Noel managed to keep them going with enough somehow. It was the garden which worried me most - the vegie garden which Noel had spent so many hours in; if we weren't careful, all the food we had been looking forward to harvesting was going to be lost. Fortunately thanks to the multitudes of Simple Savings tips I knew how I could at least keep them watered, even if the rest of the family thought I was bonkers. Far from being bonkers, I thought it made sense to me - why waste a drop? Unfortunately I did such a good job I'm going to have to spend a good hour or two slicing and freezing runner beans for the freezer, talk about an avalanche! Seriously though, after just a month like that I really take my hat off to all the Australian members for whom it is second nature. The way the world is going, we'll all have to do it one day out of necessity, so I reckon the rest of us should join you now. Another bonus of having wet n' wild weather this week is of course that the longer the painter takes to finish the job, the longer I can delay paying him!
---
8. Homeopathy Corner: Making Your Own
Oh no! It's 'No Spend Month' and you are running out of homeopathic pilules! If only you could make them last a little longer. Well, you can - and it's as easy as dropping a pilule into water.
Let me tell you more. Homeopathy is a system of medicine that heals by energy rather than chemicals. This energy is absorbed into your body through either water or pilule remedies. (Pilules are small round sugar-based tablets.) While pilule remedies taste yummy and work well, water remedies work even better and unlike chemical medicines, only one pilule is needed to make many doses of the same remedy. Fantastic! - you can stretch your existing supply of pilules and save lots of money.
Let's look at an example. If you dissolve a Panadol (paracetamol) tablet in a cup of water and take a few drops from it to treat a fever, nothing will happen - you will not get enough of the paracetamol chemical to do anything. You can't stretch out a dose of Panadol. If you dissolve one of the homeopathic pilules though - the pilule that matches the symptoms of your fever - a few drops from the cup will carry enough of the remedy's energy to help break the fever. And you will still have lots of water left for other doses should they be needed. When homeopathic energy is 'diluted' like this it is not halved or quartered - just 'softened'. This is a feature that you can easily exploit to your own advantage.
So how exactly do you do it? Here are the instructions:
Choose the remedy from your kit that matches your symptoms.
Drop one pilule of the remedy into ¼ cup of water and gently stir until dissolved. (More water would also be OK but for the purpose of these instructions we will stick with ¼ cup.)
Before each dose, briskly stir the water in the cup 10 times to activate the energy in the remedy.
Dose according to the intensity of your symptoms, as advised in your instruction book, or by your homeopath. One dose equals one small sip, or a teaspoon amount from the cup. Smaller doses can be given to babies or children if desired but this is not essential.
Keep the remedy away from light by covering it with a saucer in between doses. Your remedy will be fine to use in this manner for one or two days - all that is usually needed for the treatment of an acute complaint.
Note 1: Dose amounts for liquid remedies are very flexible. Because chemicals with their poisoning effects aren't involved it is almost impossible to give too large a dose. For this reason it is perfectly safe for babies to have the same size dose as an adult but for obvious reasons they would probably appreciate a smaller amount - even a few drops will do.
Note 2: Instructions on how often to dose for various complaints can also be found here
Isn't that fantastic? But let's take it a step further. If you regularly use remedies like Arnica (for bruising, sprains and strains), why not dilute and store them in dropper bottles for easy use at any time? This is how to do it:
Fill a 20ml dropper bottle two thirds full of water. (The remaining air space provides room for the remedy to move during succussion.)
Drop one pilule of your remedy into the bottle and gently 'swish' to dissolve.
Label the bottle with the remedy name, the potency, and date of preparation. It is now ready to be used.
Succuss the bottle 10 times before each dose. (Succussion is giving the base of the bottle a vigorous hit on the palm of your hand. Succussion activates the energy of the remedy).
Dose according to the intensity of your symptoms, as advised in your instruction book, or by your homeopath. One dose equals 5-7 drops or about ¼ of a dropper. Again, the amount is not critical and babies or small animals can be given less.
Note: Because the bottle does not contain a preservative to stop the growth of mould and bacteria, store your remedy in the refrigerator and replace at monthly intervals. If you would like to use your liquid remedies for much longer, brandy can be added as its alcohol content will act as a preservative. Just add 1/3 of brandy to 2/3 of water, but still only 2/3 fill your bottle so enough room remains for succussion. Your liquid remedies can then be stored at room temperature for 12 months or more.
So, dilute and save! If you are just a beginner with homeopathy and would like to find out more, a series of tutorials have been prepared at www.homeopathyplus.com.au. Tutorials 3 and 5 are especially helpful for understanding the energetic nature of this remarkable system of medicine.
---
9. From Last Month: Home Brew Secrets
Last month Marie Dukalskis asked:
"I am looking into brewing my own drinks (Welsh nectar, ginger beer or beer and so on) at home but do not have any equipment. I checked the price of a brewing kit at Woolworth's, which was about $95, and I think $10 for PET bottles. Can anyone with brewing experience help out with what equipment is necessary and what could be done more cheaply? Such as, what containers could you use for the brew, what bottles are suitable and so on. (I've heard some people use Coke bottles whereas others say they aren't suitable). Also, if you re-use beer bottles how do you get the caps on? Any tips would be appreciated, as well as any recipes for diet/artificially sweetened drinks. Thanks!"
Wow, we received some great replies to this request, many thanks to everyone who responded. Here is a selection for any would-be brewers to get started!
Join a brewing club to sample and learn
My dad used to brew his beer when I was a kid; we had lots of fun helping. Long necked bottles are more suitable to the Coopers premix packs (available from supermarkets). Stubbies are also suitable but you have to be careful to adjust the sugar you put in the bottle, otherwise the tops will explode off with too much alcohol. The caps are bought in a packet and you need a special tool (which is pretty cheap) to seal the caps on the bottles. There are also brewing clubs that you can join to taste the different beers before you start making something that you don't like. Find out if there are any people in your network that already do this for you to taste test first. Enjoy and have a bit of fun experimenting. If you don't like it - you can always cook with it!
Smart savings on home brew
If you like to brew your own beer or ginger beer the following can save you money.
1. Buy your kit second hand from a site like eBay or check out your local brew shop to save a heap on your basic kit. If no luck there, look out for the Kmart storewide sales and get the Coopers brew kit for about $65 (when on sale). It has everything you need to start a batch of beer, and has instructions which help.
2. You can use the soft drink plastic bottles rather than glass - it is the lid that you need to pay attention to. You can of course buy new lids at Kmart or brewing outlets, or use any of the soft drink lids that have the blue layer on the inside of the lid. We have discovered these always work as the seal is better.
3. Save as many bottles as you can, as each standard batch can take a couple of months until it is ready so you will also need a place to store them whilst you wait. A nice corner in the garage or similar works well, as you will still get the occasional one that will leak.
4. Keep your eye out in Kmart, supermarkets and so on for the beer type that you like - if the batch has reached its expiry date you can often buy it for as little as $1.00. The only thing in the container that is no good is the yeast sachet on the top and this can easily be bought from a brew shop for far less than the total of the item just purchased!
Secrets to successful home brewing
We have been making our own home brew for about 10 years now for around $0.55c per bottle. As I used to work as a technician for a scientist who did wine research, I learned a bit about yeast which made life easier from the knowledge point of view. Our equipment consists of:
Large plastic brewing beer barrel (tap at bottom, screw lid top with gas water trap)
Glass beer bottles from local recycling centre (these cost a small amount but included the crates for storage). We bought 60, which is enough for two batches and you can cycle them. We also kept our small glass bottles from bought beer, and if you can collect these, or the large bottles from friends, you could save even more! The small bottles are good for a single glass if you don't want to drink two large glasses at some point.
Bottle caps from the supermarket or brewing supplies.
Bottle capper with double lever, not the one that you hit with a hammer, as this risks breaking the bottles. The capper may be more expensive but lasts forever and is a lot less stressful. Crimping the lids is fun! It pays to put an identifying batch number on the top of the bottles so you know which batch to consume next. Bottles take two weeks to mature.
Dextrose from Bin Inn or other bulk supplier. (NB this is NOT the same as ordinary sugar - may be called brewing sugar). You need about 1kg for main brew in barrel, then 1 1/2 tsp per bottle for the bottling part. This is when the carbon dioxide makes the bubbles under pressure!
We sterilise our bottles in the oven, 120 degrees for 20 minutes is plenty. We've never had a contaminated batch. Also after each batch we wash out the beer barrel with a weak solution of bleach, about 1/4 cup to 10 litres water. We also rinse out the barrel with boiled water just before we do a new batch.
We use Brewtec, Coopers or similar beer kits; they include instructions and make about 30 bottles per batch. Others tend to be more expensive - check how much volume you get from a kit, and whether the sugar is already included; which it isn't for these two brands.
The main things of importance are to keep the brewing barrel at around 25 - 30 degrees, and to keep the barrel and bottles free from bacterial contamination. We know one guy who bought an old non-working freezer and put a light bulb in it by boring a hole in the side, to keep a warm enough environment for the first brew during winter. We only tend to make our beer in summer, so don't go to this trouble, although we do sometimes put a bulb under the bottle if it's a bit cold to start with. Warmish not cold to the touch is about right. The bubbling should start within about two hours. It takes 4 - 5 days for the first brew to be ready for bottling, once the bubbling through the gas trap has almost stopped. You mustn't leave too long before bottling, as the yeast will no longer be as active and won't start up easily in your bottles.
Another tip we came up with recently is to make up the 1 1/2 tsp in boiled water and add to the bottles this way - a solution of 225g dextrose in 1.2 litre water gives 40ml per bottle. This stops the frothing that otherwise slows down the process of bottling. A small medicine cup is ideal for this 40ml measure.
We like the taste of our home-made beer a lot better than the bought stuff. It also pays to refrigerate your beer before opening until thoroughly chilled, and have some spare bowls handy in case the beer froths excessively!
Lemon syrup
8 tbsp artificial sweetener
Juice and rind of six lemons
2 tbsp tartaric acid
1 tbsp citric acid
2 litres water
Mix altogether and dilute with water or lemonade.
Low cost healthy drinks from Soda Stream
To save money on diet/artificially sweetened drinks, purchase a Soda Stream and make your own healthy options instead. Simply make your own fruit syrups and add to home-made soda water. Easy!
Home-made low-alcohol ginger beer
You don't need to buy expensive equipment to make delicious low-alcohol ginger beer - you can just use recycled drink bottles and things you find in your own kitchen. Chop up some ginger and put it in a jar with a sachet of yeast - bread yeast is fine - and a little sugar. Put in some water and let it brew for at least a couple of hours in a cool place. Put this starter mix in a three-litre recycled plastic juice container or a couple of smaller ones and fill with sweetened water with lemon juice or good quality dilute lemon cordial. Add a couple of sultanas (these help you see when the yeast has finished - they start off at the bottom, but rise to the top during brewing, when they sink again the ginger beer is ready) and put in a cool place, one where you will see the bottles or remember to check it. Sometimes you might need to let out a little pressure from the bottle if it is distending too much. Leave it for about a week and watch the sultanas! Drink within a week of the sultanas falling.
I no longer have a specific recipe but you can find heaps of recipes online, or look in old cookbooks - the Golden Wattle and CWA cookbooks are a good start, try any other cookbooks from the same era, they all have sections on making all sorts of drinks from scratch.
Cheap home-made passionfruit cordial
If you are lucky enough to have a vine that over produces, make the most of it with this delicious recipe!
Passionfruit Cordial:
3 cups sugar
3 cups water
12 passionfruit
3 teaspoons tartaric acid (available from the supermarket)
Place the sugar and water in a saucepan and boil for four minutes. Add the tartaric acid and the passionfruit pulp. Cool and strain the seeds (you can add some back if you wish). Then bottle and keep in the fridge to use as you would any cordial. No artificial colours either!
Vault Extras
---
10. This Month's Help Request: Truckie Lunches and House Cladding
This month Melony Brown asks:
"My husband is a truck driver and living on the road is expensive. He has a fridge and a small oven and I make food for him to take, but I am wondering if anyone has any ideas what to take food-wise, as he is getting sick of what I am making. It's hard though, when he is gone all week and doesn't have much room or a freezer! What do other wives pack for their hubbies?"
If you have any helpful suggestions for Melony we would love to hear them! Send them in to us here
And Emma Hall asked:
"After perusing the Forum I've discovered there is no information on how to save money when rendering or cladding your house, or even replacing a roof. I know it's a really specific topic area, but for me it allows me to buy a fibro house at a much lower price (by around $20,000) and cheaply clad it - possibly with the help of information from the brilliant members of Simple Savings!"
Can you help? If you have any information on cladding a fibro or weatherboard house, Emma would love to hear your ideas here
---
11. Savings Story: A Family Investment
Our family has been able to afford our own investment property, thanks to Simple Savings! One night at dinner I was talking with my husband and two working sons (18 and 21) about all the things we could save money on after reading your website. The discussion became a brain storming session on ways to save and the boys had some marvellous and interesting suggestions.
Over a few weeks the situation snowballed and both boys were soon trying to outdo each other in ways to save their money. Not only did it give us savings, it improved communication and friendship between the brothers. After much Internet research and
consulting a financial adviser we found we were able to buy an investment property between us all on a cost of only $30 per week per person after renting out the property. We were saving much, much more on that with our new saving methods.
The areas we have saved mostly on is eating (and drinking) out. My husband and sons now take their lunch every day and take iced water and bottles of cordial to work, which is much cheaper than the 2-3 cans of soft drink each per day that they used to buy. Also much healthier! We eat home cooked meals every night. Each person is saving at least $10 per day and often much more so we are gaining $280 per week between the four of us, which well and truly covers the house repayments. My youngest son thinks we should buy a few more houses! In the future we just may do that but at the moment we are putting our extra cash in to paying off the loan.
I'd like to say a special, sincere thanks to Simple Savings for getting us on the road to a financially secure future. We are all healthier by walking more, eating home cooked meals, not takeaways and drinking more water but also we are looking after the environment by recycling, composting, turning off lights, only using the dishwasher and washing machine when fully loaded - the list is endless. No one has to nag; everybody is on the lookout for ways to save. Every night the boys and my husband have a great discussion on the ways they have saved money. I just sit back and enjoy the friendly chat and the special time with my family. Thanks for improving my life.