"Secrets to Saving Money in Australia" Free Newsletter - September 2007
This issue includes:-
Sad Sally, Happy Hanna: A Breath of Fresh Air
Spending Less on Cleaning
Vault Download: Cleaning Tips and Recipes
Sophie Gray - Rise and Shine: It's Breakfast Time
Best of the Forum: Preparing for Christmas
Penny's Blog: A Real 'Ray' of Sunshine
Homeopathy Corner: How to Find a Good Homeopath
From Last Month: After School Activities
and Low Cost Gifts for Primary Students
This Month's Help Request: Fast and Easy Costumes
Saving Story: From Cashless to Comfortable
---
Hi!
How are you doing? I hope you have had a great month. Guess what!! So far this year Vault members have saved $2,323,829 in the Save-o-Meter. Isn't it fantastic how much we are accomplishing together? Thank you for your help and well done!! We make a great team :-)
Here are some of the emails members have written in to thank everyone for their hard work. I want you to read them and pat yourself on the back with pride. By reading these newsletters, sending in hints, telling your friends and joining the Vault you are making a difference in people's lives. Well done!! Read and enjoy.
"What a fantastic decision it was for me to become a paid member this week! I have saved my subscription already! Just received my first order from SCB (Social Club Books) which I found as a recommendation here. I thought the items looked good value on their website but once I saw and unpacked the items I am amazed at the beautiful quality of the products. Inexpensive gifts that are very classy! Thanks so much for everything; this site really DOES change people's lives!" (Kaye Bowers)
"I just wanted to say thank you! After being a member of the Vault for under an hour I have already managed to save half the joining fee by purchasing my dog's tick treatment online rather than from the pet shop! Thank you so much!" (Melanie)
"A few weeks ago I came across your site and thought it was great, but because we are trying to be careful with money, we didn't purchase the Vault membership until we had sussed it out a bit. Well, all it took was one tip suggested and I won a gold membership! WOW! My hubby was thrilled and we have been pouring over the Vault all day. I'm so excited about the great Christmas ideas we've got planned for our family this year thanks to you! Keep up the fantastic work." (Nathalie Driver)
Have a great month!
Fiona Lippey
Miser Extraordinaire
---
1. Sad Sally, Happy Hanna: A Breath of Fresh Air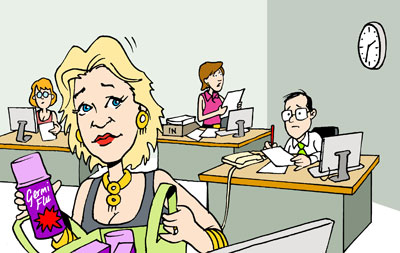 Sally sneaked into the office and made her way sheepishly to her desk. She was half an hour late returning from her lunch break and felt guilty at the thought of everyone else working away, but it had been worth it. She had made a special trip in order to buy two cans of GermiFlu destroyer spray and GermiFlu antiseptic wipes. They had been advertised on TV last night and she was determined to grab some before they all sold out, what with the dreadful flu that was going around. They had cost her $24 in total but Sally felt it was essential if she was going to protect herself from being struck down with it.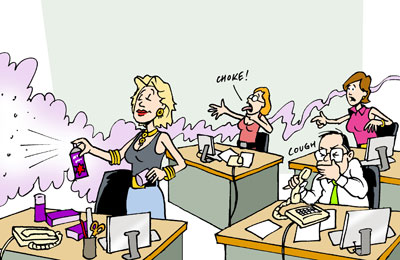 She gave a few quick blasts with the spray around her desk before settling down to her work but no sooner had she got seated than she heard a stifled cough or two from behind her. 'Thank goodness for GermiFlu!' thought Sal - she had bought it just in time. Her colleagues were starting to get sick but there was no way she was going to be next; more protection was needed so out came the can again and she sprayed it liberally everywhere - her desk, her screen, her chair, her phone. The coughing grew louder. Even Sally could feel a tickle in her throat and her nose was starting to twitch. Then even she started coughing - oh no, this bug moved fast!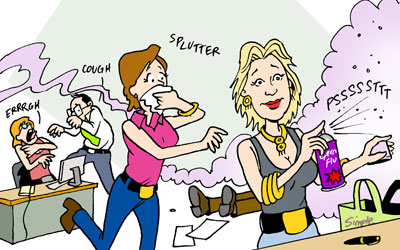 She stopped cleaning immediately and turned to Hanna, wide-eyed with fear. Hanna was holding a handkerchief over her own nose and mouth. "Thanks for your concern Hanna, but it's too late. The office germs have already got to me. I'm getting the flu too!" Hanna uncovered her face, "It's not the flu Sal, it's that spray. Look what it's done to everyone! What on earth's in it?" Sally cast her eyes around the office and saw people everywhere coughing and spluttering and racing to open the windows.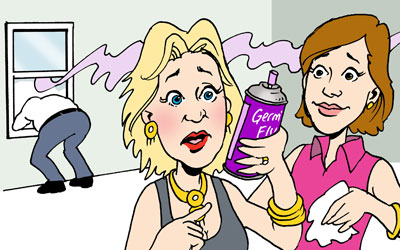 "It can't be the spray. It is hygienic!" Sally defended herself. "The man on the TV said it would kill 99.9% of all germs." Sally felt humiliated and was not impressed. "Honestly - after all the effort and money I spent trying to keep everyone germ-free, what an ungrateful bunch!" she huffed. "Look, it says right here..." Sally's face dropped, reading the label. "Kills 99.9% of TOILET germs. Do not spray in confined spaces..."
---
2. Spending Less on Cleaning
Sally loves her fancy packages. When the man on the TV said 'GermiFlu' would protect her from the flu he was telling the truth, but what he didn't say was so will the 'el cheapo' cleaners you make yourself at home. Not only will they protect you from the flu they are also safer, cheaper, more versatile, better for the planet and just as good at getting the job done. Here are some reasons to stop buying cleaning products in fancy packs at over-inflated supermarket prices.
1. Home-made cleaners are safer.
Some of the best natural cleaning products can be found in your pantry. Things such as white vinegar and bi-carb soda will get the job done without endangering the household. When you make your own cleaners, you know exactly what is in them, which greatly reduces the likelihood of a hard to trace allergic reaction!
2. Home-made cleaners are cheaper.
Using natural cleaning agents will save you hundreds of dollars every year. A large bottle of vinegar costs a fraction of the price of a bottle of Spray & Wipe. Most cleaners you buy in the supermarket are mostly water. It is miles cheaper if you add the water yourself.
3. You will have more room in the cupboard.
When you make the change to using home-made products, you will quickly find that there is a huge array of cleaners you no longer need to buy. Many natural products have multiple uses, so there is no need to go and buy separate cleaners for each task.
4. Home-made cleaners are better for the planet.
An effective cleaning product can be something as natural as a lemon, picked fresh off the tree. It contains no harmful fumes and doesn't need to be produced in a factory or lab. Home-made cleaners also use far less packaging and can be refilled any time, contributing substantially less to landfill.
5. Home-made cleaners DO work!
How do you think big companies came up with the idea to add baking soda or orange oil to their products for 'added cleaning power'? Simple, they are already proven natural cleaning agents. Unlike their chemical counterparts however, they don't need any other magic ingredients to do the job! Home-made cleaners work just as well as anything you can find on a supermarket shelf!
So start saving yourself some money and try some of these things you will already have in your cupboard.
Baking Soda (Bicarbonate of Soda) - This everyday baking ingredient also cleans, deodorises, softens water and scours.
Soap - Unscented soap in liquid form, flakes, powders or bars is biodegradable and will clean just about anything. Avoid using soaps which contain petroleum distillates.
White Vinegar - Cuts grease, removes mildew, odours, some stains and wax build-up.
For more suggestions, see our free new cleaning tipsheet.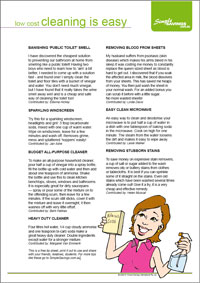 The Vault already contains a huge range of eco-safe and wallet-friendly cleaning ideas, but to make sure Vault members are getting excellent value for money, we have created the following download just for them!
---
3. Vault Download: Cleaning Tips and Recipes
We have a massive collection of cleaning hints and recipes in the Vault but as the Vault grows it gets harder and harder to print them all. So we have put together a great collection for Vault members to download, print and start using immediately.
Vault members can download the PDF file from here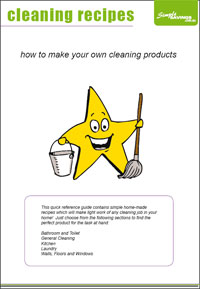 Warning: Make sure to keep all home-made formulas well labelled, stored in safe and appropriate bottles and out of the reach of children.
---
4. Sophie Gray - Rise and Shine: It's Breakfast Time
My dream breakfast is a large Lime Daiquiri served at around 11.30 am beside a pool somewhere sunny and tranquil. As far from Weetbix, toast and Marmite as it's possible to get. I used to harbour an image of a perfect family breakfast, complete with a stack of pancakes, freshly squeezed juice and lively morning conversation. Then I had a family and realised that I'd be the one making the pancakes and squeezing the juice, then I'd be doing the dishes and frankly the Lime Daiquiri got more and more appealing.
Not that I'm recommending anyone start the day with alcohol, heaven forbid! But sometimes, to be honest I just can't face things that need mixing and chewing and chopping first thing in the morning. Simply skipping breakfast though is not an option - research consistently shows breakfast eaters are smarter, slimmer and have more energy to clean their house than those who skip it. But breakfast time is bedlam in our house and years of swim club early starts have given me a healthy appreciation for a breakfast that can be sculled or scoffed on the run.
It's not only those racing out the door in the early hours that need a good breakfast under their belt; a long day on the home front can be every bit as demanding as a day at the office, school or sport. Breakfast is the fuel that kick starts our engines for the day - miss it and you'll pay for it later on.
Breakfast Ideas for Busy People
The toasted sandwich or Jaffle maker is great on cold mornings as the food cooks itself. A hot sandwich filled with baked beans, an egg or cheese can be consumed in the car en route to the pool, school or on the freeway; just wrap in a napkin and run.
The food processor makes a great smoothie, Milk, frozen berries and a banana are the smoothie basics, add yoghurt, wheat germ or bran, a spoon of malt or molasses (for iron) or spirulina - smoothies are filling and healthy.
Home-made breakfast bars are tasty, nourishing and filling. Often healthier than their commercial counterparts and significantly less expensive, pack them with dried fruit for energy and fibre, whole grains and nuts.
A handful of dried fruit and nuts can be eaten on the move and dried fruit counts in your 5+ servings a day.
Juice, fresh juice (as those with a juicer will know) is simply fantastic - you can almost feel it doing you good! Add carrot, beetroot, even spinach to a base of apple or orange. It may not always look pretty but it will taste good and be good for you too.
Smoothies
There is no prescribed formula for making a smoothie; it is simply a thick-shake style drink usually made from a combination of milk, yoghurt and fruit, although some may include ice cream (I tend to save that for desserts and shakes). You will need some sort of blender, processor or stick whiz.
Basic Smoothie - Serves 2
200ml cold milk
¼ cup yoghurt - fruity or natural
½ banana, fresh or frozen
½ cup additional fruit such as frozen berries - blueberries or raspberries, fresh berries such as strawberries in season, peaches or even apricot nectar
Honey to sweeten if required
Place all ingredients in blender and whiz to combine. Frozen banana becomes ice cream like in texture, adding natural sweetness. Berries need not be defrosted, as smoothies are best drunk cold. Any left over smoothie can be frozen in Popsicle moulds for an after school treat.
Breakfast bars
A breakfast bar should be like a portable bowl of cereal; nourishing, filling and not too full of sugar. It should contain some whole grains or complex carbohydrates for energy and some fibre. This recipe is a good foundation, you can add a topping or vary the ingredients to your taste, add some flax seeds or nuts, drizzle it with an icing or just enjoy it as it is.
5 tbsp Olivani or margarine
2 tbsp golden syrup
1 cup rolled oats
1 cup wholemeal flour
1 cup self-raising flour
1 cup coconut
1 cup dried fruit - I use ½ apricots and ½ raisins
5 Weetbix, crumbled
1 cup apple, either grated with the skin on (2 small apples) or a can of apple puree
½ cup brown sugar
½ tsp cinnamon
1 egg, lightly beaten
1 tsp baking powder
1 tsp baking soda
1/3 cup boiling water
Preheat the oven to 180°
In a large saucepan melt the butter and golden syrup. Add all the dry ingredients except the baking soda and mix a little. Add the dried fruit, apple and egg and then combine the boiling water and baking soda and fold into the mixture. Spread the mixture into a greased Swiss roll pan and bake in the preheated oven for around 25 minutes, until golden. Slice into bars and store in an airtight container. Makes 18 bars.
Banana, chocolate, hazelnut breakfast shake
This tasty shake is quick to make and seems like a treat, made with low fat milk it's actually a pretty healthy way to start the day.
1 banana per serve
200ml chilled milk
1 heaped tsp Nutella (chocolate hazelnut spread)
Place the banana and Nutella in a processor and with the engine running add the chilled milk to achieve a smooth consistency. Pour into a glass and drink while fresh.
These recipes and many more are available in Sophie's new book 'Enjoy!' which also includes delicious alternatives for those with food allergies. For details, check Sophie's website. (www.destitutegourmet.com)
---
5. Best of the Forum: Preparing for Christmas
How do you prepare for Christmas? With so much to do, it's hard to keep it all together and get everything done, not to mention keep the budget intact. However, our savvy members are determined not to let festive fever get to them this year! In the Forum, they have been busy discussing how they are getting organised early.
---
6. Penny's Blog: A Real 'Ray' of Sunshine
Sep 21, 2007
Today's quick update may not be TOTALLY related to saving money but if nothing else it might make you smile! Although - I guess you could call it one heck of a great freebie. As we toddle through life, every now and again we are privileged enough to cross paths with some truly wonderful people - a real gem and if ever there was a diamond of a bloke in Ali's world, it's his special friend, Ray McNicol. Ray is the team manager of the ACT Brumbies in Canberra. You may recall back in February this year when, thanks to Ray, Ali got to hang out with his favourite team, a lovely group of guys who all made a fuss of him. Anyway, they went back to Australia and we let them get on with the Super 14 but Ali always wanted to say thank you properly, so a few weeks ago he wrote a letter to Ray, along with the picture he took of Ali and George Gregan and thanked him for giving him the best day of his life. Well, yesterday he received a reply and it was so neat I just had to share it!
Dear Ali,
Thank you for your recent letter and photograph. It was our pleasure to have you with us at Waikato Stadium earlier this year. I have displayed your letter in the Team Room and all the players remember you and have asked me to pass on their best wishes to you. To make sure you keep supporting the Brumbies I have enclosed a training jersey for you. Be a good man for your mum and try your very best at school.
Cheers mate
Ray
True to his word, Ray had sent Ali his very own Brumbies training jersey! Now I know I'm an old softie but it just about brought tears to my eyes. What a kind and wonderful man to take the time to make such a difference in the life of a small boy. The smile hasn't left his face since and he couldn't wait to get to school this morning so he could show his class. He will get years of wear out of that jersey too, as it just about comes down to his knees but he is still wearing it with pride. What a truly nice guy! I think the Brumbies have a fan for life there - and have gained a couple more in Noel and I too!
The other thing I couldn't resist sharing today may not be entirely about saving money but at least it does mention Simple Savings. Remember Ali's secret 'big bum' story at school recently? I was finally allowed to see the full version this morning, beautifully typed out and presented in a card, with a picture of me on the cover. Inside, was the following:
My mum is 34 years old. Her birthday is in December and she is nuts about a website called Simple Savings. She has long light brown hair and a big head. Also she has short legs so if she has short legs she must be short. I think that she has a big BIG bottom. Don't tell mum I said that. Also she has a big nose.
My mum loves to say, 'make your bed Ali!' or 'draw the curtains' or else there's 'take the dogs outside'. And so it goes on. Oh here's another one 'wash your hands before you eat'. After rugby training my hands are always dirty. And also there's 'stop spending money on expensive things!'
Guess what? My mum STILL drinks wine. She hasn't stopped for five years! And another bad habit is she always forgets her handbag. Did you know she watches 'The Rich List' and 'Supernanny?' Her worst habit though is one I really hate. Pathetic cleaning. It's just a stupid waste of time.
My mum's favourite colour is purple. Her other favourite thing is dogs but she hates it when they're dirty. They are one of my favourite things too. Now here's the dislikes. She really hates rats and mice. Whenever there's a mouse or rat dead she pays me a dollar to throw it over the fence.
I love my Mum because she does nice things with us.
I'm not sure what's worse, having a big nose, big bum and short legs or being labelled an alcoholic! Even so, it's straight from the heart and I have a feeling I'm going to treasure this cheeky card for years to come!
---
7. Homeopathy Corner: How to Find a Good Homeopath
This month Fran has written an excellent guide on how to find a good homeopath near you. To read this month's article go to:-
http://homeopathyplus.com.au/book/tutorial-13.html
---
8. From Last Month: After School Activities and Low Cost Gifts for Primary Students
Last month Bernice Sandler asked:
"I'm really shocked at how much money it can cost to involve my kids in after school activities. My daughter's friends are all doing either dancing or tennis this term and I know she will be really upset if I tell her she can't do it because we can't afford it. Life with kids seems to be getting more and more expensive and we just don't seem to have the spare money. Do you have any other suggestions for providing after school sports and activities that don't cost an arm and a leg?"
We received a deluge of fabulous low-cost ideas to keep kids (and their parents!) happily entertained and motivated. While it's not possible to include them all in this newsletter, check out the ones below for starters!
Take to the water after school
A cheap activity if you live near the sea, a bay, river or lake is sailing! You can approach any sailing club which has youth sailing (in smaller sailing craft) and check if there are any crewing positions. Most of the clubs have spare equipment such as life vests you can borrow. I sailed for over a year before gradually accumulating my own life vest, boots and wetsuit through birthday and Christmas presents. Some clubs sponsor a 'try-sailing' day, contact the clubs near you to find out when the next one is!
Lifesaving after school activities with St John's
We have discovered a fantastic and worthwhile after school activity which costs just $2.00 a week. My daughter has joined the St John's Ambulance Cadets. The membership is $15, shirt is $25 and the hat is $20, meaning a maximum total of $60 per year, with a $2.00 per week charge. The first couple of weeks are not charged for, to make sure the kids like it. My daughter is learning about administering First Aid, whilst boosting her confidence and self esteem and meeting new friends. After about a term she is then able to help out at the local sporting clubs, putting into practice things she learns. So far she is really enjoying her $2.00 a week activity! To learn more and to find your nearest branch, visit (http://www.stjohn.com.au/)
Weekly ice skating lessons for $5
Ice skating is a low cost extra curricular activity and a fun way to keep active. Ice World in Brisbane has a Northside and Southside location and each school term has lessons for $5.00, including skate hire. You can sign up for the whole term or just go casually. My seven year old daughter just finished a whole term and she loved it!
Funding available to new after-school clubs
I came across the ideal solution to solve the lack of after-school activities in our small community. After undertaking some research, I found that many places (local Government, Go For Your Life, Healthy Kids and so on) offer FUNDING! Yes - free money for people to start up their own after-school or active kids' programs. So we arranged to have different sports and activities offered to the children (including bush dancing, circus skills and cooking) for little or no cost. The community has benefited immensely, as have the children and we are currently looking for more funding to continue with this program! Just type 'grants' into Google and you are on your way!
Years of fun and learning with Scouts/Guides
For great value after-school fun, my children really enjoy Scouts and Guides. They offer a wide range of activities, both at the hall and off-site visits to police/fire stations, reptile farms and national parks. They keep fit on hikes and camps, get a sense of achievement when they earn badges and learn skills that will support them through life. My son's Scout fees are $160 for the full year and this includes accident insurance, which equals $4.00 a week for one and a half hours and the occasional $5.00 for a weekend activity/sleepover. My daughter's Guide fees are $180 for the year, $4.50 a week. Fees vary from group to group and most groups will happily accommodate payment plans but I still consider this type of activity the best value compared to $500 in soccer fees or $4.50 a week to play a game of netball!
Volunteer your time and reduce club fees
You can reduce the cost of your children's after school activities by becoming a volunteer. One example is to check with your local sporting club. Our local cricket club always has trouble getting volunteers for fundraising events/activities, so members can choose to volunteer their time to reduce or eliminate their club fees. See if your local clubs have similar arrangements - it may cost you your time but not your money!
"My daughter's school has requested that no food is brought to school to share with the class on birthdays. This is because of allergy/health reasons. However some parents have been buying little presents for their child to hand around. Birthdays and presents are so important to the littlies. I don't want to add to the junk that children seem to accumulate or spend a lot of money. Can anyone suggest some low cost ideas for little but memorable gifts to suit lower primary age?"
Wow! Once again we have been swamped under an avalanche of your wonderful ideas. Try some of the brilliant tips below to make your child's birthday at school extra special!
Bring a talking book to school
A fun way to spend a school birthday is to present a popular read-along CD and give it to the class on behalf of the special child. The teacher shouldn't mind if it was listened to for 10 minutes a day as part of after-lunch book-listening time, or as an addition to the class library. They don't have to be expensive, all the kids in the class can enjoy it and it would retain its value for a lot longer than a party bag!
Celebrate school birthdays with bubbles
A super cheap and easy way to celebrate a birthday at school is to make all the children a bubble blower and blow bubbles! The blowers are easily made from pipe cleaners (your child can make them) and bubble mix is simply made from washing detergent, glycerine and water in a jar (see the Vault for recipe).
School items for school birthdays
As a teacher's assistant in a pre-primary class, I know just what little ones love and this idea makes a great low-cost way to celebrate a child's birthday on a school day! Children often go through 'fads' when it comes to toys, but something that they always love is stationery and stickers. The birthday child can decorate a coloured envelope for each of their special friends and fill each one with trendy new stationery items they can use at school! Discount shops offer sheets of stickers for $2.00 a pack that you can separate. Large school supply stores sell glitter lead pencils, or lead pencils with different pictures on them, and also small novelty erasers. You can even get 'Happy Birthday' pencils. Newsagents often have spare coloured envelopes wrapped with a rubber band; if you ask you can get about 20 of these for $1.00-$2.00. Just write the recipient's name on each envelope and fill each one with the goodies. The kids will love them and at least they will actually use these items!
Celebrate school birthdays with crafts
Celebrating a child's birthday at school does not have to involve food. Try giving the children a special activity to do instead! As an emergency teacher mostly in the lower primary area, I am always on the look out for easy and quick ideas for activities for children. Below is a list of free activity sheets that give you permission to download and make multiple copies. You can get the birthday child to make a cover for a little booklet and print a few of these pages to put into the booklet, along with perhaps a recipe for play dough or other activity for each child in the class. The only cost would be the printed pages and your child's time to decorate each page. The pages could either be stapled together or tied with ribbon. A great activity that costs very little - you could even include some of the web addresses for the pages, so the parents (and teacher) can have the benefits as well!
www.free-coloring-pages.com
www.thekidzpage.com
www.papajan.com
www.kidzone.ws
www.artistshelpingchildren.org/artforchildren.html
Cheap lunchtime 'parties' at school
A great way to celebrate a child's birthday while saving on the cost of a party and party food is to join the kids at their lunch break and hand out a few low-cost party items while they eat their regular school lunch! For example, you could take in party hats, balloons, pass the parcel and other party games. No need to provide individual presents or even a take-home party bag!
Chill out on school birthdays
A clever way to get around food allergies at school which all the children can enjoy is to hand around ice blocks. My son's school has 'no birthday food' restrictions due to peanut allergy. As his birthday falls in February, it is too hot for cake even if it was allowed. So instead I get permission and purchase ice blocks for each child. The children love them and so do the teachers - no mess to clear up!
Give 'wishing stones' to class mates
My kids recently made a lovely gift for all their friends - wishing stones! They used small rocks they had picked up on a beach walk and decorated them with paint, glitter and craft bits and pieces. Each one is individual and you can really use any size rock. My kids were really proud of what they had made and all their friends thought it was very special!
---
9. This Month's Help Request: Fast and Easy Costumes
This month Keilyn McCartney asks:
"I have three kids aged 3, 5 and 7 and we often get asked to fancy dress parties as well as needing costumes for the school 'book week' parades. I've run out of ideas and it is costing me a fortune in costumes. Does anyone have some cheap costume ideas I can stash away for next time?"
If you are the clever and craft type that has some cheap alternatives for Keilyn please submit your suggestions here
---
10. Savings Story: From Cashless to Comfortable
My husband and I got caught short recently when I got my timing wrong between paying the bills and when we got paid, resulting in us having $0 available in the bank. We hadn't done the grocery shopping for the week and it was five more days to next payday. We were going to get a redraw off the loan to get us through the week, when I thought to myself "that's not the Simple Savings way!" So I went outside to the garden and found I had a huge broccoli ready to pick and plenty of fresh herbs. I also had some spuds and onions in the pantry along with a few tired carrots that needed to be used and we have chickens, so we have eggs. I realised I had enough to make a lovely pot of boiled egg curry (my mother-in-law is from India and makes this often). The pot was big enough to last us a whole week's worth of lunches!
I also dusted off our bread maker machine and made us some lovely fresh bread to go with it. I still have some preserved fruit from last summer for desserts (and can always make some egg custard to go with it) and we have enough eggs for a couple of quiches. We get the milk delivered by a friend and our "milkie" likes our eggs and home-made jams/sauces/preserves so he is happy to trade for that and often throws in a few extra items for free that are close to expiry. So, we went from being in dire straits to being quite comfortable very quickly! We used up some old items from the pantry, that might otherwise be thrown away and we got to enjoy fresh produce from our garden. I'm also not wasting time queuing to buy something at work and I'm eating much healthier too! Thanks Simple Savings for being my inspiration.
P.S. We have also paid 20% of our mortgage off in two years - not bad for a 25 year loan! (Catherine Magraith)