"Secrets to Saving Money in Australia" Free Newsletter - August 2007
This issue includes:-
Sad Sally, Happy Hanna: Caught Short
Adding Up the Costs
Vault Printables: How to Save for Something Special
Sophie Gray: Sweet Treats for Dad
Making Father's Day Special
Best of the Forum: Gardening Gurus
Penny's Blog: Successes and Failures
Homeopathy Corner: Tutorial No. 12
From Last Month: Buying First Car
This Month's Help Requests: After School Activities
and Low Cost Gifts for Primary Students
Saving Story: Better Use of Space Saved Thousands
---
Hi!
How are you doing? This month we have an extra special announcement: Three cheers to Fiona, Matt, Jacqueline and Sam for the addition of a healthy baby boy to their family! Mum and bub are healthy and happy and Mum (Fiona) is having a well deserved month off *big grin*.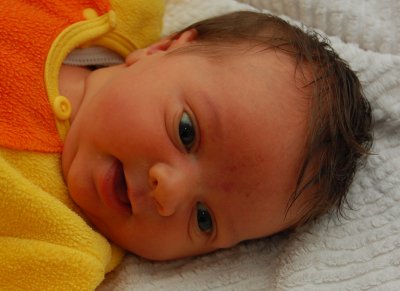 Speaking of a proud dad, Father's Day is almost upon us! We have asked Sophie Gray to teach us how to make some delicious confectionary treats for Dad. We all know the way to a man's heart is through his stomach and these are treats you can make with lots of love and not too much cooking.
Thank you for all your fantastic letters this month. Your support means a lot to all of us.
"I wanted to thank you so much once again! We had hit a financial sink hole in the last week and found ourselves with just $40 to make do for the week and having not done the food shopping for our hungry family of four, I was terrified. This caused a lot of stress fights between myself and my husband this last weekend, (my only days off this fortnight!) so ... I decided to look you up again and saw the $21 Challenge. Instead of feeling like a destitute Sad Sally, I am a Happy Hanna again and we managed to just scrape in. Not only that but we are eating well and not wanting for anything! Using tips from the past newsletters I organised the kitchen, made a weeks lunches ahead (something I scoffed at previously!) and pre-made slow cook dinners and have really enjoyed eating 'real food' again. I am extending the Challenge to make everything from scratch which will be fun as I love to cook and can't see why I didn't anyway! I now realise how much money we have been wasting since I went back to work last year from maternity leave, and knowing that money saved equals time with my family, has given me new incentive! Thanks to you we are a happy family again this week and our new motto is 'ugly food = great cook'." (Kelly Ryan)
"You are wonderful, you keep me motivated, cheered up and part of a group. July's newsletter was fab!!! Loved the article from Sophie Gray. Keep it up. When I feel a spend coming on I go to your website and the urge goes. Thank you so much for all your hard work." (Katy Bassett)
"Your site is awesome, with its many 'money saving' ideas. I thought I was fairly thrifty but I feel like I throw money away when I read some of the creative ideas you all come up with. It certainly does pay to 'think outside the square'." (Janine Hill)
"I have just become a member and have already started saving heaps. I shop at ALDI, use some of your household and cooking tips and am finding it really fun; I don't feel like I am compromising on my lifestyle. We only have one 2 year old son and I was really nervous about going for a second for financial reasons but I really feel confident that we can live comfortably on a moderately low income. I am going to have to hold you personally responsible for my decision to expand my family!" (Louise Westwood)
"I read with much appreciation all the savings tips our SS members put in. I have saved $$$ from changing the way I shop to the way I clean my house with environmentally safe products like vinegar, Sugar Soap and bi-carb soda. I love shopping at ALDI, they save me heaps. Thanks again, Fiona and the whole team, for caring about us battlers." (Arouma M.)
Thank you for your absolutely fantastic emails. It is totally amazing each month to read about your achievements.
Have a great month!
Naomi Bruvels
Simple Savings
---
1. Sad Sally, Happy Hanna: Caught Short
Sally was having a ball in the supermarket. This was turning out to be so much fun, compared to the last visit! No Hanna popping out from behind a corner, no Pete around to check her bags when she got home. She was in total control of what she put in her trolley today, so she decided she would spoil herself rotten. Sally couldn't remember the last time she had treated herself; a few little luxuries wouldn't hurt!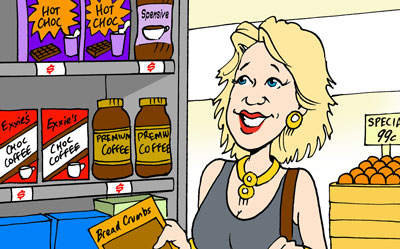 She gleefully popped a few decadent sachets of hot chocolate into her trolley, along with some cute little individual packets of cheese and bikkies for her lunches. She even threw in a handful of packet sauces - what the heck. Besides, it was only a dollar extra here, 50c there. So what if her bill ended up costing an extra $10 this week? It was hardly going to break the bank. After all, she had $50 more than last time to play with!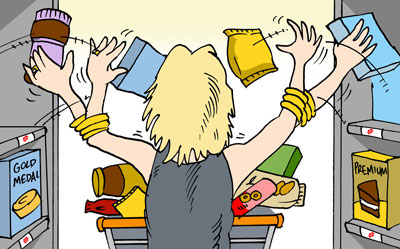 Sally bounced her way around the supermarket, helping herself to more bits and pieces as she went. She had $240 in her wallet and she was feeling rich! At last she reached the checkout and pulled out her wad of cash with a flourish. "That'll be $298 please," smiled the cashier. "What?" Sally replied, stunned. "Er - right, of course!" She tucked the notes back in her purse and fumbled around awkwardly for its hidden pocket before handing over a plastic card. "Do you take Visa?"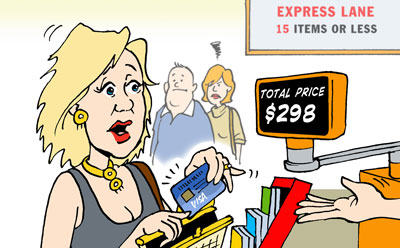 ---
2. Adding Up the Costs
Sally just made a classic mistake we all make. One dollar always seems like such a small amount, fifty cents here or there seems like nothing most days, then before you know it the budget is completely blown. Your wallet is empty or even worse, you have to reach for... "THE CARD"!!!
It is such a common mistake but how you can protect yourself from falling into the same trap and being left with that scary sensation of 'Where did all my money go?'
The way you safe guard yourself is to look at the bigger picture and swap the big picture price for the amount on the price tag.
The big picture price is the yearly cost of an item. Not just financial costs, but the costs to your family. If you were to buy those goods every day, week or month what would the total amount be at the end of the year? After you've worked out the amount, sit down and think about all the different things you could buy or do for your family with that money at the end of the year.
For example, if you spend $3 on coffee every day. That is ($3x365) $1095 you won't have at Christmas. That is $1095 you can't pay off the mortgage, spend on a holiday or decadent presents. So don't just think of the coffee as a $3 cup. It is now a $1095 cup of coffee. This is the big picture price.
This is a skill worth learning and practicing every day till it is a sub-conscious reaction. The way you do it is to multiply daily spends by 365, weekly spends by 52 and monthly spends by 12. Then dream up lots of big things you could do with that money instead of spending it right now on something tiny.
For example, one dollar extra for lunch each day costs $365 per year. $365 would pay for a fantastic weekend away at the end of the year. What would you prefer? A fancy lunch or a weekend away?
Here is a table so you can see how quickly little amounts add up:-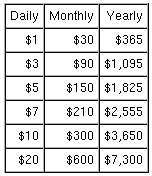 So if you want to save yourself a lot of money, start paying attention to the small amounts. By putting a little bit aside every day you can save yourself enough for a great treat at the end of the month or something really special at the end of the year.
---
3. Vault Printables: How to Save for Something Special
To help you learn the 'big picture' cost of little items in your life, we made Vault members a poster to print out and stick on their fridge. I hope it inspires you to become a smarter shopper and save loads of money. (It is also great for other family members who, no matter how much you ask them to curb their spending, struggle to embrace the idea.) Print it out; pop it on your fridge and SAVE!!
Vault members can download the poster from here

---
4. Sophie Gray - Sweet Treats for Dad
Sweets have been part of food culture since - well, since kids anyway! The allure of sugary, sticky stuff is hard wired into our genes and while some of us grow out of our love of lollies with age and wisdom - some of us don't. For example, I recently attended a women's conference where each attendee was given a dainty little box of home-made coconut ice. During the break I overheard many women saying, 'Ooh, how lovely - I'm going to save this to share with the family,' or 'my kids will just love this when I get home.' Not so myself. I had to keep changing the subject and mumbling my replies because I'd scoffed my whole boxful before we got through the opening speeches!
There is a definite nostalgia factor with home-made sweets. Not much has changed at the school or church fete since I was jostling my way to the front of the sweet stall queue clutching my coins. It's still a cavity inducing sugar rush of childhood favourites like coconut ice, fudge and rocky road, honeycomb and toffee apples, with maybe some treacle toffee, or peanut brittle for good measure. The no-cook nature of some of these sweets means that the kids can easily whip up a batch for Dad or Grandad for Father's Day or help out with the sweet making sessions for the next school fete!
Cook's Tip:
Sugar, condensed milk and flavourings are all inexpensive. Nuts and good chocolate however can significantly push up the price of what you are making. Buy ingredients according to your market - the more discerning the recipient, the better quality the ingredients need to be.
Chocolate Tips:
For home chocolate moulding, the most commonly used chocolate is compounded coverture, sold in retail form as chocolate melts. Made with vegetable fat instead of cocoa butter, compound chocolate is more heat stable than true chocolate. It does not require tempering and can be refrigerated or frozen without the fat solids rising to the surface and creating a 'bloom' (the white powdery look you sometimes see on real chocolate products that have melted and then hardened again). Compound definitely loses something of the flavour of real chocolate and has very little aftertaste, so personally I never use it in a recipe that asks for chocolate - if I'm eating all those calories I want every molecule of chocolate flavour going! But compound has its place, it is easy and fun to work with and when melted can be thinned with a little Copha or Kremelta if it is too thick for your purposes.
Real chocolate must be handled carefully - it will melt in the palm of your hand so doesn't require much heat at all to reduce it to liquid. In fact if heated too much, or too quickly, chocolate will 'seize' causing it to become stiff and granular and at that point pretty useless. Melt chocolate very gently in a heatproof bowl placed over a pan of simmering water. In some recipes chocolate may be melted directly over heat if butter or cream are present, as the high fat content will help prevent the chocolate from seizing.
Chocolate that has been melted and then re-set is likely to develop a bloom unless it is 'tempered'. Tempering is a fiddly process which I won't go into here. When it comes to chocolate sweets, you need to decide what is more important to you; flavour or appearance. Compound chocolate is inexpensive and won't bloom but is not particularly good to eat - although the kids don't seem to care. In comparison real chocolate may bloom, which can spoil the appearance but boy, it'll taste good. You decide!
Rocky Road
Rocky road can be made a simple sweet treat or a sophisticated indulgence by simply adjusting the ingredients. If you are making it with grown-up gift giving in mind, use luxurious nuts - pistachios, macadamias and pecans spring to mind. You could also add cranberries or Craisins (dried cranberries) and use good dark chocolate. If it's for the fete or a kids' party treat, then peanuts or mixed nuts will be less expensive and they probably won't notice if you replace the good quality chocolate with chocolate melts.
270g good quality dark chocolate - or chocolate melts
2 tbsp Copha or Kremelta
1 ½ cups unsalted nuts, coarsely chopped
180g marshmallows, cut in chunks - use mini marshmallows if you prefer
1/3 cup red glace cherries, halved
Put the chocolate and Kremelta into a heatproof bowl, place over a pan of simmering water and gently melt, stirring frequently until the chocolate becomes liquid.
Stir in the nuts and cherries and lastly the marshmallows, handling the mixture as little as possible so as not to melt or squash the marshmallows.
Spread into a pan lined with non-stick paper. You can spread it as thick or thin as you like (I like it thick!). Neaten the edges and refrigerate until completely set before cutting into squares.
Cook's Tip: Make Rocky Road 'Christmas Puddings'
Mould the rocky road in little cups or small bowls. When set, turn upside down and drizzle with thick melted white chocolate and top with a red cherry. Wrap each in cellophane and give as gifts.
Chocolate Scrunch
Scrunch has an engaging crunchy texture and is super easy to make - kids love it and it goes well with coffee too.
200g dark chocolate
1 cup rice pop style cereal
½ cup desiccated coconut
¼ cup dried apricots, finely chopped, or other dried fruit
Put the chocolate into a heatproof bowl, place over a pan of simmering water and stir frequently until the chocolate has melted.
Fold in the rice pops, coconut and dried fruit and mix well.
Tip onto a tray covered with a sheet of non stick baking paper, and spread with a knife or spatula to a thin, even layer. Neaten edges then refrigerate till set. Cut into squares.
Place melts in a microwave safe bowl and microwave on medium for one minute, stir and repeat until melted, or place a heatproof bowl over a saucepan containing a small amount of simmering water and stir until melted.
No Cook Coconut Ice
Classic pink and white coconut ice is very easy to make. It's tooth shatteringly sweet and colour coordinates beautifully with party food, princesses and anything else with a pink theme - Valentine's Day, Pink Ribbon Day, Sweet 16.
Makes approx 26 squares
1/2 can (approximately 200g) sweetened condensed milk
2 cups desiccated coconut
2 cups icing sugar
1 tsp vanilla essence
Splash of raspberry flavouring
Splash of red colouring
Place the condensed milk into a large glass bowl. Add coconut, icing sugar and vanilla and mix until well combined. I work it with my hands, kneading it together.
Divide the mixture in half. Place one half on a sheet of non-stick baking paper sprinkled with coconut. Roll out to 1cm thickness, shape and neaten as you roll.
Add the flavouring and colour if using, to the remaining mixture and roll out in the same manner. Place the coloured portion on top of the uncoloured portion and press together firmly. Chill then cut into squares.
Sherbet Dabs
This good old classic requires no heating, so is a safe sweetie for younger cooks to make. We used to buy sherbet dabs consisting of a little paper bag with sherbet in the bottom and a lollipop or candy stick to dip in. Sherbet is great sprinkled on ice cream, sucked through a straw or even just licked from a spoon!
1 cup icing sugar
1 tsp baking soda
1 tsp citric acid
1 tsp tartaric acid (sold as cream of tartar)
2 tbsp powdered fruit drink concentrate
8 small paper lolly bags
8 lollipops or candy sticks
8 stickers
Crush or grind citric and tartaric acids to a fine powder with a mortar and pestle or the back of a spoon. Place all ingredients in a plastic bag and shake to combine. Store in an airtight container. To make sherbet dabs, place sherbet into small paper lolly bags, add a candy stick or upside down lollipop. Close the neck of the bag around the sweetie and seal with a sticker. The sherbet is then eaten by dipping the candy stick or lollipop into the sherbet then licking it off.
Sophie Gray is the author of four decadent frugal cookbooks. For more information about Sophie go to:- www.destitutegourmet.com.
---
5. Making Father's Day Special
You don't have to spend a fortune to show someone how much you love them. Try one of these ultra-cheap, but ultra-thoughtful Father's Day gift ideas from our members' tips in the Savings Vault.
Special CD just for Dad
With a little help, my kids have made a meaningful and inexpensive gift for Fathers Day. They have made a CD for him to play in his car. On this CD, they sing songs, tell jokes, tell him why they love him and why he is the best Dad and so on - it's fantastic! It was so easy; the kids are now making CD's for their grandfathers too! To make the CD, you will need: a computer hooked up to the internet and which has a CD burner, a microphone, a blank CD and a sound recorder program. You can use Windows Sound Recorder but each recording can't last any longer than 75 seconds. Instead, I used Audacity http://audacity.sourceforge.net/download/ which is free to download from the internet and appears to be unlimited in the length. Save (or export) each of your recordings as .WAV files. Then burn them to your CD. The kids had stacks of fun making it and we now have a precious gift for their father.
http://audacity.sourceforge.net/download/
A gift of fatherly advice
A great gift for Dad is to email friends and family who have children either at the same age or older and ask for them to give a short tip or piece of advice for surviving fatherhood in the upcoming year - I did this for my husband when we were expecting our first child. The responses were great - some funny, some serious. Our daughter is now three and we are expecting baby number two - I think it's time for some new tips for Dad! It's cheap to print out the replies, have children decorate them and either make into a book or slide into a plastic leaf file for a personal, entertaining and useful gift!
Clean car makes great gift
For an inexpensive Mother's or Father's Day gift, wash and valet your parent's car - it costs little and they will love you for it! This year I was at a loss for gift ideas for Mum that wouldn't cost a lot but would still be appreciated. I planned with my dad to take Mum out for the day and leave me her car keys, so that she would have a lovely surprise when she came home. I set to work cleaning the car thoroughly inside and out, including removing and washing the seat covers, vacuuming, cleaning the interior trim and upholstery, washing and polishing the exterior, and shining the tyres. To finish it off I bought a nice smelling air freshener.
I had all of the car washing supplies at home, so didn't have to purchase any; although you can buy them for next to nothing from discount shops, or alternatively the Vault has some great tips on creating your own. The only expense was my time - it did take the better part of a day, but my mum was thrilled! It is one of those chores that we all seem to put off doing, so she really appreciated the effort I had put in. As an added sentimental touch, you can write a nice little note and stick it to the sun visor to make them smile the next time they get in the car.
A gift of time
The most simple gift idea is to just ask your dad what he wants to do and join him! My dad is always asking us to go for a coffee with him or come and visit at his house and we usually don't have the time. This is probably the best present you can give many dads, and they'd enjoy it much more than a gift!
Gift for a day
Try this idea for a free, yet personal and special Father's Day present that gives a chance for Dad to have a well deserved break!. All you need is a large cardboard box which you could get from a supermarket for free. Place the box in the middle of the lounge room and wrap it in brown paper. Tie a ribbon around it and add a small hand-made card cut out in the shape of a person. Inside the card write - 'To Dad/Grandpa, for one day'. As they open the box, out jumps the child or grandchild! The child's job is to do odd jobs for Dad for the day - these could include washing the car, weeding the garden, or just behaving! This could be the best present ever and is made with love.
Go fishing with Dad
If your dad likes fishing, take him out for a fishing afternoon. Supply bait, rods, fuel, snacks, beer! Have a great time together, you can minimise the cost (a great afternoon with food and drinks for under $20) and it is sure to be much more memorable for Dad than the gifts he usually gets. Don't forget to take some photos of the trip, get some enlarged and frame them for him afterwards as a reminder.
Hand-made bookmarks
We have made some gifts for the Father's Day stalls at school. The best gifts we made were some bookmarks. We found some poems about fathers on the Internet and used some clipart for the pictures. We laminated the pages - you can get about eight bookmarks to the page. Then we cut them out and use a hole punch to add a home-made tassel. They look great and are very inexpensive - especially if you have a friend with a laminator.
For the ones we made for the fathers in our families, we added photos of the kids and had them write a personal message on the back of the bookmarks before they were laminated. A great gift - something to treasure. Much better than socks, jocks and hankies!
Make a 'Daddy' gift pack
For a cheap, home-made gift that most men will appreciate, why not put together a few low cost items in a gift pack. My dad loves fishing on his boat, so I've made up a cheap pack with a few 'little' things in it like a tide chart, a waterproof bag for all of his things and a picture book of different fish. I also looked on the maritime website to see what sizes the different fish need to be and wrote these into his book. Now he can go fishing and instantly tell if he needs to throw the fish back! It's a cheap hand-made gift that he will enjoy!
Sweet box of messages
Make a special box of love for Father's Day. Go to a local gift shop and buy a small, colourful, inexpensive, cardboard box. Cut small pieces of paper (such as coloured foil gift wrap) about one inch by half an inch and into about 30 pieces. On the back of the paper, write a cute or special thing you want to thank Dad for and remind him of.
For example:
'Thanks for taking me to the soccer game.'
'I love how you cook my steaks medium rare on the BBQ.'
'I love you for being my dad.'
Each time Dad opens his box, he pulls out a sweet message just for him! You can't get something more precious for any less money!
Write a letter for Dad to treasure
The best present my dad ever received cost me nothing. After years of receiving licorice, black jelly beans and rocky road for Christmas, birthdays and Father's Day year after year, Dad had to admit his gift list had got a little boring!
So, last year, I sat down on a Saturday and devoted the whole day to writing my dad a letter. I wrote about the benefits of being his daughter and how he had influenced my life by the man that he is. I also wrote about the ways that I see him coming though in my life now. When I gave it to him, I wished that I had done it years earlier. He was incredibly touched and now treasures that letter more than any other gift.
The fact that it cost nothing (except some time and emotional connection) was a bonus. I'm just glad I was able to tell my dad how much he means to me.
It is super easy to make Dad feel really special on Father's Day. Download some of our free snappy vouchers and printables from:
Or for special ideas to pamper your dad check out these clever suggestions:
---
6. Best of the Forum (for Members): Gardening Gurus
Spring is almost here, and gardeners are itching to get outside and plant something! If you are keen to try and become a little more self-sufficient and grow your own fruit and vegies check out some great ideas from our members in the Forum, in the 'Gardens and Backyards' section.
Our experienced member of the forum, 'H', inspires members to unite and share greenthumb tips or solve members' gardening problems. It's the second part to this thread 'SS gardening gurus unite! What have you done today?' as the first one was so popular!
From novice to expert gardeners, members share what they are planting each month and what their families have found most rewarding to grow.
Learn from others what their favourite staples are to grow in the vegie patch and which varieties produce the biggest yield.
If you are a beginner gardener as well you might find some helpful tips that members are sharing to get up and going ready for Spring!
Find out where our members get their spring seedlings the cheapest
Put your thinking cap on and discuss items that you usually buy at the supermarket and see if you can grow them yourself!
Join our gardening gurus and read more tips from the Forum below:
---
7. Penny's Blog: Successes and Failures
Aug 6, 2007
It seems we have a junior Simple Saver in our midst! The boys' school has recently introduced fee-free school banking through the National Bank and all the kids in Liam's class were required to take a mini banking exam to see who was the most suitable to act as school banker. Liam was the only one in his class to get 100%, earning him the right to record and look after all the other kids' deposits every Tuesday. This Thursday he has been invited to the local branch to get shown all the workings of a real bank and have morning tea with the 'real' bankers. A proud moment for this SS mum and I can't refrain from dropping it into conversation with the other school mums - 'My son's the school banker you know!' It makes me chuckle as it reminds me of a rather well-to-do woman who was the mother of an old school friend in England. I bumped into her a few years later and asked what her daughter was up to these days. 'Ah yes, well she's working in the music industry you know,' I was told loftily. Turned out she was working behind the counter of Our Price record store! Anyway, whether he remains in the 'financial industry' or not, hopefully both my children will grow up to be sensible with their money much earlier in life than I did. It shouldn't be too hard, considering Simple Savings is such a big part of our lives. Mr Patel has said for years that Ali will be a bank manager one day, as he is so good at spending other people's money and not his own. This weekend is Liam's birthday and he is hoping to raise enough birthday money to buy his own calf. It might sound a strange choice but he knows that if he spends $80 - $100 on a beef calf, in two months' time it will have trebled in value for very little effort on his part. Smart kid and a definite bonus of living in the country!
As a Simple Saver, I'm always striving to do better (don't we all!) and sometimes I forget just how well I am really doing. Take the power bill for example. I was talking to some other mums at the school gates last week and they were talking about how high their power bills consistently were - often around $400 a month and on occasion it had hit $500. I couldn't believe my ears and was hoping they weren't going to ask me how much my power bill was because I would have been really embarrassed. Unfortunately they did ask and I had to admit that it hadn't reached over $140 all year. In fact, when I went home and checked all the power statements (which are paid by direct debit) I saw that we had actually been in credit for the past two months, due to the power company over-estimating our usage! I asked the other mums the usual questions - did they use a tumble dryer, were they running an old fridge or freezer but they swore this wasn't the case. This month's power bill is due tomorrow and is a grand total of $49.41! I always thought I ran my fair share of appliances but obviously not such expensive ones as they do, and/or not so often. We also have a wetback, which I imagine makes a significant difference to our hot water bill but even so, we only use cold water where possible. For those not familiar with the term, a wetback is a pipe system set up at the back of your log fire that allows water to be heated when the fire is going. This is then transferred via the piping to your hot water cylinder. Wonderful invention but even so, I'm amazed that it would make such a significant difference to our power bill compared with the others I spoke to. Whatever the reasons, we must be doing something right!
Before I come across as sounding too smug however, I must just add that I haven't been doing EVERYTHING right over the past week. The first two weeks I started keeping my dockets from Mr Patel's, I was pleasantly surprised but I have to admit looking at the dockets from the last seven days, I made some crap decisions. I am so embarrassed to admit this - do you know how much I spent on non-essential items? $51.24! I ended up with everything in my basket from a mini microwave pizza to a packet of Toffee Pops. $13.24 was on unnecessary drinks and over $17 was spent on magazines. I couldn't resist picking up the latest copy of Super Food Ideas because the front page caught my eye about stretching meals twice as far but come on Penny, you don't need a magazine for that when you've got the Vault and the Forum! It's the first copy of Super Food Ideas I have bought this year and already it's been put on the shelf with all the others I have ever bought, doubtless never to see the light of day again. On the plus side, there is at least a yummy sounding recipe for Lentil and Vegetable Soup which will use up a sad parsnip in the fridge so at least it has been of some use.
However, I am really cross with myself for wasting more than $50 so needlessly - all those little bits certainly add up! So in order to redeem myself I am going to do a $21 Challenge next week. I would have done one this week but have already made a menu plan and bought everything I need, so next week will be all systems go. I am hoping a Challenge week will also be good for the waistline because if I keep going the way I am at the moment, I'm going to be the size of a house. I received my copy of the new cookbook I won last week - it's called Jo Seagar Cooks and it's absolutely divine. Straight away I felt an uncontrollable urge to whip up her Banana Butterscotch Pudding and polished most of it off myself. Then yesterday I got Sophie's new 'Enjoy' book out and spent most of the afternoon in the kitchen making chocolate and berry Brioche and Mars Bar Slice. The Brioche recipe is actually called Breakfast Brioche but on sampling the results I have been having it not only for breakfast, but for morning tea, lunch, afternoon tea and supper. I can't believe I made something so wonderfully tasting all by myself! Talking of Sophie too, her website has had a revamp and it's looking great! It has all sorts of new freebies on it, so even if you haven't been able to get your hands on Sophie's books, you will now have plenty to go on. No doubt I will be using a lot of these recipes to get through next week's Challenge!
PS - Thank you to everyone for all your carpet saving tips after my SOS in the Forum! I am pleased to say with your help it looks as though I have managed to save my carpet - *huge sigh of relief!*
July 2007
30th - Back into the groove
August 2007
3rd - SS Superwomen :-)
16th - Some days you step in it, some you don't...
21st - Everyone's an expert
25th - When mums DO know best...
---
8. Homeopathy Corner: Tutorial No. 12
This month Fran explains the differences and similarities between Homeopathy, Conventional medicine (allopathy), Bach Flower remedies, Tissue Salts, herbalism, vitamin supplements and naturopathy. To learn more follow the link:-
http://homeopathyplus.com.au/book/tutorial-12.html
Advance Notice: Fran will be speaking on homeopathic help for childhood ailments, immunisation for childhood diseases, and the treatment of vaccine damage at the Keeping Them Healthy Seminar presented by the Do No Harm Initiative Inc.
When: 28th October 2007
Where: North Sydney Anzac Memorial Club, Cammeray
More information: http://d-n-h.org/coming.php
---
9. From Last Month: Buying First Car
Last month Veronica Berenike from South Australia asked:
"I'm looking to buy my first car but I don't know where to start. I want something reliable without paying a fortune. Do you have any suggestions? Where should I start looking? When is the best time to buy and how do I make sure I'm not going to get ripped off. Thank you for your help."
Your responses have been so astute and helpful. It really goes to show that you are all very clever at finding the best value for money - well done!
Tips for buying your first car
Your first car is like your first kiss, remembered with affection but not necessarily the best you'll ever have. Before you buy, know what you want and do test drives at a car yard. Big/small, new/second hand, economical, manual/auto, sedan/hatch, airbags or not, whatever you decide upon, get it checked mechanically by RACV (or equivalent) before you hand over the cash. Talk to their mechanics about reliable models and their assessors about which are the cheapest models to fix. Avoid high kilometres and use a magnet on the panels to see if it has been smashed. The magnet won't stick to body filler. Colour discrepancies are another giveaway. See if there are books for its history and check for rust. A little rust on the surface can hide a lot underneath the paint. Look for oil leaks; ask for the car to be cold when you try it the first time. Check the tyres for tread including the spare and make sure there is a jack.
Advertise on a notice board
Everyone wants to buy a used car from a 'little old lady', so why not see if your local retirement village has a notice board available for people to browse. I work at a hospital and we have a large notice board in the entry foyer where people list all sorts of things for sale, including cars. You could even advertise for one yourself using the notice boards of retirement villages, hospitals, universities and TAFE colleges for free.
Avoid the cost of a car completely
If you are thinking of buying a car you should ask yourself first if you really need one! Consider the following:
1. Public transport is growing every day (breakdowns are not as common as depicted).
2. Cars can have a big impact on the environment.
3. Every day I see the majority of cars with only one person in them, surely there is someone in your company that you can split the costs with by car pooling.
4. Get a 'little old lady' trolley. I do all my shopping with this. It has the added benefit of not using plastic shopping bags and not spending too much as there is space limitations.
5. Bicycle around for your health and the planet.
Bargain car deals need research
When you are looking to buy a car be sure to compare price, condition and demand for what you are looking for and you may find a real bargain! Start with finding out what the going price is for the make and model you are interested in. You cannot bargain if you don't have this starting point.
Be firm with your offer at the price you are prepared to pay. Leave the offer with your telephone number if necessary. It's a buyers' market and you must operate with this in mind.
Ex-government car for better value
I purchased a 2004 Holden Commodore Executive for $14,500 with an odometer reading of only 59,000. All I had to spend was an extra $600 to make it roadworthy. So in total I only paid $15,100 when the same car would have cost $21,000 or more from other auctions. Ex-government cars are also most likely to be found in better condition than privately owned vehicles. To find your nearest government car auction site go to http://www.manheimfowles.com.au/
End of year run out bargains
If you are not too fussed about what colour your car is you can often purchase a demonstration car at dealerships' end of year run outs. They are usually fully optioned and have low kilometres. An almost new car for far less!
How to find a cheap, reliable car
We purchased a rather ugly but mechanically sound older car for only $700 by asking our local mechanic. Quite often they are aware of cars for sale and if they have worked on the vehicle they know the vehicle's history and any problems. Our mechanic had done all the work on the car for the past 10 years! It was a win for everyone - the owners didn't have to pay a dealership to sell, or a mechanic to do the work getting it road worthy, and we got a cheap, reliable car. You can be fairly sure the mechanic won't lead you astray because the only thing he has to gain is a loyal and appreciative customer.
View more great ideas about buying cars from our links below or check out our Vault section here
---
10. This Month's Help Request: After School Activities and Low Cost Gifts for Primary Students
This month Bernice Sandler from Brisbane asks:
"I'm really shocked at how much money it can cost to involve my kids in after school activities. My daughter's friends are all doing either dancing or tennis this term and I know she will be really upset if I tell her she can't do it because we can't afford it. Life with kids seems to be getting more and more expensive and we just don't seem to have the spare money. Do you have any other suggestions for providing after school sports and activities that don't cost an arm and a leg?"
If you would like to help Bernice find some affordable after school activities please post your welcome suggestions here
And Liz Irwin asks:
"My daughter's school has requested that no food is brought to school to share with the class on birthdays. This is because of allergy/health reasons. However some parents have been buying little presents for their child to hand around. Birthdays and presents are so important to the littlies. I don't want to add to the junk that children seem to accumulate or spend a lot of money. Can anyone suggest some low cost ideas for little but memorable gifts to suit lower primary age?"
If you have any suggestions which could help Liz, please send them in to us at www.simplesavings.com.au/donatehints
---
11. SAVINGS STORY: Better Use of Space Saved Thousands
By spending just five to six hours of our time we saved between $1100 and $2800 on a new wardrobe. Instead of buying more storage space we had a good old fashioned clean out. We thought that because we couldn't fit all our things in our walk-in-robe it had become too small for our needs so we would need to extend or make it bigger. I arranged quotes with several companies that ranged from $1100 to $2800 - and that was just for a basic fit out. So instead my husband and I decided to empty it out completely and sort through our possessions. By the end we had around twenty shopping bags of clothes, shoes and accessories to be donated or recycled (plus dozens of coat hangers) and had nearly filled our recycle bin with papers, cards and other mementos that we no longer wanted to keep. After a thorough cleaning and rearranging what was left neatly back in the wardrobe, we were amazed that it is quite big enough already! We even managed to put some extra items in there as well, creating more space in our spare room. The best part though is that I have taken some of the better clothes to a recycle shop and have already received $50 for some items that sold immediately.