"Secrets to Saving Money in Australia" Free Newsletter - July 2007
This issue includes:-
Sad Sally, Happy Hanna: Keeping Up Appearances
What Does Your Trolley Say About You?
Sophie Gray: Posh Nosh for Not Much Dosh
Best of the Savings Forum
Surviving the Winter Doldrums
Penny's Blog: Ignorance is Bliss
Homeopathy Corner: Prevention is Cheaper Than Cure
From Last Month: Limes and Cubby Houses
This Month's Help Request: Buying First Car
SAVINGS STORY: Unloved Property Becomes Dream First Home
---
Hi,
I hope you are having a fantastic month. I'm very big, fat and pregnant. Bub number three is due any day now. *fingers crossed*
Also on the way are the next batch of Simple Savings Bags. We have already sold nearly half of this batch and expect to run out fairly soon. The bags are purple with light green print. Click here to look at the bags, see the new prices, order and find out more.
I really hope you love the bags and they help you save buckets of money. I carry mine around to remind me to stay focused and it is even working through my muddle of pregnant hormones while walking through baby shops. I find myself putting items back on the shelf and Matt is very impressed when I come home empty handed. It is amazing how one little bag is saving me so much money.
It is also astounding how this site has grown. Your amazing emails make me grin from ear to ear.
"I have very recently heard about your site and thought I would take a look. I was surprised by the amount of information accessible to first time visitors and have bookmarked you to show my husband. Congratulations on the fantastic job you are doing." (Leanne Bassett)
"I just wanted to write a quick note to thank you for the amazing job you do in providing such a wonderful website. I have only discovered SS recently and although I had already commenced on debt reduction on my own, your website has given me so much advice, help and inspiration. Because of this, I have paid off my credit card debt and have been able to save for a trip to Thailand to do volunteer work. I am so relieved I have been able to pay cash for this holiday rather than going into further debt." (Jackie Averay)
"I just wanted to thank you for putting together a great site, I love getting the newsletters. I have recently bought my first house so all the savings tips I can get are greatly appreciated. I actually find it a challenge and get excited when I come across little savings tips and ideas. I am now saving my pennies to go to Italy... with help from Simple Savings." (Joanne Martin)
"I happened to stumble across this website and I love it. Thank you so much. It's full of great ideas that are easy. I can't express my appreciation on how much you have helped me. Thank you." (Leanne Rose)
Congratulations everyone! Good work.
Many grins,
Fiona
---
1. Sad Sally, Happy Hanna: Keeping Up Appearances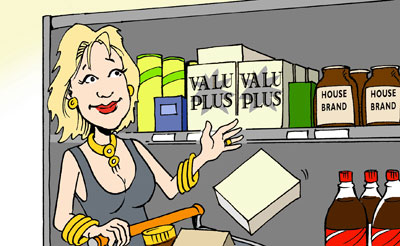 Sally was in the supermarket, doing her weekly shop. Pete will be so proud of me, Sally thought to herself. Her trolley was full of black and white goods. Gone were the pretty packages, semi-prepared meals and fancy boxes, if anyone looked in her trolley they would think... she and Pete didn't have two cents to rub together!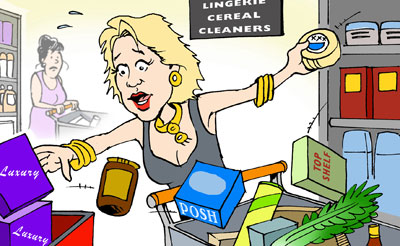 This sudden revelation sent Sally into a mad panic - the thought of it was too much for Sally to bear. Everything Hanna and the girls had told her suddenly flew out the window as she quickly picked up a big packet of Dorito's, two jars of Chicken Tonight, a frozen meal and Scooby Doo yoghurts to pretty up her trolley. Sally sighed with relief - now that looked better! Now she looked like she had money.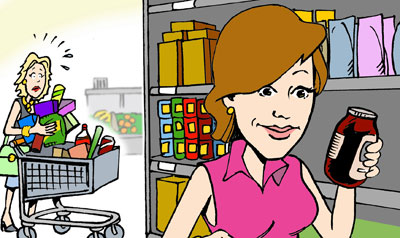 Sally was admiring her trolley when she looked up to see Hanna was right in front of her. 'Aaaaahh! What is Hanna doing here?' Luckily for Sal, Hanna was reading labels and hadn't seen her. Sally quickly reversed back around the corner and shoved all the expensive items back on the shelf just in the nick of time. Hanna strolled around the corner, Sally smiled nonchalantly, "Fancy meeting you here, Hanna!"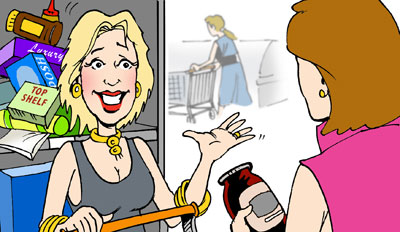 ---
2. What Does Your Trolley Say About You?
Sally's paranoid behaviour in the supermarket may be a little extreme for most of us, but she is right about one thing. Although the contents of our trolleys are not scrutinised by every fellow shopper as a rule, there is a general misconception that if ugly boxes are going into your trolley then ugly food is going to arrive on your table. Or even worse - you are going to end up ugly if you eat it! This is not true.
An ugly trolley is a sign of a fantastic cook
When you are cooking your own nutritious food from scratch, the only thing you need to buy from the supermarket are the base ingredients and it makes sense to buy home brand flour, sugar, or whatever. These are the staple things that everyone needs and they come in ugly boxes. It is up to you to make something special with them by mixing the ingredients with fruit, vegetables, spices, meat and gourmet goodies when you get home.
Unfortunately for a brief moment Sally forgot that she is learning how to cook and fell back on her bad habits, but how did Sally get into these bad habits to begin with? Why is it that people think brightly coloured packages are more desirable?
Once upon a time, we were hunters and gatherers, picking magnificent ripe fruit from trees. The brighter the colours, the higher the nutritional content of whatever we picked. So you see, we are actually genetically hard wired to pick up brightly coloured food. Bright is appetising! Bright is tasty! Bright is nutritious! However, while this logic works well when you are out in the forest, it can't be trusted in the supermarket. Yoghurt, cereal and muesli bars are classic examples of this phenomenon.
The ugliest yoghurt is the most nutritious
For this one, we are comparing the boring packaging of Vaalia yoghurt with the beautiful technicolour, cartoon covered Hi-5 character yoghurts. The character yoghurts cost an extra $1.60 per kilo compared to making your own, but how do they stack up nutritionally?
Let's compare a tub of raspberry Hi-5 yoghurt with mixing Vaalia Natural Low Fat yoghurt with some frozen raspberries. When you mix it yourself it has nearly half the sugar, half the fat, more protein, 30% less calories and two more types of live cultures. It is also cheaper.
The hidden surprise from the character yoghurts is the quantity of sugar. 16.3g of sugar per 100g of yoghurt. That is a bit like adding three teaspoons of sugar to a tiny 85ml glass of milk! So, even though the character yoghurts look brighter and more appealing, making it yourself is the healthier option.
The ugliest cereal is the cheapest
To show you how easy it is to lower your grocery bill, try purchasing your cereal in ugly boxes and turning it into something special. We have compared the cost and nutrition of buying Sultana Bran to buying Weet-Bix and sultanas and mixing them yourself at the table.
We chose Sunbeam sultanas and Home Brand Wheat Biscuits because they are both made in Australia and preservative free. They have almost equal calories and protein, but Sultana Bran has 40% more fat, three and a half times the salt and, as advertised twice the fibre of mixing Home Brand Wheat Biscuits (70%) with Sunbeam sultanas (30%). Mixing up your own Home Brand Wheat Biscuits with sultanas instead of buying Sultana Bran will save you $4.70 per kilo. That is a pretty significant saving. If you are eating one box of cereal a week, this one small change will save you $5.00 per week. That is $260 per year!
The ugliest muesli bars are the best value
Yesterday, I picked up a gorgeous looking box of Uncle Toby's Chewy Apricot Muesli Bars and it made me feel special, but this morning I opened the box and got a very rude shock to discover how little there was inside. Then I sat down and did the sums and found that my 'feeling special' moment had actually cost $19.40 per kilo!
If I was to use this home-made muesli bar recipe from the Vault instead, my trolley might have looked boring with a load of plain, unattractive ingredients but at least I would have only been paying $3.50 per kilo for muesli bars, saving me a whopping $15.90 per kilo!
So next time you are shopping, remember; Smart shoppers have boring trolleys
---
3. Sophie Gray: Posh Nosh for Not Much Dosh
Before I evolved into a Destitute Gourmet, I began my career as a chef. Understandably, I like fine dining - a lot! Fine dining doesn't just mean restaurant food though. I like to do posh dinner parties too and let's face it, often you can have a nicer time with friends at home than if you go out. No parking or babysitters to worry about, everyone is much more relaxed and it costs so much less than eating out.
Dinner parties are fun and challenging when you are sticking to a budget. You need to get creative and use a little culinary and visual trickery to create an impression of luxury. My friend Liz is a master at this. She's quite posh herself but life has forced her onto a very tight budget. We dined at her home last week. Her tiny rented flat was positively sparkling with candles and the table was elegantly set with white on white; punctuated only by the blue glass of the posh bottled fizzy water Liz had bought. The food was simple, elegant and delicious, we all brought wine and it was a great night.
It was nice to have an excuse to dress up. Liz had everything right. If you want to throw a dinner party with 'posh nosh for not much dosh', check out some favourite tips from Liz and I!
Set the scene
Clear away clutter, making the dining table the focal point. Guests are pre-supposed to have a great meal because everything else is so fabulous
Use sensitive lighting, candles sparkling on every surface and subtle music. Lighting really sets the mood; it's soothing and relaxing (and it also means the guests can't see the stains on the rug from when the dog was sick, or the chipped plate or the odd napkin)
Tie everything in together with a few common elements, such as a colour that is repeated or a particular shaped candle that is used everywhere, or a seasonal flower
Use fancy bottled water (go for coloured glass bottles that you can re-use - it's cheaper than fancy wines or juices and more stylish than soft drink. Guests will bring wine with them too, remember)
Lots of candles - tea lights are less formal than tall candles and can be arranged in groups or singly - try one at each place setting, or if using long candles choose one colour and stick to it
Plan the menu
Include lots of side dishes, you can be generous and stuff your guests without having to spend lots on expensive meat cuts
Include the odd baby vegetable - they're expensive if that's all you are using, but a few baby carrots or roasted baby beetroot look gorgeous and stylish in amongst everything else
Make home-made bread as a starter - the house will smell great, it's cheap but lovely and whether you serve it with dips or soup, or just fresh rolls with butter it's filling
Tricks of the trade
If possible use plain white plates and napkins - they always look posh. Food looks better on white plates and you can mix and match if needed
Never serve dessert 'glopped' into a bowl! Always serve it on a white dinner plate
Pasta, braised dishes and even a meat main course can however be served in a wide shallow pasta style bowl, just be sure to use an 'under plate' - layering the crockery gives an impression of abundance
Use a plastic squeezy bottle for adding sauces; swirl or swizzle them onto the plate
Let guests serve their own side dishes - the plate looks its most impressive while it is uncluttered. Artfully arrange the main event on their plates, and then add side dishes to the table
Plan your garnish - whole roasted mushrooms, a dainty little pastry shape, a couple of perfect roasted baby vegetables
If serving ice cream, prepare your scoops in advance and keep them in the freezer on a tray. When it is time to assemble dessert, you simply use tongs to position them on the plates at the last moment before you serve - again use the squeezy bottle for sauces
Little portions always impress - bake puddings in demitasse coffee cups or Chinese teacups - (very cheap from Asian food stores)
Present rice in individual servings on a piece of banana leaf (buy frozen from Asian food stores), in little baskets or bowls or pack into a mould and turn out as a timbale - this can also be done with couscous or day old risotto
Fast Pan Sauces
A good sauce can make the meal. If made in advance they can simply be reheated and spooned over the dish, or swizzled onto the plate.
2 Minute Celebration Sauce
Great with lamb, beef or venison - quantity is for two serves, increase accordingly.
Pan fry meat and set aside. To the pan, add
1 tsp redcurrant jelly
1 tsp whole grain mustard
½ a cup of cream
Simmer gently for a minute or two and spoon over prepared meat. Other good additions to this sauce are a sprig of rosemary or tarragon and a slosh of port or brandy.
Red Wine Reduction
Also good with lamb, beef and venison - serves 2-4
Pan fry meat and set aside. To the pan, add
½ cup red wine
½ cup good quality beef stock
Simmer until reduced by at least a third and spoon over meat.
Balsamic Dressing
Make a marinade for roasted vegetables from
1 cup of balsamic vinegar
1 ½ cups of olive oil
1 tsp basil
1 tsp oregano
1 tsp thyme
2 cloves garlic, crushed
Marinate a selection of vegetables for an hour, then roast or grill till cooked.
Balsamic Reduction
Pan fry, grill or roast your meat selection then remove from the pan. Drain away any fat and pour in a good slug of balsamic vinegar. Simmer until reduced by half and spoon over meat or vegetables. It can be further reduced for more concentrated flavour or diluted with stock.
Mocha Praline Ice Cream
Using supermarket ice cream is a good cheat. Posh it up with added ingredients like this mocha praline version, or try 225g of white chocolate and some raspberries, or puréed apricots or toasted walnuts and maple syrup.
2 litres of vanilla ice cream - home-made or store bought
2 tbsp instant coffee granules
Praline
First make the praline:
100g castor sugar
100g whole almonds with the skins on
75ml water
In a heavy pan, dissolve the sugar in the water, add the almonds and boil without stirring for about 10 minutes or until golden brown; carefully turn each almond over once in the mixture so both sides brown evenly. Pour into a cold oiled pie dish and leave to set. When set, place in a sturdy plastic bag and smash with a rolling pin to crush the praline into shards, chunks and crumbs.
Remove ice cream from freezer and allow to soften slightly. Sprinkle the softened ice cream with coffee granules and half the praline and fold into the ice cream. When evenly mixed return to freezer till ready to serve. Serve sprinkled with additional shards of praline.
---
4. Best of the Savings Forum (Vault members)
Each month the Savings Forum grows and grows. Here are our favourite threads from this month.
Stephanie asks what a realistic budget for a family is. It is an interesting, frank and fascinating thread.
Members discuss how they have learnt to avoid whole sections of the supermarket.
Nicki asks other members where the best place is to start improving her habits so she can start seeing big savings fast.
The Go Crazy team are fantastic!! This month they are helping each other lose weight. Just brilliant.
---
5. Surviving the Winter Doldrums
These cold, wet and miserable winter months can be a dangerous time for impulse spending. People are full of the winter doldrums and often hit the shopping malls just for something to do. But before you set foot out of the front door, STOP, THINK, SAVE and stay at home instead! There are plenty of things you can do to lift your spirits and beat the winter blues without spending a cent. Try some warming suggestions from the Vault - you won't want to leave the house!
Home-style Cup-A-Soup
I have come up with my own version of Cup-a-Soup, for a delicious low-cost treat I can enjoy whenever I like! I simply adapted my traditional vegetable soup recipe into this dried version and it tastes great!
1 cup powdered milk
2½ tsp powdered chicken stock
2 tbsp potato starch or cornflour
1 tsp onion flakes
½ tsp each of basil and thyme
¼ tsp black pepper
2 tsp salt
2 tsp sugar
Just put all ingredients together in a re-sealable container and shake well. Use two to three tablespoons to one cup of hot water and stir well. Delicious and lasts for ages!
Make your own comforting hot chocolate
4 cups dry milk powder
1 cup cocoa
2 cups sugar
½ tsp salt
4 tsp coffee
Mix all together and use ¼ cup per mug of hot water. For a lighter version use lite milk powder and Splenda but add a little more coffee.
Or, for those who like something a little stronger:
Make your own Hot Toddy
1½ oz whiskey
1 oz honey
1/3 oz lemon juice
3 oz hot water
If you have a microwave, the easiest way to make this drink is to warm the honey and lemon juice for about half a minute and then add hot water and the whiskey. Otherwise, I recommend that you stir the honey and lemon juice into extremely warm water, allow it to cool slightly, and add the whiskey.
Another you can try:
1½ oz cognac
¾ oz lemon juice
2 tbsp honey or maple syrup
Boiling water
Assemble base ingredients in a coffee cup. Add boiling water, stir and serve. Warms you right up!
Surprise yourself with a special treat
When money is tight and I want to treat myself with something special, I go to my 'special treat container' for a surprise solution. The container has pieces of paper in it with activities that I can do at home and don't cost money. When I want to treat myself, I stick my hand into the container and pick out a random piece of paper. Some of the activities included are giving myself a pedicure or manicure, watching my favourite girly DVD or dressing up in front of my mirror with the clothes I already have in my wardrobe and creating new outfits that I hadn't thought of before. Whatever I choose is a special treat just for me and it costs nothing to have a great time at home!
Reward yourself with quality time
Resisting the lure of shopping is hard. Even though you know you're doing a good thing by saving money, sometimes it still doesn't feel like much fun! So instead of rewarding myself with splurging, I treat myself with time. Time to do whatever I want, except spend money, obviously! I love to read, but have a ton of books and magazines that I haven't started yet. I love to scrapbook and have many ideas, but nothing to show for them. My most common excuse for not doing these things is 'not having the time'. So these days instead of spending time and money at a store buying more things I don't need, I reward myself by doing those things I normally don't have time for. It's a no-cost, guilt-free way to treat yourself!
Personal retreat at home
Treat yourself to a home personal retreat day! Make sure you have some scented aromatherapy oil, face mask, exfoliator, body moisturiser, a fluffy robe, and a new hair colour at home. If you don't have them already, go out and treat yourself to them the day before!
Pick a day when you know that no one will be at home but you. Put your favourite CD on, light an oil burner in the bathroom with the aromatherapy oil in it (keep the lights off) and have a long soak in the hot bath to relax. Put the face mask on while you are in there. When you hop out, put on your fluffy robe and slippers, and apply the exfoliator and body moisturizer. Then apply your new hair colour and just sit and relax. You will find it will be the most fantastic relaxing day, and it won't blow your budget at all. Best of all, you now have all the stuff at home to do it again whenever you want, so next time it won't cost you anything!
Start up your exercise bike, not your heater!
I am keeping my power bill down and winter chills at bay by getting on my bike! When the winter months come blowing in our initial reaction, especially in the evenings, is to turn the heater on to keep us snug and cosy. However, I delay this by using that cold feeling as a reminder to get on my exercise bike. Only after I have done my 30 minutes of exercise and start feeling cold again, am I allowed to turn the heater on. This has double the rewards for me because for one thing my gas bills are lower and another, it keeps me fit through the months when I am most likely to slack off!
---
6. Penny's Blog: Ignorance is Bliss
Jul 4, 2007
I can't believe it! I got trolley perved by a pipsqueak today! There I was in Mr Patel's, minding my own business as I stood behind another mother and her two children. I started loading up my few purchases on the counter - two heads of broccoli, a parsnip and a bottle of orange juice and a few seconds later a loud voice piped up "Ergh! That lady's got yukky stuff Mum! I'd NEVER eat that!" and wrinkled his nose up at me in disgust. I just smiled benignly and carried on with my shop but after his little outburst I couldn't resist peering over and seeing what his mum had bought. On spotting nothing more than a frozen cheese and bacon pizza and two large bags of potato chips being stuffed into plastic bags it took all my strength not to come back at him with "Yeah? Well at least I can COOK! At least I don't feed my kids CRAP!" but I figured it would be kind of lost on someone who didn't look a day over five years old. I briefly toyed with defending myself by pointing out the tub of ice cream I had still to get out of my trolley to him, but reminded myself I certainly didn't need to justify my purchases to this little ratbag.
It still made me really peeved though, that someone even this small was judging what I was buying. It probably didn't help that Mr Patel had given me a hard time a few days before about buying 'poor people's milk'. "Why don't you buy Anchor milk?" he asked, as I reached for a bottle of Pam's. I pointed out that for years Noel and I had thousands of free litres of Anchor milk on a daily basis when we were dairy farming and now we had to buy our milk, we were not going to buy the most expensive one on the market just so we could drink the same brand. "Pam's is perfectly good enough for us thank you!" I smiled, as he rolled his eyes - then just to completely ruin any scrap of faith he had left in me, I turned around and grabbed three loaves of 'poor people's bread' too!
I guess it's just been 'one of those weeks' all round, really. Last Thursday I couldn't believe it when I woke up and found I was ill with the flu AGAIN! By Monday I could take it no longer and went to the doctor, who gave me another lot of antibiotics to clear up the throat infection that the last lot didn't. I knew it was futile to even bother going really, but I was just so sick of being sick! So I threw another $20 over the doctor's counter and in another really smart move I went to Mr Patel's and bought no less than FIVE women's gossip magazines. I was feeling so sorry for myself I just wanted to curl up for the afternoon and indulge in a little celebrity escapism. Pah - what a joke that turned out to be. Do you know how long it took to read each one from cover to cover? Not even an hour, to read all of them! It turned out to be an even bigger waste of money than I knew it was in the first place. I know, I know - what a Sad Sally!
One of the things which upset me most about being ill again was that I had been doing so well with the Pride Challenge but it all but went out the window for a few days as I spent close to four days hanging out in my penguin pyjamas, sporting a facial expression Frank Gallagher would have been proud of. However, the spirit was willing, even if the flesh was weak and I couldn't wait to get back into Proud Penny mode again as soon as I was better, so I spent a rainy afternoon sorting out my make-up box. I couldn't remember the last time I had seen the bottom of it and everything was taken out and meticulously cleaned in anticipation of wearing them all again. I can't even remember the last time I bought any make-up but I'm sure the last time I did it was when I lived in our previous house, which was over four years ago. I knew I still had a bit lying around but what I didn't count on was unearthing no less than 17 lipsticks, 18 eye shadows, six lip glosses and two concealer sticks - among all the usual mascara, foundation and so on. Of course they were all in near-perfect condition, having hardly been worn. Most of them were Revlon brand and as I cleaned them all I wondered more than once what on earth had possessed me to buy half of them - partly because the colours were dreadful and in some cases bizarre but mainly because I obviously hadn't needed them in the first place. Then I remembered - Halle Berry - the face of Revlon. She always looked so stunning modelling the new shades for every season in those Sad Sally magazines I always used to read that I couldn't wait to rush out and get my hands on the same shade of lipstick, eye shadow or whatever. Exactly the reason why these big cosmetic houses pay celebrities megabucks to wear their products, so mugs like me will fall for their advertising!
Suffice to say, I won't have to buy any make-up again for a VERY long time but I'm looking forward to trying out all my 'new' goodies again! I also found some other long-forgotten freebies while decluttering under the stairs the next day. I unearthed some boxes full of stuff I had planned to sell on eBay months before - unwanted gifts mainly but found upon rediscovering them again that they were just what I needed for my Pride Challenge! At the start of my Challenge I laid down three ground rules for myself:
Not to leave the house without make-up on
To wear perfume every day (I don't have to buy any of that for a long time either)
To finish off my outfit with some sort of accessory every day - a pretty scarf, pendant or bangle, or whatever.
So I was delighted to open a box and find no less than four pretty scarves, a French manicure set and two paraffin hand treatments! I had been going to sell them once upon a time but I figured they were worth more to me now than the pittance I would no doubt get selling them online. I even found an expensive English Lavender body spray which wasn't really my cup of tea but on remembering a Vault hint which mentioned using unwanted perfume sprays as long lasting air fresheners in the toilet, that's where it now proudly sits and works a treat too!
Liam is still doing a stirling job with the cooking and recently made us all Sophie Gray's Spaghetti and Meatballs (it's from her latest cookbook but if you don't have it you can find it on her Destitute Gourmet website at the moment - it's delicious!). I think he's doing his best at the moment to earn brownie points for our trip away to Taupo at the weekend. Typical isn't it - here we are taking the kids to the mountain to see snow for the first time and what happens? They've closed the ski fields because the rain has melted all the snow! Grrr - I should know by now never to actually plan anything if I want anything to go to plan. We're determined to have a ball whatever happens though and it will certainly be a welcome break from sitting inside listening to the rain hammering the roof.
It will be a blessing to get the kids away from the TV too, after the faux pas I made the other day! The boys are huge fans of WWE wrestling and asked me to record an episode for them a couple of days ago as it was on past their bedtime. I just pressed 'record' and let it run and yesterday morning when they got up, they asked if they could put it on. All was blissfully quiet for an hour or so, until all hell let loose. From the next room Noel and I could hear 'EWWWW!' every few seconds, followed by hysterical laughter before another 'EWWWW!' This went on for a few more minutes until we could bear it no longer and went to investigate. The wrestling had finished and I had inadvertently taped the next programme which followed - 'The World's Best Nude Beaches'. The boys were absolutely falling about at the site of grown men and women taking part in the Nude Olympics (which incidentally take place in Australia!), and nude volleyball, to name a few. The one which took Liam's interest most of all however, was the nude wedding. Apart from the fact he found the spectacle rather revolting, he did point out that it would be a very good option for a Simple Saver. 'Imagine how much money they must have saved on wedding outfits Mum!' Now all I have to do is delete the show when they're not looking!
June 2007
29th - People Watching
July 2007
4th - Ignorance is bliss
12th - Tightfisted in Taupo!
16th - Paying less with pride
24th - A dog's life
---
7. Homeopathy Corner: Prevention is Cheaper Than Cure
This month Fran explains how to immunise your family against all strains of Menningoccal for $60. To find out more go to:- www.homeopathyplus.com.au/menin-prevent.html.
If you would like some extra light reading this month. Here is a link to interview with Dr Isaac Golden about his revolutionary immunisation research.
http://www.hpathy.com/interviews/isaacgolden.asp
---
8. From Last Month: Limes and Cubby Houses
Last month Annette T asked:
"I have lots of limes and I'm not sure what to do with them all. Does anyone have any suggestions for using these lovely citrus fruits? I think my tree is a Tahitian variety and the limes fall off when they are ripe, which is happening now - today there were 15! Some help with ideas would be greatly appreciated as I hate to waste them. Thanks!"
Wow! Thank you. We were absolutely swamped with fantastic tips for limes. Here are the very best.
Instant vanilla and lime dessert
If you are lucky enough to have fresh limes, use some of them to make this tantalising dessert! Mix 175ml fresh squeezed lime juice, 75ml fresh squeezed orange juice and six tablespoons of water with a packet of Instant Vanilla Pudding mix (I've only ever been able to find Cottees brand). Beat until well mixed and smooth. Then beat 125ml whipping cream with a generous tablespoon of caster sugar until well thickened. Mix the cream well into the pudding mix. Decorate the top with thin slices of lime and orange. Refrigerate for at least half an hour. This recipe also works with straight orange juice and lasts for up to two days in the fridge.
Lime sorbet recipe for ice cream maker
A cheap and simple way to use up an abundance of limes is to make this Lime Sorbet. This recipe uses an ice cream maker.
You need:
1 cup of sugar
4-5 limes
Dissolve a litre of water and sugar together in a saucepan over a low heat. Once dissolved, boil for two to three minutes, before removing from the heat and allowing to cool.
Finely grate the rind of one lime and add it to the sugar syrup with the juice of four limes. Taste and then add a little more lime juice if you think it is necessary. When the syrup has cooled, put in an ice cream machine and churn following the manufacturer's instructions. Delicious!
Add fresh lime juice to green tea
My favourite use for fresh limes is to add freshly squeezed juice to green tea, using a mixture of half green tea mixed with 30% plain mineral water and 20% squeezed lime juice. This makes a refreshing drink, plus if you let the green tea diffuse for longer than five minutes, all the antioxidants will be released. If you find the drink not quite sweet enough, replace mineral water with lemonade. Delicious!
Easy microwave marmalade
A great way to use up excess citrus fruit is to make them into marmalade using this simple microwave method:
Cut up 500g of limes or lemons.
Add one and a half cups of water and microwave on full power for 10 minutes.
Measure out the pulp (it is usually about 750ml).
Now add 250ml sugar for every 250ml of pulp. Stir well, microwave again for 15-18 minutes on full power. This time will depend on your microwave's wattage. I usually test after 15 minutes. To do this, spoon some into a saucer and leave in the freezer for a few minutes, then test to see whether it has gelled enough. If not, microwave for another three minutes. Leave to cool and bottle.
I find that limes or lemons picked before they start falling have a higher pectin content which lets them set sooner. Hope you enjoy it as much as we do!
Sell unwanted limes to restaurants
If you have an overabundance of unwanted limes, consider approaching your local restaurant, pub or cafe and offer to sell them a box every week or two. My husband works as a chef and they go through a 20kg box of lemons and limes each week. They only use them for garnishes so they don't have to look great and you could earn yourself some extra dollars too! Just shop around and see how much they sell them for at your supermarket, then offer to sell them for less. A win-win situation!
Indian style pickled limes
The best way our family has found to cope with too many fresh limes is to pickle them. Cut as many limes as you think will fit into a jar. Then squeeze the juice out of roughly half the quantity of cut limes, add sugar and salt to taste and put them out in the sun to pickle. This is how Indians make lime pickles and the results are great, no cooking required either. It takes about 3-4 weeks to get ready but they last for years - if they don't all get eaten first of course!
Smart uses for lime zest
Don't throw away your lime zest! This can be used to make all kinds of useful things. First, use a vegetable peeler to thinly peel the skin of the limes. This can then be put in a plastic bag and frozen. Lime zest can be used for flavouring cakes, sweet sauces for desserts or made into a refreshing drink. However, it can also be used in some home-made cleaning products. Just boil up some rind in water and when cooled add to an empty spray bottle. This is great used to clean out your fridge or freezer and keep it smelling fresh, and it also makes a natural cat repellent! Simply spray every two days around the outside of your house. Cats do not like the oil from limes and lemons and unwanted feline visitors will keep well away!
Quick cordial from whole limes
Try this for a super fast fresh cordial! Put one lime (whole if you're game, or slice into quarters) into a blender with two tablespoons of sugar and fill with fresh, cool water. Blend, and strain to serve with ice. Makes a delicious refreshing drink for all to enjoy, and much cheaper than the bought stuff!
Also, Jodie G asked:
"We would like to purchase a timber cubby house for our daughter and have been quoted from $425 (untreated timber) to $1500 so far. Does anyone have any ideas or know of anywhere they can be purchased cheaper? It is near impossible to find one second hand in the area that we live."
Everyone did a brilliant job this month. Jodie G's kids are going to have the best, coolest and funkiest cubby house around. Thanks for your help!!
Cubby building help from library
We made a simple cubby for our kids some years ago for very little expense. Hubby had basic skills (thanks to high school woodwork) and borrowed a book from the library which gave instructions for the frame. He was able to purchase some pine battens and made the frame using a handsaw and nails. We purchased cheap shadecloth and used our staple gun to attach it to the walls, with a double layer for the roof. We cut window and door flaps, so they could be open or closed. Later on we added a floor and got some off-cuts of corrugated plastic from a pergola that was being built to make it more waterproof. It was a great success with our kids and all the visiting friends and was very durable in the weather. It lasted for over ten years, by which time our kids had outgrown it and it went to another family!
Make a cubby from waxed cardboard
If buying a cubby house is too expensive an option, try this idea to save a bundle! All you need is a covered area. My mum couldn't afford to buy me a cubby house as a child so she got creative and made one from waxed fruit boxes. You can pick these up from fruit shops, they just get thrown away. She got a heap of them and used them like bricks - standing vertical and open ends facing inside. She even sewed them with wool to hold them securely so they wouldn't fall down and left open spaces for the door and windows. The roof was made using more flattened out boxes and was stitched onto the wall. It cost nothing to make and lasted for years. A great way to recycle too!
Build yourself a cheap cubby
My husband built my kids a great cubby for less than $100. He used a couple of wooden crates from his workshop and bought some ply wood from Bunnings for the roof and sides. He used one crate for the floor and the other he ripped apart and used the wood for the frame. The ply wood was then nailed to the frame and roof. The total size of the cubby is around 3m x 1.5m. My sister bought my kids paint for their birthdays so they could paint the cubby. If you don't have any spare supplies on hand, you could always place a 'wanted' ad for crates in good condition, or ring around some joiners or carpenters to see if they would sell you some cheap, as they get them for free when wood is delivered. If you are not handy yourself, you could probably pay a handyman to whip one up for you within a day!
Keep eyes open for cheap cubby house
I saved hundreds of dollars on a new cubby house, simply by keeping my eyes open! I was looking for a cubby house a few years ago but found them to be very expensive. Looking on eBay was no help, as I would have had to pay for delivery. Instead, I was able to purchase one that I had seen in someone else's backyard in my neighbourhood, when I noticed their house was for sale! I simply knocked on the door and made them an offer of $200. They hadn't even considered selling it separately from the house, but quickly realised it was financially beneficial for them to do so. I got a terrific cubby and contents for less than half the price of a (very small) new one!
Small shed cheaper than cubby house
To save money on buying a new cubby house, consider buying a small garden shed instead! This is what my mother did for us when we were young. She bought a garden shed, had the window put in the side instead of the front and even installed an electrical point so we could have a light. She had a wooden floor put in too, though of course you don't need to go that far. Once the children have outgrown it, it can be used as a storage shed, or you could sell it. A garden shed is a lot more versatile and does not rot. It would be worth much more if you wanted to sell it later on too!
Cubby houses from TAFE
If you are looking for an economical, well-made cubby house, get in touch with your local TAFE. The carpentry apprentices make these and they are then sold. I work at a TAFE centre in Brisbane and I know this is the case there, so ask around your nearest branch.
Ask for help in cubby building project
If you are looking to save money on a cubby house, try looking online for your local Freecycle group. Also, visit a hardware store and see what they have in the way of kits or a 'how-to' guide that tells you what to do and what you need; then you can work from there. This idea is a little more 'out of the box' but you could even go to your local high school and see if they would make you one as a project, if you pay for the materials. Or you could ask at the local retirement village if someone there could help you - or try the local scout group - the list is endless!
Convert second hand caravan into a cubby
As an alternative to buying a cubby house, a second hand caravan can be a great option. Look around for a small caravan around 8' or 9' long and decorate it to suit your children's needs. These can be bought for around $500 to $800 for a good second hand one and can be moved without too much fuss when and if required. Cheaper than most brand new cubby houses too!
---
9. This Month's Help Request: Buying First Car
This month Veronica Berenike from South Australia asks:
"I'm looking to buy my first car but I don't know where to start. I want something reliable without paying a fortune. Do you have any suggestions? Where should I start looking? When is the best time to buy and how do I make sure I'm not going to get ripped off. Thank you for your help."
If you can help Veronica please go to: www.simplesavings.com.au/donatehints
---
10. SAVINGS STORY: Unloved Property Becomes Dream First Home
For anyone looking to buy their first home but don't think they can afford it, I am living proof that opportunities are out there if you think outside the square. I wanted to buy my own home but the properties in our area started at $500,000. I was renting a little two-bedroom semi with a girlfriend but after a year she moved interstate. I loved where we were living and did not want to leave but could not afford to stay in the area. Even renting on my own would have been too expensive.
Next door to the house we were renting was another semi, which had not been lived in for 12 years. It was derelict and overgrown, and even had the odd stray cat living in it. One day I fought my way through the bushes round to the back of this house and peeked in through the window. I thought 'Wow! This house is great! It's not as bad as it looks from the outside'. It had just been left unloved for so long and was full of cobwebs. It did look however as though the owner had started to renovate (or demolish) it, as all the ceilings had been ripped down and there were no floors, just a concrete slab.
The day after having a sticky beak, I thought to myself 'what a great house to buy and do up.' With a little detective work, I discovered the owners were an older couple who lived in the country. It was the wife's house when she was young. I asked what their plans were for the house and discovered they didn't have any plans for it, nor the money to renovate it. They were basically happy for it to sit there. I asked them if they were interested in selling it and he said he would get back to me. A couple of weeks later, he did. I offered him $350,000 to take the house as it is, and remove all of his rubbish. After a week or so of chatting, he agreed.
I had bought my first house! I moved back in with my parents while working on the house to make it livable. It took a year and $10,000. I have now moved into my new house and had it valued at $680,000!
Yes, property is becoming less and less affordable, and yes it's difficult to get on that ladder. But if you think creatively, do some detective work and take some chances it can still be done. Keep your eye out for an empty property and, if you find something you like, trace the owners. You never know, you might get lucky.