"Secrets to Saving Money in Australia" Free Newsletter - May 2007
This issue includes:-
Sad Sally, Happy Hanna: Bagging a Bargain?
Stop, Think and SAVE!
Sophie Gray: Winter Bounty
Start Planting Now!
Penny's Blog: Feeling Rich
Homeopathy Corner: Tutorial No. 10
From Last Month: Timber Decking and Building a House
This Month's Help Request: Scrapbooking Tips
SAVINGS STORIES: Inspiration from the Forum
---
Hi!
I hope you are having a fantastic month! We have been busy packing, posting and designing bags. The last lot sold out in five days *jaw drop*. Matt has also been busy adding new features to the Forum. I hope you love the improvements!
"I received my Simple Savings shopping bags today and would like to say a big thank you. My 16 year old daughter and her girlfriend thought the colours were excellent and want them to take their extra work stuff to school in, so that just about says it all! I shall be a very proud Simple Savings shopper this week! Once again thank you for the wonderful job you all do." (Jane)
"Thank you so much for the Bill Payment System, as well as the other hints. I have introduced it to a friend who I am helping to sort and file her personal and business documents. I printed out the sheets and put together the folder. She showed me the other day how well she is doing with it all. Her bookkeeper is so happy with me. Ha Ha! It's such a simple system for even the most disorganised person to use. Thank you once again." (Sandy Gorski)
"Thank you so much for your great website! I have gained so many tips on saving and even come up with some fab ideas of my own. It has given me the motivation to work harder at saving and spending less. Each week our shopping bill is getting less and we have even found ways to reduce our bills!" (Jill Sherrin)
"I just wanted to let you know how much I enjoyed reading Penny's Blog on happiness (the REAL Secret). There were so many points that she raised that I related to! I know that there has been a lot of research done on happiness lately, and in particular marketers and advertisers are trying to convince people that 'things' will make them happy. I find it so sad, as to me learning to be thankful for the good fortune and prosperity (part of which is cultivated through SS) brings much more joy. Thank you so much Penny for sharing your insights on this topic." (Serina Huang)
"I just wanted to thank Penny for her recent blog (No more supermarket!). The fact she didn't need to go to the supermarket any more has inspired me to become creative and figure out HOW I can grow my produce, instead of mope about all the reasons why I couldn't. This is my third trip to the plant place this week and hopefully, within the year, I'll be in a stage where my dependence on stores is very much reduced. Thanks again!" (Jade Craven)
Many grins,
Fiona
---
1. Sad Sally, Happy Hanna: Bagging a Bargain?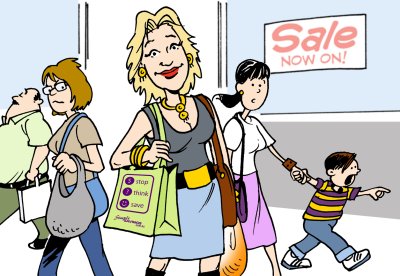 Sally was loving her new bag. She took it everywhere she went. Hanna was right; it really did make her feel like a clever consumer! Pete smiled whenever he saw her carrying it too - she had known he would think it was great. Sally also liked the fact that she no longer had to use so many plastic bags to carry her shopping but best of all she liked the fact that nobody could see inside it to see what she had bought. No longer did she have to worry about being spotted brandishing the odd little luxury in a branded store bag, or destroying the evidence before anyone saw!
Sally's new bag had also given her confidence when she was out and about, just as Hanna told her it would. She marched along, proudly displaying her status as a smart shopper, when she suddenly caught sight of herself in a shop window and gasped in horror.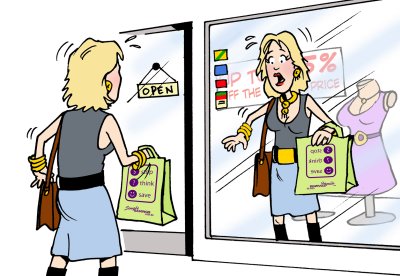 How could she not have noticed? Her outfit clashed horribly with her new bag. As far as Sally was concerned there was no alternative - she was going to have to buy some new clothes. She emerged from her favourite fashion store shortly after, the proud owner of three new tops - one purple, one green and one navy. As she checked her reflection once again in the window, she couldn't help smiling back. That was better, now she was perfectly coordinated!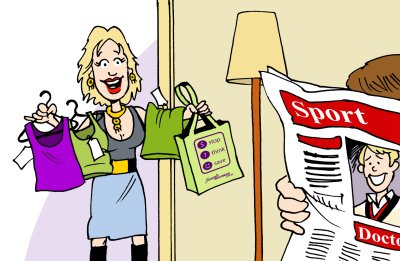 "Look what I got today!" she showed Pete when she got home. "These tops match my new bag perfectly!" But instead of admiring them, Pete looked angry. "Sally, what is the meaning of this? I thought we agreed - NO SPENDING! I can't believe you would do this. Wouldn't it have been cheaper just to buy a new bag?" "Oh no, I couldn't do that! This bag is vital if I'm going to save money," Sally said firmly. "Well in that case, you'd better take a good look at it before you buy another thing, instead of just carrying it around like a fashion accessory," Pete scolded, as he held it up in front of his wife's crestfallen face. "You see what it says? Stop, Think and Save, Sally. STOP, THINK AND SAVE!"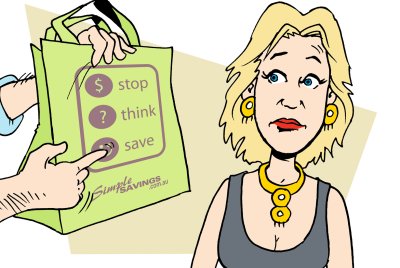 ---
2. Stop, Think and SAVE!
The new Simple Savings bags have 'Stop, Think, Save' printed on both sides, because this is what is going to save you the most money. Let it be your mantra - engrave it on the inside of your head! This simple slogan will protect you from most marketers, it will guard you from impulse buys and most of all it will save you money. If you can remember to do this when you are out and about, you are miles ahead of everyone else. So how does it work?
STOP. A marketer or salesperson's job is to make you think you need something that five minutes earlier you didn't know existed. They have many ingenious ways to get you hooked. So before you get to the checkout, before you pick an item off the shelf, before you make a purchase anywhere - STOP! Break the marketer's spell and guard your wallet from attack.
THINK. Think about your purchase. A marketer's job is to get you to buy an object without thinking. They want your purchase to be an automatic reaction or a habit. Training yourself to think longer about your purchase first will help you regain control of your wallet and your life.
Here are some things to think about:-
Do you want or need this item? A need is something essential like basic food and shelter. Everything else is a want.
Is it good value? Have I done my research? Is this the best price?
Is it a good purchase? Will you still be pleased with your purchase in a week?
Why are you buying it? Did you pick up the item because it is on your list? Are you buying it out of hunger? Are you buying it out of guilt? Are you buying it because you feel pressured?
Can I put at least one of these items back? A little game I always play with myself in department stores is putting at least one item back on the shelf when I get to the checkout. There is always something I have picked up on impulse. Give it a go too! Take a look through your trolley when you reach the checkout and see how many items you can leave behind.
Are there better things to spend your money on? You only have a limited amount of cash. Spend it wisely.
These are some examples of questions you can ask yourself that will slow down the purchase, protect you from the marketers and help you hang on to more of your cash. For a more detailed list read through Steps 2-8 of the Eight Steps to Happiness in the January Newsletter
SAVE! Saving money is good. Saving money is fun. Teaching yourself to stop and think before you buy will fatten your wallet, help you get out of debt, lower your living expenses and give you greater control over your life.
So print out a Stop, Think, Save Memory Trigger and put it on your bed.
Write yourself a Stop, Think, Save note and stick it to your fridge. Do whatever it takes to make this mantra part of your shopping routine.
Vault members reminder: You can also download the Stop, Think, Save Memory Trigger printable from inside the Vault here.
---
3. Sophie Gray: Winter Bounty
Eating healthily and in season is one of the main principles I encourage people to follow when attempting to keep their grocery bill to a minimum. Seasonal produce is the freshest and most plentiful, not to mention also the cheapest food around!
Another bonus of seasonal eating is the ever changing variety of the seasonal banquet. Where winter vegetables are concerned, it's all too easy to get stuck in a culinary rut, but just because your mum only ever roasted or mashed them, that doesn't mean that is all they are good for. The starchy texture and natural sweetness of root vegetables are definitely excellent when roasted, but that is only one of the wonderful ways to make the most of these inexpensive winter vegies.
As a change from the usual, try them in a spicy roast vegetable medley, a creamy soup, a crisp stir-fry or even Parsnip Spice Cake! No, I haven't gone totally crazy, this cake is fantastic! The recipe for this will follow but rather than just giving you a load of recipes, I thought it might be more helpful to tell you about what works and what doesn't, so you can improvise and adapt your favourite dishes to incorporate a wider variety of vegetables, which is essential for optimum nutrition.
Vegetable-haters beware; eating lots of fruit is not a nutritionally sound alternative to eating vegetables! Fruit, while full of fibre and Vitamin C, contains more sugar than many vegetables and lacks the nutrients we get from them. Of your five recommended daily servings of fruit and vegetables, aim for two fruit and at least three vegetables. A serving is as much as you can hold in your cupped hand and a serving of salad is a packed cupful.
If you serve the same foods in the same way day after day, dinner really will become dull, so make the most of this season's bounty by eating lots of the following:
Swede: Also known as rutabaga, swede can be mashed, candied (using brown sugar and butter) or casseroled with cream and spices. Young swede can be eaten raw; it's crisp like an apple. Try adding thin slices to salads or a platter of nibbles. Toss slices into stir-fries or bake them with spices, which they will absorb.
Parsnip: Part of the carrot family, parsnips are sweet and nutty and are at their sweetest when the weather is the coldest. The bigger ones may be a bit on the 'woody' side, so choose average sized parsnips. They are a delicious addition to casseroles and stews. They can be mashed with carrots and potatoes and I like to eat them raw. Parsnip crisps make a delicious garnish - cut thin ribbons with a vegetable peeler and deep fry in hot oil till golden around the edges. Drain on kitchen paper, dust with salt and try to resist!
Turnip: This ancient vegetable has a mildly peppery flavour. They are used as a base flavour vegetable in many soups and stews, they can be stir-fried and also lend themselves to glazing with honey or brown sugar.
Celeriac: A type of celery, celeriac is popular in Europe and Asia. It is a roundish, brownish, rough textured bulb with white flesh. Use it raw or lightly cooked in salads, soups and casseroles. Mash it, steam it or even make chips but peel it first. Discard the leaves and stalk.
Pumpkins and winter squash: There are lots of different varieties and while they differ in flavour and texture most can be used interchangeably in recipes. Obviously they are good in soups or roasted but they also make great flans and pies. They can be stuffed and baked whole, used in muffins and cakes (such as Pumpkin and Chocolate Cake, mmmm!) and added to dips - see the recipe for roasted pumpkin hummus.
Cook's tip: If the vegetables are young and tender in many cases you won't even have to peel them, just give them a good scrub.
Parsnip Spice Cake
This cake is light textured, fragrant and delicious. It's also simple to make. Don't tell anyone it's made from parsnips until after they've eaten some or they'll never believe it could be this good!
350g parsnips, peeled and grated - use a processor if you have one
250ml canola or other light flavoured cooking oil
2 cups brown sugar
3 eggs
1 cup wholemeal flour
1 cup plain flour
1½ tsp cinnamon
1 tsp mixed spice
½ tsp ground ginger
Pinch of salt
1 tsp vanilla essence
2 tsp baking soda
Splash of water
Preheat the oven to 175°C
Grease and line the base and sides of a 20cm spring-form cake tin.
In a large bowl, mix together the oil and brown sugar and stir in the eggs one at time, then stir in the flours and spices.
Add the vanilla essence and salt, then fold in the grated parsnips.
Mix together the baking soda and a splash of water and fold through the cake mixture, ensuring it is thoroughly mixed.
Pour the mixture into the prepared tin and bake at 175°C for an hour and a quarter or until a skewer inserted in the cake comes out clean. Cool in the tin before removing. Dust with icing sugar.
Roasted Pumpkin Hummus
110g chick peas
150ml tahini (sesame seed paste)
Splash of olive oil
2 cloves garlic, crushed
1½ cups roasted pumpkin
Pinch of cayenne pepper
Juice of two lemons
Salt and pepper
Process the chick peas until they resemble small grains, then add tahini and seasonings and a dash of olive oil. Pulse to combine, then add roasted pumpkin. Pulse again and serve.
Kumara (Sweet Potato) Mustard Mash
Serves 4
2 large kumara or sweet potatoes, peeled
1 medium potato, peeled
2 tbsp natural yoghurt
2 tsp whole grain mustard
Salt and pepper
Chop the peeled vegetables into even sized pieces and place in a medium saucepan. Cover with cold water and simmer until soft.
Drain the cooked vegetables and return to the saucepan to the heat for a moment or two to evaporate excess water.
Mash the vegetables and add the yoghurt, mustard, salt and pepper to taste. Serve hot.
These recipes and many more are available from Sophie's brand new book 'Enjoy!' which also includes delicious alternatives for those with food allergies. For details, check Sophie's website (www.destitutegourmet.com)
---
4. Start Planting Now!
Now is the time to start planning your winter garden. Learning how to grow vegetables is one of those wonderful skills that takes a while to acquire but will benefit you for the rest of your life. If you can grow your own vegies you are pretty much guaranteed a food source indefinitely! It is a great investment, but what do you do if everything you touch turns brown? You can start by getting your hands on a copy of Peter Cundall's 'Patch from Scratch' video. Watch it time and time again. This will give you inspiration!
Then, surf the web and the Vault for information on how to grow your own vegies. Many Simple Savings members already grow their own food and love to share the secrets of their success with tips like these!
Growing fresh fruit and vegies with sawdust
You can save big dollars in the garden by using sawdust! I use a permaculture method to grow as much fresh fruit and vegetables as possible. This costs me nothing, as I recycle garden rubbish and old newspapers as well as things like dust, hair and kitchen scraps. We have found sawdust to be a really good way of encouraging worms, discouraging snails and stopping the precious water from evaporating. A factory nearby is happy for us to take as much sawdust away as we like.
When we've prepared our vegetable beds and put in the seedlings, we spread dry sawdust a finger depth around the plants and over the exposed bed. The cedar based sawdust smells delicious and the plants are quite happy. We have always taken away spent straw from the stables near us, free, to use in the garden. As an extra tip - to move all this straw I used an old sheet and made two large bags with wide handles made from strips cut from the ends. These are re-usable and easy to carry - much better than plastic!
Growing more vegies will save on your grocery bill
Free pots are a great way to strike seedlings and grow vegetables. I recently went to buy some vegetable seedlings for my small back garden from my local garden centre. Not having much space to plant them, I was looking for single plants rather than punnets as my vegies are planted throughout my flower beds. Unfortunately I could only buy tomatoes this way.
On my way out of the garden centre, however, I noticed they had a recycling cage in the corner of the car park full of old plastic garden pots. This was the solution I needed - free pots. I helped myself to some of the pots and went back into the garden centre to buy some seeds. This way I could have more vegies in the yard (saving money on my grocery bill, and home-grown vegies are much tastier) and keep rotating the crops. I can also use the pots for striking other plants in my garden to sell at swap meets, car park sales or our garage sale. I used soil from my existing garden beds for planting and have given my two young children a collection of pots to grow their own vegies, which they love.
Newspaper helps grow vegies
I recycled our newspapers in the garden to save on water - as well as saving by growing our own vegetables! After spreading organic fertiliser on the bare garden, I laid a thick layer of newspapers (approximately 2cm in thickness) and watered it well. I planted a selection of vegetable seedlings by digging a small hole in the newspaper and planting them in the soil below. I then placed a thick layer of pea straw around the seedlings to cover the wet newspaper. The wet newspaper, along with the pea straw and the fertiliser has meant that there has been a huge decrease in the amount of water required for the vegetable garden and the vegetables are growing better than any other season. Looking forward to a bumper crop and a good healthy mulched garden when all that newspaper and pea straw break down!
Reap the savings with versatile blueberries
We save between $15 and $25 a kilo on buying blueberries by growing our own bush in the garden. These grow into an attractive looking bush and produce about 15kg of berries a year. We use them in all kinds of things - smoothies, desserts, baking, fruit salads and so on. They freeze well too. To buy as much fruit as our single bush gives us in a year would cost well over $200!
Vegetables all year round
I like to grow my own vegetables to save on groceries, so I try and grow a lot of vegetables that can be frozen such as pumpkin (cut into chunks and in plastic bags ready to use), beans, leeks, shallots, peas, corn, swede, parsnips, and so on. Every winter I have enough vegetables for soups and stews until the next season. I also save by allowing some to go to seed, and they come up the following year. All peelings are placed directly in beds not in use, and my pumpkins all come up this way, they are then encouraged to spread around the edges of beds until finished fruiting. What I can't keep for present use, I freeze. The cucumbers I don't swap for other things, I cut up and use for stir-fry (they taste just like zucchinis) or freeze and use in soups. Excess fruit such as mangoes, strawberries, peaches, and so on are either made into jam, frozen for later use or made into crumbles or pies.
Plan your garden out
If you're starting a garden from scratch, it's a really good idea to plan out on paper what plants you want. Borrow some books on garden design and plants from the library and draw an aerial view of your garden or garden bed and fill in which plants you'd like. Take note of weather conditions (for example, full sun) and soil and space so you can choose the right type of plant. Then, when you see a plant on your list on sale, you can get a bargain that fits in perfectly with your vision for your Eden. This stops you from buying the wrong plant for your garden or not knowing where to plant it when you get home!
---
5. Penny's Blog: Feeling Rich
May 9, 2007
I am SO proud of myself! Have just learned this morning that my emergency belt tightening worked! Instead of being too broke to pay the mortgage as I had feared, our home loan payment went out of our account on Monday and I still had $200 left in the bank when my wages went in yesterday. Woohoo! Noel didn't see what all the fuss was about or why I was in such a panic but for me it was a question of pride. I'm supposed to be saving money. I spent years living in overdraft and have an absolute fear of it now. Most of all, I did not want to go grovelling to the bank for money. It was up to me to manage - and I did! Credit where credit is due though, it's you lot who helped me. I had so much fun trying out everyone's tips it didn't even feel like I was saving out of necessity!
In the end, staying out of overdraft was easy, thanks to the following:
1. I told Noel he wasn't allowed to use his debit card for ANYTHING or he would get declined.
2. The vegie garden kept us going and meant I didn't have to buy anything other than a bag of potatoes.
3. Claire Mitchell's May Grocery Challenge thread. Talk about inspiring, I couldn't believe how little the members in this thread were living on! It made me see I could do a LOT better and better still, showed me how I could do it!
4. The wonderful recipes from members which reminded me I could make something out of nothing, such as Corned Beef Fritters. One of the things I love most about Simple Savings is that you can pretty much guarantee that if you have a question or a problem, someone else has had it before and can give you the answer. Every time I didn't know what to do with left over corned beef, mashed potato, feijoas - just about anything, I just searched the Vault and the Forum and would find the perfect solution to create an entire meal out of a few scraps.
4. Sophie Gray's new book 'Enjoy'. You tell me, where else in this day and age can you find a recipe book that will show you how to stretch one measly leftover cold sausage into a filling family meal? Sophie's 'Lonely Sausage Risotto' - don't you just love the name?
5. Plus the old chestnuts that we all know but fall off the wagon doing sometimes - deciding what to cook for dinner in the morning, actually LOOKING in the pantry at what is there to make a meal out of and only taking the car out where it is absolutely unavoidable.
That's it! Unbelievably simple but that's literally all it took to stay out of overdraft until payday. One of the best things I have found recently about having to make ends meet is that the boys are starting to see why we need to do it too. Gone are the questions and demands. A treat is exactly what it should be - a treat, not an everyday occurrence and instead of turning their noses up at dinner time, they have become far more willing to try different foods and recipes because they know that's it - if they don't eat it, Mum's not going to fluff around making something else. They have discovered they like to eat all kinds of new things! Do you know, I absolutely dread to think where I would be now without this site? The more I learn and the more I use from it, the richer we are - and I don't just mean in monetary terms. I know now how little we can live on - yet we're still rich. Watching the delight on Ali's face as he handpicks and samples his own raspberries or hunts for passionfruit in the garden makes me feel very rich. Our kids are extremely spoiled compared to other kids we know. I wonder how many of them have ever tasted a raspberry that wasn't from the supermarket. I wonder if some of them have even tasted a raspberry at all? Liam has recently discovered for himself just how rich he is. He has made friends with a new boy at school, whose family fled from their home in South Africa, where their three children dared not play in their own garden for danger of being abducted and killed. As soon as he realised how little his new friend had come to this country with, Liam ran upstairs and began sorting out his wardrobe for things he had outgrown or could do without, before going through his toy box for things his friend and his little brothers might like to play with. Liam learned a huge lesson about how lucky he is that day - and a pretty important lesson in how to separate 'wants' from 'needs' too!
I've had to do a bit of separating wants from needs myself lately too. A new shop has just opened in town and it is just beautiful. I confess to looking forward to going to town just so I can go in there! The co-owners, a florist and a beautician are SMART. I am sure their vision and knowledge of their target market are going to make them very rich one day. Think about it - a one-stop pamper shop. As the customer leaves the beauty salon feeling wonderful, they are surrounded by display after display of gorgeous cut flowers, all just crying out 'pick me! pick me!' Aw shucks, thinks the customer. What the heck - I've just had a lovely beauty treatment, why not spoil myself and get some? I deserve it! Mission accomplished, both shop owners are happy. I think they're absolute geniuses! No competition around for miles and half the town already goes there for manicures, facials and treatments. Not me however. I don't have beauty treatments because I'm far too stingy to splash out on salon treatments when there are so many brilliant pampering tips in the Vault. It would take me a year or more to try them all out! However, fresh flowers are divine. I never pick my own from the garden because I like seeing them on the plants better and besides, I don't really have any - I'm surrounded by trees! What else can I use to save me from temptation? I had better come up with a solution before my trip to town this afternoon. I know! I've still got some Memory Trigger stickers. I'm going to do a Sad Sally trick and stick one on my vase! Problem solved!
Penny's Blog is a special treat for Vault members and is updated a couple of times a week. You can drop Penny a line here - she loves to hear from other members!
May 2007
---
6. Homeopathy Corner: Tutorial No. 10
Few people realise that treatments for Eczema can lead to Asthma. Luckily for us, this is an area Homeopaths know inside out and back to front! So this month, Fran is teaching us how to identify when a medicine or a drug is helping your overall wellbeing or suppressing symptoms and actually making you worse. It is great read. To read the article, go to: www.homeopathyplus.com.au/book/tutorial-10.html
---
7. From Last Month: Timber Decking and Building a House
Last month Margaret Burnside asked:
"I'm looking for a cheaper alternative to keep my timber deck looking nice - other than having to spend $250 on decking oil from a paint shop! Any other suggestions?"
Fortunately for Margaret - and anyone else who wants to keep their deck in tip-top order, there are many clever tricks to save. Check out some of the ideas below for some much cheaper options!
Revamp deck with Condy's Crystals
You can give your deck a cheap revamp using a product called Condy's Crystals, available from chemists. These dissolved in a bucket of water will colour the wood if it is still in its raw state. Much cheaper than buying decking oil!
Mix your own decking oil for less than half price
Instead of buying expensive decking oil, you can mix mineral turpentine and linseed oil to make your own cheap version but beware when stocking up on these at hardware stores! Some large hardware stores try to sell a pre-mixed version of linseed oil and turps, at about $60 for three litres. In comparison, three litres of turps only costs around $15 and the linseed oil can be bought separately for $10 and you only need a small amount, so don't fall into the trap of buying the pre-mixed version!
The colour of this mixture can turn out quite dark, depending on how much linseed you put into the mix and of course your original wood, so it is a good idea to test a little bit first. If you have an old baking tray or kitty litter sized tray, make the mixture in there, then just use an old broom to sweep the oil on. The average sized deck takes around just half an hour to give a new lease of life!
Maximum timber protection with colourguard
You can save money on not having to treat timber decking so often if you make sure you have a colourguard in the oil you use. This is basically sunscreen for your timber and available from paint and hardware stores. Shop around for the best price - it's well worth the effort as this product will double the length of time needed between treatments and save you more in the long run!
Old fashioned beeswax best for decks
The cheapest way to give a wooden deck a new lease of life is to do it the old fashioned way - with plenty of elbow grease! Do you remember the old fashioned beeswax polish in a tin? My mother used to put a pair of old thick socks on her hands, an old scarf on her knees and wax it by hand. It lasts longer than most modern-day products and you get some exercise as well! Get the family involved to help and see the difference!
...Also last month Louise Harvey asked:
"There is some great information available on buying, moving, renovating and DIY but no Simple Savings tips on building a new house. We would love to know ways to reduce the cost! Does anyone have some tips on how it's done? We would be really interested to hear of examples where saving money didn't work out as planned, as well as things that worked for members to reduce the cost of building a new house?"
Many thanks to everyone who sent in valuable advice and suggestions on this subject. If you too are planning to build like Louise, you can reduce your costs by thousands, thanks to ideas like these!
Select land carefully before building
One of the best and simplest ways to save money on building a house is to select your land carefully. Often the first cost that people get stung for is for deeper footings to be put in, because the land has some degree of movement in it. Before you build, also consider the advantages of buying a transportable home rather than building. You can still make it look like an established home with a little attention to the presentation and landscaping.
Modify your own building package to suit
We may not have built our first house ourselves but we did manage to save substantially on getting someone else to build it! We modified the plans and saved where we could - obviously we didn't scrimp on the things that mattered, or anything we couldn't do ourselves. We had a place to put a deck built into our plans, which was cleared along with the whole block, but then left clear so that we could build our own deck when we moved in. This saved us quite a bit! It's a worthwhile idea to research solar passive housing designs to make the most of your location. A really helpful site is www.greenhouse.gov.au/yourhome/technical/index.htm which also has many other things you can consider in the building process. One thing our builder advised was that glass is cheaper than brick, so having huge windows can actually save money on the building costs. However, you have to keep in mind that big windows will let in heat and light, so don't forget to include the costs for window coverings and so on in your estimates! Also, if you don't like something in your 'package', simply have it removed and you won't have to pay for it. I didn't like the vertical blinds that would have been put in as standard, so we took them out of the contract. Extras you might want to consider are putting at least two power points in each room, as most housing plans don't put in enough. It's very cheap for you to upgrade to double power points and it will cost a lot more to have them put in once the house is built!
Halve the price of building with TAFE tradespeople
We are saving a massive 50% on building our new home! We are getting a pre-fabricated house built by our local TAFE Building Studies apprentices. This will give us a four bedroom house with bathroom, ensuite, walk in pantry and two living areas for about half the price of building on-site with a builder. It is all overseen by qualified tradespeople and all electrical and plumbing work is actually undertaken by qualified tradespeople. As the pre-apprentices do a lot of the work, you don't pay for any labour costs for that part of the work!
Top tips for home builders
The best house saving tips we have found when building my parents' house are:
1. Check out your smaller, local hardware stores. We have one in Victoria called 'Mick n' Roy's' but most areas have similar small outlets. You save heaps of money at these kinds of places rather than going to the big chain hardware stores.
2. Offer yourself as a labour unit. One of the biggest savings you can make is to find a builder who is willing to make a deal with you. By offering to do so many hours of labour in helping to build, you can save at least $30,000, just in labour costs!
3. Check with your local council about any clearings that are coming up in your area. You can pick up a heap of great stuff for free, as they want to get rid of it. Great for revamping or renovating!
Keep an eye out for tile clearance sales
We made a terrific saving on tiles when building our house. We purchased what we needed for our bathroom walls and kitchen splashback during a tile clearance sale. This brought the price down to just $10 per square metre for the bathroom wall tiles (as opposed to $25 per square metre for a similar tile not on special) and the tiles for the kitchen splashback were just $5 per square metre. The tiles on sale are only the styles and quantities that the shop has in stock but if you are flexible with your colour scheme and choose a popular colour (my tiles were both off-white), you can make a huge saving. Bunnings is also a good place for tile bargains. The tile I had originally chosen for the bathroom floor cost $30 per square metre at the tile shop but I found the exact same tile for $25 per square metre less at Bunnings. Buying our tiles this way allowed us to tile the whole bathroom and we were able to use the money saved on buying tiles to employ the tiler for a bit longer!
Home building suggestions from magazines
When planning to build your own home, magazines can be a great source of helpful information that can also save you money. Some examples are Owner Builder, Grass Roots and Earth Garden. These magazines usually have plenty of suggestions for building a home that reduces the cost, ideas for using second hand materials and where to source them and suggestions for the types of materials that have a low environmental impact. Our family have been reading these magazines for years and we are inspired by the articles that are in them each time they come out. Check out your local library as most libraries seem to have them. If you find them at the library, you will also save of the cost of having to go out and actually buy them!
Building savings for handy men - and women!
When looking into building our own house, we found the kit homes to be really good value. They are designed for the owner builder and can be built by most handy men. Another way to reduce the cost of building is to do the labouring work yourselves. This reduces the cost considerably because the builder does not have to pay for labourers. Most handy men or women can follow instructions - all you need is a willing builder to show you all the things you can do yourself!
Pick and choose builders and tradespeople Contributed by: Angela Caballero
Ups and downs of building your own home Contributed by: Inez Bowker
Shop around for your builder and save Contributed by: Tracey Bryan
Home building tips from the experts Contributed by: Peta Crogan
---
8. This Month's Help Request: Scrapbooking Tips
This month Jane Bird asks:
"I love Simple Savings and all it stands for. I would like to start Scrapbooking but am worried it could turn into a costly exercise! If anyone can offer any advice or tips on low-cost ways to get this new hobby started, I would greatly appreciate it."
We know there are heaps of crafty and clever members out there! If you can help with some frugal scrapbooking tips for Jane, send them into us here.
---
9. SAVINGS STORIES: Inspiration from the Forum
This month's savings stories are taken from a thread in the Forum entitled 'Inspirational SS stories', in which members were asked to describe their own Happy Hanna transformations. What a long way some of you have come. Stories such as the ones below are too good not to share!
Achieving the impossible
"I joined SS in November 2004 at a time when we owned our own business, had limited income and many expenses. We were renting, eating into the nest egg we had and were going backwards. My husband was unable to borrow and I worked part time. I decided that November that we would be back in our own home by the end of 2005.
"While we didn't follow every SS tip (I actually follow more now) we managed to save an additional $15,000 by June 2005. I increased my work hours, which provided more income, as well as dramatically reducing my spending. I wouldn't even get in the car unless I was going to work and we ate healthily but very, very plainly. We went from eating out every week to not at all. I wouldn't even consider buying a drink or snack when out. I now believe it is the little things which add up to big savings.
"In June 2005 (six months before my goal date) we moved into our own townhouse in the Hills area of Sydney. I was still not working fulltime at this stage and was on a casual rate. By the time we bought, our additional savings plus nest egg was 17% of the price of our home. Once we moved in, we did relax our strict ways and have not saved nearly as much since but we are ahead on our mortgage by thousands and I now have a plan in place to reduce it by another $10,000 by the end of the year. For me, having a goal and pursuing it passionately is the answer to doing what I believed was impossible at the time."
A brighter future
"We married young (by today's terms), before I had finished my degree and my husband had just finished his. A few years later I was pregnant; again before I finished my degree but I completed it four months before our daughter came along. At the time, we were renting and really didn't think we would ever get our own house, but we decided to save hard and try. When our daughter was 14 months old we moved into our own (daggy) home. Over time we did it up and now have an asset worth approximately five times what we paid for it and with only a small amount now owing on it. We are also building a share portfolio, savings for our kids' education and savings accounts for them that they can access (wisely) when they get older.
"We have always been very careful with our money (me more so than my husband), but I have slowly converted him (somewhat). Each pay our savings (mortgage + savings account deposits) are automatically deducted before we see the money; this way there's no temptation to spend what's being put towards our future. I'm now back working fulltime and have almost completed more study, so the future is looking brighter, but it hasn't been easy. On a personal note, our relationship has flourished while unfortunately many of our friends have separated. We are very grateful for what we have worked together to achieve.
"To get where we have, we have often done without. Almost all of our furniture is from family and we didn't get proper engagement/wedding rings until our 11th anniversary!"
Million dollar solo mum
"I didn't find SS until the beginning of last year and realised as I read through some of the savings tips and threads, that I had been living the Happy Hanna philosophy ever since I'd left a bad marriage nine years earlier, when I would be raiding the cutlery drawer for change to buy milk/bread three days before pay day.
"As a young single mother studying, we didn't have takeout food for an entire year. I'd shop every eight days, nappies were cloth and at that time I spent $4.00 per fortnight on generic Napisan. Our milk was powdered, our meat was mince and sausages. No such thing as baby wipes, flannels did the job. I remember looking at some Clark leather shoes in an op shop that cost $4.00 and not having enough money to buy them for my toddler. In two years I bought one item of clothing for myself, a pair of $2.00 jeans. My daughter's wardrobe was sourced from hand-me-downs from a kind acquaintance of my mother's. I had no heating/cooling in our rental property and would dress the girls in triple and quadruple layers, or have them sleep with me when it got too cold. Our weekly 'treat' was a $2.00 video rental. I think we spent $60 on food/cleaning supplies per week.
"Today I am remarried, with uni degree under wraps (I became a teacher). I now have four investment properties, my own home, never less than $20,000 in the bank and equity in excess of a million dollars. I have to say that, had I not taken that dramatic action all those years ago, I would not be where I am now. I still drive a ten year old car, pay my credit card out in full and keep powdered skim milk in my cupboard. The number one savings tip I have: always spend less than you earn and invest the rest."
To read more inspirational stories like these, click here to go straight to the rest of the Forum thread.