"Secrets to Saving Money in Australia" Free Newsletter - April 2007
This issue includes:-
Sad Sally, Happy Hanna: Clever Shopper
Simple Savings Shopping Bags
Sophie Gray: Mother's Day Menu for Men
Kitchen Cleaning Tips
Best of the Forum
Penny's Blog: The REAL Secret
Homeopathy Corner: Tutorial No. 9
From Last Month: Subdividing, Party Food and Mosquitoes!
This Month's Help Request: Timber Decking and Building a House
SAVINGS STORY: Cut Work Hours and Prospered
---
Hi!
How are you doing? I hope you have had a great month. All is going well here, my belly is growing nice and fat! Little bub has started kicking the desk as I type and plays football whenever I drink a cup of tea. I would love to know what he is thinking - something like 'Oi! What is that? Why is it suddenly so warm in here?' Who knows; maybe it's just going to have to remain one of the secrets of the universe!
There have been quite a few changes to the Vault this month. I hope you enjoy all of them and send in lots of wonderful emails because they really make my day. *cheeky grin*
"No longer am I fighting with Mr Frugal (husband) and our home loan is not in the RED! In fact, it's in the GREEN (ahead just a bit - but every bit counts). BUT - the most important thing is, it has saved my marriage and my sanity!
"Tears in my eyes as I wrote that ... anyway THANKS ALL SIMPLE SAVERS AND SIMPLE SAVINGS CREW!" (RG)
"I joined your site over six months ago and it has really helped me find ways of paying my debts off; some of which were months behind. I just wanted to say a big thanks for all the information, handy hints and the 2007 Wealthy Habits Calendar!" (Lisa Matcham)
"I thought that the last newsletter was really interesting to read. It is amazing that there are so many different solutions to saving money! I work in the city and have started to save money by making my own lunch instead of spending over $10 a day buying it. After reading your letter I added up just how much a week I was spending on food for lunch at work and it calculated to over $50 a week. That's $200 a month - over $2,400 a year on lunch money! I am now going to buy bread for $2.00 a week and enough chicken and salad to make all the lunches I need from home every week instead!" (Elle)
"Several years ago I was budgeting madly and had a few nifty ways to save money. What I did worked and I eventually saved enough to pay for what I aimed for. One of the things I was inspired by was an American book on budgeting - it's like gold. Unfortunately I lost inspiration along the way but I am now 'back on the wagon'; not just with savings but with many habits. This is a great site and very unusual for an Australian site in that it is very approachable and chatty. Most Aussie sites and info are very good but oh-so-earnest and dry. It's great to find one that is so engaging.
I think your planners are great! Easy format and energy-efficient downloading - much better than Al Gore's current distribution of HIS information, I must say!" (Jill G)
"You are doing a marvellous job. The site is very user friendly and I am sure the non-savings chat in the Forum is helping lots of people too." (Betty)
"I would like to say a big thank you for your fantastic site. I printed off the 2007 calendar and gave the part at the back (which had your story and Sally and Hanna's story) to my husband to read. I gave him a little time to think about it and told him that we had to do something and we had to do it together. He thought about it for a day. I left my cut-up credit card on the bench and then he handed me his - he is not quite ready to cut it up, so we froze it instead. Now in a couple of weeks we will be able to purchase our Vault membership (which I am looking forward to). All of this will help us prepare for baby number three (due in seven weeks) and give our children the things we want to give them, instead of struggling to make ends meet. Thanks once again." (Tabatha Arnott)
I hope you have a truly fantastic month!
Many grins,
Fiona
PS. This month's "Mother's Day Menu for Men" below is a real doozy. Forward this email on to other mums too, so they can enjoy the spoils of Sophie Gray's Mother's Day wisdom!
---
1. Sad Sally, Happy Hanna: Clever Shopper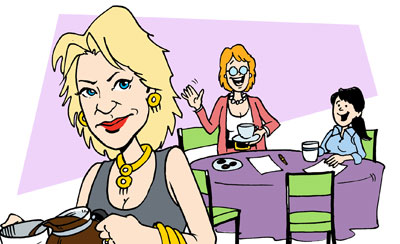 Sally arrived at her Savings Group meeting in a huff. There were a hundred and one things she would have much rather been doing this afternoon but Pete had been so much nicer to her since she slapped all those Memory Trigger stickers around the house so she had to keep up appearances. She couldn't even get in the door after each meeting without him quizzing her excitedly to ask what she had learned. Getting out of debt means so much to Pete she had to try her hardest.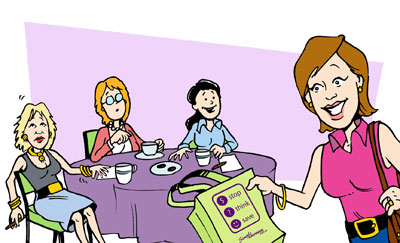 At least Hanna looked happy to be there - she bounced into the meeting even more excited than usual. "Guess what, guys? I have a new way for us to save money this week!" Sally had trouble suppressing a groan. Great - more work, just what she needed. Then Hanna pulled out a brightly coloured shopping bag. "Here you go, grab one of these!" she grinned. "These bags will help us Stop, Think and Save while we are shopping. No more impulse buys. We will save buckets!"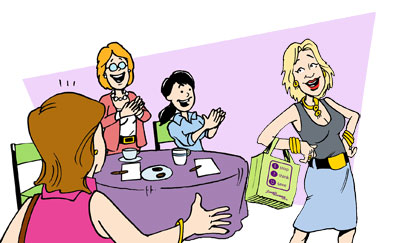 Immediately Sally's eyes lit up - she just wanted to get one home to show Pete - he was going to be SO impressed! She greedily snatched the bag from Hanna, popped it over her shoulder and sashayed around the lounge, much to the amusement of the others. "Now I REALLY look the part. I feel like a smarter shopper already!" she beamed.
---
2. Simple Savings Shopping Bags
Eight months ago, members asked for some Simple Savings shopping bags as a way they could identify other members. It's taken a little while to arrange because I wanted them to be extra special; not just a bag but something to help you lower your bills and improve your life. So here it is - a reusable, environmentally friendly Simple Savings shopping bag to help you "Stop, Think and Save".
The main purpose of these shopping bags is - well, obviously to carry your shopping but they are not just bags. They are also member spotters, Memory Triggers, confidence boosters, stylish accessories and help us to help other shoppers save money!
1: They help you to spot other Simple Savers.
There are 60,000 of us around now and here we all are, walking past each other in the supermarket without saying hi when we actually have something in common! We don't know what fellow Simple Savings members look like but by carrying our bags as we shop, we will now be able to flaunt our savvy status with pride! Also, with Savings Groups now actively at work all over the country, it's a great icebreaker for new members and the perfect way for groups to identify one another.
2: They act as a memory trigger.
Think of your bag as a funky memory trigger - something that is cool enough to want to carry around but actually reminds you to be on your guard and keep your money in your pocket. Stop, Think, Save is really a summary of your Eight Steps. If you can stop yourself and think about what you are about to buy, you are ahead of the game.
3: They give you confidence to ask for discounts.
Something I am hoping for long term is that when you have this bag with you, it will give you more confidence to ask for a discount. One of the problems we have found for a long time is that most people want to ask for a discount but are a little nervous. Don't be - think of it this way instead. Stores are set up with dual pricing; the showroom price that most people pay without question - and the cheaper price for people who have the savvy to ask. We want to help give you that confidence - as you carry your bag, you will know that we are all out there doing it as well!
4: They look good.
Let's face it, looking good is important. A lot of thought went into the design because this bag needs to be something that you are going to want to be seen with every time you shop. Sure, there are plenty of other environmentally friendly bags you can buy but how appealing are they? How often do those daggy looking bags get left in the boot of your car? We wanted Simple Savings bags to be different - a bag you can't ignore. A bag that screams 'TAKE ME SHOPPING!' So we have gone with a stylish purple and green bag that fits in nicely with the site and also looks good when you are carrying it.
Unfortunately, it is a little hard to replicate the green on the bag on a computer screen. Below is about as close as we can get.
5: They help other shoppers.
One of the biggest challenges members write in with is what to do when they see other people struggling. How can you tell them about Simple Savings without being rude or hurting someone else's feelings? These bags are the perfect solution. First and foremost they are unobtrusive. When you carry the bag around, all you are saying is that you are a savvy shopper and helpfully carrying the URL around too, so other people will see where they can go to find out more information. We have made the logo and URL nice and bold, so people can see it from ten metres away. You have carried the bag, you have done your best - the rest is up to them!
3 bags for $10 including postage
OR
10 bags for $25 including postage.
You can also choose from two styles of bags:-
Style A) With Hanna on one side and our Stop, Think, Save logo on the other.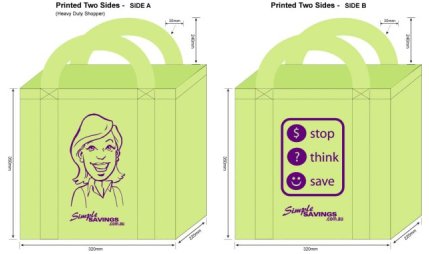 Style B) With the Stop, Think, Save logo on both sides.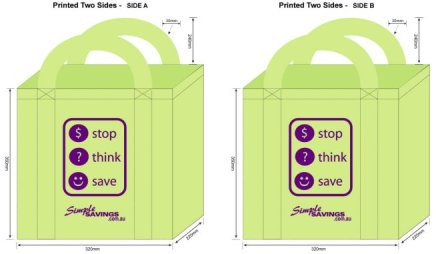 We let Vault members order first and sold half the bags in 24 hours. I don't think I have ordered enough bags! So, if you want yours from the first batch please be quick and place your order here. (Even if I placed another order with the supplier today, they won't arrive till July!)
---
3. Sophie Gray: Mother's Day Menu for Men
People without kids have no idea how hard mums work on Mother's Day. They imagine that we lie around taking our breakfast in bed or soaking in a bubble bath before being whisked to a restaurant for lunch by offspring and spouse who dance attendance on our every whim.
However, the truth is that most mothers will get woken up inordinately early by:
A. A crying or vomiting or smelly baby (that's if we've had any sleep at all), or
B. A boisterous toddler, demanding the remote, the credit card or the keys to the car, or
C. The sound of the kids bickering, and an exasperated Dad trying to lecture them into a "pampering mum" frame of mind.
With both their own mother, and his to consider too, they'll get up, organise cards, presents and a series of visits. All the while trying to keep the kids clean, clothed and on their best behaviour.
Some will be lucky to get so much as a grunt or a text from their own kids, let alone a card. And anyone with teenagers can wave goodbye to a soak in the bath, due to the bathroom being permanently occupied by hormonal youths petrifying their hair and inspecting their spots.
Despite all that, I personally still look forward to Mother's Day. Home-made cards with their excess of glittery bits and sticky mis-spelt messages are among my most treasured possessions. I don't want boxes of chocolates or a potted plant. I just want time with my family, to relax and reminisce (remember when you were born you great big thing? I thought I was dying!)
Enjoying a meal together, made for me, rather than by me. That in itself would be a treat.
So to help them, and me, have at least one memorable meal this Mother's Day I have devised a menu that men and little people can actually manage, as I find their culinary skills are often at a similar level. During the week I'll make sure that I have the necessary ingredients in stock. Then, when my beloved foolishly asks me what I'd like for Mother's Day I'll give him the following list -
DADS Take Note:
Breakfast in bed - Seriously good cereal, must begin the night before!
Lunch - take me out, a picnic is fine. Readers may choose to insert a visit to mother or mother-in-law for lunch
Dinner - Linda's chicken couscous, Berry easy instant ice cream
Get the kids to:
Lay the table, breakfast tray or pack the picnic basket. Keep them involved.
Ring the Grandmas and wish them happy Mother's Day. This will buy Mum time for an all important lie-in.
Suggest that the senior family members come to your place for dinner and the men cook. (OK, the younger men).
Remember the single mums in your area; their kids may need some help getting sorted with a small gift or card so their mums don't miss out.
Beware - small appliances do not make great gifts unless she is a true gadget girl. If you're not sure, ask yourself: would she choose earrings or an iron? If the answer was not the iron, take it back!
Take Note - mums are absolved of all nappy changing duties on Mother's Day, it's written in our charter. We'd show it to you but it's top secret and we'd have to kill you but you can trust us (we're mummies after all). No Nappies Today!
Chores such as Cooking, Cleaning, taking out Rubbish or doing dishes -see above!
Breakfast
Seriously good cereal-
A foolproof special breakfast that won't leave crumbs in the bed.
Prepare this the night before. As you sleep - or stay up late, the muesli will be absorbing the fruit juice, making it deliciously sweet and tender. Add the decadent tang of fresh berries and yoghurt to serve and you have a showstopper breakfast without any fuss.
For each serving you will need:
A tall glass or tumbler
½ cup of good quality muesli, the nuts and grains kind not flakes and rice pops
Fresh orange juice
Greek style yoghurt
Berries - fresh or frozen
The night before, get the kids to spoon the muesli into the glasses, pour in enough orange juice to just cover the muesli and then refrigerate overnight.
In the morning, simply top with a generous dollop of thick Greek yoghurt and some berries.
In the unlikely event that you need a little extra sweetness you can add a swizzle of maple syrup or honey.
Place on a tray and bring Mum hers in bed - wait until she is awake first, it's difficult to enjoy a meal, however lovingly prepared, when you are still rubbing sleep from your eyes!
Lunch
Picnic - use your imagination
Restaurant - use your wallet
Family visit - someone else cooks
Dinner
Linda's Chicken Couscous
I developed this recipe for young cooks so Dad and the kids should be able to manage it and you will like it. It's savoury, tasty and healthy and not too complicated. If I am making this dish, I skin the drumsticks by gripping the skin with some kitchen towel and pulling it off like a stocking. I then drizzle the pan contents with a little olive oil; healthier than fat from chicken skin. My kids can't yet manage to skin drumsticks, so they cook them skin on and omit the oil.
8 chicken drumsticks
½ onion, chopped
3 cloves garlic, crushed
1 parsnip, peeled and cut in wedges
1 potato cut in chunks
1 small swede or kumara or chunk of pumpkin, cubed
2 large carrots cut into chunky sticks (a bit skinnier than a Jenga block)
1 cup frozen mixed vegetables
1 tsp dried thyme
2 cups or 500ml chicken stock - use 1½ tsp stock powder per cup of water
1½ cups couscous
2 tbsp olive oil - optional
Preheat oven to 180°
Place the drumsticks in a large roasting pan. Add the onions, garlic, thyme and all the vegetables except for the frozen ones; we'll add them later.
Bake for 20 minutes, stirring at least once, then pour in the stock and continue cooking for another 20 minutes.
Sprinkle in the frozen vegetables and couscous then give the contents of the pan a bit of a mix so the couscous comes in contact with the liquid and pan juices which it will absorb. Return to the oven for a further 10 minutes. Scrape all the nice crispy bits of couscous off the sides of the pan if you are serving it on a platter - we usually serve it straight from the pan and fight over the crispy bits.
Cook's tips: You can add more stock to the pan if it seems too dry before adding the couscous, a splash of wine can be included, different herbs such as rosemary or oregano can be used and this dish can be eaten hot or cold.
Berry Easy Instant Ice cream
This is one of those recipes which seem to have endless variations and circulate through the population like an urban legend. It makes a really delicious frozen dessert in seconds; good enough for a special meal.
A food processor is essential.
Serves 4
2 cups frozen berries
½ cup icing sugar
½ cup of yoghurt or cream, or milk - (I like yoghurt best - you can use plain or flavoured)
Process the frozen berries using the cutting blade of the processor (it will sound like artillery fire); add the icing sugar and then just enough of your chosen dairy product to create an ice cream like consistency. Serve in chilled dishes (a stemmed glass is a good choice) and eat immediately.
Dairy free: Substitute with a berry flavoured soy yoghurt and make in the usual manner.
These recipes and many more are available from Sophie's brand new book 'Enjoy!' which also includes delicious alternatives for those with food allergies. For details, check Sophie's website (www.destitutegourmet.com).
---
4. Kitchen Cleaning Tips
Making special treats for Mum is a sure-fire way to make her day - but if you want the warm fuzzies to last, little cooks need to pay almost as much thought to cleaning up the kitchen afterwards! If your young chefs have left a trail of destruction despite their best efforts, now is the time for them to get to work in every nook and cranny of the kitchen and clean it for Mum too. With tips like these from the Vault, you'll be guaranteed to stay in Mum's good books for much longer!
Dishwashing liquid makes best kitchen degreaser
To remove greasy fingerprints on kitchen cupboards, fridges, grease build-up on rangehoods and so on, squirt a drop of dishwashing liquid on a sponge and simply wipe away. This was a tip I learned from our cabinet maker when he installed new kitchen cupboards and had covered the white doors in lovely black fingerprints. Much cheaper than expensive kitchen cleaners and just as effective!
Use vinegar and bi-carb to clean stove top
A good way to save on the cost of cleaning your kitchen is to clean your stove top with bicarbonate soda and white vinegar. Bicarbonate soda costs about $4.00 for 500 grams and white vinegar (generic brand) is about $2.00 for a litre bottle. I sprinkle the bi-carb on the stove top and sprinkle vinegar on top. (My two-year-old loves to watch the fizz!) I leave to soak for about half an hour, and then wipe off. No chemical smell, and no harsh scratching!
This also works well on the floor of shower recesses. I haven't bought a stove cleaner/oven cleaner in a long time - I don't even know how much they cost now!
Clean up broken eggs
When you spill grease or drop an egg on the kitchen floor, pour salt on right away. The salt will absorb the mess so you can wipe it up easily.
Cleaning stainless steel appliances
If you have stainless steel kitchen appliances, ovens, fridges, dishwashers and so on, instead of buying that expensive oil to polish your products, I can recommend using good old Eucalyptus oil on a soft cloth - cheap as chips and does a beautiful job.
Generic cleaner just as good as expensive sprays
After spending up to $15 a week on disinfectant cleaning sprays for different rooms and surfaces, I discovered a cheaper way. A bottle of generic brand concentrated disinfectant for $0.70c, diluted 50/50 in a spray bottle does exactly the same job, resulting in a saving of $13.60 a week. It shines tiles, disinfects the kitchen and loo and leaves a lovely scent!
Clean oven with cloudy ammonia and water
For a cheap oven cleaner, mix together three parts cloudy ammonia to one part water, then fill an empty spray bottle. Heat the oven, then switch it off before spraying the interior thoroughly. Leave overnight and wipe clean the next morning.
$2 cleaner does everything
I take care of all the cleaning jobs in our house with one $2.00 bottle. I grab a two-litre bottle of Home Brand laundry detergent and away we go! Add a dash to a bucket of water to mop the floors, dilute with water in a spray bottle to clean the toilet and bathroom a la Flylady, to wipe doors and bench tops clean and even the car! I have never found it to have any adverse effects on any surface and it cleans everything perfectly!
Clean your oven racks with aluminium foil
An easy way to clean your oven racks is to wrap them in aluminium foil, place them in very hot water in the laundry tub or bath with your laundry detergent. Make sure they are completely covered by the water. Leave until the water has gone cold then a light rub with either a brush or steel wool will bring your oven racks up like new. There is a chemical reaction between the foil, laundry detergent and hot water which lifts off most of the baked on grime from the racks.
Easy clean microwave
An easy way to clean and deodorise your microwave is to put half a cup of water in a microwave proof dish with one tablespoon of baking soda in the microwave. Cook on high for one minute. The steam from the water loosens anything that doesn't belong there and makes it easy to wipe away. The baking soda absorbs odours.
Make a sugar soap spray
Sugar Soap is far cheaper than Spray 'n' Wipe and lasts so much longer. It does a better job too; we don't use anything else now! Sugar Soap is only a couple of dollars for a 750ml bottle, which you dilute. I put about half a cup or so into a spray trigger bottle and top it up with water. It's amazing how quickly it washes away the dirt and grime and there are no fumes or annoying smell. Sugar Soap is available in the supermarket, give it a go.
Removing stains from the kettle
To clean the inside of a jug easily, economically and safely, put a lemon cut into quarters into the jug, fill with water and bring to the boil. Let it stand for 10 minutes or so. Your jug should look like new with all stains removed.
Shining your sink with paper
For all the 'Flybabies' out there with stainless steel sinks, use newspaper to buff your sink and save on cleaners. The ink in the paper gives it a real shine! (The newspaper should be at least two days old to cut down on print being left on your hands.)
---
5. Best of the Forum
The Forum is a bonus for Vault members and it is growing fast. Some of our favourites from this month are:-
Things you do to save money that help the environment
Kim encourages members to think about some money saving things they do every day which are also kinder to the environment. Check out their ideas to discover simple tips which can make a big difference!
Challenge - Baby Steps Mortgage Reduction
Kate has set herself a challenge to pay an extra $2,000 off her mortgage by this time next year. Read this thread to find out how she plans to achieve it - and how you can do it too!
The real cost of spending
Robyn browses the Vault and discovers the tip she vows will change her life! Read this thread and you too will be amazed at the real cost of spending.
Anyone else had enough of the $2 shops selling junk?
Amanda has had enough of buying cheap products from discount stores that don't work or break with the first use. According to this thread, she's certainly not alone! Read on to find out where the real bargains are - and aren't!
Don't buy, make do!
Back in December last year, Kim started a thread to learn of specific ways people have found to make do with what they already have, rather than going out to by something new. Four months and over 220 replies later, this thread is still going strong!
How very SS - a wonderful birthday party!
Natalie gave her lucky young daughter the kind of party all little girls dream of, with the help of Simple Savers' tips and recipes. Mums with young daughters won't want to miss this thread, with photos to boot!
---
6. Penny's Blog: The REAL Secret
Apr 2, 2007
I have to admit, I've been feeling pretty smug over the last few days. You see, I've been hearing a lot about 'The Secret' in the Savings Forum and it sounded pretty interesting, so I was very keen to watch it when it aired here on Friday night. Who wouldn't want to know the secret to achieving happiness in all areas of your life? So I started watching and was indeed impressed by the positive vibes and encouragement beaming from the celebrity panel. Even the Sad Sally in me was struggling to get out and buy the book and the DVD. But the more I watched, the more something became apparent to me - I didn't need it - and for a change it had nothing to do with the price. I didn't need it because I was already happy. As far as I was concerned, I had already found the secret to a perfect life a couple of years ago and that was when I joined Simple Savings. If that sounds over the top or corny, I assure you it's not at all. For starters:
Simple Savings is my secret to WEALTH. Joining the site got me out of debt, managing my money and saving it. I attract more money every single day by learning to keep it in my pocket.
Simple Savings is my secret to RELATIONSHIPS. Working towards saving money together has resulted in a happier, more honest marriage, without any of the previous worries or guilt from overspending. We have firmly established goals - the same goals - and work together as a team. It has also resulted in me being a better mother. My children are now showered with all the love and time they need, instead of being showered with toys and possessions that mean nothing. We all enjoy many more happy times together without the need to spend any money and I believe my children will grow up much better people being raised as Simple Savers.
Simple Savings is my secret to SELF-WORTH. In the not-quite three years since I joined the site, I have made countless changes for the better and I walk with my head much higher now because I know I am making the best choices every day for my family. The 'Time is Money' equation has helped me to see what I am worth, as well as everything else around me. Simple Savings has also taught me how to look and feel good on a budget and make healthy choices and, while I'll never be a size eight again, I finally feel comfortable in my own skin.
Simple Savings is my secret to HAPPINESS. Every single day I look outside at our thriving garden and all the things we have achieved on our own land, I appreciate it more. The reason we still have our wonderful, productive corner of paradise is due to Simple Savings. It is the sole reason I was able to wake up to my spending habits in time and stop us from going under and losing our home. I can't think of a better place for us to be.
I could go on but you get the idea! I'm not saying The Secret isn't fantastic too but I have to admit, I was hoping for something more. Like the poor solo mother on the show who was $40,000 in debt. Apparently they had already been helping her and I couldn't wait to see the results but they were nothing like I expected. There were the panel of experts smiling at her indulgently and saying 'Don't see yourself as being in debt - see yourself getting OUT of debt. You can do it!' That was it? Sorry but it didn't cut it with this saver. 'JOIN SIMPLE SAVINGS AND START NOW!' I wanted to yell at the TV. 'Take the woman around her house and show her how she can save money on every single thing in her life! Do something!' But no - that was it. Maybe I should email Oprah and ask her to bring the poor lady back for a one hour special with Fiona and compare the results!
Another thing which has had a significant effect on my life lately is this hint Organise your life and reap the savings. Now if you're already an organised person, this revelation is nothing new but for a household as chaotic as ours, it has worked really well. This hint sounded a lot like me so I decided to try really hard to get organised and stay that way. The first job I had to tackle was cleaning out my car. The state of it had been bugging me for ages. Every time I needed to fit an extra child in the car I had to make room by throwing everything from the back seat into the boot but after a while the boot was full and there was literally no room left in the car to fit ourselves in! It took me three hours to clean my car inside and out and by the time I had finished there were three baskets on the ground - one full of my stuff, one full of Liam's and another full of Ali's. There were also three rubbish bags of everyone's rubbish to match. What a state to get into - you can imagine what a horrible job it was. I even found a backpack containing Ali's lunchbox from when he attended his zookeeper course over two months ago, the contents of which were quite a sight to behold. I presented the kids with their baskets and bags and told them to put everything away in its right place and that I never wanted to drive such a filthy car again. From now on I was the proud owner of a CLEANMOBILE and straight away I felt so much better. For some reason, sorting out my car led to becoming more organised in all sorts of other things. I have learned that to stay organised I have to S-L-O-W D-O-W-N instead of my usual mad dash and this actually results in getting more done. I also started taking a leaf out of Noel's book and making a priority list each day. With his job he never knows what is going to crop up from one day to the next so he has to prioritise as he goes. He has often told me to do this due to the squillions of thoughts always going round in my head but I have only just started to take any notice. Instead of trying to fit in 20 or more jobs in a day and not getting time to do half of them, then feeling guilty about all the things I haven't achieved, I now keep a short list of just four or five tasks. Before I write them down I ask myself 'What is it I actually need to do TODAY, that can't wait?' and by doing this I have found life doesn't have to be a permanent cycle of chaos. I get everything done that I need to achieve and don't need to waste precious brain space worrying about everything else until another day!
Talking of worrying, several people have asked me how Liam is doing since he began suffering from anxiety attacks at the beginning of the year. The good news is, he's doing great! Apparently he is genetically pre-disposed to anxiety, which I felt was rather a misconception until the two of us went out together last week. I was feeling a bit guilty as I had just bought a bottle of V, which is usually $3.50 or more but I couldn't resist buying my favourite guarana drink while it was on special at $2.90. As we passed through the Warehouse check-out, I told Liam I needed to visit the bathroom and he said he needed to go too so we agreed to meet on the bench outside the two conveniences. Being a nice new Warehouse, it had super nice clean toilets and I thought to myself what a nice public convenience it was, although I didn't much like being surrounded by mirrors, particularly when I sat down! Anyway, there I was, trying not to catch sight of my own reflection whilst on the loo when I heard the door bang shut in the cubicle next to me. I looked down and through the large gap underneath the separating wall, I spotted a huge pair of man's boots. Immediately I went into panic mode. 'There's a man lurking in the women's toilets! What does he want? I'm all alone in here, oh noooo!' I decided the best bet was to get the heck out of there as fast as I could before he had a chance to carry out any undoubtedly evil plans, so I burst out of the door and legged it to where Liam was waiting calmly on the bench. My heart was thumping nineteen-to-the-dozen and I tried to hide my distress from Liam to avoid causing him any extra worry but I was in such a state I didn't know what to do next. I couldn't bear the thought of any other poor unsuspecting woman meeting a terrible fate in the Warehouse loos and told Liam I was going to have to go and tell the security guard that there was a man in the ladies' toilets. Being only ten he didn't quite get the seriousness of the situation and just laughed like mad at the thought of some silly bloke walking into the wrong toilet, so I had no choice but to tell him about my terrible fright. Immediately he stopped where he stood and rolled his eyes. 'Mum - did it ever occur to you that it could have been a WOMAN wearing MAN'S boots? I saw that person walk into the ladies' when I was sitting on the bench - it was a woman wearing work boots and fluorescent overalls! Honestly Mum, you dork', he tutted, 'Fancy you worrying about something like that!' Once he had suitably convinced me that there was really no need to go back into the Warehouse and save womankind from the nasty toilet monster I couldn't stop laughing myself. 'Phew!' I breathed a sigh of relief as we reached the car. 'I need a drink - now where's that 'V'?' and immediately remembered where it was - still sitting on the floor unopened in the toilet cubicle with 'SOLD' plastered across it. My expensive, guilty treat. 'Oh no! There's no time to go back for it now!' I groaned. 'Serves you right, Mum, you shouldn't have bought it in the first place!' ribbed Liam, who had great fun for the rest of the day regaling the tale of how his mum got spooked by a 'man' in the toilet. I can see now where he gets it from!
PS: I couldn't resist mentioning this cute hint for Magic Easter Bunny food! I would love to give that a go - if only I hadn't got sprung last year!
Bonus this month: We have moved 4 months of blogs from the Vault to the free area of the site. Here are the links to the new/old blogs:
Penny's Blog is a special treat for Vault members and is updated a couple of times a week. You can drop Penny a line here - she loves to hear from other members!
---
7. Homeopathy Corner: Tutorial No. 9
This month Fran explains the advantages and disadvantages of the three main ways medical and health practitioners treat their patients. These are palliative care, suppressing the symptoms or actually curing the illness. This is a must read for everybody. To read Fran's tutorial go to www.homeopathyplus.com.au/book/tutorial-9.html
---
8. From Last Month: Subdividing, Party Food and Mosquitoes!
Last month we asked for answers to three help requests and you really blew us away with the sheer volume of replies! Unfortunately there is no way we can print all of them here but sincere thanks to everyone who responded; more on all three of these subjects can be found in the Vault.
Our first help request last month was from Nina in Perth who asked:
"I am wondering if there is a cheap/cheaper way to subdivide our property. We feel there is a lot of cash sitting in the backyard unused but quotes of over $30,000 for survey fees, plumbing, council fees and so on are quite off-putting. Any ideas you can give us would be great, such as cut-rate surveying, what you can do yourself and other tips. Thank you!"
This proved to be a tricky one to answer but hopefully suggestions such as the ones below will prove helpful to Nina and others in the same situation.
Check council requirements before subdividing
My advice to anyone considering subdividing is to talk to council BEFORE you lay out a penny and just see what their requirements are. In 2000, I subdivided a block. It LOOKED so simple but three years and $100,000 later it was finally done. The council put up so many obstacles, (such as 100 year flood zone on a block half-way down a hill!) It was not long after the death of my husband and I often wondered if it was because I was a 'lone woman' or, in the darkest moments, was someone waiting for a bribe! I had a Surveyor who also thought it would be a piece of cake and got as big a surprise as I did when we ran into so much trouble with the council, so I urge any would-be subdivider to check first and check carefully.
Subdivision jobs you can do yourself
When considering subdividing, be sure to get comprehensive quotes from several sources first, itemising costs for all the work. Then pick any areas that you could do yourself. I have just completed a survey strata subdivision where I used subdivision consultants/surveyors and also organised some of the work myself, such as plumbing, clearing of land and so on. It cost me less than $20,000 as a result.
Ask local councillor for subdivision advice
When thinking of subdividing, ask the advice of your local councillor. They will have extensive knowledge of the area and may well be able to give you a few helpful tips.
Also last month, Christine Calnan asked:
"My fiance and I are having an engagement party and to keep the costs down I intended to ask people to bring a plate. However, my mother refuses to allow me to do that because it will hurt her pride too much ('They'll think we're poor'). So help, please! How do I feed 50 people without blowing the budget and without asking people to bring a plate?"
The huge number of responses we received to this request showed that Simple Savers are fantastic at organising memorable events on a budget. Check out some of the ideas below for your next get-together!
After-dinner snacks save on sit-down meals
Instead of spending large amounts of money on full-size meals for party guests, you can save a huge amount by holding a 'cocktail-style' celebration instead. Hold it a bit later in the evening, so people will have dinner before they come, then you only need to serve nibbles - people won't eat as much because they've already had dinner. These don't need to be expensive; Home Brand nuts, sausage rolls and so on all taste great. You can make all matter of snacks yourself too, which usually work out much cheaper than bought ones, ranging from dips to 101 ways with puff pastry. Spend a bit of time making some great decorations for your party so everything looks wonderful and concentrate on enjoying your night for what it is - a fantastic occasion to celebrate with friends, not five courses of food!
Keep celebrations secret and save
Some of the best celebrations I have been to have been ones where the guests have no idea there is anything to celebrate! You can get away with organising a formal party by throwing an impromptu BBQ and asking all the guests to bring a plate of food. Only once all your guests have arrived do you then make your big announcement! I have seen some GREAT weddings done this way. People think they are going to a casual party, then suddenly a celebrant starts performing a ceremony. It's a huge surprise for everyone, and saves a fortune!
Dessert party makes cheap crowd pleaser
To keep costs down when feeding large crowds, I can highly recommend a dessert party! I do a lot of part time catering to help out friends with functions and this works really well. I borrow or buy a chocolate fountain ($49 to buy at Homeart) - don't consider renting them, it's a real rip-off. Serve up with strawberries and marshmallows and bamboo skewers - Asian shops sell them for $0.75c per 100 - so they should cost you no more than $20 as a rule. Then make some inexpensive vanilla slices, caramel tarts and meringue tarts in bite sizes, along with chocolate mousse in tiny wine tasting cups or shot glasses. Use beautiful platters to serve up everything! Time your party for after dinner and state in your invite that it is a dessert party, so guests won't turn up expecting dinner. Don't forget to include a couple of fruit platters made up for the health conscious. Enjoy!
Catering tenders can save on food
When catering for large groups of people, call for tenders to come forward. Appeal to a local TAFE College for their Food Preparation students to use your event as a work experience, or local clubs and community groups. They will appreciate the fundraising opportunity and you will appreciate the extra time and money you'll save!
Make sandwiches to celebrate
Remember when planning a get-together that your guests are coming to celebrate with you - not just for the food! Even a simple sandwich can be made special. Use three slices of bread to compile your sandwich, two white, one wholemeal and vice versa. Spread with fillings (egg and lettuce, salmon, cold meat and pickles or whatever you fancy) between each layer, then just slice into fingers and arrange on a platter. Another easy one is to use Lavash bread to make savoury swirls. Spread with salmon, mayonnaise and bean sprouts all over, then roll up tightly as you can and slice about one inch thick. Decorate your swirls on a large plate with a sprig of parsley. Your guests will be kept quite happily munching and you will be free to celebrate with them!
Home cooked catering from CWA
When organising food for a large number of people, ask your local CWA (Country Women's Association) group or similar if they would be willing to cater. My mother is involved with CWA and they are always being asked to quote for providing food for parties and events. They usually quote very reasonable prices and provide lovely home cooked meals and treats!
Bite-size sweets and savouries
Try these cheap, yet simple and delicious ideas for party snacks that are sure to please any crowd! You can use a pack of ready rolled frozen puff pastry to make both your savouries and dessert. First, top one sheet with chopped olives and sun dried tomato pesto, cut into triangles then bake in the oven. Then for dessert, cut the puff pastry into small squares, bake, then split each square into two layers. Fill with whipped cream and fresh fruit. Lay out on a tray, and sprinkle icing sugar over the top.
For more tasty dessert ideas that go a long way, use mini muffin tins to make bite-sized muffins (topped with icing and a jellybean). You can also make friands. These are so easy to make - all you need are three egg whites, one cup ground almonds, 1/2 cup icing sugar, 1/4 cup plain flour and 1/2 cup melted butter. Mix together then bake for 12-15 minutes at 180 degrees. Or, use your favourite cheesecake recipe to make mini cheesecakes, just fill small patty cases and bake in the mini muffin tins. Top with a swirl of whipped cream. Delicious!
Invite Mr Whippy to your party!
We have found that when planning a party, having a theme for the occasion can save a lot of money, especially on food. Making lots of one thing is much cheaper than having to come up with various dishes. For example, we once held a 'hamburger joint' dinner for around 50 people, where everyone created their own hamburger. You can source cheap buns, make your own patties and shred lettuce, slice tomatoes thinly, use cheese slices, beetroot, pineapple and whatever else you like. Bottles of sauce are cheap so you can have a variety. We also served potato crisps with the burgers. Our dessert was a surprise! We had Mr. Whippy drive to our home and guests had a choice of two ice creams! It wasn't expensive to have the truck come to our place and if you choose cheaper ice creams other than sundaes, the price is realistic. We have also invited Mr Whippy back again to provide dessert after a Subway sandwich party. All you need to add is some good music (60's in our case!) and have a few fun activities and the night is guaranteed to go well. Over the years we have also held breakfast, afternoon tea and cake supper parties. Everyone always remembers these occasion and comment on how much they enjoyed them!
Ask guests for 'signature dishes'
A good way to add an extra fun twist to your 'bring-a-plate' event is to request all the guests bring along their signature dish. This was the theme of our last staff Christmas party and it went off really well. We went up to each person individually and said 'You know that great ......... dish that you make? We would really love to have that at the party! We know you are the best at making it, would you mind?' Asking guests this way it ensured it was not a burden for people to bring a plate, on the contrary, they were flattered and excited to be able to share their creations!
Celebrate with a tea party
When planning a celebration with friends, an afternoon tea can be provided very cheaply compared to paying for a meal. A dear friend of mine organised an afternoon tea party in her beautiful garden for our engagement. We had lovely cakes, slices, sandwiches and so on displayed on a pretty tablecloth. Plenty of these can be made in advance and frozen if doing this yourself. The garden was decorated with balloons and the guests sat on hay bales scattered under the trees. It was so informal but delightful and it is still one of my best memories!
Cook party food from scratch
You can save a fortune on party food by buying what you need in bulk and making dishes from scratch. Head for the markets for fruit and vegetables and to a wholesale butcher for meats. Instead of buying crackers, make home-made bread into brushcetta; make pesto from scratch instead of buying pre-made and search for interesting recipes on the Internet or at the library, rather than buying expensive cook books. Serve everything on plates or borrowed platters and keep everything as finger food so that the cost of paper or plastic plates is not incurred - all you need to buy is napkins!
And finally Emma Davies asks:
"I am looking for a cheap way to repel mosquitoes under our large (50 square metres) patio. Lately there seems to be an abundance of them, and my three-year-old is really allergic to their bites. We prefer to entertain outside whenever we can because of limited space inside but lately it's been impossible! We have searched for any sources of standing water, yet can't find any. We have also tried citronella candles and flares with limited success but does anyone have any better ideas?"
From your responses it seems Emma is certainly not alone when it comes to being bothered by pesky mozzies! Thanks to suggestions like the ones below, she and many others should now be able to keep them at bay.
Vitamin B boost for mosquito allergies
I am making a valuable saving on medication for my daughter's mosquito allergy. I would pay anything to keep her well but the medicine for her reactions was getting out of control in terms of cost. Then my chemist suggested a product called Baby Boost - which is a Vitamin B supplement for small children. It is absolutely disgusting in terms of taste but apparently the Vitamin B leaches from the skin (rather like garlic) and as a result, the mosquitoes don't bite. The drops cost about $10 and you give them once a day for the first week, then once a week for the next month and after that only if they get bitten (because that indicates their levels are low again).
The severity of my daughter's reactions have reduced because she does not get bitten as much anymore. I no longer have to buy steroid based allergy medication every second month and I also don't have to buy Polaramine and all the other antihistamines and creams we previously needed to reduce the swelling.
Use sandalwood to repel mozzies
We have found the best product for keeping mosquitoes away is Sandalwood sticks. We live in an area which gets inundated and these are the only things that work. They are available from Bunnings, Kmart and other large stores and are wonderful. They also have a great smell but best of all, they get rid of the pesky little mozzies!
Keep mozzies away with cider vinegar
We have found a cheap and effective way to keep mosquitoes at bay is to spray apple cider vinegar on our exposed skin - it works wonders!
Old fashioned mozzie coils still work best
The cheapest and best way I have found to keep mosquitoes away is to use good old fashioned mosquito coils. These can be bought in supermarkets and camping stores. If you are unlucky enough to still get bitten, you can soothe some of the pain and itching by dabbing a little aloe vera or roll-on deodorant onto the bite as soon as it occurs. My son has bad allergic reactions to bites but both these methods work well.
Keep mosquitoes away with basil
I manage to keep mosquitoes away from my large patio successfully by using basil. A friend of mine told me that the herb repels mosquitoes so I tried it out by placing some large pots of it around. It is working a treat, the pots look and smell great and the basil is useful in the kitchen too!
Citronella bushes keep insects away
We love to entertain outside and have found the best way to keep uninvited insects away is to plant some citronella bushes around the patio. These are a type of geranium plant. When we are entertaining we simply crush some of the leaves to get the smell and also put some crushed leaves in some water in an oil burner under tables or chairs - wherever practical, it will do the job!
Insect repellent from Old Mexico
This may be a bit of a 'country' tip but it is super cheap and works brilliantly for those having trouble with mosquitoes. Burn dried horse poo! Put it on a terracotta pot plant drip tray. It smoulders and keeps away the mozzies but it doesn't repel people believe it or not! It simply smells 'grassy' and works well. We use it at BBQ's, camping, in fact any outdoor activities when mozzies are out. I have never had any success with citronella but this works every time. It's an ancient solution still used today in Mexico - and with great success at our place too!
Make insect repellent from Epsom salts
You can make your own cheap insect repellent spray. Simply mix one large tablespoon of Epsom salts into a cup of hot water and stir until dissolved. When cool, transfer to a clean plastic spray bottle. Spray it on your skin as needed - chemical free, safe for little ones and the mozzies hate it!
Pyrethrum daisies repel mozzies naturally
Pyrethrum daisies make a great cheap mosquito repellent. Try planting these around your patio borders. This makes a natural, organic deterrent and they cost so little. You can buy seeds from catalogues such as Diggers for about $3.50 for as many as 20 seeds!
---
9. This Month's Help Request: Timber Decking and Building a House
This month Margaret Burnside asks:
"I'm looking for a cheaper alternative to keep my timber deck looking nice - other than having to spend $250 on decking oil from a paint shop! Any other suggestions?"
If you have any cheaper suggestions for Margaret, we would love to hear them! Please submit them here
Also this month Louise Harvey asks:
"There is some great information available on buying, moving, renovating and DIY but no Simple Savings tips on building a new house. We would love to know ways to reduce the cost! Does anyone have some tips on how it's done? We would be really interested to hear of examples where saving money didn't work out as planned, as well as things that worked for members to reduce the cost of building a new house?"
We would love to hear your examples too! Send in your suggestions to Louise here.
---
10. SAVINGS STORY: Cut Work Hours and Prospered
What a difference a year makes! One year ago I joined Simple Savings. I was working full time and very depressed because I didn't get to spend enough time with my five children. My husband and I rarely had time to talk because we were so busy working to pay all of the bills and keep the kids clothed & fed. My husband is self-employed and works long hours to keep things running smoothly and I worked in a bank, so my pay wasn't that great. We were unhappy, worn out, tired and cranky all of the time. Our shopping trolley held mostly quick snacks, such as Roll-Ups, sugary LCM bars and so on - all the stuff that's easy and quick for school lunches and fast, unhealthy dinners. We were so disorganised I had no idea how much money we wasted. I was never home before 6pm, so I never found much time or patience to enjoy life. Not much fun!
After ending up in tears on many occasions. we tried something a little out of the ordinary. I reduced my work hours to just 25 hours a week instead of 40. I now arrive home at 2.30pm, in time to be home for the little ones to get off the bus and find Mum at home. By the time they get off the bus at 4pm, I have organised a home-cooked dinner with fresh vegetables. I have made muffins, a batch of bikkies, put a loaf of bread in the bread maker ready for dinner, done some washing, vacuumed and mopped the floor or cleaned the bathroom, organised lunches for the next day and I am happy and ready to help with homework!
I am so much happier and have a lot more patience. YES, I lost $150 per week in pay but due to the fact I have three extra hours per afternoon to get organised, we save over $350 per week on childcare fees, a smaller shopping bill and a much healthier lifestyle. So in actual fact we are better off financially by me reducing my hours at work! We also are 12 months off purchasing our dream home; something which we never, ever thought we could do. We want to buy an acre property so the kids have some room to run around and hopefully it will have a pool. We have always paid a mortgage but due to our changed lifestyle, we now have a lot more money to save - hopefully enough to sell our current home and purchase our dream property in a years time! Thank you Simple Savings!