"Secrets to Saving Money in Australia" Free Newsletter - February 2007
This issue includes:-
Sad Sally, Happy Hanna: Making Up For Mistakes
Sophie Gray: Table For One
Happy Cat Secrets
Penny's Blog: Penny, Warrior Princess!
Homeopathy Corner: Tutorial No. 7
From Last Month: Cheap Shampoo and First Time Overseas
This Month's Help Request: Painting House Interior
Savings Story: Landscaping The Simple Savings Way!
---
Hi,
I hope you have had a great month! Things have been quieter lately. Sam is at school and we are almost settled into the new house. All is well in Simple Savings land. The SS team are hard at working trying to help you have a happier, wealthier life. It is fantastic being part of something that genuinely helps people. Your emails are astounding.
"Thanks for the right words! The most recent Hint of the Week, 'The Real Cost of Spending', is just what I've been trying to figure out how to tell my kids. If I can get that through, maybe their futures will be a bit easier in the long run. I also think this hint would fit in nicely in my file of 'contentment'." (Linda Harris)
"I adore your website and I'm always hanging out for the next newsletter. This has been the best one-stop website for saving money. I'm only a teenager but I have been struggling to save money for my future and with the help of the tips from this great website I have been able to get a clearer head and dive out of a huge consumerism cycle that I was in only six months ago. Thank you again!" (Lien Phan)
"Thank you to Simple Savings and Tiffany Johann (Hint of the Week 22/01). My husband's birthday is coming up and he hinted that he wanted to buy an iPod mini. I told him to have a look around as I knew nothing about them and he was amazed with Tiffany's hint and how much money we saved. Thank you for all your great help with saving us some money." (Jodie Knox)
"I just wanted to say that I have been looking at your site for just one day and although I consider myself to be quite a savvy buyer, in other ways I can be quite flippant and I think that is where our budget falls apart. Anyway, today while at the mall buying all the back to school stationery and so on, my boys asked for a donut, so I said yes - but instead of going to Donut King and paying $2.00 a pop, I walked into Woolworth's and bought a pack of six for $1.98. So now we are home and enjoying one each for now and another later or tomorrow! So thanks - you have got me thinking clearly about money again!" (Jane)
Wow! Isn't it fantastic what we can all accomplish working together.
Many grins,
Fiona
---
1. Sad Sally, Happy Hanna: Making Up For Mistakes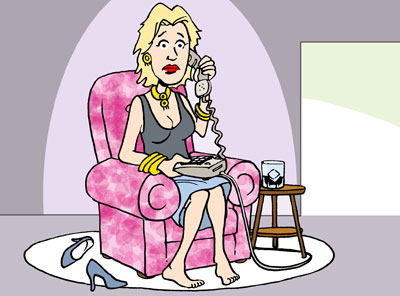 Sally was feeling pretty sorry for herself. What a rotten start to the year - surely this was the worst month of her life! She still couldn't believe how unfair Pete had been to insist on separating their finances. He said this was what they needed to do to save their marriage, but as far as Sally was concerned she had never felt more alone. Over the past few weeks she had tried extra hard to live within her means, but there was still never enough to go round. It was no good - she needed help, she finally admitted to herself. There was no way she was going to let Pete know how much she was struggling though! Sally took a deep breath and picked up the phone to call Hanna.
Ten minutes later, Hanna was in Sally's kitchen making the two of them a coffee. "Oh Sal, why didn't you say anything? This is what our Savings Group is all about isn't it - helping each other save money?" "I know," Sally blushed even deeper, "but I was still so angry at myself for wasting all that money. I wanted to start the year on the right foot like the rest of you and was too embarrassed to admit how stupid I'd been."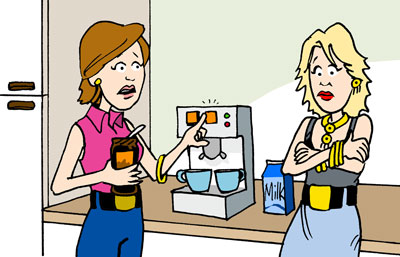 "Chin up Sal, it's only February! You've got heaps of time to make some headway," encouraged Hanna. "So tell me, what kind of things have you been doing to save money? I can see you put your calendar up, that's a good start!" Sally glared at the calendar on the wall. "Hmph - shame I can't follow it! It didn't stop me from making more stupid decisions, did it?" Hanna grinned and patted her friend's shoulder. "Hmmm ... what Memory Triggers are you using?" she asked. "None," Sally admitted. "I didn't really think they were important - I mean, as if I could forget I'm not allowed to spend anything!" she snarled bitterly.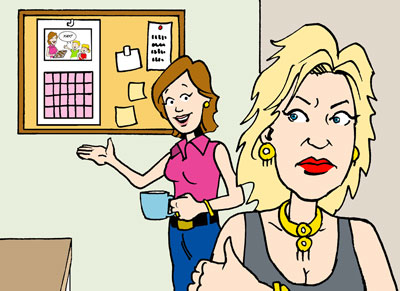 "Ahhh ..." smiled Hanna. Now she understood some of the problem. "Well then, that is about to change!"
---
2. Sophie Gray: Table for One
Every now and then I fantasise about living alone. My music, my tidy space, my nice clean sheets, all for me, me, ME!
I imagine myself sitting down to a dainty, tasty, meal for one (me) with a chilled glass of wine, candle and napkin.
The truth is, I've lived alone (and loved it) and I know full well that by the end of week one, the tidy 'me space' will look like an explosion in a mattress factory and the tasty little meal will have degenerated into a large glass of wine and two pieces of peanut butter toast consumed while lying in the bath, laughing like a drain at the latest Marian Keyes (very rich and famous Irish author of sublimely funny chick lit.).
Solo cooking isn't the self indulgent culinary adventure that the harried household cook might believe it to be. It's much harder to motivate to cook a proper meal for just one person, resulting in increased dependence on processed foods, takeaways and ready meals. In fact many one-person households actually end up spending significantly more per meal because they simply lack the motivation to cook. Discounts are often linked to volume purchases and it costs the same to heat the oven to cook one little chicken breast as it does four. The solo diner does also have some advantages though. You can buy those little gourmet cuts of meat on special that will simply never be enough for a family, and enjoy cuisines from all over the globe without worrying that it might be - too spicy, too lumpy, too crunchy or too many vegetables, you can eat where and when you want without being told off and sleep soundly knowing that the crumbs in the bed are all your own. So, to make the most of the pleasures of cooking for one without blowing the budget:
Select recipes that make four to six serves, as they are still the most economical. While you won't want to eat the same meal four nights in a row, you can freeze the extra serves for subsequent meals, equating to three nights when you are able to simply reheat - providing all the convenience of a supermarket ready meal, without the expense.
Cooking several full meals several days in a row and freezing the surplus will provide a meal bank, which is invaluable if you fall ill and are unable to cook.
You are more likely to invite someone around to dinner if you know you have something already on hand in the freezer.
No one wants to eat the same thing night after night, so varying the menu between servings of family style dishes and freshly made single serve dishes is the key. Recipes that yield single serves need to have realistic methods of assembly.
Storing the surplus
Keep a selection of single serve containers in stock, freezer to table ramekins are excellent for casserole type dishes
GLAD produce a range of plastic containers in a variety of sizes - excellent for freezing excess sauces, beans, vegetables and so on
Freeze wine, lemon juice, tomato paste, pesto and other small quantities in ice cube trays so you have them when you need them.
Cook extra rice and freeze in a plastic bag for another night
Don't overstock on fresh produce, buy only what you will use
Tips for freezing:
Make sure food is completely cool before freezing.
Label the dish - one chunk of frozen food looks much like another.
Do not defrost and then re-freeze food.
Add a use by date - frozen meals should be used within three months.
Make sure defrosted food is piping hot before eating.
Bake Bag Dinners for One
Bake bag dinners are an ultra easy option and provide a hot, tasty nourishing meal with the absolute minimum fuss. If you prepare the bag in the morning you can sling it in the oven when you get home and let dinner make itself.
Aluminium foil piece 60cm long
One carrot, peeled, cut lengthwise then sliced on the bias
Three tbsp long grain rice (I use basmati)
Two chicken drumsticks
One clove garlic crushed
1/3 cup water
¼ tsp chicken stock
One tbsp Hoisin sauce
¼ tsp grated ginger
Pinch of Chinese five spice
Spray of cooking spray
To make the foil bag, fold the foil in half width-wise with the shiny side in. Fold the edges over approximately 1/2cm, then again another 1/2cm on each side creating crisp double folded edges on both sides. You should now have a two-ply envelope.
Spray the inside of the foil bag lightly with cooking spray then pour in the rice. Add the carrot and the skinned chicken drumsticks. In a small bowl combine the water, stock, Hoisin sauce, garlic, ginger and Chinese five spice; mix and pour into the bag.
Fold the top over twice to make a sealed rectangular parcel. Place on a baking tray and bake for 40 minutes.
To serve, split the parcel with a knife and tip the contents onto a warmed plate.
Cooks tip: To remove the skin from a chicken drumstick, grasp the skin with a piece of paper kitchen towel and pull down towards the pointy end, like pulling off a sock.
There are numerous variations to the bake bag technique. Try these then create your own. You will need around 1/3 of a cup of liquid, think tomatoes, stock, wine, lite evaporated milk or coconut cream. You can include other vegetables but greens tend to overcook so I usually cook them separately as steaming only takes a few minutes.
To the rice, chicken and carrot add:
3/4 tbsp Thai red curry paste
1/3 cup coconut cream
1/4 cup water
Pinch of sugar
or
One clove garlic, crushed
One rasher of bacon with the fat removed, chopped
Pinch of thyme
1/3 cup water
1/4 tsp chicken stock
or
Substitute chicken for a lamb patty - (the frozen pre-formed ones are fine for this, loads of flavour and very tender)
One tbsp soy sauce
1/4 tsp ginger
Pinch of Chinese five spice
1/3 cup beef stock
Easy Bean Burritos
This spicy chilli bean meal takes around 10 minutes to make and can be used to top corn chips, it's great with rice, excellent in a jacket potato or wrapped in flour tortillas as Burritos.
One small onion, chopped
One clove garlic, chopped
1/2 tbsp oil
One tsp cumin
1/2 tsp chilli powder (add less or more according to taste)
Pinch of oregano
1/2 tbsp soy sauce
Two tbsp tomato paste
One tsp sugar
Two tbsp hot water
Squeeze of lemon juice
3/4 can kidney beans (440g can)
Two flour tortillas - freeze the remainder for subsequent meals
Sliced lettuce
One tomato, chopped
Two tbsp grated cheese
Two tsp sour cream if desired
Heat the oil in the pan and cook the onion and garlic until soft, stir in the spices then add the Soy sauce, hot water, sugar and tomato paste.
Using a fork, mash half the beans into the spice mix, then leaving the remainder of the beans whole, stir them into the mixture with the hot water and lemon juice.
Heat thoroughly, adding a little more water to soften the consistency if needed.
Divide the mixture between the flour tortillas, add sliced lettuce, chopped tomato, grated cheese and sour cream. Fold the bottom towards the middle then roll the sides around to wrap the filling as best you can. Eat immediately.
---
3. Happy Cat Secrets
Cats make wonderful pets, don't they? Warm, fluffy companions who curl up on their owner's laps, purring contentedly and entertaining everyone with their cute kitten antics. Not to mention shredding armchairs and couches with their sharp wee claws, scratching table legs, killing native wildlife and digging up houseplants ... sounds familiar? It's no joke, trying to keep our feline friends happy while still maintaining one's furniture and sanity can be an expensive exercise! Before you long-suffering cat lovers reach for your wallets and rush to the nearest pet store to stock up on toys and treats yet again, may we suggest you head for the Vault instead? Tips such as the ones below demonstrate some easy low-cost answers to maintaining a happy cat - and just as importantly, a happy owner!
Twice as much tuna for happy cats
We are saving almost 50% on cat food since we began using a tip recommended by a veterinarian friend. Our cat will only eat tuna flavoured foods, which was proving expensive at around $0.89c for a small can of cat food. On our friend's advice, we began buying regular tinned tuna (for humans) at $0.99c a can. A can this size is twice as big, meaning we get almost two feeds for our cat for almost the same price as before. Our cat is very happy and so is my wallet!
Crafty play toy
I have stumbled across a real money saver for my indoors cat, who needs a lot of entertaining. After spending over $50 on various toys, balls and wind-up 'mice', I noticed my cat was fascinated by my daughter's pipe cleaners from her craft pack. The cat spent hours amusing herself with one pipe cleaner, which cost only 10c (a packet of 20 is $2.00). Now we're all entertained watching her!
Make your own cat collar
I found a cheap solution to constantly replacing new collars for my two cats. They were always losing them and it cost around $5.00 for a new collar each time, so I bought some regular clothing elastic, cut it to size and sewed in a loop to make a new collar (it cost me just a couple of dollars for five metres). I then bought some small bells from a craft shop (again, just a couple of dollars for a pack of ten) and sewed those on too. All I needed to do then was write the cat's name and my phone number on the elastic and I was done! You could also record the pet's registration and microchip number on the inside of the elastic. Next time the cat loses its collar, it costs next to nothing to replace and I don't have to buy expensive cat tags to record my contact information if my cat gets lost.
Secure your own cat run
We saved over $600 on a cat run! We have recently added a beautiful Burmese kitten to our family and wanted him to be able to enjoy some time outdoors - safely. As this breed is very curious and not streetwise, we invested in a harness so the children could walk him around the backyard. However, they quickly got bored with this and he nearly escaped! We needed a secure cheap alternative to a ready-made cat run which would cost over $650! We purchased a set of heavy duty tent pegs and 15 metres of nylon rope for less than $15 at the hardware store. By tying the rope to each end of the tent pegs and securely pushing them into the ground, we have created a secure anchor on which to slip the cat's lead onto. He can now freely walk up and down our yard, he enjoys the fresh air safely and the kids have his company but not the responsibility. An ideal solution for rental properties too!
Bulk kitty litter bargain
I get 33kg of 'kitty litter' for less than $10! I use bentonite (a granulated clay product used in cattle feed lots) from a rural supplies outlet such as Landmark. This is a 33kg bag that is just as good as the clumping kitty litter you buy from the supermarket. It is way better than the $7.00 you would normally pay for 6.5 litres of kitty litter. I re-use one of the containers the kitty litter came in and I can get around five refills from a 33kg bag.
Cheaper litter liners
I have found a way to spend half as much on my cat litter tray liners and get more than twice as many in a pack! I have one cat and was spending about $4.50 every fortnight buying a packet of 10 litter tray liners. I now purchase one roll of 25 garbage bags for $2.50. I put the litter tray inside the garbage bag, then line the bag with old newspaper, junkmail or old magazines (as the garbage bags are thinner than the liners) to prevent her ripping the bag as she scratches. The roll of garbage bags lasts well over a month, as I change her Home Brand litter every second day. The result, a happy cat - and a happy owner!
Removing cat hair with rubber gloves
I have found that having two cats and dogs that live in and outside of the house we do get a build up of fur, especially cat fur on the lounge. Quite by accident I found that while wearing my $2.00 rubber gloves I can wipe my hands over the lounge and all the fur rubs off into a ball very quickly and easily. Any that falls to the floor I can remove by hand or by vacuuming. This certainly beats trying to use expensive upholstery cleaner to remove the offending fur and if you want to have a nice smell to your furniture then spray lightly with your favourite aromatherapy oil diluted in water in a spray bottle which I have made by reusing an empty, thoroughly washed out, pump action hairspray bottle.
Cat toy that lasts
After spending a fortune at the pet store on fancy toys for my two kittens, I looked around the house for some cheaper ideas to make toys that were longer lasting. The toy my kittens love the most is not the deluxe scratchy pole or their other expensive toys, but is a piece of string with a ball of aluminium foil squashed on to it. As soon as I bring it out they are hyped up and ready to play! The cost is next to nothing and lasts forever!
---
4. Penny's Blog: Penny, Warrior Princess!
Feb 12, 2007
Now don't laugh at the title, I haven't gone and got ideas above my station! All will be revealed soon enough. Did you see the latest Hint of the Week, 'Six buy nothing days'? What a brilliant idea! I'm definitely keen to give it a go - the only thing that worries me is that I would enjoy my one spending day a week too much and try and sneak all sorts of things in. Although, if I managed to get through every other day of the week without spending a cent, I'm sure even buying something as mundane as a packet of frozen peas would seem exciting! It works in really well with the $21 Challenge too, or even your everyday menu planning. When in my usual menu planning routine, I buy everything I need for the week on the Sunday and then I don't need to set foot in the local store for the rest of the week. I'm not sure I will be able to manage six days with no spending this week though - what with a doctor's appointment this afternoon, a vet appointment for Dudley tomorrow and an optometrist visit for Ali on Wednesday it doesn't look promising! What a bunch of crocs we are, maybe next week will be better...
Several blogs ago I mentioned that the family was heading off to Gisborne for a few days to keep Noel company while he went on a work mission. While the accommodation would have been free, Liam and I ended up not going because I was too scared of spending any extra money while there on the inevitable takeaways and 'extras' we would have ended up parting with, so only Ali ended up going to keep his dad company on the trip. The only thing was, I was going to use the 20-plus hour car journey to think about my best and worst savings and purchases of 2006. It's something I like to do at the end of each year and this one is well overdue! I'm sure I will have forgotten something but off the top of my head, here is a rough breakdown of my 'best and worsts' for 2006, in no particular order:
My Best Buys:
My worm farm! No waste, reduces the amount of landfill we contribute and is great for the garden.
Annette Sym's 'Symply Too Good to be True' books. These have reduced my grocery bill by helping me to realise our portion sizes were FAR too big. Her recipes always have plenty leftover too, which means we get to save even more on delicious, healthy lunches!
Homeopathic First Aid kit. Gone are the days of filling our family with Panadol! Since buying our kit we have used it to cure everything from migraines, toothache, neuraglia, colds, anxiety, tummy bugs and earaches to (ahem) hangovers and even tantrums! These kits are nothing short of amazing and you can get them here.
Free range chickens. Well, technically they're supposed to be a good buy - mine all laid eggs for about two days and have spent every spare moment since either moulting or broody. Noel is threatening them with the same fate as Bob and Friday if they don't start performing soon!
My Scanpan cookware. My Mum bought a set of these on special a while back and I was so frustrated with throwing my cheap pots and pans away every few months that I decided to splash out too. I read up on all kinds of brands talked about in the Forum before buying but have been extremely happy with these so far!
Life changing books! Everything Noel and I have learned about gardening and sustainable living in the past few months has come from three Australian books - Backyard Self-Sufficiency by Jackie French, The Permaculture Home Garden by Linda Woodrow and Living the Good Life by Linda Cockburn. Usually I don't condone buying any books when you can borrow them from the library, but these ones really are worth investing in! Mustn't forget my copy of the Complete Tightwad's Gazette by Amy Dacyczyn either, I'm STILL ploughing through that and I don't think I have ever come across someone as frugal as Amy. Much too long to borrow and read in time from the library, far better off to borrow one from an understanding friend instead!
Hair clippers for people to use on grooming the dogs! A simple tip, but nonetheless one which has saved me over $300 since I bought them. Now, if only the kids would let me have a go at their hair with them too we could save even more!
Carpet sweeper. Oh how I love this invention resurrected from my childhood days! A snip at under $20, it's great for those five minute 'room rescues' and another definite bonus is that I can nag the kids into doing it for me. What more can a stressed parent ask for?
Getting away with not being charged $300 for a refrigerator repair several months ago. Actually that was more down to luck than anything - I think I'll keep quiet about that one!
It's reassuring to see that the good buys actually outweigh the bad ones - no flashy artwork, useless coffee tables or salt rock crystal lamps in sight this year! However, I must still admit to the following Worst Buys:
The cordless 'Piranha' vacuum which turned out not to be cordless and has been used once so far.
Mini home steamer - bought the same day as the 'cordless' Piranha and has so far proven hopeless at removing wallpaper but may yet redeem itself should it be slightly more effective at steam cleaning the lounge suite.
Overspending on school photos - won't be making that mistake again this year!
Ali's puppy Tui. Not exactly a 'bad buy' as I wouldn't part with her for the world but she has cost us a fortune in toilet rolls and replacing wrecked toys, plants, shoes and underwear...
Guitar Hero Playstation 2 game. I would only suggest purchasing this game for people who are contortionists or at the very least ambidextrous. Must remember to sell on eBay to some other poor mug.
Gold plated Daniel Carter poster, which Noel still thinks cost $45, not $75 - tut, Penny! I bid on it through a radio station charity auction and won it on December 11th 2006. I finally received it on Saturday! It is a very nice poster though but shall not be repeating the exercise (or ever confessing its true price to husband).
It's not all bad though! Thanks to the Vault, the Forum and some sturdy SS logic I also managed to save thousands more by:
* Swapping rooms with the boys instead of hiring a builder to give them separate rooms.
* The now infamous $21 Challenge - go Barb K, what a legend!
* Cancelling my account at the grocery store (Mr Patel is STILL grieving).
* Borrowing a treadmill instead of buying one and discovering that yep, I wouldn't use it!
* Getting squillions of loads out of a pack of washing powder by using the one tablespoon rule.
* NOT giving in and buying a tumble dryer, even when the weather got really tough.
* Texting instead of calling on my mobile (a recharge card can last me six months now!)
* Unblocking the toilet myself instead of calling a plumber.
* Never missing out on a refund thanks to the shoebox system.
* Deciding not to put our finances in jeopardy by going on holiday when we couldn't afford it.
* And one I think I even forgot to mention at the end of the year (forgive me if I do repeat myself though!) $5,000 saved by cutting down our own trees (we're talking about 50 here) instead of hiring a contractor. I still have the scars on my legs from all the scratchy branches to prove it!
So now I've got that over with, I guess I should really explain today's title 'Penny the Warrior Princess'. Now, for non-rugby fans, be warned, this next story does involve talking about my beloved sport! The reason I am including it in my blog is because I wanted to demonstrate that it costs nothing to dream and if you're really lucky, it doesn't cost much to make them come true either. Because I ended up receiving so many requests for 'The Tana Umaga story', I have given in and am putting it in my blog! I shall start at the beginning. When Liam was just a wee dot, he came home from kindy one day clutching a picture with the heading 'MY FAMILY' which had pictures pasted on it. Ali and Noel were represented by catalogue pictures of a boy and a man. Next to them was a picture of Judge Judy and 'Grandma' written shakily underneath it. But it was 'my' picture that really made my day; he had cut out a picture of Xena, Warrior Princess in all her leather garb, brandishing a weapon and had written 'MUM' under it in bold letters. I ask you, what adoring mother wouldn't love to be seen as a Warrior Princess by her child! Anyway, I never forgot that picture (OK, I admit it, I kept it!) and the other day used my full Xena 'clout' to give my boy the one thing he wanted more than anything in the world. Ever since he began playing rugby at five years old, Liam has idolised Tana Umaga, the former All Black captain. Over the years he has entered school speech competitions talking about him and written to the NZRFU several times requesting his autograph, but we have either never heard anything back or have been nicely fobbed off. When Liam's health was at its worst several weeks ago, Noel and I tried everything - and I mean EVERYTHING to lift him out of his gloom. His dream had always been to be an All Black just like Tana but as Liam's world grew a sadder and harder place to be, I could see it slipping away. In despair I promised him I would get him Tana's autograph if that would cheer him up and inspire him to keep dreaming. He told me that he would try but dreams didn't come true, so from that moment I was determined to do everything I could to make it happen. I wrote three times to the Wellington RFU, where Tana plays for the Hurricanes and explained Liam's predicament but heard nothing back.
We had already arranged to go and see the Chiefs play the Hurricanes at Waikato Stadium on Friday night and as the day arrived with still no word from Wellington, there was only one more thing left I could think of to try. I got the best seats I could and Liam and I made a huge banner to try and catch Tana's eye. Everyone at the stadium saw that banner - it was on the big screen and was even photographed for a French newspaper! Even his teammates saw it - everyone except the man himself. As the game wore on we grew more and more despondent and I was all out of ideas. Suddenly, with just four minutes to go until the end of the game I grabbed the kids and together we pushed down to the very front row. Penny the Warrior Princess was not going to be beaten, no way! As the game finished and the team made their way across the field, I shouted at the boys to hold their banner up as high as they could. And Tana saw it. He stopped and we could see him reading the words to himself - 'TANA, PLEASE MAKE A 10 YEAR OLD'S DREAM COME TRUE AND SIGN LIAM'S JERSEY'. A big smile spread across his face as he made his way over and said 'So which one is Liam then?' It didn't matter that the TV cameras were waiting for him to talk about the game; it didn't matter that a crowd of other fans had gathered all around us - he only had eyes for Liam as he was the one who had gone to so much trouble to get his attention. He not only signed Liam's jersey, but chatted away happily and posed for a photo with him before ambling off into the tunnel. That night Liam learned that dreams really can come true if you want something badly enough - and all it cost to make it happen was a $5.00 plain white sheet and a $2.50 pack of marker pens to make the banner. I guess it goes without saying that Liam's mum has gone up a long way in his estimation - Penny the Warrior Princess lives to fight another day!
Penny's Blog is a special treat for Vault members and is updated a couple of times a week. You can drop Penny a line here - she loves to hear from other members!
---
5. Homeopathy Corner: Tutorial No. 7
One of the best things about homeopathy is there are no dangerous chemicals in the remedies. "Chemically" they are made from water and sugar pillules. This is why they are so safe. It is also why some people find it extremely difficult to believe that it is an extremely powerful form of medicine. We are all used to taking drugs with chemicals in them, when our body has consumed or expelled the active ingredients the drug stops working and you need to take another dose. Homeopathy doesn't work this way. One drop of energised water or a sugar pilule can keep working for six months. If that sounds like gobbly goop or hokus pokus read Fran's article. This month she explains how homeopathy works with the body's vital force and why the remedies trigger long term healing reactions.
To read Fran's article, click here.
---
6. From Last Month: Cheap Shampoo and First Time Overseas
This month Janelle Downs asks:
"In an attempt to keep my bills down, I've reverted to trying some of the cheapest brands of shampoo and conditioner on the market; however I have to say that my hair is suffering because of it. It's dry and frizzy looking and generally not in very good condition. I was wondering if anyone could recommend something to ADD to the shampoo and conditioner that would make a cheap product better for my hair?"
Wow, what an enormous response we have had to this request! Thank you to everyone who submitted helpful haircare suggestions such as the ones below. With tips like these, bad hair days will definitely become a thing of the past!
Aussie product for frizzy hair
My 200g tube of 'RPR My Vitaliser' saves me valuable dollars and keeps my frizzy hair moisturised. I have tried so many products on my naturally frizzy hair but have found this one the best value for money and lasts between eight and nine months if used correctly. You can use it after washing your hair just before you dry. Then the next day simply top up to dry hair when styling. Use just enough to cover a five cent piece, spread it over you hands, and then run it through your hair. A 200g tube cost about $16 and can be bought in Australia from Price Attack stores. It really cuts down on the frizz and will not make your hair greasy.
Enhance cheap shampoo and conditioner
You can turn a cheap 200ml bottle of el cheapo shampoo or conditioner into a wonderful mix just by adding essential oils. Just use 10 drops each of:
Rosemary - stimulates cell growth and leaves hair feeling and smelling wonderfully fresh.
Sage - adds amazing lustre to dark hair and helps reduce dandruff by means of neutralising sweaty scalp. It also balances the production of sebum.
French or Australian lavender - has so many wonderful and positive properties. It is great for hair, scalp and follicles.
Try using no shampoo at all
You can't get much cheaper than using only water to wash your hair. This may sound radical but I only wash my hair with warm water and it stays clean and healthy without buying costly shampoo and conditioner. Shampoo and conditioner actually destroys the pH balance in your hair, so that you need to use more of it to keep it healthy.
You need to try it for up to a month and give your scalp a thorough massage each wash. My hair did go oily at first and then settled down nice. Now I wouldn't use anything else!
Afford quality hair products
I make my products last three to four times longer by using a pump dispenser. I use much less and can afford to buy more expensive products which keep my hair healthy.
Hibiscus leaf shampoo
The best shampoo I have used cost me nothing and leaves my hair wonderfully soft. I made it from hibiscus leaves. Just pick a bunch of hibiscus leaves and scrunch them up a bit and shake around in a bowl of warm water. The water will become bubbly and thick and syrupy. Strain and use this for shampoo immediately.
Cheap shampoo trial and error tips
There is no reason to assume that because a shampoo or conditioner is cheap that it is not a good product for you - it may be just right. With the large array of low priced and generic brands now available with a bit of trial and error you can find one that is just right as it is. I pass on any I try but just can't stand to use to my five year old (she wastes so much!). Shampoo can also be used as a pre wash stain remover, or as bubble bath (add some fragrant oil) and conditioner can be used when shaving your legs. So it never goes to waste!
Price limit on quality hair products
When I am looking for a good quality shampoo or conditioner I also set myself a price limit that suits my budget. For example, I set a price limit of $1.00 per 100ml and buy the best brands I can that cost less than that. Using this method I can take advantage of specials without feeling guilty because I am aware of the real cost per quantity.
I do cheat a little by buying my favourite more expensive brand (when it is on special of course) and use it occasionally for an important event or treat, or every second wash when I feel my hair condition is dropping.
Olive oil dry hair treatment
You can make an inexpensive treatment for dry hair using olive oil. Just wash your hair then apply the olive oil, wrap your hair in glad wrap and apply a hot towel for around 20 minutes. Rinse off and you will have beautiful, glossy hair.
Trust Choice trials on hair products
You can save yourself heaps of time and money spent on trialing hair products by going to your local library and checking out Choice magazine. They regularly do trials of shampoos and other products. Check out the website www.choice.com.au to see which issue you need (I think it is July 06). Look for their 'best buy' and try out the recommended ones til you find one that suits your hair. You may well find a good quality brand at a cheap price.
Pre-shampoo hair treatment
A wonderful pre-shampoo conditioning treatment for dry, damaged or fine hair can be mixed using ingredients from your pantry.
Ingredients:
one egg yolk (beaten)
one tablespoon (four teaspoons) light olive or grapeseed oil
one teaspoon liquid honey
one tablespoon (20mls/four teaspoons) dried milk powder
Mix all ingredients together to form a soft paste.
To use:
Massage gently into hair. Cover hair with a plastic shower cap or a towel wrung out in very hot water. Leave in and relax. Try soaking your feet for 20 minutes! Shampoo as usual followed by conditioner.
A final vinegar rinse can also be used to balance the alkalinity of the shampoo/conditioner. The easiest is: one tablespoon (20mls/four teaspoons) vinegar or lemon juice in one cup (250ml) of water and use on hair as final rinse. Apple cider or a good quality white wine vinegar are best.
Frizz free hair for less
To keep my frizz prone hair in top condition without spending a lot of money I use Wella Balsam shampoo and conditioner which is about $3.00 a bottle. Then after I towel dry my hair I comb sorbelene cream through with my fingers and let it dry naturally. My long curly hair naturally tends to frizz and using this method I always get comments on what great condition my hair is in.
Wash your hair with soap and vinegar
You can use plain soap and vinegar for healthy, shiny and almost cost free hair care. I started using soap to avoid Sodium Laurel Sulphate (the foamer in shampoo) which can cause an itchy flaky scalp. The trick to stopping it from leaving your hair frizzy or lank is to rinse using a mild vinegar solution which offsets the alkalinity. I add one to two tablespoons of cheap white vinegar to a clean sauce bottle (with the squirty tip) and top up with water. This will give you enough for several uses. You can also add essential oil if you want. Just wash once or twice with soap and rinse, squirt on the vinegar mix, rinse out and dry as normal. My hair is healthy, shiny and as good as when I used to use Pantene. Nobody believes me when I tell them!
$10 to make shampoo that lasts a year
I make my own shampoo using soapwort and water for $10 per year. You can add other herbs depending on whether you have oily or dry hair. I use the recipe from the book 'New Book of Herbs' by Jekka McVicar and you can also find other recipes online. I buy all dried herbs at a reasonable price from www.australherbs.com.au.
Also last month Janet Linsley-Noakes asked:
"I am about to embark on organising our first family overseas trip and am trying hard to make sure we get the best possible value for our money. My husband and I are planning to travel in December 2007 with our two teenage children. We will be going from Sydney to Johannesburg (South Africa) then flying on to London and Paris, with perhaps a one night stop-over in Hong Kong. I have gone through the Vault contents already and have taken a few helpful ideas, but I could still really do with some more advice. When should I buy tickets - the early bird way, or wait for specials to come along later? Who should I buy them from - travel agents or online? Where do I find the best deals for accommodation? I am really confused and would appreciate any tips you have in order to make the best frugal choices!"
This request proved no problem for our savvy, well-travelled members! If planning an overseas stint like Janet, take a look at some of the examples we received below to help make some fantastic savings!
London travel tips
When we visited London we found some easy ways to cut down expenses. We bought nice, fairly cheap sandwiches at a chemist called Boots. For drinks we looked around for the smaller metro stores of big supermarkets like Sainsburys and Tesco. For dining out we found that Russell Square in London is a source of cheap Italian and Indian restaurants.
Transport was very expensive, however we disovered that when travelling on the tube, if you ask if the children can go free you can take them through where the guard is by just showing your tickets. This was a new initiative which started when we visited and saved a lot.
And finally we made sure to enjoy all the free things like the Natural History Museum (an absolute must) and the Art Galleries.
Advice for cheap accommodation in London
If you are going to book cheap online accommodation to stay in London make sure you take a printout of the email confirmation of your booking. When I arrived they had my booking all wrong and only had me arriving on the day I wanted to leave. If I'd had my copy of their email at least I could have convinced them it was their error.
If your cheap lodging is a bit out of London, check first before you book what it will cost you in train or bus fares - they are fiendishly high and might not make your savings in a cheap suburban hotel worth it.
Around the world is cheaper
If you are booking a return trip overseas you should investigate first whether a five stop round-the-world ticket is more cost-effective. The only setback is you must keep travelling in the same direction and your stop-off points are dictated by the airline alliance that you fly with. For example you could travel westwards: SYD-HKG-JNB-ORL-LON-SYD, or in the reverse direction.
If you wanted to take a detour to other destinations like Paris you could book it as a separate excursion with a low-cost carrier from London. It might just work out more economical!
Budget each day of your trip
When planning an overseas trip, choose a budget and stick with it. We budgeted ourselves a reasonably generous amount for each day, but then we could only spend that much each day on food, souvenirs and other expenses. We managed to do everything we wanted and were generous with our souvenir buying - and still came home with almost $1,000! The trick is to refrain from buying things just for the sake of it. With souvenirs I shopped very carefully. I bought things that would help me to remember the places I had been, or would be things I knew I would use in my home. I chose to buy books with photos in (in many places you are not permitted to take your own photos and even if you can, you can't get the same quality of shots), Christmas decorations, clothing that I knew we would wear, a couple of ornaments and toys for the kids and of course I took a lot of my own photos. I also wrote in my journal every day while I was away so I could reminisce about my trip once I get old and grey and my memory fades. Memories are free, after all!
We were also inundated with great tips for online sites where you can save money by booking online for all your accommodation, flight, insurance and travelling needs. There are too many to mention in one newsletter but here is a sample of some of the sites you told us about:
For more great travel savings tips go to the Travel section in the Vault.
---
7. This Month's Help Request: Painting House Interior
This month Joy Unger asks:
"I would love some help from Simple Savings members on how I can save money on painting the inside of a house. Does anyone have any suggestions about engaging reliable and reasonably priced painters, or can I do the painting myself safely and cost efficiently? If so, where is the best place to buy all the materials I would need to complete this project (paint brushes, rollers, ground sheets and so on) at the right price?"
If you have any tried and true painting and decorating tips which could be helpful to Joy, please send them in to us here.
---
8. SAVINGS STORY: Landscaping The Simple Savings Way!
We saved $250 on landscaping an ugly garden bed by revamping it the Simple Savings way! Our eight-metre by two-metre patch desperately needed an overhaul, but we didn't have the funds to do it. It already included a raggedy selection of native plants and shrubs, so we tidied them up a bit and gave them a good water (using grey water from the washing machine). We priced some tan bark to tidy up the area further and act as mulch (not to mention a weed deterrent) and found this was going to cost upwards of $50.
So instead we raked up a huge pile of gum leaves, bark, twigs and other garden scraps all waiting to be composted. My partner christened it 'Euchy Mulch' (and apparently there is such a thing that you can buy)! Next, we needed some sort of shredder or mulcher to break everything down into useable mulch. First we priced a second hand one to buy for $200, then we looked out for machines available for hire but couldn't find any. Time for some lateral thinking! My partner put two logs either side of the pile of 'soon to be mulch' with enough room for the mower to fit between and mowed over it until it had all disappeared into the catcher - the two logs were to stop it all blowing out the sides as it was being mowed. Out of the catcher and onto the garden bed poured lovely 'Euchy Mulch' and it didn't cost us a cent! We saved $250 to landscape a stretch of driveway and turn it into something much more pleasing to look at, not to mention more water-wise!