"Secrets to Saving Money in Australia" Free Newsletter - October 2007
This issue includes:-
Sad Sally, Happy Hanna: One Germ at a Time
Cheaper, Greener Lifestyle
Printable: 2008 Wealthy Habits Planner
Sophie Gray: Meaty Issues
Best of the Forum: Challenges
Penny's Blog: A New Commitment
Homeopathy Corner: Preparing for Your Appointment
From Last Month: Fast and Easy Costumes
This Month's Help Request: I Want to go Camping and Summer Treats
Saving Story: Grandmother's Skills Find New Purpose
---
Hi!
I hope you are having a great month. We have been very busy this month, playing with new bub and making you your Christmas present - your 2008 Wealthy Habits Calendar. It is so exciting!!
*big grin*
One of the fantastic things about saving money is that virtually everything you will do to fatten your wallet will also save the environment. But, one of the strangest things is how few people realise it. So the motto of this year's calendar is 'Save money, save the planet, one little habit at a time'
It is going to be great fun. We can all make a difference together. Thank you for your help all year long. You make all this possible. So give yourself a pat on the back you have earned it. Read and enjoy.
"What great hints! I'm always in awe of all the hints to save money. Thanks to everyone who sends them in. I have used a lot of them so I reckon I well and truly have saved the cost of my membership!" (Betty Arnold)
"Thanks for a great newsletter and web pages. Not only do they save me money but they make great reading and are interesting as well. I am really glad I joined. I also love my shopping bags and have had some very positive comments, so I direct people to the website!" (Liz Links)
"Thank you so much for all the tips from the Vault. Joining the Savings Vault is definitely my best investment ever! I have recommended my family and friends to join too! I'd like to contribute to the fellow SS members too, as we are like a big family and we are encouraging one another to save money! It's a great experience!" (Tania)
"When I first started reading people's comments about the SS website I have to admit I was sceptical. I couldn't believe that so many people could brag about one website. However curiosity got the best of me and I began implementing some of the great ideas and now I am a SUPER big fan of the SS lifestyle (have been a member for two months but was converted after one month)! The best bonus is that it's helping me to be more eco-friendly. Thanks for sharing this terrific site and all your fantastic ideas!" (Noeleen Paurini)
"Just wanted to say a big thanks. I thought I was a pretty good saver and didn't need a membership. HAHA - how naive I was! Now I have one and am saving money in new and wonderful ways. Just recently I made a birthday card and was feeling a little guilty for not spending any money on it. However, to my surprise EVERYONE loved it, much better than a bought one! Also with the help of SS, I have cut a 30 year loan down to 19 years in the first year - wow!" (Kate H)
"This is a great website and so much fun to use with a wealth of information. I really enjoy using the Vault and Forum, plus reading about Sad Sally and Happy Hanna! My spending habits have changed and I am becoming a smarter consumer. So glad I joined up." (Yasmin Dawoojee)
"I found out about your website from a current affairs programme. I immediately looked you up and most of the savings tips that I read that day and for several weeks after I was already putting into practice. I was beginning to think there would be no new saving tips for me. BUT - as the weeks have gone by, I have religiously been reading your Hint of the Week and I have been very happily surprised - from prescription glasses for my four year old son to photos on canvas. So thanks to your fantastic website and all the great tips that everyone sends in, I look forward to some BIG savings in the near future." (Jo)
Well done everyone. Thank you for your help. You make all this possible.
Many grins,
Fiona Lippey
Miser Extraordinaire
---
1. Sad Sally, Happy Hanna: One Germ at a Time
Sally arrived home from work in a foul mood. Everyone at the office was still laughing about her unfortunate mistake with the Germiflu. Well, she huffed - they might not appreciate her efforts at work but at least she could protect her own home! She grabbed the bottle of Germiflu and headed for the toilet, where she scrubbed and sprayed it ferociously from top to bottom. By the time she had finished, it sparkled like never before. Sally stood back and admired her handiwork with a satisfied smile.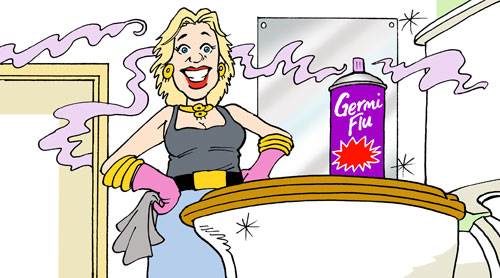 "Pete - come and look at this!" she yelled. Pete peered around the door to find Sally standing with her hands on her hips, beaming proudly. "Look at this! Have you ever seen such an amazingly clean toilet?" she asked. "Oh no, Dear, never!" replied Pete earnestly. "It's truly a wonderful toilet. Phew, I'm not sure about the funny smell though - what is it?" Pete started to cough and backed away a little.
"Oh no, Pete, you're not getting the flu too?" Sally asked, concerned. "Looks like I got this stuff just in time!" she waved the bottle under Pete's nose. "What on earth? Germiflu? Phew Sal, this stuff could knock out an elephant! I thought we weren't buying aerosols any more either," he frowned. Sally was not impressed with Pete's response. After all her hard work! "Well frankly, I'm very disappointed Peter. I'm trying my best to keep our environment safe and germ-free and this is the thanks I get?" she huffed. Pete couldn't help it, he burst out laughing. "Environment safe? You've got to be kidding me! I dread to think what it's doing to the environment. Get rid of it Sal, there's got to be a better way than that. Your wonderful spray is more trouble than it's worth." Poor Sally had been made to feel foolish once again. Things had not gone how she planned at all. She was furious!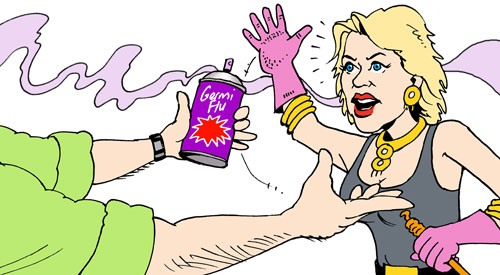 ---
2. Cheaper, Greener Lifestyle
Sally may not like what she hears but Pete is right. There is far more to keeping our environment safe than simply disinfecting it for germs. The key to achieving and maintaining a safe environment is for us all to become smarter shoppers.
Products such as Germiflu are too inefficient to make a difference. They use up far more of our planet's resources and our cash than are needed to get the job done. When you buy products such as Germiflu you are spending a lot of money for very little results. As Pete says, there has to be a better way.
So, how can you become a smarter, more eco-friendly consumer? How can you make sure the products you buy and the lifestyle you live keep our environment safe? Simple - you are going to have to reassess your life, your habits and your shopping skills. Wow! That sounds like a pretty big ask, doesn't it? Fortunately we are here to help you! Step by step, month by month. Next year, starting in January we are going to teach you how to:-
Limit your impulse buys. Impulse buys are always things we can do without.
Only buy essentials. Leave the extras on the shelf.
Learn the difference between a 'need' and a 'want'.
Re-use everything. Before you throw anything out, try and use it one more time.
Fix things when they break. Don't buy a new one.
Be a creative cook. Learn how to cook from basic ingredients.
Live in the smallest space possible.
Buy in bulk for better value and less packaging.
Grow your own food. Food is free when it comes out of the ground.
Cheaper cleaning month. Your home will sparkle.
Reduce your power consumption. No need to pay more than you have to.
Reduce your water consumption.
2008 is going to be a fantastic year for learning. The good news is, you don't have to wait until January to get started - your planner is ready now! This is my gift to you. Why not download it and take a sneaky peek and prepare yourself for all the fun challenges we have created for you. With this FREE planner, you are now equipped with the knowledge you need to learn how to save money AND reduce global warming at the same time!
---
3. Printable: 2008 Wealthy Habits Planner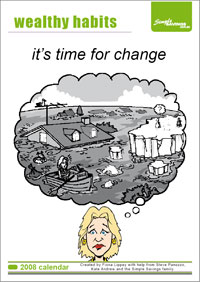 We wish you a merry Christmas, we wish you a merry Christmas, we wish you a merry Christmas and a happy new year. Merry Christmas! Thank you for supporting us this year. We really appreciate it so I have made you a gift as a special thank you. It is a calendar, but it is no ordinary calendar. In fact, it's not like any kind of calendar you have ever seen before. This year it is super, super special! After watching Al Gore's documentary movie "An Inconvenient Truth" I was left stunned and saddened. He painted such a bleak picture. We have already done an awful lot of damage to our planet.
But - then I thought about everything he said and had a 'light bulb moment'. In order to heal the planet, we only have to reduce our carbon emissions by 10%. Well, that is easy. We can do that! The sort of lifestyle he is asking everyone to live is what Simple Savers are already doing. Al Gore is basically asking us to become smarter shoppers. We can do that too! So that is the goal for 2008. This year I am challenging you to become a smarter shopper. We have laid out 12 challenges to help you to help everyone save money and save the planet at the same time.
So let's get started! To download your planner go to:-
www.simplesavings.com.au/wealthyhabits/
The official challenges start in January, however from now until then we have an unofficial challenge to get everyone in the mood for change: Get this calendar to as many people as possible. Email it to your friends, print it as a Christmas gift, post links to it on your favourite forum, call in to radio stations, email the media. We need *everyone* to become smarter shoppers to have a global effect. So let's get to it! Merry Christmas! 2008 is going to be a great year!
---
4. Sophie Gray - Meaty Issues
Environmentally, nutritionally or economically, there are lots of very good reasons for reducing our reliance on meat. Not least of which is that meat accounts for a large portion of the grocery bill for many households. Reducing the meat you consume can yield significant reductions in the weekly food bill, due to the fact that many non-meat protein sources are incredibly cheap, coupled with improvement in general nutrition, because as well as being high in fibre, most are low in fat and low G.I. Foods such as pulses and legumes, whole grains, tofu and nuts. The kinds of foods that dieticians and nutritionists are continually encouraging us to eat more of!
Ironically some of the healthiest and least expensive indigenous cuisines have been adopted as the most popular restaurant and takeaway trends. Mexican and Indian, instantly spring to my mind. The reason these cuisines are so inexpensive to make at home, is that many of the dishes contain little or no meat. So why do so many meat eating households happily pay someone else to cook those foods for them, but pour scorn on the concept of meatless cuisine at home? I think often it's simply because they aren't confident to cook recipes that are meatless or contain less meat. Once they find dishes that satisfy, the snorts of derision are replaced by satisfied smiles.
So what do you eat if not meat? I hear some of you asking (while others are thinking 'my husband is not going to like this one little bit!'). Rest assured, there is plenty to choose from and if you are smart he mightn't even notice!
Try substituting with a non-meat protein source in a familiar recipe - use lentils instead of mince in Bolognaise sauce, marinate tofu and use instead of chicken in stir-fry. Use vege sausages in a cassoulet or roasted vegetables in quiche.
Choose wholegrain breads, pastas and brown rice, and include oats, millet, Quinoa and Bulghur in breads, salads, baking and savoury dishes. Whole grains provide essential B vitamins.
Add un-sulphured molasses to baking, muesli, porridge and smoothies for an iron boost.
Include fresh fruit and vegetables with every meal, the Vitamin C in fresh produce assists in the absorption of non-haem (non-meat) iron. Dress salads or stir-fries with a squeeze of orange, lemon or lime, finish with fresh fruit. Caffeine and tannins in tea and coffee inhibit the absorption of iron, so avoid before and after meals.
Seasonal Vegetable Curry
This curry is so simple to make and very low in fat despite the creamy texture. A handful of chopped toasted cashews make a delicious, crunchy garnish. For a complete vegetarian meal add cooked chickpeas.
1 onion, chopped
1 clove garlic, crushed
4 cups mixed vegetables, chopped (potato, pumpkin, carrot, broccoli, beans, kumara - whatever you have at hand)
1 400g can lite evaporated milk
1 "can" of water
2 tsp curry powder
1 ½ half tsp Garam Masala
Pinch of cayenne pepper
1 heaped tbsp corn flour
1 tbsp oil
In a large frying pan or saucepan heat the oil and saute the garlic and onion till soft. Add the prepared vegetables and spices and stir-fry for 2-3 minutes taking care that the spices do not burn.
Pour in the evaporated milk, add a splash of the water to the corn flour then add water and corn flour mixture to the pan. Simmer until vegetables are tender and liquid is reduced.
Serve with boiled rice.
Jalousie Mediterranean
Jalousie refers to the appearance of the dish, this one is a rustic pie, sliced to resemble a slatted blind (jalousie), it is Mediterranean influenced with tomatoes, herbs and feta cheese.
3 sheets ready rolled puff pastry
1 tin tomatoes, chopped
1 onion, chopped
2 fat cloves garlic, chopped
1 tbsp oil
1 tbsp tomato paste
½ tsp sugar
1 capsicum
90g feta cheese
Handful basil leaves
Salt and pepper
Egg for glazing
Heat the oil in a small saucepan and sauté the onion and garlic till soft. Add the tomatoes, tomato paste and sugar and simmer for 5-10 minutes until thickened slightly. Set aside to cool.
While the tomatoes are cooking slice the capsicum in half and remove the seeds. Rub oil over the outside and place under a hot grill until the skin is blackened. Put the capsicums into a plastic bag and loosely twist the end to secure. When cooled the skins will be easy to slide off.
Pre heat the oven to 210 deg C. Prepare the pastry by cutting one of the sheets in half and attaching the halves to the other two sheets of pastry creating 2 rectangles.
Place one of the rectangles on a greased baking sheet. Spread with the tomato mixture leaving a border of around 1cm. Brush the border with water.
Slide the skins from the halves of capsicum and tear the flesh into strips. Arrange the strips over the tomato mixture. Cut the feta into slices and scatter over the filling then add the whole basil leaves. Season with salt and pepper then lay the remaining pastry rectangle over the top, carefully pressing around the edges to seal them then trim them neatly with a knife.
Brush the jalousie with beaten egg then cut slices into the top with a serrated knife at 1-2cm intervals. Bake until golden brown. Serve piping hot with salad and fluffy jacket potatoes.
Dairy free - Substitute feta for non dairy cheese or omit altogether.
Smart Chilli
I have used this recipe and variations of it over and over again. It's so quick and easy to make and really tasty. Try it as Nacho's piled onto corn chips and topped with grated cheese, sour cream and salsa or in a jacket potato with a salad on the side. It's a great meat free meal in minutes.
Serves 2
2 onions, chopped
2 cloves of garlic, chopped
2 tbsp oil
2 tsp cumin
1 tsp oregano
1 tsp chilli powder (add less or more according to taste)
1 tbsp soy sauce
1/4 cup tomato paste
2 tsp sugar or 1 tsp molasses
1/2 cup hot water
Squeeze of lemon juice
Pepper
1 1/2 cups of cooked kidney beans
Sauté the onions and garlic in oil until soft then stir in the spices. Mix together the soy sauce, hot water, sugar or molasses and tomato paste. Add to the onions and spices, squeeze in the lemon juice and season with black pepper. Process half the beans to a puree and mix into the other ingredients.
I once came across a bumper sticker that makes me laugh even now. It said "I love animals, they're delicious!" I do love animals, and yes, I do find them delicious, but meat is no laughing matter in our warming world.
These recipes and many more are available in Sophie's new book 'Enjoy!' which also includes delicious alternatives for those with food allergies. For details, check Sophie's website. (www.destitutegourmet.com)
---
5. Best of the Forum: Challenges
Life is full of challenges. Often, the tougher the challenge, the more rewarding it is when you reach the end of it! Some challenges can be nothing short of life changing but at the very least they can bring happiness - and with Simple Savings, prosperity! Fancy a challenge of your own? Be inspired by some of the members in the Savings Forum. Here are our current favourites from the Challenge and Motivation threads. Feel free to join them any time!
Grocery challenge - October 2007
This is a fantastic 'one-stop shop' to see how it's done, thanks to busy bee Claire M. See how the other members set themselves a budget challenge to suit their family and strive to beat their own personal best each week. The monthly Grocery Challenge has been going great guns in the Forum for months now and a new one will be starting for November. Why not join in?
Baby steps mortgage/ CC reduction challenge October 2007
Kate has saved a fantastic $3000 on mortgage interest since she initiated this popular challenge just six months ago. If you are a homeowner or are battling credit card debt, you NEED to check out this thread. Be inspired, be motivated - be in!
Monday no spend day
No Spend Monday is another enjoyable challenge which means just what the title says - no spending whatsoever for one day out of every week. First started in the UK to fight the battle against consumerism, even the SS staff do this one!
30 Days decluttering challenge #2
Jo and fellow members have already successfully completed their first successful month of decluttering. Reduce, reuse, recycle, sell, trade or swap!
My $100 challenge
Can you keep your family's grocery bill under $100 for a week? Holly can and she's encouraging others to do the same!
---
6. Penny's Blog: A New Commitment
Oct 19, 2007
Teehee! It's 11.00 in the morning and I have just got some very funny looks from the neighbours as I waddled out to get the mail in my fleecy penguin pyjamas! It's all for a good cause though, in fact I PAID to wear my pyjamas all day. The boys' school is holding a Pyjama Day today to raise money for Starship Children's Hospital. It was so funny watching the kids creep furtively into school, looking this way and that, making sure they weren't the ONLY ones wearing their PJ's. I have to admit, as we bundled into the car it did feel as though we had forgotten something this morning. I'm so tempted to wear my pyjamas to town - I can just imagine Mr Patel's face! He already thinks I'm bonkers as it is. The only thing stopping me is that I don't have any other legitimate reason to go and you know me, I can't waste petrol.
This morning also marked the end of a childhood era for poor Liam. I had to tell him the truth about Santa. WAAAAAAHHHHH! I didn't want to do it - I so didn't want to do it. It was all I could do not to turn into a blubbering wreck as I looked at his serious little face but I had no choice. He kept asking me if Santa was real as the kids in his class were saying he wasn't; their mums and dads had told them. To be honest I was amazed we had managed to get this far without having to spill the beans but in the end I couldn't lie to him - especially as he said the other kids in the class were laughing and calling him a baby for still believing in Santa. So I told him the truth, that for hundreds of years Santa, or St Nicholas really HAD been real and was a lovely, kind man who did indeed give gifts to children but he is long gone so parents continue the tradition to keep the magic of Christmas alive. I promised him that Christmas wouldn't be any less special - the only thing I made him promise in return is not to spoil the magic for Ali or any other children who still believe, like those thoughtless kids in his class. Technically I suppose I could have used this opportunity to make a great saving - one less Christmas stocking to buy for! However, I don't think the boys' grandma would let me - after all, the real Santa was exposed to me by a nasty little girl when I was only four but my lovely mum still made sure I had a stocking every year until I left home!
While away at the beach last week I finally got around to watching 'An Inconvenient Truth'. What an amazing man Al Gore is - but how heartbreaking that it has taken him almost 50 years to be able to get his global warming message out to the world. What a difference he could have made as President. The only thing is, I'm very tempted now to write to him and ask him to make a sequel. Did anyone else who watched it notice that nowhere in the documentary did he say what we were supposed to do about it? I found it really reassuring that he said that by changing our stance on global warming we can heal the planet but at the same time I was thinking 'Oy, Al! Tell us what we have to do then!' Honestly, if it wasn't for all the eco-friendly tips I had already learned after three years as a Simple Savings member, I would still be largely in the dark. Thankfully I know how to save water, I know how to save power, I know how to save fuel, I know how to save on resources. That's why I'm so stingy with my petrol, and I must admit I feel far more comfortable with my debilitating fear of flying now I know that it's really bad for the planet to fly anyway. Instead of having to own up to being a big girl's blouse, I can now proudly say that my 'no-flying stance' is a necessity in order to save the environment!
I do have a real bee in my bonnet about food miles though. It's a bit of a nightmare trying to explain food miles to the kids. As far as they're concerned, their tinned peaches come from Mr Patel's, not 90,000km away. It's really disheartening to see how much cheaper many imported products are in shops compared to ones from your own country too. I mean, here I am trying to save money and do the right thing by the planet too and it almost feels like to achieve one I have to sacrifice the other. Grr, it annoys me! So once again I have come to the conclusion that the best way to achieve both is to keep growing as much of our own food as possible. Luckily we are well on the way. I was so excited to see baby plums and peaches forming on our fruit trees yesterday! It's taken two years from memory, since Ali and I first bought our bare-rooted bargains home but they're coming up trumps now. The orchard looks just beautiful at the moment. All green and full of blossom. Unfortunately one of our chooks died while we were away. I never did work out what was wrong with the poor girl and I tried all sorts of things but to no avail.
Back to the subject at hand, it's not just food miles that I want to save - it's everything miles. I already loathe buying petrol but am going to set myself an ongoing fuel challenge to see how little I can fill up my car. Clothing is another one - a huge benefit of op shops that I had never even really considered is that they're eco friendly! Just the other day I was wearing a new blouse for the first time, which I had bought from an op shop several months ago. Everywhere I went I received comments about that blouse - how pretty it was and where did I get it? I proudly said it was from a recycled clothing store and one person said 'Good on you!' The others all frowned and almost snapped at me 'You're not supposed to tell people that!' Honestly, well they liked it before well enough until they knew where it had come from. So from now on, do you know what? I'm going to buy ALL my clothes from op shops. I can always find much nicer and better fitting clothing in recycled stores anyway and I'll be saving the environment while I save a bundle at the same time!
I could still do a lot better at saving power though and so could the rest of our family. I think I'm going to have to sit us all down and come up with an incentive for a power saving challenge. Nothing annoys me more than finding the TV blaring when the kids have abandoned watching it long ago. I think they're starting to get the message though - even on the little things like not using a new glass or plate for everything they eat or drink. 'Planet, Mother, planet!' Liam wags his finger at me laughing, but at least it's sinking in, that making more washing is wasting valuable water and electricity. Makes less work for everyone cleaning up too! If I was Al Gore I would wage an international campaign against tumble dryers, blooming horrible things. I decided to make a little eco-challenge last week when at the beach. There was a dryer at the beach house and a washing line outside. I had three loads of linen and towels I needed to get washed and dried before we left so I put the first load in the dryer. After one cycle it was still too wet. After two cycles it was still wet. At this point I put the other two loads of washing outside to dry in the breeze. After the third cycle, the first load in the dryer was still damp, but the washing on the line was bone dry. In addition, after so long going round and round, the air in the laundry room was damp and stifling and all the washing came out of the dryer looking like it had been scrunched up at the bottom of Ali's schoolbag for a week. In comparison the washing dried outside needed no ironing - another energy saver! I've decided - the rest of the family is in for a shock. I'm going to add my own personal sequel to 'An Inconvenient Truth' and I've called it 'A New Commitment'. I'm going to soak up every eco-friendly Vault tip I can get and double our savings!
3rd - 21st Century boys
8th - The power of positive thinking
16th - Lady luck
19th - A new commitment
27th - King of the boring trolleys
---
7. Homeopathy Corner: Preparing for Your Appointment
A homeopathic consultation is completely different to an appointment with your GP. All those little symptoms and quirks usually considered insignificant or unimportant by health professionals in the past are actually vital pieces of information to a good homeopath. Things such as the time you go to bed, food you crave and your nightmares all tell a homeopath a lot about your overall health and the best methods to treat you. Homeopaths ask a LOT of questions, particularly for a first appointment, some of which you may never have even considered before. If you are not expecting these types of questions you may find that you bumble a little and give answers which may affect your homeopath's diagnosis and choice of treatment. So that you get the most out of your homeopathic appointment and know what to expect, this month Fran has written a guide teaching you how to prepare for the best possible outcome. To read this month's article go to:-
http://homeopathyplus.com.au/book/tutorial-14.html
---
8. From Last Month: Fast and Easy Costumes
Last month Keilyn McCartney asked:
"I have three kids aged 3, 5 and 7 and we often get asked to fancy dress parties as well as needing costumes for the school 'book week' parades. I've run out of ideas and it is costing me a fortune in costumes. Does anyone have some cheap costume ideas I can stash away for next time?"
Fun and original costume ideas
Try these simple and cheap ideas for dress-up costumes with a difference! If you have an old sheet, you can use it for a costume. Just sew or staple a few hankies on to the sheet and your child is transformed into the 'Booger Man!' Or for another novel idea, get an old shirt with stains/dirt on it, mess up their hair, tie a doll to their leg and give them a saucepan. What are they now? A parent!
Use what you have for costumes
I save a fortune on constant requests for dress-up outfits by keeping an eye out for sales at our local op shop. I can fill a whole bag for $2.00! Skirts which can double as dresses if you belt them under the arms, and an old communion dress and a second hand bridal veil get constant use. Don't discard old uniforms either - Dad's old work shirts make great police uniforms! Grandma's are a great source of dress-up treasures too.
One of the best items I came up with is a red cape I made from a rectangle of red t-shirt fabric and a ribbon. This 'cape' has been worn by Little Red Riding Hood, super heroes, the list is endless. An important point of dress-ups is not to get sucked in to buying "character" costumes. Let the kids get involved in making their own costumes instead. It keeps them busy and they get a real sense of achievement. Use what you have on hand or make it yourself. Even if sewing isn't your thing, great costumes can be made by cutting a head hole in the centre of a metre or two of cheap fabric - check the op shop for table cloths or sheets if your budget won't stretch to new material, and secure around the waist with a belt, ribbon or rope. Add a cardboard crown and a cape and you have a princess; a pair of leggings or track pants, some gumboots and a bandanna, and you have a pirate! The outfit doesn't have to last long, but the smiles in the photos will last forever.
Affordable children's fancy dress costumes
I make great savings on dress-up costumes for my granddaughter thanks to a helpful website. She is four and loves to play dressing-up games so I was hoping to buy her a couple of dress-up costumes from the shops, however most costumes come in only one size and cost over $20 each! I decided there must be a better way so I searched the Internet and found a great website with free patterns for fancy dress costumes for both boys and girls in several sizes. Better still, it gives suggestions on how to use second hand clothing and cheaper materials to make the costumes! Now I am able to make her several costumes for the price of one shop-bought one! To find these free patterns go to: www.fancycostumes.co.uk/
Ask to borrow a costume
To save on buying dress-up costumes, try contacting a local dance school. Ours has a whole room full of costumes from annual concerts! They may sell them cheaply or even hire or lend them to you. Anything glittery can easily become fairy-like by adding fairy wings (home-made or bought cheaply from discount stores). A supply of face paint is also handy - with a little practice you can create the most amazing dogs, cats, princesses, monsters or whatever with basic clothing and a fabulous face. You can find heaps of tutorials and examples on the web!
Nothing beats home-made costumes
For some great fancy dress costume ideas that are easy to make and cost just a few dollars, try this website for inspiration! You can create them from op shop clothes or even raid your own wardrobe! www.robinsfyi.com/holidays/halloween/costumes.htm
Zombie costumes from the closet
It costs next to nothing to make a fantastic zombie dress-up costume! My son went as one to his school book week parade and it was so simple and easy. I just put him in some old clothes that I could cut up a bit, to give a ratty old appearance to. I then used my palest foundation to give him a ghostly look, and dark eye shadow to make his eyes look sunken. To top it off, I painted my favourite red lipstick around the corner of his mouth to look like blood. Gory, but he loved it!
Innovative kids' costume ideas
For a super cheap and novel costume idea, dress up as a picnic! All you need is an old tablecoth with a hole cut for the head. Then staple or tape plastic plates, cups, knives and forks to it. Robot costumes are also fun and cheap to make. Just use cardboard rolls (cut down the side to fit over arms and legs) and paint them silver. For any parts the cardboard doesn't cover, use face paint!
Costumes for boys
You can make some great, simple costumes (mostly) for boys that shouldn't need anything more than you already have lying around the house.
1. Harry Potter
Dress them in their normal clothes and top off with one of Mum or Dad's black dress/work shirts (for the robes). Use eyeliner to draw on glasses and lip liner to add his scar. Find a stick that is about the right size for a wand (and too small for other mischief!) As an alternative to this you can often pick up witches hats from $2 shops for girls for Halloween themes.
2. Pirate
Denim shorts (cut off jeans or whatever). Either use an old, plain coloured dress shirt cut to size, or a large plain t-shirt. Tie a scrap of material around their waist as a sash (I use old sheets or old pants and just cut off what I need). Use an elastic band to tie a tea towel (preferably a tartan style one) around their head as a bandanna. Raid the make up kit for eyeliner tattoos, scars and stitches. You can make eye patches, hook hands, swords and so on too, but they are not necessary.
3. Sports Stars
Dress your child in their sports gear (or board shorts and rash vest) and they can easily claim to be just about any sports star!
4. Vet/Doctor
You can use an old white business shirt as a lab coat/jacket. Put a notebook and pens in the front pocket and Paddle Pop sticks for tongue depressors. Add a stethoscope (either a toy, or get creative and make one using a wire coat hanger, black cord and a little foil pie/tart dish. For a vet, the child can carry a stuffed toy animal!
---
9. This Month's Help Request: I Want to go Camping
and Summer Treats
This month Susan Tremlin asks:
"We want to go camping but we don't have any gear and have never been before. I have been to the camping shop but everything is so expensive and daunting. Can you please give me some ideas about where I can get cheap camping equipment, what sort of things will I need, what should I take with me, where are good spots to camp. Everything!! I have no idea."
If you can help Susan please send us your ideas here
And Jill Davis wrote:
"With summer holidays coming up and our family having a pool, we find that we are feeding multitudes of children who are very hungry after a swim. Are there any suggestions for cheap, savoury snacks that I can prepare for them rather than using all our family's grocery budget on feeding the neighbourhood children? Any suggestions would be gratefully received. I am also interested in food that can be prepared beforehand and frozen ready to serve at short notice. Thank you so much."
If you have some clever food ideas for Jill please submit your suggestions here
---
10. Saving Story: Grandmother's Skills Find New Purpose
A novel idea to help my mum save on new ceiling fans has led to some fantastic and unexpected long-term savings! After being quoted a whopping $160 per unit (pensioner rate) to get ceiling fans installed, we took matters into our own hands and placed an advertisement on local notice boards. It read: 'Experienced licensed electrician required to install three ceiling fans. I would like to trade the costs by doing your washing and ironing for one month.'
Within a few days, Mum had received several enquiries and selected a nice, young single guy who needed a 'mother's touch' to some of his clothes - a lot of stain removal and buttons re-sewn. He installed the fans and dropped and picked the clothes up from her place on a weekly basis. To our surprise we learned he also had connections to plumbers and gardeners and she was soon able to have her bathroom wall retiled in exchange for scrubbing out an oven and re-organising a food pantry for a couple that were having a baby soon.
It didn't stop there! Before long she was taking up hems, sewing on buttons and doing basic mending in exchange for garden maintenance and mowing lawns. These guys are ripping up old items from homes every day with their trades so they search around to find her the cheapest items if she needs them, as well as providing an oven door and dials on her heater for free. They often come across things that others could use but end up in the tip instead.
As a pensioner, Mum has time on her hands and is very experienced in household chores but has a limited income. This trade of skills and services means she can now carry out tasks within her ability and has made some fantastic friends. Her place looks amazing and she is even happy to do babysitting for the families. In turn they really appreciate having a cuddly grandmother figure around. She has a new purpose and a whole new social network too - in fact she looks 10 years younger!