"Secrets to Saving Money in Australia" Free Newsletter - September 2006
This issue includes:-
Sad Sally, Happy Hanna: Blowing the Bonus
Invest in the Future
Liven Up Your Lunch With Sophie Gray
Fresh Wealthy Habits
Penny's Blog: Mother Hen
Homeopathy Corner: Tutorial No. 2
From Last Month: Job Hunting and Snow Holiday
This Month's Help Request: Comfy Pet Beds
Savings Story: Turning My Life Around and Lifting the Weight of Credit
---
Hi,
How are you going? It has been a strange month. Losing Don Chip, Steve Irwin and Peter Brock in one week was pretty dramatic. Poor Sam adored Steve Irwin. At the same time Steve was preparing for his fatal swim, Sam was teaching me how to hold and care for his plastic snake and lovingly patting it on the head with his gardening gloves, just as he had seen on "The Crocodile Hunter Diaries" When I first heard the news I dreaded telling Sam. At first he said "No Mum, he can't be dead, he has powers!" Even now he is still in denial, "No Mum!!! I saw him on TV - they must have taken him to the hosthbidal."
It is amazing what one person can do. Although to give Steve the entire credit is unfair. He was part of an amazing support team; his wife Terri, manager John Stainton, best friend Wes and all the crew. What their whole team have accomplished together is truly fantastic.
It makes me want to up the ante; To see how much we "Simple Savers" can achieve. How much can we accomplish as a group? Are we capable of changing people's lives the way Steve did? Anything is possible!
"Words are not enough to capture what is in our hearts by helping us to save, save, save, and be more careful with our money. Four weeks ago we moved to a very simple and elegant home. We were always a couple of real spendthrifts, but after joining your website, we enjoyed reading everything and learning how to be more careful with our money. Our home is fully paid for! In your own little way, you and your readers have helped us to acquire our 'love nest'. Instead of expensive gifts, Roger is getting used to love notes on Valentines Day and it makes him teary-eyed! Is that not romantic? Anyway, I will say it again - YOUR WEBSITE IS THE BEST IN THE WHOLE WORLD!!!" (Mell and Roger Aganon)
"Since joining only a few hours ago I have already saved hundreds of dollars! Especially in the baby section. I am due to have our fourth bub in only seven days and discovered some fabulous tips on a massive $70+ per month formula saving, a fantastic baby sling/pouch website, household cleaners, printer ink cartridges and thousands more amazing hints and tips. I am totally thrilled and am addicted to the site now - I really need to go to bed but can't stop reading all this incredible information! Thanks so much!" (Kelly Magus)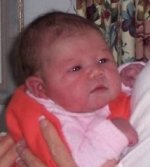 UPDATE: It's a girl! Kelly named her Zara and she is gorgeous. Well done Kelly!
"Your website is sensational!! I'm broke after returning from my two years in London and you have given me just the inspiration and hot tips I need to get me back in financial shape." (Shelley McConaghy)
"I just want to say that your site is fabulous! Thank you. I am part of a group of internationals living in the Czech Republic. We are from Australia, Singapore, New Zealand, India, USA and the Czech Republic. Here, because our wages are low in comparison to the Aussie dollar we are always looking for ways to save and enjoy the money we have. Even though we can't enjoy the Aussie bargains, your site has made us rethink our lives and where we should be spending our money and how we can still save by the way we do things. Thank you again.
P.S. I am hanging out for more newsletters!" (Stacey Vanek)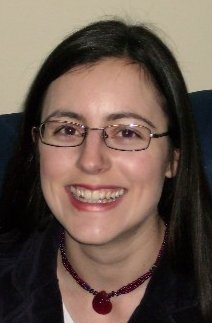 "I just wanted to send a personal thanks for the best thing in my financial life! Not just ideas and resources, but a community I can feel a part of. It's so rewarding taking control of money matters/mess and sharing them with others, and getting satisfaction from stretching each and every CENT! (And currently there aren't many to go around.) Thanks for giving me an extra month membership a while back (regarding forum ideas). Today I was able to pay the renewal without even using a credit card! I didn't realise there was a window before having to renew either. I thought I'd miss a week ($21 challenge week!) while payment was clearing between my accounts then to yours. Very generous! Congratulations on creating something with so many good flow on effects. Matt, your work on the site is fantastic too! I also really appreciate the simplistic design without ads and rubbish and money spinning nonsense. Just get to the heart of the tips and advice! Always keen to see new developments, and will support them 100%. Many, many thanks from someone who would be lost without finding this money info bomb!" (Jo Wilson)
"I am forever grateful that I heard about Simple Savings! Before my partner and I had our son, we were living from pay cheque to pay cheque. We found it so hard to live, then we found out I was pregnant. I hadn't heard of Simple Savings at the time, so I was doing everything we could to make sure we had enough baby items before our little man was born. We had everything we needed for bub when he arrived - except now that I was out of work, we didn't have money. After a few months of "doing it tough" I heard about Simple Savings. I thought it was a huge scam to get my money but I decided to give it a go. I am now back at work and my partner and I save a HUGE $1,400 per fortnight thanks to hints and tips from your site! I work at Woolworths, so I work nights (35 hours per week) and my partner works days, therefore we don't need child care. We could save more if we really put our minds to it, but I'm happy with $700 saved per week! Thank you, thank you, thank you!" (Tamara Hamann)
"I am a mother of two (with number three due soon) and we are a single income family (I have chosen to stay at home with my young children and have not done any paid work now for four years). Although my husband earns a good salary and I would never wish to 'cry poor' (we are extremely wealthy in global terms!), sometimes things do get a bit too tight for my liking and we don't have much left over for indulgences, such as dinner out for the two of us (which we would dearly love to have more of). When I signed up to receive your newsletter just a couple of months ago and then subscribed to the Vault I have to say that initially I was a bit disappointed to find that many of the major things being discussed, such as menu planning, I was already doing and I wondered whether we would really be able to make many savings. However I just want to say a big thank you! In one month I have saved close to $500 by using simple tips and ideas! So thank you Simple Savings - I'm a convert - and, even more remarkably, so is my husband!" (Rebecca Tregurtha)
Let's see if we can lift the bar even higher. Next month I'm going to bring in some new surprises. It is time to up the ante!
All the best,
Fiona
---
1. Sad Sally, Happy Hanna: Blowing the Bonus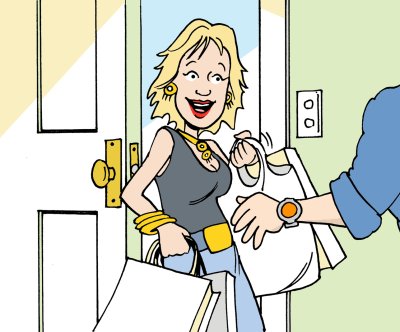 "Pete, can you help me with this?" yelled Sally. She was trying to squeeze herself through the door but was unable to hold it open and juggle all her shopping bags at the same time. "Hang on - there you go," smiled Pete, holding the door for her. "Woah, you've been busy!" "I certainly have," puffed Sally, dumping her armfuls of bags on the table. "I've been CLOTHES shopping! I must take my shoes off, my feet are killing me!" Pete looked at her in horror. "Clothes shopping? But - what with? Oh Sal - you haven't been using your card again?" "Of course not, silly - as if I would!" Sally looked briefly hurt, then broke out into a huge smile. "I got a bonus at work!" "That's fantastic, love!" said Pete excitedly. "Just what we need - we'll put it towards the mortgage."
"Spend my lovely bonus on the mortgage? I don't think so! This is mine, I worked hard for it - I'm spending it on me. In fact, I already have!" Sally beamed. "I'll just get my breath back, then I'll give you a fashion parade!" "NO!" Pete's voice rang out and made Sally jump. "OK, no big deal," she shrugged. "I can show you later if it's not a good time. Tut, what's the matter now?" she sighed, glancing at her husband's woebegone expression.
Pete took a deep breath and asked very politely. "Sally, can you please leave the clothes in the bags and take them back tomorrow?" "NO!" Sally cried in horror - just as loudly as Pete had done. "This is MY bonus - I earned it. I can spend it on anything I like!" "Sally, you are insane," reasoned Pete. "We are still trying to pay off debts you have racked up from 15 years ago. That money you have had such a blast spending today was not yours to spend - it belongs to the bank! The only reason we are both working is to pay those debts off. We are enslaved to the bank, Sal, you know that. If you don't stop spending, how will we ever earn our freedom?"
Sally flopped down in a chair and cast a sad eye over her shopping. It had been such fun.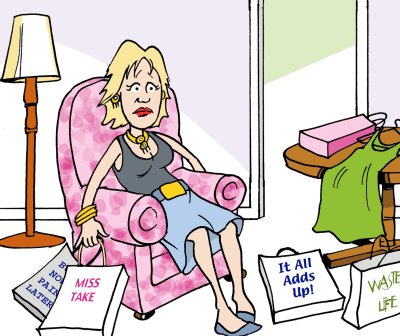 ---
2. Invest in the Future
If you're like Sally (and indeed most people), when you receive an unexpected bonus or windfall, your first inclination is to spend it, spoil yourself or treat your family to something special. And why not? After all, it's not like it is part of your regular income is it?
Giving yourself a treat is a great thing to do, but the worst presents are clothes, 'material' or 'luxury' goods and the best gift you can give yourself is a brighter future by getting rid of some of your debt.
If you spend your money on 'goods' instead of repaying your debts, everyone gets ahead except you. Your boss did well. Because you wasted your bonus he will be able to get you to do more overtime. The shop owner did well because he managed to take your bonus from you. The bank did well because they want you in debt to them till you die. The landlord of the shop did well because he even got a slice of the bonus. Everyone did well out of Sally's bonus except Sally.
Every time you pay extra off your debts, you are doing something truly brilliant and you deserve a massive pat on the back. The reason it is so fantastic is that you are actually clawing back time and freeing up your money sooner. You have turned your bonus into a REAL bonus.
Getting rid of your debt is the best thing you can do for your family and the planet. The pressure of debt deprives us of so many things. It restricts your freedom and your ability to make conscientious choices. The less debt you have, the lower your repayments will be and the more free cash you will have each week.
Next time you get a bit of extra cash, use it to wipe off some of your debts and invest in your future. You will be able to make better choices and accomplish more with your life.
---
3. Liven Up Your Lunch With Sophie Gray
One of the simplest ways to save money in the supermarket is to avoid buying ready-made foods. However the lunchbox stuffing industry is big business, with nearly a whole supermarket aisle dedicated to portion controlled processed snack foods and millions of dollars spent every year marketing them to children who then badger us into buying them.
Much of what is marketed to parents as suitable snack food was only special occasion or party food when we were growing up. While it may even appear to be healthy - no added sugar, 97% fat free and so on, when you get past the promotional spin it is often utterly inappropriate and unsuitable fuel for growing bodies.
Kids love little portions, and if they have expensive crinkly, shiny wrappers they love them even more! In fact often they are far more enchanted with the packaging than they are with the contents.
If you want to wean your mob off processed snacks, here are some suggestions to help you break the Snack Pack habit.
Win them over with little portions!
Invest in some cheap plastic containers with lids (cheap because some are bound to be lost!) and some small plastic screw top tubs.
Use mini muffin pans for sweet muffins so they can enjoy a sweet treat more often.
Make jelly and yoghurt, put them in screw top containers with a throwaway plastic spoon.
Make a home-made dip n' dunk with little pieces of bread or crackers and something to dip into - hommus and carrot sticks, fruit slices and yoghurt.
Stock up on healthy nibbly things to put in the lunch boxes - dried fruits, nuts, bean sprouts, grapes, strawberries, cubes of cheese, snow peas, sunflower seeds and so on. Remember that dried fruit counts in their 5+ a day.
Help the kids to grow cherry tomatoes, beans or peas in a sunny spot, they'll be more willing to eat what they have grown themselves.
Kick the habit for good!
Avoid the snack aisle of the supermarket - what the eye doesn't see the heart doesn't grieve over.
Slip notes or stickers into their lunch box as a surprise and win them over, you could include a riddle or joke or some words of encouragement.
Plan to bake and involve the kids, most muffins freeze well and can be made in under half an hour. Make biscuits that yield at least 3 - 4 dozen. Let the kids add sprinkles or icing.
Scones are low fat, fast, cheap to make and really filling, make them sweet or savoury and freeze.
Make up cookie dough and freeze in balls that can be baked from frozen for fresh cookies in a flash.
Use cookie cutters to cut shapes out of their sandwiches, cheese slices and ham; they won't know whether to eat the star first or bite the head off the Marmite man!
If they must have treats in the lunch box:
Buy a regular size bag and put into snack containers, it's a lot cheaper that way.
Have sweetie treatie Friday; if they have done all their chores and learnt their spelling words they can have a treat on Friday.
Make sure you describe treat foods as such or the kids will have the idea that they are just everyday foods and won't appreciate them or be conscious of how frequently they eat them.
Wean them off gradually, and let them in on how much money you are saving. One family we know stopped buying treats when they needed to pay a big bill, They told the kids that once the bill was paid any extra money they saved by avoiding lunchbox stuffers would be lavished on them at Christmas - from that moment on the kids were totally on board, they had their hearts firmly set on a PS2.
The health perspective
As a rule of thumb foods can be divided into 3 categories:
Occasional foods- eat once or twice a month: fried food, chips, doughnuts, roast spuds, corn chips, hot dogs, fries and so on.
Sometimes foods- eat 2-3 times per week: Biscuits or cake, lollies, juice, fizzy drink, muffins, ice cream, canned fruit in syrup, roll ups, snack bars, chocolates and so on.
Everyday foods- eat every day: fresh fruits and vegetables, water crackers, rice crackers, dried fruits, popcorn, cereal, wholegrain bread, legumes, lean protein, low fat dairy products.
Bigger not better
Servings have got much bigger over the last decade. One café muffin might equal two home-made muffins. How big a bag of lollies are the kids buying with their pocket money? How much juice are they drinking? Juice has replaced milk and water as the main kids' drink in many households, often with as much as six and a half teaspoons of sugar per glass. Juice should be a treat, rather than a regular occurrence.
Cracker snaps
Crackers are a great snack food having no sugar and only a little salt. Put them in the lunch box with a pot of dip, serve as after school snacks or make them for your next cheese board.
This quantity will serve around 4 people
Pre heat the oven to 200°C
1 cup plain flour (I often use ½ cup plain flour and ½ cup wholemeal)
½ tsp salt
2 tbsp butter
2 tbsp sesame seeds
¼ cup water
Place the flour, salt, butter and sesame seeds in a bowl or food processor. Mix well then add the water to form a soft dough.
Roll the dough on a floured bench to desired thickness, prick with a fork and cut into pieces. (I use a ziggy zaggy pasta cutter for crinkled edges). Place the crackers on a floured tray and bake until golden. When cool snap the crackers apart if needed and serve.
Make whatever shape or size you like, add different varieties of flour, herbs, nuts, seeds or spices or cheese to vary the basic cracker.
Room 7's LCM's
These home-made LCM's were taste tested by my daughter Isabella's class and judged as good, if not better, than bought ones!
Makes 30 squares or 16 bars
60g butter
1 bag (400g) marshmallows
1/2 tsp vanilla essence
7 cups Rice Bubbles, or Ricies.
In large saucepan melt butter and marshmallows over a gentle heat, stirring constantly. When marshmallows have completely dissolved add vanilla and stir in the rice pops. Work quickly as the mixture becomes sticky.
When combined, turn the mixture into a greased sponge roll tin and press down very firmly using wet hands. To really compress the mix roll over it with a heavy can or bottle (again, wet the roller before attempting to roll the mixture) press edges in neatly with a knife and leave to cool. Finish with a scattering of coloured sprinkles, and then roller over them so they are pressed in. When cool, cut into 30 squares or 16 bars.
Sophie Gray is the author of the Destitute Gourmet range of cookbooks.
---
4. Fresh Wealthy Habits
Being free of debt and the weight of debt is the best thing you can do for your family. One way to speed up your escape is to start getting rid of your bad money habits. Last year we created the "Wealthy Habits" calendar to do this.
We are about to put together the new 2007 Wealthy Habits Calendar for November's newsletter - we really want to do our best. If you used this year's calendar, can you please write to me to say how it went? The sort of information I'm hanging out for is:
Did you use the calendar?
How did you use it?
What did you use it for?
How did it help you?
Did you give it to friends? If not, why?
Do you think it is visually appealing?
Was it easy to print?
Did you have trouble downloading it?
Are you interested in being involved in media stories?
Would you like more pictures or less?
If we had it printed in a larger format by a professional - would you be willing to pay $20 for a copy?
Wow! That is a lot of questions. Please email me
---
5. Penny's Blog: Mother Hen
Sep 11, 2006
You can't rush things around here, but yesterday - four months after Noel built my chicken house and run for Mother's Day, I finally got five chickens to go in it. We made it our mission for the rainy weekend and scoured all the local 'buy/sell/swap' magazines until we found some. They're such lovely girls and only cost $8.00 each! Don't ask me what sort they are - two are black and three are black and white but they have settled so well in their new home, it's a joy to see them checking everything out and doing 'happy chook things'. The seller told me not to expect them to lay for several days until they had adapted, but I didn't have to wait that long. I heard a noisy commotion this morning from all the 'ladies' and went rushing out thinking a cat or dog had somehow got into their enclosure. Instead, they all came rushing out to greet me, chatting away and leaving the reason for their excitement neatly placed on a bed of hay - one perfect, brown egg. I was so excited! Of course, now every time I hear the slightest squawk I go rushing out there checking for any new developments! Noel is also very proud that they love his home-made hen house. I found lots of helpful tips in the Vault about keeping chickens and also a lovely helpful article on the Aussies Living Simply website, so I am pretty confident of giving my girls a happy home and harvesting plenty of eggs in return. One thing I find very helpful is that the chickens eat many of the things that my worms don't like - such as bread crusts and potato peelings, so between the worms and the chooks pretty much everything in the scrap bucket gets utilised now!
Once again the forum proved spookily telepathic this week too! I was amazed to find a thread entitled 'Am I really saving money?' from a member who after baking up a storm all weekend for her family was wondering if she was actually saving anything due to the alarming rate her family was scoffing all the yummy baking and encouraging her to make more. You see, I had found myself thinking exactly the same thing the day before! Over the last week, it has felt as though I have been baking at least every other day to replenish the stocks and provide tasty lunch box fillers. Don't get me wrong, I have really quite enjoyed it and what mum doesn't get a kick out of seeing her kids well fed and happy on home baking, but I did start to wonder - was I really saving money by going to all this effort, or was I actually spending more? I decided to pay it some serious thought. I looked at our family's Canteen Price List, which reads as follows:
1 bag chippies = 50c
1 Roll-up = 60c
1 pot yoghurt 50c
Sandwich = FREE
Popcorn = FREE
Muffin = FREE
Cookie (home-made) = FREE
The boys are not allowed to eat more than a dollar's worth of snacks from the list every day - so they can have at most two bags of chippies in a day, but not a bag of chippies AND a Roll-up because that's over the $1.00 limit, so they have to choose something from the free items if they're still hungry. The prices for the packaged items I calculated myself from NZ prices, so a packet of Roll-ups contain eight snacks at 60c each, which is darned expensive if you think about it - I mean they don't exactly fill you up, do they? The last one I tried to eat threatened to pull all my fillings out, but unfortunately the kids love them and at least the Canteen system now limits them. I thought about 'charging' the boys for the other 'free' items on the list to make up for the amount of baking they were eating. Then I considered the last bag of Basics brand SR flour I bought, which was $1.99 for 1.5kg. This gives me enough flour to make 72 muffins, which fills them up much more than a Roll-up. I sat and worked out the entire cost of the boys' favourite banana and choc-chip muffins and I won't bore you with the details of breaking down all the ingredients but I discovered that each individual muffin costs just 19c to make. So the boys can actually consume three whole muffins before they have even come close to matching the cost of one measly 60c Roll-up! Based on that and other similar equations for things they like to eat, I don't care if they eat three times as much baking as package food, it still doesn't cost me any more, so I shall keep on baking - and now I don't have to buy eggs I will save even more!
However, one important point which was also mentioned in the discussion is not to go out and buy heaps of ingredients to bake with that you wouldn't normally buy and I have decided to make a mental note of this. For example, if I had Coco Pops already in the house, I could use them to make LCM bars, but I wouldn't go out and buy a packet specifically to make LCM's (ah yes Penny, you are guilty of doing exactly this!) Last week I had a tin of crushed pineapple in the pantry so I found a recipe for boiled pineapple fruit cake to use it in - it was delicious too! Then of course there were the lemon muffins in an attempt to use up all the blasted lemons, so I am making a rule and sticking to it that where possible I shall only bake using items on hand and work my recipes around them. I think I even have a recipe for Tea Loaf somewhere, so even if I were to run out of everything else, I could sacrifice one of Noel's tea bags for the good of family baking. A very interesting thread, with plenty of 'food for thought' - pardon the pun!
Most of the time I wish we never had Pay TV, but for once I was really grateful for it at the weekend, when Animal Planet screened a Steve Irwin marathon across the whole two days. Whenever we could, our family sat enthralled at the antics of this amazing man who still seems so very much alive. Our kids had always loved him, but it was the first time that Noel and I had sat down and really watched and listened to the Crocodile Hunter. We learned so much! As Noel said, Steve achieved more in his 44 years than anyone else could achieve in 144. We laughed a lot and I bawled my eyes out at the episode that documented Steve and Terri's meeting, marriage and Bindi's birth and first plane ride at two week's old. The love for his family just shone from his face and I wasn't sure why I was crying more - that the Irwin family had lost such a wonderful son, husband and father, or that I was so incredibly grateful that the past 20 years of Steve's life had been so meticulously caught on camera for his children to see. I had never really given much thought to crocodiles much before - they had certainly never appealed to me, but after watching all those fascinating episodes, I felt a lot differently about them and certainly agreed they were worth looking after - funny that - isn't that just what Steve was trying to tell us all along!
Penny's Blog is a special treat for Vault members and is updated a couple of times a week. You can drop Penny a line here - she loves to hear from other members!
---
6. Homeopathy Corner: Tutorial No. 2
In this month's workshop Fran explains how Dr. Samuel Hahnemann discovered the Law of Similars and introduced the world to Homeopathy in 1796, sparing his patients from bloodletting, leeching and other common medical practices of the era. His findings are still current today and make fascinating reading. Fran's tutorial is here
---
7. From Last Month: Job Hunting and Snow Holiday
Last month Yvonne Millard asked:
"How can I save money when job hunting? I am an older woman re-entering the workforce and I need help with resume assistance, clothes for the interview, advice about the interview and so on. Whilst there are agencies out there that provide the above assistance, they're expensive, and until I get a job, I can't afford to spend the money. It's a Catch-22 situation!"
It never ceases to amaze us how caring and helpful Simple Savings members are! The response to Yvonne's request was huge and we send a big thank you to everyone who sent in their suggestions on this subject. Many letters contained a wealth of information, making them too lengthy to print in the newsletter, but Vault members can access them using the links that follow. Some shorter examples are included below - thanks everyone!
Free employment assistance
For valuable free employment assistance, visit your local Centrelink office and ask to be registered as a 'job seeker'. You do not need to be receiving any benefits or a low income earner, but if you are not registered with them there are a few forms to fill out and it can take a week or two for them to process. If you register for 'job search assistance', they will refer you to a job network provider (such as work trainers or CVGT) near you and pick up all the bills. The job network provider then gets paid to find you a job! They will help with your resume, extensive interview training, job search skills, career counselling, can arrange 'job interview clothes' on loan, can provide grants for purchase of uniforms when you get a job, can provide travel assistance to an interview or job AND if you don't get a job in a few months, they can organise a retraining grant for your local TAFE or short course provider and pay for that too!
Free interview tips
Making a good impression at a job interview should not have to cost you anything. Clothing-wise, you don't need to spend much to kit yourself out with a nice top and skirt or pants, along with clean shoes and stockings. Remember, you can wear the same outfit to several interviews - you're meeting different people after all! As long as you are tidy and presentable, it doesn't matter whether you wear designer clothes or not. Keep jewellery and heavy perfume to a minimum, don't smoke just before the interview (no matter how nervous you are!), try and smile and take deep breaths before you go in. If possible, try to find out as much as you can about the company or the area you are applying for - it helps a lot when answering questions and also looks good that you have been interested enough to do some independent research!
Get a resume from your library
An excellent and helpful book when putting together a resume is 'Resumes for Dummies'. It helps you compile the best resume you possibly can, along with the all-important covering letter. You don't even need to go out and buy a copy - I borrowed mine from the local library for free!
Ask friends and family for clothing
Try asking friends and family if you can borrow one or two suitable 'job hunting' outfits until you land a job and can afford to buy some of your own. You will be surprised how willing people are to help in situations like these. Also, pull your wardrobe apart and lay everything out, so you can see at a glance what you have. It is surprising how many work outfits you can put together with what you already have, just by doing a clothes 'audit' and being a little creative.
Also, Joanne O'Carroll asked:
"Our family of four (including two pre-schoolers) would love to go on a snow holiday and are trying to keep expenses to a minimum. We don't ski, so can avoid the costs of equipment hire and lift passes and I have been able to kit out the kids for the snow by collecting suitable clothes from the op shop, but there are still several areas that I could do with some help. I still have to source suitable snow clothing for myself and my husband without breaking the bank and I would love to hear from anyone who can recommend affordable accommodation. Does anyone know of good snowy locations for families on a budget and where we can hire toboggans and so on? At the moment I don't think it will happen any earlier than next year, so we have plenty of time up our sleeve to plan and implement any advice!"
Joanne's request proved very timely as many helpful members were able to send in their recent saving tips fresh from the slopes! Whether you're planning your first trip to the snow, or are a regular from way back, the Vault has plenty of tips to enable everyone to save on their next winter holiday. Check out the ones below for starters!
Hire instead of buy
It is not necessary to buy snow clothing if you are only going to be wearing it once! Several snow fields hire out snow clothes, so it is worth contacting the one you are planning to visit before your trip to see if they have any to hire.
Low cost snow holiday with YHA
Our family has enjoyed some wonderful low cost winter holidays in all kinds of places including the Snowy Mountains. We joined Youth Hostels Australia, and were able to access their chalet in Thredbo; they also have another available at Mt Buller. If you visit during the week, the rates are cheaper. We always took our own food and kitchens in the hostels were spotless, because in those days, the users were responsible for all the cleaning in the hostel. It is wise to book ahead, so start looking around as soon as you can. While membership in YHA attracts various discounts in other areas, I'm not sure about toboggans! Check out (www.yha.com.au) for more information.
Buy old stock from hire companies
For terrific bargains on snow suitable clothing, ask around at ski clothing hire companies. They often sell old stock off cheaply at the end of each season. Obviously they are pre-loved and sometimes noticeably worn, so inspect before you buy, but it's definitely worth a try. Several years ago I bought a pair of spare snow boots for a third of the hire price. I only went to the snow once, but they were great for wearing around the home in winter and my feet were always warm and dry in their waterproof snow boots!
Millionaire holiday on small budget
You don't have to be a millionaire to enjoy a snow holiday at the mountains; we have done it for years and have a ball! Our family enjoyed a low cost snow holiday at Porepunka, near Bright in Victoria. We stayed in a powered onsite van, which was well heated. There was also a heated pool, lots of beautiful walks and a playground. We caught a bus up to the mountains leaving our car at Bright and saved money by packing a picnic lunch or used the BBQ's both on the mountains or in the park area in the township of Bright. Food on the mountain costs heaps, so we always take our own - even a kettle to make hot drinks on the BBQ or fire! There is also a tiny caravan park just outside Bright called Mittagong, which is very cheap and the National Parks offer great accommodation too. For another cheap and enjoyable activity, remember to take some seed for hand feeding the beautiful parrots.
Op shops offer loads of suitable adult clothes. If you don't intend to ski, just 'woolly up' in jumpers and jeans and add plastic bags inside rubber wellies, that does the trick! Cheap 'all-in-one' raincoats and plastic pants come in handy too. Inflatable cushions are heaps of fun to use as sleds and car mats are great for sliding!
Ski field estate agents
Our friend makes huge savings on ski field accommodation by ringing all the real estate agencies surrounding the ski fields well in advance. He stays in contact with them all year, so that if cheap accommodation comes up, they know exactly what he is looking for. It definitely pays to ask around - many people who own houses there don't rent them through agents, but are quite happy to rent them to friends or through word of mouth.
---
8. This Month's Help Request: Comfy Pet Beds
This month Stephanie Shiu has asked:
"Does anyone have ideas on how to create a comfortable bed for a dog that can either be washed or doesn't attract fleas? My dog used to sleep on a large cushion - the problem with that was that only the cover could be washed. I've priced the flea free Snooza beds, however they are very expensive at around $90 for a large dog."
We would love to hear of helpful suggestions to help Yvonne and others in the same situation too! Please send your ideas to us at www.simplesavings.com.au/donatehints/ and we will pass them on.
---
9. Savings Story: Turning My Life Around and Lifting the Weight of Credit
Turning my life around
It's August 2006, and time for another entry into my self-obsessed journal of savings, but as it's been six months now since I really started to save, I felt I should really share this entry with you guys. A complete turn-around from the start of the year. I am really turning my dream into a reality and I couldn't have done it without the help and support from Simple Savings!!
The time I first joined Simple Savings was around 2003/2004. I was looking for a quick fix way to save money for my $2,000 trip to the snow. I had five months to save and was already stressing. I managed to scrape together the funds and had a wonderful time, but told myself that I hadn't really learned anything I didn't already know. I kept reading the newsletters but deep down thought I didn't need it, so I let my membership run out, (shame).
Then in February this year certain personal events led me to make an important decision in my life. I had to face up to my fears and the fact that I was broke every pay cheque didn't help. It was becoming a real strain to see how hard I was working without making any headway. Where was I going wrong? I began thinking about budgeting and then it hit me like a ton of bricks - what I needed was Simple Savings! Could I really stick it out this time? I wanted to pay off my loans, go on holiday and move out at the end of the year. I figured anything was possible!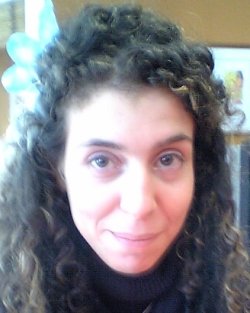 So my journey began. I printed off everything I could find and read the whole Vault in a week, I was addicted! This time I knew I was on a different path and made sure everyone around me listened. The first thing that had to go was the planned $2,500 snow trip. I couldn't justify it this time round, I asked myself where else I could go to relax and have just as much fun. I love the outdoors, and had gone to Olinda in the past, so I did my homework and stayed in Sassafras for six nights. While I had to pay full rates on the weekend, I got a lovely discount on the quieter mid-week nights. I chose bed and breakfast accommodation, because I decided I needed to brush up on my cooking skills. No expensive dining out this time! I planned every meal for the next six days. I borrowed a portable gas cooker from a friend, did odd jobs for the family and only asked for a couple of food items off my grocery list in return. They were happy and I was happy. I bought only generic items where I could, preferably on special - I never had so much fun shopping! I made up my own entertainment and had a wonderful time - plus I saved myself around $1,800 in the process!
Next was the car and motorcycle loan. While I already prided myself in this area, I wanted to exceed it. I wanted to double my extra repayments on top of my normal ones and knew I could do it, I just needed will power. Back to the Vault! Inspiration plus - a wealth of hints, tips and ideas to feast on. My weekly habits had to go - *shock horror*. I was spending $800 on snacks, coffee, lunch, cigarettes, whatever I wanted. I knew I was in for the long haul, so I began slowly. I took coffee from home, lunch from home, used shampoo in a pump bottle and stayed away from impulse buys. Out came the money box and I began cutting down on the cigarettes. I went back to using a prepaid mobile phone and straight away saved $40 a month this way - wow, could it really be that easy? Out came the calculator and pencil, and every dollar spent, every EFTPOS transaction, and every need was scrutinised.
My bank statements started looking healthier - reduced from three pages of transactions down to one - this was really working! Four months on, my hard work had paid off and I no longer had my car loan. What an achievement, I don't mind saying myself! My mum nagged me to set up a savings account, which I will always be grateful to her for and by the time my loan was paid off, my savings account balance had almost doubled too! To cut a long story short, I have recently purchased my first unit. While I'll be doing it tough on my own, you have now provided me with strong saving skills that will last a lifetime. Simple Savings has helped me get my life on track, allowed me to see my future and make my dream a reality and, most of all actually realise where to save. I always said I must leave home before I'm 30 (cringe!). I'm now 28, but in the short space of six months I have learnt so much. It has been tough but manageable. I no longer feel I'm missing out on anything and I actually enjoy saving for items the old fashioned way - in the money box!
I just wanted to say keep going strong guys; I'm so proud of you all and can never thank you enough for all your help. All I can promise back is that this time I won't let my membership run out - EVER!
Lifting the weight of credit
My biggest financial mistake was not cancelling my credit cards as soon as they were paid off. I have had credit cards for quite a number of years and they have even been paid off in full at least twice! Before I knew it though, they were up to their limit AGAIN. My circumstances changed and I became a single parent. I struggled to pay even just the minimum payment. After falling behind by several months, I contacted the National Bank where I have one credit card account and the very helpful lady at the other end of the phone told me of a Financial Hardship plan that I found I qualified for, so I applied. For the next three months, I was not charged interest and I had a minimum payment set that had to be paid fortnightly, no excuses. It was a reachable minimum and allowed me to be able to catch up on other bills.
I was able to get on top of things and once the three months were up, every time I had at least $200 credit available to me, I reduced the minimum by $100. This left me with $100 credit to more than cover the next month's interest payment without taking me over the limit. So far I have been able to reduce my limit by $300 and am slowly working my way to not having a credit card at all.
I feel as though the huge weight on my shoulders is finally becoming lighter and cannot wait to make the last payment on my card. When I do, I will cancel it on the spot!