"Secrets to Saving Money in Australia" Free Newsletter - August 2006
This issue includes:-
Sally & Hanna: Allergy-Free, Stress-Free
Low Cost Allergy-Free Living
Cooking for Allergic Guests, by Sophie Gray
Always a Good Time of Year to Save!
Penny's Blog - More Haste, Less Speed
Homeopathy Corner: Tutorial No. 1
From Last Month: Clothes for Smaller Frames
and Getting Rid of Tobacco Smells
This Month's Help Requests: Job Hunting and Snow Holiday
Savings Stories: Demolishing Renovation Costs and It Pays to Advertise
---
Hi :name_first:,
How are you going? I hope you have had a fantastic month! We spent most of this month in New Zealand. Wow! What a place. It is beautiful. While we were there we caught up with Sophie Gray from Destitute Gourmet. Meeting Sophie in person was great. She is as lovely in person as she sounds on the radio and I have wonderful news: Sophie is becoming a regular writer for Simple Savings! Is that brilliant or what? Is that brilliant or what?
The future looks bright. Thank you for your help. You are part of the amazing things Simple Savings is achieving. We are changing lives and making a difference. It is a great feeling.
"I would just like to say what a brilliant site this has been. Before I found Simple Savings, I had no control over my money and was accumulating dangerously high debts. In addition, as a student I was also on a low income, supporting myself financially and really struggling, even with two part time jobs. Simple Savings has taught me to manage my money sensibly and with the help of the Vault I have been able to reduce my debts by half in just six weeks! Thank you so much for a brilliant site that really helps people turn their lives around." (Bek R)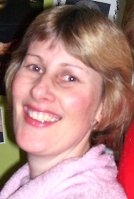 "Thank you for the wonderful offer of joining the Savings Vault at a fantastic price whilst on a Health Care Card! I was so happy! Being on a low income is rather difficult as a single mum and I was very appreciative of this special bonus!" (Wietske)
"I must say, since joining Simple Savings I am now the 'typical housewife' - which I absolutely love! I now have the time and money to be cooking treats, and hubby now has a home made meal (from scratch - something I rarely did!) when he gets home from work! Having 'more' money means less stress, which means more time for myself and my partner. We now live off hubby's base income, rather than trying to figure out how many extra shifts he has to do to make ends meet each fortnight. We have a beautifully clean house too, that costs us next to nothing to maintain!" (Jade H)
Good work guys! You are doing a great job.
Many grins,
Fiona
PS. In this month's newsletter we are looking at food allergies. Please forward this newsletter on to anyone of your friends with allergies or who has to cater for someone with allergies. Hopefully, we can make their life a little easier.
---
1. Sad Sally, Happy Hanna: Allergy-Free, Stress-Free
It was panic stations in Hanna's kitchen. "Honestly!" grumbled John, "This is just so typical of my mother. Why did she pick this week to invite herself to dinner? It's lucky we have money saved, all this new 'allergy-free food' of hers must cost a fortune." "Come on dear," soothed Hanna, "It will be nice to see her - she needs cheering up after all, the poor thing." Hanna's mother-in-law had been diagnosed as dairy intolerant and a coeliac recently and was struggling to come to terms with the new changes in her diet.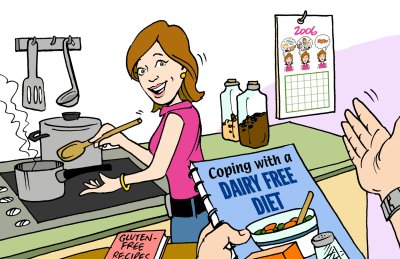 "How can you be so calm? We might poison her!" pointed out John, still pacing up and down. "Relax, nothing will happen - I am sorted!" smiled Hanna. "In fact, it's kind of a nice challenge to cook something different." "Phew - so you managed to get to the health shop then," said John, greatly relieved - but spun around in horror when his wife replied "No - no need!"
"What do you mean no need? You could make her ill! You can't use normal flour you know. Look at this list - what CAN she eat for goodness sake? No tinned soup, only organic ham, no pasta, no bread, no cheese, no packaged stock, no water crackers - need I go on? You were supposed to buy gluten free pasta and gluten free flour," accused John. "What are we going to feed her now? Hang on - there's still another half an hour before the health food shop closes - I'll go," he huffed, grabbing his car keys and checking his wallet. "Yep, I have got cash. Goodness knows how much this is going to cost!"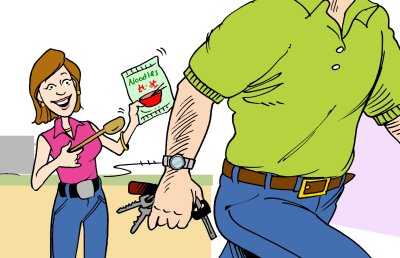 "John, for goodness sake calm down. I have everything we need - I went to the Asian supermarket." "You went where? Oh Hanna, you know mother can't stand all those spicy foreign foods - she never could, heaven knows what it would do to her now!"
"Relax! I bought rice noodles instead of gluten free pasta. It is a fifth of the price! In fact they have some great prices on all kinds of things. I found some great recipes online too - you'd be amazed how common food intolerances are, John. Everything is under control," assured Hanna. "I just hope she likes it." "Well this smells pretty good," grinned John, peering into the pot. "I can't wait, I'm starving! So what's Mum having?"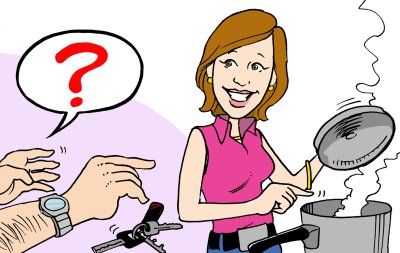 "This is for her!" laughed Hanna, "and us too - it does smell good doesn't it? I'll have to try a few more of those recipes, then we can have your mum over more often! Well, maybe not TOO often," she conceded, seeing the horrified look on her husband's face...
---
2. Low Cost Allergy-free Living
Being diagnosed with Coeliac's disease and other food intolerances is a very stressful time for everyone; both the person with the illness and their entire family. Suddenly, their complete way of eating has to change. It can be really traumatic and potentially very expensive - but it doesn't have to be.
With just a little basic research and creativity you can learn to make delicious, cheap and varied meals that everyone can enjoy together. There is a huge amount of free information available on the Internet to help and encourage those with, or cooking for those with food intolerances. As Hanna showed above, in the majority of cases it is not necessary to spend a fortune on 'special foods' for people with allergies.
The Vault is a great place to start, as a number of members have kindly shared their recipes and experiences first hand when dealing with food allergies. Karen B has been through this situation and offers some helpful tips and advice for others here:
Saving Money on a special diet
We have children with multiple food intolerances and have learned that it is not necessary to pay high prices for gluten free and special diet foods. Gluten free food is most expensive if you try to replicate a typical Western diet, and it's very expensive to buy anything ready made or ready-to-cook mixes. If you get to really like cooking this way you can even save money!
Takeaways are often off the menu and junk food at our house is rare. It is possible to have an occasional inexpensive night off; when planning to eat out, ask questions of staff so you can find a chip shop that cuts potatoes fresh and cooks them in suitable oil, and order chips only.
Stock the pantry and fridge well with allowable foods that are affordable and learn to substitute ingredients. If a substitute is very expensive, such as soy cream cheese, just take it off the menu; chances are it will not even be missed. Try to take the emphasis off bread, biscuits and grains, and stick to rice and lots of vegetables. Other countries eat like this and they are very healthy. After a while you stop being sick of rice and we really look forward to it now! A few good ideas are creamed rice with sultanas, fried rice or leftover fried rice made into a bake with eggs and so on. Breakfast cereals can be really expensive, so you can avoid them and make hot rice with brown sugar, milk or soy. Purchase a rice cooker, if you don't already have one. We don't bother with bread much, or the expensive rice and corn thins which have little food value, instead we make a lot of pancakes out of buckwheat and so on. Cook meat and vegetables, or perhaps rice meals that the whole family can have for dinner and try to keep enough leftovers for lunch. Other lunch ideas which work well are soups, or baked potatoes, and some kids love easy sushi rolls for packed lunches; you can make them with kid-friendly fillings like avocado, cucumber and ham, just wrap it in plain rice and nori sheets. Spring rolls made out of rice paper with vegetables, rice noodles and so on are another popular choice.
If you have to have soy milk you can buy a soy milk maker online. You can also make your own nut milks easily; sometimes these work out even cheaper than dairy milk. Vegetables can be very expensive, so check out the markets once a week or so and buy plenty. You can jazz them up and make them tastier by adding garlic and fresh or dried herbs. If you can only have a handful of vegetables and fruit (like Failsafe), write up a list of suitable foods and give to family members and friends, explaining how expensive it is to buy these foods and ask them to keep an eye out and pick some up for you when they see them selling cheap. Consider growing your own vegetables, or asking a friend or relative to grow a few extra for you.
If you are dealing with food sensitivities only, try printing up a few small booklets of safe foods and suitable recipes on the computer and passing them out to friends and relatives. I was amazed how many of ours felt sorry for us with all that cooking and wanted to help out by cooking a slice or something! It will be a big help when you eat at their house too. I have a wonderful friend who cooked an entire kids' party gluten free just so my sons could eat everything. The best savings are from making simple foods that the whole family can eat, but where baked goods are involved you can save by cooking two lots, if most family members can eat normal food. Cook in bulk and freeze for later.
Here is a good 'two-way' recipe for Toll House biscuits:
1 cup butter (or Nuttelex margarine)
3/4 cup white sugar
3/4 cup brown sugar
Beat together until creamy, add two eggs (or egg substitute) and beat again.
Remove half the mixture to another bowl.
Add one cup of plain flour (normal wheat flour), a cup of chocolate chips, half a cup chopped nuts if suitable and mix.
In the second bowl, add one cup of any gluten free flour, one cup of chocolate chips and half a cup of chopped nuts (or similar amount of any allowed ingredients). Drop teaspoons of mix onto separate greased baking trays and bake in a moderate oven for about 10 minutes. These are so yummy - very important not to mix up the biscuits, or ingredients though!
Of course, if family members have a severe or anaphylactic reaction to any food, you will have to put their health first and keep those foods out of the house at all costs. But don't worry, as you will be able to cut costs in other areas with the help of Simple Savings - it will help to cover the higher costs of your special foods!
Gluten free baking
The best gluten free bread mix around is sold by Brighter Life foods. It's cheapest to buy wholesale, delivered to your door in 10 kilo bags. It costs $80 per bag which works out as about $3.00 per loaf of bread. For more information go to www.wheatfree.com.au
Failsafe diet
If you have friends with food allergies keep an eye out for Sue Dengate's Failsafe cook book. For more information go to www.fedup.com.au
Gluten free flours
One of the challenges when making your own gluten free flours is finding fresh ingredients at a reasonable price. The best places to go for potato and rice flour are Indian and Asian grocery stores.
Goat's milk
To find fresh goat's milk look up 'goat farmers' in the Yellow Pages. It will only take you a couple of calls to track down some fresh goat's milk. The price of fresh goat's milk ranges from $1.00 - $3.00 per litre depending on quantity. For example, if you are buying 100 litres in a vat it is $1.00 per litre. If you are buying 10 litres to freeze in one litre bottles it will probably cost $3.00 per litre.
---
3. Cooking for Allergic Guests, by Sophie Gray
Isaac is my son Jack's best friend, and it's a serious friendship. Serious in the sense that Isaac lives with life threatening food allergies and everything that goes along with that. Isaac is fatally allergic to dairy products, eggs, nuts and some starches, and seriously allergic to dust, pollen and pet hair. None of which I knew when we glibly invited him around to play. He came, with emergency phone numbers, 'Epi pen' and instructions (in case of anaphylaxis), and his ubiquitous lunch box of 'Isaac-safe' snacks.
It was the lunch box that got to me. Kids hate to be different and food is such a universal, social lubricant that virtually every social situation just serves to highlight their different-ness. Allergic adults miss out on dinner invitations, the work 'do' can be more trouble than it's worth, and they may never receive the surprise cake from colleagues on their birthday. Many adult allergy sufferers I know actually become apologetic for their condition- 'I'm so sorry I'm so difficult to cater for...'
While cooking for someone with food allergies may appear daunting, once you have a few basic ingredients in stock you don't need to be intimidated. The most common food allergies and intolerances are to dairy products, nuts, gluten, eggs and wheat. None are insurmountable but all should be taken seriously. Whether it's a kids' play date or a dinner party, you can make delicious allergy safe meals and treats without spending a fortune.
Make sure you:
Ask dinner guests or the parents of visiting littlies if there is anything they cannot eat.
Read all labels carefully - a pack of plain potato chips may contain dairy solids and cornflour is often made from wheat - go figure!
Take care not to cross contaminate - wash all chopping boards, knives and utensils thoroughly.
Serve the same food to everyone - there is less risk of contamination and everyone feels included.
Check with your guests that what you have prepared is safe for them then you can all relax and enjoy the meal.
If you are regularly playing host to allergy sufferers, or want to be able to without buying expensive ready-made foods, then check out the following suggestions.
Store cupboard substitutes:
Use a dairy free spread instead of butter - we use an olive oil spread for all dairy free baking and so on, make sure that it is dairy free - lactic acid used as a food additive can be from a dairy source or a non-dairy source, check with the manufacturer if you are unsure. (In Australia, Nuttlex is the best dairy free spread available.)
Substitute milk with soy, goat's or rice milk in baking and sauces - Tetra packs are shelf stable so you can keep a spare in your pantry.
Use glutinous rice flour from an Asian food store to thicken sauces, gravies and so on - despite its name it does not contain gluten and is really cheap.
Ensure condiments such as soy sauce are allergy safe. (Soy sauce usually contains gluten.)
Keep a bar of allergy safe chocolate in stock - Kinnerton make one that is dairy, egg, nut and gluten free -with 70% cocoa solids it's great for cooking but also a tasty eating chocolate.
A loaf of gluten free sliced bread in the freezer is a good stand by, recipes such as meat balls and burgers often use breadcrumbs to bind or extend the mixture- you can make a cheap home made meal if you have access to a couple of slices of gluten free bread when you need it - from home made chicken nuggets with gluten free crumb coating to gluten free stuffing for a baked dinner.
Guar gum or Xanthan gum are used in gluten free cooking to help the mixture hold together, buy some in the health food shop and keep it in the pantry for gluten free baking as many gluten free recipes will use it.
Egg replacer is an allergy safe egg alternative for baking, available in health food shops.
Keep a stock of 'free foods' - in most cases fresh fruits and vegetables, rice, and plain Sakata rice crackers are safe, cheap everyday foods. A tub of really good sorbet in the freezer can provide an allergy safe treat at any time; also see the note above about chocolate.
The following recipes are suitable for an informal dinner for 4-6 people. Mix and match the components according to the dietary requirements of your guests. You could serve the salad as a main course with roast potatoes or the chicken with a risotto. Guests can serve themselves from platters or you can plate the meal for a more elegant presentation. The dishes are all tasty and interesting without being too exotic.
Thai Beef Salad
The light, fresh flavours of this dish lift your spirits, it's not too spicy for kids and looks fantastic artfully arranged on a white plate - remember when you are entertaining, presentation is so important.
Serves 4 as a main course or 6 - 8 as an entrée
400g rump steak or other lean beef cut
Mixed salad greens
1 tbsp oil
Cucumber, peeled and sliced
1 tbsp chopped coriander
1 tbsp chopped mint
1 stalk of lemongrass
For the dressing
1 tbsp sweet chilli sauce
3 cloves garlic
2 tbsp fish sauce
Juice of 1 lime
2 tbsp brown sugar
Make the dressing by combining the ingredients and mixing well. Set aside to allow the flavours to develop while the meat cooks.
Rub the beef with oil and heat the pan. When the pan is hot, cook the meat 2-3 minutes each side so it is brown and crusty outside and pink in the middle. A ridged pan is ideal but use what you have. When the beef is done allow to rest for 5 minutes. You could do this on the barbecue.
To assemble the salad, lay all the salad ingredients on a platter or plates, scatter over the chopped lemongrass, mint and coriander then thinly slice the beef; arrange over the salad. Drizzle with the dressing and any meat juices and serve.
Cook's tip: Lemongrass has a tough outer layer, to remove this, simply flatten the stalk with the flat side of a large knife, remove, discard the outer skin and finely slice the stalk. Surplus lemongrass stalks can be frozen.
Lemon Coriander Chicken
Whilst fragrant this dish is not really spicy, and makes a nice change from the traditional roast chook.
1 medium chicken - buy when on special
3-4 fat cloves of garlic
1 tbsp coriander seeds
2 lemons
2 tbsp brown sugar
2 tbsp olive oil
With a long, sharp knife make deep incisions into the meaty parts of the chicken. Poke your fingers into the incisions to make pockets. Crush the garlic and coriander seeds with the flat side of a heavy knife or pound in a mortar and pestle then post the garlic and coriander down into the pockets in the flesh. Squeeze the juice of one of the lemons over the chicken, brush with the oil then sprinkle on the brown sugar. Slice the other lemon into thick slices and place over the chicken. Stuff any remaining lemon into the cavity. Roast, basting regularly until dark caramel in colour and cooked.
Golden Spiced Pilau
Cooked rice moulds really well, try pressing it into lightly greased cups or yoghurt containers then turn out onto the plate for a more visually interesting presentation. If nuts are not a problem then a handful of toasted sliced almonds adds a delicious crunch to this dish, alternatively you could add chickpeas if you like. Serve hot or cold.
1+1/2 cups long grain rice
800ml boiling water
2 chicken stock cubes
1/2 tsp salt
1/2 kumara or sweet potato, diced
1/2 onion, finely chopped
Zest of a lemon
1 tsp tumeric
1/2 tsp paprika
1/4 tsp chilli powder
2 tbsp olive oil
1/2 cup fresh herbs, whatever you have growing, I usually use parsley, mint and coriander.
Sauté onion in oil till soft then add dry spices and sweet potato, stir in the rice. Crumble in the stock cubes then add the boiling water and lemon zest. Bring to the boil and stir quickly then put the lid on and reduce heat to lowest setting. Cook for 20 minutes. Remove from heat and turn onto a platter covered with a clean tea towel for 5 minutes.
To serve, break up the chicken into interesting chunks, fork through the rice, releasing the steam and top with chunks of the chicken and the fresh, chopped herbs. Fruit chutney is a good accompaniment.
Optional extras: You can add a cup of green vegetables such as broccoli or green beans to the rice 5 minutes before it finishes, don't stir or the rice will turn out sticky.
Mocha - Choc Sauce
Not only for allergy sufferers, this sublime dairy free chocolate sauce is excellent for all manner of applications. Drizzle over puddings, swizzle onto baked bananas with maple syrup, use as a chocolate fondue with fresh fruits, berries and biscotti or just eat it off the spoon!
75g dairy and nut free chocolate
1 tbsp dairy free table spread
1 tbsp golden syrup
2 tbsp strong coffee
2 tbsp soymilk or rice milk
1/2 tsp vanilla essence
Melt Olivani or spread in a small saucepan, add the golden syrup then remove from the heat and add the chocolate. Stir continuously until chocolate has melted, then stir in the coffee, vanilla and dairy free milk. Serve warm.
More information
If you want to know more about Sophie and her current range of Destitute Gourmet cookbooks go to: www.destitutegourmet.com or you can listen to the archived radio show where she talked to Fiona about delicious meals for the budget conscious at: http://www.worldtalkradio.com/archive.asp?aid=7123
---
4. Always a Good Time of Year to Save!
Spring has almost sprung and for many it presents the perfect time of year to get those long overdue jobs out of the way and get organised. Whether it's spring cleaning your home, starting new habits or - dare we say it - thinking about getting ready for Christmas, now is the time to start! If you are still suffering from the winter doldrums and in need of a little motivation, here are some timely extracts from our newsletter archives to refresh your memory and get you going again!
Great spring gardens
Harvesting fresh produce from your own garden is so rewarding! If you are after some great gardening ideas for cheap, delicious vegetables, have a look back at the August 2004 Newsletter. You could also check out the large Gardening section in the Savings Vault for more ideas:
Father's Day
You can make Dad feel really special on Father's Day without spending a fortune. Download some of our free snappy vouchers and printables from:
Or for special ideas to pamper your dad check out these clever suggestions at:
Vault members can also use the tips in the Savings Vault at:
Clothing for next season
There are some great bargains to be found on clothing at this time of year. Take advantage of end of season sales so you can stock up for next year and save a bundle!
Spring cleaning and garage sales
Once you have finished your spring cleaning, you might want to hold a garage sale or sell your goods that you no longer need. It's a great way to raise extra funds to put away for Christmas!
Selling goods online is a fast and easy way to make some extra money. If you are new to online trading, the link below has some helpful tips and feedback to make sure your experiences are enjoyable and successful ones.
More information is also available in the Savings Vault for members:
Get ready for Christmas early
Sounds hard to believe, but it really is time to begin thinking about Christmas! Naomi and Debbie have some great tips for getting stuck into your festive planning nice and early. You can listen to their show at:
http://www.worldtalkradio.com/archive.asp?aid=7648
The newsletter archives are another brilliant quick reference source for organising a fantastic Christmas that really won't break the bank! Check out some of the links below:
May 2005 Newsletter: Top 10 Early Christmas Tips
November 2005 Newsletter: Giving the Gift of Time
December 2004 Newsletter: Christmas Gifts Under $1.00
New saving habits for spring
The arrival of a new season often seems to bring the extra incentive to 'turn over a new leaf'. It is never too late to start implementing new positive habits - especially ones which will save you money! Our unique Changing Habits calendar has already transformed the lives of many members and there is still plenty of time to give the calendar a go and watch those savings add up. You can download and print the free calendar here /wealthyhabits/ and yes, we are working on a new calendar for next year!
If you find you struggle to get organised paying your bills each month and feel that you just don't know where all your money goes, now is also the ideal time to begin using our free Bill Payment System. Just download and print and full instructions are given to get you started. It's so easy to use and you will soon become familiar with the system, which will show you exactly where your money is going and how much you are going to need from week to week. Never miss a bill payment or be charged late fees again! You can find out more about the Bill Payment System here: /freestuff/billpayment/
---
5. Penny's Blog - More haste, less speed
Aug 2, 2006
Fiona and Matt have arrived in NZ, 'the land of the long white cloud', although 'land of the big, grey rain cloud' is probably a more accurate description. Our chilly Kiwi weather must have come as a shock to the system after sunny California! It's lovely to catch up with them again and they have been learning first-hand how quirky and chaotic our household really is. There we were on day one out surveying the Wise domain while the sun was shining for a change and talking about what a peaceful and picturesque spot we live in, when I was appalled to see Ella saunter across the newly mown lawn and proudly deposit a huge placenta (as you do) in the middle of it. One of the neighbours' cows had recently calved and Ella had gone and helped herself to its afterbirth as a take-home prize. How delightful. I did laughingly confess to Fiona that having so many animals around does result in a lot of extra work, but I had forgotten just how much until the following day...
I got up bleary-eyed the next morning to find that the cats had brought a rather large bird in through the cat door and festooned the laundry with feathers. No time to clean it up now, had to get Liam ready for school. I was calmly making sandwiches for his lunchbox when Noel came in and said 'Our calves have all disappeared!' We had acquired six beautiful Angus calves just a few days before and Noel and the boys were very proud of them. It's a nice little earner for the boys - we buy them at four days old and the boys help feed and rear them and then sell them on once they're weaned at a nice wee profit, which goes into their bank. Mum was staying with us and the three of us hunted high and low and drove all around the neighbourhood but they had simply vanished off the face of the earth. The heavy rain in the night had washed away any tracks and after a lengthy search we had to resign ourselves to the fact that they had been stolen. Not a good start to the week and we were all very despondent to think that we had been the target of such a mean trick, but unfortunately it does happen to many farmers at this time of year and there's not a lot that can be done about it.
'Ah well, I had better head off to work, you call the police and report them stolen' sighed Noel, which I duly did. Not ten minutes later, the phone rang and our neighbour from next door's voice said 'I've got two black calves walking up my drive, could they be yours?' I rushed around to check (still in my penguin polar fleece pyjamas and bright red slippers) and with the help of Mum and Liam managed to steer them back in the direction of home. 'Hooray! Two down!' said Liam. 'You'd better call the police back and tell them they haven't been stolen' said Mum as she too headed off to work. 'I haven't found the rest yet though,' I reasoned. However it wasn't long before another neighbour appeared and told me she had seen a black calf wearing a 'coat' sitting in the paddock of a farm along the main road. Eek, how far had they gone! I decided if I was going to drive all over the countryside I had better change out of my pyjamas and rang the school to tell them Liam was going to be late as I needed his help. Sure enough a few minutes later we found Liam's favourite calf in the aforementioned field, who had happily found himself a surrogate Mum in the form of a real cow. 'Hmm, well he's not going to be interested in me waving a bottle under his nose then, let's keep going - at least we know where he is,' I said, turning into the next driveway. 'Look, there they are!' shouted the boys excitedly and there they were indeed, three little black dots in the distance. I drove down to meet them and being rather late for their breakfast by now they were very happy to see us. 'Great, that's the lot of them located! Now we just have to get them home,' I told the boys. This seemed to prove pretty easy as they were all hungry and happy to follow us. I was a little worried about trying to get them and the boys safely across the busy road but this ended up not being an issue as before we could get there the farmer's two Golden Retrievers lumbered out barking and the calves took off as fast as their legs would carry them back the way we had just come.
Knowing those dogs of old, I realised that there was no way we were going to get the calves past them on foot, but there was nobody around for miles and I couldn't leave them there; they could have ended up anywhere. Actually, that wasn't quite true about nobody being around for miles - the taciturn owner of the farm AND his worker had driven past three times already and not even turned a head in our direction. How they thought I was going to get the animals off their place by myself I don't know, but I had given up hope of them being of any use - there was only one thing left I could do. 'Right boys,' I said matter-of-factly, we're just going to have to put them in the car.' 'What! No way!' cried the boys incredulously. 'Well how the heck else are we going to get them home? Come on, help me round them up,' I said, gently manoeuvring Ali's favourite one rather bewilderedly into the back seat. 'But Mum, Joe's got the trots, you can't put him in there!' Ali said horrified. But by now I was well beyond all sense of reason 'JUST HELP ME,' I growled, shoving the next one in and slamming the door. We were fast running out of room and there was no alternative but to put the last one in the boot - I just had to get him there, as there was the small issue of him not being as friendly and keen to comply as the others. The air was turning blue as I tried every trick in the book to gently cajole the uncooperative animal towards my car. Finally all out of patience I grabbed him by the tail and lugged him as well as I could up as far as the car boot - but at around 40-odd kilos I couldn't lift him in. Looking back it must have looked absolutely hilarious - a grown woman in floods of angry tears yelling abuse at the unhelpful farmer as she shoved a small bovine in her boot, but I finally got there and with great difficulty managed to close the boot on top of the poor animal.
By this time, Joe the first calf had made his way over to the front seat, there were muddy hoof-prints throughout and the second calmly weed all over the back seat as he pressed himself up against the back windscreen. 'Right, get in,' I instructed the boys - at which point Liam burst into tears. 'I don't want to, I'm walking home,' he wailed miserably. 'GET IN!' I yelled, opening the door, pushing him in and depositing Ali on his lap before hurriedly slamming the door shut again before our four-legged friends could escape. I jumped in and quickly went to put the car into 'drive' but found I couldn't because Joe was standing on the gear stick. Liam was still complaining loudly as small, sharp hooves trampled over his legs, but somehow we finally got there and miraculously made the journey home without any of them leaving a 'calling card' in the car - particularly our friend Sloppy Joe! We quickly bundled the first two out of the back seat but it took a little more persuasion to get the third out of the boot - I think he was worried what on earth this mad woman was going to try to do to him next. But, we got there in the end and they were soon fed and happy. I rang the police to tell them sheepishly that the calves had not been stolen, but simply had gone AWOL and called the school again to tell them that Liam was going to be later still as he now needed a bath. While the boys were in the bath, I got ready to tackle the next job - cleaning the inside of my car. Luckily with a family as naturally messy as mine I did have the presence of mind to have seat covers on both the front and back seats but there was still the problem of cleaning the mud and other unmentionables off the doors and 'wipeable' areas - not to mention getting rid of the smell! I was resigned to the fact it would probably need costly professional cleaning but quickly jumped online and checked the Vault for some likely hints. All it took was a bucket of soapy water and some bi-carb soda and the car was soon clean and smelling sweet again - who would have guessed there had been three calves riding in it just a few minutes before!
Car clean and kids clean, it was time to finally get Liam to school - it was 11.00am by this time. Then it was time to go home and clean up before whizzing Ali to the hospital for his post-op check-up. The floors needed washing because I had been running in and out with my dirty gumboots still on and I still needed to rid the laundry of bird feathers. There was no time to muck around, so I got out the beloved Dyson to vacuum up the feathers, but after only a few moments it started making strange noises and would refuse to suck anything up. By now the air was turning a very dark shade of blue - I thought Dysons weren't supposed to block up? Further investigation showed that among the feathers I had hastily sucked up was something else I hadn't spotted - a bird's foot, which was attached to a bird's leg. Marvellous - my so-called unblockable Dyson had been successfully blocked by a dismembered starling. I spent the next ten minutes trying to wrangle it out and once I had managed to grab a decent hold of the foot, the rest of the leg came out relatively easily. I continued upon my merry way and by this time was considerably merrier as I couldn't help laughing to myself about my comment to Fiona the day before about animals making extra work. Me and my big mouth! Mind you, I didn't laugh as much as Noel did when I regaled the events of the morning to him. He was very glad to have his calves back and while he couldn't believe I had actually resorted to stuffing the calves in my car in order to get them home, I think he was quite proud of his crazy wife! 'Ah well, you'll have heaps to write about in your blog, dear!' he chuckled. Fiona asked me in last week's radio show if everything that happens in my blog is real - after witnessing first hand over the past few days, I think she is left in no doubt!
Penny's Blog is a special treat for Vault members and is updated a couple of times a week. You can drop Penny a line here - she loves to hear from other members!
---
6. Homeopathy Corner: Tutorial No. 1
I'm still amazed how much money homeopathy has saved my family, but I really had to turn my head inside out to do so. Homeopathy is very different to mainstream Western medicine, so to help us understand how it works and how we can use it to save money, Fran has put together a series of twelve workshops.
In this month's workshop she explains the Law of Similars. To read Fran's tutorial go to: www.homeopathyplus.com.au/book/tutorial_one.html
---
7. From Last Month: Clothes for Smaller Frames and Getting Rid of Tobacco Smells
Last month, Amy Diffey asked:
"I have moved to Australia from NZ and am having problems finding clothes to fit me. I am just 160cm tall, small boned and busted and fit a size 6-8 in NZ. In Australia I find even size 8 is too big. How can I clothe myself without having to wear ill-fitting clothes or spending a fortune at boutiques? Even children's clothes don't fit well, as I have bigger hips than girls but a smaller waist! Are there any chain stores in Australia which sell smaller clothes at a reasonable price? Internet shopping is difficult as I need to try everything on before buying. I am considering learning to sew my own clothes but have little experience in this area - are some patterns/fabrics better than others for a beginner? Any ideas would be appreciated as I am hoping to start work soon in Admin/Reception and have very few suitable clothes and little money to spend!"
We received a huge number of helpful responses to this request - Amy you are not alone! For anyone else with the same problem, try some of these suggestions recommended by our members:
Join a sewing guild
Sewing is a valuable skill which can save you a lot of money. If you are interested in learning to sew, contact the Australian Sewing Guild (www.aussew.org.au) and ask to be put in touch with someone in your area. You can then go to a couple of meetings and have a chance to get to know the other members there before joining the guild. These people can be a great support as you learn to sew and they may be able to point you in the right direction to find some sewing teachers for your level of experience. Unfortunately, TAFE is no longer an option for the home sewer but a lot of the 'older' teachers have branched out and set up their own businesses. Also, some local community colleges sometimes have sewing classes and the different ASG group meetings have specific classes from time to time, depending on interests and requirements of the members.
Op shop patterns
I have been sewing my own clothes for over 30 years and have saved heaps! I pick up my patterns at op shops for $0.10c - $0.50c each or I can design my own patterns. Some op shops also sell pieces of material for similar prices. Your local TAFE is a good place to learn to sew, but their courses are usually a year long. Some do run smaller courses and if you are unemployed or on a pension your local council might be able to help you where lessons are being run cheaply. Once you learn to make your own clothes you can design whatever you want to wear and you won't see it in the shops or on someone else!
Clearance racks for teenagers
If your budget doesn't run to expensive clothing before you start work, try looking in some of the shops aimed at teenage shoppers - the styles may not be to your taste and the quality isn't the best, but the sizing is usually a much better fit than other shops, and they often have some great buys on their clearance racks that are too plain and 'daggy' for teenagers, but work really well for grown-ups!
eBay for affordable smaller sizes
I have found an economical way of affording well fitting, designer label clothing for small framed people like myself. I use eBay, which enables me to buy top brand clothing at reasonable prices. I recommend you go into a high end shop and try the different brands on - once you get one that fits you, then search for the same item on eBay. Good quality brands don't date like some fashions, and while you do end up paying a fraction more on eBay, they really last. I have had some of the following brands in my wardrobe for eight years or more and I still wear them all the time (and I am fashion conscious)!
The brands I always trust for fitting me include - Seduce, Blue Juice (these are tiny - beware not to go too small), Pingpong (great for pants), Club petites (mMer), innovare petites (David Jones), Body and Portmans. For jeans, try Lee Low Rider; there are lots of outlet jean shops depending where you live where you can get bargains.
The other tip I have is to alter them yourself. If I see a bargain piece of clothing that just doesn't fit me correctly, I always check that the seams are not exposed and take them in until they do fit. Even though I can't sew very well, it is still easy. Altering garments is great for straight pants and skirts which often swim on me in the hip and thigh area. Buying clothes which sit on the hip means you don't have to worry about the waist size!
Discount chains offer smaller sizes
For smaller size women's clothing at great prices, check out discount chain store outlets such as DFO (Direct Factory Outlet), and search for factory outlets in your local phone book. Often these places have heaps of size six and seven clothes, as they order far more of them than there are smaller women in Australia. Recently in Melbourne I saw small sized jeans, slacks, blouses and more in the Jeans West store at DFO for well under $50. Giordano had some great smaller sized shirts for $5.00 and the specialty fashion stores that often stock very small sizes were also heavily discounted. In Brisbane you can find a great range of discounted clothes at Stones Corner, where they also tend to have more small sizes than large.
Look in Asian stores for smaller sizes
For smaller sized clothing, I can recommend visiting an Asian clothing shop. I have bought size eight clothing from these stores and they cost very little. Many Asian women are small framed too and the clothes cater for this market. I would pay as little as $10 for a pair of pants!
---
Also, Diane Harris asked:
"We have purchased a second hand car and unfortunately the previous owner was a smoker. I can't stand the smell, and would like to know if anyone has hints on how to get rid of the tobacco smell, rather than spending a fortune just covering it up with air fresheners."
The helpful answers we received will give Diane and other members a wide variety of cures to permanently rid their car, home or anywhere else of offensive odours, thanks to the suggestions below!
Transform your car smell into new
Don't let stale smoke smells in your car get you down - it's easy to transform your vehicle from a smoky bomb to smelling like a brand new automobile! My brother-in-law is an air-con mechanic. Whenever he buys or services a used car that has been smoked in, he cleans or replaces the air-con filter. Shampooing the carpet, cleaning the seats and headliner and wiping all inside glass surfaces and dash board will remove smoke residue. Buying new carpeted floor mats and a can of 'new car smell' works too! Motor oil rubbed onto vinyl surfaces will add shine and give that new factory plastic smell - just don't overdo it!
Instead of buying air fresheners, spray your favourite fragrance onto a cloth handkerchief, or rolled up piece of paper and insert into one of the air vents on the dashboard. I keep a small can of body spray to just mist around the car when I get in. If a car actually smells 'dirty', it's the dirt! So vacuum or sweep as necessary. I also use an Armor-all brand leather cleaner, which is like a lotion and smells like new leather. Incidentally, I picked up some tips from a man who owns a car detailing business for luxury cars - Mercedes and so on. He was buying Pears hand lotion and liquid soap and stressed that it had to be Pears brand. The lotion was to use on the leather car seats, and the soap was his carpet shampoo. I'm sure his cars smelled great and those leather seats would have been butter smooth!
Trap odours in bi-carb soda
I would suggest sprinkling everywhere with bi-carb soda and leaving overnight (or longer), then vacuuming it all up in the morning. Repeat once a week for a couple of weeks and you'll notice a big difference.
Renew your car smell with coconut oil
My car smells and looks fantastic thanks to a product I have recently found that is better than any other on the market - coconut suntan oil! By chance I had some left over and used it to clean the entire dashboard, and inside of all the doors. The dash in my old car was brittle, faded with white patches and very dull. The coconut oil blew me away! It completely renewed the dashboard and doors and the smell it leaves is great. Our dog goes everywhere with us in our vehicle but it has completely eliminated any 'doggy' smells. I even cleaned all the upholstery on the floors; I just made sure I buffed it with a rag and didn't leave any residue. It fixed the smell in no time flat and my ten year old car looked new again! Some of the more modern cars have a different type of dashboard and doorskins, so I can't speak for the new cars or guarantee it for them, but for anyone who drives a regular car, prepare to be amazed!
Little effort to rid unpleasant smells
To rid your car of unpleasant smells, mix two teaspoons of cloudy ammonia with a half cup of boiling water in a bowl. Leave in the car overnight with the windows open. Then sprinkle some essential oil on a tissue and place it in the air vents. The best oil for stale air is citrus. Costs very little and does the trick!
Coal absorbs smells
To eliminate unpleasant smells, try putting a piece of coal in a cup and leave it in the car or affected room. We use this in our household to absorb greasy cooking smells and other unpleasant odours - even in the fridge. Just leave the coal in a cup overnight - depending on the size of the room, you may need a few in different spots. If placing it in a car, make sure you put it under the seat so no one will kick it around!
Fast and easy to remove stale smoke
To get rid of smoky smells in your car, all you need is a few minutes' effort and a nice, sunny day! When borrowing a loan vehicle from a car yard, we found it stank of stale smoke - no wonder, as all the ashtrays were full of cigar stubs! As it wasn't our car, we didn't want to spend much money, so I cleaned the ashtrays out and filled them with bi-carb to absorb the odour. I also put a couple of drops of lavender oil on a soft cloth and buffed the leather seats, door trims, dash and so on - did the leather a world of good too! Fast, cheap and easy - and the car smelled great!
Water costs nothing to remove smell
To get rid of smoky smells cheaply and effectively, place a large bowl of water in the car or room overnight. It works really well in houses when people have been smoking and the water absorbs the smoke smell. Costs nothing and is definitely worth a try!
---
8. This Month's Help Requests: Job Hunting and Snow Holiday
This month Yvonne Millard has asked:
"How can I save money when job hunting? I am an older woman re-entering the workforce and I need help with resume assistance, clothes for the interview, advice about the interview and so on. Whilst there are agencies out there that provide the above assistance, they're expensive, and until I get a job, I can't afford to spend the money. It's a Catch-22 situation!"
We would love to hear of helpful suggestions to help Yvonne and others in the same situation too! Please send your ideas to us at www.simplesavings.com.au/donatehints and we will pass them on.
Also, Joanne O'Carroll asked:
"Our family of four (including two pre-schoolers) would love to go on a snow holiday and are trying to keep expenses to a minimum. We don't ski, so can avoid the costs of equipment hire and lift passes and I have been able to kit out the kids for the snow by collecting suitable clothes from the op shop, but there are still several areas that I could do with some help. I still have to source suitable snow clothing for myself and my husband without breaking the bank and I would love to hear from anyone who can recommend affordable accommodation. Does anyone know of good snowy locations for families on a budget and where we can hire toboggans and so on? At the moment I don't think it will happen any earlier than next year, so we have plenty of time up our sleeve to plan and implement any advice!"
If you can help Joanne and her family in their quest for a snow holiday on a shoestring, send your ideas in to us at www.simplesavings.com.au/donatehints
---
9. SAVINGS STORIES: 'Demolishing renovation costs' and 'It pays to advertise'
Demolishing renovation costs
I have found a new love while renovating an old Californian bungalow - demolition yards. These have saved me almost $2,000! I needed to purchase two windows for my ensuite and bathroom. I priced out windows at all the glass/window suppliers and found that they were going to cost me around $800 each.
Then I found a demolition yard and purchased two 2.5 metre x 1 metre windowed doors for $50 each with shatterproof glass; even bigger and better than the size I wanted. I had my local carpenter transform each door into a window for an additional cost of $30, making the total cost $80 per door. A massive saving of $710 per door or $1,420 for the pair. Due to the size of the window, I no longer needed a skylight in the room, saving me another $500. Total amount saved $1,920!
The demolition company told me they were about to commence demolishing a house in Toorak (an exclusive suburb in Melbourne). They gave me permission to view the house prior to demolishing. I was then able to put all items of interest 'on hold'. I am now in the midst of negotiating cash prices for several antique lights, mantle pieces and bathroom fittings, potentially saving thousands more. Demolition yards are amazing places!
It pays to advertise
I have learned that it really does pay to advertise! I recently moved and needed a few things done around the house. Driving around the neighbourhood, I noticed some advertising signs on peoples' front fences or in their front yards. Rather than calling these businesses, I pulled out the Yellow Pages and after checking their reputation rang a local competitor, I told them where I lived and that I had seen signs advertising the same services in the area. I then asked if they would offer a discount if I placed a sign advertising their business in my yard.
I was astounded at the result! A carpet cleaner cleaned three bedrooms, two rugs and a lounge suite for free - saving me $150 and doing a fantastic job! A pest control company did a routine inspection and general spray for half price and a tree doctor tended to and removed nuisance trees - as well as replacing them with some natives for $50 saving me a whopping $250! He even let me keep the mulch and wood chips; saving me around $160 as I didn't have to worry about buying bags of mulch for the garden or paying tip fees to dump the cut up branches and trees. I have told friends and family about my idea and now they too are getting discounts on home handymen, roofing, general house and yard maintenance, fencing, concreting and more. I do live on a busy road, which helps but those living on quieter roads are still making some valuable savings. The possibilities are endless!