"Secrets to Saving Money in Australia" Free Newsletter - July 2006
This issue includes:-
Sally & Hanna: Who is Cooking Dinner?
Shrinking Power Bills
Real Savings for Seniors
Penny's Blog - Lifesaving Holiday Hints
Homeopathy Corner: Free Tutorials
From Last Month: Creative Home Gymnastics
This Month's Help Request: Clothes for Smaller Frames
and Getting Rid of Tobacco Smell
Savings Story: No More Redraws and Making Family Holidays Last Longer
---
Hi,
How are you doing? Guess what? We are in San Diego at the World Talk Radio studio this month. It is the middle of summer here and it is absolutely gorgeous. There are gum trees EVERYWHERE, bottlebrushes, even New Zealand Christmas bushes. Simply stunning. It is a lot like Sydney except the cars are REALLY BIG!!
Thank you for your fantastic emails. They are brilliant and really inspire the girls and I to put in that little bit extra.
"I have been doing so well at cooking home cooked meals and this pay period I have been trying extra hard to not spend too much as I have to draw out our pay an extra week. Tonight I felt like takeaway, I had heaps of reasons to do it too! But before going out to get them I thought 'I have a few minutes to check my email' and there was your life (money) saver newsletter. 'Oh good - something interesting to read before I go' I thought. As I read about home cooked meals, menu planning and so on, it hit me. Why was I going out when I have perfectly good food at home that is quick and easy to cook? Why was I willing to go out, take my kids with me and wait for food, when we could stay in our warm home, and have dinner done in a few minutes? Thank you, I can't say it enough to express how much I appreciate your emails and all the helpful advice I get from them and your website. You have stopped me from spending money we need for fruit and milk." (Alicia Webster, Auckland, New Zealand)
"Fantastic website! Have just become a member. There is only one thing I would suggest - warn new members to have a whole ream of paper for their printer on hand! Many, many thanks!" (Kathy Ironside)
"Thank you for the money you've helped me save thus far. I have made $850 after postage and fees on eBay and saved about $1,200 already around the house. I have started growing food and will do some more. I have also been very frugal, looking for low cost and no cost solutions to anything around the home, like using useless springs on my desk lamp to make the front gate close. That lamp still works, looks nicer and the front gate remains shut! Just visiting your site has changed my whole spending behaviour for the better. I have cut my credit card balance in half within six weeks when I thought it would take 18 weeks. I might even have it closed in another four weeks time! Next stop, saving money in the bank! The $47 was well spent and is already 'paid for' many times over. Again, thank you very much." (Cameron Madden)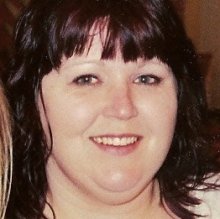 "Keep up the great work - I love your website!"
(Angela Percy)
"Thank you so much for your website. I have saved thousands of dollars, particularly on my wedding and baby products, just by reading hints in the Vault and changing the way I think; you can't buy character or imagination!" (Gretchen Skorzewski)
"I just wanted to say I just joined the Simple Savings newsletter list last week and LOVE it! I have been having such a great time with my new "first habit" to change using the Simple Savings Habit Changing Calendar. It's not just financial contentment that's beginning to arise, but a more general contentment with doing things more simply and lightly, spending time doing things I want to do rather than spending money on things I don't really need and then stressing out over it later! So THANK YOU to the people who started this whole Simple Savings thing - it's delicious!" (Jacquie)
Meeting Members on the Forum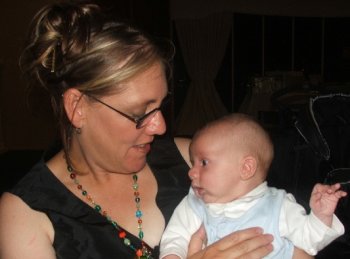 We also received this lovely photo (above) of Kristen and her gorgeous baby Jasper, and also one (below) from Christine. Both Kristen and Christine are self-confessed forum addicts. Good on you ladies!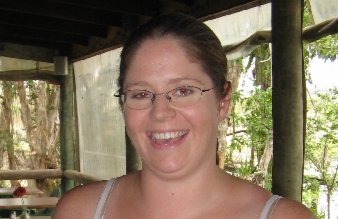 "To all the lurkers out there! Having joined after a couple of months of lurking, I started using the Vault. My internal conversation went this way:
1. I knew that.
2. I do that.
3. So many hints it's overwhelming.
4. I will never remember all that.
"But one night I bit the bullet and started trawling through the Vault. I opened a Word document and started copying hints that fitted my lifestyle categorised under appropriate headings. I now have a nice little booklet that lets me access the information I really need. Between using Aldi shampoos, diluted hair conditioner for styling and rosemary oil for deep conditioning treatments, I am not only saving money but I no longer feel deprived.
"Also, by sticking to environmentally sound hints I feel thrilled that I can do my little bit to help this planet. Now I am too busy saving money to document it. That is my next goal. So lurkers, no more excuses! A short investment in time to read all the fabulous hints written by real people, dealing with real monetary and environmental issues can decrease the pressure we are all under. Keep up the great hints everyone. Got to go, about to change a life long habit, my free menu planner has just finished printing!" (Anna Atkin)
Don't forget to include your photo next time you write to us - so we can 'meet' you and put a face to your name. It really makes our day! You can email it as a JPG file here We look forward to seeing you!
Many grins,
Fiona
---
1. Sally & Hanna: Who is Cooking Dinner?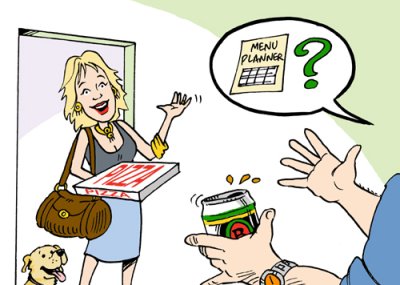 "What have you got there?" asked Pete, as Sally breezed in clutching a pizza box. "I thought we were menu planning?" "Not any more!" smiled Sally. "Hanna suggested an even better way for us to save this week. In fact, it's so good that I won't have to cook dinner anymore!" she declared.
"But why?" Pete asked. "I was really enjoying your cooking - and I thought you were pleased with your menu planning." "Oh well, the menu planning was an interesting experiment, but this idea is better and a much easier way to save," explained Sally. "We are going to get rid of your beer fridge." Pete almost choked on the ice-cold beer he had been enjoying. "Now don't look like that!" Sally chided. "Hanna says that old beer fridges are real power guzzlers and can cost as much as $200 per quarter to run!"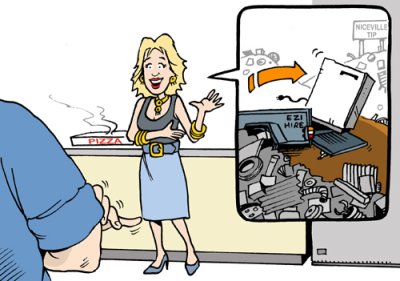 "Hanna says what? I'm sure they can't cost that much - you are not touching my beer fridge! When was the last time you listened to anything Hanna said anyway?" Pete slurped his can defensively.
"Calm down love, you can still have your beer - we will just put it in the main fridge," reasoned Sally. "NO! It won't be cold enough!" Pete was horrified. "And, if I set the main fridge any cooler you will complain of frozen lettuce. I don't believe Hanna said we should get take-away every night." accused Pete.
"Well they weren't her exact words. It was implied. Anyway, you can say what you like Dear, but we are not following the menu plan anymore - we don't have to! Getting rid of your fridge is a much easier way to get out of debt," Sally insisted.
Pete looked genuinely horrified at the thought of losing his beloved fridge - not to mention his home cooked dinners. "But - but what if I help?" he ventured. "I'll cook one or two nights a week. I'll even get the kids to wash up. Will you please think about it? We love your cooking."
"You would really cook two nights a week instead of giving up your precious beer fridge?" Sally couldn't believe her ears - or her luck! "Hmm... I suppose you can keep it for now. Your turn starts tomorrow then - the menu plan is on the fridge!"
---
2. Shrinking Power Bills
Sally may not need much of an excuse to get out of cooking dinner, but she is right that Pete's old beer fridge is probably using a lot of electricity. Which of the appliances running in your home right now are your biggest money drainers? There is a huge variation in the amount of energy used in people's homes - some people run their washing machines once a week, some people run theirs every day. The biggest power guzzlers are air conditioners, stoves and clothes dryers (which each use around 3 kWh per day). Next in line are appliances such as washing machines, dishwashers, fridges and freezers, computers and televisions (each around 1 kWh per day). The lowest energy consumers are appliances such as hi-fi, radios and clocks, which are used regularly but don't use a lot of energy and appliances that do use a lot of energy but are only used occasionally (vacuum cleaners, irons, kitchen gadgets and so on).
The Vault has some great energy saving ideas like the ones below that can make a significant difference to your power bill in no time!
Combine your cooking appliances and save electricity
I save electricity by combination cooking with my microwave and grill.
There are many things you can do this way. I cut potatoes, red sweet potatoes and pumpkin into wedges and microwave to part cook them. I then put them in the lower half of the grill and spray them with Canola cooking spray to finish them off and crisp them up. I use the same for crumbed fish, schnitzel, even mini spring rolls and curry puffs. It is a lot quicker, healthier (less deep frying) and it uses less electricity!
Cook multiple dishes in electric oven
Save on electricity bills by using the oven to cook a few things at the same time, as an electric oven uses a lot of electricity to heat up. So if you are cooking a meal, why not throw in some home-made biscuits, cake or dessert - anything that needs to be baked. This way you'll use your oven more economically.
Apply a 20 minute rule
My '20 minute' rule goes a long way to making valuable savings on our electricity bill. During the scorching summer months our electricity bill sky rockets, as does our water usage, so the '20 minute' rule was established. When it begins to feel a little hot in our house, I look at the time and add 20 minutes before I allow myself to turn on the air conditioner. Only when the 20 minutes is up does the air conditioner go on - not a minute before. Sometimes I even last another 20 minutes before turning it on. While 20 minutes of air conditioner time may sound like nothing, 20 minutes a day for 100 days in summer certainly adds up! This summer I am looking forward to cheaper electricity bills and a longer lasting water supply.
Fill your freezer with milk cartons
Deep Freezes work more efficiently if over half full - less electricity to keep goods frozen. Quite often I find mine close to empty so I have taken to filling empty plastic milk bottles 3/4 full of water and using them to make up the volume. A bonus is that when I go camping or picnicking, I have plenty of ready ice blocks for my esky that cost nothing and last longer than bought ice!
Save with cold washing
Save up to $135 if you have an electric hot water system. Next time you go to do a hot wash, ask yourself if you really need to use hot water. If you had a 5 kg top loading machine and washed just one load of washing a day with cold water, you can save around 1340 kilowatt hours of electricity in one year. This equals a saving of around $135 a year!
Avoid re-boiling the kettle
Do you find yourself flicking the kettle on all through the day to make yourself just one cuppa? I used to. But now I keep a Thermos by the kettle, and after boiling the kettle in the morning, I fill it and use the boiled water throughout the day. This saves time and electricity, and avoids the noise of reboiling! It can also save water, as I use this water to dampen my kitchen sponge, instead of running the tap till the water gets hot. And it means that I have instant cold water when I need it, as I'm not accessing the hot water from the tap!
Keep your Thermos filled for baby bottles
When I started my baby on formula I was forever boiling water in the kettle. Finally I went to the cupboard and brought out the Thermos we rarely used. Now I boil the kettle once at night time, fill the Thermos and keep using the hot water for bottles all through the night and the following day. The savings on electricity must be huge as the kettle uses up more power than the clothes dryer. The biggest bonus is that the hot water is ready instantly and the baby doesn't start to cry waiting for the bottle to be made.
Being creative saves money on clothes drying
I don't use my clothes dryer even with five children and one in cloth nappies. It can be done and it saves heaps! We used to live in Auckland in New Zealand and it rained frequently there. However, I didn't want to spend the $1.00 per load to dry my washing and so I devised a different method. We have a rack which sits by a window and I can peg a full load on that if I do it carefully. I use the space as creatively as possible. My hubby also hung some lines in our garage and I can peg up another two loads there.
I think I have used our dryer twice in the three years that we have lived here and that was just to finish off drying a load. If I keep up with the washing I can get away with not using our dryer all winter. I do 10-12 loads per week, so if I were to use the drier for even six loads per week, it would cost about $300 extra per year on our electricity bill - not a bad saving!
---
3. Real Savings for Seniors
Reaching retirement age can prove a real test in money management skills, but our many clever members living on a pension show that there are plenty of savings to be had if you know where to look!
All round pensioner discounts
My dad became a pensioner last year and he didn't realise what he could use his pension card for. We went to his local council and they deducted $50 off each quarter which worked out that he got one quarter for free, saving himself $200 a year. With Sydney Water he only pays for water usage. He saves around $80 a bill. At the RTA Dad doesn't have to pay for his licence. It is totally free. A gold licence for five years is $129. At all these places you just have to give them your pension card so they can record the number.
Movie discount club for seniors
For mature readers who enjoy the movies but find it increasingly costly it is well worth joining the Greater Union/Birch Carrol Coyle Seniors Club. Membership is $6.50 a year and you immediately get a free pass for one movie so it hasn't in fact cost you anything for membership. You receive a card, valid for 12 months, which you show each time you visit and your discount rate is $6.50 per movie. Each time you renew you get another free pass so renewal is also cost free. A regular newsletter is sent out about new releases which usually also has discount coupons for ice cream, drinks or other items available.
National Seniors' membership
I have discovered a website (www.nationalseniors.com.au), which is open only to people over 50 to join ($32 per year for a couple or $24 per year for an individual) and gives them access to a huge range of discounts Australia-wide. I am nowhere near 50 but have referred my Mum and several other friends to the site and they have benefited greatly from the savings. These include up to 50% discount on accommodation, having your car serviced, hairdressers, movies and many other things. The benefit of this card is that you can be working full time and still get the benefits (unlike the pensioner card).
Programmes for over 50's in Queensland
The council-run GOLD (Growing Old Living Dangerously) programmes are advertised in Queensland, and for people aged over 50 the activities and savings are wonderful! For example, I went on a bay tour for only $5.00. It was informative and exciting and lunch was included! This was only one of the many scores of activities for seniors every season here in Queensland. There are savings of hundreds of dollars for those who take advantage of what the programmes offer. For example, the cost of learning to fly is $5.00 - normally in excess of $100 a lesson. Or you can learn creative writing with a published author for free! There are also craft classes, making leather goods, and so on (materials supplied) for $5.00! The finished work would cost in excess of $30 and the tutor's time would be $150 a lesson - this is the same for art classes offered! All people over 50 who live here should give it a go! I promise you that you will go back for more!
Seniors discount overseas
I saved over $500 on my recent travels to the UK and Europe. Everywhere I went, I asked if they gave a discount for Australian National Seniors card (available to anyone over 50). Everyone, except British Rail gave me a seniors' discount. I saved $4.00 - $6.00 at each tourist attraction - castles, Tower of London and so on and $400 off a rail ticket from Rome to Amsterdam! It really does pay to ask!
Unlimited EFTPOS for pensioners
I am a single mum on the pension and my bank (Suncorp Metway) offers pensioner bank accounts that give unlimited EFTPOS transactions. This in itself can save a lot of money as some of my friends are being charged as much as $30 (or more) every month for excess transactions, which equals as much as $360+ in savings every year. An added bonus is that you don't have to carry around all your weekly money in your purse.
---
4. Penny's Blog - Lifesaving Holiday Hints
Jul 5, 2006
School holidays are here again and thank goodness I listened to the Simple Savings radio show last week! Naomi and Debbie reeled off a huge range of fantastic low cost ideas to keep the kids occupied. Perfect timing and exactly what we needed - while I am always drilling into my kids how lucky they are to have a mum who works from home, I am still guilty of letting the days pass by without really doing anything with them. Not these holidays though! We are currently on day three of the Alphabet Holiday Program, recommended by Naomi and the mastermind of Briony Cross. You'll find it in the Vault under Children -> Activities and the title is 'Cheap Holiday Activities as Easy as ABC'. It's simple yet brilliant! On the first day of the holiday, you and the kids think of things you can do beginning with the letter 'A'. We chose Art, Athletics and Apple bobbing - I can't remember the last time I laughed so much! We looked through our activity books for inspiration for our art project and the boys decided they wanted to make papier mache heads. The kitchen bench was soon smothered in newspaper and gooey paste - and so were we! Two days later we are still waiting for the darn things to dry so we can paint them. Athletics in the back yard was hilarious, with events in high jump, long jump and gumboot throwing (we didn't have a discus!) We decided to take the alphabet theme one step further and plan our meals around the day's letter as well, so we had Apricot Chicken for dinner!
Yesterday was all about 'B' but our planned ball games and bike riding didn't quite go to plan due to the rain. Luckily I had a flash of inspiration about seeing a recipe for bubble mix in the Vault (I think it's called The Best Bubble Mix ever or similar - 10 cups of water mixed with a cup of dishwashing liquid and half a cup of glycerine) and we mixed it all up and found things around the house that we could use or modify to make bubble wands. The recipe made almost three litres, so it kept us all busy for ages. We tipped the leftovers into screw-top jars to use again later and the dregs were wonderful used after dinner (Burgers in Buns of course) for sparkling clean dishes!
After listening to the show I think I had better go and refresh my memory on some of the cleaning tips in the Vault. I had just gone out and bought a new bottle of wool wash that very day so I cringed later on to hear that I could have saved a heap by using a bottle of cheap shampoo instead! With a new puppy around I have certainly saved on buying expensive carpet cleaners thanks to the Vault - she's actually very good in that department but the odd little accident is pretty much unavoidable. I found Dr Ian Billinghurst's guest spot on the Simple Savings show the previous week very interesting and am looking forward to learning more about the BARF diet. With Ella's ongoing arthritis, Dudley's regular skin, ear and eye irritations and Tui's garbage guts I'm willing to give anything a go to keep them happy and healthy and reduce those vet bills. I did actually have the books some years ago and I have to admit they never looked better than when on the BARF diet, but at the time I had nine dogs and we did find for that amount of animals that it was too time consuming and costly. However, times and circumstances have changed and I'm certainly willing to give it a go again if it benefits their health.
Anyway, I must depart, we're off to start our 'C' day, which is going to see the movie 'Cars' - the boys don't know yet, they're going on a mystery tour! We always go to the small town cinema, it's almost half the price of going to the bigger ones and of course we have learned through the Vault to take food from home - Corn (popped of course!), Chocolate and Coke - I think I'm going to need to go on the Cabbage diet after this!
Penny's Blog is a special treat for Vault members and is updated a couple of times a week. You can drop Penny a line here - she loves to hear from other members!
---
5. Homeopathy Corner: Free Tutorials
The more I look into homeopathy, the more I am amazed by how much money families can save. I also find it really sad that most people don't know what it is, how it works or how it can help them. So Fran the Fantastic, who just happens to have a Masters in Education Health Science is going to put together a free 12 part tutorial for Simple Savings subscribers over the next twelve months. YAH!!!
To read the introductory tutorial go to:-
www.homeopathyplus.com.au/book/introduction.html
---
6. From Last Month: Creative Home Gymnastics
Last month Tania Rodrigues asked:
"My four year old does gymnastics and loves it. He practises some things at home like the rolls and positions, but I would love to set up some equipment to widen the range of what he can do. Does anyone have any ideas of how I can create inexpensive and fun equipment? I will also need an idea on how I can create a soft landing!"
We have really enjoyed reading your creative suggestions for home-made gym equipment! Whether rolling, jumping or balancing, our clever members have some great suggestions for budding gymnasts, such as the ones below:
Crash mats for sporty kids
It's easy to make inexpensive 'crash' mats for active and sporty kids! Most carpet and floor covering retailers have off-cuts and second hand carpet underlay foam sitting around. It often just ends up in their bin along with second hand and off-cut carpet pieces. If you can find a good retailer they will often let you have these for free! All you need to do is cut it to size and use some sheets or quilt covers over it to keep everything clean. You can layer it to provide more or less of a soft fall as required.
Borrow equipment from toy libraries
Toy libraries are a great place to pick up equipment for young gymnasts. You can join up and borrow all kinds of items such as mini trampolines. Most toy libraries have these larger items that can be borrowed over a two week period. We found this a great resource when my daughter was doing calesthenics. We have now upgraded to a larger trampoline - on sale of course - and the entire family use it to practice break falls and rolls involved with karate, which we now do instead of calesthenics.
If you join a toy library committee, you can usually have 'first dibs' at the older toys that have been withdrawn from being borrowed, and purchase a pre-loved trampoline for minimal cost. Another option is to ask around schools and sports centres that are updating older equipment and purchase mats and so on at a fraction of the full price.
Clarke Rubber foam rejects
Instead of spending over $500 on a gymnastics mat for my active daughters, I managed to get all I needed from Clarke Rubber for $20! To buy their thick high density foam, I was looking at around $100 a mat - and I needed four. Luckily the sales assistant told me that every few weeks they have seconds (or rejects) delivered, so I rang each week for three weeks and was eventually rewarded by being able to pick up the exact foam I needed. There were some marks on the foam, but my girls would have put more on there within a few days anyway! All up, a saving of $1,980, plus my children are now safe practicing at home.
There are also some great gymnastic type exercises for kids on the Ringling Brothers Barnum & Bailing Circus Fit Website, check it out! (www.circusfit.com)
Gymnastic obstacle course from home materials
Cardboard boxes make a great free source of gymnastic fun for kids! They can climb over and through, or hop, skip, jump around the boxes. Hula hoops are another cheap exercise toy; great for the waist action as well as jumping into, going through, even throwing balls or mini bean bags into or through. Draw lines on the concrete to practice balancing, or arrange pieces of string on the ground in different shapes for them to walk along.
Discounts and free used gym equipment
If you are on the lookout for cheap gymnastics or sports equipment, ask at your local schools and childcare centres. My daughter's childcare centre recently gave away old sleeping mats for free - they are exactly the same as those used at schools for gym lessons. If you let them know you are interested in purchasing their old equipment next time they update, you could pick up items at discount - or even free!
Home-made apparatus
It's easy to make some home-made balancing apparatus for kids' gymnastics for next to nothing. I used to do gymnastics and used these too! Kids can practise balance bar routines on a plank of wood set up on a few bricks. This is great because 1) it is wider than the beams at the gym! 2) having it set off the ground allows them to do the dips in the routine (where you bend one knee while dipping the other over the side of the beam) and 3) it allows them to practice their balance and walking in a straight line!
Join a Kindergym
Let your child 'go wild' in a safe environment! Join a Kindergym - my child goes and loves it. They have lots of play equipment, including climbing, jumping and balancing. It does cost but it is good value for money.
(www.gymsa.com.au/kindergym.htm) - these are the SA details but you will find there are groups throughout Australia.
---
7. This Month's Help Request: Clothes for Smaller Frames and Getting Rid of Tobacco Smells
This month Amy Diffey wants to know:
"I have moved to Australia from NZ and am having problems finding clothes to fit me. I am just 160 cm tall, small boned and busted and fit a size 6-8 in NZ. In Australia I find even size 8 is too big. How can I clothe myself without having to wear ill-fitting clothes or spending a fortune at boutiques? Even children's clothes don't fit well, as I have bigger hips than girls but a smaller waist! Are there any chain stores in Australia which sell smaller clothes at a reasonable price? Internet shopping is difficult as I need to try everything on before buying. I am considering learning to sew my own clothes but have little experience in this area - are some patterns/fabrics better than others for a beginner? Any ideas would be appreciated as I am hoping to start work soon in Admin/Reception and have very few suitable clothes and little money to spend!"
We would love to hear of helpful suggestions to help Amy and others in the same situation too! Please send your ideas to us at www.simplesavings.com.au/donatehints and we will pass them on.
Also, Diane Harris has asked:
"We have purchased a second hand car and unfortunately the previous owner was a smoker. I can't stand the smell, and would like to know if anyone has hints on how to get rid of the tobacco smell, rather than spending a fortune just covering it up with air fresheners."
If you have any helpful suggestions for a sweet smelling vehicle that won't break the bank, send your ideas to www.simplesavings.com.au/donatehints
---
8. SAVINGS STORY: No More Redraws and Making Family Holidays Last Longer
No More Redraws
We were shocked to discover that just an extra $400 a month will see our mortgage paid off in 10 years and can save us $109,000! This came to light when suddenly, after 18 years of marriage hubby and I started squabbling about money. We had previously paid off two homes and are now paying off our third, but even with less interest than ever before and a higher salary, we weren't getting ahead.
The difference this time is that we have a redraw mortgage. This means we put everything on our credit card and most of our salary into our mortgage, then draw out and pay the total of our card off each month. Both of us have been getting frustrated at not seeing the mortgage come down; the reason being that we have been using it to pay higher and higher card amounts.
I went back to the drawing board and drew up a budget to see what we could spare each year. I pulled out an amortization sheet and put in our current loan and payment figures. What a shock! The way we are going at the moment, we will have paid our mortgage off in 27 years - by which time we will be in our 70's.
So here is the irony. To save money on interest, I am going to stop paying 'extra' into our mortgage loan and instead stop using the redraw facility to pay off our credit card each month. The mortgage is now going to be a one way street. No more redraws and more money will be staying on the mortgage. If there is not enough in our bank account to pay the credit card expenses off I will have to find it somewhere - or not spend as much.
If you want to see the difference extra payments can make, just type "amortization calculator" into a search engine such as Google and have a play with the figures. Making this decision has taken a load off my mind.
Making Family Holidays Last Longer
Money is a bit tight in our household, so when the chance came up to take the family away on a weekend break, this sounded a real treat. However, after figuring out that with petrol and accommodation there would be little change left from $300 (as well as the thought of packing, unpacking and disrupting toddler night routines) just for one weekend away, all of a sudden it wasn't striking me as a relaxing break after all.
So I gave the family a choice. They could have the weekend away, or a string of 'special Sundays' where we would do things around Melbourne with the money until it ran out. So far, we have spent very little but have enjoyed quite a few trips out and about. Our trip to the museum cost us just $15 in petrol money and $10 for parking, as the museum is free for Health Care Card holders, and we brought our lunch. A trip to the AFL Hall of Fame turned out to be even cheaper but only because an anomaly gave two of us free entry, and train travel is cheaper on a Sunday ($10) and again we took lunch.
The family is getting into the special Sunday idea, and different members have picked parks that we've never been to as our destination. For one Sunday we bought sausages and rolls (both on special) to BBQ for lunch and $5.00 in petrol money was the only other expense. On other occasions we have bought minimum chips (around $5.00) and eaten them at different playgrounds, the beach and wildlife areas like Grant's Picnic Ground in Kallista. We took our own Home Brand birdseed too (1.5 kg bag for under $5.00) and the kids loved it.
It has the bonus of the family spending time together away from chores, TV and the phone, just like a holiday, without much effort. It is a talking point during the week. We save money not going to pubs for Sunday lunch, or shopping where there are so many temptations to open the purse/wallet. We are also discovering the many delights of our own town!