"Secrets to Saving Money in Australia" Free Newsletter - May 2006
This issue includes:-
Sad Sally & Happy Hanna: Getting Ahead
Time is Money
Pretend Bargains
Penny's Blog
Homeopathy Corner:
From Last Month: Green Thumb for Small Spaces
This Month's Help Request: Horsey Help and Gas Heating Alternatives
Savings Story: Cut Electricity Bill by $600
---
Hi,
How are you doing? It has been a great month. We found a fantastic place to stay in Wales (www.penllwynteg.com). It is gorgeous, great value and has an Internet connection. But the best part is our hostess, Sharon. She is a truly lovely lady and a genuine Happy Hanna! (I even caught her boiling and freezing chick peas today instead of buying tinned ones - very impressive!)
Thank you for your fantastic emails. Some days it is hard to believe how far Simple Savings has come. Many people have asked how 'I' built Simple Savings with two small children and very little money. The answer is; I didn't. It was you. You did it. This site is mostly a collection of other people's savings hints. Your support is the backbone of this site. I could not have done any of this without yours and the other members' support. Thank you for your help! You are changing people's lives.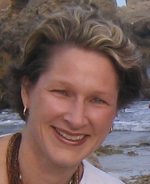 "Since subscribing at your reduced 'special' rate (my first saving!) I have changed my grocery shopping habits, and in the first month alone I have saved $300! All with simple pre-planning, preparation and wise choices!
"I'm well on the way to showing my husband that we can afford to live just on his wage, and I can afford to give up work to spend more time with the kids!" Susann Sutherland
"I just wanted to let you know how much I appreciate your site. I love browsing through the hints and always leave the site feeling positive! Thanks for a great service." Joh Reid
"I have renewed my membership again and it is the best $17 I will spend all year! (NOTE: It is $47 to join the Vault and now costs $21 to renew your membership.) I know I have saved 100's or 1000's of dollars using the hints from other Simple Savers. I really enjoy the site and have tried to encourage friends and family to join also. Alas, they compliment me on my savings savvy but don't take the next step when I explain to them how I know so much about saving money. Never mind, I will continue to spread the word as I don't think there is anyone who would not benefit in some way from your site. Keep up the good work and good luck in the U.K - I will let my relatives over there know about it!" Belinda Ridgeway
"I have only been a member for a few weeks, but I can't thank you enough for all of the help and hints I have found here. We are a family of seven, which includes five children and we never seem to have enough money to do anything with, let alone save. Since reading the hints on this website, I have dusted the cobwebs from the bread maker, bought bread mix in bulk, baked cookies, cakes and bread each week, cooked in bulk portions to freeze, made lunch box snacks from home-made ideas, sliced home cooked meats to freeze for lunches, dusted off the ice-cream maker in the cupboard and frozen home-made ice-cream! We have now saved enough money to buy an ALDI slicer and a large tuckerbox freezer to take advantage of freezing meals and snacks. In just three weeks we have gone from never being able to save to accumulating at least $500 by just altering our lifestyle to suit our budget. I am having so much fun and I am so proud of my results. Just think how much we can save over three months or even a year! It has changed me from being a very depressed and bored stay at home mum to a very positive mum that is so busy saving money - I don't have time to be depressed! Thank you so much - Simple Savings has made a huge difference to seven people's lives!" Karen Pisani
"Just like to say a huge thank you! I used two tips today from the Savings Vault and saved a whopping $113.10! With a new baby arriving in the next few weeks it will be very handy. All I had to do was ask a question "would you match another store's sales price on my lay-by?" The answer was yes and I saved $70. The next saving was a tip about buying bulk cloth nappies from St Vinnie's stores. I was able to buy a bulk lot of cloth nappies for $8.80 (even cheaper because the store had yet to wash them). I have just finished giving them a good soak and they look great - lovely and thick like new. Another saving of approximately $43.10. I will certainly be looking for more great tips!" Kirby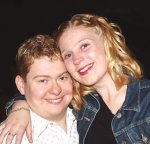 "I just wanted to thank you all for this fantastic website. It has really been wonderful reading for my husband and I. We are becoming (slowly but surely) Simple Savers, and I just wanted to share with you something my husband said to me recently. My husband decided to go to the shops and get some bread and meat for lunch. When he returned and I asked him what he bought, he proudly told me that he had bought 12 hamburger rolls for $2.30 instead of four rolls for $1.50. He was so pleased with himself, and is really thinking about what he is buying. What a bargain! The Simple Savings' way of life is taking over in my home, and I couldn't be happier!" Catherine Hawton
Wow! Wow! *jaw drop* Wow! What else can I say?
Great work, team!
Many grins,
Fiona
PS. If you have a digital photo of yourself, please send it in. We would love to be able to put a face to your name, please email it as a JPG file to photos@simplesavings.com.au Wow! Those thank you letters are just mind blowing.
PSS. If you have any questions about this month's newsletter, we will be going through in this newsletter on World Talk Radio this week. As well as chatting with Penny, author of Penny's blog. World Talk Radio is an internet radio station. So it doesn't matter where you live, you can download the show and listen. If you have a landline connection it is best to wait till after the show and download the show from the archives. The show will be aired from 6am to 7am on Friday, here.
The phone numbers to call, during the show, are:
(toll free from the US:) 1-866-613-1612
(international:) +1-858-268-3068
To say thank you for calling in, anyone who joins us on air will receive a 12 month membership to the Savings Vault.
---
1. Sad Sally & Happy Hanna: Getting Ahead
Pete peered over Sally's shoulder. "What's that - it's a bit late to be putting up a new calendar isn't it?"
Sally didn't look up, she was too busy writing. "It is my Savings Calendar. Our Savings Group meeting is today."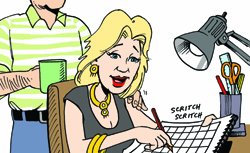 "That's great! But - why are you filling it all in now? You haven't been doing any of that this month."
"No, but they don't know that. I mean - as if anyone would do half of these silly things anyway!" Sally carried on writing and didn't see the hurt look on Pete's face. "But, Sal - I thought you were really going to give it a go. Don't you want to get ahead?"
Darn, she had been sprung. Sally had forgotten how excited Pete had been when she told him about Hanna's new Savings Group. It had been one thing to join, but she hadn't expected to actually have to do anything. Like she needed any help saving money anyway! As far as she was concerned, she was already an excellent bargain hunter. The stuff the others were all harping about in the group was just garbage - a waste of time. It was bad enough that she had to take grotty home-made sandwiches to work every day to keep up appearances in front of the rest of the group.
It was going to take her some fancy footwork to get out of this. Pete had a determined look on his face. "Sal, I really thought you meant it this time. You have lied to me again, I can't believe it! I am fed up with this. I don't want to be in debt forever!"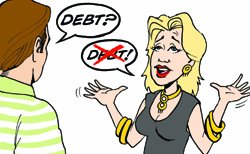 "Oh come on Pete, we're not going to be in debt forever" Sally smiled and rolled her eyes impatiently. "How could that happen? We both have jobs. I don't know what you're getting yourself in such a state about. What's the big deal about me being in this Savings Group?"
Sally watched as Pete's expression grew darker and quickly changed tack. "Pete, I did try the calendar, but nothing in it was appropriate to me. It's just not my thing."
This only made him even crankier. "Sally, don't you get it? We are up to our eyeballs in debt! You had better start paying attention in that Savings Group or we are going to lose our home."
Lose their home? How could that happen? This was all too much for Sally. How could one silly calendar make such a difference? She started to cry.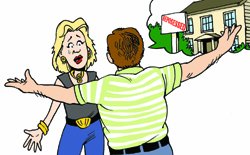 ---
2. Time is Money
Sally has been spending to her heart's content and her debt is catching up with her again. That is the worst part about spending more than you earn - it always catches up with you.
I have heard of many different fancy ways to get out of debt. Debt consolidation loans, friendly mortgage brokers, interest free credit cards, and so on. In some situations they are helpful but, none of them address the core issue. How did Sally get in that much debt in the first place? She is up to her eyeballs in debt because she spends too much money. She is a classic shopping victim.
How can you make sure you DON'T end up like her? One thing I do to protect myself is work out how much time an item will cost me before I part with my cash. This protects me from falling for 'pretend bargains'.
Instead of thinking of purchases in terms of dollars, I think of them in cost of hours or working weeks.
I call it my 'time is money' equation. $10 means very little to me but losing 40 minutes of time with my kids and hubby means a lot. So instead of thinking I will be spending $10 on lunch, I tell myself that buying this lunch is going to cost me forty minutes.
The way you do it is to put a value on your time. I always choose $15 per hour for mine. So if I am about to spend $30, I stop and think. That's two hours' work - do I really want to spend two hours on these goods? Is whatever I am about to buy really worth two hours of my time?
Let's look at a couple of items in terms of time:
A new $20,000 car costs 1333 hours or 33 working weeks.
$100 dinner costs six hours and 40 minutes
$20 take-away costs one hour and 20 minutes
$60 dress costs four hours or half a day at work
Now let's look at some alternatives:
1. Let's say instead of buying a new $20,000 car you bought an almost new car for $10,000. You have saved yourself $10,000 and found 666 hours of time. That will leave you with a lot of time to polish your near new car or drive around the block.
2. Let's say instead of a $100 dinner you had Doner Kebabs by the river for $20. (OK, it is not quite the same, but for the purpose of this exercise we will go with it.) You have saved yourself $80 and found five hours and 15 minutes. That is five hours and 15 minutes you can spend with your partner instead. What would you prefer - five hours and 15 minutes curled up with your partner or a fancy dinner?
3. Let's say instead of spending $20 on take-away, you bought $5.00 worth of ingredients and cooked it yourself. The total amount of money saved was $15 and you just found yourself an extra hour!
4. Finally, instead of buying a dress for $60 from a retail outlet you buy a $10 dress from a 'fancy', 'only the best' op-shop. You just saved $50 and found yourself three hours and twenty minutes.
Add up the small savings below.
These are only four very simple and quick examples, but once you add these up you can see how much the money and time snowballs.
$10,000 - 666 hours
$80 - 5 hours 15 minutes
$50 - 3 hours 20 minutes
$15 - 1 hour
TOTAL $10,145 - 675 hours 35 minutes or 17 weeks' holiday
They are four very simple ways you can reclaim some money and time. Now it is your turn. How much money is one hour of your time worth? $15 is about the average wage after tax. Your time may be worth more than that; maybe $30 or $60 per hour? Choose a number.
Remember there are only 24 hours a day, seven days a week and 52 weeks in a year, and you have to spend some of that time sleeping, eating, playing and relaxing with yourself, your friends and your family. Time is your most precious resource - be stingy with it!
---
3. Pretend Bargains
Use your new found 'time is money' skills to see if you can spot some pretend bargains!
Remember last month, when Sally told her friends how she saved money by getting a two-for-one pizza deal? She wasn't trying to be funny, she genuinely thought she had made a great saving - and this is where it gets really difficult. The word 'saving' is very much abused. Everyone claims their goods are the best, the cheapest price - you only need to look in the Vault to see examples of how many so-called 'specials' are falsely advertised!
Beware of supermarket 'specials'
When the major supermarkets put on a special, such as an offer to 'buy two and get the third one free', I check the other companies' specials for that week and find it still cheaper to buy it one at a time. If you do your sums this may not be the case every time, but most times it is not really a 'special' at all!
Check prices of products on special
Beware of product positioning in supermarkets! Recently a well-known brand of paper towel was advertised on special in the Coles weekly advertising brochure for $1.00 a single roll. At the front of the supermarket was a large display with a 'Special' sign, with the same brand of paper towel in packs of two for $3.33 (a whopping 66% higher than the price per roll!) The advertised special was located in the usual aisle, above eye level, with only a small 'Special' ticket attached to the shelf. I wonder how many people, like my husband, assumed that the display was the catalogue special, and got caught out! We will be writing the advertised prices on our shopping lists from now on!
Beware marketing tricks!
For those who use Cuddly Fabric Softener, please note that the product has recently had a makeover and the cap is much larger than the original one. You only need to three-quarter fill it to get the same softness in your washing. What a clever idea, 'Cuddly', trying to make the customer use more than is necessary and so have to buy more frequently!
Beware of more expensive bulk items
I can usually find examples in supermarkets where it is more expensive to buy bulk. I recently went to Bi-Lo to purchase rice. We use a lot of rice, either as a side dish or we mix it with frozen vegetables and freeze it as meals for the dog. A 10 kg bag costs $12.49, while a five kilo bag costs $5.21. We got two five kilo bags and saved $2.07!
Now it is your turn. This month see if you and your friends can find some 'false bargains'. You will be surprised how easy they are to find - they could be right under your nose! We would love to hear of your discoveries; write and let us know here.
---
4. Penny's Blog
Penny has been up to all sorts of interesting things this month. My favourite is when her son discovered that Penny is in fact the Easter Bunny.
Wot, no bunny?
Apr 17, 2006
Sometimes in my attempts to be frugal, I do accidentally forget the odd little detail and end up getting caught out, as in the case of Easter this year. Usually a great one for celebrating everything from the cat's birthday to the loss of a kilo, I'll admit I have a real problem with all the hype surrounding Easter eggs. I'll be honest, I'm not religious, but I do appreciate the origins of the occasion and have often wondered what on earth a monumental Christian event has to do with people rushing out to buy and consume copious amounts of chocolate. Hence my children know that Mummy does not believe in giving them Easter eggs - the Easter Bunny however still does. Or did, should I say. In my 'bah humbug' frame of mind and steadfastly refusing to spend money on Easter eggs myself, I totally forgot about the Easter Bunny's part in the equation - until poor little Ali reminded me too late!
As it was school holidays and I literally couldn't remember the last time I had bought the boys anything, I told them they could choose a small toy as they wouldn't be getting an Easter egg from me. They still get eggs from their grandparents so are not totally deprived and I figured I would rather spend a similar amount on something that would last, which was fine with the kids. Ali in particular was having a very lucky week - he had finally lost his first tooth, graduated up to a 'big boys' bike and found a four leaf clover (in hindsight I should have probably taken him to buy a Lottery ticket!) so was pretty happy with himself. We found a Destitute Gourmet recipe for Hot Cross Buns and made 24 plump and delicious buns for less than the price of six in the supermarket. All in all, Easter Sunday was a pretty quiet and pleasant day, until in the middle of consuming his fourth bun, Ali pointed out 'Hey! We haven't had any Easter eggs!' 'What do you mean?' I said indignantly, 'I got you a toy, remember?' 'Not you Mum, I mean from the Easter Bunny!' Ali went on. Ah - the Easter Bunny. In my miserly state of mind I had completely forgotten about his part in the day. A little light went on in Ali's head and I could see I was sprung.
'Mum, you know when we thought there was a tooth fairy and it turned out to be you?' asked Ali. 'Does this mean that you're actually the Easter Bunny as well?' Fresh out of likely sounding excuses, I sheepishly had to admit that this was true and I had forgotten to get any eggs on the Bunny's behalf. My tooth fairy secret had already been discovered several months before when Ali was investigating a high shelf and found a secret pot containing half a dozen of his brother's teeth. Luckily far from being distraught, the boys both thought this was hilarious and I have been known as the 'Mum Fairy' ever since. 'Really Mum,' scolded Ali. 'If you're going to pretend to be the Easter Bunny, you should at least remember to get the eggs, or you'll get found out!'
An update on the 'no smoking' front for Noel - it's not going that great, the patches are off again but he has cut down significantly. At present he is making a pack of 25 last up to three days, so it's a big improvement and he hasn't been bad to live with either. One of the main problems is his job as a Livestock Representative. His work through the daytime involves driving around all day, so it's hard to take his mind off smoking. Then at night he's stuck in his home office on the phone until 10 o'clock, which can be pretty monotonous, so half the time he ends up smoking to take a break or to keep himself awake. I appreciate how hard it is for him but he is really trying. The first few 'cold turkey' days he was so vague that he left his work mobile at home, which normally never leaves his side, as he drove to a meeting two hours away. He had almost reached his destination before realising that his phone had been really quiet all the way there and saw with horror that there was an empty space where his hands free set should be. He really enjoyed the peaceful feeling of nobody being able to contact him all day but the blasted thing drove me mad with its incessant ringing!
As for me, I'm still trying too but it's proving a bit of a slog these school holidays. Maxine and I aren't always able to get out for our lengthy walks with four children in tow, but I was excited to get a phone call this morning from a friend of mine - do you remember the one I mentioned a little while ago who has a treadmill she never uses but didn't take my frequent hints that I would be interested in borrowing it? I read a few Vault hints which mentioned about borrowing or swapping fitness equipment from friends and I asked her husband a few weeks ago if Karen ever got round to getting herself the exercise bike she wanted. He said she hadn't but still wanted one, so I asked if she would be interested in doing a swap for a few months - she would borrow my exercise bike in exchange for her treadmill. Karen called this morning and said she would love to give it a go. I can't wait! I would never have thought of the idea without the Vault. I still have to be careful with my leg and it's going to take some time but I have never felt better than when I was running and with the help of my free treadmill, I just might get there!
Penny's Blog is a special treat for Vault members and is updated a couple of times a week. You can drop Penny a line at penny@simplesavings.com.au - she loves to hear from other members!
NOTE: You can chat with Penny this week during the Simple Savings hour on World Talk Radio. She will be joining us in the second half of the show. For all the details, see the note at the start of this newsletter.
---
5. Homeopathy Corner:
When Sam was born I was told I had to vaccinate him or leave him vulnerable to disease. There were no other choices. I have since found that this is not true. There is a third immunization option and it is very cheap.
The third option is called Homeoprophylaxis. It is safe and studies that have been done show it provides protection which compares favourably with conventional vaccines while being free from side-effects. It can also reduce the risk of asthma, allergies, eczema, and behavioural problems that may be associated with other options. Imagine the savings involved if you can avoid the stress and strain of these health problems.
In this month's article Fran will explain it all to us. Fran is a mother, Master of Health Science Education and is a qualified Mid-wife, AHA registered Homeopath and Registered Nurse.
We are acutely aware of the importance and sensitivity of this topic. We are not attacking vaccines nor recommending a particular course of action as the best one for everyone. We are pointing out an alternative that is available and worthy of further investigation. It is up to you to seek out the relevant information and make your own choice about how best to protect your children.
We hope by bringing this topic up, mums will start writing to the government asking for more information and demanding further research.
Fran's article is here.
---
6. From Last Month: Green Thumb for Small Spaces
Last month Rebecca Aziz asked:
"I live in a unit and I want to grow my own fruit and vegetables on my balcony. I don't have a green thumb and I would like help. The vegetables my husband and I eat regularly are parsley, carrots, garlic, red onions, cucumber, tomatoes, capsicum and lettuce. Can you please tell me the best way to grow them and how to look after them? Where do I start? I have purchased parsley from the shops before in little pots but they don't last in my soil - what am I doing wrong? We want vegies and some flowers would be nice too. Any helpful tips would be greatly appreciated!"
Once again our resourceful and green-thumbed members have come to the rescue. No matter how big or small the space, anyone can enjoy the fruits (or vegetables!) of their labours thanks to suggestions like the ones below!
Villa garden
To compensate for our small backyards, my neighbour and I beg and borrow deep polystyrene boxes from greengrocers or even from Coles' fish department. We use the best potting mix we can find and have grown all sorts of vegetables including beans, tomatoes, carrots and cucumbers.
Location for planting is the key
For happy seedlings, first work out which areas on your balcony get the most sun or shade, so you can plan where to plant your various vegies and flowers according to the type of conditions they like. Perhaps there is an area on your balcony where you can put some sort of trellis up against a wall or balcony railings to grow some of the types of vegies that put out runners; such as cucumbers or climbing beans. Plastic terracotta pots look nice without the expense of the real thing and the soil doesn't dry out so much. Good potting mix is essential, along with some good mulch on top to stop the pots drying out and keep insects and snails at bay. Remember to keep the soil damp, not wet and fertilise regularly and your plants should thrive in their balcony environment.
Lush lettuce and tomatoes
A good tip for growing lettuces in containers is to use one of the 'multihole' hanging pots - just plant a lettuce seedling in each of the holes. The easiest way I know to get tomatoes to grow is to mush up overripe tomatoes and cover them with soil - free seeds and you can choose a variety of tomato like cherry or yellow pear that is smaller for growing in pots!
Easy grow flowers
Calendulas are very easy flowers to grow and you can even use the petals in salads. These flowers seem to self-seed and care for themselves.
Vegies by the tub
You can grow any vegetables in tubs. I haven't had to buy tomatoes for months! I purchased a punnet of six cherry tomato plants, placed three in one tub immediately and kept the other three in the small container they came in for three weeks before planting in another tub to stagger their growing period. This meant that by the time the first tub of tomatoes had finished producing, the second plant was ready and I was able to keep picking the fruit for another month or two. This gave me a steady crop of tomatoes from December until Easter. You could do the same with carrots, parsley, garlic, onions or lettuces.
Grow vegies with online advice
Utilise websites like (www.burkesbackyard.com.au) or just do a Google search on a subject like 'parsley' and choose Australian web pages for the most relevant information. These are a great source of information, as well as the gardening show on ABC on a Sunday afternoon.
Tricky garden problems answered
Check out the Gardening Australia website. They have heaps of tips and hints on how to handle tricky garden problems. You might even get them to respond to an email and help you out personally if you ask! (http://www.abc.net.au/gardening/)
Hanging balcony herbs
I have had great success growing tomatoes, capsicum and lettuce on my north facing balcony. You need good quality potting mix, water saving pellets (because the soil dries out quicker on a balcony), and the larger the pots or tubs you can source, the better (you fit more plants in, and the tubs give protection from the heat rising up off your balcony in summer). I grow herbs in containers that hang off my balcony, making it a cheap and nutritious alternative to buying dry herbs. The flavour of fresh herbs - parsley, sage, coriander, mint, and oregano and so on cannot be beaten for use in soups and salads. If you use saucers under the pots, the excess water won't run away when you water them. I grew my plants from seedlings, and had a very steady supply all through spring and summer and now have plenty of herbs for winter.
Growing in wine barrels
I made some terrific container gardens by purchasing some old wine barrel halves from my local nursery for $60 each. They're huge and deep, so are perfect for growing vegetables. They look great, are ideal for balconies and small yards, and the vegies love the 50/50 compost-soil blend I planted them in. Mushroom compost or animal manure is often sold cheaply at the side of the road and is great for container gardening. Weeds are easy to control with old lawn-clippings, and this kind of mulching keeps the soil moist.
A note of warning: Before you put really big plant pots on your balcony, check the load bearing capacity of your balcony, especially if it's made of timber. Otherwise your budget veggies could turn out to be very expensive indeed.
For more interesting and helpful ways to grow your own gardens and vegies go to the Savings Vault pages here.
---
7. This Month's Help Request: Horsey Help and Gas Heating Alternatives
This month Erika Stenhouse asked:
"My daughter and I are crazy about horses and dream of having our own one day. Being a single parent is tough enough on finances as it is, so affording a horse and maintaining its upkeep is out of the question. Our love of horses is a close bond that I share with my daughter and it feels like I am continually disappointing her that we are unable to have one in our life. Are there any less expensive ways to buy and look after a horse? Does anyone have any suggestions?"
We think there must be a cheaper solution for Erika and her daughter - do you have any ideas? We'd love to hear your thoughts at: www.simplesavings.com.au/donatehints.
We also have a second help request this month from Helen Muscat:
"I was wondering if anyone can offer suggestions of a cheaper alternative to gas heating? When we had natural gas installed many years ago, the standing charge was $4.00 a quarter but now it is $39.70 each bill and I resent paying that much for nothing on three of my bills, as that means I am paying almost $120 a year just to have gas connected before I use any! (We only have gas for heating.) I have investigated cutting it off each year after winter and reconnecting but there is no saving in that and a loss of convenience. Are there any companies that offer one standing charge for a dual gas / electricity bill?"
If you would like to share your experience or helpful tips for Helen send your thoughts here: www.simplesavings.com.au/donatehints.
---
8. Savings Story: Cut electricity bill by $600
A little detective work has reduced our power bill from $750 to $150 per quarter. We had struggled with high electricity bills for years - it didn't seem to matter what we did. One winter we got a bill of $750 for just three months! Enough was enough!
I went on a mission to lower our bill. First I 'came the heavy' with everyone about their never-ending showers and leaving lights on, but this hardly made a difference. I cut back on using the air conditioner and scattered throw overs around the lounge room to keep warm, but this also had next to no effect. Next, I got rid of the old air conditioner and got an inverter air conditioner which reduced the bill by $100 per quarter. A small success, but not enough!
In frustration I arranged for an inspection by Sydney Electricity to see how we could make the house more energy efficient. It only cost $30. The inspector went over the house, changed the fittings on the taps and shower and gave us some energy efficient light globes.
He pointed out that there was a leaking valve on the hot water tank and that the old beer fridge in the garage would soak up electricity. We fixed the leaking valve on the hot water tank. This saved us $200 per quarter and got the electricity bill down to about $450 but this was still too high.
To my husband's horror I began eyeing his old beer fridge. It had to go. It was a real antique and had a lot of sentimental value. To make it up to my husband, we purchased a four year old fridge and a second hand pine kitchen for $800. We stripped the garage of 27 years of junk and fitted the kitchen and fridge in the garage. It was a lot of money to spend but I was keeping my fingers crossed it would save us money in the long run.
I was right - the difference was huge. Our last power bill was only $157. I couldn't stop laughing for two days! His old beer fridge was costing us $1200 a year in electricity. In total, my detective work has cut our power bill $600 per quarter. That is about $2400 per year!