"Secrets to Saving Money in Australia" Free Newsletter - April 2006
This issue includes:-
Sad Sally & Happy Hanna: Join The Club
Move Forward With a Little Help
It's All in the Wash
England, Here We Come!
Penny's Blog
Homeopathy Corner: Meningococcal Disease
From Last Month: Keeping Creditors Happy
This Month's Help Request: Green Thumb for Small Spaces
Savings Story: Lesley Barber Update
---
Hi,
How are you doing? Well, I hope. We have some very exciting news. This month we launched www.simplesavings.org.uk in England! Is that fantastic or what? Matt, the kids and I are in Birmingham as I write this. What an adventure it has been!
We are here helping Tracey Smith run Downshifting Week.
'Downshifting' is a bit like a 'sea change' or 'tree change', but you don't have to leave your house or give up your job. If you know anyone in England please tell them we are on our way! *big grin*
It has been a massive month. The UK site is almost complete, we have settled in and actually have somewhere to sleep tonight *cheeky grin* and the Vault underwent the first stage of its long promised major upgrade. Please have a look at the 'new' Vault and feel free to bombard us with suggestions. The new structure is very flexible and the programming team are hanging out for your ideas.
Sometimes, running Simple Savings on a beer budget and being a mother of two small children is hard, but your emails make everything worthwhile. It is fantastic to be part of something that is genuinely helping people live happier lives. Here are some of our favourite emails this month:
"I have been reading your site madly and have learned so many life changing habits already! For once I can honestly say it is all sinking in. Even though I am an educated person I have always felt so 'money illiterate'. Now I am beginning to understand how to not only manage my money but control where it is going. I can't begin to tell you how good that feels. Thank you heaps for leading me on to the road to SAVINGS and a better life." (Anna Le Sueur)
"Reading the newsletters and other items from the Vault makes me feel so much better about retiring from full-time work next month. My husband is not well, so we are retiring at 60 and 61 to have some time together. Someone at work very kindly sent me her Simple Savings email when she heard that I was worried about retiring. I am so pleased that she thought of me and will endeavour to do the same for other people who are interested in saving money. Congratulations!" (Sue)
"I am so happy that I stumbled across your site and got my membership. We went on holiday last year during a bad patch financially and we did not enjoy our time away as we had to use our credit card. Twelve months on, we have just returned from a small camping trip that was well deserved and very satisfactory. To be able to enjoy a short break without any debt attached or nasty bills to face afterwards is the best.
"I have saved my membership ten times over already. Since joining, we now pay our bills weekly over the Internet, have cut up the credit card and are currently paying it out. I have used some of the free stuff and the Vault is fantastic when you need hints on any topic. We are now committed and 'money wise' and I look forward to bills coming in as we are in credit with all of them! We are setting new goals to a debt and mortgage free future. Thanks so much for inspiring us." (Michelle Watson)
"I was a member of the Vault but allowed my membership to lapse (big mistake!). At the time my husband had little or no work but we managed to stay afloat just by using the tips on the site. Now he has a terrific well paying job which he loves, but we have found ourselves spending more money than ever before. How we survived before I will never know! So I rejoined Simple Savings. To anyone who is sceptical about this site, take it from me - it works. I know I will recoup my membership fee in about a week and look forward to getting back on our feet again. I wonder if you realise just how much help your site has given to people like me over the years? We did it once, I know we can do it again!" (Kylie Gray)
Remember, when people write in to say thank you, they are thanking you as much as they are thanking me! The Vault is an amazing place because you and others send in your tips. It is your tips that make all the difference. Thank you for your support. You make all this possible.
Many grins,
Fiona
---
1. Sad Sally & Happy Hanna: Join The Club
Sad Sally heard noisy chatter in the office lunchroom and got up from her desk to find out what was going on. As she popped her head around the door, she spotted Hanna and two others talking excitedly. They didn't even notice Sally standing there watching.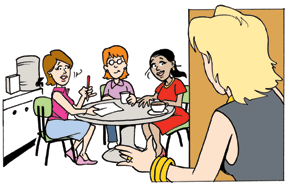 "Hey, what's going on here? Is this a private party or can anyone join in?" she asked, loudly. Hanna whirled around and looked embarrassed - "Oh, sorry Sally, I didn't think you'd want to join us!"
"Why not?" said Sally, a little put out.
"Well, it's our new savings club - we just started it", Hanna explained.
"Why on earth did you think I wouldn't want to join? I'm a fantastic saver! I scored a two-for-one pizza deal just last night!" Sally promptly pulled up a chair and joined the group. "Okay - so what do I have to do?"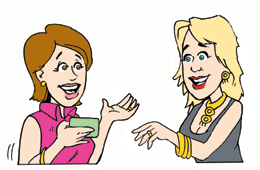 Hanna began nervously, "Um... I am a member of a website called Simple Savings." She handed Sally a Changing Habits calendar and Simple Savings introduction card. "We are getting together to discuss the hints on the site. We've all been trying to change our bad spending habits with this calendar."
"But it's May already! Aren't you too late?" Sally frowned.
"It doesn't matter", explained Hanna with a smile. "It took us a while to get started but we finally sat down together to see if we can make it work!"
Sally looked at her new calendar and thought. "If Hanna can do it so can I." Sally imagined Pete's smile when she tells him she joined a money saving group!
"Go on then, count me in," Sally grinned, getting up. "I'm starving - where's a cheap place to buy lunch?" She looked down and realised all the others had brought theirs from home. Sally sighed, she hated being the odd one out. "Right then, I'll be back soon," as she rushed off to buy a sandwich.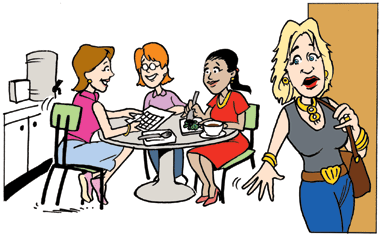 ---
2. Move Forward With a Little Help
Imagine how happy Sally's family could be if she really gives the calendar and the Savings Group a go! The kids would get more quality time with their mum and Pete would get the time he craves with his wife.
Friends are a very important part of your savings journey. From the very early days of Simple Savings, members have been forming their own Savings Groups, where they print out newsletters and tips from the Vault, get together at someone's house and discuss them like a book club. It works brilliantly.
Forming your own Savings Group is a fantastic way to learn more about your friends and form bonds that will last a lifetime. Here is how to start your own Savings Group:
Step 1. Ask around
For your group to be successful, you need people. Have a think who you could ask. Who do you think might like to join you in a Savings Group? It is amazing how many like minded people you can stumble across with just a little asking around. For example if you are a mum with young children, ask some of the mums at school or the ones you meet at playgroup. I'm sure the other mums would love the excuse for a cup of tea, some food and a chat. They may even be interested in saving money. Or, if you are thinking about retirement ask some of your friends who have already retired. You could learn a lot from them. Or, if you work try asking around the office like Hanna did. The sooner you start asking people the better. You never know whether the person across the hall from you has been a Simple Saver for years and you never even knew it. So Step 1, start asking around and soon you will have a great group of people for your very own Savings Group.
To help you with Step 1 print out some Simple Savings Introduction Cards just like Hanna gave Sally. They are small, easy to print and you can carry them in your wallet just in case you find someone you would like to join your group. We made these cards for you because URL's are really hard to remember. When you tell people our URL, SimpleSavings.com.au. They often forget the URL and they end up at some other weird site. It is much easier for your friends if the URL is on a piece of paper. So print out some Introduction Cards to make it much easier for your friends to find us.
Step 2. Make a plan
Once you have found some great people to join your group you need to make a plan. As a group, what do you want to achieve and what topics would you like to discuss? Think about the type of discussions you want and what specific aims you have. For example, do you prefer a light-hearted chat, an intense discussion, brainstorming or somewhere in between? Does your group want to focus on a particular savings area, or cover a broad spectrum? A good way to get started is to choose a monthly topic - this can either be taken from the current Simple Savings newsletter, or members can delve into a different section of the Vault each month. You can draw up an agenda of money saving subjects you would like to cover for the year ahead, or let each member choose the monthly topic.
For the next half of your plan you need to decide when and where the group will meet. Do you plan to meet monthly or weekly? What day and time suits everyone in the group? Then work out where you are going to hold your meetings. If all this sounds too difficult here is our ready made plan for you to copy, modify or use:
Ready made plan
Tone of Group: Light hearted and relaxed.
Group Goals: To adopt one cheaper smarter habit each month
Topic to discuss: Same as in newsletter each month. Each member needs to have printed out and read the last month's newsletter before coming to the meeting.
Frequency: Meeting once a week for first month for extra support. Once a month from then on.
Time: 1-4 pm Saturday for first month. Then the first Saturday of every month.
Location: Take turns meeting at each others houses.
Food: Everyone to bring a plate. Host provides drinks.
Step 3. Have fun!
Above all, have fun! Learning about saving money can be really fun. You and your friends will be learning how to take control of your lives together. Relax in friendly company, sympathise with one another over financial disasters (we all have them!) and share the joy of each new money saving triumph. Have a great time. You and your mates are on a great journey together. Enjoy and make sure you write in and tell us how you are doing. We will always do our best to help you.
---
3. It's All in the Wash
Doing the laundry needn't be a chore! The Savings Vault is packed with an amazing range of ideas to make those hum-drum washing tasks a lot easier - and much, much cheaper! Here is just a small selection of ways you can combat the laundry blues:
12 months of ironing aid from one bottle
Instead of using expensive and often ineffective ironing sprays, I buy liquid starch at the supermarket, put half a cup in a spray bottle and fill with water. Just shake and spray on the items and iron as usual. Cheap, efficient and marvellous on those crushed linen items that seem to stay in the cupboard or the 'too hard' basket. One bottle of starch has lasted me over 12 months!
Bleach substitute
An effective substitute for bleach is to use half a cup of either vinegar or baking soda. A good substitute and much gentler on your clothes!
Cheap shampoo nice as clothes softener
A cheap way to wash towels, bras and good tops in a front loader is to buy a cheap shampoo and substitute a capful in place of wool mix. Your washing will come out clean and soft for just $2.00 a bottle and will smell wonderful!
Dishwashing liquid works on clothes too!
I have saved almost $150 on my laundry washing powder for the year. I do my entire year's laundry for less than $6.00! When I ran out of laundry powder, I had no option but to use dishwashing liquid, but now I wouldn't use anything else!
All you need is a twenty cent piece sized drop of liquid (for a front loader; you would need a little more for a top loader). The results are the same and I have used the same bottle for seven months. I do at least two loads a day, so it is really economical. I use ALDI brand at $2.99 for a one litre bottle. Before, I was using Duo at $5.98 per two kilos and this was only lasting me a fortnight. I won't be changing back!
Fabric softener
Use white vinegar instead of fabric softener in your washing machine. It does the same job without leaving the soapy scum in the bottom of the machine.
Clean and dry your down quilts for a fraction of the cost
Professionally clean your down quilts at home and save on costly dry cleaning! A friend of mine was advised by a dry cleaner that all they use is regular laundry detergent and cold water to wash down quilts that people bring in to be 'dry cleaned'. To fluff the down and get it back in place after washing, they just throw the comforter into a large dryer with three new tennis balls. I do this and it works great! My quilts come out looking like new ; you can also do this with your down pillows, as long as they are properly sealed.
Washing gel for less than $5.00
I make 10 litres of my own clothes washing 'gel' for less than $5.00! Here's how to make this inexpensive alternative to supermarket brands. You will need:
2 cakes of soap (pure if you have sensitive skin, otherwise any kind can be used)
1 packet of washing soda
10 litre plastic bucket with lid (not metal)
Saucepan, stove, whisk and grater.
Grate the two cakes of soap and dissolve in a medium size saucepan with a few cups of water added. Watch the pan constantly. Once the soap is dissolved and water has combined, set aside.
Half fill a large plastic bucket with a lid (approx. 10 litres - such as ones suitable to store bulk flour or dog biscuits) with hot water and stir in a packet of washing soda until dissolved. Add the soapy liquid from the saucepan to the bucket and whisk until well blended. Top with more water and finish mixing. Allow to cool. This will gel together and make approximately 10 litres of liquid.
To use - scoop out a cupful (or two for heavy loads) and blend in a jug with hot water, adding to wash.
These are just a small selection of laundry related hints. There are heaps more such as the ones below, which can be viewed by Vault members. Click on the link to go straight there!
---
4. England, Here We Come!
Yep, it is true! Matt, the kids and I are in England. It has been a real experience. The first week was pretty tough, it took us a while to get online, but now the computers are going and it is full steam ahead. We sent this newsletter from the other side of the world. Exciting! While we are away, everything will run as usual. The only real difference is you will get to see more of Debbie Eustace on TV. For those of you who have yet to see Debbie in action, here's a proper introduction to our official Simple Savings spokesperson: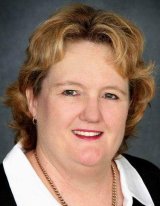 Simple Savings spokesperson Debbie Eustace is a familiar face to many as a money saving expert on television. However, it wasn't always that way - would you believe the dollar-savvy Debbie we know today used to be a bona fide Sad Sally? To see her in action now, it's hard to believe that this is the same woman who was oblivious to the huge specials areas in Big W, only a few years ago she would walk straight past them, completely unaware of the savings she was missing!
Debbie's transformation from a Sad Sally to a Happy Hanna began with a New Year's resolution in 2003. Debbie and her husband had been living from pay cheque to pay cheque ever since their two teenage children had been born. Juggling two jobs but still not managing to get ahead, Debbie was tired of money worries and decided to gain control of her finances. She joined up with Simply Budgets, which in turn pointed her in the direction of Simple Savings. Step by step, Debbie learned through the Vault how to slash her grocery bill and finally stay within her budget. Before long, Debbie couldn't get enough of the Savings Vault and impressed with the results, wrote to me to tell me so. When a media opportunity came up in Brisbane, where Debbie lives, I immediately thought of Debbie's achievements and gave her a call.
Nervous, but excited at the opportunity of '15 minutes of fame', Debbie agreed to the challenge, and appeared on Brisbane Extra. Debbie was a natural. We live a long way from Brisbane and The Extra crew asked if Debbie could be the regular Simple Savings spokeswoman! Debbie jumped at the opportunity and the rest, as they say is history!
These days, Debbie is a money saving whiz and loves using her Simple Savings skills to help others. This month it is two years since Debbie's first story with Extra and her list of appearances continues to snowball. She has also appeared as a Saving Expert on ACA and the Today show. The pre-filming jitters have gone and Debbie is a confident and much-valued part of the Simple Savings team.
I'm really confident Debbie will do a great job while Matt, the kids and I are overseas. I hope you grow to love her the way we do.
What is a paid spokesperson?
Simple Savings is approached by many TV, radio and print journalists for help with stories. TV stations prefer people who live within an hour of their station. If you live within an hour of a major TV station and would like to one day be a paid Simple Savings spokesperson, please go to www.simplesavings.com.au/15minutes/ and tell us your story. If you go well in front of a camera and the crew ask for you, you could go on to become a paid spokesperson just like Debbie!
---
5. Penny's Blog
Can you believe our resident Simple Savings 'blogger' Penny Wise has been keeping her journal for almost a year already? We have given Penny her own email address so that readers can correspond with her personally about any tips and topics she mentions in her blog. You can write to her here. She loves receiving your emails - especially ones like these!
"Hi guys, I just wanted to share my feelings. Today is Friday, my day off - usually the day starts with the regular housework and ends with the weekly chores that we don't do in the working week, but today the Internet was left on thanks to my daughter, so I have just spent about an hour reading through Penny's Blog. It has left me happy and inspired once again to cook and clean my lovely home, to keep the organisation happening, knowing that when my family returns they will once again be nurtured by the meal and home that I have prepared for them. I really enjoy your website; every hint that we use brings me closer to not having to work outside the home which is something my soul longs for. Once again, thanks for an excellent website, it's really worth the membership cost." (Julie O'Dea)
Here is one of Penny's latest updates:
April 6th - Up for discussion
I am ashamed to admit that in my quest to keep constantly updated on new hints, I am often guilty of neglecting one of the Savings Vault's most interesting resources - the Discussion Forum. I am going to have to write myself a note to check up on it at least several times a week as it is such a fascinating read! This is the place where you can get fast and reliable answers about any Vault hints you may not be sure about or a little wary of trying for the first time. Other members do their best to answer your questions or dilemmas and they are so helpful! It's great to see so many familiar names helping people on a regular basis too - these guys deserve a pat on the back!
For example, in today's visit I enjoyed reading some helpful (not to mention frank!) advice for a woman who was having issues with her daughter's fan heater chewing into the power bill. I found some awesome budgeting tips on cutting costs for a family of four, an informal review of Grass Roots magazine and someone mentioned a great hint about how they saved heaps on making winter sheets from polar fleece instead of buying new flannelette sheets for their children. Perfect timing too, as the chillier weather is definitely on its way in this neck of the woods and Liam helpfully pointed out a blooming great rip in the middle of his well-worn flannelette sheet this morning. So a new sheet was going to be the next item on the shopping list, but now I am going to shop around for some polar fleece instead! Further reading showed the best supermarket buys for the week, a new member looking for advice on planning a first mortgage, and I am definitely going to try the Marshmallow Muesli Slice in the Cooking > Children's Snacks section after reading all the great feedback! The Forum is another brilliant and extensive resource to compliment the Vault, there is always something new to read and I will definitely make more of an effort to visit it often from now on!
The above segment is a shortened version of the full entry. You can read the full version along with the latest updates by going to: www.simplesavings.com.au/pennywise. Penny's Blog is a special treat for Vault members and is updated a couple of times a week.
---
6. Homeopathy Corner: Meningococcal Disease
Once again we are about to enter the peak Meningococcal season. Most of us would do anything to avoid the devastating effects of this disease - and with homeopathy you can! Contrary to popular belief, it is both easy and inexpensive to immunize children against all strains of Meningococcal disease. This month Fran has prepared a very interesting article on this topic, which no one should miss. Fran's article is backed by solid research conducted by the Brazilian government involving 80,000 children in two trials. It is the sort of article that is so mind blowing, once you have read it, you will want to forward it on to your friends.
http://homeopathyplus.com.au/cases/disease1.html
You can also find out more about what homeopathy has got to do with saving money from our previous newsletter at:
---
7. From Last Month: Keeping Creditors Happy
Last month Kate asked:
"How do you get creditors off your back and get back on track without going bankrupt, while still managing to get ahead with day-to-day living expenses, as well as paying off old debts?"
We really appreciate the honesty, sensitivity and encouragement that you all have shown in response to this request. Hopefully Kate and many others will find the following advice useful and feel more positive that there is light at the end of the tunnel.
Make fixed regular repayments
If you are struggling with outstanding debts, keep in mind that creditors will be happy to receive a fixed, regular repayment - even if it is small. Once you fix a repayment figure (don't make it too high or you may not achieve it), the sense of 'burden' over the debt often lifts as well, as you have now addressed it and half the battle is won!
Seek free help from counsellors
If you find yourself struggling with unpaid debts, speak to a financial counsellor (free at Lifeline) about debt agreements. The official agreements (negotiated by the counsellor) are the step before bankruptcy, but they do affect your credit rating for seven years. However some creditors may be willing to negotiate an unofficial agreement, freezing interest if you commit to a certain repayment. A counsellor may be able to help you with that too.
In our situation, the seven year credit rating issue bothered us too much, so we're transferring the balances of our two (maxed out) credit cards to one which will give us an interest rate of 4.9% for the life of that balance. This will reduce our repayments, and make the debt easier to pay off (instead of paying 17% on one card and 12% on the other!). The new credit card is going straight in a large container of water in the freezer, so we can't use it without having really thought about it first!
Getting out of the red
When I was struggling with creditors' debts, I went to the Salvation Army for help. They have a free financial counselling service called Moneycare. Talking to someone not directly involved was really helpful, as all I could see were the debts and I felt I was going round in circles. Don't ignore your creditors, keep them in the loop of your situation and try to come to some arrangement. I arranged with one organisation to pay off debt by one payment a month over a 12 month period.
I also sold some items I no longer used on an auction site - it made me a quick $100 and was a payment for one of the numerous bills. All in all, I am finally coming out of the red into the black!
Consolidate your debts
When facing multiple debts, the best way I have found to deal with them is to consolidate all of the debts into one. Try to find a loan that is lower in interest than your credit, store and personal loan rates. You then can pay off all the debts in one go and have one repayment at a lower interest rate. This will also free up a little extra money for day to day living.
Ask the Court for an instalment order
If you are struggling to pay off creditors' debts, you can ask the Court to allow an instalment order - this basically means that the Court will allow you to pay off the debts bit by bit, and once such an agreement has been made, the creditors should not contact you again. Courts are likely to agree to such a request as it benefits both parties. Remember that bankrupt clients are not what creditors want - they are unlikely to get much of the money owed once you declare bankruptcy. If you feel you are being unfairly harassed by creditors you can also call the ACCC and complain. You will still have to pay the money back, but at least the creditors won't hassle you any more.
Take steps from Oprah's Debt Diet
If you are striving towards financial freedom, I can highly recommend Oprah Winfrey's Debt Diet as mentioned in a Simple Savings newsletter. This can be found on Oprah's website (www.oprah.com). It basically deals with people who are struggling financially or under pressure from creditors. It takes you through simple steps to help you on your way to ridding yourself of debt - especially when dealing with credit cards.
It is important that you at least pay the minimum payment on all credit cards each month, and then use the formula on Oprah's site to determine which credit card you should put that 'little extra' on to pay off first. If you don't think you have any extra - you need to establish what your 'latte factor' is! This Debt Diet has some great hints and ideas on it to send you on your way towards financial freedom; even if you are not on the verge of bankruptcy it is still definitely worth having a look at for some clever day to day money management!
The Savings Vault contains even more of these helpful responses which can be found under Finances > Debt Reduction.
---
8. This Month's Help Request: Green Thumb for Small Spaces
This month Rebecca Aziz asks:
I live in a unit and I want to grow my own fruit and vegetables on my balcony. I don't have a green thumb and I would like help. The vegetables my husband and I eat regularly are parsley, carrots, garlic, red onions, cucumber, tomatoes, capsicum and lettuce. Can you please tell me the best way to grow them and how to look after them? Where do I start? I have purchased parsley from the shops before in little pots but they don't last in my soil - what am I doing wrong? We want vegies and some flowers would be nice too. Any helpful tips would be greatly appreciated!
If you have some ideas to help Rebecca go to: www.simplesavings.com.au/donatehints/
---
9. Savings Story: Lesley Barber Update
Lesley Barber used to live in the rat race. Both she and her husband worked, were up to their eyeballs in debt and pretty miserable. Then she joined Simple Savings. First Lesley got rid of her credit card, then she went on a holiday to Tasmania and found it was so nice she made a commitment to clear all her debts, buy a house and retire there! A perfect example of a 'downshifter', here is the latest instalment of Lesley's story:
27th March 2006 - The Good Life Six Months On
We have now experienced six months of downsized rural life and would not change it for the world. We made more friends in four weeks than we made in the eight years we lived in suburbia!
We were invited to open house at different rural properties on Christmas night, Boxing night and New Year's Eve. All we had to take was a salad dish or dessert plus our drinks as the property owners put on a spit roast of one of their beasts. We visit the local pub (10 km drive each way) every Friday evening for social chats and interaction, where stuffed, baked potatoes cost $5.00 on Fridays and roast of the day, potatoes, steamed vegies and sauces cost $7.50 on Saturday evenings. I have joined a group of farmers' wives and we meet at a different property one day a month for soup, rolls, coffee and a DVD provided by the hostess. The barter system is alive and well, be it with produce or help on the properties. We were pointed towards a bulk produce store where we can purchase 20 kg bags of sugar or bread mix, huge tins of coffee, tinned fruit, and frozen vegetables, fruit and fish. They also sell huge Sara Lee desserts, ice cream, butter, cheese and so on for a fraction of the price in supermarkets. We also found the best farms to buy vegetables and fruit in season and found who sells the best free-range eggs at $2.50 a dozen for large fresh eggs.
We initially had to spend money on a ride-on mower/tractor, brush-cutter, pruning saw and shears, chainsaw and heavy duty garden implements. We became dab hands at flat packs, including two sheds, car port, swinging garden seat, shelves and a pantry with drawers and shelves. We have put the neglected garden and shrubbery to rights and pulled out weeds, blackberry runners, bracken and straggly tree saplings. I have regenerated the garden by exchanging cuttings, dividing bulbs and buying sickly, cheap plants and watching them revive with TLC, or growing heaps from seeds in my home-made shade house. I have purchased more bulbs from the local bulb farm direct, choosing the mixed options instead of named varieties. We have cleared two acres of land that had some lovely big trees of bracken, weeds, blackberries and straggly saplings. We cut down low-growing and dead branches (saving the wood for the wood-burning fire for winter) and mowed under the trees after moving rocks. The two acres now looks like a manicured parkland of wattles, gum trees, pines, boronia, tea tree, dogwood and other bushes and trees I have yet to identify. We have cleared walking tracks through the five acres of mixed woodland and cleared scrub from near areas of the river in order to fish or sit peacefully. We found a lovely tree-fern glade by the river after pushing through thick scrub to make a walking track. My husband and I can now walk/run our dog along walking tracks on our own property in peace, taking over an hour of brisk walking if all the tracks are connected.
The vegetable garden is coming along fine and I keep digging out new areas for more produce. We have been eating our own lettuce, tomatoes, beetroot, celery, silver beet, corn, leeks, runner beans, chives and potatoes since before Christmas. We have put in more seedlings of brussel sprouts, broccoli and cauliflower and the cabbage are hearting up. I have made a herb garden and all seems to be flourishing. We have planted rhubarb roots and blackberry bushes since we arrived and they have taken well. We had a great harvest of strawberries, black currant and gooseberries; some eaten fresh, some baked in pies and others frozen whole or as syrup depending on ripeness. The quiet country lanes have given us a great harvest of plump, ripe blackberries which my mother and granddaughter relished on their trip here two weeks ago. I have been busy making home-made ice cream from my own produce or from the farm shops when the fruit was cheap and too ripe for keeping. The apples are ready for harvesting but the cherry and plum trees did not produce too much fruit as the spring was very wet when the blossom was on and bees tucked in their hives. I have just finished regenerating the strawberry patch (3 m x 4 m) by pulling out older stock, replanting with the strongest runners, weeding and mulching with pea straw. The potato patch has finished producing now so it has been dug over, manured and mulched with straw to see over winter. I have saved a fortune in gym fees by all the work on the property, the trouble is I am eating so well that I have not lost weight although I am much fitter! I bake all my own bread and rolls and am finding lots of new recipes to cook. I do not cut down recipes to suit two as I divide into portions and freeze the remaining portions for days when I am too busy to cook.
We go for scenic drives, barbeques or picnics once a week and take all our own meals and drinks. We have done lots of bush walking around the many parks and walking trails. We purchased an all-park ticket for two years, which saves us heaps. We drive into Launceston every couple of months to have lunch and walk around the parks and bigger shops. It is an easy two hour drive along a great freeway with little traffic to bother us. We do our general grocery shopping in Wynyard or Somerset (25 km) once a week and it is a lovely drive through farming countryside and along the coast. We shop in Burnie, a little further along the coast from Somerset for bigger items such as electrical goods, shoes and clothes. The shopkeepers are always friendly and ready for a chat and advice, no pushy sales people.
Would I go back to my high-paying job, commute to the city by packed trains every day and live in suburbia? Not on your life! This life is too short and I encourage everyone to follow your dream; it may be easier than you think.
Previous installments of Lesley Barber's story: