"Secrets to Saving Money in Australia" Free Newsletter - March 2006
This issue includes:-
Sad Sally & Happy Hanna: Addicted to Debt
Trapped in Debt
Shopping Seasonally
Penny's Blog: One Habit Down
Homeopathy Corner: Epidemic Diseases
From Last Month: Presents for Kids
This Month's Help Request: Keeping Creditors Happy
Savings Stories: Devious Savings and $25,000 Saved in Three Years
---
Hi,
CONGRATULATIONS!! Guess what! We have won the 2005 Netguide "People's Choice Award". You should see the list of finalists! Being in the same list as some of those sites was pretty huge, but winning is astounding! Thank you for your help. We did it together. It's your support that makes Simple Savings great!
P.S. If you want to grab a copy of Netguide, it's in the April 2006 issue, in the shops now.
Reading your emails bring so much joy to the Simple Savings team. We love it when you write in to say 'Thank you'.
"Simple Savings has become a way of life. I don't have to think about saving or spending now - it just comes naturally. In the past five and a half years, we have managed to pay a whopping $150,000 (principal) plus interest off our mortgage and still live happily and comfortably. This is all due to Simple Savings. My husband and I have three young children and our combined income is only average, ranging between $50,000 and $70,000 per year. Readers may think 'I could never do that, I would have to go without too much' or 'that's impossible', but this is not true. We don't go without; in fact we feel we do pretty well! I cannot name just one single thing that has helped us to achieve this and still be happy - it is a multitude of tips and hints, all of which can be found on your site. I have always been a Simple Saver, so for me this was not hard, but my husband found not being able to spend money willy- nilly difficult at first. These days, I am proud to say he thinks before he spends and at times even proudly tells me of his smart purchase or why he didn't purchase!
"I could go on and on giving examples on how to do what we have done, where we saved money and how we used it more wisely, but that would make a book and to be honest all people have to do is log on to your site, it's all there. Focus on your goals, walk hand in hand with Simple Savings and your dreams can come true." (Chris Floyd)
"I just wanted to say thank you. Last week I cut up my credit card - my very last. I used to 'shop around' and get the best credit card deal - cancelling when the low interest period ran out - however I was always 'maxed out'. I realised I can't control my spending when I have a credit card. So it is gone and I am credit card free! I did have a moment of regret two days after cutting it up - I wanted to book tickets to a comedy night and realised I didn't have a credit card. I called the theatre and found they hold tickets for at least two days, so I managed to get the tickets with my own hard earned money! If I had still had a credit card, I would have bought the tickets and paid off a little each month. This way I enjoy a night out and don't have to worry about paying it back later. Thanks so much - Simple Savings makes me think smart about my money." (Angela Percy)
"I am going to join the Vault; as soon as pay day rolls around! I am amazed at the amount of information your site has - and that is just the free stuff! I have even printed out a few pages for my girlfriends, as we are all mums and trying to cut costs here and there.
"Thank you so much for your brilliant website - you are bookmarked in my 'favourites' and I am telling everybody I know about Simple Savings. Thank you for having a site that is informative, practical and useful!" (Lisa Hanrahan)
Have a great month!
Many grins,
Fiona
---
1. Sad Sally & Happy Hanna: Addicted to Debt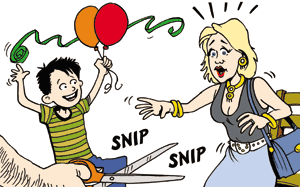 Friday was the big day. Pete and the kids had been scheming all week. Sally noticed something was up as soon as she walked in the door. "What's going on here?" she asked open-mouthed. There were balloons and streamers everywhere. "Have I forgotten somebody's birthday?"
"SURPRISE! We're celebrating!" Pete shouted, as the kids, right on cue turned up their Dad's corny music selection - We are the Champions. "What is all this about? What are we celebrating?" Sally sat down, still bemused. Pete grinned, "Guess what happened this month?" "You got a pay rise!" Sally's eyes lit up hopefully. "Nope! We have paid off the Christmas credit card. The debt is all gone and now it is time to cut the thing up!"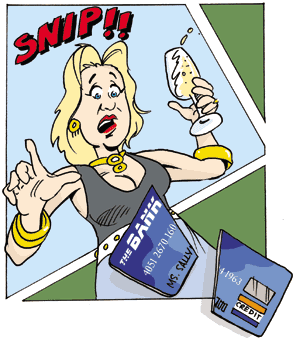 Sally jumped out of her chair. "You can't cut it up! That is illegal. I... I'm sure it's bank property or something," she bumbled, but Pete continued to approach menacingly with the scissors.
"But, but what if I need new clothes?" stammered Sally, panicking now. "What if there's an emergency?" Pete started making 'snip-snip' motions with the scissors. He was enjoying this! "Really Pete - we don't need to cut it up do we? I mean, what's the big deal? I've learned my lesson now, you can trust me. The bank gave it to me. Cutting it up would be rude." Pete smiled sweetly, "Yes Darling, but letting you keep it would be downright dangerous! Sally you can do this, we don't need it anymore."
Sally begrudgingly handed over the card and watched as Pete ceremoniously cut it up. "Congratulations! Well done!" he said triumphantly and handed her a glass of champagne. Sally forced a smile but she was not impressed. She loved the freedom her card had given her - now what was she going to do?
The next morning Sally recounted her tale of horror to Hanna, who couldn't help grinning while pretending to sympathise. "Yes, I bet you're loving this aren't you?" grumbled Sally. "You're as bad as Pete. He even used the kids to gang up on me." She looked across at Hanna accusingly. "You don't understand. I need that card. I can't live without it." Sally's face suddenly broke into a huge smile as she hit upon an idea. "I know! I'm going to call the company and tell them I lost my card - they will send me a new one and this time Pete will never find out!"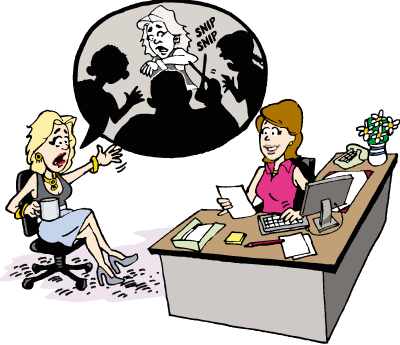 ---
2. Trapped in Debt
Sally's family is not the only one with 'money issues'. This month Oprah started her 'Debt Diet' segment and it is fantastic!! Please check it out on her website (www.oprah.com). I was very impressed. She is following three Sad Sally families and sending in professionals to help them out of their dire situations.
These poor families are finding out the only way to turn their fortunes around is to find ways to spend less money. *cheeky grin* If only they had Vault memberships. I'm sure you guys could teach them a thing or two!
---
3. Shopping Seasonally
People always rave about the January sales, the post Christmas and the July toy sales, but if you head for the specials when there are big flocks of people, you are not going to get a good deal. The real sales happen when the shops REALLY need to get rid of stock and not just the pretend catalogue stuff. Now is the best time of year to pick up a bargain! This is when they genuinely discount summer stock to prepare for the new season. Go into Kmart and look at their $3.00 rack to find the true bargains.
Savvy members such as the ones below explain how it's done:
Spotting last year's stock
When buying clothes, socks or even shoes at Kmart, you can identify those items that are from last season and thus work out which items will be cheaper. Check for the season on the top corner of the kimble tag. If it says '05s', that means that the item is from last summer's stock; if you scan the item, it might cost only $1.00 or even less. I bought a pair of women's joggers for $0.20c and men's joggers for $3.20. Always scan the items to see if they have been priced with a price gun, as most of the time they will scan at a cheaper price.
Ring your op shop for next sale date
Second hand store 'Savers' have a 50% sale every three to four months. I ring and find out the date, then purchase my son's next season clothing at a fraction of the price. Why not check if your local second hand or op shop stores do the same thing. It is well worth the phone call for even better savings!
Saved $250 on kids' clothes
If you have the storage room, the best time to buy clothes for your kids is during the clearance sales in the opposite season.(eg: buy summer clothes in winter, winter clothes in summer)
I have done this for the past two years and have saved a fortune. Buy them one or two sizes bigger than your child is currently wearing so they will get good wear out of them. I have just spent $50 at my local Big W store buying several outfits for each of my three kids for this coming summer. I have two girls and one boy.
Had I bought them all at full price it would have cost me $267 - a massive saving of $217. At full price I could have only bought them one outfit each.
With my $50 I was able to buy them all a pair of bathers, a sunhat, four dresses, seven t-shirts, five pairs of shorts, one pair of pyjamas and two nighties. Each item was $5.00 or under. The biggest saving was on one of the dresses - original price $32.95 - I paid $5.00!
I also spent $10 on an outfit for myself which would have cost $43 had I bought it at full price. I intend to put the savings I have made by shopping this way towards Christmas and other summer expenses (school holidays) and of course the winter clothes shop that I will do in summer.
Save thousands by being organised
I have saved thousands of dollars on clothes for my family over the last decade. No matter how big your family, you can do the same; the key is to keep their wardrobes organised.
Go through your family's wardrobes at the end of each season. Decide which items you'll store, pass along or sell (on auction sites or consignment shops, for example). Keep your notebook handy and write down what each person will require for that season next year and also anything required for the coming season. Buy the appropriate size at the end of season sales and start hunting down bargains for the coming season if you don't have everything they need.
I often find kids' clothes on the auction sites that are brand name current fashions in great condition, for a fraction of what I'd pay at the local children's boutique. These clothes last through many washes and still get passed along to younger siblings. Buying a few quality items can often save money over buying a bunch of chain-store 'bargains'.
Many people comment on how lovely my children look - all six of them. There would be no way we could afford to pay full retail price on kitting them out each year, and we wouldn't want to. By taking care of their clothes (washing gently, mending faults, and removing stains) and accepting hand-me-downs over the years, the money we have saved runs into the many thousands.
When is the best time to shop in your area?
One way to get great deals is by spotting 'mark-down' patterns. In some supermarkets it is at 11pm, for others it can be Sunday afternoons. It varies from store to store and state to state. Have you worked out the best time to buy in your area? Please tell us at: www.simplesavings.com.au/donatehints/
---
4. Penny's Blog: One Habit down
March 2, 2006
What a blast it was turning my Habit Changer calendar over to March yesterday! You see, I've cracked it - I'm a tee-totaller! Woohoo! I can't tell you how good it feels to have finally blitzed the booze from my budget, not to mention my body of course. I'll not pretend it was easy, I actually found it harder than giving up smoking, but I've blooming well done it. I've got a nice bottle of grape juice to take to Book Club tonight!
So, it's time to find a new habit to change and write on my calendar. Unfortunately due to my dodgy leg and lack of exercise (OK, and an abnormal consumption of cheese); I've put on a few kilos in the last few months. Everyone thinks I'm back running again because I'm always in my sports gear, little do they know that I am only wearing my bike shorts because they have an elasticised waist. I almost died a few weeks ago when I went to do up my denim shorts and I caught my stomach in the zip! Apart from being rather painful, it doesn't do one's self esteem any good. The scales say I've put on four kilos since November and all four of them appear to have gathered in the same place. I read in Woman's Day a couple of weeks ago that if you manage to give up alcohol for long periods of time, you will definitely lose weight, so I'm clinging to that hope. It's not easy to diet when you don't eat meat either. I must be the only overweight vegetarian I know!
At least my beloved worm farm likes the huge amount of vege scraps I send their way. I was really chuffed the other day when I peered into the barrel and found baby worms. I'm a worm granny! Mind you, pretty soon I'm going to look like one too - I found my first grey hair last week. I was appalled! I mean, Noel's been grey since he was 21, which he says is due to the stress of living with me, but I was quite proud of the fact I was the last of my friends to get any. Imagine my shock to see this long shiny grey hair defiantly sticking out of my head - zing! Look at me! It's all downhill from here matey! So what do I do now? Am I going to do an Andie MacDowell and spend the rest of my life spending money on dyeing those pesky greys 'because I'm worth it?' or am I going to attempt to carry them gracefully? I think I'll wait until I get a few more before I decide.
My new household budget is going well. I had $33 left to put into savings after the first week. This week looks as though it's set to be even better. Rochelle was watching me use my Spendtracker yesterday as I punched in my expenses and I have to admit it really makes me think before I spend anything. I mean, imagine how much a decent bottle of wine would take out of my weekly savings now? I wouldn't dream of it! My weekly Woman's Day soon got biffed off the shopping list too. I can't wait to see how much of a difference these changes make to our finances long term! I love being at home these days. I really feel for the first time that I am actually managing our household competently. We're all eating well and I am more organised than I have ever been. The boys started back at school a month ago and the old snack box full of Flippa Dippa's, Le Snacks and Darth Vader muesli bars has not been touched - it just goes to show how much they really like or need them when offered alternatives. The biggest buzz was this morning though, when packing the boys' school lunches. Next week is their school's 125th Jubilee and Liam's class all had to go to school this morning dressed in character as a child from 1881. Strict instructions were sent home about what they were to wear and bring and one rule in particular was about school lunches. No chips or packaged foods of any kind was allowed; only fresh fruit and home-made foods were allowed to make it into their school bags. 'Big deal, eh Mum?' said Liam. 'We don't have to change a thing!'
Penny's Blog is a special treat for Vault members and is updated a couple of times a week. It is so much fun, we are making at least one full entry a month available to everyone. You can read it by going to: www.simplesavings.com.au/pennywise
---
5. Homeopathy Corner: Epidemic Diseases
One area where Fran has really helped our family is when there is a bug going around. Last year Miss Jacqueline caught 'Foot and Mouth', (mild in humans but still pretty yucky) and she was deteriorating rapidly. I couldn't figure out what was wrong with her until the blisters started appearing on her lips and hands. I called Fran and we chose a remedy together. Within five minutes she settled down and within twenty minutes the blisters started disappearing - I was floored! If I hadn't seen it with my own eyes I would not have believed it.
'Foot and mouth' isn't the only disease homeopathy can help. This month, Fran explains how homeopathy effectively treated different types of flu and a very severe case of chicken pox. A truly fascinating read.
To read Fran's article, go to: www.homeopathyplus.com.au/cases/epidemic.html
After last month's homeopathy article, we received some fantastic responses from other people who have had similar experiences to us.
"I was saddened to read of the criticism you received regarding homeopathy and immunisation in your last newsletter. I have read extensively on children's health and treatments since our eldest son was born 13 years ago. This came about after some experiences which caused great concern, right from when he was born. One thing I have learnt over the years is that it takes a lot of courage to look 'outside the box', and that it is frowned upon to question 'mainstream' medical treatments. Our eldest has only ever had one course of antibiotics and our youngest (9) hasn't had any. The research/reading I have done would indicate that parents should be fully aware of the pros and cons of all medical treatment given to their children, whatever the form it takes, rather than accepting that it is all 100% safe. I am so glad my husband and I have followed the path we have regarding our children's health. They are healthy, happy and our bank balance is not being drained from medical expenses. Thank you for encouraging people to 'look outside the box', to think, and above all to save while at the same time helping to maintain optimum health in their children. Keep up the great work!" (Wendy Robinson)
"We have found using homeopathic medicine to be a very cost effective way to save money. I attended a day-long homeopathy First Aid course and bought a First Aid kit for $150. Since then, I have been able to treat my whole family with simple remedies for coughs, colds, cuts, tummy bugs, teething, hangovers, constipation, headaches, measles and chicken pox (yes, my children have been vaccinated). With the gap fee from our GP being $28 we have more than covered the cost of the homeopathy course and kit. I can't remember the last time I purchased any medicine at a chemist!" (Rochelle Bax)
"We vaccinated our first two children (I was a nurse after all!) and they had a multitude of problems from the first vaccination onwards. Numerous ear infections, tonsillitis, colds and allergies - and this was with a no rubbish, super healthy diet! We couldn't figure out where we were going wrong until we visited a homeopath in Buderim, Margaret Summerville, for help with Holly's allergies. She told us that both the children had vaccinosis and these illnesses were all related to vaccine damage. With just two homeopathic treatments, both the children were so much better and have continued to maintain good health into their twenties.
"Seventeen years after Holly was born, we were delighted to learn that we were to have a third child (despite being told we'd never have any more - miracles continue to happen!) and Dominic was born. By this time, Ian (my husband) was a nurse and flatly refused to allow Dom to be vaccinated. I was very nervous and worried that we weren't taking good care of our precious gift, but after conducting personal research and speaking to parents (one being a close friend) of vaccine damaged children, I came to the conclusion that not vaccinating was the way for us to go. Apart from a period of time when we first moved to Sydney and Dom seemed to get everything under the sun, he is happy and healthy and is reviewed a couple of times a year by our homeopath, Michelle Hookham from Health Equilibrium at Galston.
"To vaccinate or not is very much a personal choice. Our GP, when told we wouldn't be vaccinating our boy, said: 'I think every parent who refuses to vaccinate their child should be heavily fined'. He then followed up with: 'Having said that though, vaccination will only cover a child for 10%, the other 90% relies on excellent nutrition and good personal hygiene'. Hmmmm - straight from the horse's mouth!
"Regarding whooping cough - I have seen children with whooping cough in the kids' ward of the large regional hospital where I worked and I thought they would burst their little lungs. They had all been vaccinated. In contrast, the ones with milder whooping cough that stayed only a day or two had never been vaccinated. Food for thought! More information is available on the Australian Vaccination Network website." (Sandy Gunder)
Why Homeopathy? If you are wondering what articles on homeopathy are doing in a newsletter about saving money, go to: Why Homeopathy from February's newsletter.
---
6. From Last Month: Presents for Kids
Last month Melissa Ryan asked:
"Most of my friends and family have young kids and a lot of them live interstate. I would like to acknowledge their birthday but a card just isn't going to cut it with a two year old! With birthdays almost every week it gets expensive to buy and post presents. Does anyone have any suggestions about birthday gifts for babies or young children that will be easy to post, enjoyed and not too expensive?"
Wow! This Help Request has just about prompted the biggest response ever. Thank you! Here are our favourites:
Coin cards
Novelty birthday cards make sending the gift of money even more special! I simply make a birthday card or picture on a piece of A4 card and incorporate coins into it.
For example, one nephew received an underwater theme card with a fish made out of five cent pieces, a couple of rocks on the ocean floor made out of $1.00 and $2.00 coins with seaweed painted around them and so on. Use whatever craft items you have around the house, such as paint, glitter and other scraps to make it interesting.
Children's eyes always light up when they see 'all' this money (and it doesn't have to be much for young ones) and it doesn't cost much to post either!
Imagination is everything
Young children really do not need expensive presents. They love to use their imagination. One prime example is a memorable Christmas with my two daughters when they were small. They got everything from Barbie limos to water guns and opened a total of 27 presents each! But the one present they opened that they still play with many years later was a pack of three cute rainbow coloured plastic horses from the $2.00 shop! It is not the cost that counts, but what a child can do with the present.
Simple and easy to post
I have given many simple and fun gifts over the years that are easy and cheap to post, such as the ideas below:
$5.00 disposable camera (and money for processing).
$2.00 craft kits (felt pieces and plastic needle) bought from discount shops.
Large key rings to use as zip pulls or bag tags.
Anything with their name or initial on it.
Action Man /Barbie copies of clothes and accessories, or buy the licensed products from markets, garage sales, bargain stores - even op shops.
Add a piece to a collection they have, such as an addition to a train set, miniatures and so on.
Rolls of sticky tape are always popular.
Recipe for playdough and some plastic cutters and rollers.
Blow up pool toys.
Doll size furniture
A nationwide store gift voucher, so they can do their own shopping.
DVD's, read along CD's, CD Roms.
Toy binoculars.
Bug catchers.
Melamine dinnerware featuring popular characters.
'Big money' for littlies
Use the opportunity of gift giving to teach children about money. Place some money in their card, with a note saying 'for your bank account'. It does not have to be 'big money' either - most littlies would rather coins than notes, they think it is worth more! This gift can cost as little or as much as you like, is cheap to post and is a great way for them to learn.
Send a puzzle from a photo
Make a personalised photo jigsaw puzzle for a low cost gift which is easy to post. Print a photograph of your family and/or children and laminate it. Next, trace large puzzle piece shapes on the back and cut out. You now have an exciting, personal and precious gift for little ones' exploring hands and minds!
These hints and many more can be found in the Vault under the Gifts -< Kids and Toddlers category. Vault members can click on the links below to go straight there!
---
7. This Month's Help Request: Keeping Creditors Happy
This month Kate asks:
"How do you get creditors off your back and get back on track without going bankrupt, while still managing to get ahead with day-to-day living expenses, as well as paying off old debts?"
If you can help Kate, go to: www.simplesavings.com.au/donatehints
---
8. SAVINGS STORIES: Devious Savings and $25,000 saved in three years
Devious Savings
Changing circumstances and a growing family all added up to us paying a whole lot less off our mortgage than we would have liked. Pretty soon we would have started to go backwards. It was crunch time!
Using the Simple Savings calendar I identified our most expensive habits, and was astounded to see the amount of money that could have been saved. Our grocery bill was always around $200 or more per week. This amount did not include meat or bread that we get from the butchers and bakery. The trouble was, my husband loved all the expensive name brands for items such as chocolate biscuits, lollies and savoury snacks and was convinced that the cheaper or no name products would be tasteless and boring. Week after week I would just automatically reach for these items, without even glancing at the alternatives. I knew as soon as my husband saw the packaging, the goods would remain in the pantry unopened, and he would then go and buy the brand name items anyway.
One week I kept mentioning to him that I was going to do a big clean up of the pantry and I was finally going to utilise all those assorted Tupperware containers that I had never used. That week I substituted his expensive brand of snack foods with cheaper versions, emptied them into the assorted airtight containers and threw the plain packaging out before he could see them!
I also applied this technique to several other items; I would fill cheaper dishwashing liquid into Morning Fresh bottles, no-name hand wash into saved Palmolive dispensers, you get the picture. Our grocery bill went down from $200 to $140 per week - a saving of $240 a month!
When I finally fessed up to what I had been doing, my husband admitted that most of the snacks were just as good as the name brands, you just have to try a few out. All it took was a creative (OK, and somewhat deceitful) way to present the changes, but we have never looked back. Why would we, with a saving of $3,120 a year? Plus of course, one very neat pantry!
$25,000 Saved in Three Years
I was renting for nearly three years on a medium salary and really just living day by day. I decided that I wanted to get out of the renting cycle, so I thought I would become educated financially. I started reading the 'Rich Dad, Poor Dad' by Robert Kiyosaki series of books and immediately I saw there was no way out unless I changed my psychological views dramatically and acted on them.
I started a savings plan by setting up three bank accounts; one for EFT (daily spending which gave me a small amount of easily accessed money), one for bills (which I used to pay credit cards and so on) and one for long term savings (through ING) which was only to be touched for large goal purchases.
I requested my employer split my pay 30% in the EFT and 70% in the Bills accounts. Once the 30% ran out, I just sacrificed a bit more and went without the usual luxuries until the next pay. I soon found that I would spread the money out for longer until I hardly ever ran out. At the end of each month (or whenever the deadly credit cards had been paid), whatever balance was left in the Bills account was transferred to ING.
I am happy to say that after three years, I have managed to save nearly $25,000 for a deposit for my new home, whilst accumulating 5.25% interest!