"Secrets to Saving Money in Australia" Free Newsletter - March 2007
This issue includes:-
Sad Sally, Happy Hanna: Set to Impress?
New Printables Added to the Vault
Sophie Gray: How Sweet It Is
Almost Free Entertainment Tips
Penny's Blog: Beyond the Call of Duty
Homeopathy Corner: Tutorial No. 8
From Last Month: Painting House Interior
This Month's Help Request: Subdividing, Party Food and Mosquitos!
Savings Story: Nothing Silly About Carwash Savings!
---
Hi,
How are you doing? I hope you have had a great month. This month we have exciting news. I'm 18 weeks pregnant! Yep - up the duff with Number Three! The kids are really excited and ever since I told them the baby is big enough to be able to hear them, they have started chatting to my belly. Very cute! All is well so far - I am just sleeping a lot, so not much work is getting done. Luckily, all the SS staff are doing brilliantly while I pass out in the corner!
New Zealand Launch - Special Price!
Our other brilliant news is that Simple Savings has arrived in NZ! So if you haven't already, please spread the word to any Kiwis you know and tell them about www.simplesavings.co.nz. To celebrate the New Zealand launch, we are having a special. Vault memberships will be $37 until April 4th. Click here to order.
Thank you for all your fantastic letters this month. I get such a buzz from reading them and I'm sure our new members will be inspired by them too!
"I just wanted to thank you for such a wonderful site. I have just returned from an overseas trip to the UK, which would not have been possible without your hints on saving money! Thanks to you I was able to save enough in six months to attend the wedding of my friend on a wonderful five week holiday! You are all superstars! Keep up the good work. It must be great to know what a difference you make to people's lives." (Bek Rover)
"Thank you for providing an excellent page and great ideas. It gave me the tools to save money and budget practically, not only to pay bills but have savings as well. Again, thank you!" (Charles Bann)
"We changed Internet providers three months ago (to get a better deal!) when I suddenly realised that I hadn't been getting my SS newsletter! I'd forgotten to change my details! This morning I changed them and have spent the last half hour going over everything I'd missed - and I do mean MISSED! Thank you Simple Savings - you've given me fresh inspiration to get motivated and back on track with what's important; creating opportunities for my family and not letting our money get swallowed up with the 'junk' in life!" (Jodie Fishwick)
"Just a note to say how much I enjoy using your Simple Savings website. I am forever referring to it for handy hints and savings. It is such an invaluable tool. Thanks once again for the great job." (Marie Halliday)
"I would like to say thanks for your site and Simple Savings ideas, they are great. I just need to find more time to read them but what I have read and put into practice, they have been great - particularly the budget sheets. We had no budget at all and this has helped us to get more organised, although we still have a way to go! Anyway thanks, you're doing a great job." (Michelle Freeman)
We love pictures!
We couldn't resist sharing with you one of the photos that accompanied this hint from Nicole Morgan!
Home-made cake boards for home-made cakes
Instead of paying $15 or more on commercial cake boards to display my home-made cakes, I have found a much cheaper solution, which looks even better! I use artist's canvases; the 3-5mm board-backed kind available from discount variety stores, newsagents, art supply shops and major variety retailers. I can purchase these for as little as $2.00 or $3.00 on special and these make very effective cake boards. To cover the board, I simply use a roll of brightly coloured plastic tablecloth (available at most party supply discounters) taped underneath. Using these cake boards adds up to a saving of as much as $60 per year for our family!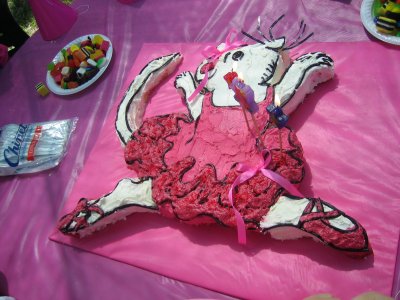 Wow! Talk about a fantastic home-made cake. Spectacular!
Many grins,
Fiona
---
1. Sad Sally, Happy Hanna: Set to Impress?
"Whoa, what have you been up to?" Pete asked, stunned. "I didn't realise we were decorating!" Sally had been very busy covering every spare inch of the house with Memory Trigger stickers. If she was honest, she still didn't really see the point of them but Hanna seemed to think they were pretty important and most of all, she wanted Pete to see what a wonderful job she was doing in her efforts to save money. "Tut - we're not! They're just Memory Triggers. I use them all the time," Sally said casually. "They're great at helping me remember to save money, you know."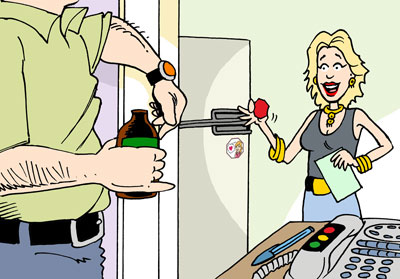 "Is that right?" Pete smiled, looking around. "I can imagine! How could anyone forget with this lot around? Are you sure you're supposed to use THIS many though?" "Absolutely! They're all very important," Sally explained knowingly. "They are? You had better show me how they work then - after all, I live here too! Come on - let's have a guided tour." Sally gulped - this wasn't supposed to happen! She didn't have a clue what she was supposed to do with the blasted things; she had only stuck them up to impress Pete. She had to think fast.
"OK, let's start at the beginning," Pete put an arm around Sally and guided her to the kitchen. "Why is this one stuck to the light switch?" "Because - er - because everyone sees it there," Sally struggled for a suitable answer, "and because it reminds us to turn the lights off and not waste power." "I see - good idea!" nodded Pete. Phew! Sally breathed a sigh of relief; that was close! "What's this one doing on the vase though?" Pete looked over at the flowers Hanna had brought over the day before to cheer up her friend. "Ah, yes - well that's to remind me not to buy any more expensive flowers," Sally said earnestly. "I'll just pick some from the garden instead." Wow, she was getting good at this!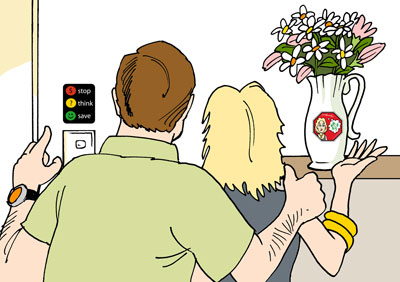 Pete was looking impressed too. "I see - so you really can use these memory thingies for everything! Let me see - aha, there's one on the fridge to remind us not to waste food, one on the phone to stop us making unnecessary calls - even one on the TV to remind the kids to turn it off and save power!" he laughed. Sally looked around in amazement as the penny dropped. He was right! She had never even thought of any of these ideas, she had only put the stickers up for show but now she was finally beginning to see how they worked. "Well done, Sal, I do believe I've underestimated you," Pete admitted, giving his wife a kiss. "I'll do my best to remember your memory triggers too. If we follow them together, we can save twice as much!" Sally's smile was huge. Together - that was a word Pete hadn't used in a very long time.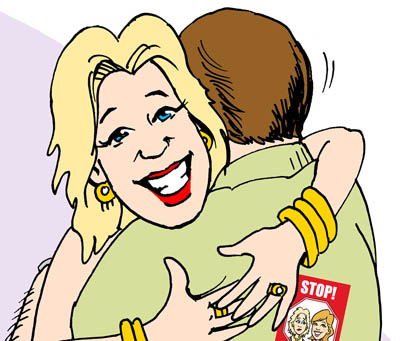 ---
2. New Printables Added To the Vault
Sally has discovered that her Memory Triggers have more than one use. Not only are they good for keeping up appearances, they also help her to save money and encourage her family to join in the fun. The Memory Triggers are a simple way of keeping your resolve and remembering the exact ways you were planning on saving money. To help you get started, we have now added a range of Printable Memory Triggers to the Vault. You can choose full colour or black & white. Print them out and use some contact or blue tac to stick them in place.
Remember, these are a special treat for Vault members. You will need to login to access them.
We have also added some fabulous looking menu planners and shopping lists to help you organise your pantry and keep those food bills nice and low!
We are going to be adding quite a few printable treats to the Vault in the next couple of months, so now is the time to tell us what you want. Would you like more menu planners, food lists, posters or anything else? Please send an email and we will get to work on them!
---
3. Sophie Gray: How Sweet It Is
As a little girl I loved the stories of pioneer life made famous by Laura Ingalls Wilder. I was inspired by Pioneer resourcefulness; money was always tight and the purchase of a single piece of store bought candy was an occasion worth recording. They made do with what they had, delighted in simple pleasures and with family life at the centre, raised kids who grew up with an appreciation for life and respect for others.
Now I am no Pioneer girl - I love hot water on tap, French manicures and computers. I make the most of my freezer, dishwasher and washing machine and my new Westinghouse oven would make Ma Ingles swoon! I am a real child of my time. But I do have one thing in common with those Pioneer women. In our home, family is the centre from which all our choices radiate.
I have learnt that kids don't remember much of what we say, but they do remember how we make them feel. With this in mind celebrations and festivals like Christmas and Easter are a big deal. On Easter Sunday we do an egg hunt around the house with awful rhyming clues - they truly are bad. I should know, I write them! But the kids love it, (yup, even the 14 yr old). I buy inexpensive hollow chocolate eggs, split them open, put a treat inside and seal them up, icing each child's name on the top. We'll read the story of the resurrection and give thanks for new beginnings. We eat home-made Hot Cross Buns and make decorated eggs for an egg-rolling race.
None of these things are expensive, but all are precious. So if you want to spend less on tacky store bought treats, try some of these traditional Easter ideas. The memories are priceless.
Extra Special Easter Eggs
Personalise hollow chocolate eggs by placing a gift inside and decorating the egg with the recipient's name.
You will need:
Hollow chocolate Easter egg
100g dark chocolate melts - melted according to packet instructions
Serrated knife
Cup of boiling water
Icing for piping, made with icing sugar and half an egg white,
Gift for inside - a small toy, sweets, a note, diamond earrings, tickets for two to Paris... whatever you choose!
Method:
Remove the foil from the egg and mould it to form a little nest; this is to support the egg while you work on it, or the heat from your hands will melt the chocolate.
Heat the knife blade in the hot water, then repeatedly run the hot knife around the seam of the egg until the halves separate.
Place the small gift in one half and use the chocolate melts to reseal the two halves.
When sealed, whisk icing sugar together with half an egg white in a small bowl until you have a thick white icing that holds a peak. Use a piping bag or plastic bag to pipe decorations on the egg.
I usually do very simple daisy shapes around the seam and press a Smartie or M&M into the middle of each. Wiggly lines, swirls, butterflies etc are all pretty easy.
Pipe the child's name onto the top and set aside to harden.
Cook's Tip: If using carob eggs be very careful, as carob L in particular is very brittle. (Note: Carob L is a variety of carob suitable for diabetics)
Dairy free version:
Use dairy free chocolate eggs if you can get them, otherwise buy a tablet of dairy free chocolate (I use Kinnerton). Melt it gently in a bowl set over a saucepan of simmering water. Make two forms from play dough that resembles two halves of an egg. Wrap the forms in Glad Wrap, place on a plate and chill thoroughly. When the dough forms are cold, drizzle over the melted chocolate (use a piping bag if you prefer, but a lacy irregular finish is fine).
Place into the fridge to set. When set, gently ease the chocolate halves off the moulds. Carefully line the halves with tissue or cellophane and place a treat in the middle. Place the other half over the top and gently tie a ribbon around the halves to secure.
Decorated Eggs
These are so pretty and fun to make. If you want to eat the eggs, then hard boil them first; if you want to keep them as a decoration then blow them.
White eggs
Food colouring
Selection of decorations; wax crayons, stick-on letters, adhesive diamante body ornaments, adhesive tattoos and so on.
To blow eggs:
Use an embroidery needle to make holes in each end of the egg; make one hole larger than the other. Poke the needle up inside the egg and twirl it around to ensure that the yolk is broken. Now hold the egg over a bowl and with lips forming a seal around the end of the egg with the smaller hole, blow hard; forcing the contents out of the larger hole at the other end.
When the egg is empty, rinse it thoroughly under running water and make scrambled eggs for lunch while the shells dry.
To dye the eggs:
Add food colouring to a glass of hot water and add a drop of vinegar to the water; this cuts through any greasy residue on the egg shell and helps the colour to adhere. The stronger the concentration of dye, the darker the resulting hue will be. For very delicate colours dip very briefly in the dye, or go from one colour to another for different effects - we use a teaspoon to lower the eggs in and fish them out.
Special effects: Form words or names out of stick on letters before dying the egg. Once the shell is the desired shade, remove from dye and dry and then peel off the letters to reveal the words.
Wax crayons: One of the easiest ways to decorate eggs is with wax crayons; draw on a pattern using a variety of colours then drop the egg into the dye. The dye will not adhere to the crayon so the pattern stands out in relief.
Give the eggs a little polish with oil to give them a sheen.
Egg rolling:
All the family members decorate an egg then roll the eggs down a hill and see whose comes first. That person is the first to open a chocolate egg and so on.
Hot Cross Buns (way better than bought ones!)
Makes 24 plump, shiny, beautiful Hot Cross Buns and the house will smell fantastic!
2 cups warm water
1/4 cup condensed milk
2 tbsp dried yeast granules
5 cups plain flour
3 tsp mixed spice
3 tsp cinnamon
1/2 tsp of salt
1 cup currants or raisins, or a mixture
1/2 cup mixed peel
50g softened butter
2 eggs
Blend the water and condensed milk together and stir or sprinkle on the yeast, set it aside for about 10 minutes, the warm sweet liquid will gently bring the yeast to life, when it is frothy looking it is ready to use. Sift dry ingredients into a large bowl, mix in the dried fruit and peel, then make a hole in the centre. Pour in the yeast mixture along with the softened butter and eggs. Stir until combined then turn out onto a floured bench and knead it lightly. This is a moist dough, so add extra flour as you knead until the dough is smooth. Put it in a greased bowl and cover with greased cling film (I spray the inside of a supermarket bag with cooking spray and then pop the bowl in). Leave in a warm place till dough doubles in size, this should take around 40 minutes. Punch the dough then give it a quick knead. Divide into 24 portions and roll into balls. Place on a greased oven tray and cover with the greased plastic from before. Leave them for around half an hour or until doubled in size.
To make the crosses
1/2 cup plain flour
1/2 tsp baking powder
1 tbsp butter
About 3-5 tablespoons of water
Blend the ingredients together; the mixture needs to be soft enough to be piped. If you haven't got a piping bag, put the mixture into a plastic bag, squeeze it down to one corner then snip a tiny bit off the corner of the bag so you can squeeze the mix through the hole, making crosses on the top of each bun. Make up more if you need it.
Bake at 200 degrees Celsius for 15 minutes, then brush with sugar glaze and return to the oven for a further 5 minutes or until they look cooked.
Sugar Glaze: 2 tbsp sugar dissolved in 1/4 cup warm water.
Cook's Tip: Make sure you buy dried yeast, not a bread maker starter (they are different). Once opened keep the yeast in the fridge and use it for other breads, pizza bases and rolls.
FANTASTIC NEWS! Sophie has a new book coming out in April called Enjoy. I can't wait. We will be able to give you more details in next month's newsletter.
---
4. Almost Free Entertainment Ideas
Whoever said "the best things in life are free" must have been a Simple Saver! Often the most enjoyable and memorable outings are ones which don't cost a cent. No matter where you live, there are some amazing freebies on your back doorstep, just waiting to be discovered! Look around, ask around. With a bit of imagination you can enjoy all kinds of entertainment and all you need to spend is your time!
Free entertainment for the family
Here are some ideas for entertaining your family that won't cost you anything (or next to nothing) or will help you save time.
1. Go and look at new display homes (my partner loves doing this as he likes nice homes and it costs us nothing).
2. Do a spring clean (it takes ages but then I sell the items on eBay). It also helps me realise that I don't need any more tops!
3. Take the dog for a walk! It saves on gym fees, future health bills and weight loss programs. Kids love it too!
4. Ask your neighbours if you can have a swim in their pool when they are on their summer holidays. (I don't want to buy a pool when I know that I only want it for a few weeks - and I save $10,000 plus by knocking on their door.)
5. Look at the Simple Savings website and realise how much more money you can save! Takes ages for me to go through the hints!
Adult education and entertainment
There is some great free entertainment available for the elderly, thanks to the many craft people who are always happy to donate their time. For example, I am always happy to demonstrate silk ribbon embroidery, card making and crochet and there are many others out there who love to share their interests. Your Adult Education department or nearest art school could help with this and give you details of willing contacts.
Do the playground crawl
Our kids enjoy hours of free entertainment in our area by doing a 'playground crawl'. We take snacks and drinks and spend a good half an hour each at around four different playgrounds in our city. We play and chat together and take a break for snacks and drinks. They love it and it's free!
Things to do instead of spending money
Next time you are tempted to go out and spend money just because you are bored, write a long list of possible free entertainment things you could do instead, as well as things which need to be done that you may often forget. Include some free things that you could do with friends instead of going out for coffee together.
Stick the list to your fridge, or in a place where it is easily seen and when you start getting itchy feet, look at the list and choose something to do instead of spending money. This also has the added bonus from keeping us from eating out of boredom, which not only saves us money but also helps us to keep trim!
Free fun-filled weekends
My 10 year old daughter and I spend fantastic fun-filled weekends together every fortnight and it never costs us a cent! We do things all day that are free and get us out of the house and away from the television and housework. We spend three hours every Saturday morning at our local library reading books to each other and interacting with other children. We play chess on the huge chessboard donated by the community, there is a GameCube (one hour maximum play), then we go on the children's Internet (an hour maximum). We also hire DVDs and videos for free for a week as well.
Then we go to the local Bunnings Store and do the free craft activities from 12.00 - 1.00pm and she always makes something special and memorable. They also do free kids' face painting. We then attend a local community club (similar to an RSL club) where they have a free family movie, free tea, coffee and hot chocolate every Saturday afternoon from 1.30 until 3.00pm. We take our own food and I keep it cool in an Esky in the car. In the evening we watch our free DVDs we hired from the library. We have a great day together and I haven't even opened up my purse. It is amazing what a wonderful range of free entertainment is available in your community if you just take the time to look!
'Freebie hunt' makes outings fun
We were pleasantly surprised to find that it IS still possible to enjoy a fun-filled family day out for as little as $20! When we recently took our two children to the local regatta, we agreed we would take no more than $20 with us to spend, even though we thought taking such a small amount to last the day was a bit of a joke. On arrival, we told the kids that we would look at all the rides and stalls first and then whatever they decided to do after that was fine with us. They chose to go on a ride that cost all of us $5 each, which used up all our money at once but it was their choice and was a lot of fun. After the ride had finished, the inevitable pleas for more rides started but we reminded the kids that all our money had now gone. 'So now is the time to see how much we can try and get for free!' I suggested. The kids weren't convinced to start with but couldn't believe it when around the very next corner we found a man handing out free gift bags and helium filled balloons. They were pretty impressed with that but to top it all off we also managed to see a puppet show, wood chopping and boat show, all for free!
Drive yourself wine sampling tour
We treat ourselves without blowing the budget by going on a winery tour (we drive ourselves so that we don't have to pay for the tour - but the driver does not swallow all the samples, so they are not over the limit). We get to sample the wines and we purchase the wines that we like. This works for us as we know that we like the wine we have bought, so we are not wasting money. We have a great day out sampling and enjoy taking our new bottle when we go out to a BYO restaurant.
Treasure box of ideas for cheap activities
Last year my boys and I thought up as many free or inexpensive activities that we loved doing and places that we liked to visit. I recorded them all on little slips of paper and put them in a small 'treasure box'. Every week/fortnight/month (depending on how many you think up) we take turns to draw one out and that is what we do or where we go. Lots of fun and very inexpensive entertainment!
Volunteer and experience events for free
Volunteering to help out at large events means I get to soak up the atmosphere for free! I love huge music festivals, but I don't love the huge prices to attend them, as many of them are now over $60 a time. So, this summer, instead of paying $175 for a three-day camping music festival, I am volunteering my time in two six-hour shifts at the festival. The work is fun, it will cost me nothing to attend the festival and I will save heaps more as I get free meals for each shift, free staff accommodation and even a free 'after event' party!
---
5. Penny's Blog: Beyond the Call of Duty
Mar 20, 2007
Eugh, it's bill paying day today, I'm not looking forward to it. Thank goodness for online banking - at least now it only takes a couple of minutes to pay a month's worth of bills and file them in the Bill Payment System; a far cry from all the years spent shuffling through piles of papers and getting writer's cramp from filling out so many cheques. The part I'm dreading is finding out how much - or how little - we're going to have to get us through the next month since Noel's bought all these blasted cows. The kids have been told in no uncertain terms that we can spend NOTHING except on essentials, so don't even bother asking. I think it's actually got through to them too! 'Is that why you never buy any food any more, Mum, 'cause Dad's spent all our money?' asked Liam in all seriousness. 'Er no, mate, that's because there is no spare room to store any food among Dad's vegetable avalanche,' I explained - also in all seriousness. Although I must say a big THANK YOU to everyone who has sent me recipes to use up my glut of tomatoes, they all sound wonderful and rest assured I have plenty of tomatoes on hand to be able to try them ALL - especially the tomato wine! I also really appreciate the clever ideas for containers for freezing in the Forum. My friend Maxine also gave me an idea, which turned out to be an excellent one. She suggested I buy some pita breads and use the tomatoes to make mini pizzas and freeze them for lunches and kids' dinners. As it happened, Mr Patel's had pita breads on special so I bought a load and cut them in half. At first I was shocked to think I had spent $12 on pita breads, cheese and tomato paste, but once I got home and assembled the pizzas, I was delighted to find that I had enough ingredients on hand to make 32 pizzas! 32 yummy lunches for $12! Considering I would normally spend $12 on one measly panini and drink at the local cafe, that really put the cost of eating out into perspective.
I don't think I'll be going to Mr Patel's again for a while though - I'm too embarrassed. Sometimes I wonder if the things I do in the name of saving money go way beyond the call of duty. For example, at the weekend Noel decided to take on another huge fencing project, tidying up the other side of the driveway and road frontage where we chopped all the trees down before Christmas. Our kind and generous neighbour once again donated all the wooden posts and rails we needed, Noel's staff discount at the rural supplies store entitled him to 20% off all the fencing bits and pieces and the job was done in a couple of afternoons thanks to borrowing a friend's tractor and post rammer. Seeing as he had 101 things to do that day and was in a bit of a hurry to get the fencing done while he could borrow the tractor, I begrudgingly said I would do some of his errands for him, the first of which was to take a trailer load of rubbish to the dump. It made sense as I had to go to Mr Patel's anyway and this would save money on petrol by not taking two cars. The only problem with this was, I remembered as I arrived with my load that I cannot reverse a trailer. With nobody at the dump around to help me, I had no choice but to park where I could face the right way home, which was some way away from the skips and cart all the stuff off the trailer one armload at a time. A bit of an inconvenience but no big deal. The only problem is, being such an environmentally conscious family means we don't dump much rubbish unless really necessary. We don't have a rubbish collection in our rural neck of the woods and it takes a long time for us to fill up a decent sized load, so by the time it actually reaches dumping stage, you could say it's rather 'on the nose', especially at this warm time of year. I was certainly glad to deposit the last of my whiffy trailer contents and with some relief hopped into the car, ready to move on to the next errand. Whereupon I was immediately engulfed by the most awful, indescribable smell I have ever had the misfortune to encounter. To my dismay I discovered the culprit was me. Whereas Noel would have backed the trailer capably up to the landfill and simply tipped up the trailer to empty it, my efforts to carry all the rubbish back and forth had resulted in me smelling as though I belonged in the skip too. I'm not joking here, it was BAAAAAD.
I'm sure the helpful young chap in the rural supplies shop thought I was most odd in my insistence to keep a respectful ten metres away from him as I followed him around the store with Noel's shopping list. In doing this however I figured I was only drawing more attention to myself, so by the time I reached Mr Patel's I decided I may as well throw caution to the wind and mingle with the other shoppers. Typical, the store was buzzing with people, I hadn't seen it so busy for ages but I did my best to move along the aisles as discreetly as possible to avoid wafting the horrendous odour around any more than necessary. By the time I reached the checkout I had convinced myself that there was really nothing to worry about and the only person who could smell anything was me. Wrong. The overpowering stink became worse with every second that passed and as I waited patiently for my payment to go through, Master Patel Jr began sniffing at the air. 'Ugh - what's that smell?' he looked at me quizzically. It took all my willpower not to burst out laughing on the spot but I did my best to look suitably offended and looked around, saying 'Ooh I know, I noticed it too! Isn't it terrible? I don't know what it is'... I hoped to goodness this would convince him enough that it wasn't me - after all, I was one of their most regular customers and to the best of my knowledge I had never had a reputation for smelling so appalling in their store before. By this time a queue had formed behind me and I couldn't get out of the store fast enough but I couldn't believe it when I was told there was a problem with the Eftpos machine and we'd have to go through the whole payment rigmarole again. Master Patel Jr was still sniffing around and called over to his wife in Indian to ask if she could smell anything, frowning and waving madly under his nose. At this point I was dangerously close to collapsing in hysterics and was desperately trying to hide the fact I couldn't stop smirking - how I held it in I'll never know. Mercifully my payment went through at last, just as Ms Patel Jr produced an air freshener. As I hurriedly dashed out of the shop, I helpfully dropped my plastic shopping basket on top of the pile at the door and as I did so, the corner of the basket somehow caught in the zipper of my shorts, pulling it down and exposing my wobbly white tummy and faded old undies for all to see. That really was the last straw. I ran to the car, laughed until I cried, carried on laughing all the way home and was still cackling to myself three hours later. Of course, none of the above would ever have happened if I hadn't been so blooming conscientious about saving petrol in the first place!
Needless to say, I have told Noel if he runs out of beer, he's just going to have to go to Mr Patel's and get it himself, although I never thought I would say it but I think he's actually gone off beer at the moment! Thanks to some clever marketing by Heineken, Ali's got his dad switching from his usual brand and drinking it like it's going out of fashion in a desperate attempt to win tickets to the Rugby World Cup. Talk about minimal chances - the idea is that you have to collect bottle caps featuring the names of all 12 countries competing in the World Cup, which of course takes ages because you end up with countless double-ups and triples of ones you already have before you can actually acquire a full set. Ali mistakenly believed that this was all we needed to do in order to score free tickets and was disgusted to find that wasn't the case. All it means is that we have to send our bottle caps in along with every other Heineken swilling mug in the hope our name gets drawn out of thousands. While Ali is of course not able to help his dad drink the bottle contents, he has done a sterling job of keeping his eyes peeled wherever he goes and has picked up a surprising number of bottle caps along the roadside and even at the beach, in order to help his cause and relieve poor Noel of having to drink a few more bottles. He never liked the stuff before and is certainly heartily sick of it now but as Ali rightly pointed out, it's a far cheaper way to get seats to the World Cup than forking out $50,000 or more for a guided tour. Quite.
Just as well our house is a Heineken-free zone once again, because as far as I'm concerned beer is a luxury we shouldn't be buying when we've got half a herd of cows to pay off. At least I'm trying to go the extra mile to save even more where possible. For example, after reading all the Forum responses to the hint Wash your hair with soap and vinegar I couldn't resist giving it a go. I washed my hair that night, following the instructions carefully and let it dry naturally. The following morning I got up and was gobsmacked when I looked in the mirror - I looked like Tina Turner! I wasn't expecting to be able to get a brush through my hair but it glided through easily and I was amazed to find that my hair actually did as it was told for the first time in years - and stayed that way! I couldn't help laughing at the thought of the squillions of dollars haircare companies make on volumising products, when here I was experiencing far better results than any of them with vinegar and Sunlight soap! Noel was most impressed too and assured me I didn't smell like a fish and chip shop. 'Think of all the money we'll save on shampoo!' he said. Well - that's the idea and if that's what we need to do to save money I'm happy to keep up the effort - even if it means storing what looks like a giant bottle of wee on my bathroom shelf. I even gave in and cooked a lamb roast for the first time since Friday and Bob's demise. There was enough left over to make Sophie Gray's 'Vegetable Soup with Lamb' the following night, which was a real hit with the family and made more than enough for three days' worth of lunches.
I did wonder today though if perhaps I have become far more of a miser than I thought. Chatting with a group of school mums this afternoon, I was appalled to hear that they had gone shopping for the day and spent a fortune on what I considered useless household items, which had no use other than for appearances only. What a terrible waste of money, I thought! Honestly, I felt truly sorry for them, not least because once upon a time I was the same but now I knew better. They had had a great time but now were regretting how much they had spent. 'Sounds like you need to join this website I know!' I piped up. 'Really? What does that do?' someone asked. 'Teaches people to save money,' I grinned, eager to help. 'Oh - I don't think this lot need to save money,' was the answer. I was genuinely taken aback and very nearly up for an argument, which is most unlike me but I couldn't believe anyone would seriously believe they didn't need to save money. Then again I've been there and done that. This Sad Sally has come a loooong way!
Penny's Blog is a special treat for Vault members and is updated a couple of times a week. You can drop Penny a line here - she loves to hear from other members!
March 2007
---
6. Homeopathy Corner: Tutorial No. 8
After seeing the homeopathic remedies achieve amazing and consistent results in my own family and friends. I am often at a loss to explain how they work and what others should expect from treatment. This month Fran touches on both these topics. To read it go to:- www.homeopathyplus.com.au/book/tutorial-eight.html
---
7. From Last Month: Painting House Interior
Last month Joy Unger asked:
"I would love some help from Simple Savings members on how I can save money on painting the inside of a house. Does anyone have any suggestions about engaging reliable and reasonably priced painters, or can I do the painting myself safely and cost efficiently? If so, where is the best place to buy all the materials I would need to complete this project (paint brushes, rollers, ground sheets and so on) at the right price?"
We received masses of responses to Joy's request, thank you! Not only are Simple Savers smart, we're a practical bunch too! For anyone else contemplating a spot of home decorating, check out these hints first. You might save a bundle!
Low cost tips for paint preparation
When doing your own painting, you can save just as much money on preparation costs as on the paint itself! For example, you can buy perfectly adequate ground sheets from second hand stores such as Lifeline and St Vincent de Paul's. Always start with a clean surface. When using dark colours on walls, always use an appropriate colour to undercoat with, as this reduces the amount of coats of topcoat you need to apply, saving you money. Finally, when choosing a paintbrush, it does pay to buy the most expensive brush you can afford and look after it. It will give a much better result and lasts for years - unlike the cheap variety!
Work out cost of paint before buying
When decorating you can save a huge amount of money by working out how much paint you'll need in advance. Then, buy it in the biggest tins you can - and round up because a beginner always uses more paint than a professional! To give you an idea of how much you can save by buying paint in bulk, this is what I did. The undercoat I used comes in one, two, four, ten and 15 litre tins. I used almost 45 litres bought in three 15 litre tins. At a cost of $123 each, this came to $369. In comparison, to buy 40 litres' worth of paint in ten litre tins ($101 each) would have cost $404 - and I wouldn't have had excess left over in case something went wrong! Again, if I had bought eight five litre tins of the same paint at $60 each, it would have cost me $480 for the same 40 litres! It pays to do your sums first!
Ask around for 'weekend decorators'
To shop around for a painter at the right price, try putting a 'Wanted' ad on a notice board. There are several decorators around who are willing to take on extra jobs at weekends for a cheaper rate. Ask around your friends if they know of anyone who wants some weekend work, or if they can recommend any decorators. My brother is a qualified decorator and while he is no longer in the industry due to the lack of work in his town, people still know him and that he is willing to do the work cheaper than most contractors.
Support smaller DIY stores and save
When painting our home, we found that shopping local saved us a lot more money than purchasing what we needed from the larger, more popular retailers. We found a paint shop in our area which gave us reduced prices on everything from the paint to the drop sheets. The staff gave us wonderful ideas on how to cut down our work load and made no attempts to try and sell us anything we didn't need - in fact, on the contrary, they even talked me out of buying some products I didn't need, suggesting lower cost alternatives! As a result we have become loyal customers where possible and have found a huge difference shopping there compared to other well-known stores, where we couldn't even get someone to tint the paint without standing around for 35 minutes first. We also discovered that local shops will happily tint your own paint for the cost of the tint only; whereas at a large hardware shop we were told that they wouldn't tint any paint that wasn't purchased through them. It pays to shop local!
Enlist help of friends to decorate
We enlisted the help of our friends to save money on painting the exterior of our house. We put on a BBQ and invited everyone over to trade some time with a paintbrush for some great food and company. It was heaps of fun and got the job done!
Ask around for leftover paint
Before embarking on a new painting project, ask around friends and family first to see if they have any paint they no longer want or need. I saved myself over $50 by using some excess paint my mum had left over from painting her verandah to paint my back verandah. It all helps!
Save 20% at independent paint stores
We have renovated three times in the last eight years and saved thousands of dollars, just by buying paint and supplies from the right place. There are usually a number of independent paint companies who supply direct to the public in each state. Their prices can be at least 20% cheaper than retail and some will offer regular customers trade prices if buying reasonable quantities. Painting can easily be done safely and cost efficiently without hiring a painter; particularly if there are not high ceilings or scaffolding needed. The paint store will give tips on the best equipment to use and advise on low cost tools you can buy to 'cut in' like a professional!
Planning ahead saves hundreds on decorating
Planning our decorating in advance saved us $800 in paint! It may have taken us a little longer to acquire all the paint we needed at the right price, but the savings were well worth it. We chose the colours and set a game plan of getting them within three months, picking up the things we needed whenever they came on special. Every week we scoured the paint and hardware shops for discounted products. We picked up four litre tins of Dulux 'mis-tinted' paints for around $20 per can, saving about $40 per can! As long as the mis-tints were close enough in colour to what we wanted, we were happy. Brushes, rollers and so on were all purchased much cheaper too. We used doonas, sheets, curtains and whatever else we could get from op shops in the area as drop sheets and clean-up rags. Not only did we save over $800 in products but also a further $2,500 by doing the work ourselves!
---
8. This Month's Help Request: Subdividing, Party Food and Mosquitoes!
This month we really need your help to answer not one, not two - but three help requests!
Our first help request this month is from Nina in Perth who asks:
"I am wondering if there is a cheap/cheaper way to subdivide our property. We feel there is a lot of cash sitting in the backyard unused but quotes of over $30,000 for survey fees, plumbing, council fees and so on are quite off-putting. Any ideas you can give us would be great, such as cut-rate surveying, what you can do yourself and other tips. Thank you!"
If you have any suggestions which could help make the best use of Nina's property at the right price, please tell us here.
Also this month, Christine Calnan asks:
"My fiance and I are having an engagement party and to keep the costs down I intended to ask people to bring a plate. However, my mother refuses to allow me to do that because it will hurt her pride too much ('they'll think we're poor'). So help, please! How do I feed 50 people without blowing the budget and without asking people to bring a plate?"
We would love to hear any helpful ideas you have for feeding a crowd that will take the pressure off Christine! Please send your suggestions here.
And finally Emma Davies asks:
"I am looking for a cheap way to repel mosquitos under our large (50 square metres) patio. Lately there seems to be an abundance of them, and my three-year-old is really allergic to their bites. We prefer to entertain outside whenever we can because of limited space inside but lately it's been impossible! We have searched for any sources of standing water, yet can't find any. We have also tried citronella candles and flares with limited success. Does anyone have any better ideas?"
Please send any suggestions you have for warding off those pesky mossies to us here.
---
9. SAVINGS STORY: Nothing Silly About Carwash Savings!
My husband thought I had 'lost the plot' in my efforts to conserve water AND maintain a clean car - until he realised my unconventional methods could save us an easy $600 per year! With water restrictions in place throughout our area, washing our cars using a hose on the front lawn has become a thing of the past. After months of highway driving to and from work and washing our vehicles with buckets of water, I found that the paint work of my car was starting to look a little worse for wear. No matter how many times I washed it, my car never seemed to look as good as it did when I could use the hose to give it a good blast to remove all the road grime and insect bits!
In the end, I weakened and went to a drive-thru car wash. I was determined to get my car clean and waited patiently in line but when I pulled up to insert my money and discovered a basic wash cost $16 I was flabbergasted! I had nowhere to go, so had no choice but to pay the ridiculous amount. The car looked great but on the drive home I started doing the sums in my head and realised if I washed my car this way once a fortnight, that would add up to $416 over the course of a year - per car. With two cars, that was an extra expense we could do without. A few days later, I was driving to work and drove past a 'do-it-yourself' car wash. This gave me an idea!
Later that afternoon, my husband and I went to the car wash. When we got there I pulled out my bucket, sponge and car wash liquid. He just looked at me in shock and said to me 'What ARE you doing?' I calmly proceeded to fill up my bucket with water from the tap and add my own car wash liquid. I inserted $2.00 into the machine, which gave me 2.5 minutes of high pressure water - enough to hose down the car. I then washed the car with my bucket and sponge and popped in another $2.00 for a further couple of minutes to rinse it down. Through the whole procedure my husband just stood there, looking on in disbelief! On the journey home, I explained the potential savings of my idea to him. He still thought I had gone mad, until I handed him a calculator when we got home and told him to work it out for himself. Needless to say, he is now a convert and every fortnight we BOTH head over to the car wash with our buckets and come home with two sparkling clean cars for just $4.00 each!