"Secrets to Saving Money in Australia" Free Newsletter - November 2007
This issue includes:-
Sad Sally, Happy Hanna: Can't See the Wood for the Trees

Benefits of Outdoor Living
New Tipsheet: Camping on the Cheap
Sophie Gray: Hi De Hi Campers
Visions of Christmas Past
Best of the Forum: Fashion and Beauty Bargains
Penny's Blog: Disorganised Christmas
Homeopathy Corner: Your First Prescription
From Last Month: I Want to go Camping and Summer Treats
This Month's Help Request: Cheap Aquariums
Saving Story: Living on Less
---
Hi!
I hope you are having a great month. Things have been busy around here. We went to Australia Zoo on November 15th for Steve Irwin Day and all I can say is 'Wow!' It was the first time I have seen Terri and Wes perform live and they were fantastic, especially Terri. She was very, very funny! It was great watching Wes and Murray (the crocodile) tussle over a pig's leg on a long rope. The best bit was at the end, when Murray had the pig's leg and started gloating. The crocodile arched his back, stuck his head and tail out of the water, gloating to everyone that he had won; the water was his territory. It was amazing! We had such a great day I almost paid $25 for a t-shirt. The most I normally pay for a kids' t-shirt is $4.00. It was a very, very cool t-shirt. Navy with a bright green tree python wrapped around it (front and back). When you are wearing the shirt it looks like you are holding a snake. Absolutely the ideal Christmas gift for any boy. Very, very tempting...
My favourite part about Australia Zoo is how back in the early days when they had no money, they just made do. Steve used to go fishing to catch food for his crocs and they just went camping with a tent. I really admire how they never let money get in the way of their dreams. They just kept going till they found a way to make it work.
It is really inspiring. It makes me want to work harder and smarter - the same way your thank you emails make us all sit up and say 'Wow - well done!' It is amazing how many wonderful things we can achieve together.
"What a great site! My sister in law put me on to it and miracles do happen. I confess to being a Sad Sally - after all, why buy one top when you can have one in each colour? My husband and I have been fortunate in that money has never really been an issue. We both work and basically bought whatever we wanted - that is until recently. Suddenly we realised that we are both in our early fifties and what had we saved for our retirement? NOTHING. Sure, we do have two houses but no liquid assets and mortgages to pay. Thanks to your site, I now stop and think before I buy. The other day to my husband's utter amazement I went into six shops looking for a cool dress to change into after work when it's hot. We come from Adelaide, so Queensland heat is taking some getting used to. Eventually I picked up a dress for $24.95 and on reaching the counter discovered that it had been reduced to $14.95. Me - the person who would have thought nothing of paying upwards of $80 for a dress before actually stopped to think! Now all I have to do is train the husband to stop and think too. Your site has lots of tips for saving money and I visit it every day. Thanks Simple Savings. I'm a Happy Hanna Now." (Alison Bullimore)
"Most people would never think a teenager (17) would be interested or even spend two hours straight on your site. But after finding the site linked to the $21 Challenge in a magazine on my break, I have already found great tips for my dad - olive oil for razors and the canteen lunch box idea. I will definitely recommend this site to anyone who will listen. Anyone can save, even teenagers! Thumbs up!" (Zara Monty)
"Well it took me a little while to sign up to the Vault and now I am so glad I have. I can't believe how much precious money I have been wasting. I am so excited to see where our savings and debts will be in one year's time. I know now I am not in it alone and feel like Simple Savings is my business partner. Keep up the great site. Thanks for helping me start to be smarter and wealthier!" (Gretchen Hayman)
"Yesterday I received my shopping bags, plus stickers and card, thank you so much. I have already downloaded several copies of the Wealthy Habits 2008 Calendar and I will put one each in a shopping bag - that is four Christmas presents taken care of! I also went to my local supermarket this morning with the bags and one over my shoulder and got quite a few looks and enquiries; they loved the colour of the bags and I felt like a celebrity. I might go back this afternoon! Thanks Fiona." (Glenys Potter)
"Thank you for the fantastic calendar! I am very excited and can't wait to get started. I am reasonably good at saving, as I am one of nine so thrifty is my middle name when I apply myself. I have printed out the calendar on 11 pages (that's my tip to save the environment). I'm looking forward to seeing how much I can save next year with intention of putting my savings towards a holiday. Thanks again." (Liz Nurse)
"I would just like to say a big thank you to you and your site, it has really made me see sense and save 'cents'! When I first signed up for the newsletter, I got so many ideas from different readers. The first step I took to save money was to close our credit cards, so we took out a personal loan, combined our two cards, and have now paid them off. With our credit cards we could only make the minimum monthly payment, which was the interest, so now we have a spare $200 per month! Then we turned to our mobile phones. I converted to a pre-paid, which saves me a fortune as it now lasts for at least three months instead of one month and my husband only uses his as a 'pager' and will ring on the land line when he gets a message he needs to respond to. We rang the phone company and have changed our home phone plan to a more economical and budget friendly plan, again saving us at least $50 a month. Next on the list was our electricity. I rang the company to see what I could do to be more energy and cost efficient. They told me that the wall heater I was using was costing me money and that the difference of one degree was putting me into the peak bracket, so by putting the heater on 20 degrees it was a low price bracket but if I put it on 21 degrees it was a high price bracket! My bill was reduced by at least $50! I couldn't believe it! I was so proud of myself and on a roll, I went through all our bills and rang various companies to change to more economical plans. I also rang the bank and changed accounts to a fee free account and closed the accounts we didn't really need. I could go on forever as I have changed all my habits from grocery shopping to even cleaning around the house with some of your fantastic tips from your site! Vinegar and bi-carb are my best friends. Thank you so much for my new habits!" (Cindy McKee)
"We have gone from being in debt three years ago to now living within our means, with our credit card paid off and emergency and budget money saved, as well as money for birthdays and Christmas put away. All we now have is our house mortgage. Well done us!" (Karen Louis)
ABSOLUTELY BRILLIANT! Fantastic work everyone. Your success is wonderful.
Keep up the good work.
Fiona
PS. Did you email a copy of the calendar to your friends? To make a difference and really reduce CO2 levels we need everyone's help.
---
1. Sad Sally, Happy Hanna: Can't See the Wood For the Trees
"Am I seeing things?" Pete asked in mock amazement. "This close to Christmas and my wife is home on a weekend?" He put a hand on her forehead, "You must be feverish - is everything alright?" Sally managed a lame smile. "Very funny Dear," she replied. "Let's face it - I couldn't go anywhere if I wanted to."
"Why not? Oh no - what have you done to the car?" Pete hurried to look out the window. "I haven't done anything to the car!" Sally protested. "What I meant was - we don't have any money, so what's the point in going out? It doesn't seem to matter what I do to try and save, it doesn't make any difference." She waved her magazine at him, 'WIN AN ISLAND CRUISE!!!' the page screamed. "Guess I'll have to enter - it's the only way we'll ever be able to afford a decent holiday."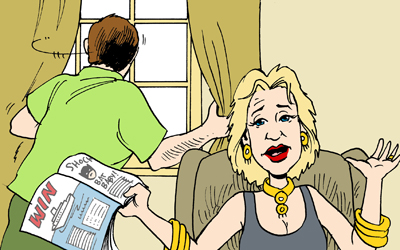 "Oh come on Sal, it's not that bad! We managed to pay a whole $20,000 extra off the mortgage this year." Sally's face immediately lit up. "We did? Fantastic! $20,000! So we CAN go on a cruise! Just imagine it Dear," she went on. "Relaxing in the sun, breakfast in bed every morning..." she could see Pete's mind working and could barely contain her excitement as he broke into a huge grin.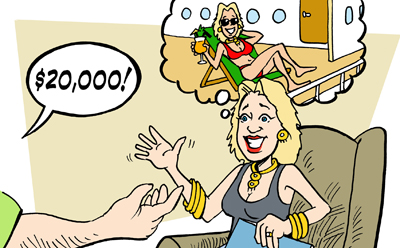 "You're right, Sal!" he agreed. "We do deserve a holiday and I know just the thing!" Sally could hardly believe it - at last Pete was seeing things her way! Then Pete announced; "We'll go camping! I'll ask John and Hanna if we can borrow their gear. It won't cost us a cent!" he announced gleefully. "Why didn't I think of this before?"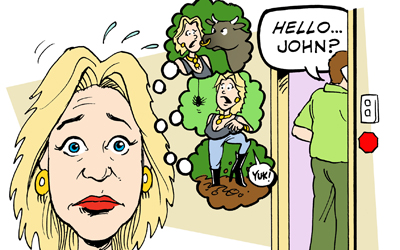 ---
2. Benefits of Outdoor Living
Poor Sally has forgotten how much fun camping can be! We used to have an absolute ball in our tents when we were little and now as parents, we get to rediscover the joy all over again. There are so many wonderful places you can go and things you can do that you simply can't do on a cruise ship.
Camping is a great way to enjoy a really cheap and affordable holiday. In case it has been a while since you have pitched a tent, let us remind you about all the fun you could be having this Christmas in a tent of your very own!
One of the wonderful things about camping is how close you can get to nature. There are so many places in Australia to camp where the wildlife comes right into your campsite. Kookaburras swooping down and snatching a piece of bacon between your plate and your mouth. Kangaroos so tame they sneak right into the campsite and let's not mention the possums! All of it is great fun and so different from our everyday lives.
Much of what kids learn today is through television but nothing beats actually getting them out there, climbing trees, spotting lizards and swimming in a lagoon. Touching, smelling, feeling and experiencing Mother Nature. If you think your kids need more exercise, then camping is the way to go!
Nothing tells someone you love them more than giving them your total, complete and undivided attention but with TV's, mobile phones, Xboxes, DVD's and computers it is hard to do. Not so with camping though! You can leave all the technology behind and just play with your loved ones, pure heaven.
When the fun of the day is over, the adults get to exercise their brains making up stories by the campfire. Making up stories is fun and hilarious. Even our kids get into it. Not only are we having fun, we are teaching them how to craft stories. It is the sort of education you can never get in the classroom.
Then once the kiddies are asleep, we get to listen to the sound of silence. Now that is something you won't get on a cruise ship! We can just sit and listen to the waves lapping on the shore at our $30 per night beach front camp site. Camping is about as close to true silence as you will ever get.
Big, flash holidays waste valuable resources. They don't just cost a lot of money, they also consume a lot of energy. Camping is the most environmentally friendly holiday you are ever going to have.
As you can see, camping makes a fantastic frugal holiday, but where can you get your gear for next to nothing? What should you pack and how do you prepare if you have never camped before? Easy! Read on and we will show you how.
---
3. New Tipsheet: Camping on the Cheap
To help you have a great camping trip without spending a fortune, we have put together a free camping tipsheet teaching you how to save money getting your camping gear together. You can download it here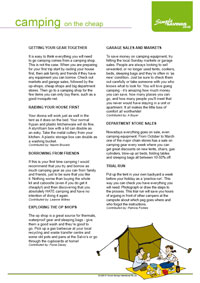 ---
4. Sophie Gray - Hi De Hi Campers
No matter where you and your family choose to go camping, chances are the environment is the 'why'. Like me, you won't want to spend hours peeling spuds or doing the ironing (I saw a woman once with an ironing board and iron set up in the camp awning, heaven help her!) Good meal planning can make a huge difference to your overall camping experience. If you've never camped before, you may find the following tips and recipes helpful.
Bread - Takes up a lot of room and gets squashed easily. Pack flat breads. Wraps and pita take up very little space. We often do a hot dog night so hot dog buns come with us. They're really filling, quick and the young 'uns love 'em and don't care if they're squashed.
Meat - Cook and freeze. We make chilli and freeze it and Butter Chicken. The chilli is good with corn chips on the first night (chips are light) and leftover chilli can be eaten in a wrap for lunch the next day or served with rice, as can the Butter Chicken. Uncooked frozen meat will stay frozen for 24 hrs then defrost over a day. You may want to include bacon for a fry up breakfast
Rice - I'm not a fan of precooked rice; however it doesn't require much boiling water and cooks quickly, so uses less fuel.
Couscous - It's lightweight, trebles in volume and uses little water. 1 cup couscous = 1 cup boiling water + flavouring.
Lunches - Spreads are heavy to lug around. I fill small plastic tubs with jam and peanut butter. We also take ham, salami, and salad stuff which will stay cold in the Esky with the milk. We keep a separate Esky for drinks, snacks, bread and sandwich items, so the one with the 'frozens' in it isn't being opened every 10 minutes.
Salad - Goes with everything we are likely to eat and the kids can eat it as finger food. A few cherry tomatoes, a chunk of cucumber, a rolled up lettuce leaf - as long as they're eating it I don't worry how they do it!
Milk and other drinks - We don't use much milk, keeping it mainly for tea. We pack a two litre bottle of frozen milk which helps keep everything cold and buy a bag of ice on site when defrosting begins for real. Everyone has a named water bottle in their day pack at all times. The kids appreciate a hot chocolate before bed, the 'just add boiling water' variety. We also take a coffee plunger and good coffee to share with neighbours.
Breakfast - Pancakes, instant porridge (just add water), crumpets cooked on the camping toaster, bacon sandwiches, easy to cook, eat and clean up.
Hygiene is imperative - Make a hand washing station by filling an empty two litre milk bottle with water. Make a small hole in it near the bottom and bung it with a nail or golf tee. Remove the tee and a stream of water will come out. Perfect for hand washing. Tie a soap-on-a-rope and a hand towel to the handle and you are all set!
If your camping environment allows open fires, take a basic scone mix or damper for cooking on sticks, and marshmallows for toasting. I would also pre-cook sausages for the kids to cook on sticks on the first night.
Campsite Tin Pan Tucker- Chicken with Couscous
This dish is ideal camping tucker. It's easy to do in an aluminium roasting pan on the barbecue or campfire - you can also of course do it in the oven at home!
Serves 4 - 6
1 disposable foil roasting pan - available in supermarkets
1 sheet of aluminium foil to cover the pan
8-10 chicken drumsticks with the skin removed or skinless thighs
2 cloves garlic, crushed
2 rashers of bacon with the fat removed, chopped
4 carrots, peeled and sliced
1 head broccoli or other green vegetable, chopped
1 tsp thyme
2 cups hot water
4 teaspoons chicken stock
2 cups couscous
Cooking spray
Pre heat the barbecue grill to a medium flame or place a grill rack over the coals of your campfire.
Spray the pan with cooking spray and add all the ingredients except the couscous.
Cover the pan with the foil, crimping it tightly around the edges and place on the prepared grill. Cook for 40 minutes, giving it a gentle shake half way through the cooking time.
Remove the pan from the heat and take off the foil cover. Stir in the couscous and cover with the foil for 3-4 minutes until the liquid is absorbed and the couscous fluffy. Serve immediately.
Cook's Tip: Aluminium foil pans weigh next to nothing and are reasonably inexpensive, however if you want you can re-use the pan and the foil covering over and over. Just wash them carefully as you don't want punctures.
Pre-measure all your seasonings before you go and keep in a small container or zip lock bag.
Frozen meat will stay frozen in a well packed chilly bin or Esky for two days, gradually defrosting during day two.
Campsite Tin Pan Tucker - Hoisin Chicken and Rice
This cooking method is so easy, just throw the ingredients in the pan and cover with foil. Sling onto the barbie or over the coals and 40 minutes later dinner is ready, no boiling of water and even better, no pans to wash, as you can just crush the pan up and put it in the rubbish. I allow two drumsticks per adult or one for littlies; adjust the amounts according to what you need.
Serves 4 or more
1 disposable aluminium foil roasting pan, available from supermarkets
A sheet of foil large enough to cover the pan
8 chicken drumsticks with the skin removed, or skinless thighs
4 carrots, peeled and sliced
2 cloves garlic, crushed
1 head of broccoli, broken into pieces
¾ cup long grain rice - I use Basmati (45g per person)
1 1/3 cups water, hot if possible (1/3 cup per person)
2 tsp chicken stock powder
3 tbsp Hoisin sauce
1 heaped teaspoon grated ginger
Big pinch of Chinese Five Spice
Cooking spray
Heat the barbecue grill or set a grill rack above the coals on your fire.
Spray the pan with cooking spray. Place the chicken and vegetables and the rice into the greased pan.
Add the ginger, Hoisin sauce and stock powder to the water to help distribute them and pour into the pan. Sprinkle in the Five Spice and give it all a little mix.
Cover the pan with the sheet of foil, crimping it tightly around the edges to ensure the heat doesn't escape.
Place over a medium heat on the barbecue grill, or give it your best guess over the coals.
Cook for 40 minutes. The pan will need a gentle shake after 20 minutes to mix it a little. Serve piping hot.
Instant Oats
A bowl of hot cereal sets you up for the day like nothing else. Low G.I, high fibre, filling and nutritious. Traditional porridge cooks in a pot. Instant oatmeal or porridge is a marvellous invention when you are short on time or equipment. It's easy to make, way cheaper than the bought stuff and really portable. You can take it camping and just add boiling water or keep some in your office drawer for when you feel a snack attack coming on. Try it with other flavours such as dried apricot and apple or maple pecan.
Instant oats:
3 cups rolled oats
1/3 cup low fat milk powder
¼ cup cinnamon sugar - use more or less to your taste
12 snack size zip lock bags
Cinnamon sugar:
¼ cup brown sugar
¼ cup white sugar
3 tsp cinnamon
1/3 boiling water per serving as required
Place all the ingredients in a food processor and pulse to make a coarse mixture.
Scoop ¼ cup mixture into each zip lock bag. To serve, pour into a bowl or mug and add 1/3 cup boiling water. Mix and allow to stand for 1 minute.
Cook's Tip: Use the cinnamon sugar on pancakes or sprinkled over a banana cooked in its skin on the barbecue or grill.
Over the years I have got pretty canny at packing and planning our family's camping food. When our kids were pre-schoolers, we embarked on a six-week camping trip around the magnificent South Island of New Zealand. After pitching and packing the tent 43 times with two toddlers in tow, I thought I would never camp again, but the kids reached adolescence, discovered music and before we fully realised it, we were off to the biggest outdoor event in the Southern Hemisphere - the Parachute Christian Music Festival! 27,000 people camp on site with tens of thousands more day visitors. We have since become regular attendees and I'm so grateful every year that my kids get to experience that little glimpse of what the world could be like. It's wonderful!
This article was written by Sophie Gray of Destitute Gourmet.
---
5. Visions of Christmas Past
In the five years we have been compiling Simple Savings newsletters, we built up quite an archive of Christmas tips! Here are some goodies from newsletters of old:-
'Tis the Season! - With Sophie Gray:
www.simplesavings.com.au/newsletter/2006/december/
Sophie gives us some lovely recipes for gifts you can eat. Yummo!!
Gifts of REAL value:
www.simplesavings.com.au/newsletter/2005/december/
Save yourself a fortune and change someone else's life for the better by giving real gifts which don't cost a cent! We also feature some terrific ideas for low cost festive decorations (Tree Toppers) and goodies (Tummy Stoppers) with Sophie Gray. You can even learn how to keep the worst Boxing Day hangover at bay with the help of homeopath Fran Sheffield!
Printable presents:
www.simplesavings.com.au/newsletter/2004/december/
Give some brilliant Christmas gift ideas for under a dollar with the help of our free printable vouchers. Perfect to give to mums, dads, grandparents, loved ones - anyone! We also share some of our favourite tips for bagging a bargain in the January sales.
Low-cost Christmas spirit:
www.simplesavings.com.au/newsletter/2003/december/
Expecting a crowd for Christmas? No problem! We show you how to serve up a banquet on a budget. Also, learn how you can have the best looking Christmas tree in the neighbourhood without breaking the bank!
The Savings Forum is also a great place to catch up on Christmas tips and motivation at this time of year! Some of the most interesting threads currently include:
Let's do Christmas on the cheap
What would be your fantasy butcher's order for Christmas?
Christmas home-made gifts, list them here
Christmas menus - what worked?
And of course, we mustn't forget the Vault! For many more great Christmas saving ideas go to the Christmas section of the Vault
---
6. Best of the Forum: Fashion and Beauty Bargains
When you look fantastic, you feel fantastic and there is nothing more enjoyable than looking a million dollars when you only spent $10! The girls in the Savings Forum have been helping each other do just that. Here are our current favourites from the Beauty and Clothing threads. Feel free to join them any time!
Analyse your clothing mishaps
We all know people who somehow effortlessly manage to look fantastic all the time. Chances are, they have had professional help choosing their clothes! In this thread, members discuss how much money it is saving them.
Natural hair care recipes
Making your own hair products is rewarding and a lot of fun! In this thread you will find links to a fantastic collection of shampoos, conditioners and treatments you can make at home.
Cheap beauty and make-up
The girls have been buying super cheap make-up from ELF cosmetics and are delighted with the results!
Swimwear - one for the ladeez!
Sally wants to treat herself to some new swimwear but is horrified at the price. Luckily, she's come to the right place to save! Find out where Simple Savers buy flattering swimwear for all shapes and sizes, at the right price.
I'm not washing my hair for 6 weeks...!
Tamarah had enough of her unruly hair, so set herself a challenge not to wash her hair using any shampoo or conditioner for six weeks, recruiting several more members along the way. The results are fascinating!
Chocolate milk bath
How luxurious does this sound - a chocolate milk bath! Check this thread out for the recipe, as well as some lovely ideas for quick and easy Christmas gifts and other magnificent bath treats.
---
7. Penny's Blog: Disorganised Christmas
Nov 16, 2007
I've decided to become a hermit. An obvious benefit of this is that I won't be able to spend any money, but I will also no longer have to worry about getting recognised by complete strangers whenever I'm about to part with any. Take the other day at the supermarket. I had been out all day and by 2pm I was starving. With McDonald's right next door I was sorely tempted but instead I picked up a bag of cheese scones on special, with a view to eating one or two myself and taking the rest home for Noel. A much more frugal option and I was feeling quite pleased with myself as I went through the checkout - until I was suddenly swooped upon by a store supervisor. 'Are these yours?' she barked at me accusingly. I nodded, a little bewildered. 'What are you doing buying cheese scones? Why aren't you making them?' she went on. It took me a while to realise what she was getting at but I eventually clicked - she knew who I was! Somewhat flustered I explained my reasons for buying them, upon which she broke into a huge smile and patted me on the arm. 'Oh well, that's alright then! Lovely to see you!' and off she went! I was still feeling rather self-conscious when I walked out to the car but that was nothing compared to how I felt when a sweet looking lady and her husband approached me and asked if I would sign their copy of That's Life as I was piling in my groceries!
Unfortunately though, it looks as though I will not achieve my hermit status until after Christmas. My well-organised plans for Christmas shopping have pretty much turned to custard. I was feeling so smug, thinking I had it all under control with only immediate family left to buy for. Yeah, well the best laid plans and all that. First I had a gleeful online spending spree during the Identity Direct sale. I thought that had taken care of a heap of presents but when they eventually arrived I saw this wasn't really the case. The $1 xylophone I had bought for my 18 month old niece, thinking it was such a bargain turned out to be the size of the palm of my hand. At the other end of the scale, the things I had bought thinking they would be relatively small and light to post were enormous - even the two packs of fingernail tattoos I had bought for a friend's young daughters were so huge they dwarfed my own fingernails, so I could hardly give them to an eight year old. The two 'paint your own dog bowls' I had bought for the boys Christmas stockings showed up as cat bowls and were so small Minnie would be lucky to even fit her nose in. I'm sure they would think Santa had gone mad if I put those in their stockings! It's not even as if I could really send them back as they all came from Australia, not NZ, which also peeved me off a bit. I hadn't realised there wasn't a local branch and half the things I had bought were for people in Australia anyway, so I was going to have to post them all back! My supposed bargains are now going to end up covering a lot of air miles to get to their recipients, which grates on my environmental conscience a fair bit. Still, not much I could do about it and at least I had all the great presents still to come from the Avon sale. Or so I thought but this turned out not to be either. Out of the 14 things I ordered, seven of them had sold out and three more weren't going to be available until November 30th, meaning I had missed the economy post date for both Australia and England where they were supposed to go. Aghhhhh! This all puts me pretty much back to square one. I'm even going to have to buy something else to go with the flipping xylophone as it's so miniscule!
So with - how many - FIVE?!! - weeks to go until Christmas I am determined to get organised in time. I have managed to squirrel away almost $700 in my Christmas account by putting a little bit away all year but I can't touch it until December 1st. Still, at least I can take care of some of the preparation. With Christmas Day at our place this year, I am going to take a leaf out of other members' books and plan my Christmas menu. I can't believe how organised some of them are! They sound absolutely delicious too. I keep meaning to grab a few non-perishable items with my regular shopping and put them away for Christmas but it's a little hard to do that when I set foot in a supermarket so rarely - even less now I have an eagle-eyed supervisor watching my every move! One thing I am definitely going to make sure there are plenty of are handmade chocolates, not that they will last long as they are SO yummy. The recipe for my favourite truffles is in this week's That's Life! magazine, you have to try them! I'm also on a pre-Christmas decluttering mission. The boys are at the age where they really don't play with toys anymore; their lives revolve around sports and outdoor pursuits and heinous electronic games. I told Ali I could literally get rid of entire toy boxes full of stuff and he wouldn't even notice and he agreed! Sounds dreadful I know but it's all stuff left over from my Sad Sally days. So I've decided all our Sad Sally clutter is going to benefit someone else this Christmas and it's all going to charity. I was going to put it all in the 'We Don't Need It' room for a month but I already know darn well we don't need it as most of it hasn't been touched for months. I'm looking forward to claiming some much needed space back!
In between organising and decluttering I want to try out heaps of new hints. There are some great ones recently added to the Vault! Too many to mention here in detail but some which caught my eye and I'm definitely going to try are:
Sunlight soap best for carpet stains
Turn toast and Marmite into a meal (yum, I could exist solely on Marmite!)
Work out 'pay per use' on clothing purchases
Start a non-perishable 'Emergency Pantry'
Hide the leftovers from the family (we eat WAYYY too big portions!)
Give a bookmark instead of a card
Give a Simple Savings gift pack!
Before I go, I must say a big THANK YOU to my friend and fellow SS member Tara. A city dweller herself, she saved me at least $50 the other day during a trip up to Sky City. She saved me $40 on a taxi fare to my meeting in the 'big smoke' and absolutely refused to let me spend money on lunch on my trip home, sending me off with a home-made banana choc-chip muffin and the best peanut butter sandwich I have ever tasted instead! What a mate!
31st - Drunk and disorderly
6th - Painting the town red
9th - The Simple (Savings) Life
16th - Disorganised Christmas
23rd - Desperately seeking Stan
27th - The $10,000 Challenge - yikes!
---
8. Homeopathy Corner: Your First Prescription
When you first see a homeopath it can be a little confusing as it is so different from the main stream medicine we are used to. So this month Fran explains what to expect after you have taken a homeopathic remedy, what the results mean and most importantly what to do next. To read Fran's article go to:-
http://homeopathyplus.com.au/book/tutorial-15.html
---
9. From Last Month: I Want to go Camping
and Summer Treats
Last month Susan Tremlin asked:
"We want to go camping but we don't have any gear and have never been before. I have been to the camping shop but everything is so expensive and daunting. Can you please give me some ideas about where I can get cheap camping equipment, what sort of things will I need, what should I take with me, where are good spots to camp? Everything! I have no idea."
Wow! What a lot of keen and experienced campers we have among our members. We received far too many responses to print them all here but with a selection like the tips below, Susan and any other novice campers will be all set for heaps of low cost holidays from now on!
Keep camping simple
The best way to save money on camping is to keep it simple. You could take everything including the kitchen sink but it's really not necessary. Ask friends and family if they have any camping items that you could borrow, rather than spend huge amounts of money on a project you may not do again if you don't like it. Test the water first.
Avoid initial outlay on camping
When planning a camping trip for the first time, consider booking a powered site. This way you won't have a huge initial outlay and all you need to take is a toaster, kettle and an electric frying pan - we have found that most things can be cooked in or on these!
Start with second hand gear
When you purchase your own gear, buy as much as you need second hand from op shops and garage sales. If you find you are doing a lot of camping, you can always upgrade to better quality later on.
Camp in a caravan park first
If you have never been camping before, try it out for starters at a caravan park. An unpowered site is only $21 a double plus $4.00 per child. Big 4 Parks have a two-year membership, giving you a discount every time you stay with them. Halls Gap is a special place for us. There are lots of great walks. No need to pay for entertainment! Big 4 Parks also have great camp kitchens - fridge, microwaves, sink, table and chairs, even TV and games rooms.
Hire gear from camping shops
Instead of buying camping gear new, you can hire it from a camping shop. Many camping shops allow you to hire a huge range of equipment like tents, books and backpacks. Because most of their staff are outdoor people themselves, they have all the knowledge you need and are happy to answer any questions you have. They are always really excited to help a new outdoor enthusiast!
Low cost camping with bushwalking club
A great way to save money on camping is to join a bushwalking club. They loan or hire gear very cheaply to members. The bonus is that they often have beginner camping weekends where they will escort you to a beautiful pre-booked location and you can have a great time learning camping skills and being introduced to bushcraft. Children enjoy meeting other kids and having their own activities like damper making. If you find camping really isn't your thing, then you can return home without having wasted money on expensive gear!
Read up on camping first
To avoid making costly mistakes when planning a camping trip, go to your library and see if they have books about camping-for-beginners first. There are also camping magazines available from newsagents. These include all kinds of helpful information such as equipment lists and great places to camp!
Don't waste money on camping non-essentials
Our family of six realised long ago that we didn't need a lot of the things sold in camping shops. All you need is a comfy bed, food and water to drink and cook with - the rest is up to nature! Much of our gear has been bought from Big W. Our tent cost $160, the Esky $98. Washing dishes can be done in a bucket, you don't need a sink. Cooking can all be done on a BBQ plate or saucepan; you don't really need a gas stove. For beginner campers, just buy your tent and necessary bedding, then go camping for two nights somewhere close to civilisation. No doubt you will forget something but as soon as you do, write it down. We have a check list made from exactly that! Camping is great fun and my five boys love it. They don't care about luxuries!
Free camping gear for uni students
If you are a university student, you may find you can access camping and other adventure equipment for free! When I attended university in SA, I made use of the recreational equipment that the student association had for use by students for free. They had all kinds of things from tents, snorkelling gear and Eskies to volleyball sets. A deposit was required and you needed to book it in advance, but it was free to use. I used family-sized tents on a couple of occasions. If you are a uni student or have a friend or family member who is, check out the student association at the relevant university. If you only go camping occasionally you can save yourself hundreds of dollars this way!
And Jill Davis asked:
"With summer holidays coming up and our family having a pool, we find that we are feeding multitudes of children who are very hungry after a swim. Are there any suggestions for cheap, savoury snacks that I can prepare for them rather than using all our family's grocery budget on feeding the neighbourhood children? Any suggestions would be gratefully received. I am also interested in food that can be prepared beforehand and frozen ready to serve at short notice. Thank you so much."
Once again we received a fantastic response and some mouth-watering suggestions. Much too good just to keep for holidays only!
Simple puff pastry savouries
A popular and inexpensive treat for all to enjoy is to cut puff pastry into circles using an egg ring or scone cutter. Then place the circle in a tart tray and fill with salsa or omelette mix and cook in the oven until set.
Pizza toast fills hungry tummies
The best thing I have found for feeding hungry hordes of kids is 'pizza toast'. Save any oddments or stale bread, or buy a couple of cheap loaves and keep in the freezer. When needed, I spread with a little tomato sauce, a light sprinkle of oregano or Italian herbs and a light sprinkling of grated cheese - it doesn't need to be much. Pop it into the oven or under the grill for a few minutes and cut into squares or fingers. I have found that some cheap bread and Home Brand grated cheese kept in the freezer will go a long way. It also works well as a family snack if you have any leftover bits and pieces to add like ham, pineapple or capsicum.
Special cupboard for neighbourhood snacks
I've enlisted the help of all the neighbourhood kids' parents to save myself a fortune of supplying endless summer snacks and drinks. When all the kids from the neighbourhood kept arriving on our doorstep in summer I decided to go around to all their homes and ask the parents how they would feel about contributing a snack / food / drink item each week to help with the costs. I explained that we love the kids coming over and wouldn't dream of not having them but it was getting quite hard to keep forking out for all the expense to keep them fed. After my explanation every single parent agreed and some had no idea that it was happening and felt bad about it. If you don't feel comfortable going around the homes you could try writing a really neat, chirpy and friendly letter to them instead. I bet you will find they will all agree it is a great idea. The variety is endless and for special occasions like birthdays we even get a cake.
Now I have a special cupboard to put all the 'neighbourhood gang' food in and they can help themselves - within reason! If the supplies become full I send a note saying 'no food required next week'. It works really well!
Self serve snacks for kids
For a no-fuss, easy way of feeding visiting children during the holidays, just put out a loaf of bread, jar of peanut butter, jam, honey or Vegemite and let them serve themselves. Watermelon and frozen orange segments are also great with a big jug of water or home-made lemon cordial. The most important thing is to not go back to the kitchen for more!
Healthy and tasty fruit kebabs
For hungry children fruit kebab sticks are cheap, nutritious and easily frozen ahead of time. Just get a packet of skewers and some bananas, grapes, strawberries, rockmelon, watermelon and so on. All the fruits are reasonable prices in the summer months. Add a bowl of yoghurt for them to dip the fruit sticks into as a healthy, tasty snack!
Crunchy crust snacks
If you are never sure what to do with the end crust slices off your bread here is an easy way to turn them into delicious snacks. Once you have stored a reasonable amount of bread ends in your freezer, spread a small amount of margarine or butter on them and sprinkle with grated cheese. Cut into small triangles and place on a greased tray. Bake in a hot oven until golden brown and crunchy. You can omit the butter or add extras as desired. Some favourites are a sprinkle of spice, herb and/or garlic salt, diced tomato, salsa or sauces.
Instant summer slurpie drink
For an instant frozen slurpie treat over summer, pour a bottle of lemonade into ice trays, then when frozen put in the blender and serve.
Savoury chip and dip for $5
For a cheap chip and dip recipe just use puff pastry and cut into strips 1cm wide and about 4cm long. Place them on a tray and sprinkle with fresh, ground sea salt and fresh, ground pepper to taste. Cook in oven until golden brown. To make a complimentary dip use a large tub of sour cream and mix one packet of French onion soup mix. Refrigerate the dip for one hour before serving and store the chips in an air tight container.
Nanna's cheese and bacon puffs
For snacks that will be eaten in a flash just beat half a cup of milk and one egg together.
Then add:
Two cups grated cheese
Bacon bits
One finely chopped onion
One cup self raising flour
Mix well and place small spoonfuls on a greased oven tray. Cook 15 minutes at 180 degrees Celsius or until brown but not dried out.
For a variation - you can add chopped tomato, grated zucchini, or anything else that you fancy. They are highly suitable for freezing but will not keep fresh long after cooking.
Savoury fare to stave off hunger
A simple but mouth watering snack to stop the hunger pains is savoury toast. Just simply mix up an egg, bacon pieces, cheese and Worcestershire sauce. Spread on bread and toast under the grill.
Frozen fruit treats for children
If you find the need to feed masses of visiting kids during summer, just purchase fruit on special, like grapes and oranges, and freeze. Cut the oranges into wedges and pull the grapes from the stems and place in zip lock bags before freezing.
---
10. This Month's Help Request: Cheap Aquariums
This month Donna Lane asks:
"My twin boys have been asking for an aquarium for Christmas and I would love to be able to surprise them, but at first glance it appears to be a major purchase. Even the lovely ornaments and logs cost an arm and a leg. How can I save money on the initial outlay of the tank and equipment as well as provide an attractive display?"
If you have some clever ideas for Donna to kick start her aquarium please submit your suggestions here
---
11. Savings Story: Living on Less
I find it hard to believe I am the same girl who five or six years ago spent all my income and more, was always in debt, struggling to pay my credit card each month and frittering away my future. Three years ago, my partner and I left our jobs and opened our own retail business. We pay ourselves less than we were paid in our old jobs (and we both had 'normal' incomes then, not high at all) yet we are saving more. I have often asked myself how this can be, and friends are amazed to hear that we live on only one of our incomes, completely saving the other for our house deposit. I can only put it down to living frugally by planning ahead and keeping our eyes open for bargains, stocking up and being happy with what we have and valuing the simple things in life (cliched as it sounds).
We make our lunches most days (having a small kitchen and fridge at work helps, however I had that in my old job too) and buy our lunch for a treat, not every day as we used to. We also have saved a lot of money by stocking up on items we use when they are on special and meat specials from the supermarket which fill our second hand chest freezer. We always plan our evening meal the day before, take the meat out of the freezer and make sure we have all the ingredients. I often will design the meal with ingredients we have at home to use them up. We like a glass of wine and buy our favourites when they are on special at the supermarket. If it's a really good special we buy a case and put it away. That is another thing that has amazed me about our more frugal lifestyle. We have money building up easily in our savings account, always pay our bills on time and have the pantry, store cupboard and freezer fully stocked. It is thanks to Simple Savings and other inspirational sources like magazine articles, frugal living books (from the library, and I purchase with gift vouchers if they're a 'keeper') and staying focused on what we want (get married, have a baby and be a stay at home mother, buy a house). That girl from just a few years ago is no more!