"Secrets to Saving Money in Australia" Free Newsletter - October 2005
This issue includes:-
Sad Sally and Happy Hanna: Looking Good
Money Grows on Trees
Lose the Kilos, Keep the Dollars
Penny's Blog: Getting Fit and Dropping Fat
Fran's Homeopathy Article: Four Problems - One Solution
From Last Month: Activities for Large Groups
This Month's Help Requests
New FREE Tipsheet: Petrol Saving
SAVING Story: Leslie Barber and the 'Good Life'
---
Hi,
How are you doing? Have you had a great month? Thank you for your help choosing new names for the fabulous duo. The outright favourites were Sad Sally and Happy Hanna. Both received at least double the votes of second placed name. You will be seeing a lot more of these two girls in the future.
To celebrate the girls' names and faces (see below), we are having a week long special. From now till 11pm, Tuesday October 25 the price of Savings Vault memberships will be $37. To order order a Vault membership now, go to: www.simplesavings.com.au/order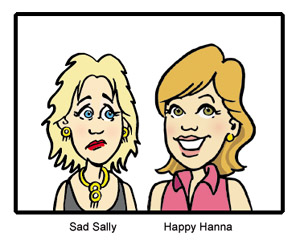 Over the last six months we have been following Lesley Barber and her husband who have retired to the 'good life'. We are thrilled to hear they are doing so well. Here is an excerpt from Lesley's latest letter:
"Do we miss work? NO! Are we fit and happy? YES! We turned our lives completely around in less than 12 months due to Simple Savings. Many thanks for making me think about what was important in our lives." (Lesley Barber)
To find out exactly what Lesley has been doing and how she has achieved so much happiness, check out her tale in the Savings Story section below.
I am very grateful Lesley took the time to write in and tell us what she has been up to. Her story is fantastic. I love your emails. They really inspire us to reach for the sky.
"I have just become a member of this site and although I consider myself careful with money, I have learned how to find value for money. I class this site as one of my best finds! Keep up the great work." (Brenda McAuley-Hines)
"Your Free Bill Payment is such a fantastic and easy system and I agree that every member should give it a go. Not only do you know what bill to pay that week but you can keep track of what you are spending on those bills over the next few months and see what you need to cut back on. Great idea thanks - I'm sending it to my friends." (Tracey Puffler)
"Thank you for your monthly email. I love it. Again, your website is great, I have been a member for the last couple of years, I am also stoked to see all your success on the Telly with shows like A Current Affair. Good work to a deserving team. May you continue upwards!!" (Jackie O'Sullivan)
"Your website is simply fantastic. Thank you so much. All the contributions made to your website makes for compulsive reading. I have already taken up some of the ideas suggested and I am seeing results. The Bill Payment System I downloaded from your site is already working very well. It has simplified record keeping of our accounts and we can see at a glance when accounts are due when they need to be paid etc. I hope to be making a contribution to your website myself very soon. I have already managed to get a friend to sign up to your website and she loves it." (Shirley Goss)
"Thank you for setting up such a helpful website. I have always been a bit of a tightwad when it came to money, and it is nice to know that I am not alone in my efforts to save. Once again, thank you everyone!" (Lorraine Hankinson)
"Your Bill Payment System is fantastic. It is working extremely well for me so far (this is from a woman who had her phone disconnected earlier this year because I kept forgetting to pay the bill). It is saving me money (it cost heaps to have the phone reconnected) but more importantly it is saving my sanity. Now all I need is a tax system!" (Jill R)
"Thanks to Simple Savings, I am saving money every day. After 16 years of self employment my husband has rejoined the work force and I've decided to stay at home. My new career is now Simple Savings. By following yours and members easy tips I can earn an income by staying home and saving money." (Karen Louis)
So give yourself a pat on the back. You are part of this site and you deserve the credit as well. Thank you for all your help.
Have a wonderful month!
Many grins,
Fiona
---
1. Sad Sally and Happy Hanna: Looking Good
"Wow, look at you! Have you been going to the gym? You are looking pretty toned lately" admired Sad Sally.
"Thanks!" grinned Happy Hanna. "Do you really think I look that different?"
"Absolutely! You look gorgeous" gushed Sad Sally "What's your secret? Come on, you can tell me! It is that new Fitness Cruncher I saw on TV, or are you on that sushi diet that Oprah was recommending? Tell me - I have to try it!"
"Nothing so sophisticated I'm afraid - I've been shovelling sheep manure!" Happy Hanna couldn't help laughing as Sad Sally's jaw dropped. "You've been doing what?! Yuk! Why on earth would you want to spend your spare time doing something like that?"
"The weather was perfect, so we spent the weekend planting our vegetable garden. I love picking our own produce straight out of the yard. If we plant now, we will have cheap, delicious fresh food all summer!" Hanna smiled at the thought.
"Well you're looking very fit and healthy after all that manual labour, but shovelling sheep manure? I'll stick to using spray on fertiliser." Sally wrinkled up her nose. "Does the manure actually do the job though?"
"Sure does! The vegetables are leaping out of the ground - and I'm not the only one looking good, you should see John's abs after a day of shovelling. Jamie Durie eat your heart out!" Hanna winked mischievously.
Who are you most like, Sad Sally or Happy Hanna? Who would you rather be?
---
2. Money Grows on Trees
Just like Sad Sally I used to buy liquid fertiliser and hand over cash for sickly seedlings. My first attempt at saving money by growing my own vegies was a flop. My tomatoes tasted great but by the time I added up everything up they cost $30 per kilo and let's not even mention the potato harvest. Then my husband bought me a book called, The Permaculture Home Garden by Linda Woodrow for $39.95 and everything changed.
It is a great book with a dull title. It is funny, entertaining and it explains how to get creatures to do your gardening for you while you sit back and watch. Linda Woodrow has spent 20 years working out the cheapest and laziest way to grow vegies in Australia. She has come up with such great systems that growing food her way is almost free.
Now I combine the information in Linda's book with the tips from the Vault and our garden is growing beautifully. (Today, after reading Michelle Brough's hint below, my husband approached a tree lopper who was finishing a job around the corner, and we've just had 5 cubic metres of Eucalyptus mulch dropped off for free (retail value about $150).
Building a beautiful, plentiful garden from scratch is cheap and a little bit of creative thought can save you big dollars. There are heaps of terrific hints in the Vault from our many green thumbed members. Check out some of the examples below to see how you can achieve so much more:
Free Mulch From Local Tree Lopper
Our gardens look fantastic thanks to our truckload of free mulch we got delivered! We needed to mulch our garden to save water (and save our backs weeding). We contacted a local tree lopper who delivered a truck load (and I mean a truck load!) of mulch to our door. It cost us absolutely nothing. We have been able to mulch all our gardens and even give some to friends. Our gardens are healthy and so are our wallets!
Get creative and make your own garden rocks
I saved 50% on paving and rock gardens for my huge back yard. I made my own rocks - yes, it is possible! Rock gardens usually mean minimal maintenance but large costs due to the garden centre prices for raw materials. After shopping around, I decided to have a go at making my own version. First I dug a hole with varying levels, placed some thick black plastic sheeting in the hole - the more creases in the plastic, the better, as this gives appearance of natural rock grooves. Then I poured in ready mix cement, with dye added (I use a black dye, but you can ask at the hardware shop for various colours). Three days of warm weather and I had my first rock! I then painted some yoghurt over it, which encourages an 'ageing' effect. I have also used this method for garden borders, by digging a small channel around the garden edge and using the same method as above. Once dry, I just turn over the cement borders, and tuck the plastic under to ensure no weeds in future.
I have even made beautiful square paving bricks which normally cost around $6.00 - $7.00 each; I have made mine by using a plastic cat litter tray as a mould. It works out to around $2.00 per paving square. Before pouring in the concrete, I brush the mould with vegetable oil, this aids in the removal of cement. I made all my cement in a wheel barrow and the savings I made were way less than half price! If you are unsure how to go about it, you can even hire rock making videos from libraries or video outlets.
Manure for wonderful gardens
The best way to get a strong, healthy garden on a budget is by not buying all the pre-packaged fertilisers but by adding a touch of Mother Nature to your garden!
I live in a rural area, and on every street there are bags of horse, cow and even chicken poo at people's front gates for as little as $2.00 per bag! A couple of bags of this powerful fertiliser added to any suburban sized garden will guarantee you better results than any expensive pre-packaged product! Spend a leisurely afternoon driving around the country and see what you can find!
Magnificent vegetables from discarded seeds
When I was trying to start my vegetable garden and didn't want to spend a lot of money on seedlings or seeds, I kept any seeds from any vegetables I purchased and dried them on paper towels inside my kitchen window. (You can also get family or friends to keep seeds for you from their vegetables.) I then planted them in seed raising mixture which I had put into old egg cartons. After watering them with tepid water and covering them with clear plastic wrap I let them stand inside a window catching the morning sunlight. They would germinate in a few days and once they get to a size of your normal store-bought seedlings you can plant them into your garden, breaking the egg carton apart and planting it directly into the ground. I did this and it cost me under $4.00 for the seed raising mixture, absolutely nothing for the seeds or egg cartons and I now have a magnificent vegetable garden. I now also save the seeds from one year to the next.
Here are some more great gardening tips from the vault:-
Compost for small gardens Contributed by: Marlene Tribbeck
Cuttings Contributed by: Virginia Inot
Cheaper options for making your garden green Contributed by: Scott Smith
Free fertiliser from worm farm Contributed by: Anne Rose
Garden Savings Contributed by: Debbie Sloane
Creating a new garden from scratch can be a lot of fun. Do you have a knack for saving money in your garden? Please tell us your tips and ideas: www.simplesavings.com.au/donatehints
---
3. Lose the Kilos, Keep the Dollars
If you want to lose weight or get fit, there are plenty of people willing to help you part with loads of cash. Sometimes it feels like they are sharks looking for another sucker. Maybe that is a little harsh, but if you find that coming out of 'winter hibernation' has you feeling sluggish and, dare we say a little 'heavier', there are plenty of ways to shed those winter kilos without draining your wallet before summer hits.
Here are some great stories from your fellow frugals to help get you inspired.
I have lost 9 kilos in five weeks
In five weeks I have shed more than nine kilos in weight and I haven't had to buy anything to help me achieve it. In fact, I have saved over $500 in gym fees and fuel in the process! With summer (and swimsuits - yikes!) on the horizon, many of us start to think about shedding those winter kilos. After having two kids I decided it was high time for action, but after checking out a couple of gyms ($490 for six months' membership) and a budget already stretched to the max (much like what my bum does to my jeans!) I took matters into my own hands.
Walking is one of the best all around exercises there is and it is free. Every morning I grab the headphones and go for an early morning walk for about 40 minutes. All of us girls seem to be watching our weight so it is pretty easy to round up a walking partner. I have also started to incorporate more incidental exercise - kicking a ball around the yard with the kids (encouraging healthy lifestyle early), walking to shops to grab the milk and bread (also saving with these horrendous fuel prices).
I also plan to get into the garden and do some weeding and plant some seeds that I saved from last years annuals and vegetable patch; great exercise and beautifying the garden for spring and summer on the cheap.
I only had 1.5kg hand weights at home, so rather than buy smaller weights I just used cans from the pantry for the first few weeks in increasing weight increments until I worked up to the 1.5kg weights (only this week). You could also check eBay or garage sales for exercise equipment. I have also taped Aerobics Oz Style onto blank video tapes, and do these at night when the hubby and kids are asleep. A couple of girls at work have offered to lend their exercise/yoga DVD's as well, so that we can swap/rotate and stave off boredom from the same old routine.
People have already started to notice my weight loss and improved skin tone. I am a reformed couch potato. I love my morning walk; it clears my head and leaves me with a natural high (endorphins). I still have around 15 kgs to go to reach my goal weight but am already nearly half way there. Anyone can do this!
I am looking forward to this summer, with a tighter butt and a neater, prettier garden. Forget the expensive gym memberships, the diet pills, the anti-depressants, the mowing and gardening service. If I can do it anyone can it, one step at a time.
Negotiating gym contracts
It is possible to join a gym and still make savings. I used to work at a gym and know a lot about how they recruit new members and structure their memberships. Some people are happy enough going walking and doing exercise videos at home, or going out riding a bike, but if you need the motivation of regular classes or a range of exercise equipment, a health club is often the best alternative.
First - be on guard when you go to the gym. The memberships are often sold by trained sales professionals rather than fitness instructors, so be aware of the kinds of strategies they use. When I worked in health clubs we were told the seven standard objections (such as 'I'd like to think about it', 'I don't know if I'd come enough', 'I'll have to talk to my partner about it') and how to counter them. For example if you say 'I need to think about it', we ask what exactly you need to think about and if you answered the cost we'd ask whether it was the joining fee or the monthly cost that was bothering you. We'd then break the cost down to a per day fee, which of course would sound remarkably cheap for the health benefit.
Make them give you a quote over the phone. Often, the more expensive gyms will try not give out their prices over the phone. They want you to come and have a look at the place because it's much more likely you'll forget about your budget when you see their wonderful facilities. They'll show you the spa and/or swimming pool even if you don't swim much, because people love looking at water and again it makes you more likely to buy.
Go away and come back. Sales staff know that their best chance of getting you to join is on the day, and will work hard to try to 'close the deal' and counter your objections. Once you are aware of this, it actually becomes quite easy to spot - and no one likes to feel like they are being manipulated.
Try the gym on a casual basis first. Don't commit to a several hundred dollar joining fee until you have used the gym for six weeks. This way you can find out if it is a friendly and will know which payment option best will give you the best value.
If you do decide to join, try to pay up front if you can. It nearly always works out cheaper. Getting you to pay a joining fee and then do a direct debit is quite sneaky, because you don't want to quit your membership as you'd have to pay the joining fee again.
Gyms are always having special deals, and if they don't get you to join on the day it's likely they'll write to you the next time they have a special anyway. So stay relaxed, check whether you like the gym and you can be certain to get the best value for your dollar.
Get on your bike
I saved on expensive gym fees and got on my bike instead! I used to be a member of a gym but found that I rarely got there as I have a two year old daughter. Instead I bought a mountain bike on special for $125 and bought a good quality child seat for the back on special, plus a couple of helmets.
Now my daughter and I enjoy a bike ride every day to a few different parks around our area. The bike has already paid for itself, I'm getting more exercise and my daughter and I benefit from the fresh air and time spent together. We also bought a bike for Daddy, so he can come with us on weekends, making for a cheap family outing by just throwing in some sandwiches and fruit to eat.
Exercise With Your Buddies
A friend last month tried to get me to join a gym with her for shaping up for summer - I almost fainted when she told me her quoted price, almost $1000 for the year !!!! After some thought I convinced my friend there's a better way, especially as finer weather is here at the moment.
I've created a "Buddy Exercise Circle" - where I've organised different friends to do various healthy activities with me during the week. My gym-hopeful friend has also done the same. Friends love it as it's extra motivation when you're exercising with a buddy. For example, on Monday I go for a long walk with one friend, on Tuesday I rollerskate (or walk) from work to a bus-stop about 5kms away and take the bus the rest of the way home, Thursday I cycle home from work with a collegue who lives along the same route as me and on the weekend I go bike riding with a third friend.
Something I've also done is ditched my car for 3 of my 5 working days - saving on petrol and parking fees. (I still drive on 2 days as I've often got social things booked). On the days I bus it in, I try to either skate or walk part the way home (then catch the bus). Although it takes me longer to get home than driving, I am pleased that by the time I'm home I've already done my exercise!
Doing this for 3 months will save me $210 on gym memberships (at $70 a month), and a whopping $240 on petrol (based on a $20 a week saving for not driving those 3 days of every week). A grand total of $450 JUST FOR 3 MONTHS.
This system is working really well because my friends are keeping me motivated, and to a schedule!
Some other great hints in the vault are:-
Kitchen workout Contributed by: Jodie Broadbent
Use muscle power to save Contributed by: Leonie Edge
Free exercise class for new Mums Contributed by: Carmen Forde
What exercise tips can you offer others that are cost effective and fun? Is your hubby a Jamie Durie in the making? What is your great tip for losing weight while you save money? We'd love to hear from you: www.simplesavings.com.au/donatehints
---
4. Penny's Blog: Getting Fit and Dropping Fat
We continue to follow our real life Simple Saver, Penny, through her ups and downs.
Penny's blog is a members-only treat. She writes around eight blog entries a month. We make the best entry each month available in this newsletter for all to share.
Penny's Blog October 11th
What is it about Spring that makes everyone get all motivated? Over the last few years I have tried everything to get in shape and lose weight, but it took me until this year to find a regime that really worked for me - and best of all it cost next to nothing to set up and maintain. Before that, I spent hideous amounts of money for very little results. Let me demonstrate:
Penny's Fitness Plan - 1st Attempt: 2000
Join gym 40 minutes drive away for six months = $400
Book pre-schooler into extra daycare sessions so I can attend gym = $10 per session
Four hours extra travel time and petrol to get to gym three times a week = $50 per week.
Result: 2kg weight loss and five month's of gym membership wasted as couldn't afford daycare and got fed up with travelling after one month. Weight soon put back on.
Penny's Fitness Plan - 2nd Attempt: 2003
Sign up for Weight Watchers 'At Home' 12 week plan = $300
Daily 30 minute walks = free
Result: 5kg weight loss (4kg of it was in the first week and I near starved myself in order to get that wretched 5kg Gold Star at the end of my 12 weeks). Stuck to diet as rigidly as I could but nobody else in the family liked what I was eating (and half the time, neither did I). Weight soon put back on.
Like many, I started putting on weight after having children. When Liam was born, everyone told me that breastfeeding would cause weight to fall off. I did it for almost 18 months and all I did was put it on. After Ali was born, even though I was on a farm and doing physical work, it just continued to pile on. By the time he turned six years old, I was 15 kilos heavier than when I had been nine months' pregnant with him! I couldn't understand it - as a busy Mum of two, I never sat down, I was always on the go, so how could I be overweight? I didn't have a sweet tooth, eat biscuits, cakes, chips or any of the so-called 'bad foods', but I was still obviously doing something wrong. The turning point came in June 2004, when these three incidents happened in quick succession:
I tried to get my jeans on for winter and found that I couldn't do the zip up - even with me lying down, hooking a coathanger through the zip and enlisting Noel to help me heave it up.
Walking down the street in a nearby town, I passed two giggling teenage girls and heard them say 'Look at that lady's big bum!'
Coming out of Subway, proudly clutching a diet conscious Vegie Delite, only to pass a table full of young chaps, loudly commenting 'Now that's what I call a whale'.
I almost turned and went marching back to those guys and said 'Well you're no oil paintings yourselves', but I couldn't be sure that they - or the giggling girls had really been talking about me. The fact was, I knew darn well that they could have been. Even though I wasn't that huge, I wasn't doing myself any favours in the huge tents I had taken to wearing. In an effort to cover up the bits of my body I didn't like, all I had succeeded in doing was make myself look even bigger. The following day, I set about starting:
Penny's Fitness Plan - 3rd Attempt: 2004
Join local gym (by now one had opened in our town) = $125 for six months
Nag husband into buying an exercise bike as an early Christmas pressie = $400
Winsor Pilates twice a week with a buddy using videos from eBay = $50
Results: 13kg weight loss in four months.
I went to the gym every day - first, as a casual member, paying $4.00 per session, then paying my six monthly membership once I knew I was in it for the duration. Because I was exercising every day, I was drinking a lot of water; something I had never done before. Far from being full of fitness fanatics and 'superbods', the fitness centre was full of people just like me, all with their own flaws and lumpy bits but trying to do something about them. After a few weeks, I didn't even mind if I didn't lose weight - it was how I felt that mattered and I was feeling really good. Every day I walked on the treadmill, until I found it wasn't a challenge any more, so I got a bit faster, and a bit faster until I was jogging. From jogging I progressed to running, until I was soon running 4km every day. Me - running! The Winsor Pilates videos we were doing were also having a fantastic effect, I would recommend these to anyone (the only thing I have ever found that has any effect on my stomach!). Because I was already exercising so much, I no longer needed my exercise bike, so after only a few uses, it began gathering dust in the lounge, where it remains.
Christmas came and an inevitable few kilos with it. You've heard me mention my real life Happy Hanna friend before, the Mum of four. Her real name is Rochelle and over the years she has inspired me many times. We had been doing Pilates at her home for several months now and she knew about my running. With her youngest finally ready for school, she had been dared by a friend to enter a womens' triathlon for her New Year's resolution. She had never run before, so I offered to be her training buddy. Before I knew it, I had signed up to enter myself! For Rochelle, running was her real challenge, but for me it was swimming. I had two weeks to be able to swim 300 metres and I couldn't swim a stroke! A training plan was needed, but coming from such a big family, a gym membership wasn't an option for Rochelle. I was happy to do things her way, which became:
Penny's Fitness Plan - 2005!
Running on the roads - free
Second hand 12 speed bike from eBay - $50
Cycling on the roads - free
Swimming at school pool - free
One professional swimming lesson - $25
Result: Triathlete!
It just took that one swimming lesson and I was able to swim 300 metres! That $25 I spent on a lesson meant hours of fun in the pool with my children all summer, as for the first time, Mum was able to keep up with them. One triathlon turned in to two, followed by a duathlon and we have six more events planned for the next five months. I never dreamed I would ever be able to run or swim half a kilometre, but if I can find a way to get fit, anyone can. Getting fit is like quitting smoking - you'll only achieve it if you really want to. Exercise buddies are brilliant, but the only one who can make yourself get out there and do it is you! I work during the day and at night and have a family, but I still make time. I don't have any other hobbies and for me, exercise is my escapism, my 'me' time. If I have to get up at 6am to go for a run, or switch on a Pilates video because I won't get time otherwise, so be it. There is something out there that suits everyone, it's just a question of finding it; but now I've demonstrated all my expensive methods of the past, hopefully it may save someone else money along the way. For the first time ever this summer, I hopped out on to the beach in a bikini and didn't feel horrendously out of place - hopefully nobody noticed I was breathing in the entire time!
To read the rest of this month's entries go to: www.simplesavings.com.au/pennywise
---
5. Fran's Homeopathy Article: Four Problems - One Solution
Fran's true stories are always amazing. Only the names are changed. This month she shows us how one simple remedy can solve four different problems. Her first patient, Beth, lost 21kg. The second patient Margaret's hot flushes dissapeared. The third patient, domestically challenged Agir, started to clean up after himself and the fourth case study Fran cures a dog of eczema in just one appointment.
To read the latest go to: homeopathyplus.com.au/cases/sulphur.html
Why are stories about homeopathy included in the Simple Savings Newsletters? Because homeopathy is a great way to reduce your medical bills and keep your family healthy. Homeopathy is a system of medicine that works with your body rather than against it. As the underlying imbalance is corrected, symptoms disappear and so does the need for all those expensive medicines. Good health leads to big savings! Homeopathy is safe at any stage of life and is free from toxic side-effects.
When choosing a homeopath it is important to make sure they meet the minimum standards accredited by the Australian government. It is sad but true that some who prescribe homeopathic remedies have had little or no training in homeopathy. To check that your practitioner is qualified to government endorsed standards, go to: www.homeopathyoz.org or www.aroh.com.au
Fran Sheffield is an astounding woman. She is a registered nurse and mid-wife, AHA registered Homeopath, and has a Masters degree in Health Science. If you would like to learn more about Fran or have a question for her, go to her website: www.homeopathyplus.com.au
---
6. From Last Month: Activities for Large Groups
Last month Jill Hopgood-Clark asked:
"I work in Adelaide for the Mental Health Services for Older People. As you are aware the cuts in government budgets affect all of us, but the elderly find it really tough, especially those suffering from a mental illness. They are stuck home with nothing to do.
"We have converted a couple of rooms out the back of our office and have turned it into a homely atmosphere that these clients can come and have a chat and a cuppa. My question to you and your members:
"Do you have any ideas that this community can do in the way of crafts, entertainment, (cheap) gift making, something that we as staff can offer for a couple of hours a week just to brighten up their days. Does anyone know of any organisations that would be prepared to come and sing, play an instrument, give a talk... ANYTHING... we are desperate. Xmas is not far away. It would be great to see a smile on their faces. Thank you so much, a really fantastic site, I enjoy your emails. Cheers."
We let Jill have a sneak preview of your hints as she needed them asap and she was overwhelmed with your response:
"Hi there. On behalf of the team here at Glynde, I'd like to Thank you all for helping out and supplying all your fantastic hints for our clients. What a wonderful lot of people you are! Cheers. Keep up the great work!!!" (Jill Hopgood-Clark)
Though there are just too many hints on this subject to publish in this newsletter, we would like to thank everyone who suggested their local churches, schools, TAFEs, dance schools and all the many other wonderful volunteers, groups and organizations. There are so many wonderful people out there willing to donate their time and energy - don't be scared to ask around your own area. Here are some of your great suggestions - well done everyone!
Ongoing Olympics
Try a 'Board Game Olympics' for ongoing budget entertainment! You can use simple board games such as Ludo, Trouble, Headache, Snakes and Ladders and other games where the principles are easy to grasp.
Using a large piece of poster or paper, put names and stars up for your winners in gold, silver, and bronze. This has the potential to provide weeks of entertainment. If you don't have licensed copies of these games, just make your own using cheap cardboard from recycling and counters. Making the games to play could actually be another day's entertainment!
When the contest ends, have a presentation ceremony (naturally everyone has to get a gold chocolate medal for being in it), and have a parade using international costumes (a lot of imagination required here), and international flags - which can also be made on butcher's paper or crepe prior to the day (another special project day required). Then everyone can assemble for a 'parade of countries' (complete with commentary and marching music) followed by medal presentations.
Don't forget the torch relay! You could even have an opening ceremony featuring passing the torch to start the whole contest off. Again a battery powered torch with a sci-fi looking setting would serve admirably, followed by hearty singing of the national anthem!
Enjoy group hobbies
If you know a group of like minded people with similar hobbies and interests, try bringing them together. For example, if a group of them are knitters, they might want to start a knitting circle and enjoy each other's knowledge and company.
There are also many free excursions to art galleries and museums for groups, or at least discounted for a large number. Get together and have fun!
Write a personal history
An activity that I was once involved with was helping people to write their own personal histories. We had a sheet of questions to prompt people (such as where were you born, where did you go to school, who were your friends at school, how did you meet your spouse, what was your favourite sport/hobby as a child and so on) and then the 'helpers' acted as scribes while the older people went for a trip down memory lane. It was a fantastic experience for all involved.
Enrich your time with the young
Enrich the lives of young and old alike, by bringing them together. The elderly, just like you and I, have a desire to feel needed and there are little children everywhere who need attention.
A wonderful solution is to invite local children over to visit the elderly for story-time, a game of checkers, and perhaps an easy craft such as rubber stamped notecards. Residential homes could contact schools in the area to let parents know of this special service, and if the response is great, they may have to schedule each child's visit. Children blossom when given unhurried attention, and the elderly blossom too when they see the happy faces of the children who love to come and visit them.
During school hours, the residents can look through children's books to choose ones they would like to read aloud (children's books are very inexpensive when purchased used), prepare supplies for card-making (local businesses will donate paper by the reams when told of this project), and perhaps write notes themselves to their young friends. I can't think of a better way for these special people to feel needed, appreciated, useful, and occupied. The time they will spend with these children will enrich the lives of young and old alike, and very little money needs to be spent in the process.
Here are some more great responses we thought you would like to read:
Tips for entertaining the elderly Contributed by: Soula Deris
Put on a play Contributed by: Lyndal Callister
Kindermusik seniors programme Contributed by: Robyn Legaspi
Simple activities are rewarding and fun Contributed by: Danielle Sparks
Listen to guest speakers Contributed by: Maree Pickens
Hold competitions and make gifts for charity Contributed by: Rennison Whittaker
For more great tips for entertaining the elderly or disabled go to either the
Health -> Elderly and Disabled section or the Craft section in the Savings Vault.
---
7. This Month's Help Requests: Hearing Aid Batteries and Celebrate Without Blowout
This month we have two help requests:
Shirley Edwards has asked:
"I am hoping that members of the Savings Vault can help me save on batteries that are an essential part of our budget. I have two cochlear implants that take 3 of 675 cochlear implant batteries and they last only 3 days. On an average it is $6 or more per packet of 6, or $55 per box of 60. Do any readers know of where I can order, on a regular basis, cochlear implant batteries for a cheaper price?"
If you would like to share your advice on where to get cheaper batteries for Shirley please go to: www.simplesavings.com.au/donatehints
And Shelly Cross was wondering:
"What do people do for celebrations? i.e. you've just saved money, or got a bonus from work etc. What are the ways in which you can treat yourself to a celebration without then blowing what you've carefully saved for? Thanks - and keep up the good savings efforts everyone - it's an inspiration!"
If you would like to help Shelley with some great celebration ideas that won't blow the budget we would love to hear from you. Go to: www.simplesavings.com.au/donatehints
---
8. New FREE Tipsheet: Petrol Saving
The best way to save money on petrol is to stay at home, but that is not practical for everyone. So the girls have grabbed their favourite hints from the Vault, combined them and created a new FREE 'Fuel Saving Tipsheet' for you.
You can print it out and show it to your friends. Hopefully, it will relieve some of the strain.
To download the free tip sheet go to:: www.simplesavings.com.au/tipsheets
---
9. SAVING Story: Leslie Barber and the 'Good Life'
Here is our update on our transfer to Tasmania. After being stressed by our jobs and long train trips, we assessed whether we could retire early (57 for me and 61 for my husband). We had always wanted to retire to Tasmania so we went on-line looking for property. We found this bit of paradise in the North-West, 17 Km from Wynyard. 3-bedroom Western Red Cedar 8-year-old home on 10 beautiful acres. We saw our bank manager who agreed on a bridging loan, as she was impressed by the savings we had made after I started looking at your website. We sold our big house in Victoria, finalised that mortgage, paid off the bridging loan, paid off the car loan on 3-month-old car and paid off credit cards from the proceeds of the sale. We have invested our superannuation and have limited our spending to a budget. We have Visa debit cards for when we need to organise flights or ferry bookings over the phone or internet. We buy eggs, fruit and veg at local farms and at a fruit and veg barn which sells local farm produce. I bought meat in bulk and froze, labelled, in meal size portions. I check my store cupboard and make a list of necessities to buy in town (17 Km drive so best not to forget something) My husband is enjoying the product of my forays into once-dusty recipe books. I have a bread-maker and ice-cream maker, given as leaving presents and so enjoy fresh bread and delicious home-made ice-cream.
We have dug over the huge vegetable patch and started planting, plus growing vegetable and herb seedlings in trays. We have an orchard with plums, cherries, apples, hazelnuts and chestnuts and are going to add to it when bare-rooted trees are on sale. We have a huge strawberry patch as well as gooseberry, raspberry, yosterberry, youngberry and blackcurrant bushes which are in bud.
Five of the 10 acres is native bush and I walk there with my dog every morning. We are both fitter already after three weeks and we are eating healthy home-cooked food.
We go for a drive at least once a week, sightseeing, fishing and picnics. We fill up our large vacuum flask with coffee and put water and concentrated blackcurrant juice, fruit and sandwiches in the esky. We combine this with bushwalking - seeing some lovely scenery and getting fit at the same time.
We no longer miss the ducted heating and we love the wood fire in the evenings, which is very economical. Efficient electric heaters take the chill off the bedroom on cold nights (15 minute max) and the bathroom in the morning, so no large gas bills ever again (no gas). We have rain-water tanks for the household and bore water for the garden, so no more water bills.
We make sure we phone my mother, daughter's family and friends after 7 pm to get cheap rate. I email my friends and relatives overseas with digital photos for the price of a local call. Our mobiles do not work until at least 12 Km from home so arranged a land-line phone with SMS feature. My daughter switches her land-line off after 7 pm so I SMS her to switch on again if I need to talk to her.
I do all my banking on-line and get cash out with EFTPOS so I can stay under the 14 free transactions each month. I limit our petrol budget and buy using cash where I can use saving coupons. Launceston is just over 1 hour drive if I really want city shops, but Wynyard and Burnie cater for everything we need and it is a pleasant drive through beautiful countryside to do shopping. Our family are coming out for holidays and I am sure the three grandchildren will have a ball on our safe property.
Do we miss work? NO! Are we fit and happy? YES! We turned our lives completely around in less than 12 months due to Simple Savings. Many thanks for making me think about what was important in our lives.