This link goes to a page in our private members area. If you are already a member, log in using the form on the right of this page.
If you would like to become a member you can get yourself a membership by clicking here.
If you would like to learn more about the membership read on. Our members area is called the Savings Vault.
What is the Savings Vault?
The Vault is the paid members' area and has always been the jewel in the crown of the Simple Savings site. Sure, we have tons of fantastic free information and resources available too - but you ain't seen nothing yet! The Vault is where all the REALLY good stuff is. However, it has grown a LOT since Simple Savings first started; so much so that it can be a little hard to know where to start. We really don't want you to miss any of the wonderful whistles and bells, so allow us to take you on a virtual guided tour so we can show you some of the things you can expect to find:
Hints and Tips:
You're probably thinking, 'what, MORE hints? But there are already heaps of those in the free area!' You'd be right – and guess where they have all come from - the Hints and Tips section. We try and share as much terrific information as we can with our free members through our newsletters and tipsheets but in truth, this is only a tiny sample of what you can find in the Vault. We receive dozens of new tips every week. Each one is carefully edited to make for enjoyable, easy reading, then they are popped into the Vault. This means that our paid members are constantly updated with exciting new money saving information; all they have to do is click on 'recent hints' to read the latest additions.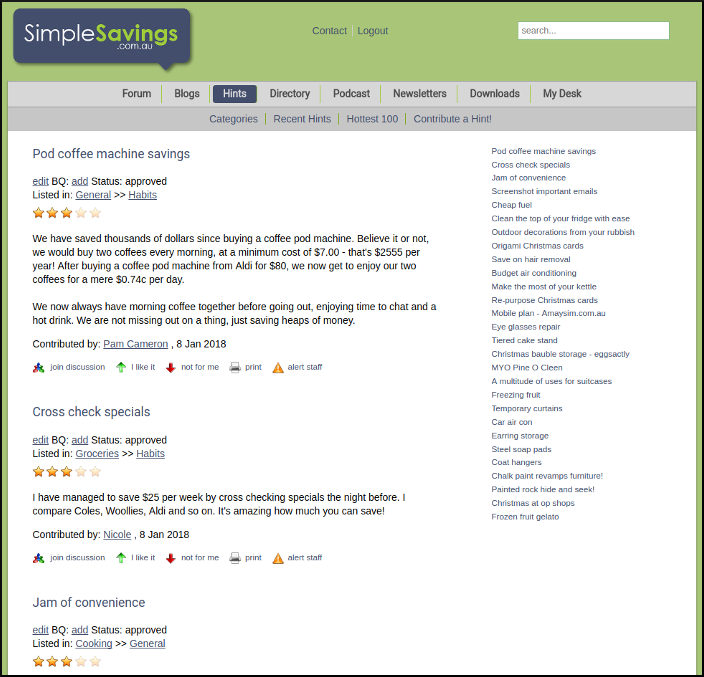 The great benefit of having every single tip in the Vault, however, is that the information you want is much faster and easier to find than in the free area. You see, as well as being edited, every new tip that goes into the Vault is put into its relevant category. No matter what you're looking for, or what stage of life you are at, we have a category! This means that next time you want to learn how to save thousands of dollars on a new car, or hundreds of dollars on a wedding dress, or nappies for your new baby, even the best deal on a new mobile phone, instead of spending ages trawling through all the old newsletter archives and tipsheets searching for the appropriate tips, all you have to do is head straight to the Vault, click on the category you want and bang! All the information you need is right there. So much faster and easier!
The Savings Forum
Oh how we love the Savings Forum! This is where you will find the real heart of the Simple Savings community. Technically it is a discussion Forum, and indeed it is – but it is much, much more than that. Our Forum is like no other. For starters it has a purpose. It is there so that our members can help each other save money. It is there so that we can encourage and support one another as we learn. And it is there so that we can have heaps of fun together along the way!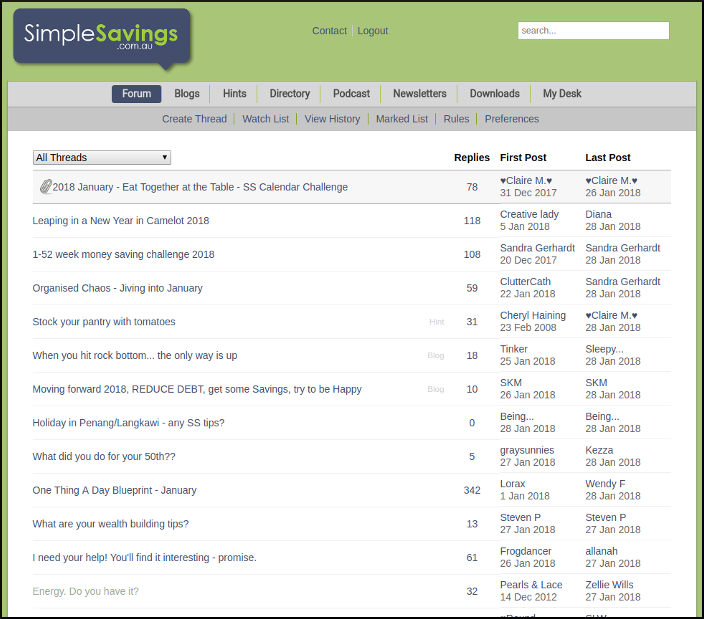 Members describe the Forum as an 'information superhighway'. It's always buzzing and it sure moves fast – but don't let that put you off! It's a bit like an extension of the Hints and Tips area – but much more interactive. It's chock full of money saving tips and advice and is always there when you need it. Whether you need an answer on anything from the best vehicle insurance deal to the cheapest place to buy meat in your area, to what to cook for dinner, our savvy members can help – fast! You can use the search function to source the answers you need or jump straight in and ask a question - don't be shy, our Forum is full of lovely people! In fact, some of our members have gone on to form their own Savings Groups in the areas where they live as a result of the friendships they have made in the Forum! In today's society where money is still a 'taboo' subject among many, members delight in being able to enjoy sharing their money saving triumphs and tribulations with other like-minded people. Unlike other Forums, ours is also discreetly moderated to ensure it stays a positive, friendly place at all times.
Another bonus of using the Forum is the 'real time' factor. Whenever members have any juicy tidbits of money saving news, Forum users will be the first to know. In addition, whenever new hints are added to the 'Hints and Tips' section, they appear straight away in the Forum too, so they are available for discussion. Being a Forum member definitely gives you a huge advantage over non-Forum members, both financially and personally!
Downloads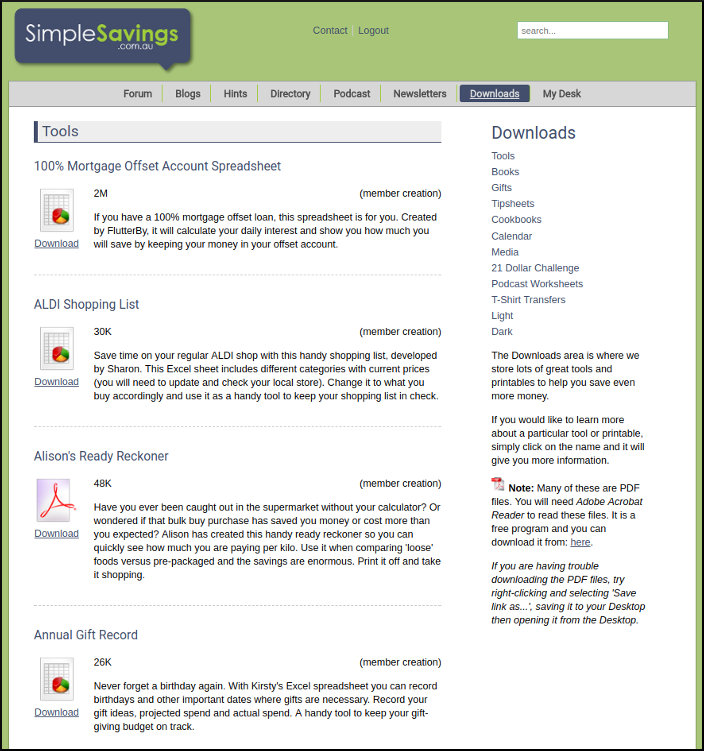 As you have probably seen, there is a 'Downloads' area for free members too, but only a selection of resources is available; the others are greyed out. When you become a paid member you can immediately access ALL of these fantastic downloads. They have saved our members a fortune and really are worth their weight in gold. My favourites are:
Beauty Queen on a Budget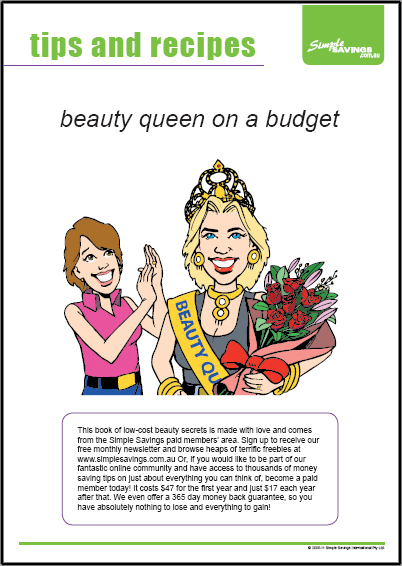 Yes, it is possible to be frugal AND look fabulous every day – and we have a fantastic e-book to prove it! 'Beauty Queen on a Budget' is a collection of tips donated by our gorgeous, savvy Vault members; many of which are insider secrets from beauty professionals. Whether you need an emergency treatment for frizzy hair or a home-made remedy to banish that breakout, you'll find the answers here in our quick reference guide. Best of all, our tried and true tips will save you a fortune at the salon!
The Simple Savings Bumper Book of Cleaning Clues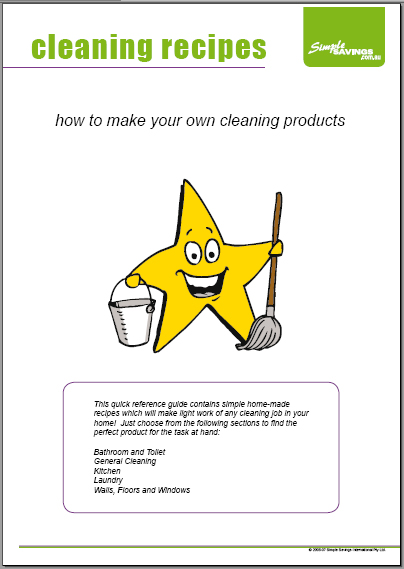 This e-book is the one everybody wants to get their hands on! If you don't like the thought of all those chemical nasties in your usual cleaning products – not to mention the cost of most of them – this book is for you. We can show you how you can keep your whole home sparkling clean and hygienic every day for just a few cents – and without chemicals! Once you try these tips you'll never go back to buying cleaning products from the supermarket again.
Mortgage Extra Repayments Calculator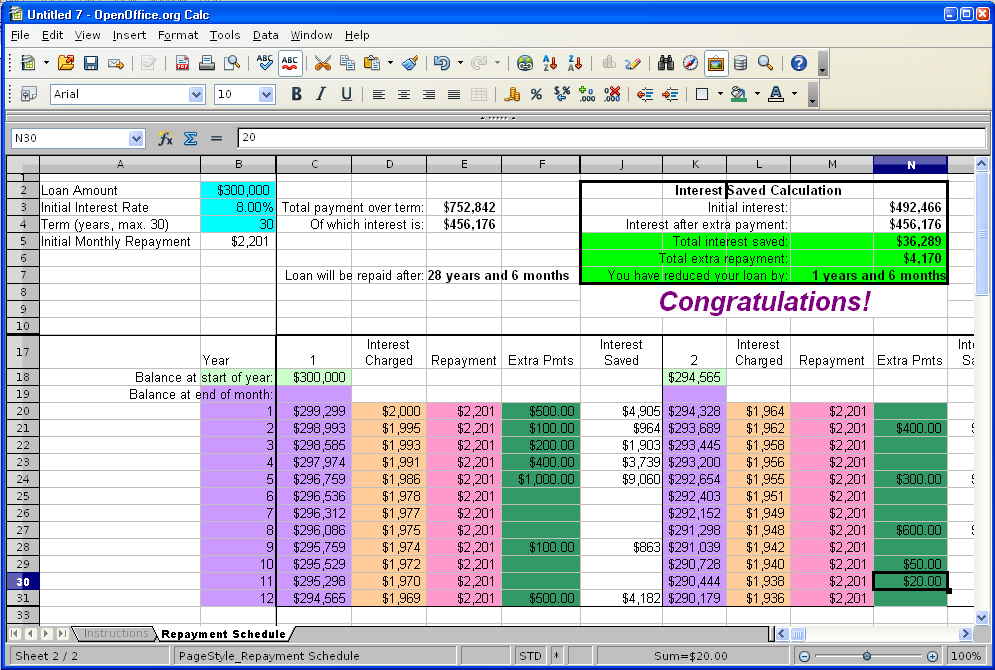 Prepare to be amazed! One of our members, Milia, devised a fantastic Extra Repayments Calculator for members with mortgages. It enables users to work out in detail how much money can be saved by making extra early repayments. You won't believe it until you try it!
Member Creations
The downloads marked 'member creation' mean just that – they have been successfully developed, used and shared by some of our very savvy members so that everyone can benefit. This area is constantly growing, so keep an eye out for new additions!
Members' Blogs
Readers of our free newsletters will already be familiar with Claire and Rob Bob, our resident Simple Savings bloggers. However, paid members get to enjoy a peek into the lives of many other members who love to write about their money saving ups and downs too. They make fantastic reading! New blogs are added all the time and best of all, you can even write your own if you want to! To get started, simply go to the 'My Desk' area and click on 'My Blog'. Your desk area is where you can also take care of other stuff such as updating your membership details or changing your password.
If you would like to become a member and join the Vault it costs $21 per year to be a member. You can join by clicking this link.
PS: Have you noticed that Simple Savings is proudly AD-FREE? Whether you are a free member or a Vault member, you will find no advertising banners or buttons anywhere on our site. Pretty cool, don't you think?
Member Login