Grunge-Free Sponge (x3)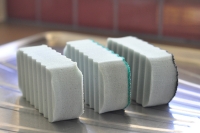 Kitchen scourers that do NOT clog up with stinky, yucky, germ drenched grunge.
Most scourers get so full of germs and bacteria that not only do they start smelling, they can make you sick. But you won't get any grunge with our Grunge-FREE sponges!


Don't smell or clog up
Aren't full of germs and bacteria
They last and last!

To find out more, read below.
These Groovee Grunge-Free Sponges were number 1 in our list of the best and simplest money saving products in Australia. Click here to read the full list.
Is your kitchen sponge full of kitchen GRUNGE?
A thin, tatty, smelly rectangle with more bits of sponge falling off it with each use? You're not alone. The bigger the clean-up, the worse it gets and then it starts to stink! It only seems to take a few uses before it begins smelling of stale cooking oil, chopped onion or old milk and then what? You have to throw it out and spend more of your money on another sponge that is going to have all the same problems as the last yucky, stinky, short-lived one!
Bad design = grunge + germs = bad smell
The above description may have you cringing and nodding your head in agreement but we haven't even got to the yuckiest part yet. The reason why they smell so bad is they are full of germs! These germs lurk in every sponge because they are badly designed. The average sponge is full of holes that might help you scrape and pick up dirt, but they also capture the food! And once that food is in there you can't get it out, no matter how you try. It gets well and truly stuck and from there it starts to decay, filling your sponge with bacteria, which is why they start to smell! Then things get REALLY crazy. We go and use that grungy, germ filled sponge to CLEAN! We are literally wiping germs all over our plates, time and time again! YUCK!
When you consider this, it's no surprise that there are over 5.4 million cases of food-borne illnesses in Australia each year. Even worse, contaminated food and cookware result in around 18,000 hospitalisations and 120 deaths each year! Now that IS scary!
To add insult to injury, those yucky sponges don't even last five minutes before they need replacing. There's only one way you can realistically get around this problem. You need a better sponge – and guess what? We have got them! (Cue infomercial. *cheeky grin*)
Woolworths said 'These sponges are TOO GOOD!'
It started three years ago when Fiona read a story in her local paper about a man called John Villano, whose company's sponges were so brilliant and lasted so long that his product got kicked off Woolworths' shelves. You see sponges are not meant to last a long time, they are supposed to be disposable. They are made to deteriorate and smell so you want to buy a new one. There is even an official term for this, called Designed Obsolescence and it is when manufacturers design a product to break at a set time in a set way. Usually when it is outside of the warranty, and in a safe manner, so the company can sell you another one.
Fortunately, John had never heard of Designed Obsolescence and his company set out to make the best sponge possible. One that lasts, is free from germs and does a great job. HOORAY!
Used in commercial kitchens and restaurants - and now in YOUR HOME!
These sponges are so great, commercial kitchens have really latched on to them. You will find them in restaurants all over the country, but in very few homes. Everyday Australians do not know about these sponges because they work too well. Occasionally, supermarkets agree to stock them, but once you have a set of these sponges you don't need to buy another sponge for a long time – meaning the sales are never high enough for the supermarket's liking and John has never had the marketing budget to compete with the big guys – but no more. We want that to change. We want everyone to know about John's brilliant sponges. These sponges are fantastic and we are going to make sure they get the credit they deserve!
John's Grunge-Free Sponges are much thicker, stronger and harder wearing than other sponges. They are not full of food trapping holes, they rinse clean every time, no matter how tough the job and they won't fall apart after a couple of uses. In fact, they won't even fall apart after 1000 uses! They were made to last 4-6 months in a commercial kitchen.
Treated to inhibit bacteria, mould and mildew.
Best of all, they don't smell! It's the way they're made, you see. Every Grunge-Free Sponge is treated with an anti-microbial treatment which inhibits bacteria, mould and mildew, resists deterioration and even has a built-in deodoriser and chemical protector to resist odours. And, the scouring surface isn't just bits of scratchy plastic stuck on, it is sprayed on to the urethane foam so it soaks in and bonds so tightly that germs and food can not be trapped underneath it. It all sounds very technical but the important thing is they WORK!
Meet Silky, Scratchy and Scary!
When Fiona first used the sponges she had trouble remembering which sponge was supposed to be used for which job. So we have given them nicknames to help you on your way.
First there is the white one we call Silky. It is a real lady, best for delicate jobs such as cleaning glass, copper pots, bench tops and non-stick pans. This is so gentle you can even use it to clean walls. As a general rule, anything you would normally do with a dish brush or a very gentle scourer can be done with this lady. Say hello, Silky!
Here Silky is for her close-up. She is so pretty!
Second is the green one – we nicknamed him Scratchy. It is a true scourer. It was designed to replace your grimy green fibre and yucky copper sponges. It is gentle enough that you can use it to clean plates if you are pressing softly, and rough enough that you can do pots and pans if you scrub firmly. It will remove the grime off metal pans, steel hotplates, high impact glass, stainless steel utensils, normal glass and porcelain ceramics.
Here is Scratchy! Up close and personal.
The third is Scary. Nothing stands in this scourer's way! It will clean black, caked-on grime from your BBQ. This scrubs like a wire brush. So don't polish your car with it! See how rough he is. This boy can clean!
We know a fantastic product when we see it!
Until now, these sponges have only really been available to professionals in the cleaning and hospitality industry. Fortunately we know a fantastic product when we see one and are now proud to bring them to you to use in your own homes. These are the best household sponges you will ever come across.
A quick rinse and it is clean!
When you are using these sponges the only things you need to remember is to rinse them out with soapy water and then leave them resting on their sides to dry as in the picture below. This will keep them clean for a very long time.
Here is a quick recap of why we love them.
These save you time and money, because you only need to buy them once or twice a year.

They save your sanity, because they make washing up easier.

They save the planet because they last for ages.

They save your health, because you will no longer be 'cleaning' your dishes with a germ filled sponge.

They are invented, designed, manufactured in Australia by an Australian owned company.
So what are you waiting for, beat the scunge – buy a Groovee Grunge-Free Sponge!
We have put the sponges together in two packages:-
1. I'll give it a go
This is a sample pack with one of each sponge in it:-
1 Silky White, 1 Scratchy Green and 1 Scary Black.
The prices are:-
$18 + postage for non-members ($6 per sponge)
$15 + postage for Simple Savings members ($5 per sponge)
All you need to do is click the "Add to Basket" button below.
The price you will be charged is $18.00.
2. I want a better price
Or, if you would rather a more economical deal, you can get a set of 12 sponges with:
5 Silky White, 5 Scratchy Green and 2 Scary Black


Even though these sponges will last ages and you are not going to need to replace them for a while, we thought you might like a whole box so you can give some to your friends to try, as well as having a set in your kitchen and one for your bathroom. After all, using the same sponge to do the toilet floor and washing the dishes is really gross!
We have included more Silky White and Scratchy Green sponges in these boxes, because when we tested them they are the ones that get used the most and need replacing soonest.
The prices are:-
$47 + postage for non-members ($4 per sponge)
$37 + postage for Simple Savings members ($3 per sponge)
The price you will be charged is $47.00
Extra information
We are trying to do our best to answer all your questions. If there is anything else you would like to know, please go to our questions page and ask us. We are looking forward to hearing from you.
What size are the sponges?
They are 65mm x 119mm x 35mm.
What do the sponges feel like?
The sponges are quite firm, much firmer then normal sponges. The sponge is really thick so you will not be able to feel the surface you are cleaning through the sponge. The first couple of times I used it, it took me a while to get used to the feel of the sponge.